Crochet Dinosaur Blanket Patterns are a must-have for dinosaur lovers of all ages! Crochet these adorable patterns, and your friends and family will thank you. Whether it's young kids pretending to catch a dinosaur, teenagers learning the basics of crafting, or adults that want to bring back the nostalgia of their youth, these crochet dinosaur blanket patterns will bring joy to everyone you know.
Given Crochet dinosaur blankets are perfect for any kid who loves dinosaurs. These crochet blankets are fun to make and can be used as home decorations or gifts. With these patterns, you'll create charming crochet dinosaurs that are perfect for use as home decor or gifts! The blankets are simple and quick to make, depending on size. If you're looking for dinosaur-inspired gifts or just a way to bring some extra fun into your home, these patterns will be perfectly reliable options!
Crochet Dinosaur Blanket Patterns

These Crochet dinosaur amigurumi patterns are a great way to get kids interested in learning the craft. From cute and cuddly to realistically terrifying, there are all kinds of dino crochet patterns for you to work on this winter. Made with super soft cotton yarn, they make terrific cozy companions while you watch horror movies and scream along with the characters. These crochet dinosaurs are handsomely crafted and fun for kids and adults to snuggle under.
You Can See More: 6 Free Crochet Dog Blanket Patterns
Dinosaur Comforter
This dinosaur comforter is a great project to learn basic amigurumi techniques. The dinosaur is made as you go, and you add the blanket. The key features are the horns and legs, which are crocheted as you change color every round, so there are no ends to sew in! It measures approx 20 x 26 inches, and the neck part can be pulled over the dinosaur's head. The horns are also worked all in one piece, as you go, and both legs - no sewing on this one! This pattern includes full-color photos, detailed explanations of techniques, and a simple granny square pattern to create the blanket part of the animal.
Filet Dinosaur Blanket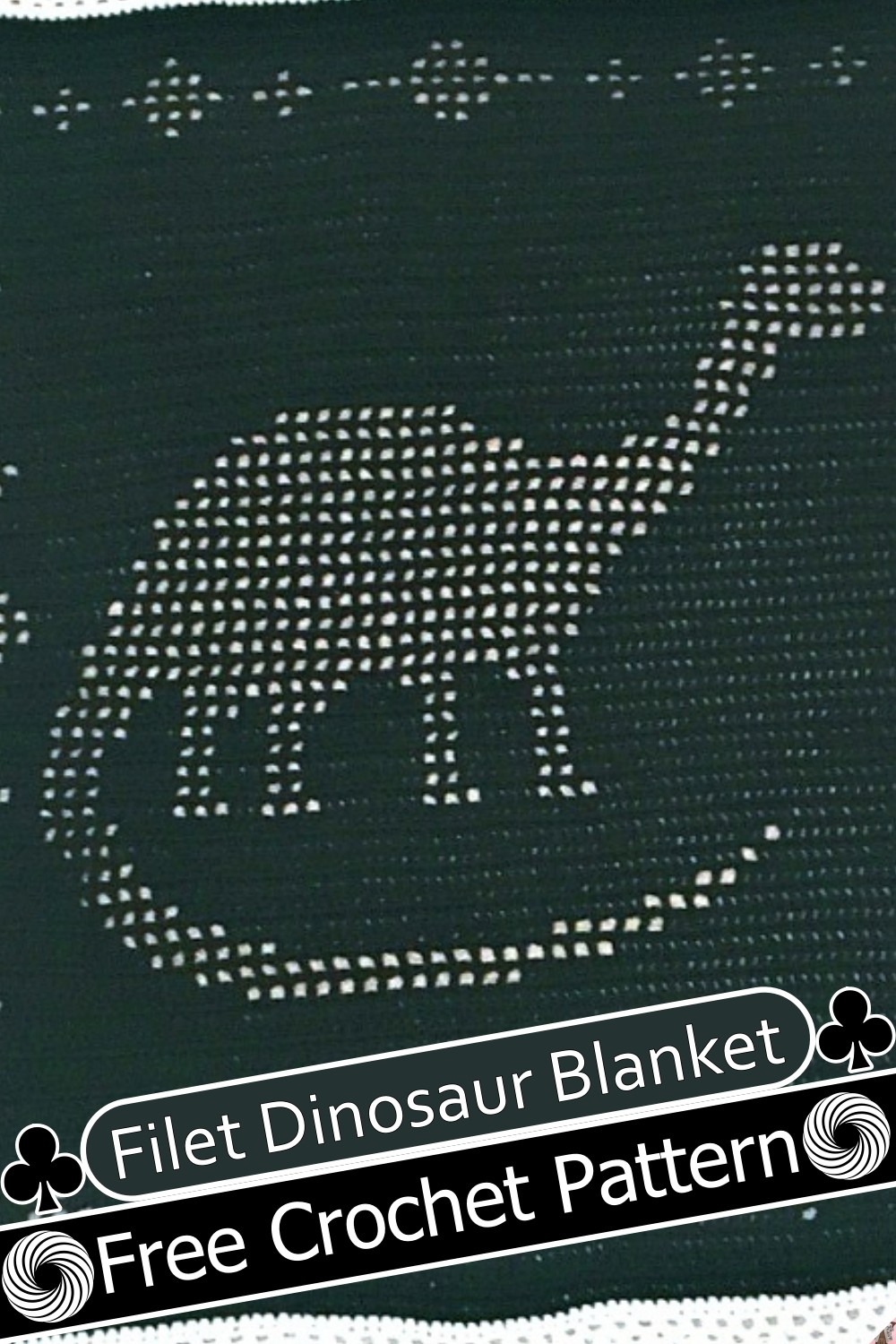 It's time to start making a unique crochet Filet Dinosaur Blanket for your kids! This is not just any ordinary blanket. It is a stunning masterpiece that will transform the room of its owner. It will only take you a few days to complete this simple project. You can also use it as a special gift or create an impressive accessory for your home decor. These fun designs allow your child to display their creativity through painting, drawing, or any other do-it-yourself craft. The blanket is scratchy, so it is not recommended to be used as a regular baby blanket. This pattern is written in U.S. terminology only, but you will find the pictures helpful even if you follow another pattern.
Dinosaur Blanket
The Dinosaur crochet blanket works with chunky yarn making it quick and easy to complete. This blanket is perfect for boys or girls and makes an impressive gift for a dinosaur lover. The picture also includes instructions on how to make the face of the dinosaur using felt. This full-size blanket is perfect as a gift. It will instantly become a favorite throw in your home, especially among children. The blanket is simple to make and suitable for any beginner crocheter!
Dinosaur Hooded Blanket
Add the crocheted dinosaur blanket to your collection of home decor. This exceptional blanket is an ideal accessory for children and adults alike. Make a cozy addition to your living room, bedroom, or anywhere you want to keep warm. This full-size blanket is perfect as a gift. It will instantly become a favorite throw in your home, especially among children. The blanket is simple to make and suitable for any beginner crocheter! The instructions are very easy-to-follow, with detailed explanations of each stitch used and plenty of photos to help you along the way.
Hug Me Triceratops Lovey
This adorable Triceratops Lovey pattern is the perfect addition to your dinosaur collection. The Hug Me Triceratops lovey will be a great friend for your little ones to have on hand during those sleepless nights or to keep them company when you're away at work. Crochet one for yourself and one for a friend, or make them into a highly organized diaper bag caddy for use on the go. It can be made to complement any dinosaur-themed nursery by working the shaping differently in different parts of the pattern.
Dinosaur Granny Square Blanket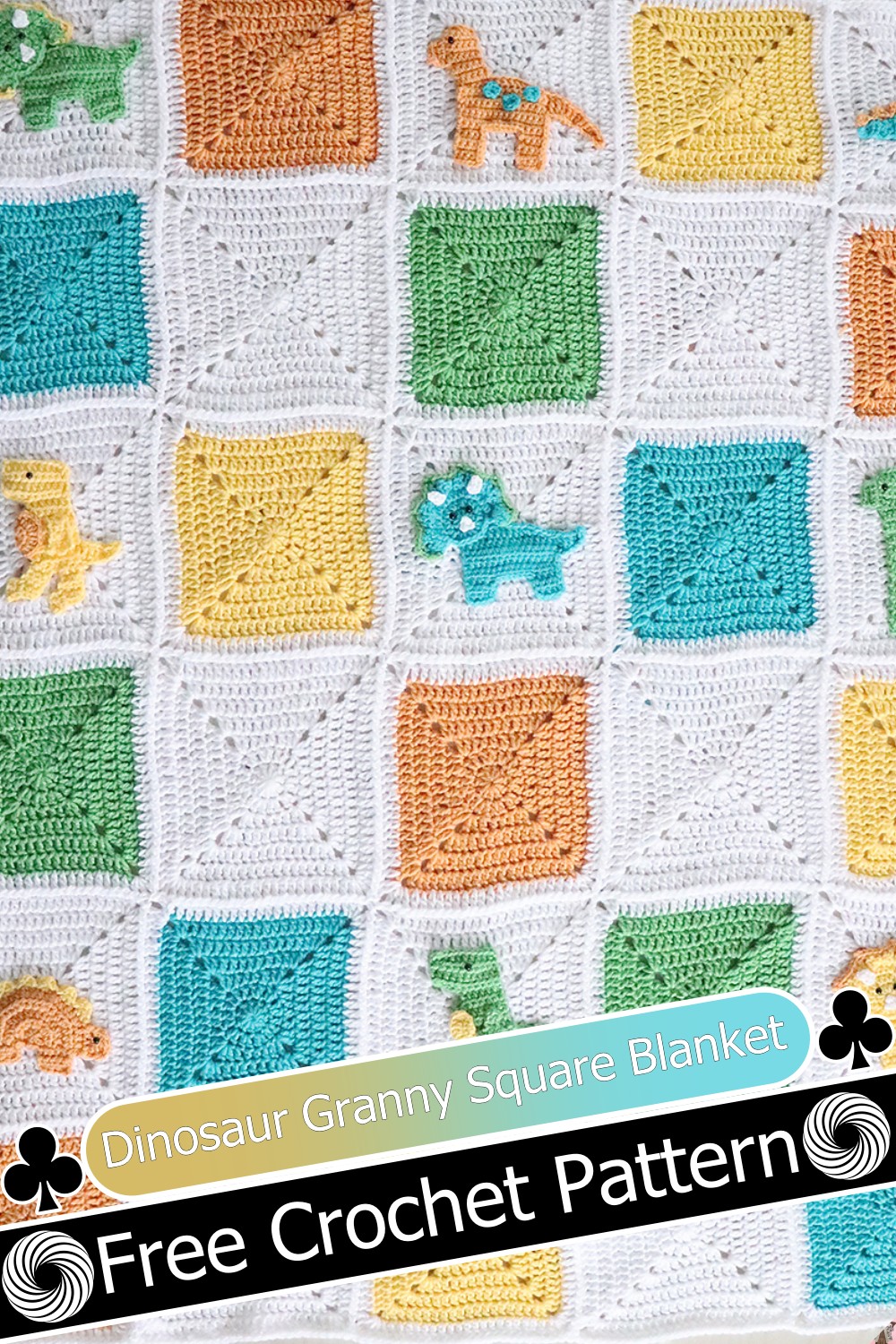 The Dinosaur Granny Square blanket combines an easy-to-understand seaming technique and fun applique work. Each square will work separately, so you can make one color at a time or mix and match as you go. Even though it looks complicated, it's not! No need for special tools or expensive yarn. You will find the instructions very detailed and well explained so that even beginners will find this project very easy to do. This blanket is suitable for kids between 2-10 years old - use your imagination to come up with a combination of colors and creatures!
Yarn suggestions for this pattern are:
5 skeins white
1 skein Melon Sorbet
1 skein Marine Blue
skein Spearmint
1 skein Daffodil Yellow