You've wondered why your garage has been disorganized with different tools lying where they found themselves? Keep calm; a beautiful workbench is all you need to organize your garage. A DIY Garage Workbench Plans To Make In Your Spare Time provides you with the space you need to store all your tools and equipment, keeping them close at hand when you need them. You won't have to go through piles of boxes and junk to find what you're looking for.
DIY Garage Workbench Ideas
With a DIY garage workbench plan, you can save money on expensive store-bought models, use reclaimed wood from old furniture or pallets and make one that suits your needs perfectly! Here are some fantastic DIY Garage Workbench Plans To Make In Your Spare Time that will help organize your garage and make it a space that's easy to use. The list of 25 DIY workbench plans is put together so that you can build your garage workbench in your spare time. These plans are easy to follow and will help you get organized!
Looking for a DIY garage workbench plan? Here's a collection of 25 DIY Garage Workbench Plans To Make In The Spare Time that help you design and build for yourselves.
You Can See: 24 DIY Ski Rack Projects You Can Build Today
DIY Garage Workbench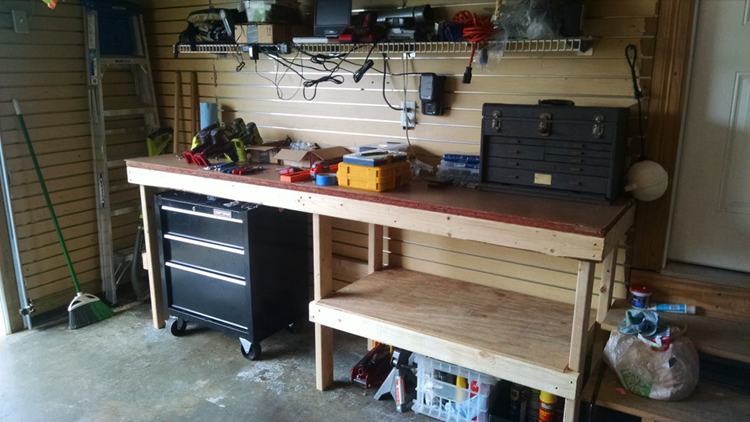 If you like to keep your garage organized and clean, having a workbench is one of the best ways. But having a place where you can work on something doesn't mean you have to spend hundreds or even thousands of dollars. This workbench DIY project will show you how to build an affordable and sturdy workbench! This simple DIY garage workbench is the perfect addition to your functional and stylish garage. The tutorial includes a cutting list, materials list, and step-by-step instructions.
Cheap And Easy Garage Workbench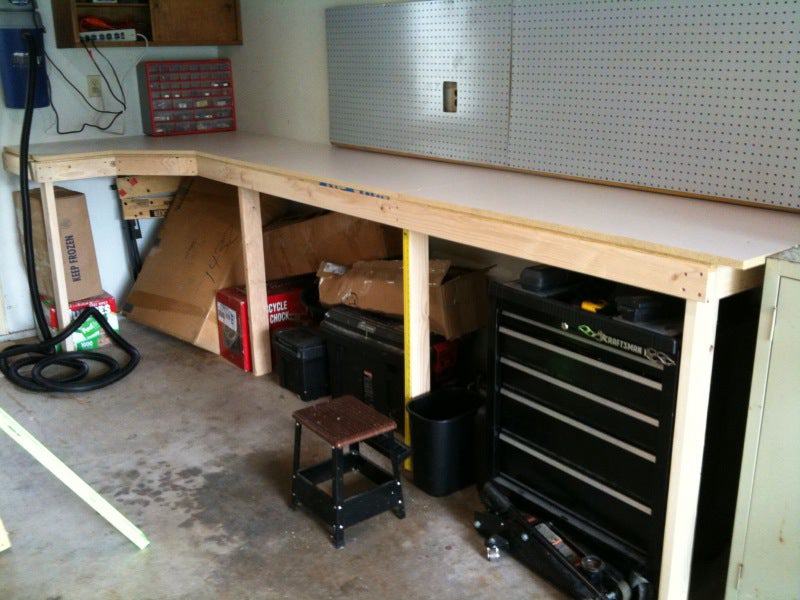 A workbench is a necessity in any garage. Building a workbench can be difficult and time-consuming, with limited space and fewer tools. The simplest way to build your workbench is to use plywood as a base, add support with solid legs and connect them to the top. When building the base, ensure it is very stable to hold up your weight while working on your projects. It doesn't take a lot of money to build a durable and serviceable workbench like this one.
DIY 1-Hour Workbench For Garage
Do you want to build your DIY 1-Hour Workbench For Garage? If YES, then this video will help you. It will show you the step-by-step process of building a workbench that is the right size for your garage or workshop. Lumber, hardware, and tools are all you need to get started. You will be surprised how easy and affordable it can be to make a workbench for your garage or workshop. Enjoy!
How To Build A Simple Workbench
Suppose you would prefer a mounted workbench over any other type. It is simple, affordable, and exceptional. About the mounted workbench is a mini vertical shelf that serves as storage. The shelves are very convenient for placing tools and materials while working on your projects. Mounting this workbench is easy, yet it may include holes and screws in the wall. Building the workbench will help you learn some essential lessons about woodworking, so it's worth trying once!
DIY Garage Shop Workbench
The DIY Garage Shop Workbench is ideal for performing your garage projects with ease. When it comes to a garage shop workbench, this DIY model is as good. The first thing you will notice about it is its abundance of storage space. It has two built-in pegboards and base cabinets for small tools and other items needed in your workstation. The garage shop workbench has been built using quality materials and includes detailed plans on how to assemble them correctly. It will last longer than any other models available on the market today.
Garage Wood Workbench DIY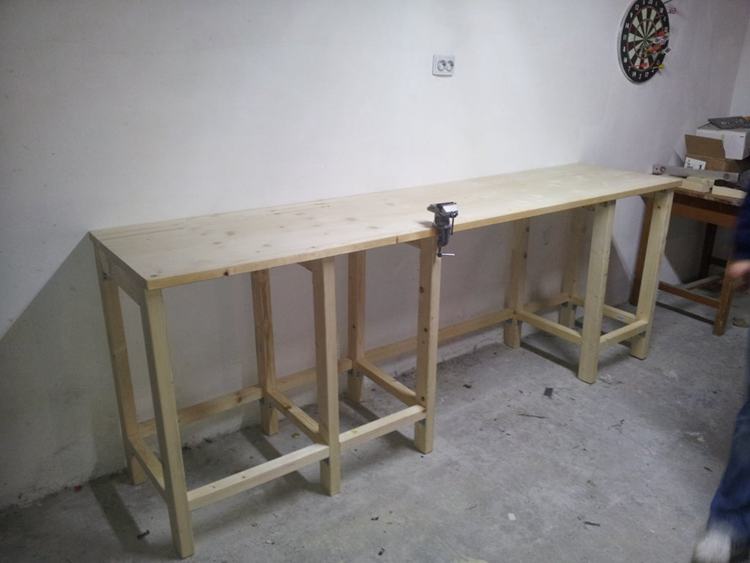 This workbench instructional guide will show you how to quickly build a workbench while keeping an eye on your budget! The instructor started by listing the materials needed for the project and mentioned the required tools. A complete cutting list, accurate dimensions, and a list of hardware make this guide easier for beginners with less woodworking experience. This DIY Guide will provide complete step-by-step instructions to help you make the perfect workbench.
DIY Foldable Garage Workbench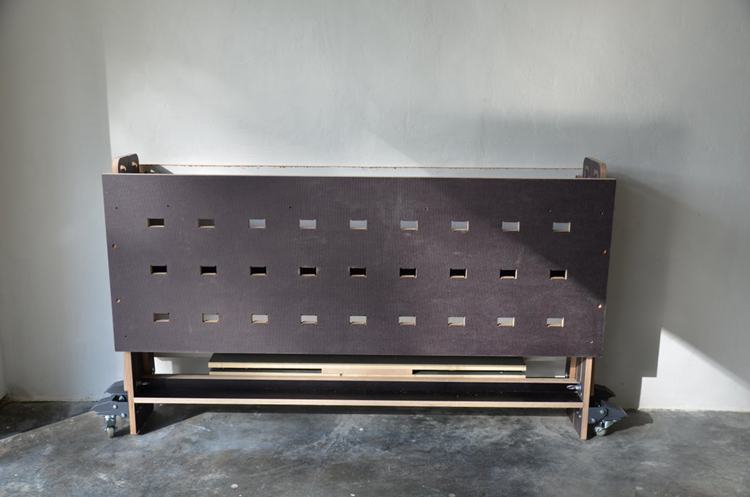 A workbench can be a great addition to any garage or workshop, giving you the space you need to build and fix things. This DIY foldable garage workbench will help you organize your garage or workshop efficiently and effectively. The folding tables will provide a place for all of your tools, and the dog holes in these benches will make it easy to create sturdy bracing points to support heavy loads. The tutorial will guide you through every step of the process so you can build your workbench without problems!
How To Build A Rolling Garage Workbench
Sure, you could spend a lot of money on a rolling workbench. Or, you could build this DIY rolling workbench for a fraction of the price and have a unique piece uniquely suited to your space and needs. The best part? You'll only need a few simple power tools: an air compressor, a table saw, a miter saw, and a jigsaw. To make the workbench roll, attach caster wheels to the legs of the table, and you're good to go!
Garage Workbench Plans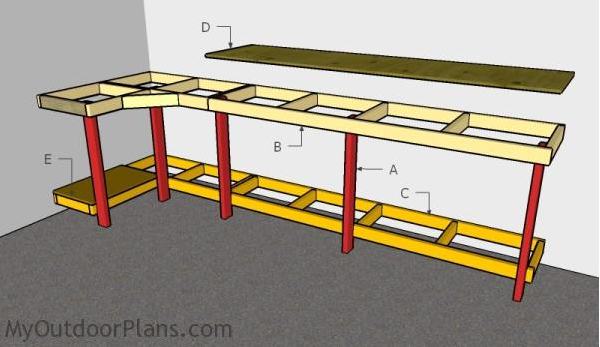 This DIY Garage Workbench Plans guide is about the most exciting workbench project you can make with your own hands. The best thing about this corner garage workbench plan is that it is an efficient solution because it saves space and makes the room tidy and organized. In the plan, you will learn how to build one of them. The workbench is large enough to require at least one sheet of plywood (and two or three sheets if you make the top).
How To Build A Workbench For Garage
This video tutorial will show you how to build a workbench for your garage. A workbench is essential in a garage if you want your garage always to look tidy and clean. In this video, you will learn how to build an affordable, small storage shelf that can be attached to your workbench. This will come in handy since most people have their own set of tools that they would typically store at some corner of their garage, so spending a little more money on building storage is not such a bad idea!
How To Build A Workbench
Do you want to know how to build a workbench? In this video tutorial, the instructor will show you how to build an affordable and sturdy workbench step by step. Starting with the list of materials needed for the project, it also mentions the tools required and how it will be done. You can follow his every move, and at the end of the video, you'll be able to do it yourself! Don't forget your safety equipment and start now!
10ft DIY Garage Workbench Plans
Extended workbenches are commonly used in garages and workshops. Since the workbench would be exposed to both weather and people, you need to make it sturdy enough to withstand the pressure of both. This video will show you how to build a large, sturdy, DIY workbench in your garage. The instructor listed all the materials needed for this project and told us the required tools in this video. This is a DIY project that you can make on a small budget.
Simple DIY Garage Bench And Storage
As you know that workbenches can be a handy tool for any garage. It will help you in many ways apart from holding tools, making repairs, and also making it easier to carry heavy loads. Building a garage bench can be tricky and tiresome, but this video will give you different tips. It will also help you save money by giving instructions on building a beautiful and easy assembled garage bench with your own hands.
2x4 8ft Workbench Plans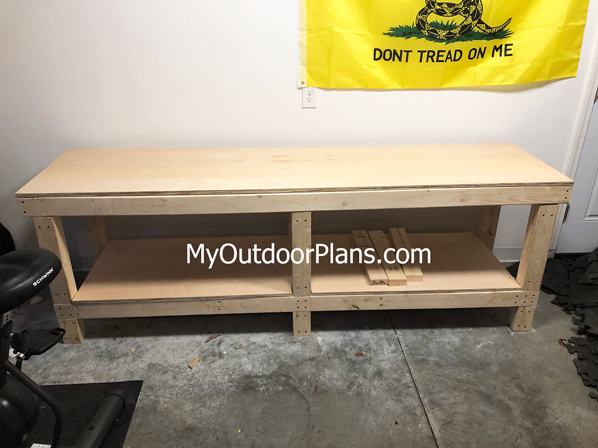 The DIY 2x4 8ft Workbench Plans give you all the ideas and instructions for building your own workbench. This outdoor workbench is easy to build, sturdy, and can be finished with any finish you would like. Building this workbench will save substantial costs compared to buying one at the store. The legs are the only thing that separates the tabletop and the workbench base. This bench is crafted from pressure-treated lumber and plywood; it will last long.
How To Build A Heavy-Duty Workbench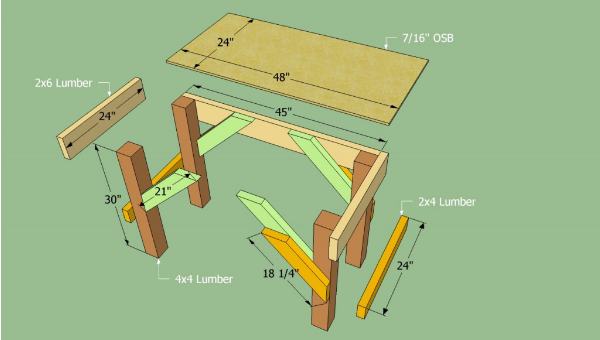 Constructing a heavy-duty workbench with your own hands is not as hard. Just follow these simple instructions for construction, and you will have your new workbench in a short time. It is very easy, and you don't need to buy any expensive tools. You have to prepare all the necessary material first; the size of the bench depends on your needs and space availability. Having a good plan enhances the efficiency of the project, so you should be careful when building it.
DIY Garage Workbench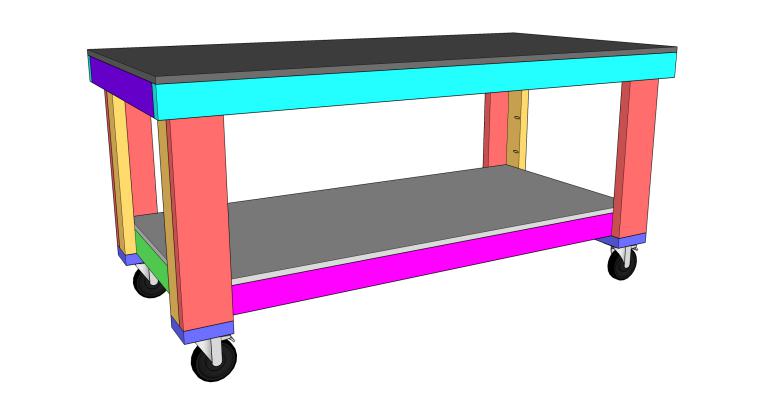 If you are tired of using your kitchen table in the garage or looking for a sturdy place to store all your tools, then look at the DIY Garage Workbench Plans. This DIY Garage Workbench plan gives you all the ideas and instructions for building your workbench. The design is simple and easy to build but surprisingly sturdy! Furthermore, building this workbench will save substantial costs compared to buying one at the store.
How To Make A Workbench For Garage
An excellent garage workbench is indispensable when you store items and tools in your garage. It should be durable, easy to use, reliable, and comfortable. You need a long list of materials and tools for building this garage workbench. You will need a limber, plywood, screws, T-track, corner bracket, and pocket hole screws. The video will teach you how to build a garage workbench without spending too much time and money.
DIY Workbench Build
A DIY workbench can be a great addition to any home garage, workshop, or basement. This DIY workbench is not very big( in length and width) but strong and sturdy. Assemble each piece and add extra support in each corner with the Simpson Ties. Once everything is done and you have tested that your workbench is solid and sturdy (while holding a heavy tool), you can move on with attaching the top of it with your choice of material; plywood or particleboard.
DIY Workbench
Do you have a garage with limited storage space? This DIY Workbench is the perfect solution. This workbench requires only essential tools, most of which you probably already have on hand. You need a Stanley Sharptooth hand saw, crown dovetail saw, Irwin quick grip bar clamp, Dewalt corded drill, Milwaukee router, and Bosch orbital sander. Build it today to upgrade your garage with this handy toolbox! This project will give you many options for organizing tools and equipment, saving time on that next big project.
Building A Garage Workbench
This tutorial will explain how to build a garage workbench. The materials needed for this project are plywood and screws. The instructor starts by cutting and laminating two pieces of wood together to form one leg. Then, he assembles the frame and attaches the legs. Finished with all of this, he attaches the tabletop using eight-foot longboards on either side and two shorter ones in front where you can also fit toolboxes and other things.
DIY Garage Workbench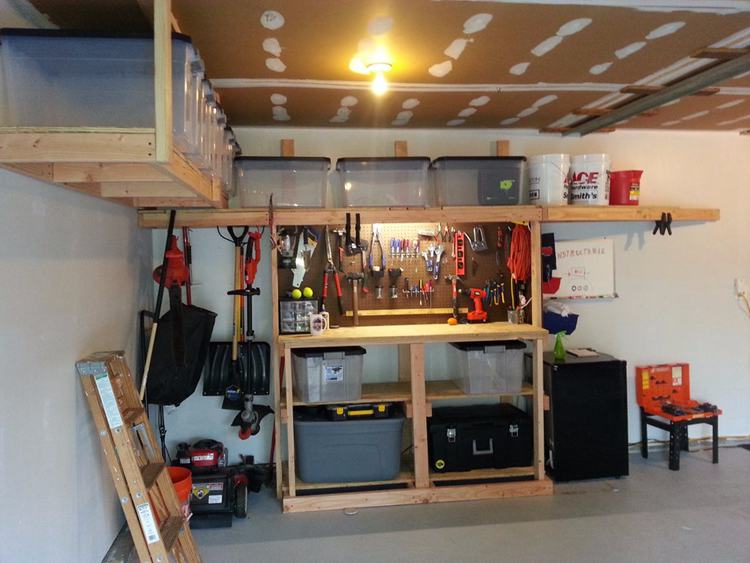 There are many different kinds of garage workbenches that you can build yourself. Anyone can have a workbench, even if you have limited money and space. This DIY garage workbench is inexpensive, sturdy, and easy to assemble. You don't need a lot of tools or technical skills to complete this project. However, the result will be a garage workbench with everything you need to store and organize your tools.
How To Build A Garage Work Table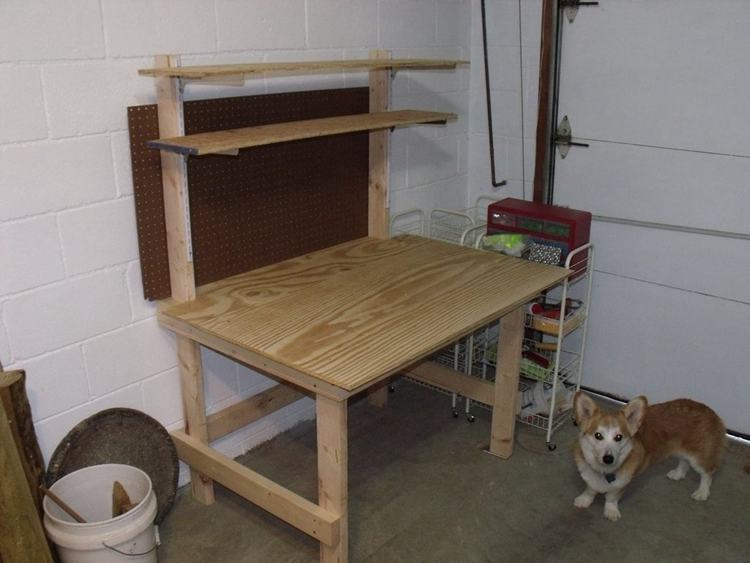 A work table is an excellent investment for any garage. It allows you to store tools, equipment and other materials while offering plenty of workspaces. Here is a demonstration of building a portable garage work table with two storage shelves and a lipped shelf that can double as a tabletop. Firstly, start by constructing the front and back leg frames, then attach them. Next, prepare the tabletop and add shelving to it. Attach a pegboard to the rear of the ladder's legs, creating an extra shelf for tools. Then place all components on top of each other, build supports on the ground and attach it to your workbench with lag bolts.
How To Make A Workbench For Garage
If you live in a small house and want a spacious garage with a workbench, this guide on making a workbench for your garage will help. Building a Garage Workbench is easy if everything is ready for your project. Figure out your table's length, width, and height and mark them on the wall where you want to install it. Take all the necessary tools with you to make your workbench more efficiently by understanding this article
Ultimate Mobile Workbench DIY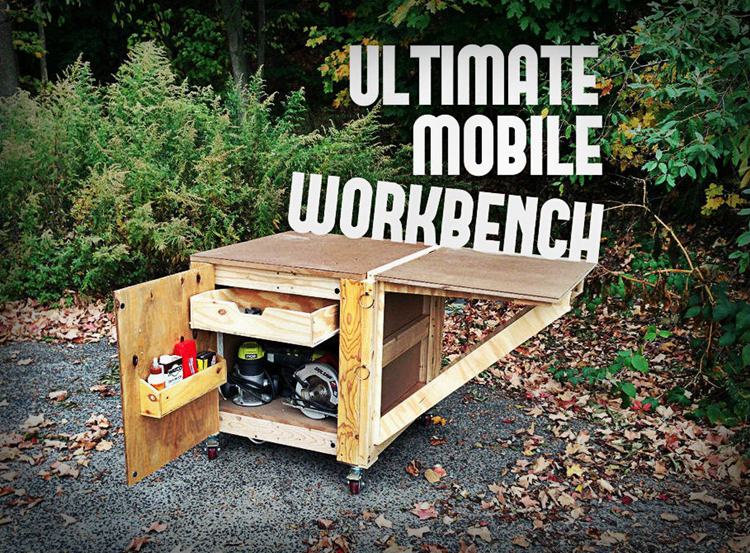 Ultimate Mobile Workbench is a beneficial and easy-to-build workbench that you can make at home, even if you don't consider yourself a master woodworker. Finishing this project with some essential tools and a small budget in less than two days is easy. The materials required for this mini workbench are inexpensive and can be found at your local hardware store like Sander, jigsaw, hammer, chisel set, power drill, and table saw. It is a workbench with all the capabilities of a normal one, but it can also move around quickly.
DIY Garage Storage And Workbench
Isn't it great to have a workbench and storage blended? Not only this, this garage workbench with storage is remarkable because of its design. The pegboard built in the central part of the wall is an excellent idea. This will keep small tools handy and won't take up much space. The idea is to blend the workbench into the storage so there are no unnecessary pieces of wood here and there.
See More Projects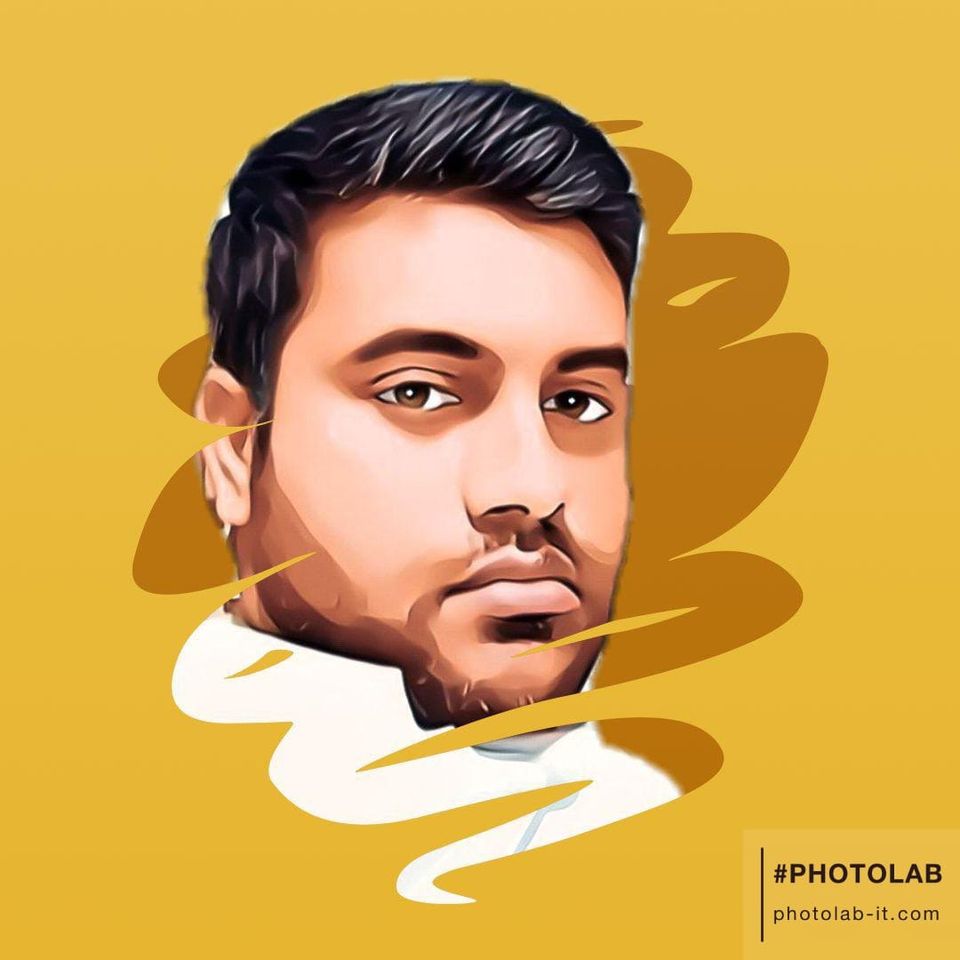 I am Raza, a crafts expert with 6 years of experience. I run this site for DIY lovers to provide the most exciting projects and ideas for your home, office, and everyday life. See More