Whether you've inherited a recliner in your family that you'd like to update or just looking to make a more comfortable environment, you might be tempted to take a trip to the store and pick up a new recliner. But why spend a lot of dollars on something that can be so easily made at home? Here are some easy DIY recliner plans that will have you sitting back, relaxing, and feeling proud of your handy work in no time. These recliner plans are exactly what you need to build your next piece of furniture. We have designed these DIY recliner plans to be as simple, detailed, and easy to follow as possible. The result will be a comfortable and beautiful recliner that you can be proud of for years to come.
Best DIY Recliner Plans
The recliner is a definitive piece of furniture that can add a touch of elegance to any living room, but it's not without its flaws. They are often large, bulky, and difficult to move, making them less than ideal for small homes. Plus, they're usually expensive! The good news is that you can smoothly build your own recliner using simple materials found at any major home improvement store. Not only will you save money by building your recliner, but you'll also be able to customize its look—and who doesn't want to do that?
Benefits Of Making DIY Recliner
DIY Recliner Plans are a great way to save money on home furnishings and make your customized recliner. You can use these plans to build a reclining chair, sofa, or loveseat.
Benefits of DIY Recliner Plans:
Affordable: You can get a high-quality recliner for less than $300 if you choose the right materials and don't pay someone else to build it for you. If you're looking for something more luxurious, expect to pay more than $1,000 for a quality piece of furniture.
Customizable: With DIY Recliner Plans, you can customize furniture pieces with different fabrics and colors to make them as unique as possible. This is especially valuable if you're making multiple pieces of furniture from the same set of plans because each piece will be unique from the others.
Fun!: Building your furniture is fun and satisfying. It's also educational and gives you an appreciation for how things are made in factories worldwide daily.
Reupholstering DIY Recliner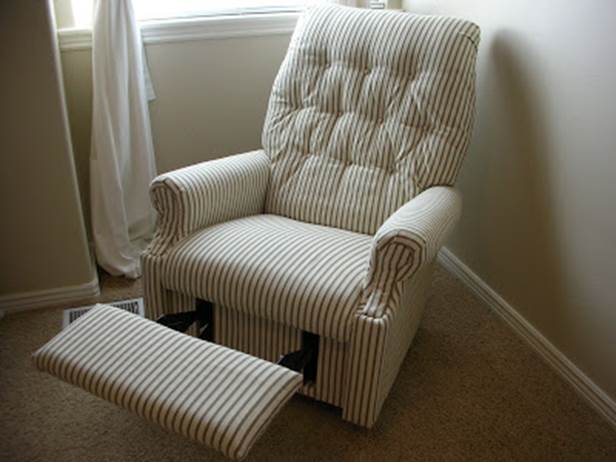 No one can deny that having a comfortable, ergonomic recliner cushion is important. This DIY Recliner provides you with optimal comfort as well as style. Give your home some style and comfort with this DIY Recliner. Like the DIY Divas, you can upgrade your old chairs and turn them into amazing new furniture pieces. These do-it-yourself projects are perfect for beginners as well as experienced crafters! Not only is it a great way to save money and recycle, but turning an old chair into a recliner provides the opportunity to create one-of-a-kind furniture that will give your living room or bedroom a unique character.
DIY Adjustable Reclining Desk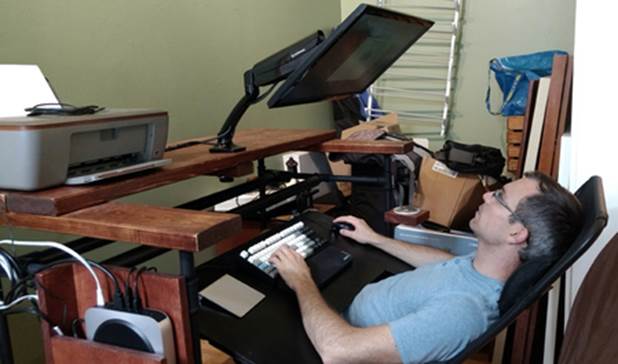 Have you ever been working at your desk, but at the end of the day, you felt like you were in pain? This is because most desks are not ergonomic; they don't adjust to your specific body type and require more effort to sit comfortably. This DIY adjustable reclining desk allows you to take a nap on your legs without having to leave your working place. You can do this with a diy table with a tilt mechanism, which provides the ability to adjust the angle of the screen up to 180 degrees. However, with this DIY adjustable reclining desk tutorial, you can easily make one yourself.
Recliner Pallet Wood Chair DIY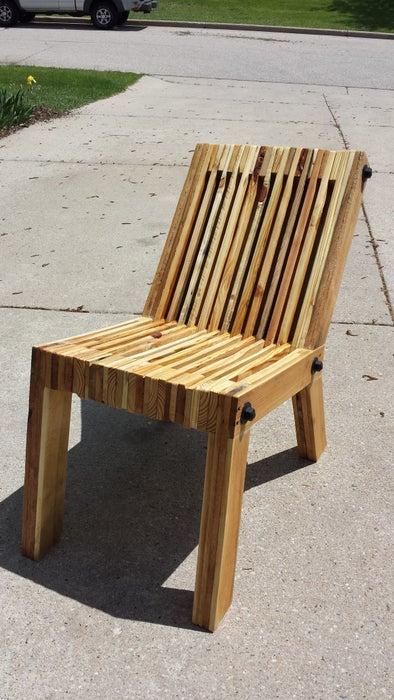 With this DIY wood chair, you can easily convert old pallet wood into a stunning-looking recliner. This project is suitable for everyone from DIY enthusiasts to those with zero experience with carpentry. All you need are the right tools and patience to complete the job. It will be an amazing addition to your home, both aesthetically and functionally, that can be enjoyed by all family members.
How To Make A Recliner Chair
This video is a step-by-step guide to building a recliner chair from scratch. The finished product will be a unique, custom piece of furniture you can use in your home or business. There is no need to look further into making chair recliners - this video covered you. Recliner Chair is a DIY project you can do in your backyard or on a field. It is not difficult, but it requires some experience with carpeting. Follow these easy instructions, watch it step by step, and start making this amazing chair to relax at home or to enjoy your quality time.
DIY Modern Outdoor Lounge Chair
The DIY Modern Outdoor Lounge Chair results from carefully synthesizing modern design and traditional handicrafts. It's an excellent example of how a simple geometric form can make something pleasing to the eye while still being extremely functional. This DIY Modern Outdoor sofa Lounge Chair is simple to make and looks great on any patio. Even if you're not handy, you can follow the step-by-step instructions in this video. It includes all the tools you will need to complete this project.
DIY Bent Plywood Recliner
This DIY Bent Plywood Recliner is perfect for sitting back and relaxing with a cup of your favorite cuppa. Designed for comfort and convenience, it will be the focal point of your home! This easy project requires only a few simple tools to complete. And it's a great way to show off your woodworking skills on a piece of furniture that will be enjoyed and admired by all who see it. In this video, learn how to build a Bent Plywood Recliner for your home. This unique design is quite simple to make, so anyone can do it.
Making A Recliner
Switch out the worn-out Recliner and get ready to enjoy long hours in the comfort of your sofa. If you're looking for a DIY furniture project that will makeover the interior of your house, you need to try this one. Your dream of a comfortable recliner may be within reach. It is inspired by the chaise lounge, which was popular in early 20th-century America and Europe. Making a recliner like this is not as hard as it looks; You can make one with the help of a few tools and supplies. It's the perfect project to do when looking for a quick craft to add a touch of glamour to your home.
How To Make Recliners
Turn your favorite chair into a comfy, relaxing place to sit with this DIY chair hack. Here is how to make a recliner chair with a DIY tutorial. This will provide you with the basic construction steps, fastening processes, and a few design tips to help you get started on your seat. You only need two pieces of plywood, a hinge, and some hardware. Watch the video above for step-by-step instructions on how to make it!
Simple DIY Recliner
This Recliner is simple and easy to make; however, it will look great in any home. The instructions are easy to follow, and understanding the process will give you the confidence to continue making other pieces of furniture you want in your home. This tutorial by Craftsman Woodworks shows you how to make a comfortable and stylish recliner that can be placed in any room, including the living room, guest bedroom, and den. It doesn't involve any complicated carpentry and is easy to follow along on. Enjoy!
Car Seat Recliner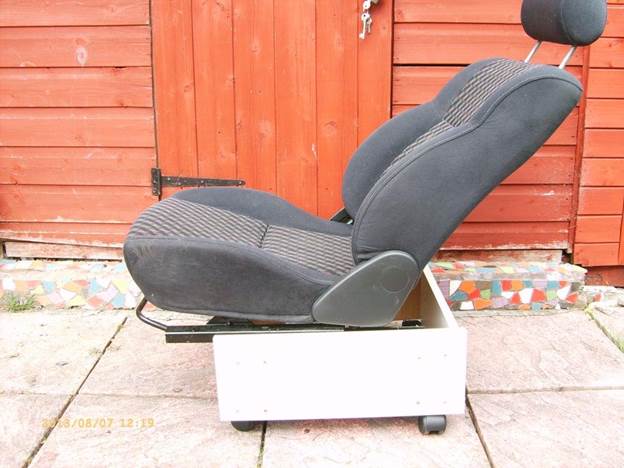 Do you have a short backseat, or are you uncomfortable reclining riding in your friends' cars? Try out this DIY car seat recliner for added comfort. Transform your car's backseat into the most comfortable spot in your home with this simple DIY car seat recliner. It is also a great product for people with back pain, nerve pain, and many other health issues. It allows you to sit up straight and find a comfortable angle that works for you.
How to Reupholster a Recliner Seat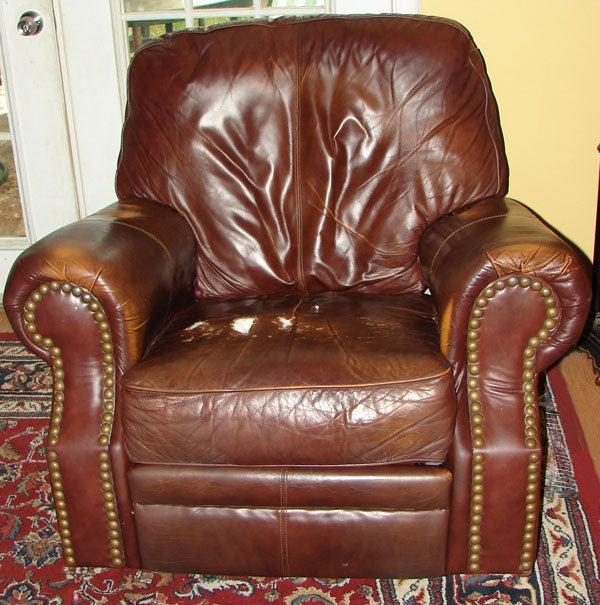 This easy-to-follow tutorial will show you how to reupholster a recliner seat. It's a great way to pick up new skills and a cost-effective way to give your living room (or bedroom) lounge chair a new look. And if you're like us, you can always use an extra chair for guests or family members who come over! All you need are the proper materials, a new piece of foam, and a cover — that's it! Follow this tutorial; you'll be well on reupholstering your Recliner.
Recliner Chair Build For Beginners
Do you want to create your recliner chair? Then this video is for you! It will teach you how to build a comfortable and stylish recliner that you can enjoy for years. Watch this video for step-by-step instructions on how to craft your DIY Recliner Chair. A DIY Recliner Chair is a great project for your home office, bedroom, or living room. This video contains all the tools, supplies, and materials needed to build a DIY recliner chair that can be assembled in less than a day.
How To Make A Recliner Chair
Recliners are one of the most wanted things in every home. They are comfortable and stylish and help you relax after a hard day at work. Watch this video to learn how to make a recliner chair. This requires only basic carpentry skills, and most of the tools you need can be found around your house or at your local hardware store. Make this chair for the den or main bedroom; it would look great in practically any room! It's also perfect for additional seating when you have guests over for dinner!
DIY Recliner
Do you want to know how to create a recliner? No doubt, the following project will be your solution. The steps described here are easy to follow, and you can easily execute them yourself. Making your Recliner is not only economical but also handy and eco-friendly. You don't have to spend too much money to buy a new recliner design, so why not make it yourself? This is an excellent way of saving more money and, at the same time, making a piece of lovely furniture for your home or office space.
Making A Motorized Recliner Chair
There are various versions of motorized recliner chairs, but the main thing is that it comes with an electric motor that is concealed. When you turn the button, it makes sure to recline as far back as possible. The parts needed to make a motorized recliner chair are quite expensive, but if you have all the tools and materials prepared beforehand, this could be a great project. Watch these easy-to-understand steps as an expert shows you how to make your motorized recliner chair.
How To Reupholster A Recliner Chair
Reupholstering a recliner chair is one of the more satisfying DIY projects you can attempt if you have enough time and patience. The process can be expensive depending on the materials used, but the result will last many years. Get a new look for your old chair by reupholstering. This video tutorial demonstrates how to take apart a recliner chair's armrests, back, seat and bottom. It also shows how to put on a piece of new upholstery fabric.
DIY Upgraded Recliner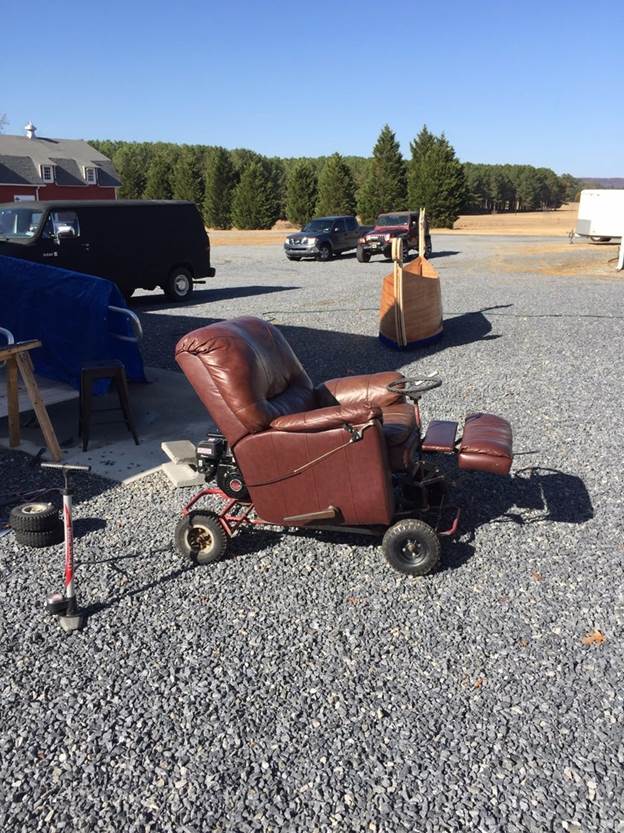 DIY Upgraded Recliner is a great way to add comfort and style to your home. Made from the finest quality materials, these recliners are comfortable and durable. They can be used in any room of the house or office. Make your own with these easy Do-It-Yourself instructions and save money by not having to pay for expensive upholstery! These chairs are perfect for anyone who needs extra comfort when sitting. Plus, with its wide range of motion, it's perfect for reading or relaxing after a long day
DIY Knex Recliner Toy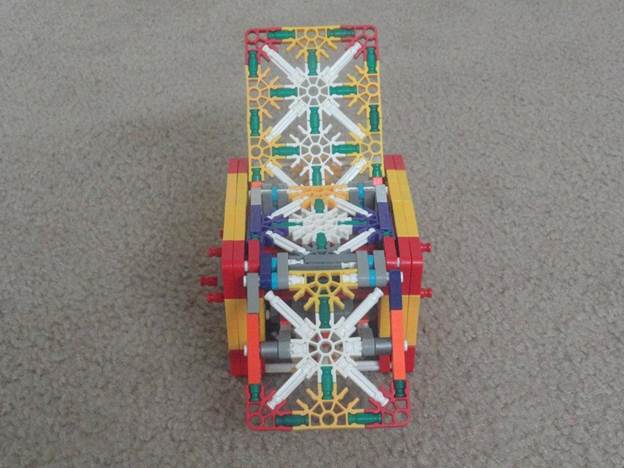 The DIY Knex Recliner Toy is fun and easy to make by yourself. It requires simple parts and just a few steps to put together, so you can start building immediately. The instructions are clear and simple, with color-coded parts to help you create a vivid image of the toy in your mind. Get creative and experiment with new ways to build it - there's unlimited potential! Make a Knex Recliner Toy with your child. It's a great way to spend time together.
Upholstering A Recliner Chair
An upholstered recliner is one of the best investments you can make in your home. It will provide a cosy spot to curl up, enjoy a good book, relax after a long day, or take a nap. You probably have a great idea of what you want in your home, and you've always wanted a comfortable chair like this one. Yes, the average DIY-er can make their upholstered furniture with a little creative guidance. Watch this video to learn how to take a used recliner and turn it into something great!
DIY Reclining Outdoor Lounge Chair
Create your outdoor lounge chair with this DIY Reclining Outdoor Lounge Chair. Kick back and relax in style with this DIY Reclining Outdoor Lounge Chair. Whether you're hosting friends for backyard BBQs, soaking up some sun on the beach or lounging lakeside, this folding lounge chair makes a stylish seat in any setting. This lounge chair is a great addition to your outdoor living space and incredibly simple to build. With a few simple tools and just a few hours of daylight, you can have a beautiful lounge chair to admire your garden and backyard.
Bamboo Chaise Lounge Chair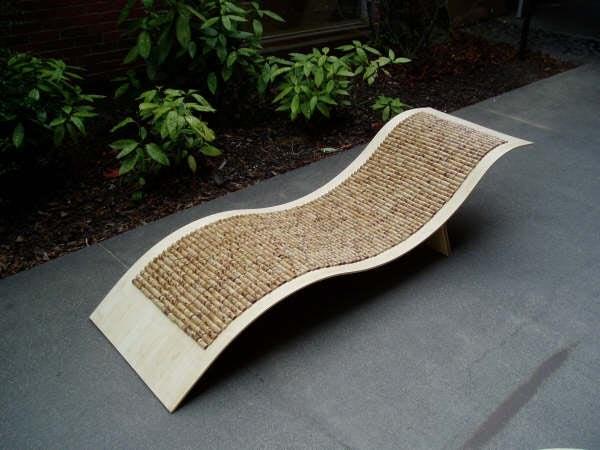 From the floor to the ceiling and everywhere in between, bamboo's eco-friendliness has made it a popular choice for home decor. Thanks to our DIY Chaise Lounge Collection, you can enjoy this natural material in your backyard. Bamboo Chaise Lounge Chairs are as sturdy as they are beautiful. Make your own bamboo chaise lounge chair with this easy-to-follow DIY tutorial. Simple and easy to assemble. You will be satisfied with creating something with your hands and making it uniquely yours, as all Bamboo Chaise products are designed to adapt to your sensual lifestyle. With no additional tools, anyone can build their chaise lounge chair set in less than one hour!
Adirondack Chaise Lounge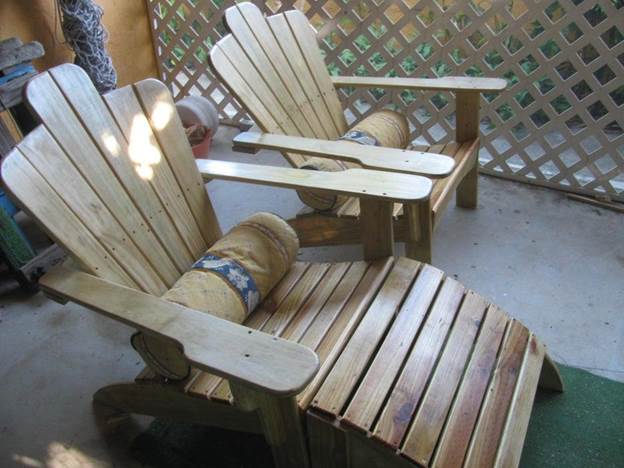 Get a taste of the Adirondacks at home with this DIY Adirondack Chaise Lounge. As comfortable as your favorite chair and easy to build, this project is a must-have in any outdoor space. The DIY Adirondack Chaise Lounge is a great project to do as a couple or with friends. It's also a great experience that allows you to use your creativity and get in touch with the wood on a deep level. You'll be surprised at the satisfaction of creating something impressive that lasts for decades, if not longer.