If you have a garden, you may need an outdoor sofa. You can buy one at the store, but it will cost around $1,000. That's way too much money for an outdoor sofa that will be in the elements. You could build your own for much less money. So what are your options? You can spend $1,000 on a new store-bought sofa or about $50-$100 on wood and supplies to build your own. If you go with the latter option, it can be very rewarding, but only if you know what you are doing. This article has some DIY Outdoor Sofa Plans that will help you build your outdoor sofa that will look great and last for many years.
Outdoor furniture is a great way to get the most out of your summer. You can have a barbecue with friends or relax in the fresh air. But what if you don't have the money to buy an expensive sofa? Well, you can always make one! In this post, we'll give you instructions for DIY Outdoor Sofa Plans that are cheap, simple, and very sturdy. So read on to learn how to create your nice-looking outdoor sofa.
Whether planning a poolside party or enjoying your lazy days on the porch, these DIY outdoor sofa plans are perfect for setting up your dream home.
DIY Outdoor Sofa Plans
If you are looking for an easy project that can add value to your home, DIY outdoor sofa plans are the way to go. It will allow you to flex your DIY muscles and try something new and also help you save money on your next furniture purchase.
Here are some of the benefits of DIY outdoor sofa plans:
Save money on expensive furniture. One of the main benefits of DIY outdoor sofa plans is that they allow you to use cheap materials and create something beautiful simultaneously. If you have ever shopped for outdoor furniture, then you know how expensive it can be. You might even be able to buy an entire set for less than what one piece would cost in other stores, especially if you choose to use reclaimed wood in your design.
Create unique pieces that no one else has seen before. Another benefit of using cheap materials and creating unique designs is that you won't find many other people who have done something similar with their outdoor sofas or patio tables. This means that if you want something different from everyone else, this is one way to do so without breaking your budget!
Outdoor Sofa DIY Plans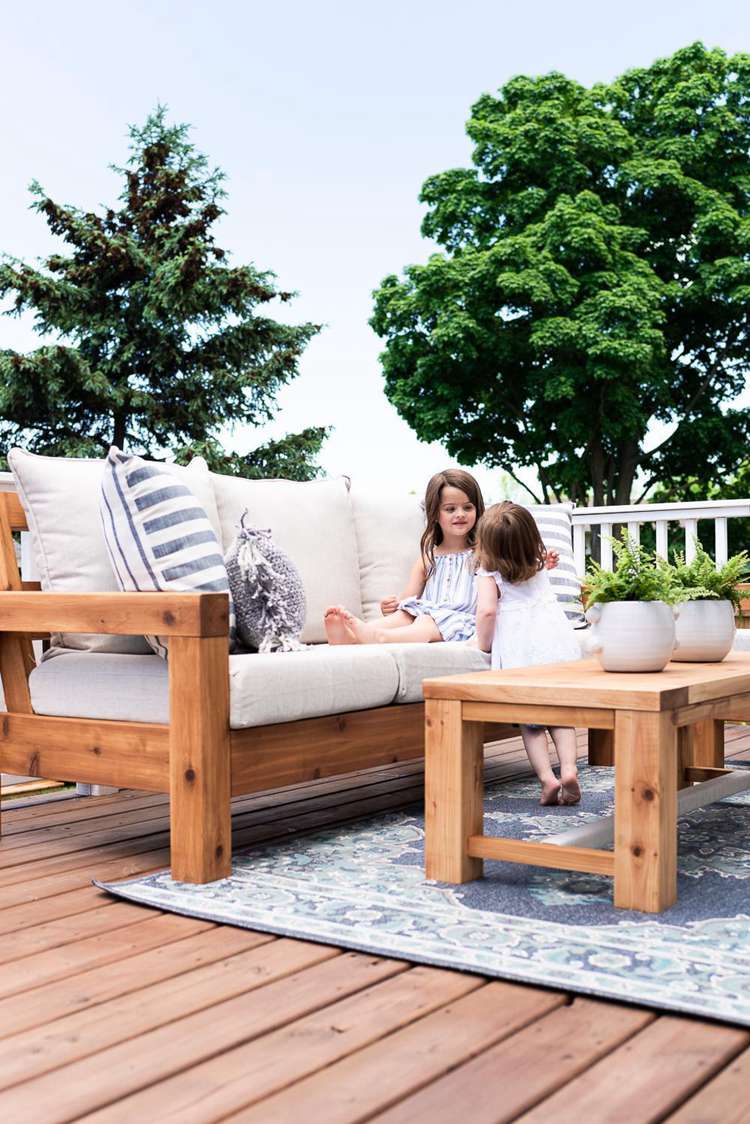 The outdoor sofa plans will show you how to build a piece of furniture for your deck or patio. This can be made for you if you have the tools, or if you want a challenge, use these instructions to make it yourself from wood and wood screws, a miter saw, and a table saw. The assembly process is not hard but takes time because each piece must be cut perfectly before assembly begins. A very nice-looking piece at the end of the day!
How To Build A Modern Outdoor Sofa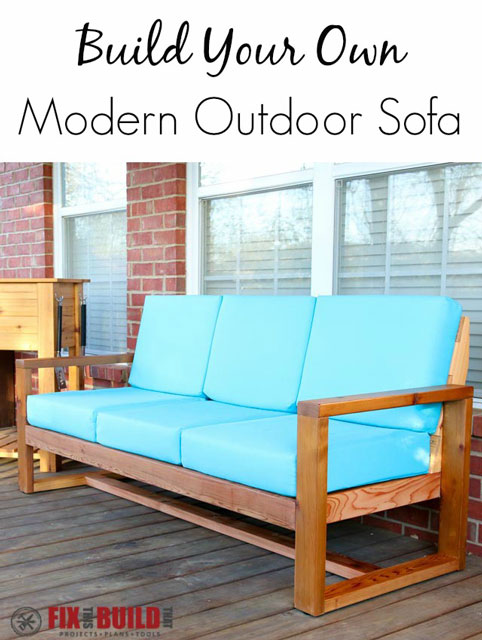 If you're looking for a way to add style, comfort, and functionality to your patio, then this modern outdoor sofa is just what you need. It features a durable design that can withstand hot summer days as well as cold winter nights. With these step-by-step directions, you can build your modern outdoor couch. This loveseat-style sofa will add a touch of style to any outdoor space. It's easy to assemble and great for entertaining or just kicking back with friends.
DIY Modern Outdoor Sofa
This modern and classy sofa will perk up your outdoor living space. Its comfortable cushioned seat is perfect for entertaining guests on the patio or by the pool. This DIY project is easy to make and uses common tools you probably already have. Follow along and learn how to cut and join wood pieces so you can build this modern outdoor sofa too! This easy build requires very few specialized tools; you can spend more time enjoying your outdoor space.
DIY Outdoor Couch
If you can't afford an outdoor couch for your backyard, this easy DIY project is for you. This DIY outdoor couch is ideal for spending hours lying in the sun and relaxing. The patio sofa is easy to make, with all materials from standard and off-the-shelf wood. All you need is a few basic tools and materials to create a stylish and comfortable outdoor sofa that will last through the seasons.
DIY Outdoor Sofa With Hidden Storage
This storage sofa is perfect for any patio. It is comfortable and with a super stylish design that can fit your home's modern vibe. The cushions are removable, which makes it easy to wash when dirty or clean if you want to add fresh or change color. It has a secret drawer that can be used for storing pillows, blankets, etc. It is a comfortable sofa with hidden storage that you can use on the patio or garden.
DIY Modern Outdoor Sofa
This DIY-friendly project is the perfect solution if you're looking for a new, comfy outdoor sofa that doesn't break the bank. This stylish DIY Modern Outdoor Sofa is made from wood and can be set up in the backyard. It's simple and inexpensive to assemble, with all the supplies you need available from your local hardware store. So, Create a simple modern outdoor sofa with this DIY tutorial. You can design and build your own stylish DIY modern outdoor sofa in just a couple of hours.
How To Make An Outdoor Sofa
An outdoor sofa is a place where you can enjoy the summer weather and have fun with friends. It's an important part of your patio furniture since it offers comfort and relaxation. To make an outdoor sofa, pick up the needed materials, such as wood, cushion covers, and screws, then prepare them according to the instructions in this video. This project will take approximately 3 to 5 hours to complete depending on if you want to stain or paint the boards first.
DIY Outdoor Sofa
This is a great DIY project for a warm summer night or a relaxing day in the sun.  Wedge your feet into the wood slats on each side, pull up your favorite book or camera, and start enjoying your peaceful time. This outdoor sofa can be built using long pieces of wood and widely available hardware store clamps. It is not only easy to build but also cheap, only costing about $40 or even less in some cases (depending on what materials are being used).
DIY Simple Outdoor Sofa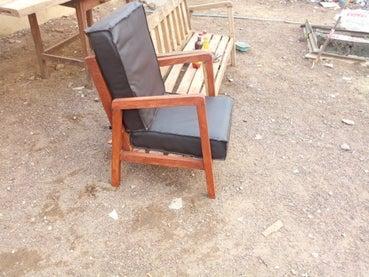 This DIY project will make your outdoor sitting space awesome. It is easy to do and affordable. It only takes a day or two to complete the project, depending on how handy you are at woodwork. You need to have basic carpentry skills to complete this task. This DIY Simple Outdoor Sofa is the perfect addition to your outdoor space. The tutorial guide makes it easy to construct with step-by-step instructions and materials.
See More: 25 DIY Outdoor Chair Plans For Garden
DIY 2x4 Outdoor Sofa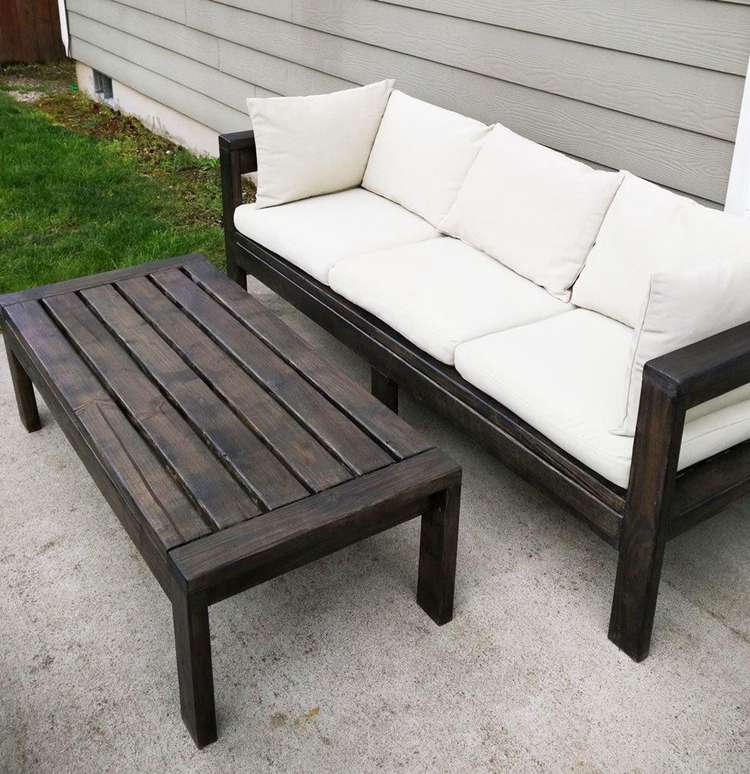 The DIY 2x4 Outdoor Sofa is a simple and easy-to-make furniture piece. It uses 2x4s, glue, and screws to create a sturdy seating area that will last for years. It's best to paint or stain the wood pieces before assembly because once the furniture is put together, it will be difficult to reach all exposed surfaces. The instructions are clear and easy to follow so that anyone can build their own in no time. In addition, it requires only the most basic tools and materials.
DIY Outdoor Sofa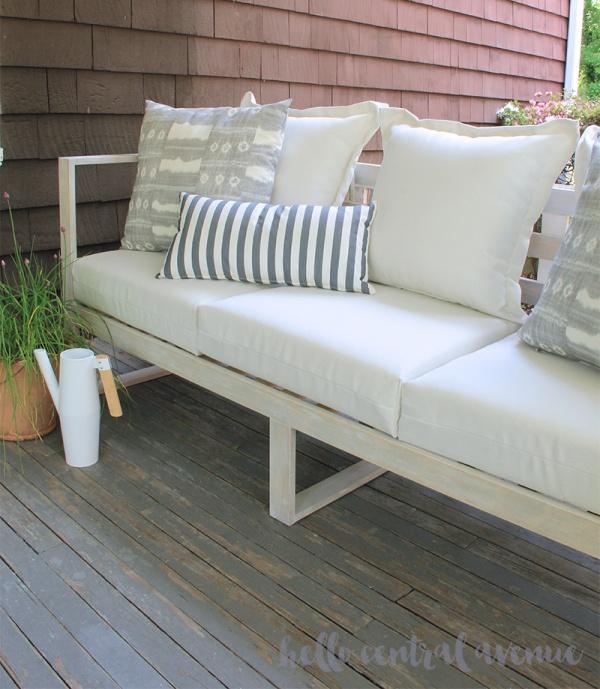 This DIY Outdoor Sofa is easy to assemble and perfect for your backyard. The stylish design makes it an eye-catching piece, but the materials needed for this project are only wood and a few supplies from the hardware store. You'll also need to assemble some pieces after cutting and sanding, but with patience and practice, you can create your version of this DIY Outdoor Sofa. It's easy to build, and it looks great too! You'll be able to make it in no time!
DIY Outdoor Sofa Build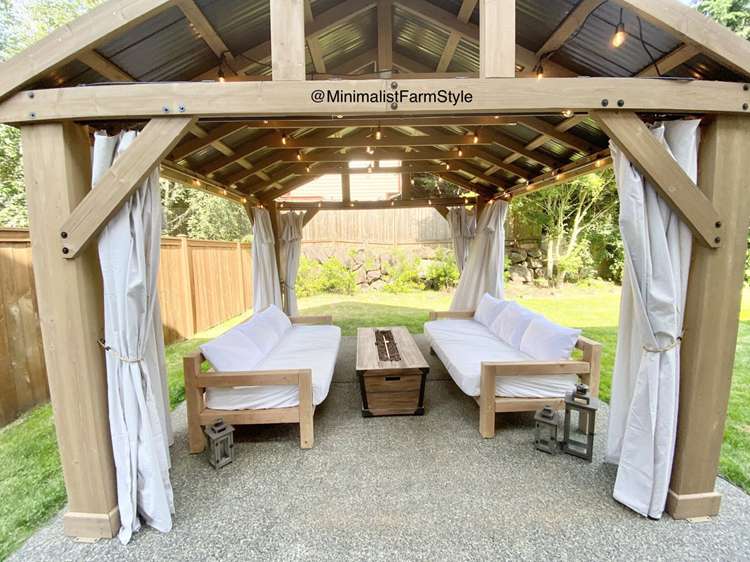 You can build a beautiful sofa for your backyard using only basic tools and this easy-to-follow DIY guide. The best part is that you can build it out of recycled wood, making it not only one of a kind but also sustainable. So Build a DIY outdoor sofa with this step-by-step tutorial. It has all the materials you need to make one, including wood and various tools. It will also walk you through assembling and attaching it to create your custom piece to add to your backyard or patio area.
How To Build An Outdoor Sofa
Do you love spending time outdoors? If so, then this project is perfect for you. Building an outdoor sofa will give you and your family additional space to relax while enjoying the beautiful weather. This sofa can easily be customized in size, so it'll fit in any area of your garden or porch. Follow this video's step-by-step instructions to build your own outdoor sofa!
DIY Outdoor Lounge Sofa
Are you looking to add a pop of color to your outdoor furniture this summer? Then make this DIY outdoor lounge sofa, complete with built-in pillows. You can get the materials you need at your local hardware store, then customize them to fit your needs and preferences. The most complicated part of the project is cutting the pieces to size. Once they're all cut, use wood glue to put everything together, then let it dry before staining. Let's get started!
DIY Cheap Outdoor Sofa
There is no need to spend much money on a sofa for your outdoor area. You can make your own cheap and simple outdoor sofa with the help of this DIY project. It will look wonderful in your backyard and can be used by you, your friends, and family members on any special occasion or party. And best of all, the materials used in this project are inexpensive, so it has a low cost of about $30.
DIY Cinder Block Bench
This easy DIY cinder block bench is a great addition to any yard or patio. It's made from cement blocks and wood and can be painted or stained to match any existing decor. So, you can build a fashionable and sturdy cinder block sofa in your backyard with minimal tools. This DIY tutorial features plans for building a sofa bench from cinder blocks, paint or stain, screws, and wood. Watch this video to learn more!
DIY Miniature Sofa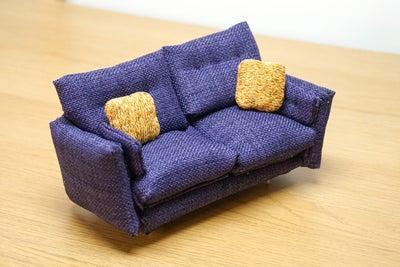 This is a fun project for all ages and a great way to use scraps of fabric or different colors in your stash. All you need is a ruler, needle, and thread to create this adorable Miniature Sofa! The options are endless regarding this project's design, fabric, and size. You can even paint it a pretty color and use different colored stuffing! This guide will show you the complete procedure.
Pallet Sofa DIY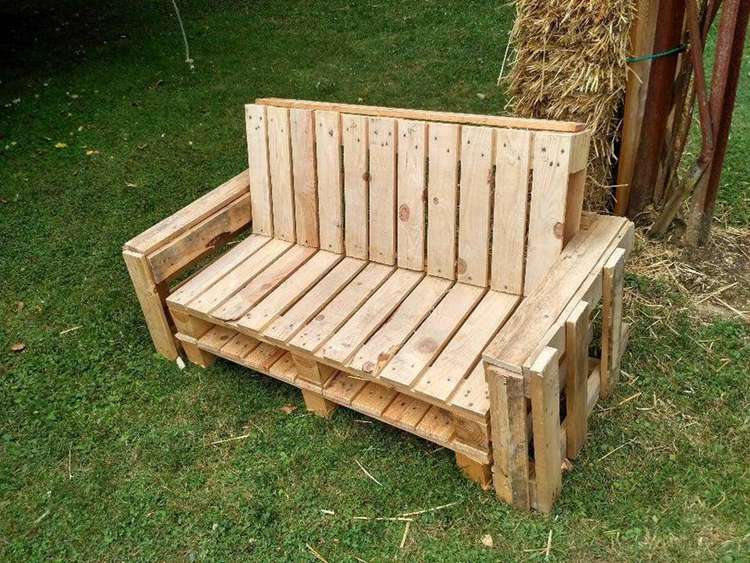 If you're looking for a unique piece that's handcrafted and eco-friendly, try this pallet sofa DIY. This pallet sofa is easy to make and requires only a few pieces of wood. The dimensions are up to your personal preference, but the basic idea is simple: cut the pallets apart and screw them back together – it's so much easier than it sounds! This sofa looks rustic and gives your home a new look.
Modern Outdoor Sofa Plans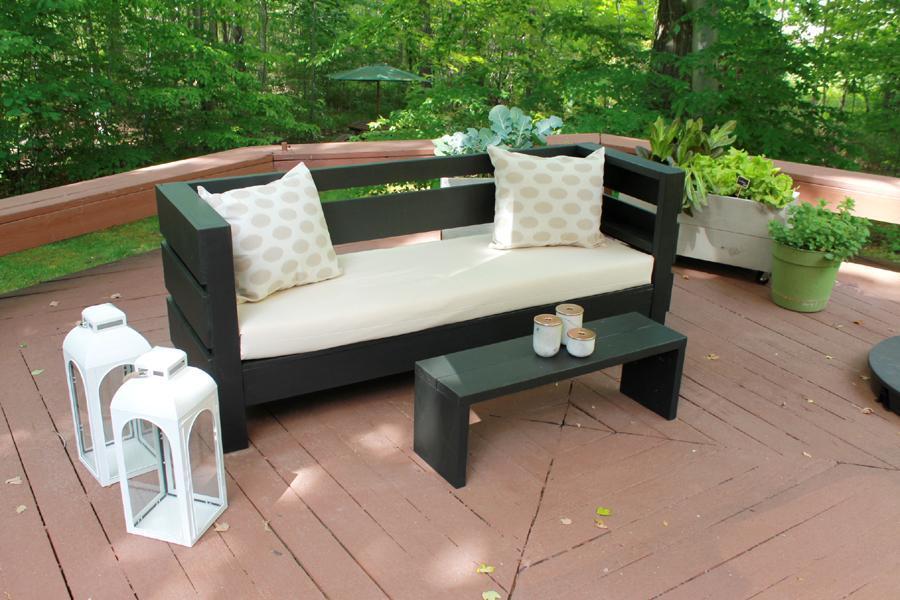 This modern outdoor sofa plan is a wonderful way to update your outdoor space by making your piece of furniture. This nice outdoor furniture piece would liven up your patio, porch, or balcony. To relax on a lazy day, take a nap in the shade of this sofa. This woodworking guide will walk you through every step in the process, including a cutting list and instructions on how to create this project yourself.
DIY Modern Outdoor Sofa
This outdoor sofa will add a touch of modernism to your patio or balcony. The simple design is perfect for any outdoor space. The seat and backrest are made of ultra-durable, weather-repellant mesh spaced by slats so the breeze can flow through easily. So, go through this guide and build a modern outdoor sofa that can also be used as indoor seating in case of bad weather. The DIY project is easy to assemble and an attractive addition to your backyard or patio.
DIY Modern Box Sofa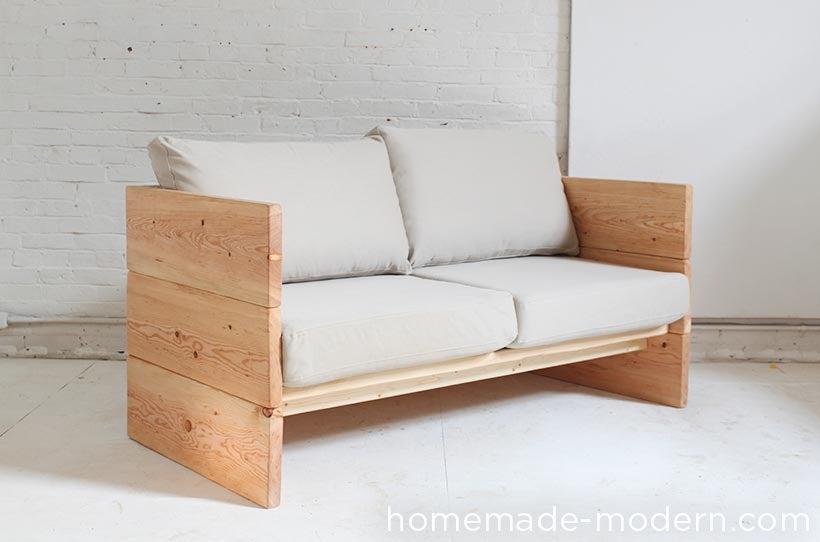 A modern box sofa is a great way to add a pop of color and texture to your living room. This simple sofa is just made from a few simple wooden pieces. Once you have the wood cut and prepared, this will take less than an hour to complete. This beautiful wooden sofa is perfect for any room in your home. Follow the step-by-step instructions included in this guide and make your own DIY Modern Box Sofa!
DIY Outdoor Sofa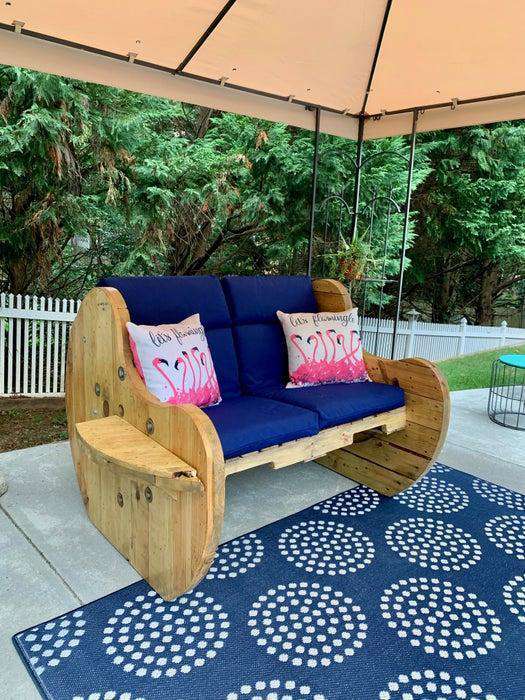 Get your patio ready for the upcoming season by making this DIY outdoor sofa. It's easy to build and can be customized however you like. Stain your wood pallets and spruce them up with colorful cushions, making this an attractive piece of furniture for your backyard. The result is a comfortable-looking piece that you can use year-round, and you won't spend much money in the process! Make it yourself with this step-by-step guide!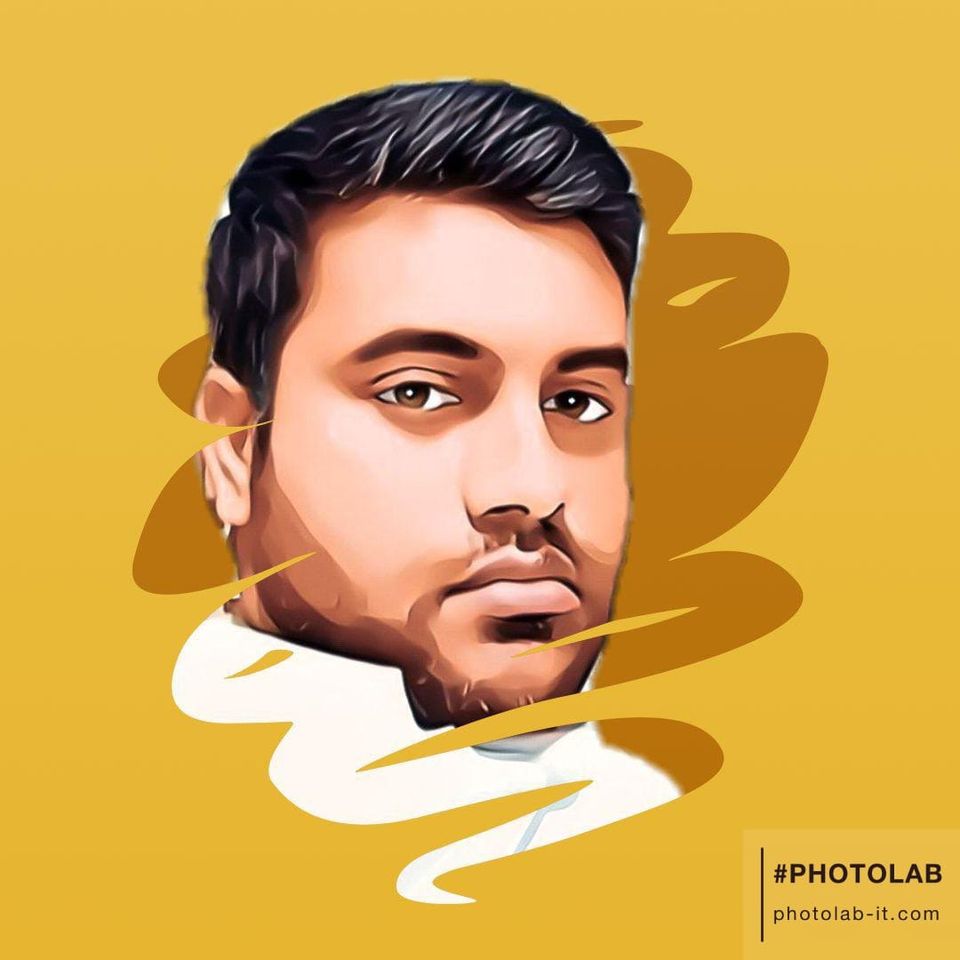 I am Raza, a crafts expert with 6 years of experience. I run this site for DIY lovers to provide the most exciting projects and ideas for your home, office, and everyday life. See More