20 DIY Bunk Bed Ladder Projects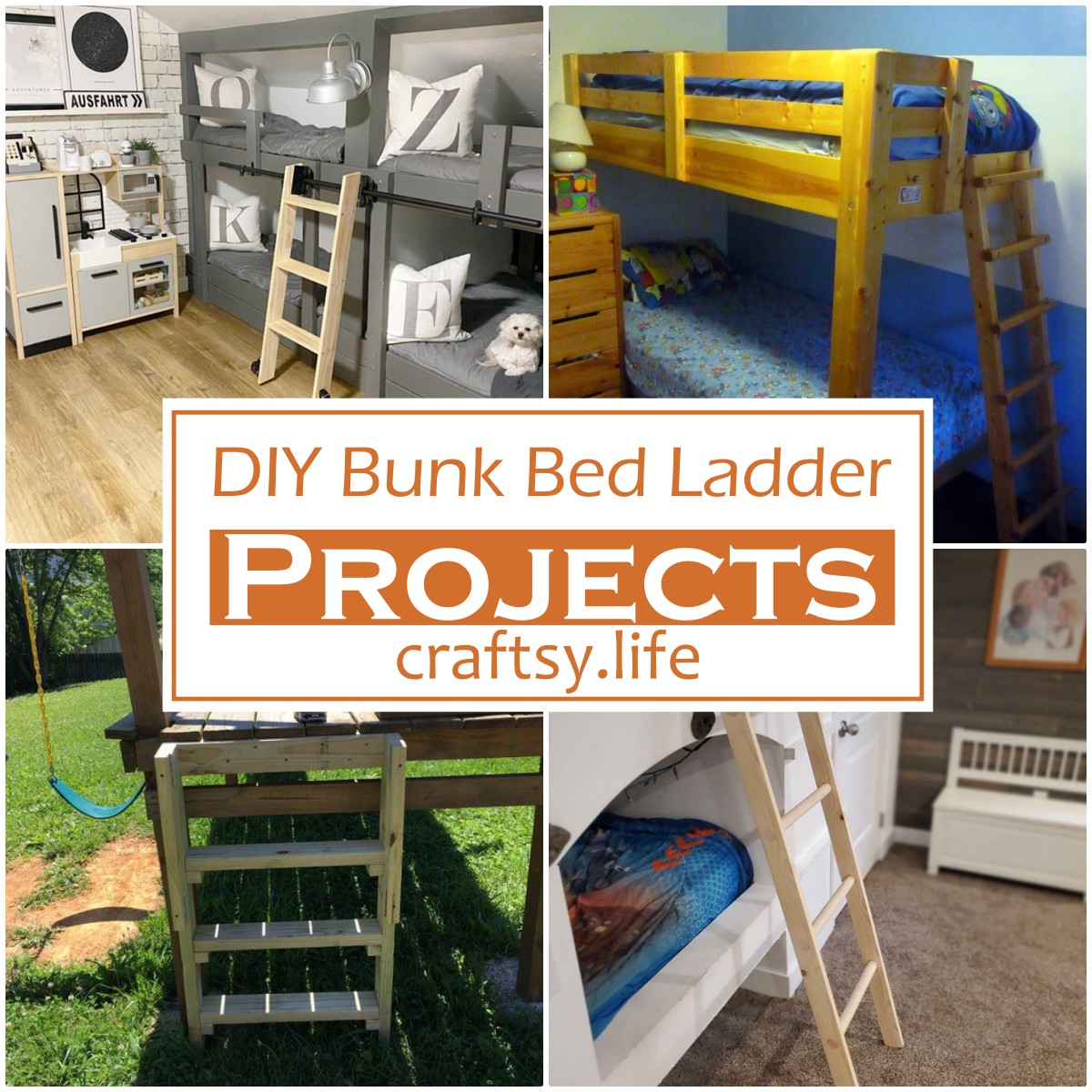 If you're interested in creating a bunk bed ladder, you've come to the right place. In this article, you'll find some unique DIY Bunk Bed Ladder Projects that will allow your kids to sleep in bunks without risking their safety. With the help of the plans and instructions found here, you'll be able to build a bunk bed ladder that meets your needs and fits within your budget. Building a bunk bed ladder is a great way to save money because most ladders are very expensive—you can find one at a hardware store or online for $100 or more. But you can build your own using inexpensive materials available at your local hardware store!
DIY Bunk Bed Ladder Ideas
Bunk beds are a great way to squeeze in more sleeping space when you're tight on space, but many people are left with the problem of how to get up to the top bunk safely. DIYers are always looking for clever solutions to everyday problems, and we've found 20 fresh ideas to make a ladder that will help your kids get safely up and down from the top bunk. These solutions range from simply modifying a pre-made ladder to building a custom ladder that's part of the bed itself.
DIY Bunk Bed Ladder Projects
DIY bunk bed ladder projects are a great way to save money, especially if you want to save dollars on your next home improvement project. Bunk bed ladders can be expensive, so building your own is smart.
Benefits of DIY Bunk Bed Ladder Projects
Cost Savings:

 The most important benefit of DIY bunk bed ladders is cost savings. You can build a quality bunk bed ladder for much less than retail costs and still have the option of customizing it to suit your needs.

 

Customization:

 Bunk bed ladders come in many sizes and styles, but not all are created equal. You may want to customize your ladder to fit perfectly with the style of your room or add extra features that make it safer and more comfortable for kids.

 

Safety:

 Another reason it is better to build your ladder than buy one from a store is that you can make sure that it's safe for use by children (or anyone else) climbing up and down the ladder daily.
How To Build Bunk Bed Stairs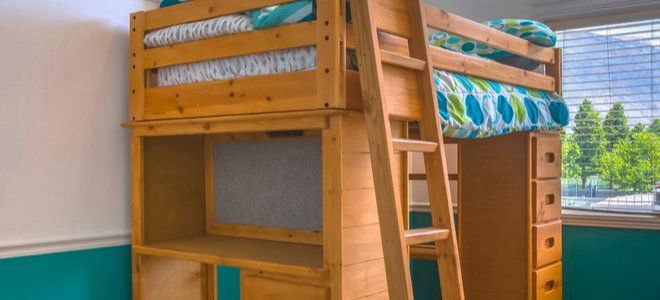 If you're looking for a fun DIY project and your children need additional space in their room, consider building a bunk bed and stairs combination. Building the staircase and attaching it to the bed requires some carpentry skills. However, with this tutorial, you can accomplish the project in no time. The process is simple, using common tools and wood available at any home improvement store. Once finished, you'll be able to create the ultimate kid's hideaway, complete with a nook for reading or playing video games.
Bunk Bed Library Ladder
Do you need more storage space in your kid's room? Make them this fun DIY bunk bed library ladder that doubles as a reading station and steps up to the lofted sleeping area. You can easily add two or three wide steps to accommodate a bottom's opening. The best thing about this project is that it is for beginners and does not require special skills. It will become an instant classic in your child's room and look amazing!
How To Make A Ladder
If you want to build a ladder that you can use as your new bed and desk, this is the video for you. If you like building stuff with wood, then you should consider trying it out yourself. Follow the step-by-step instructions to make this awesome wooden ladder. Once you have completed the project, you will have a cool bunk bed ladder! This bed bunk ladder is great for kids and teenagers, as it's not only practical but also trendy and stylish.
Simple Kids Ladder For Bunk Bed
A simple and useful ladder can be a great way to keep your little one safe when they need to get to bed. Its structure is simple, and the steps are firmly in place with pressure-treated wood for stability. Whether you are making a bunk bed for two little ones or need to make space in your room, this DIY kids' ladder for the top bunk is handy for saving space. With three steps, it's easy for your kiddo to climb up and get in bed!
One-Legged Bunk Bed Ladder Build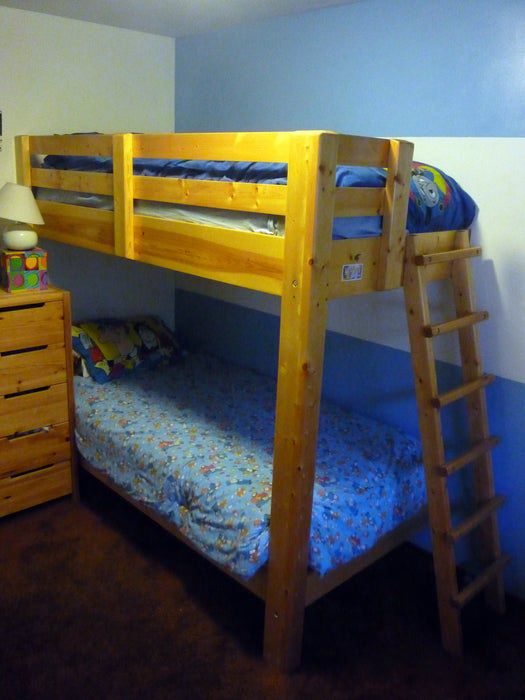 Bunk beds are a smart choice when you have kids, but they can be expensive. Learn how to build your own inexpensive DIY one-legged bunk bed ladder. This ladder is sturdy enough to support the heaviest of kids and adults. It's also easy enough for a kid (with a little help) to install themselves! This DIY Ladder is the perfect solution for your kids' bunk bed or any place you want a ladder that is fairly easy and inexpensive to build.
How To Build A Bunk Bed Ladder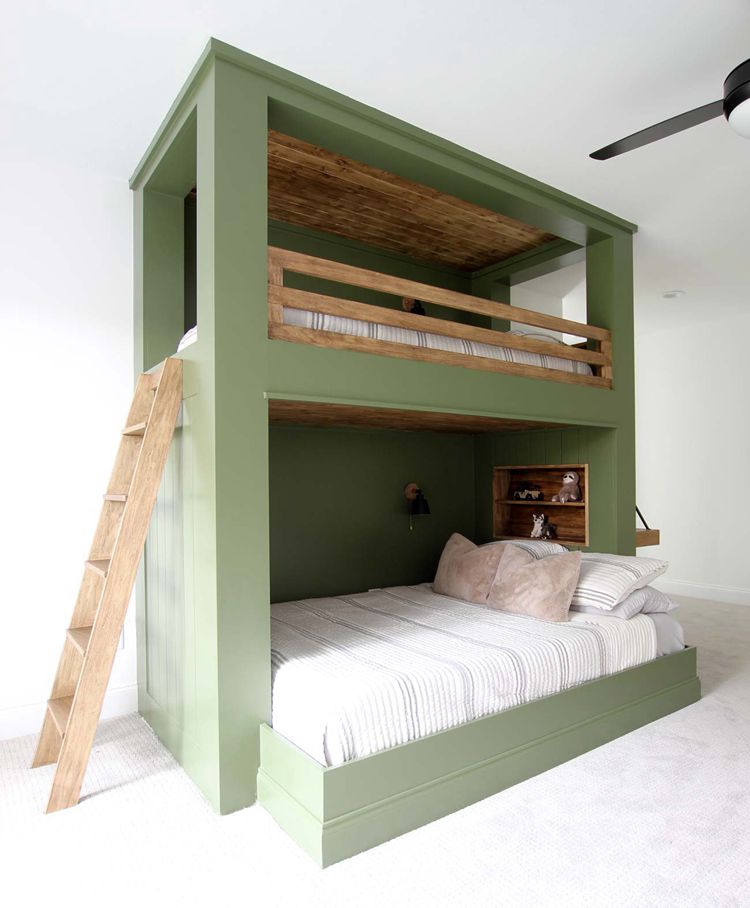 This DIY bunk bed ladder plan is perfect for the DIYer looking to build their bunk bed and save a ton of money.  This DIY bed bunk is easy to build, and it looks fabulous. The ladder features beautiful spindles, which are very easy to install. You will also find a detailed step-by-step guide in this specific article. Follow the instructions carefully and complete the project on time! This woodworking project will get you into the DIY community and help you understand how construction works.
How To Attach A Bunk Bed Ladder
Are you a handyman who wants to show off your skills with friends over the weekend? Do you have a bit of creativity and a couple of hours on your hands? This DIY bunk bed ladder is perfect for the man who likes to tackle projects alone! This step-by-step tutorial teaches how to build a sturdy and stylish DIY ladder for your bunk bed. The best part? It's made entirely of wood so you won't need any tools beyond your basic carpentry tools.
DIY Blanket Ladder
This DIY ladder design is easy to make your bed feel more like a cosy home. It's all about how you build it! Below are step-by-step tutorials for creating your own DIY Blanket Ladder, using simple materials that you can find at most hardware stores. Whether you have limited space or need an extra storage layer, a blanket ladder is a perfect solution to your home's clutter issues. This DIY project is made from wood dowels and wood blocks, so it's light but strong.
How To Make A Bunk Bed Ladder
Are you looking for ways to make your kids' playroom less dangerous? You can develop some great ideas, including a bed bunk ladder. This bed ladder can be used as a bunk bed ladder when the bed is made. It is easy to install and sturdy enough to support more than one person at a time. This video guide will show you how to make the perfect one using wood. The instructions are simple and clear so that even the most novice carpenters can easily follow them.
DIY Bunk Bed Ladder
Loft beds are great for kids' rooms, but what kind of ladder do you use? After all, ladders come in all shapes and sizes, and they aren't all made the same. If you're thinking about adding a simple loft bed ladder to your room, here's how to make it. Making your railing for bunk beds can be a great way to personalize your kids' room look. This DIY project is suitable for anyone with little experiences with carpentry and safety tools like a table saw and jigsaw.
Bunk Bed Ladder DIY
Make your own DIY bunk bed ladder with this step-by-step tutorial. You don't need to be a carpenter to make this wooden ladder. It's perfect for those with little kids who sleep in bunk beds or anyone who wants extra storage space underneath their bed. But it's important to note that your ladder should be the same size as the bunk bed you're building. The measurements will vary depending on how wide the bunk is and whether it has a top or bottom bunk, but in general, make sure your ladder is large enough so kids can climb into their beds without trouble.
Pipe Bed Ladder
Consider a pipe ladder if you're looking for an easy DIY project to improve your child's sleeping habits. The photo shows one that uses steel pipes, but you could use smaller pipes and railings if you prefer. This design is lightweight, so it's easy to move the bed when needed. This simple yet durable bed ladder matches your decor and gives you that extra space. It's also easy to assemble.
How To Build A Ladder
Have you ever thought about how to make a ladder for your kid's playground? If yes, this is the right place and time to do so. The best part of this DIY project is that it can be done anytime and anywhere. All you need is a carpentry skill set, a good amount of wood, hardware and some screws. The building of a ladder for the kid's play set will ensure that your child can easily climb up and down the building safely. This DIY project takes about 4 hours to complete, but it is worth it.
Simple Bunk Bed Ladder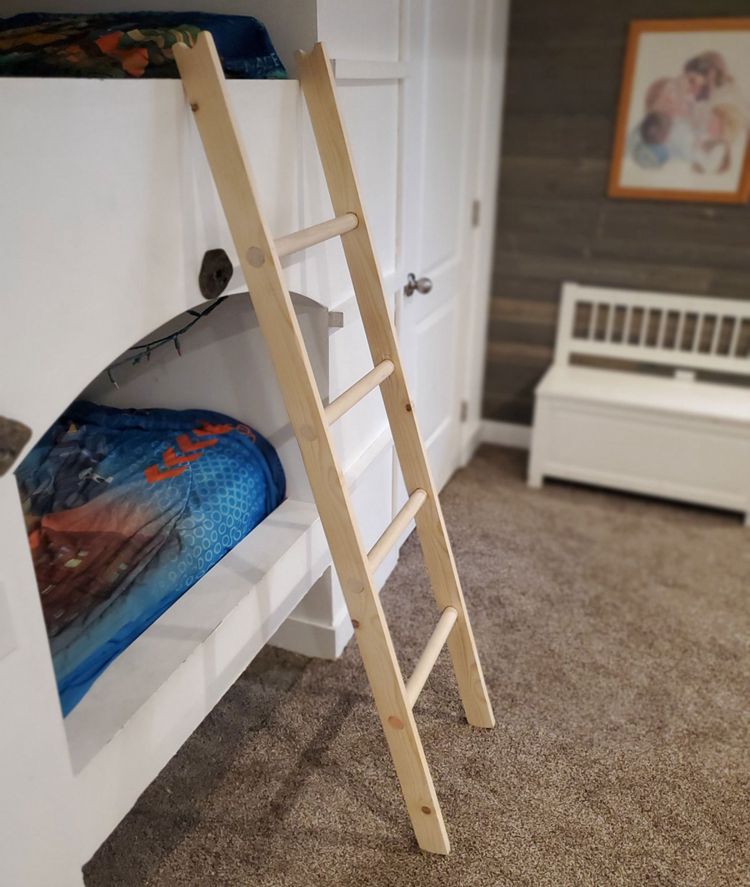 This DIY simple bunk bed ladder is the perfect addition to any bunk bed! It helps keep your kids safe when getting in and out of bed and makes it quick and easy. Made from one piece of wood and wooden dowels, this ladder is simple to make. It attaches to each side of the bunk bed with screws, so it works as a good alternative if you don't have posts or rails. Build a simple–and sturdy–ladder for the bunk beds in your child's room with this easy DIY project. And, since it's made from wood, you can paint or finish it to match the rest of the furniture in your kid's room.
How To Make A Bed Deck Ladder
Do you want to make a ladder to use as a bed deck? This DIY project shows you how to make a handy and versatile bed block ladder. The only thing better than climbing into bed at the end of the day is having a staircase that leads you to it. This step stool-inspired set of stairs uses wooden rails and galvanized steel pipe to make climbing into bed a breeze. Remember that this project requires some tools so it would be best for more experienced builders.
Build A Bunk Bed Ladder
Looking for a great project to try? Take a look at this DIY builds a bunk bed ladder. All the instructions and materials are provided, along with detailed diagrams and illustrations, to guide you through creating your custom-made ladder for your bunk beds. The materials are affordable and can be found at any big box hardware store. If you are planning on making any modifications to make it, you just want to ensure you have basic woodworking knowledge and tools before attempting this project.
How To Build A Loft Ladder
Building a loft ladder is not as hard as it looks. It's quite easy, and you can do it yourself too. This guide contains everything you need to know about building a loft ladder easily, so let us learn more about this awesome furniture in today's post. You can easily create a loft ladder for your room in under a day! All you need are the right tools, lumber, screws, and a little bit of patience.
Bunk Bed Ladder For Camper
This DIY bunk bed ladder is a classic storage solution that helps free up floor space. It's perfect for campers, day beds or Easy DIY trundles because it's easy to install. This project is a great way to get your children involved in the building process. The bunk bed ladder is a DIY project that requires some power tools. It's not as difficult as you might think, so don't let the power tools intimidate you. Once you have your materials cut to size and ready to begin, the actual construction of this DIY project won't take more than an afternoon.
How To Build A Bunk Bed Ladder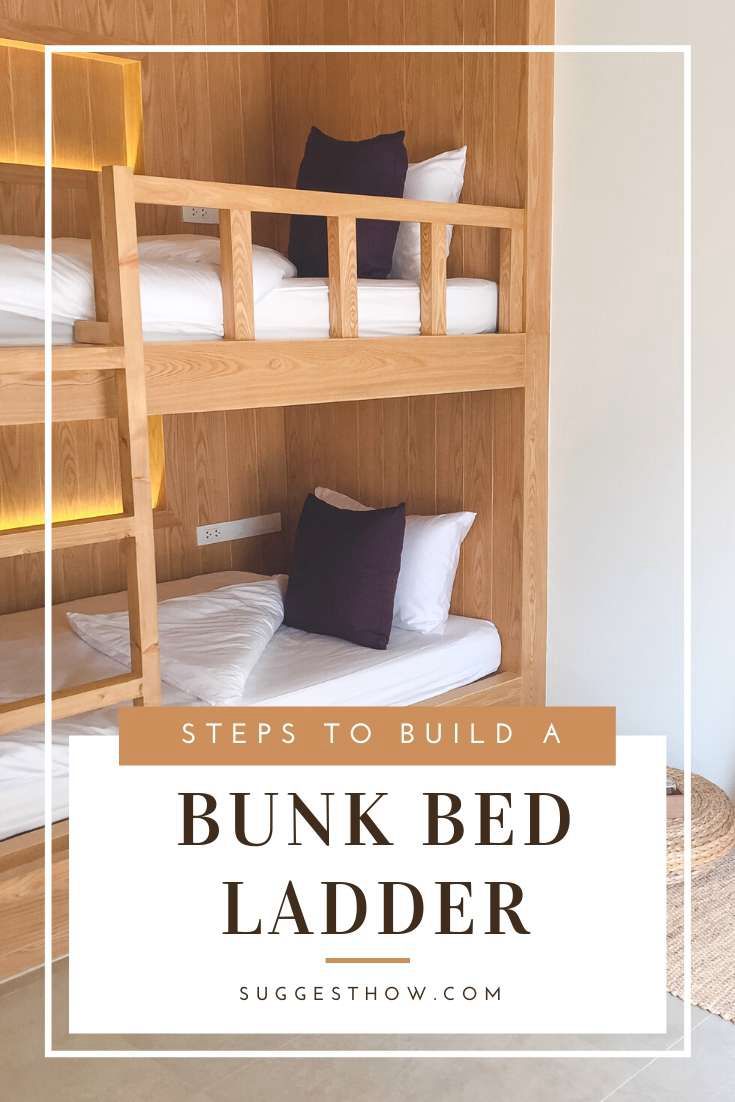 The ladder to your bunk or loft bed is the most important part of the entire set-up, requiring safety and functionality. If it's well made, your kids will use it too because they feel like climbing up into a tree house or fort. Build a ladder with this kid-friendly guide. It will show you how to build a sturdy wooden ladder that safely takes kids up and down from their beds while looking great in any house room.
How To Build A Ladder For Bunk Bed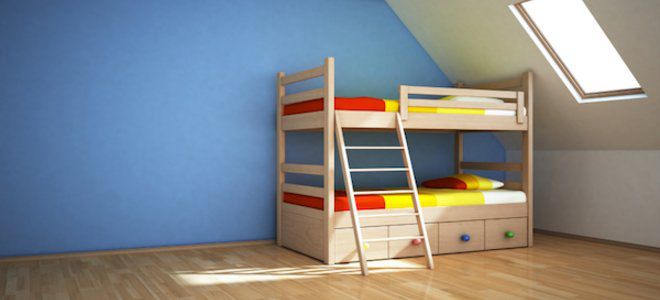 This DIY ladder will do the trick if you want your child to access the top of their new bunk bed without help. This simple design is easy on your budget and features strong construction that can be completed in a few hours. Building a ladder for a bunk bed is easy and simple; you don't need to be professional or have expert skills. Just follow these simple steps, and you will end up with the perfect bunk ladder for your kids' room.