One of the essential parts of a bedroom is a bed, which not only looks good but offers comfort and relaxation. You can choose between different beds to suit your lifestyle and budget. However, when choosing your queen-sized bed frame, you must know what you like before heading out to buy one. Instead of going out and buying one straight away, why not try various DIY queen bed frame designs with foam boards? The queen bed frame is not just the bed but a storage system that can hide the dresser. As you customize the frame, you will find several options to create the perfect look.
If you love to DIY, then this post is for you. DIY queen bed frame ideas will make your room look exquisite. No need to spend much money on expensive furniture; instead, make it yourself and save money. Make your home more beautiful with these DIY queen bed frame ideas. I have collected a list of Queen Bed frame ideas that are simple and inexpensive to make using common materials you can find at home. You will be surprised at the results.
These 20 Queen Bed Frame Ideas feature designs for DIYing your own headboard, nightstands, dressers, and more to complete your bedroom look.
Basic Tools Required For DIY Queen Bed Frames
DIY queen bed frames don't have to be intimidating. With some know-how and the right tools, you can build your frame in no time at all.
The essential tools you'll need are:
Drill/driver
Screwdriver set
Electric saw (a jigsaw will work)
Wood glue and wood screws
How To Build A Queen Size Storage Bed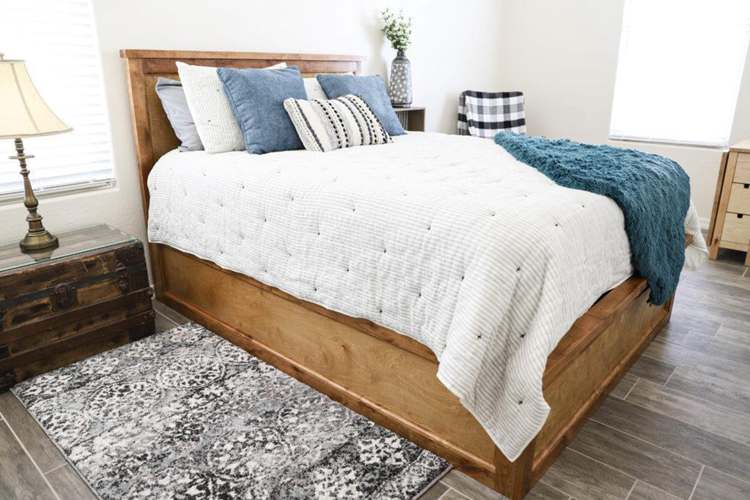 Make sure you have all the materials needed for your queen-size bed frame before starting to build. After prepping the wood, make the footboards and add trims to them. Then secure the holes and gaps in the wood with wood filler so that no nails go through the side. Your queen-size bed frame is not an exception. Make sure the wood is prepped and ready for your great project. Then make the footboards and add trims to them. Afterward, secure all holes and gaps in the wood with wood filler, then assemble all parts.
DIY Sturdy Queen Bed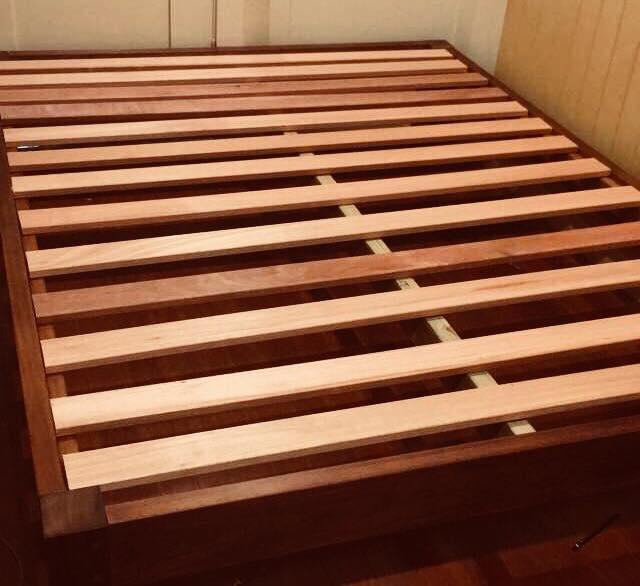 A queen-size bed frame is very sturdy, comfortable, and affordable. This sturdy DIY queen bed project is perfect for a guest bedroom. There are many sizes and measurements of beds; however, this may not work for all sizes. This guide helps you start your own DIY bed frame project from scratch! This sturdy queen bed frame is built from simple pine that can be painted or stained. It has a modern, clean look and requires no tools for assembly. All you need are basic carpentry skills and the ability to use a few standard tools. And you'll be sleeping on the completed bed in no time.
Queen Size Bed Frame DIY
With the help of a DIY queen-sized bed frame, you can save money and build your own bed. This video will guide you through the process of making a queen-size bed frame with easy-to-follow steps. The materials required to make this queen-sized bread include wood pieces, a miter saw, a track saw, tape measure, drill, and screws. The video started by cutting all the wood pieces to size and assembling the legs first. The side rails, headboards, and footboards were then connected using dowels and glue. Finally, the whole structure was sanded down for finishing touches.
DIY Queen Bed Frame
If you love DIY and are looking to build a sturdy new bed, then this Queen Bed Frame is the project for you! Not sure where to put your head at night?  This DIY Queen Bed Frame will help you make a comfortable, easy-to-assemble bed that you can use in any room. Create a sturdy, attractive DIY platform bed that is the perfect starting point for you to build on. The queen-size frame is made of pine and can be finished in any color. A good base is essential for any DIY queen bed, and this one's a beauty. The oak wood used for this project is durable, long-lasting, and attractive. Easy-to-follow instructions make it a breeze to build yourself or with friends!
Queen Size Bed Frame DIY
We all love DIY projects, especially when they are simple and easy to make. That's precisely what made this queen-size bed frame famous. It will become one of your favorites as it doesn't require special skills. This video shows how to make a simple and affordable Queen Bed Frame. You will only need to invest $110 in this project and have a beautiful piece in your bedroom! Watch the full video for detailed instructions now! This phenomenal deal is only $110 and looks fantastic. You only need a few tools, some wood, and pipe pieces to complete it. The project should take about 2 hours to complete.
How To Make A Queen Size Bed Frame
Are you looking to make your own queen-size bed frame? The queen-size platform is an effortless project that can be made in any home garage by any homeowner with only essential hand tools. Best of all, it costs a fraction of what an assembled pre-made bed would cost at most furniture stores. This elegantly finished wood queen bed features a classic design but can also be painted or stained to match any decor. This is a simple way to create your own queen-size bed frame. This technique can be applied to many projects where you need things to be square and level.
DIY Farmhouse Storage Bed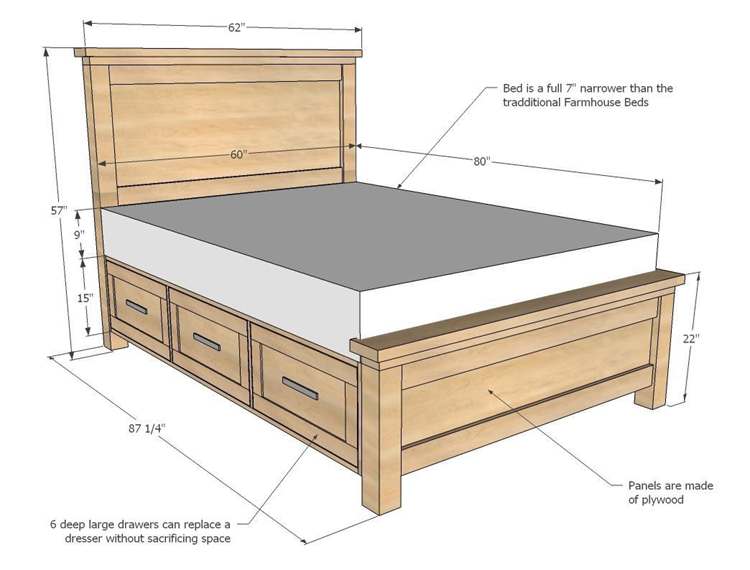 This farmhouse storage bed with a drawer is a unique bed frame. It is easy to assemble, and the guide starts by listing the materials and tools needed for the frame, then a cutting list that will make cutting the wood easier. This project to build a farmhouse-style bed is a great way to add storage space, extra seating, and style to your home. A simple frame is built with mortise and tenon joints and topped with slats to make a headboard. Next, two drawers are added under the headboard; then, all remaining project parts come together in this step-by-step tutorial.
DIY Tufted Bed Frame
Create a bed frame with simple tools and basic sewing skills. This DIY tufted bed frame uses only two pieces of wood and fabricates your own foam mattress. It will give you an elegant, personalized touch to any bedroom in your home! It is perfect for people who have been dreaming of a custom bed but don't have the budget. You can make one in just three simple steps by following this tutorial. With this project, you can make your own tufted headboard. It would be best if you had a table saw, jigsaw, and electric drill for this project. The materials used are wood boards, wooden dowels, cloth fabric, and foam. The finished product is a luxurious tufted bed frame with elegant detailing.
DIY Queen Storage Bed
Turn your room into a place of elegance with this beautiful DIY storage bed. The storage bed is a combination of six different boxes that can be easily assembled and disassembled as per need. Four drawer boxes on one side of the frame and one end part left open (the 6th box) make it even more eye-catching. It is made up of Kreg holes, screws, and all edges were fixed with mahogany edge banding to give it an excellent finish. It can be assembled and disassembled when there is a need to move. Let's watch this video together and learn how to make this detachable queen-size bed frame.
DIY Queen Bed Frame
Are you looking for a cool and easy way to make your own bed frame? This queen-size DIY bed frame is made from wood and is very sturdy. This can also be used as a guest bed as well. Get inspired with this easy DIY Queen Bed Frame that's built using an only wood measuring tape, miter saw speed square and pencil. Made from 2×6 pieces that are cut down to size, the whole frame was assembled one after the other using the basics of carpentry. From cutting down the planks to building them up and then painting them – this video will show you how easy it can be done.
DIY Queen Size Bed With Wooden Legs
This DIY queen-size bed frame is simple to make and can be completed in less than a day with only essential tools. You could even build it over the weekend while watching your favorite movies or drinking a cup of hot cocoa! This bed frame has such a classic look that it will never go out of style. This Queen size bed frame with wooden legs makes a stylish addition to any bedroom and can be customized by changing the type of wood or even adding your own stencil design! To make this easy Queen size bed frame, you will need to find a piece of plywood that is wider than the width of your mattress.
DIY Farmhouse Bed Queen Size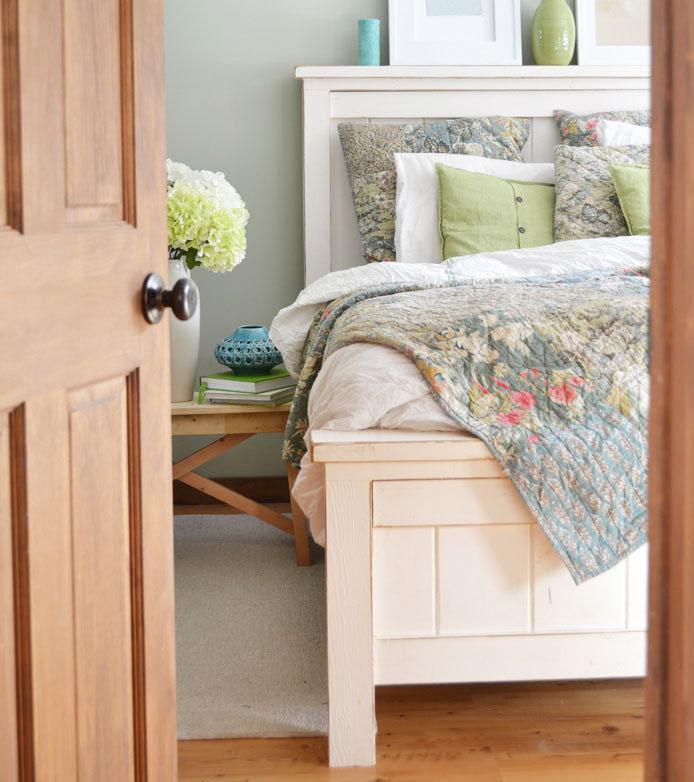 Building your own farmhouse bed frame is a great place to start if you're looking for a way to save money on your bedroom decor. Creating and buying a bed frame can be expensive, but with this tutorial, you can build a bed frame that is beautiful, long-lasting, and reasonably priced. This queen-sized bed frame covers all the basics of building your own custom frame while providing a simple tutorial with detailed images that make it easy to follow, even if this is your first time working with wood.
DIY Queen Platform Bed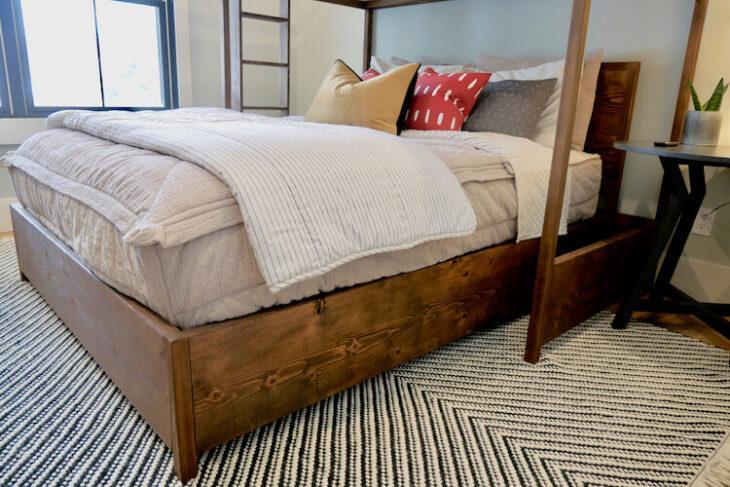 When building a new home, you are limited with choices. Choosing a queen platform bed is a good idea because they come with various types of styles as well as designs. The main thing that should be kept in mind while selecting a queen platform bed is that it should be comfortable. Choosing this kind of bed includes luxury, style, and comfort. You can use recycled wood pieces for this DIY queen platform bed. You need to make a cutting list to cut all the wood pieces required. Then straightforwardly assemble each piece.
DIY Queen Size Platform Bed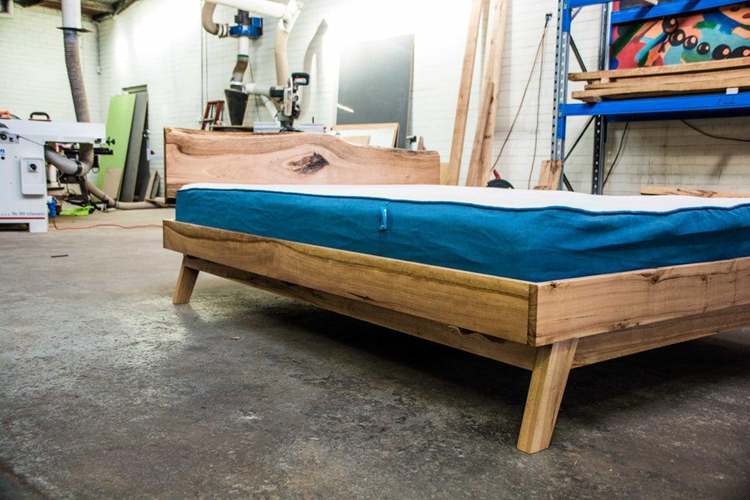 This eye-catching bed frame is easy to make, unique and cheap. The frame gives your bedroom a new look. This DIY Queen size platform bed is an excellent project for the woodworker who wants to create a beautiful, unique, and personal bed but doesn't want to spend much money. The unique design includes:
Four slats at the front.

Two supports under each side.

A back piece.

A headboard that attaches two rails on each side.
It is an instrumental and unique bed. The assembly of this bed is straightforward, according to the instructions given by the creator. Anyone can make this by following simple instructions and using common household materials like bricks, plywood sheets, wooden sticks, etc.
DIY Rustic Bed Frame - Queen Size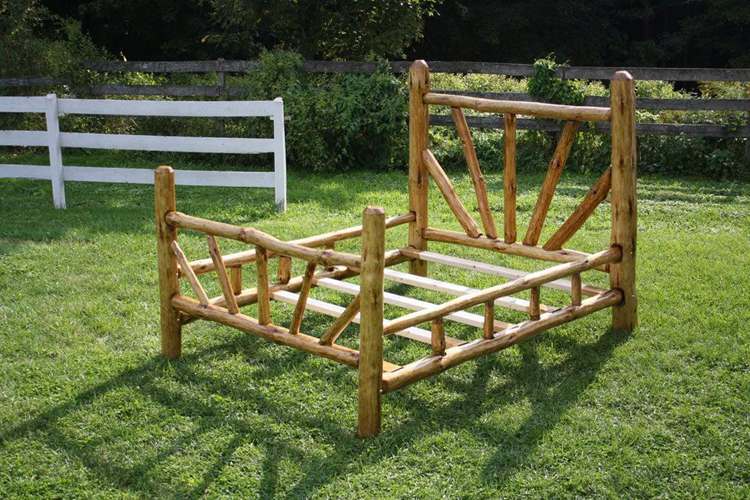 If you love the rustic style and want something different from the usual bed, this DIY Rustic Bed Frame is a perfect choice. This bed is elegant yet durable and will surely catch everyone's attention in your bedroom. The following steps will guide you through everything from collecting the tools and materials to assembling the bed frame. This DIY rustic bed frame will make your bedroom look stunning. It is unique, and the impressive design makes it stand out in your room. Moreover, building this bed will allow you to practice your craftsmanship skills.
How To Build A Modern Queen-Size Bed
This Queen-Size Bedframe is made from natural wood and designed to last a lifetime, and it's also custom-made to fit your mattress for optimal sleep comfort. This DIY bed frame is sturdy and durable, yet built with minimal tools so you can build it yourself in just a few hours. It is an easy weekend project that looks more challenging than it is. The design uses steel connectors, 2×4 boards, and inexpensive pine to create a modern, lightweight piece of furniture. Once the glue dried, each piece was passed through the planer to ensure they were smooth and finished.
DIY Pallet Queen Size Bed
Learn how to make a queen size bed with pallets. This DIY project is fun, affordable, and easy to do. You'll love building this beautiful queen-sized bed made from pallets. The first step is to buy some pallets, sand them down and paint them in your preferred color. In this video, they painted their pallets white. Now that you have your bed frame, it's time to make the mattress! All you need are a few old pillows thrown inside a twin-fitted sheet that's been turned upside down. Then all you do is tuck the pillows between the slats of the bed!
DIY Queen Size Bed
If you're looking for a simple and beautiful way to get your bed off the ground, you have found the right project. This Queen Size Bed will have your room looking elegant. An easy-to-follow instruction guide walks through the process of building this sturdy and durable DIY piece. The most time-consuming part is assembling all the material, but once that's complete, the frame is strong enough to hold the bed! This queen-sized bed frame includes step-by-step instructions, material lists, and cut lists, so you know what to buy ahead of time. With just a drill, screws, and some wood glue, you too can create a simple yet elegant bed frame in any style – accommodate your mattress width and height!
DIY Rustic Modern Queen Bed
This rustic modern queen bed is an excellent addition to your home decor. It's a place to lay your head, read a book and snuggle up with your kids. Featuring sturdy barn wood legs, this bed can be assembled in less than an hour, allowing you to spend more time enjoying it! The DIY Queen bedframe is made from 2×6" and 2×2" pieces of birch plywood. This simple design uses pocket holes to attach each side of the headboard and footboard. The middle shelf is mounted between the two halves for extra storage space. With a miter saw, drill, table saw, wood glue, and corrugated cardboard, you can build your own modern rustic queen bed frame in less than 4 hours.
DIY Queen Bed With Storage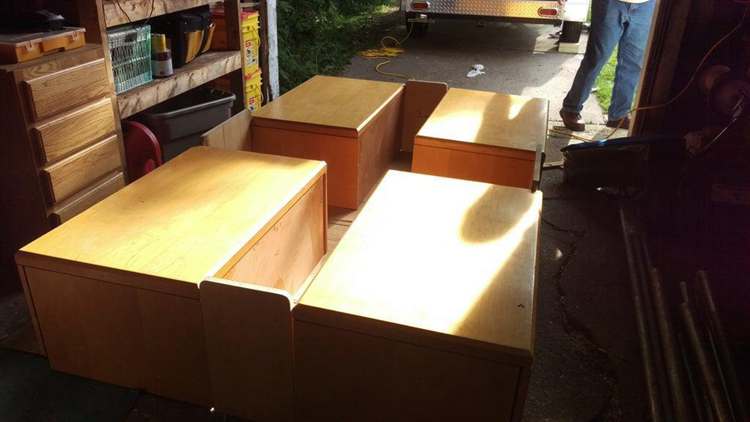 This DIY queen bed is a great way to save space and give your bedroom a modern look. This is a simple DIY project that will take you around 4 hours. You must cut the plywood, hammer in screws, and assemble the box and the drawer. Make sure the right size of wood before buying anything! This DIY queen-size bed frame is easy to build and perfectly matches a small studio apartment. When you build this fantastic storage bed, you will have a perfect space for storing clothes and books, which can be accessed by lifting the mattress. The easy-to-follow plans help you cut the plywood into pieces and build a fantastic DIY storage drawer under your bed.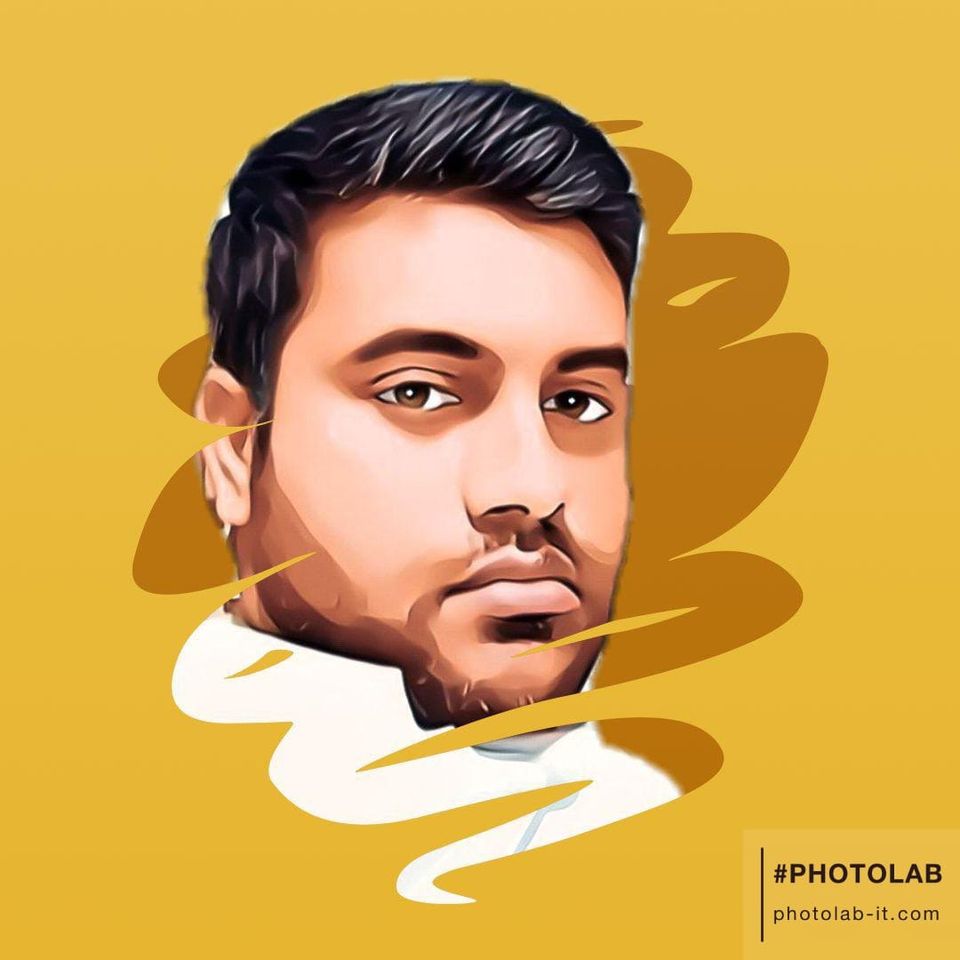 I am Raza, a crafts expert with 6 years of experience. I run this site for DIY lovers to provide the most exciting projects and ideas for your home, office, and everyday life. See More