Are you looking to build a creative DIY project for your home? Then, this is the right place. We have gathered some tremendous DIY kid's bed plans that you can quickly build with some experience and patience. Some are basic and simple, while others require skills and materials. With this DIY kid's bed plan, you can quickly build a fun and welcoming bedroom for your child. Whether you're looking to create your child's bedroom or need inspiration on other ways to make the space theirs, this set of easy-to-follow instructions is the perfect fit.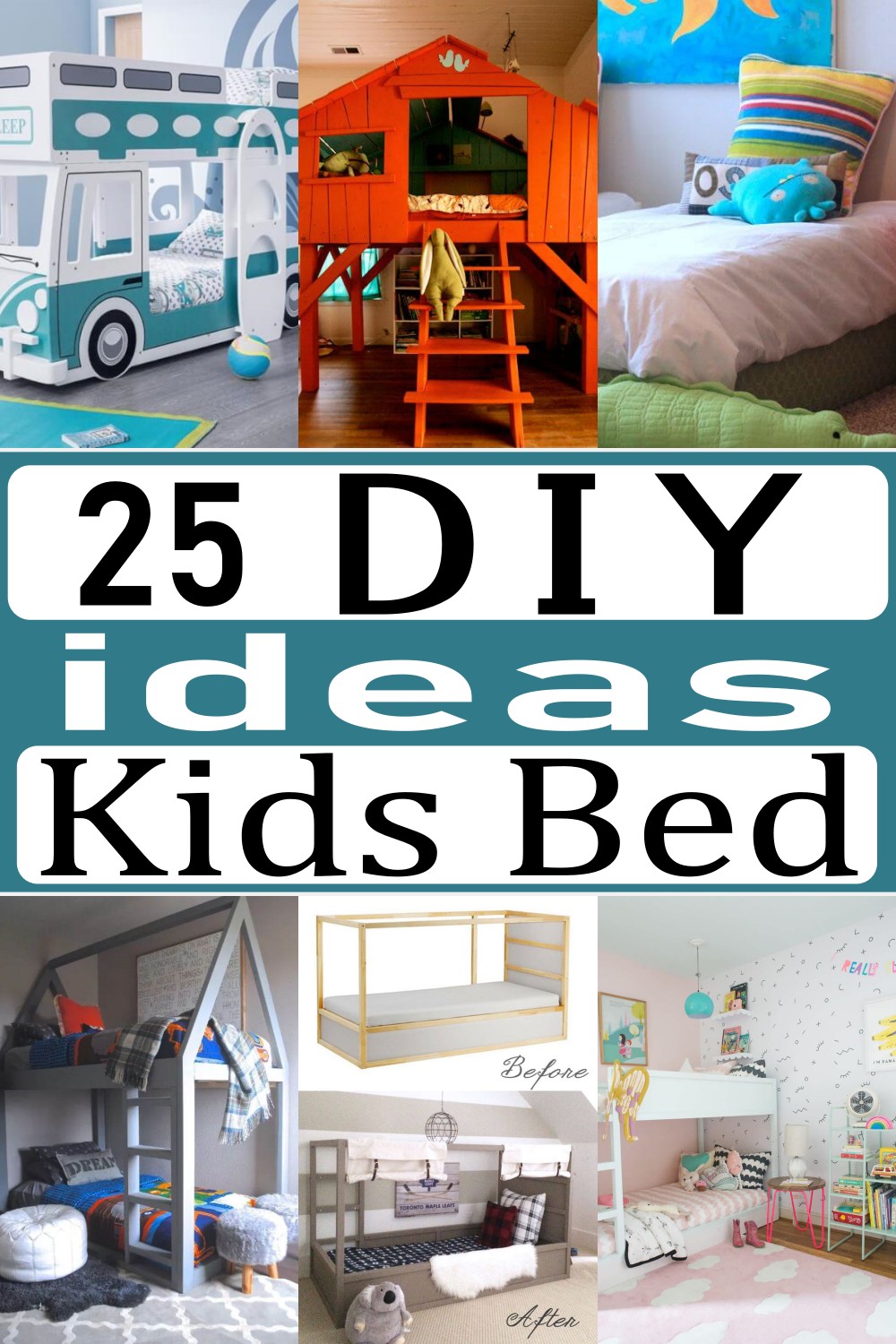 Whether a beginner or a pro, these DIY kid's bed plans include something for everyone, these projects are easy enough for beginners while providing great ideas for the advanced woodworker. This article is a compilation of 25 great DIY kids' beds. The projects are fun, easy, and practical for families with small children. You'll find that all of these projects will be a big hit with kids from 2 to 12 years old. The beds are also great for adults who like to "dress up" their beds, like bunk beds or lofted beds. Some people need more storage space in the bedroom so that they will enjoy these ideas as well.
We've collected 25 fun and fascinating kid's bed plans for your next home project; They are sure to inspire you and your kids with new ideas for a place to sleep!
You Can See: 34 Best DIY Loft Bed Plans For Kids Room
Pirate Bed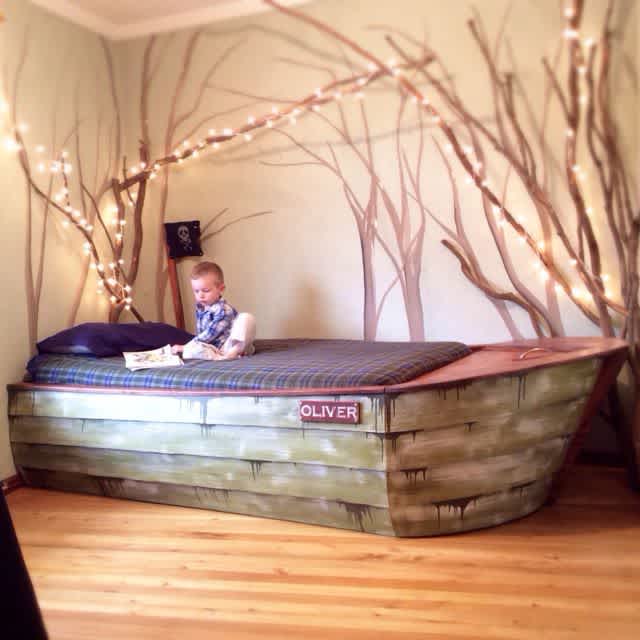 Adventure awaits in your child's bedroom! This DIY Pirate Ship Bed is the perfect way to bring a kid's imagination to life. This rustic little ship will look great in any cabin or sea-themed room made from recycled wood. Pirate beds are hard to come by, but you can make your own with a few simple tools and some imagination. Use reclaimed wood, create a custom upholstery design, and add sails for a fun pirate ship bed that your child will be proud to call his very own. With a few simple hammers and screws, you can build it yourself and make memories with your kiddos for years to come.
ClubHouse bed
If you are trying to get the kids off the couch but don't want to spend a fortune, this DIY Club House bed is for you! Create a fantastic Bed for your kids with this DIY Club House bed. Your child will love how connected they feel to nature when you build this clubhouse bed. It's super easy to make, and since it's got all the amenities--a roof, a door, and a comfy hammock at the bottom--your little adventurer will be ready for any outdoor adventure that comes their way!
Closet Bed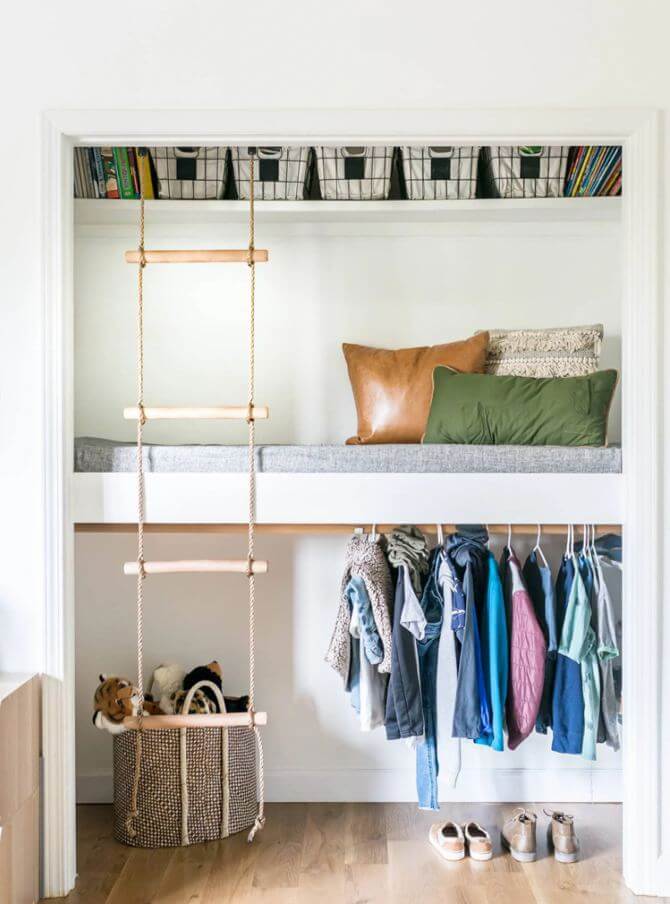 Once your child is old enough, it's time to give them their bedroom.  If you don't have a spare room, you can convert unused space into a cozy place for them with some plywood, screws, and brackets. This project is easy and fun to do with your child and makes for a super simple way to transform their bedroom into theirs! This bed is a fun and educational project that your kids will love. You can build it yourself with minimal time involved and use it to usher in a new era of creativity, imagination, and learning.
Bed with Storage
Are you tired of cleaning up their toys, books, and shoes daily? This storage bed makes it easier for kids to put their toys or clothes away. All you need to do is add compartments to the bed, and it's ready for use! This DIY bed is a great way to clean up your kid's bedroom. This DIY storage bed is ideal for kids and young teens. The design makes it easy to keep things in their proper place.
Loft Bed with ladder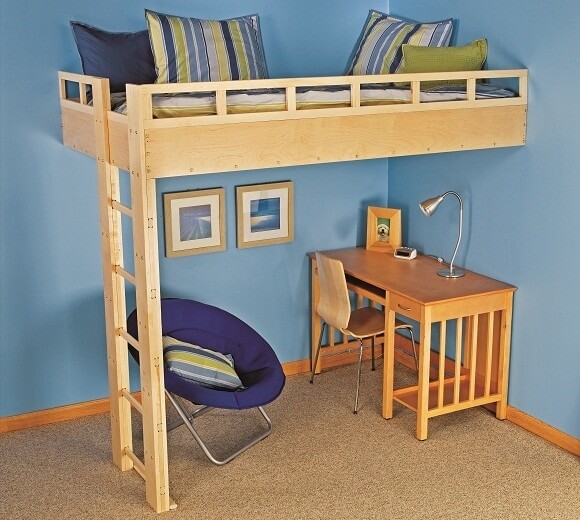 Give your child their loft bed and help them get a good night's sleep. This design is secure and safe but with a stylish look that will look great in any bedroom. This DIY loft bed is an easy project that turns one space into two, adding extra storage and style to your home. Once you build it, use the space underneath as a reading nook, desk, or walk-in closet!
Sliding Barn Door Loft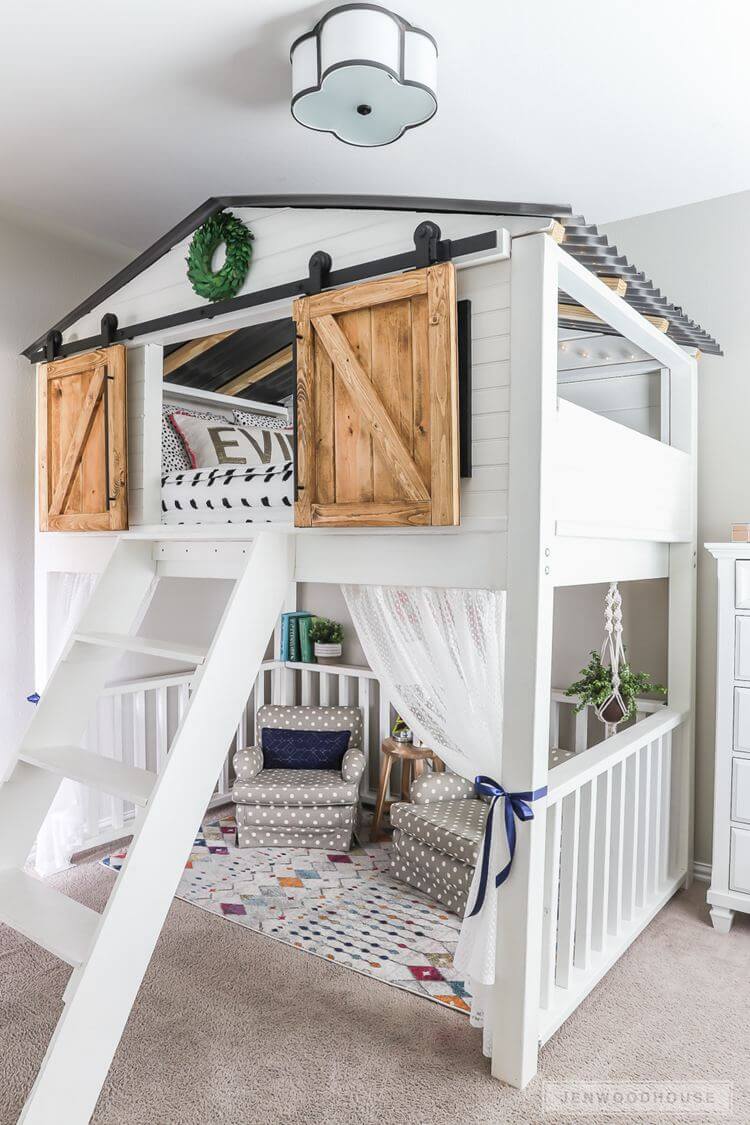 A kid's loft bed with a sliding barn door in the kid's room gives them a little power. It's not just about style; it's also about functionality. The style of the sliding doors makes it the centerpiece for their bedroom. With the excellent lumber, tools, and hardware, you can fashion this sliding barn door into a functional piece that will impress your family. You will need to ensure the bed is secure so your child doesn't fall off it or get hurt by one of its moving parts. This loft is an excellent addition to any kid's room and visually makes the sleeping space seem bigger.
Toddle Beds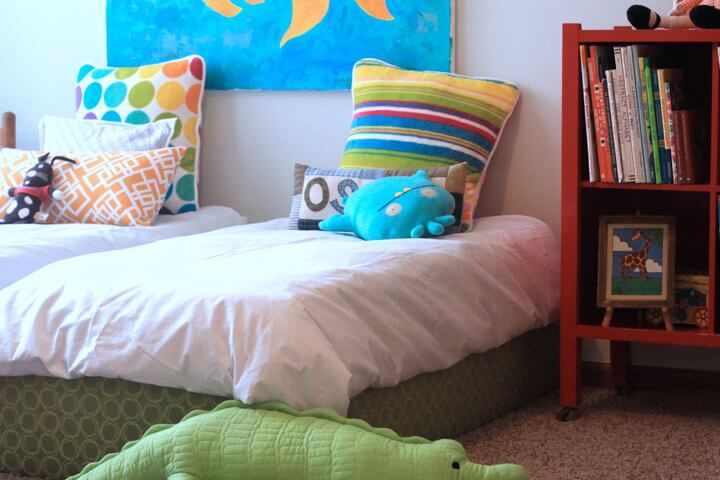 Toddler beds allow you to have your little one sleep in the same bed as mom and dad or in their own when you have a second child. To have the perfect toddler bed, get the proper dimensions for your mattress size and durable upholstery fabrics. Building a Toddle bed is easy because almost everything needed can be found at your local hardware store. The materials required are affordable, and the design is open for modification. Once you have planned out what you want, making a Toddle Bed is easy. You can add a cabinet to store toys or other items if you need more room.
The Treehouse
Every child will want to sleep in a treehouse. As much as they love treehouses, toddlers and their imaginations often run wild with them. Your child will love this. So, why not make one for them? It would be easy to do so. All you need is a little help from your handyperson skills and creativity. You can turn any regular piece of wood into a DIY treehouse bed with the help of these instructions. It's also an excellent project for seasoned woodworkers looking to do something new and creative. Using a ladder, you can create an enclosed space over which you can suspend a regular bed, creating a room with a modern flair with just a few simple materials.
If you are looking for better space and want to provide great beds for your children, build yourself a DIY Kids Bunk Bed and sleep without worrying about space. They save you much space and mess that regular twin beds would incur. It also creates more room in your house and gives the kids a sense of independence. Don't try doing them yourself, especially if you are a newbie in carpentry and framing!
Loft with stairs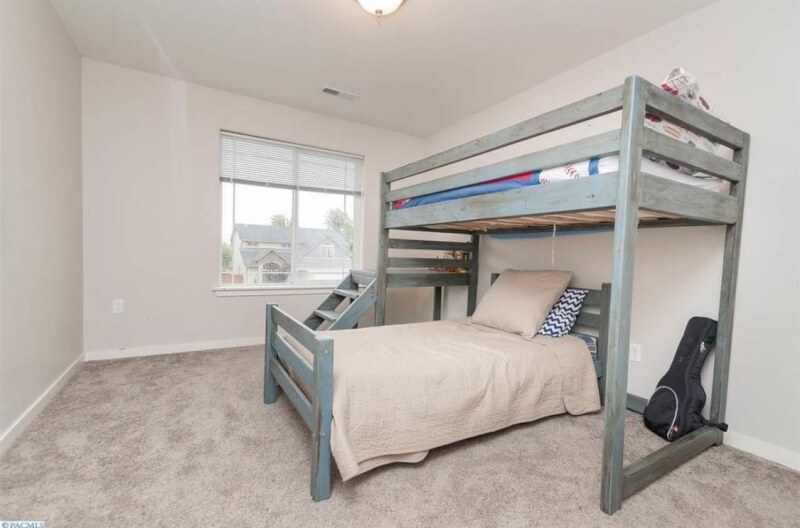 As kids outgrow their cribs, they often move to a bed that sits on the floor. But having an attic loft bed will keep their sleeping space on the second level and provide excellent storage space under it as well! A DIY Kids Loft with stairs offers children a safe and comfortable space to sleep while also ensuring they are close to their family. The stairs add a sense of safety as opposed to ladders, while the area underneath the bed can use for storage of books, toys, or personal belongings.
Kids Cabin Bed
Kids love cabin beds, and this DIY Kids Cabin Bed is the perfect way to bring camping into their room. You can build this project with heavy-duty materials, so you can get it just the way you like it without worrying about how sturdy it will be. Remember that your child's safety is the priority; when they're off the ground, there are fewer worries about them knocking over lamps or getting into things they shouldn't. Build one for your kids today!
MicroBus Playhouse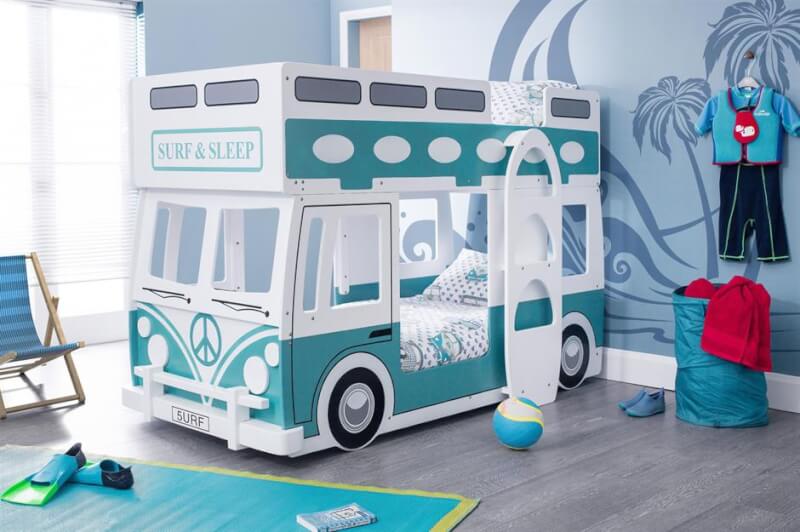 If you love the idea of keeping a bus in your kid's bedroom but don't want to spend thousands on something like this, then you might want to try this DIY project. It requires some work and time, but the result is a miniature bus that is much cheaper than most commercial versions. The fun design of this microbus playhouse will fit in any boy's room and encourages them to use their imagination as they pretend to travel around town or country.
Teepee bed for kids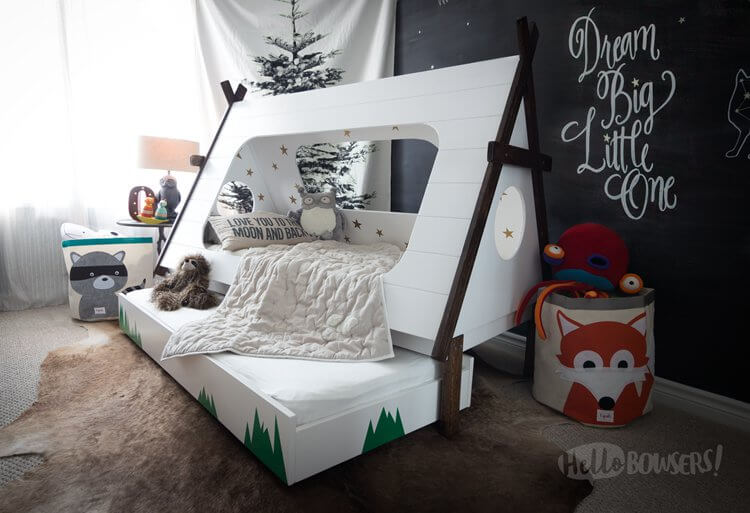 Bedding has many benefits over other furniture such as beds and cabinets, especially when it suits the needs of a child. A teepee bed can be amusing for kids who are into the outdoors. Your kiddo won't believe his eyes when he sees this excellent teepee bed from mom or dad. It will be the talk at every sleepover party he has that year. The bed can paint in any color you choose or left natural.
14. Hanging kid's beds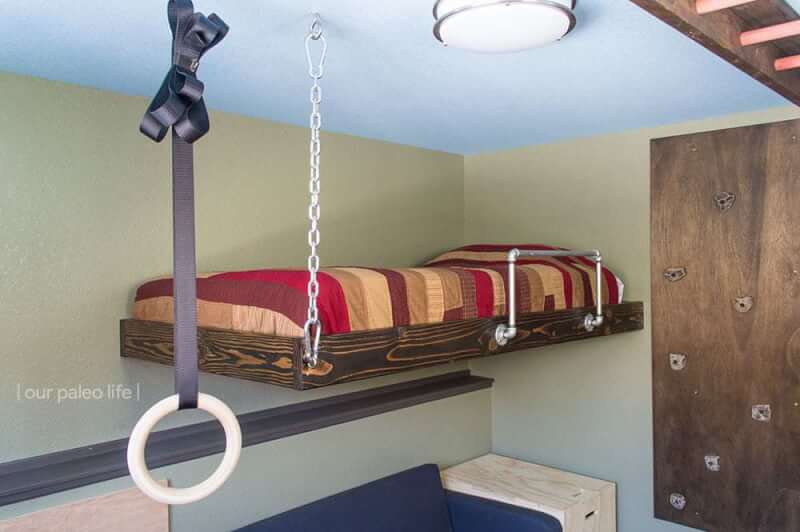 This DIY hanging bed is perfect for a small bedroom or apartment. The bed is suspended in mid-air with heavy-duty chains, giving kids a great play space under their bed. Hanging a child's bed can be an easy and cheap way to give your child a large bedroom. Whether you get them their room or they are sharing, these beds are the perfect answer to small spaces. With these DIY hanging beds, your kids can quickly move up to the top bunk for sleepover parties, playtime, and more.
15. Triple Bunks kids bed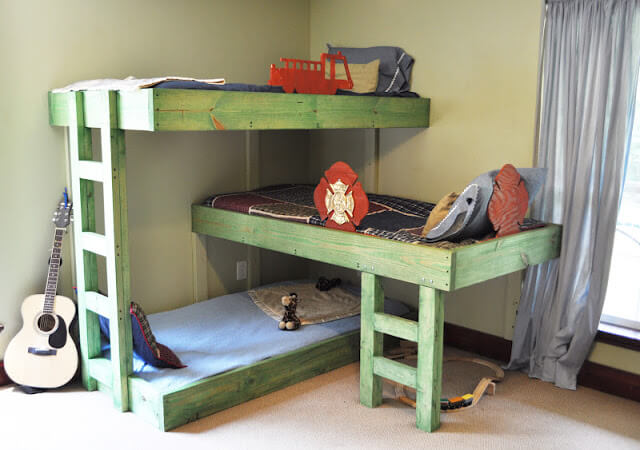 This DIY Triple Bunk Bed is a unique, excellent design that takes up very little space. Perfect for dorms, apartments, or tiny homes, these beds are great for people without much space. With some skill and imagination, you can transform a basic bunk bed into this attractive fixture. You can utilize the same materials to make a bunk bed if you prefer, but the design lends itself well to maximize the space.
16. Fire Truck Kid's Bed
Inspire your kid with the DIY Fire Truck Kid's Bed. It will be perfect for boys who love speed and fire trucks, giving your child a safe place to dream at night. The bed features a space theme with planets and stars all over the headboard and footboard that are painted in different colors. Sleeping in one is super exciting, even if your child has never seen one. This DIY project can be made with materials found at the hardware store and will turn any little boy into a superhero in their bedroom.
Super Hero themed bed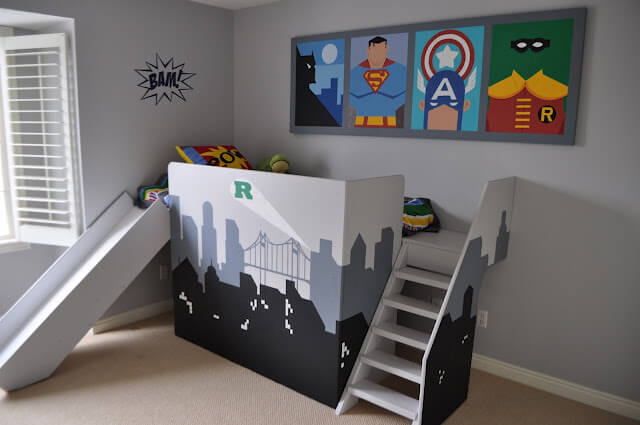 Give your kid's room a superhero makeover! With this easy-to-follow DIY guide, you can create a custom design that will envy all your kid's friends. In just simple steps, this guide will show you how to transform your child into a caped crusader or super villain with just a little bit of paint and some basic materials. Your kid will love this bed, and so will you! Grab yourself some basic supplies and get creative. This superhero-themed bed will have your little one stoked.
Lumberjack themed bed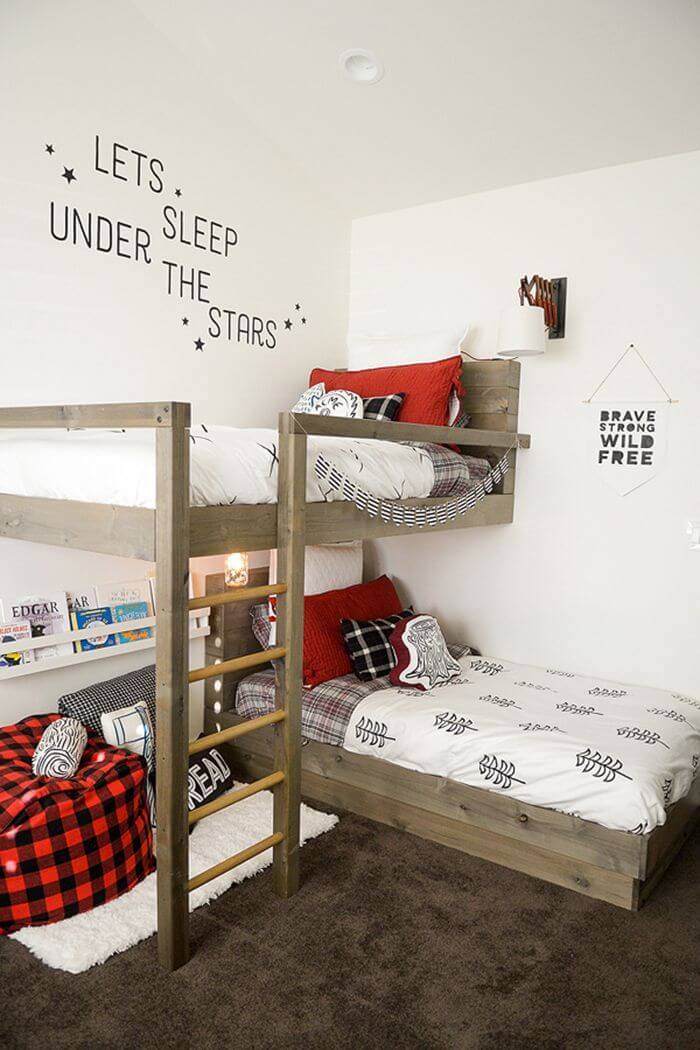 If your child loves nature and the woods, he will love this lumberjack-themed bed. It is made from solid wood that has been chemically stained to give it an excellent finish. The wood has been sanded smooth and is ready to use. You can find the lumber at any big box store (or smaller ones if you live in a small town!) The lumber is easily cut with any saw, but care should be taken when working with power tools around kids. The secret compartment underneath can store any extra items, toys, or clothes that may need at night time.
A house bunk bed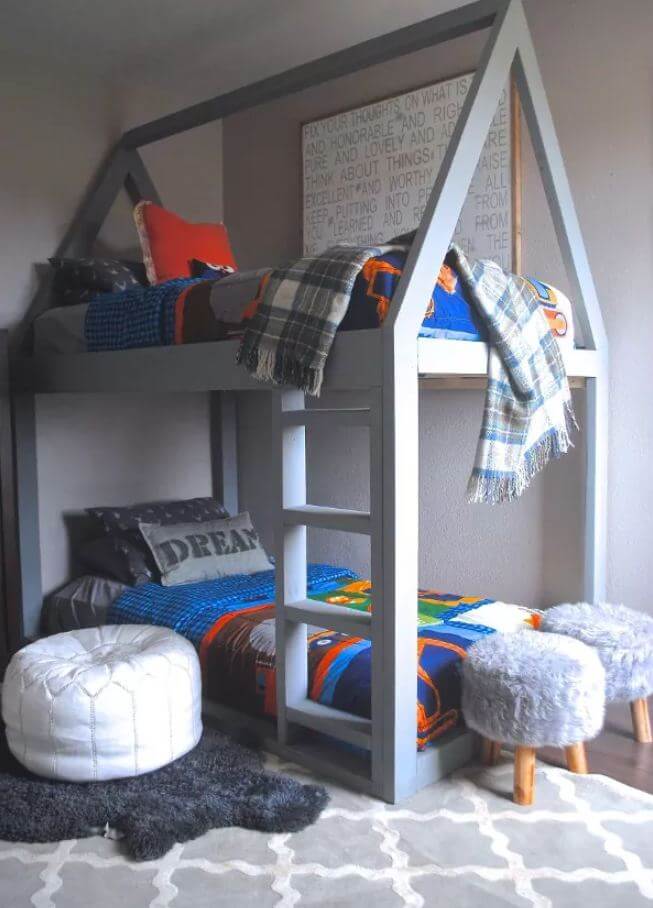 What better way to give your kids space than a custom bunk bed? Take this idea and incorporate it into your child's backyard or add it to their bedroom. You can turn your kids' bunk bed into a loft-style design if you have some spare plywood and long slats. The shape of the loft can vary depending on what kind of wood you use. You can use your imagination to create a unique design that will make the room more playful.
Pottery Barn Inspired Bed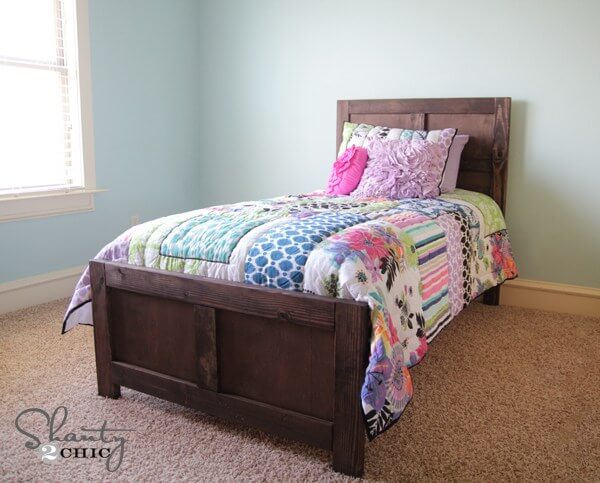 If you love the look of the Pottery Barn bed but aren't able to afford it, then this DIY is a great alternative. Using reclaimed wood and pieces, you can get that rustic look you may be going for by making one yourself. Reclaimed wood will give your room a natural character while being cost-effective. Use your imagination to create a pottery barn-inspired bed that captures your kid's personality. The reclaimed wood has a rustic look and is easy to paint, and will help you considerably down the cost of building it. If you're going the DIY route, here's how:
A riser bed bunk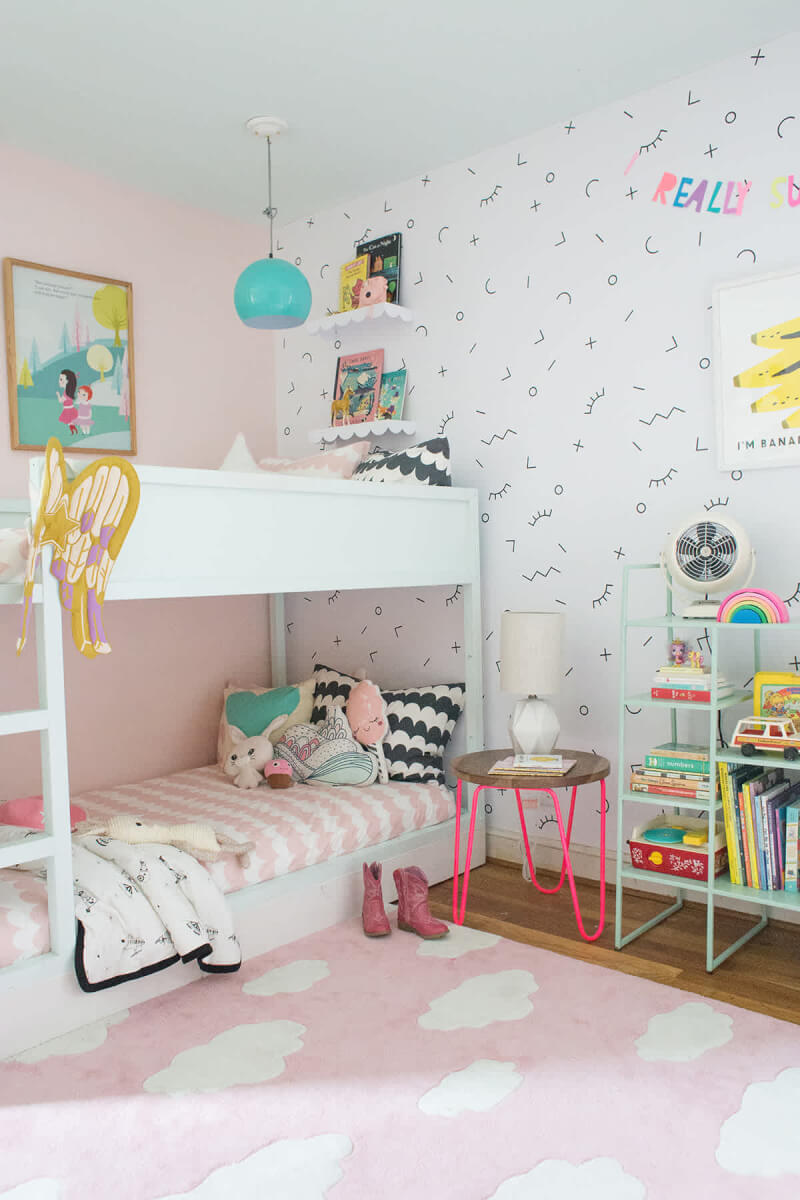 The DIY, A riser bed bunk, is excellent for kids who don't want to sleep on the ground. The two beds can each have multiple people on them, making them great for sleepovers or two kids! It's made to look like the top bunk is raised even though it's built directly into the wall. The lower bunk is excellent for kids afraid of falling off the top bunk. It will feel safer being on a stand, but if you can put it directly against a wall, you can have a much more interesting design that also keeps your child safe.'''
Bed with an Ikea Styled bed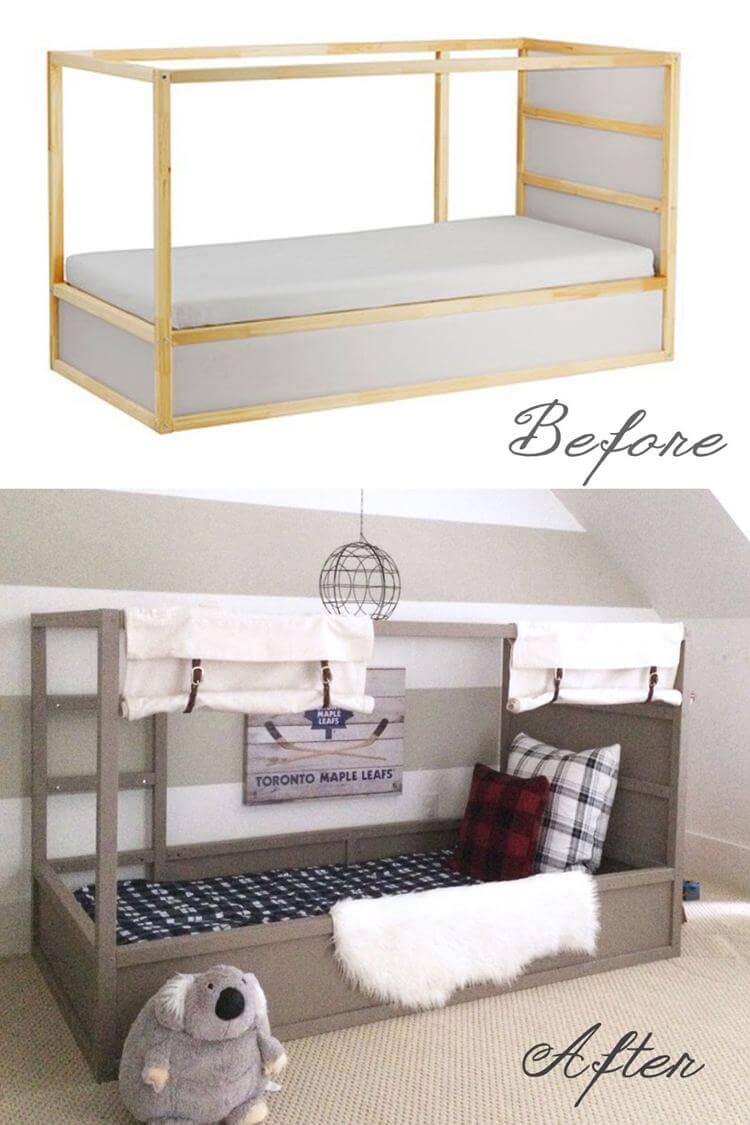 The stylish bed design is easy to build, using salvaged material and a few simple tools. Instructions are easy to follow, and the parts list is short and easy to locate in your local hardware store. The bed can make to match your home's decor by changing the color of the fabric or adding personalization like paint, stickers, or applique. This is a great DIY project that any parent or student can complete. You'llYou'll be able to save money and have a unique, beautiful bed that you can brag about when you have guests over!
 Rock climbing bed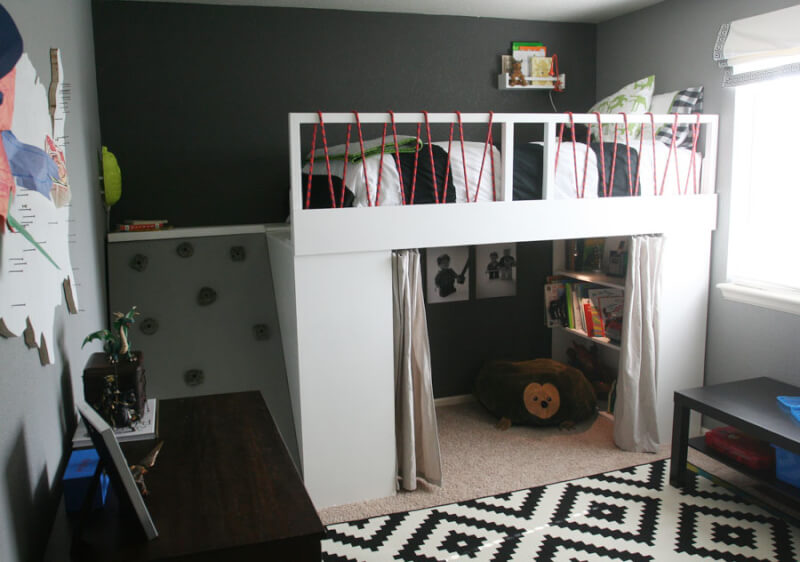 Are you seeking something to do on the weekends? This DIY rock climbing bed is sure to keep you busy. Perfect for nature lovers who want to wake up surrounded by dew-covered leaves and comforted by sunlight streaming through the windows. Kids will love having their rock wall to scale, giving them a great workout without climbing natural rocks. This DIY build requires some essential tools and materials but will provide years of enjoyment.
Twin bed for kids
Kids love their own space, so when you are getting ready to set them up with a bedroom, one of the first things you need to consider is what they will be sleeping in. Two twin beds can give your kids as much privacy as they want. Plus, when they are little, they can have a single bed and use it later as a big kid bed when they're ready! These DIY Twin Beds are constructed in a slide style and even have built-in side tables. The kids will love their customized beds, which can paint in any color to match their tastes.
Toddler bed
With this DIY Toddler bed, you don't have to compromise on style while creating a safe and cozy place for your little one to sleep. The bed is built from durable pine and solid wood with ample space underneath for storage. The beauty of this design is that it can be used by all ages---from toddlers to teens as it converts into twin and full beds. This is designed to provide your little one with comfort and safety. The bed is simple yet comfortable and provides plenty of room for them to play.