Raccoons are one of the cutest animals and a great way to keep your hands busy during the winter. If you've got a little yarn, you can crochet a raccoon and keep it as a pet. The Free Crochet Raccoon Patterns below will let you make your raccoon from head to toe, or if you want to focus on certain parts of its body, you can find patterns just for specific parts. Either way, remember that great power comes with great responsibility, so make sure to give your new friend the life he deserves! These cute and cuddly animals will make any project complete. Whether you're making a pair of gloves or a hat, there is sure to be an adorable raccoon that fits your fancy.
Most Popular Crochet Raccoon Patterns

Raccoons are adorable animals, but they can also be a nuisance. You can learn to make cute little raccoon buddies with these crochet patterns. This 15 Free Crochet Raccoon Pattern collection will keep you busy this winter! These cute and cuddly creatures look amazing in your home decor or as a gift. This pattern list also includes very useful tutorials on yarn types and stitches. Whether you're looking to create a realistic-looking raccoon or one that's playful and cute, these crochet raccoon patterns have what you need. There are patterns here for amigurumi, or stuffed animals and dolls. Some feature detailed facial features, while others are crafted with basic shapes.
Supplies Needed For Cute Crochet Raccoon Patterns
Yarn – Any brand and color of your choice. The sample is made using worsted-weight yarn.
Crochet Hooks – US H (5mm), US G (4.25mm), US E (3.5mm) or size needed to obtain gauge.
Stitch Marker or Safety Pin
Yarn Needle (for weaving ends)
Raccoon and Fox Teether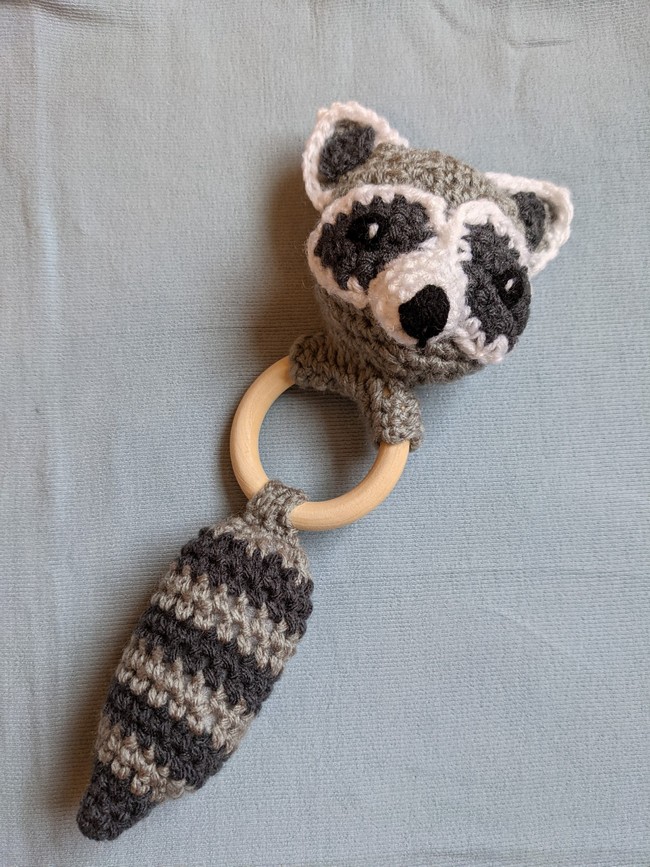 This raccoon and fox teether is a perfect gift for your little one. Crochet Raccoon and Fox Teether is a fun, whimsical teething toy. Attach the teether to your child's car seat or stroller, or let them hold onto the tail while chewing on the rest of the toy. This adorable raccoon and fox teether is perfect for the little one in your life. This organic cotton toy is machine washable and easy for your little one to grab onto with their little hands. A perfect match for your little one's nursery!
Materials
-3.5mm crochet hook
-Polyfil stuffing
-Embroidery needle
-Worsted weight yarn in colors charcoal, black, white, and medium to light gray (raccoon) and/or orange, white, and black (fox).
-2.75-3 inch round natural wooden rings (I bought these off of
Raccoon Amigurumi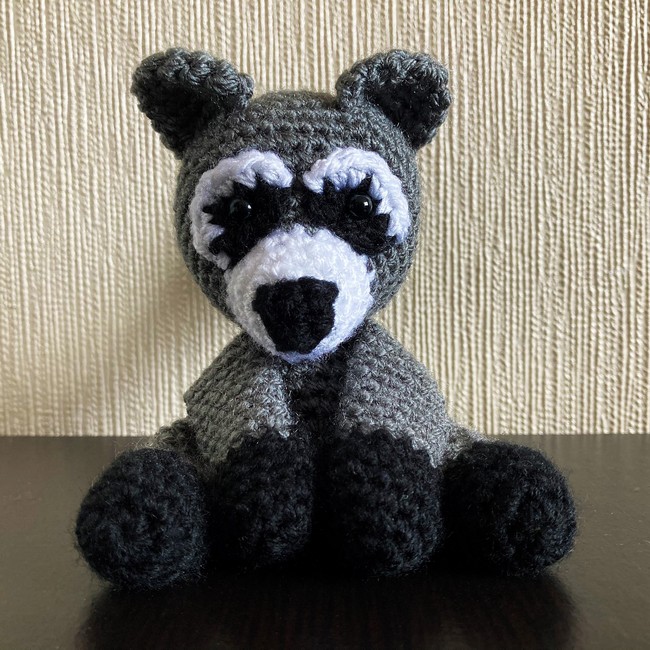 This cute Crochet raccoon amigurumi is the perfect quick project for beginner crocheters. You'll be done with this cute guy in just a few hours. If you want to try making your own amigurumi, start with this one! This is a great beginner Amigurumi pattern; you will create this raccoon in no time. With the perfect details, it's sure to be a hit with kids who love animals! To make this pattern, you need to know single Crochet and slip stitch in the first round of each step.
Materials
Black yarn: James C Brett Top Value DK – 8430
White yarn: James C Brett Top Value DK – 8428
Grey yarn: James C Brett Top Value DK – 8429
Eyes: The Craft Factory Toy Eyes Solid Black – 9mm (you may use yarn to sew on eyes if you prefer)
Hook
3.5mm (E USA)
Size
4 inches tall
Stuffing
Abbreviations
sc – single crochet
hdc – half double crochet
dc – double crochet
trc – treble crochet
ch – chain
dec – single crochet 2 together
inc – 2 single crochet in one stitch
st/s – stitch/es
Easy To Make Raccoon
This crochet Raccoon figurine is the perfect addition to any animal collector's collection. The looped arms and legs allow you to position your raccoon as if it were sitting or standing or if you want it as a decorative item on a shelf or table. The softness of the cotton allows this handmade toy figurine to be used as a cuddle companion too! This crochet raccoon is a fun and easy-to-make toy for kids. It makes a great gift or decoration for the home and can be customized any way you like.
Materials
Crochet cotton or wool, I used Scheepjes Maxi Sweet Treat 2 ply crochet cotton colors (074) Mercury, (242) Metal Grey, (393) Charcoal, (106) Snow White, and (110) Black.
A crochet hook, I used a 1mm hook.
Scissors.
Darning needle to weave in ends.
Sewing thread and needle to stitch the raccoon together.
A small clear seed bead for each eye if desired.
Abbreviations
st – stitch
sts – stitches
ch – chain
sl st – slip stitch
sc – single crochet
hdc – half double crochet
dc – double crochet
tr – treble crochet
Little Raccoon Square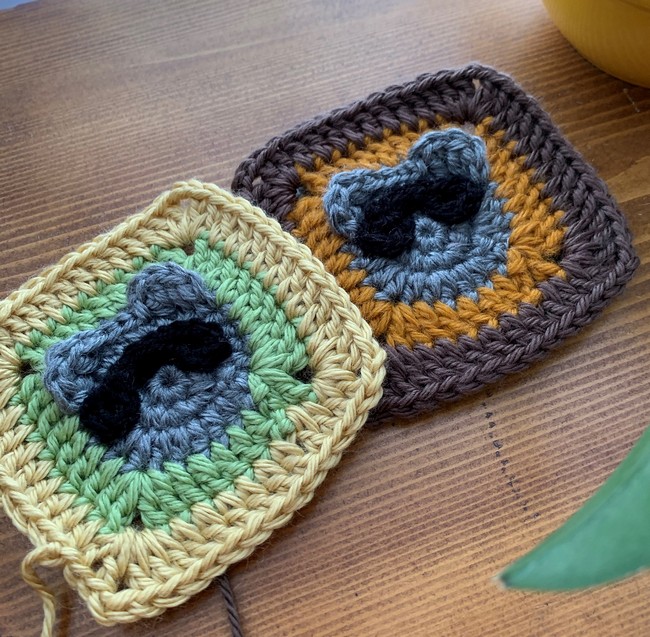 This Crochet Little Raccoon Square is a wonderful inspirational crochet project that will warm your heart. It is easy to make and only requires single crochet stitches and chains to get the job done. This easy-to-follow pattern creates four sizes of squares, each one ready for assembly with a round of i-cord edging. Worked mostly in double crochet stitches, this project will keep your interest until it's finished. It is a great addition to any crafter's stash. It works quickly and can match your favorite color palate or use it to complete a project you're already working on.
Materials
Scrap amounts WW (about ½ oz each) of raccoon color (a medium gray tone), secondary color, and edge color. About 3yds of thin black yarn (I used Scheepjes Color Crafter DK) for the eyes.
F/3.75mm hook
#7/4.5mm hook
Large eye needle for weaving in ends.
Abbreviations
MR- magic ring
SC- single crochet
CH- chain
HDC- half double crochet
DC- double crochet
SL ST- slip stitch
Racoon C2C Square Pattern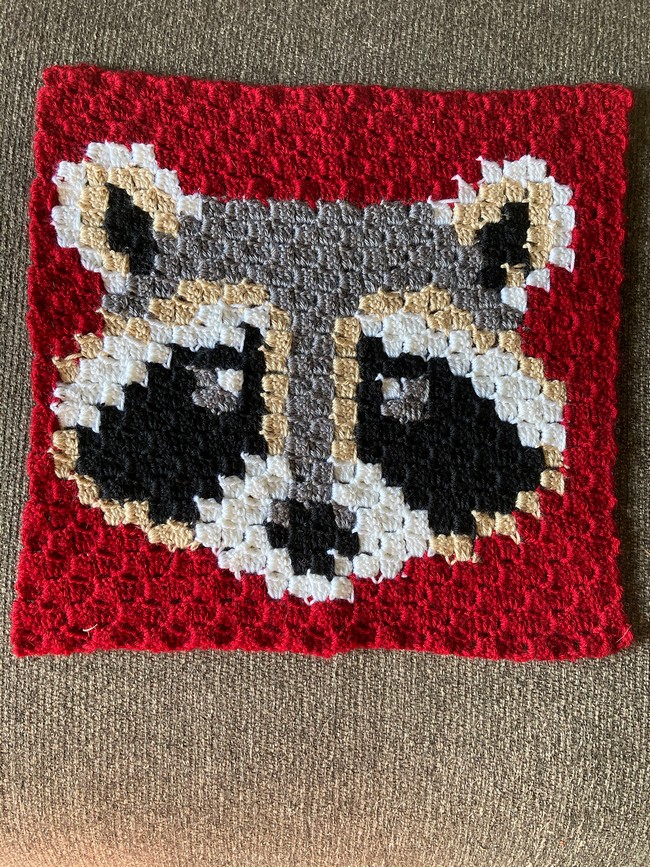 The Crochet Racoon C2C Square is an adorable square featuring an adorable raccoon. This pattern is perfect for beginners who want to learn a challenging pattern, and it's relatively small, so that you can complete it quickly. It makes it easy to crochet these cute animals. Use these squares in your next blanket or current project, or make your raccoon poncho! This square would look great in any color combination you choose. This pattern is worked in C2C (corner to corner), and all you need to know for this project is how to single Crochet, half-double Crochet, and Double Crochet.
Materials
yarn: Red Heart Super Saver ( yarn weight: Medium 4) in 5 colors:
Carrot for the background approx. 150.37 yds (137.5 m)
Oatmeal approx. 37.18 yds (34 m)
Black approx. 55.77 yds (51m)
Soft White approx. 50.3 yds (46 m)
Grey Heather approx. 48.11 yds (44m)
5.5 mm crochet hook (I have used Furls Wooden Hook and Cocobolo)
Tapestry needle
Scissors
Abbreviations
- RS: right side
- WS: wrong side
Woodland Raccoon Hat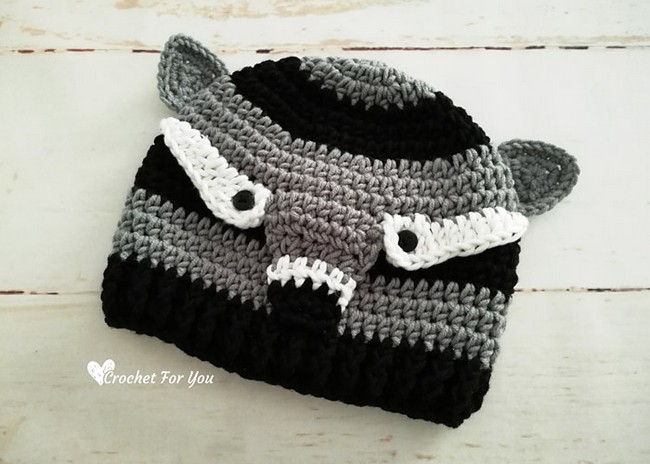 With this woodland raccoon hat, you can transform into a character from that magical world from the comfort of your home. This cozy Woodland Raccoon hat is a perfect addition to your child's winter wardrobe. The cute design with colorful stripes and raccoon tail, topped off with a fluffy pom-pom, will keep your young one warm and stylish! Perfect for little boys or girls who have an inner animal inside of them. This adorable woodland raccoon hat is sure to make the cutest Christmas gift. It's a beginner-friendly pattern so you can whip it up -- no joke -- in just one night!
Materials
Gray color yarn (Approx: 75 yards)
Black color yarn (Approx: 75 yards)
Small amount of White color yarn
I-9 / 5.5mm crochet hook
H-8 / 5mm crochet hook
2 buttons for eyes
Tapestry needle for weaving ends.
Abbreviations
ch = chain
sl st = slip stitch
sc = single crochet
hdc = half double crochet
dc = double crochet
tr = treble crochet
fpdc = front post double crochet
bpdc = back post double crochet
st = stitch
ch-sp = chain space
yo = yarn over
Rascal The Raccoon Amigurumi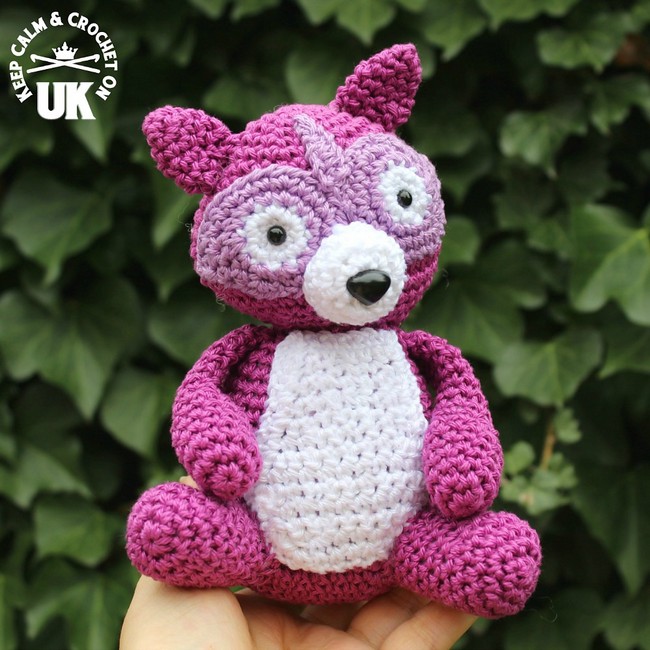 Crochet your Rascal the Raccoon Amigurumi! This crochet mini amigurumi pattern is easy and fast to make, so you can use it as a beginner project or for more experienced crocheters looking for a quick project. With only a few stitches, this pattern is perfect for all levels of crocheters. This adorable Rascal, the Raccoon Amigurumi, is the perfect gift for any Raccoon lover! Use your crochet skills to make this little critter and unleash your creative side! Handmade by you and ready to enjoy!
Materials
Hook: 3mm (US size 5/0)
Stitch markers
A yarn needle
Polyester toy filler
2 x 6mm black safety eyes
1 x black cat nose
Abbreviations
st(s) = stitch(es)
sl st = slip stitch
ch(s) = chain
dc/sc = UK double crochet / US single crochet
dc/sc2tog = UK double crochet 2 together / US double crochet 2 together
htr/hdc = UK half treble crochet / US half double crochet
tr/dc = UK treble crochet / US double crochet
P = Picot Stitch
BLO = working through the back loop only
( ) = Work any sts in brackets into one st
Raccoon Amigurumi, Jr. Rakku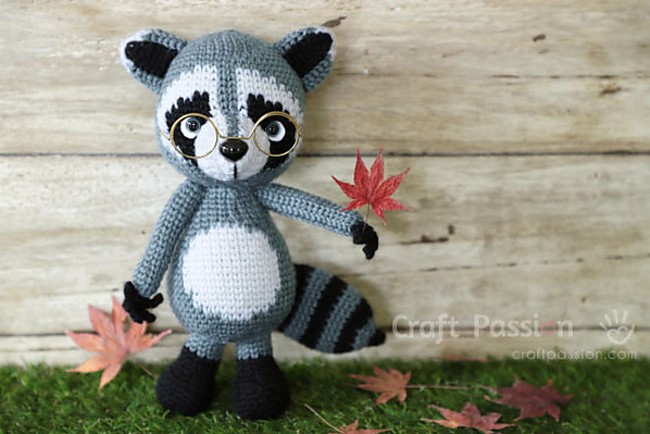 Crochet Raccoon Amigurumi, Jr. Rakku is a small cuddle buddy for your little one. It is an adorable companion for any room. He can be used as a toy or decorative piece, depending on the look you're going for. He's super easy to Crochet and goes together quickly! This would make a wonderful gift for any animal lover! It is a unique addition to your collection of cuddly animals. It features a cute gray body and a raccoon's distinctive black markings around its eyes, giving it an expressive look.
Materials
Acrylic yarn (50 grams each ball): white (1 ball), black (1 ball), and gray (1 ball)
Colored Iris Safety Eyes, Gray, 10mm size, 2
Safety Nose, 18mm size, 1
Felt, White, 1.5″ x 1.5″, cut into 2 pcs. of ½″ circles
Doll Wired Glasses (optional)
Polyester fiberfill
3.5mm hook
Darning needle
Scissors
Pins
Abbreviations
ch: chain
sc: single crochet
ssc = split single crochet / knit stitch/waistcoat stitch
Inc: 2ssc increase
Dec: ssc 2 stitches together
slst: slip stitch
R: Round
GR: Gray Yarn
BL: Black Yarn
WH: White Yarn
Pocket Raccoon Amigurumi Pattern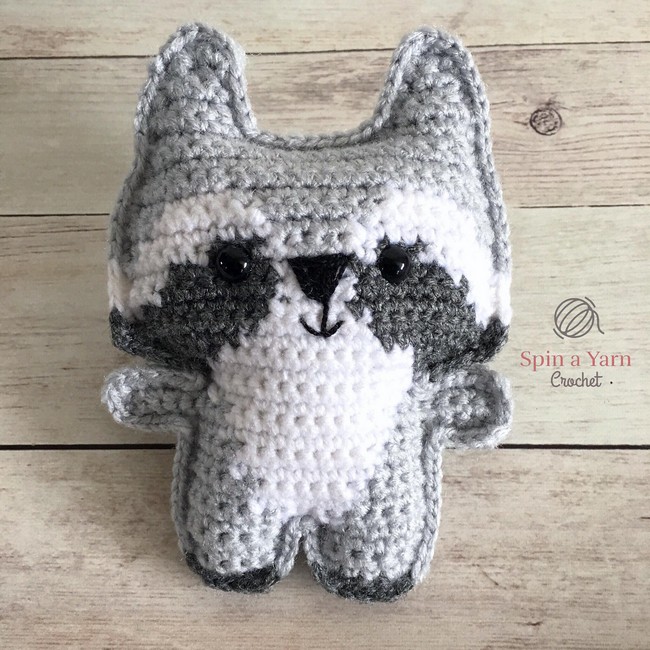 Pocket raccoons are cute and can help you out at the same time! Your little one will love this adorable crochet pocket raccoon. It makes a perfect gift for your little friends! The crochet pocket raccoon is the cutest little animal you can share with your kids. You can enjoy making this pattern with your little ones and make them feel special by gifting them right out of the bag. It's a fun way to spend time together and bond even more. Use these crochet pocket raccoons as a keychain, bag, or purse charm or as an ornament for stuffed animal toys. You could even slip one onto your zipper and pull on the jacket.
Materials
2.75mm hook (I use THESE hooks!);
Red Heart Super Saver in Light Grey for body (less than 50g);
Red Heart Super Saver in Grey Heather for feet and eye patches (very small amounts);
Red Heart Super Saver in White for belly and face (small amount);
9mm safety eyes;
Black crochet thread for mouth;
Stuffing;
Tapestry needle.
Abbreviations
Ch – Chain
St – Stitch
Sc – Single crochet
Inc – Increase. Work 2 sc in the same st.
Dec – Decrease. Work a regular sc decrease.
Rita the Raccoon
Every little girl dreams of a pet raccoon. Now, with this lovely Crochet Rita the Raccoon, you can crochet your own. This project is ideal for beginners who want to learn basic crochet stitches or more advanced crocheters who want a fun and simple hat, scarf, or cowl pattern. The Crochet Rita the Raccoon is a sweet scarf design made using simple hdc stitches. Her legs and arms are crocheted separately and sewn on after she's finished. This is a great pattern for those who love making amigurumi animals but want to try something slightly more challenging than basic Crochet.
Materials
3.5mm (E) hook

15mm safety eyes

 

(buy here)

Yarn needle

Fiber fill

Disappearing ink marker
Abbreviations
st: stitch
ch: chain
sc: single crochet
inc: 2sc increase
dec: invisible decrease
BLO: back loop only
Easy To Make Raccoon
This cute crochet raccoon is a fun and easy project to work on! The pattern comes in multiple sizes, featuring both the adult and baby versions. You'll have fun using all those leftover cotton balls lying around, turning them into an adorable cuddly toy that even has a little stuffing inside his tummy! This crochet raccoon is made from recycled plastic bags. He is the perfect size for your little ones to carry around.
Materials
For the raccoon, you will need 2.5 mm crochet hook and suitable weight yarn in grey, white and black. Fiberfill stuffing and a tapestry needle.
Abbreviations
ch: chain
sc: single crochet
sc2tog: single crochet 2 together (decrease)
sc BLO: single Crochet in the back loop only
hdc: half double crochet
dc: double crochet
sl st: slip stitch
st(s): stitch(es)
Raccoon Mario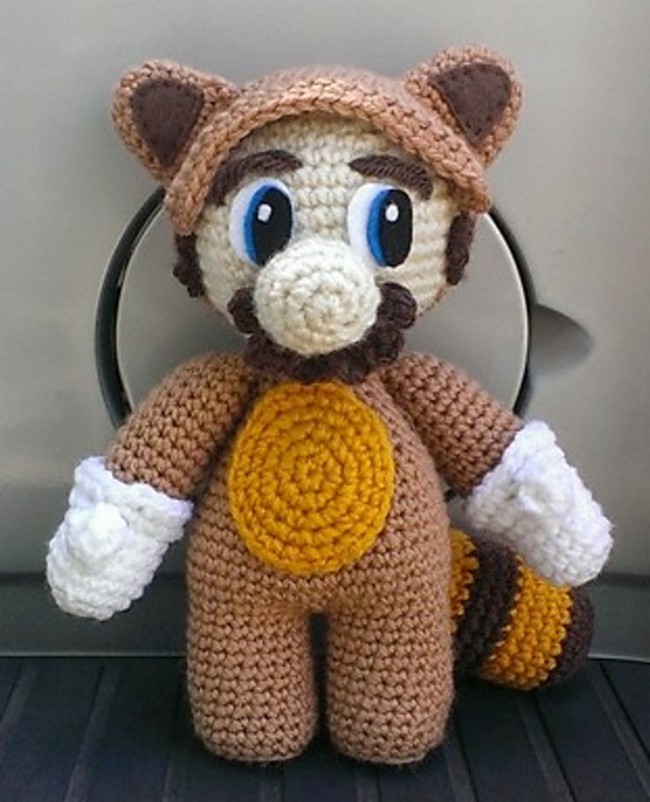 Accent your outfit with this hat with the Raccoon mask, a classic from Super Mario. This Raccoon Mario is a great addition to any room in the house! This little guy is soft and cuddly, with a unique look that will set him apart from the other Nintendo characters. He's also easy to make – a great project for crocheters of all experience levels! Make your favorite video game character into a fun crochet doll! This pattern is for Mario with his raccoon ears, made to be used as a decoration on your desk, table, or shelf.
Materials
Size G hook
Yarn- Light Brown, Aran (A creamish color), White, Gold, Brown
Felt- White, Black, Blue, Brown
Yarn Needle
Hot Glue
Sewing Needle and Brown Thread (Optional)
Abbreviations
Ch - chain stitch

Sl st - slip stitch

Sc - single crochet

Hdc - half double crochet

Inc - increase

Dec - decrease

BLO - crochet in Back Loops Only

F/O - Finish Off (cut the yarn, you're done!)
You can also see: Adorable Crochet Cow Patterns 
Bandit The Amigurumi Raccoon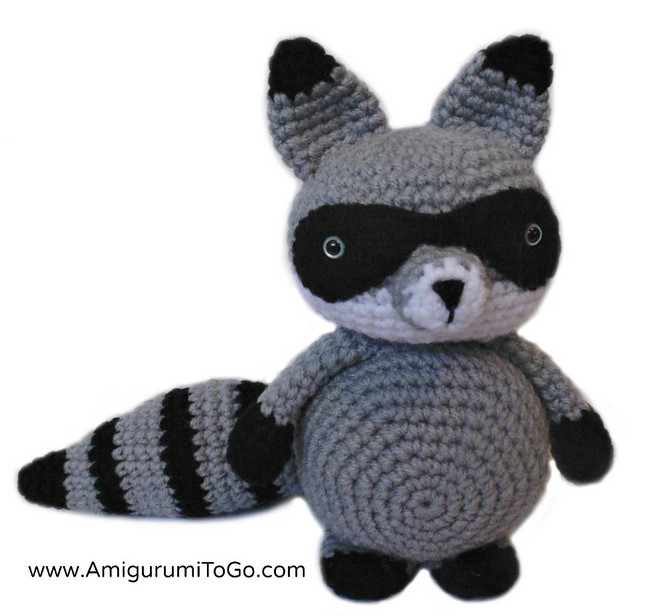 Crochet Bandit The Amigurumi Raccoon design is based on a real raccoon. It features easy-to-follow crochet directions for creating your own little one. Crochet Bandit, The Amigurumi Raccoon, is a unique take on the traditional teddy bear. This crafty little critter is all part of a Crochet Bandits crochet line that features adorable animals and other things! A perfect companion for your favorite young one to snuggle up with or an invitation to let their wild side show off through play.
Materials
3.75mm hook
grey worsted weight medium #4
white worsted weight medium #4
black worsted weight medium #4
black sport weight yarn for the nose; you could also use worsted weight
black felt for the eye patch
black sewing thread and a sewing needle
safety eyes 7.5mm but use any size you like or even use felt or yarn for eyes
Abbreviations
st = stitch
sc = single crochet
2tog = 2 stitches together
sl st = slip stitch
f/o = finish off
Rounds Of Grey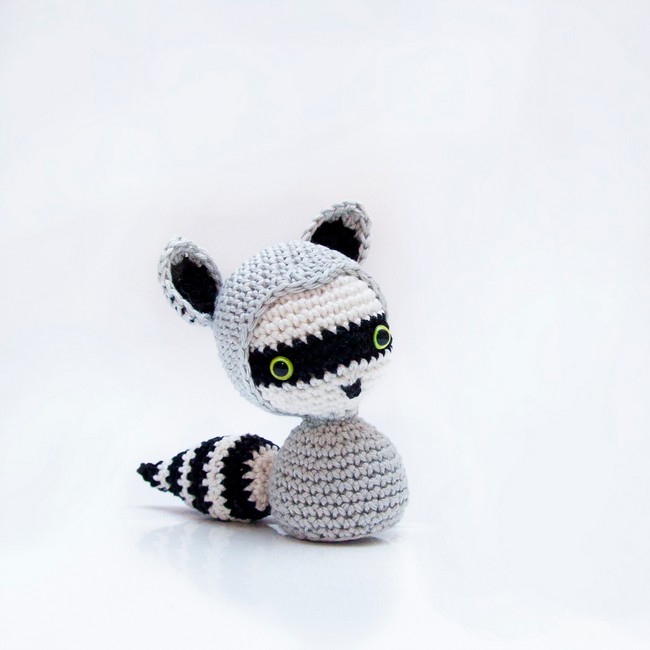 Not only is this crochet raccoon super sweet looking, but he's also pretty easy to make! Crochet Bandit is a super fun crochet amigurumi raccoon! This craft kit has everything you need, including an easy-to-follow pattern and all the materials to complete your crocheted raccoon. You will have hours of crafting fun with this adorable kit! Make your own Crochet Bandit, The Amigurumi Raccoon, with this easy-to-follow crochet pattern. Crochet Bandit is the cutest, most adorable little raccoon friend you can make! He has big eyes and a sweet little nose.
Materials
–  cotton yarn; small amounts of black, grey, and white (/offwhite) I used Catania (50g/125m)
– hook size 2.5
– needle
– safety eyes: I used 7.5mm (with colors as all black would be hard to see)
– polyester filling
Abbreviations
MR=magic ring, sc=single crochet, hdc=half double crochet, dc=double crochet
inc=invisible increase, dec=invisible decrease
Raccoon Hat Pattern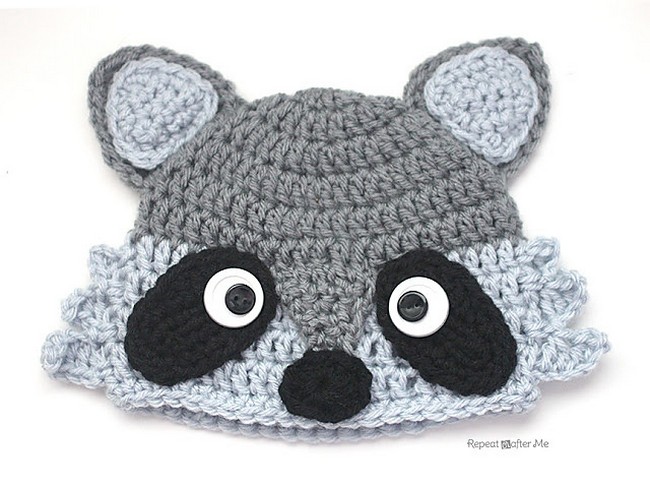 This crochet raccoon hat provides warmth and comfort to your head when it is chilly. It also looks so adorable that you could wear it as an accessory around your neck! With this crochet raccoon hat, your little one will be the cutest raccoon at the zoo. It features a simple brown and white color palette, making it a perfect hat to wear daily or on special occasions. And since it's made of acrylic yarn, it is easy to care for, machine washable, and dryable. The coziest, cutest hat you'll ever own. A fun Southern design that's perfect for warming up your head (and heart) on chilly days.
Materials
– Worsted weight yarn. I used Lion Brand Vanna's Choice in Silver Grey, Silver Blue, and Black.
– Size H Crochet Hook
– Two White buttons (about 1 inch wide) and two black buttons (about ¼ inch round)
– Tapestry needle
Abbreviations
Magic Ring Tutorial
SC = Single Crochet
SC Decrease = Single Crochet Decrease
HDC = Half Double Crochet
HDC Decrease = Half Double Crochet Decrease
DC = Double Crochet