There is a reason why cows are associated with the countryside and farms: they are simple, chunky, and versatile animals that make ideal representations of rural life. If you're looking for a gift or décor idea for someone who loves cows, crocheting a cow pattern is a great way to produce something thoughtful and personalized in just a few hours. The patterns below are a collection of free crochet cow patterns that will get you started on your little herd. All you need is basic knowledge of how to crochet, and then you are all set to start making some amazing art pieces.
Free Crochet Stuffed Cow Patterns

If you're looking for a project with your children or want to make something wonderful and adorable, you'll want to check out this collection of free crochet cow patterns. With a range of different colors and styles, there's sure to be a cow that's perfect for your home. They are perfect as table decorations, party favors, and even as gifts for children or adults. We have also included a few crochet cow patterns that are more advanced than the rest. These patterns are great for those who want to learn more about working with amigurumi! If you're looking for other animals, check out the free crochet animal patterns below.
Benefits of Free Crochet Cow Patterns
Free crochet cow patterns are a great way to get started with this rewarding hobby. You can learn how to crochet and make your creations without having to spend any money at all.
Many benefits come along with using free crochet cow patterns. Here are a few of them:
You can save money by making your crochet items instead of purchasing something similar from a store or online retailer. This can help you save money for other things, such as bills or groceries, instead of spending it on something you might not need anyway.
If you have kids, they will also benefit from learning how to crochet because they may enjoy creating their items too! This can be a great way for them to spend time together while making something useful or fun for themselves or others they love, like family members or friends.
Free crochet cow patterns are easy to find on the internet, so you don't need to search everywhere when all you need is right there at your fingertips! All you need is an internet connection and some free time on your hands, and then you can begin learning how to do this fun activity today!
Memphis The Moo-Cow
Thinking of making your own DIY stuffed animal? This crochet cow pattern makes it easy and fun. You will love playing with your new fluffy friend, who is sure to be a real conversation piece for adults at any event! This free crochet cow pattern will teach you how to make a cute little Memphis the Moo-Cow. It works up quickly and is easy enough for beginners too. This project calls for medium-weight yarn and an I crochet hook.
Materials
Measurements: Approximately 6" tall (sitting) or 9" tall (standing)
Gauge: Not necessary for this pattern; see notes
Hook Size: 4.0mm (G)
Other Tools: tapestry needle, stitch markers, scissors
Yarn Weight:  Super Bulky (6)
Yarn Used: Premier Yarns Just Chenille
Yardage: color A (pink): 6 yds, color B (white): 65 yds, color C (shown as black): 16 yds, color D (shown as brown): 29 yds, small amount of black worsted weight yarn for tail
Other Materials: poly-fil stuffing, 12mm safety eyes
Abbreviations
st = stitch
sl st = slip stitch
ch = chain
SC = single crochet
SC2tog = single crochet 2 stitches together (invisible decrease is recommended)
DC = double crochet
Maizee The Cow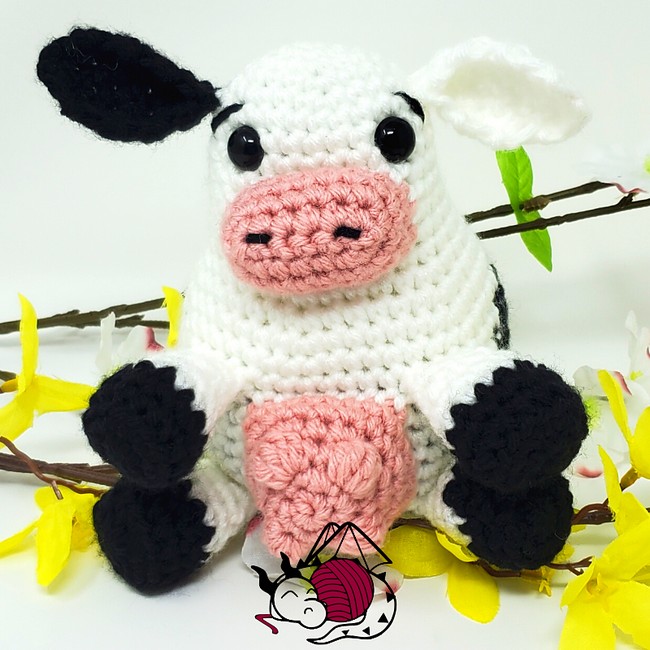 This sweet Cow is an adorable, piebald dairy cow ready for a hug. Her black and white colored pattern is true to life, down to the curly horns, black splotches, and little squiggly tail! Maizee will keep you smiling long after your knitting or crocheting adventure. Maizee is an adorable and curious cow. She is ready to roll right into your heart. Maizee loves adventure and is a fun addition to any home or office. Maizee, the Cow, is a simple pattern, and an enduring design makes her perfect for beginners!
Materials
Red Heart Super Saver yarn, 100% acrylic, worsted weight, 364 yds/7 oz/198 g, White (WHT), < 1 ball; Black (BLK), < 1 ball; Light Raspberry (PNK), < 1 ball.
F (3.75 mm) Furls Odyssey hook
Two 12mm solid black safety eyes
Polyfil stuffing
Tapestry needle
Stitch markers
Strawberry Cow Mug Rug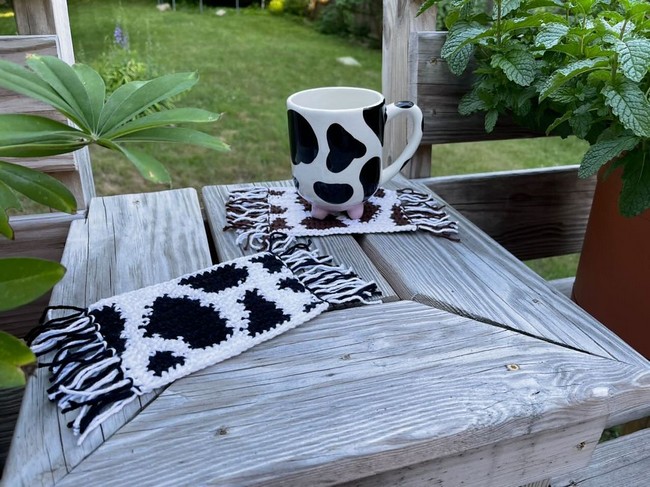 Start your morning with the Strawberry Cow Mug Rug! A fun and fast crochet project, this is a great way to practice your worsted weight crochet skills. The perfect addition to any kitchen, family room, or office. This easy pattern is great for beginners as it only uses single, double, and treble crochet stitches. This project is easy and looks adorable with an inexpensive mason jar or any ceramic mug you may have!
Materials
-2 Colors of worsted weight yarn approx. 80 yards each color
(Cotton is recommended)
-H Hook (5mm) I always use the Furls Odyssey hooks for working with cotton-
-Scissors
-Yarn Needle
Abbreviations
Sc- single crochet
Ch- chain
W-Sc- white single crochet
P-Sc- pink single crochet
Cow Applique
This crochet cow appliqué is the perfect project for anyone who loves farm animals. Crocheting this cow applique would be a great addition to any kids' clothing or bag, and they can also go great on blankets or as decorations in nursery rooms. This crochet cow applique is so cute you'll want to make more than one! You can also use this crochet cow appliqué to personalize blankets, bags, or clothes. This is a great pattern if you want to teach your kids how to crochet!
Materials
Yarn calling for 5,5 mm / size I hook in: white (main color), black (secondary color) and a small amount of cream and pink yarns
Size 3.5 mm / size E crochet hook.
2 black safety eyes (7.5 mm)
Stitch markers
Tapestry needle
Scissors
Abbreviations
chain (ch)
magic ring (mr)
single crochet (sc)
increase (inc)
invisible decrease (dec)
slip stitch (sl st)
half double crochet (hdc)
double crochet (dc)
Cow Wall Hanging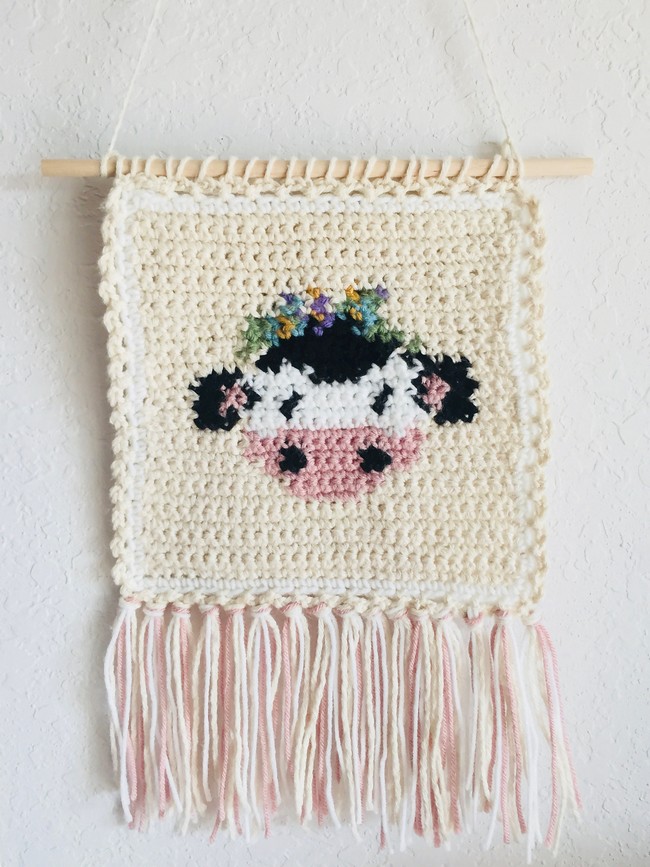 This adorable Crochet Cow Pattern is perfect for beginners who want to learn tapestry crochet. This crochet pattern uses the intarsia method and is worked in rounds, so it's easy to follow and won't leave the beginning crocheter scratching their head. This quick and easy wall hanging adds country flair to any room.  The free crochet pattern calls for a size J hook and worsted-weight yarn in 5 colors. This cow will make an excellent purse, mini pillow, baby shower gift, or even washcloth if you're into making them!
Materials
Hobby Lobby Yarn Bee Denim in Color/Ivory (¼ ball)
Hobby Lobby I Love this Yarn/Rosy Cheeks (Scraps)
Walmart Mainstay Yarn/White (Scraps)
Walmart Mainstay Yarn/Black (Scraps)
Various colors of Acrylic Yarn for Flowers (Scraps)
5.5mm (I) Crochet Hook
Bobbins (Optional)
Dowel or Stick
Tapestry Needle
Abbreviations
ch = Chain
sc = single crochet
sl st = slip stitch
st = stitch
Cow Hand Puppet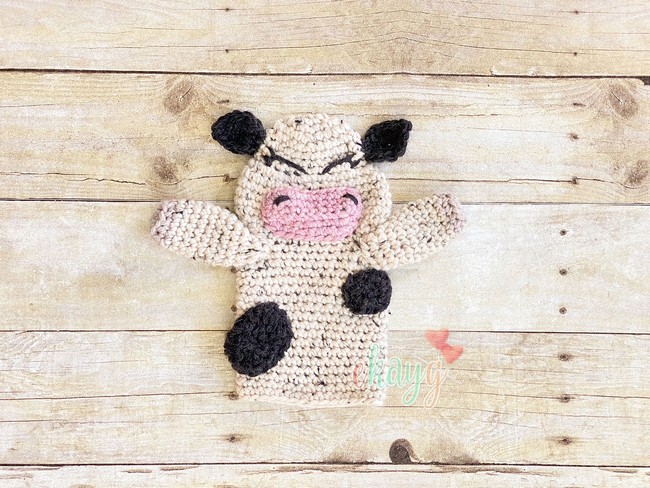 This crochet pattern is a perfect little hand puppet to add to your collection of toys. It has a cute face and can be used as a toy or bookmark. Make this cute cow hand puppet to go with your crochet cow pattern. This crocheted cow is easy to make and is an excellent project for first-time amigurumi makers. It includes detailed step-by-step instructions with lots of photos and a picture tutorial on making the cow body.
Materials
Bulky Weight 5 Yarn:
THE HOOK NOOK, YUMMY TWEED: Cookies & Cream (A) approximately 90 yds
THE HOOK NOOK, YUMMY: Latte Foam (B) approximately 6 yds
THE HOOK NOOK, YUMMY: Cherry Blossom (C) approximately 10 yds
THE HOOK NOOK, YUMMY: Charcoal Toothpaste (D) approximately 12 yds
Crochet Hook, size H – 5mm
Stitch marker
Tapestry needle
Scissors
Abbreviations
magic ring
rnd, rnds – round, rounds
st, sts – stitch, stitches
ch, chs – chain, chains
sl st – slip stitch
sk – skip
sc – single crochet
hdc – half double crochet
dc – double crochet
inc – increase, 2 sc sts in same st
BLO – back loop only
Rosie The Cow
Rosie, the Cow, is a fun, quick little project. She can be made in any color palette and with any yarn or fabric combination. It's super easy to adjust Rosie's size using different hooks, yarn, and personal tension. There are many variations that you can use as detailed in the pattern. This pattern is perfect for beginners and even advanced crocheters alike! This little knitted toy is easy to make and looks great on your bedside table, coffee table, or anywhere else you desire! She's a great companion for children, teens, or just about anyone who needs cheering up!
Materials
E 3.50 mm crochet hook

Medium Worsted weight (#4) yarn

Yarn needle

Scissors

Stitch markers (Piece of yarn is what I use) x2

Poly-fil

(Optional) Pins to help with sewing

Blush for cheeks (optional) I use a small brush and add a little at a time because you can always add more but it will be hard to take off. 
Abbreviations
CH

 – 

chain

ST 

– stitch (stitch space)

Sl St

 – 

slip stitch

SC

 – single crochet

HDC – half double crochet

SC INC

 – single crochet increase 

(2 sc in the same st)

INV DEC

 – invisible SC decrease (decrease using the front loops only of the next two stitches)

BLO

 – Back loop only

BPsc

 – back post single crochet stitch

FLO – front loop only

F.O:

 

fasten off

MC

 

– magic circle / magic ring
Plush Strawberry Cow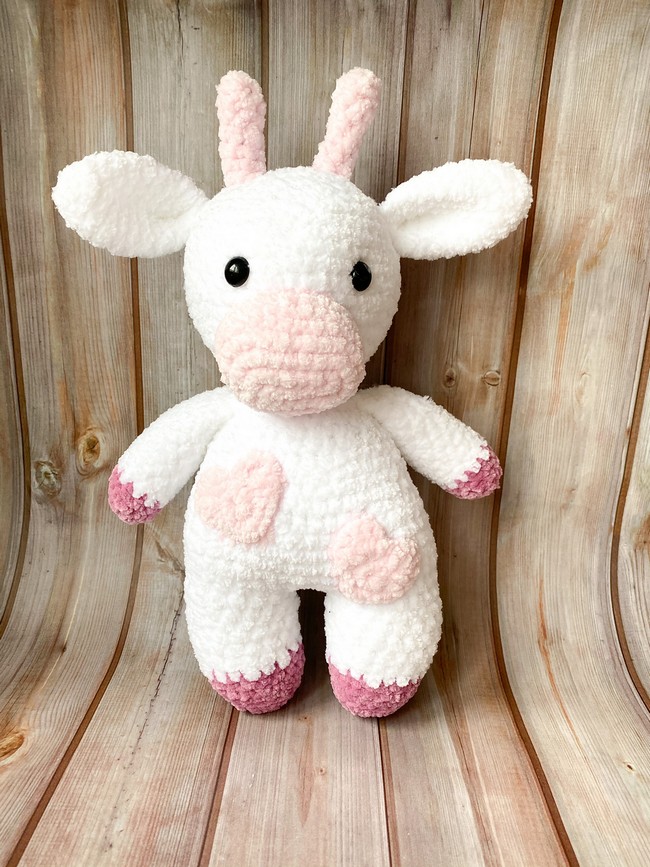 This Plush Strawberry Cow crochet pattern is the perfect example of "love at first sight." His heart-shaped spots give him a soft and sweet personality, and his big, brown eyes make him adorable. You'll think you'll have him around forever because he's made out of Polyester/cotton blend fabric, but don't worry, he will wash up beautifully when it comes time to give him a bath with a mild detergent in cold water. Crochet this little strawberry cow and keep him with you as a reminder to always spread goodness and love.
Materials
5mm crochet hook.
Chenille chunky yarn in white, pale pink and dark pink.
Plastic safety eyes.
Stuffing.
Scissors.
Needle.
Abbreviations
sc – Single Crochet
slst. – slip stitch
mr – magic ring
ch. – chain
dc – double crochet
trc – treble crochet
inc – increase
dec – decrease
st. – stitch
Caroline The Cow
Caroline, the Cow, is a sweet girl with corkscrew curls and eyelashes. She is sure to make you smile and bring you joy every time you look at her! With so many crochet options, there is something for everyone – a girl or a boy. If you are looking for an easy project that will make you smile every time you look at it, this is the project for you! Caroline is the perfect gift for your favorite farmer or to embellish a room. She is a sweet, simple pattern with minimal shaping and lots of stretches.
Materials
3.5mm (E) hook

15mm safety eyes

Stitch markers

Yarn needle

Fiber fill

Disappearing ink marker
Abbreviations
ch – chain
slst – slip stitch
sc – single crochet
inc – complete two single crochets within the same stitch
dec – combine two stitches into one with an invisible decrease
BLO – crochet in the back loop only
*sc x* – repeat the instructions between asterisks(*) the indicated number of times. If the pattern doesn't tell you how many times to repeat, then repeat the sequence until you reach the end of the round.
(x + y) – complete the stitches listed in the parenthesis in the same stitch. For example, if the pattern says (hdc + sc), you would do a half double crochet and a single crochet in the same stitch.
hdc – half double crochet
dc – double crochet
2dc – complete two double crochets in the same stitch
Harvest Moon Cow Amigurumi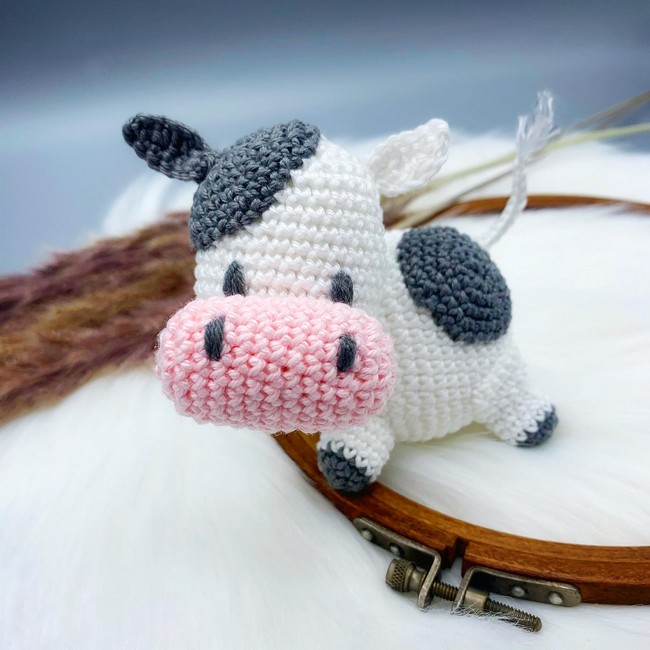 Here's a fun and easy way to make an adorable little cow. Harvest Moon Cow Amigurumi is made using only single crochets and increases, so it's perfect for beginning amigurumi enthusiasts. This darling little cow is perfectly ready to help you bring in the harvest season. Any knitting or crochet pattern with a beginner rating can be completed by an absolute novice or someone who knows how to make advanced patterns. He will fit nicely in your palm and can be used as a keychain, picnic reminder, or pencil holder.
Materials
Any yarn will do; just make sure you use a hook in the corresponding size. The eyes on this cow are sewn on, but could very well be substituted by oval safety eyes. You will need white, pink and dark grey yarn.
Abbreviations
Sc = single crochet (x-stitch)
Hdc = half double crochet
Sl st = slip stitch
Dc = double crochet
Inc = increase
Dec = invisible decrease
Ch = chain
MR = magic ring
FO = fasten off
Chinese New Year Ox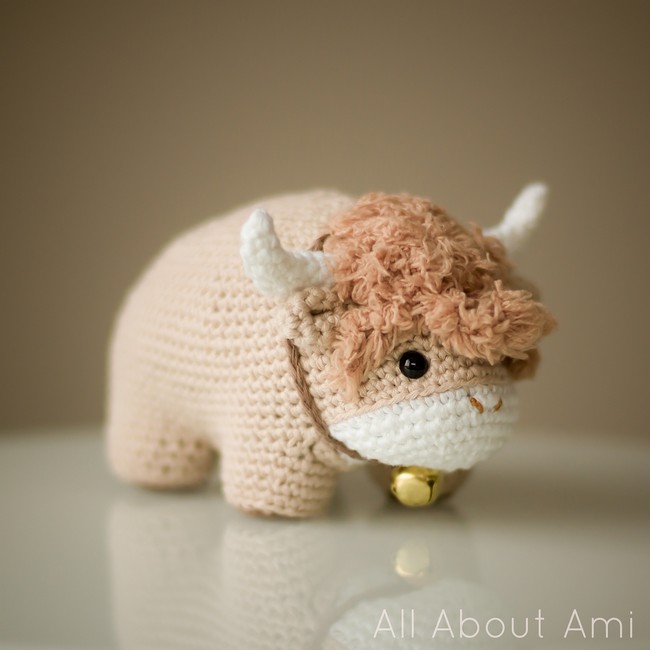 Looking for a fun and unique amigurumi pattern? This adorable Chinese New Year ox is essential for anyone born in the Year of the Ox! Create your own little Chinese New Year Ox with this fun and simple pattern. The ox is an instant classic, with floppy ears, a cute wiggly tail, and sweet little horns! It's easy to work up using simple crochet stitches, and the construction method is unique! This pattern includes detailed instructions and pictures to help you make the perfect crochet cow!
Materials
Coboo Yarn (lightweight level 3) in "Tan" (~45 g}, "White" (~5 g) and "Taupe" (~3 g)
Super bulky Fluffy/eyelash tan yarn (~3 g) for the hair and tail; I used "Moco Cafe Soft and Fluffy Knitting Yarn" in "Mocha latte" from Daiso
2.75 mm Clover Amour Hook and 5.5 mm Clover Amour hook (for fluffy yarn)
Yarn needle (bent tip helpful for attaching amigurumi parts- see HERE)
Fiberfill
7.5 mm safety eyes
Tan embroidery floss
Gold jingle bell (optional – ours was 0.5″/1.3 cm in height and width)
Cleo The Cow
If you love to crochet animal patterns and want to start, this is a great little pattern for you. Try out Crochet Cow Patterns for Cleo, the crochet cow. She's a sweet little character with a big smile, which can find in many nurseries worldwide. This cute crochet cow pattern is a fun and easy project for beginner crocheters. Her simple design and colorful tank top make her the perfect addition to any nursery. She would also make a darling baby shower gift or a fantastic addition to any kid's room.
Materials
Yarn: You need less than 100 grams of DK yarn in white and a small amount in black, beige, and five colours for the tank top. I used light pink, light yellow, light green, turquoise, and light orange.
2.75 mm crochet hook
Tapestry needle
Stitch marker
Polyfill stuffing
Two 10 mm safety eyes or you can crochet eyes for children under 3
Embroidery thread: A small amount of black for eyelashes, nostrils, and mouth
Abbreviations
Sl st: slip stitch
SC: single crochet
INV DEC: invisible decrease
INC: two SC in the same stitch
BLO: back loops only
HDC: Half double crochet
HDC INC: two HDC in the same stitch
DC: Double crochet
DC INC: two DC in the same stitch
Mia Moo Moo Cow Amigurumi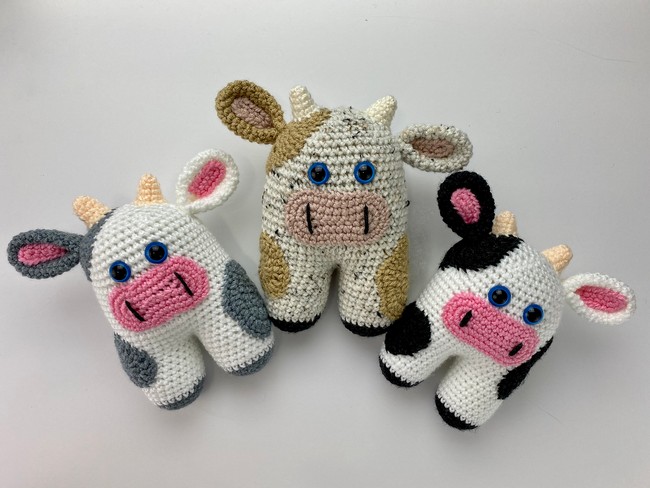 Mia Moo Moo Cow has a cute little face and big arms that are so soft! This Amigurumi pattern has many step-by-step photos to make it easy to follow. It's super cute and perfect for kids who want to learn the basics of sewing, measuring, and counting. It would be a great beginner project for kids! After making this pattern, you'll want to make a herd of Moo Moo cows. Perfect for decorating your home or as a gift for your favorite cow-loving friends.
Materials
– Size F or 3.75mm crochet hook
– We Crochet Brava yarn in the colors White, Asphalt Heather, and Cotton Candy. Also a tiny bit of cream color worsted weight yarn.
– Tapestry Needle
– Scissors
– Polyfill
– 12mm Safety Eyes
– Sewing Pins
Abbreviations
CH- Chain
SC- Single Crochet
INC- Increase (in this case- 2 SC in the same stitch)
DEC- Decrease, in this case, invisible decrease (explained below)
SLST- Slip Stitch
DC- Double Crochet
HDC- Half Double Crochet
Blossom the cow
With this free crochet Blossom the cow pattern, you can create your own knitted cow. This crochet plushie makes an excellent gift for kids, so get ready to make one now! If you're new to crochet and don't know how to make animals, don't worry—this pattern is simple enough for beginners. All you need are cotton yarn, safety eyes or black floss/yarn, and a basic sewing kit. So grab your hook and some yarn and start making the cutest little cows ever!
Materials
DK/light worsted weight cotton yarn in white, brown/black and light pink  [I used Paintbox Yarns Cotton DK Champagne white (403), Coffee Bean (411) and Ballet Pink (453)]
2.5mm/size B or C crochet hook
6mm (0.16″) safety eyes or black embroidery floss/yarn
Fiberfill
Yarn needle
Large eyed sewing needle
Stitch marker
Scissors
Abbreviations
R = row
Rd = rd
St(s) = stitch(es)
Ch = chain
Sl st = slip stitch
Sc = single crochet
Hdc = half double crochet
Dc = double crochet
Inc = single crochet 2 in same st
Dec = invisible decrease: Insert hook in front loops of next 2 sts, yarn over, pull through both front loops, yarn over, pull through 2 remaining loops
Sk = skip
Angus, the Cow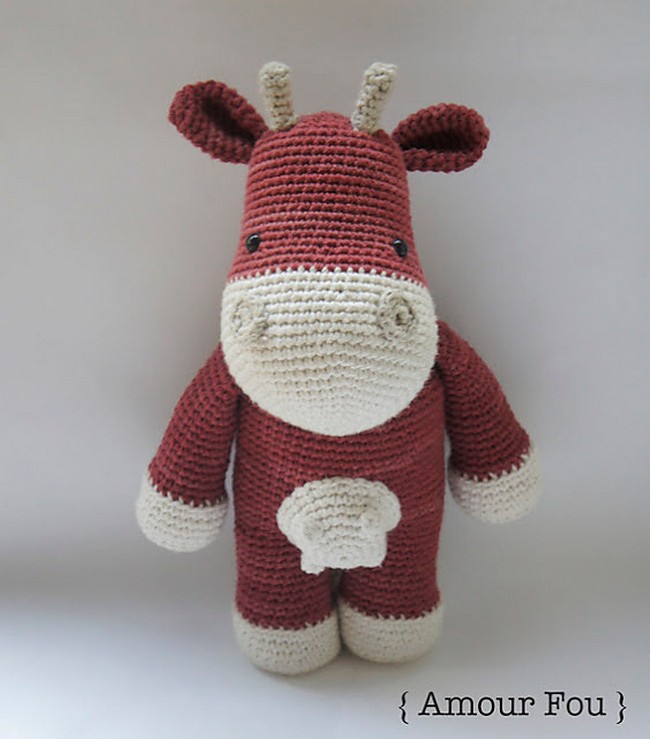 This free crochet Angus, the cow pattern, will help you make Angus, the playful little kitty. To make this fun craft, you only need 100 percent cotton yarn and a 3.00 mm (US C) crochet hook. Use safety eyes to attach them quickly and give your finished figurines extra personal touch. With scissors and a tapestry needle to stuff the cow and patience, you can soon make this pattern! This is an excellent pattern for beginners eager to crochet cows. The design includes step-by-step instructions with many photos so that you can make it easier.
Materials
- 3.00 mm crochet hook (US C)
- 100 % cotton yarn for a 3.00 mm hook
- A pair of safety eyes
- Polyfiber fill for stuffing
- Tapestry needle
Abbreviations
st = stitch
slst = slip stitch
sc = single crochet
hdc = half double crochet
dc = double crochet