Crocheted plushies are the perfect gift for kids (and adults!) of all ages. They're cuddly, cute, and adorable, making your home more inviting. We'd venture to say that crocheted plushies are the perfect gift for anybody—who doesn't love a nice soft toy? Crochet plushies are the perfect present for anyone from your favorite aunt to your crafty kindergarten student. These amazing crochet plushie patterns have something for everyone, and with their detailed instructions, you can make a gift that's sure to please. Crocheting isn't all that intimidating, and if you know how to single crochet, you can make a plushie. Just pick a pattern and go for it!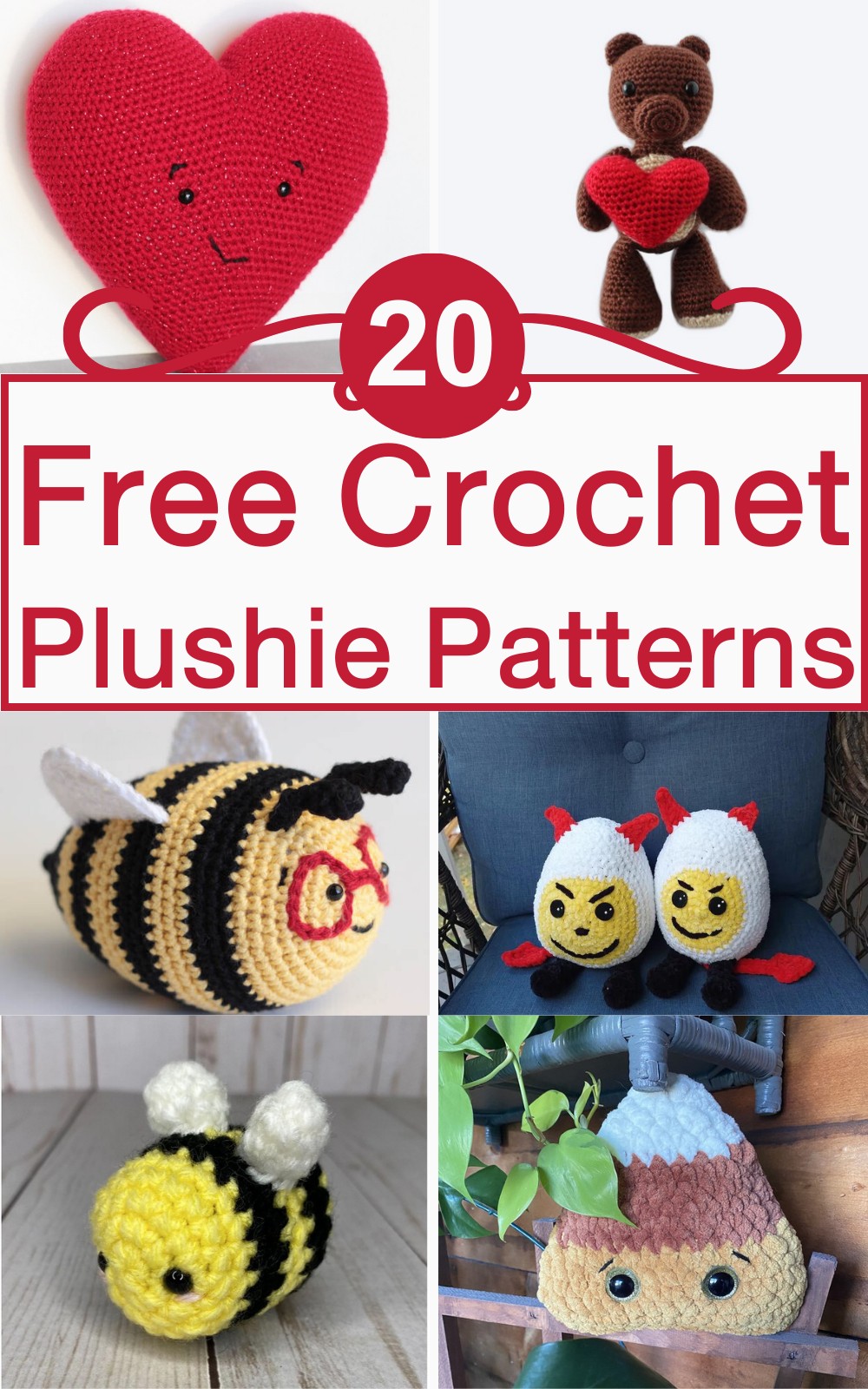 Crochet Plushie Patterns Free
Crocheting is an excellent way to make toys, stuffed animals, or dolls. These amazing patterns can be found online, and many people enjoy the process. For example, you can make a crocheted plushie if you have a favorite movie or book character. You can even crochet popular characters from movies, TV shows, and video games. These projects are great for beginners because they're easy to complete. There's also no limit to what you can make! If you love crocheting, here are 15 crochet plushie patterns to get started with.
Supplies Need To Make Crochet Toy Patterns For Babies
You can make your plushie using the following supplies:
Crochet hook: You need a crochet hook in the 2mm to 3.5mm range. The larger the hook, the bigger the stitches will be. This means you can use a smaller hook to make smaller stitches and vice versa.
Yarn: You can use any yarn for this project, but I recommend using worsted or light-weight yarn because it will give you a nice texture and texture to your plushie. You can use baby yarn instead if you want an even softer feel.
Embroidery floss or tapestry needle: A tapestry needle is used for sewing small parts together, like eyes and noses, onto your project, while embroidery floss is used for embroidering faces onto your plushie
Spelling Bee Plushy
The Spelling Bee Plushy is the perfect companion for any book lover or spelling lover. With its chubby body, adorable antennas, and red glasses for reading books, this plush toy is a great way to introduce children to the world of spelling and encourage them to develop their vocabulary. It is also a fun and quirky addition to any home decor!
Deviled Egg Plushie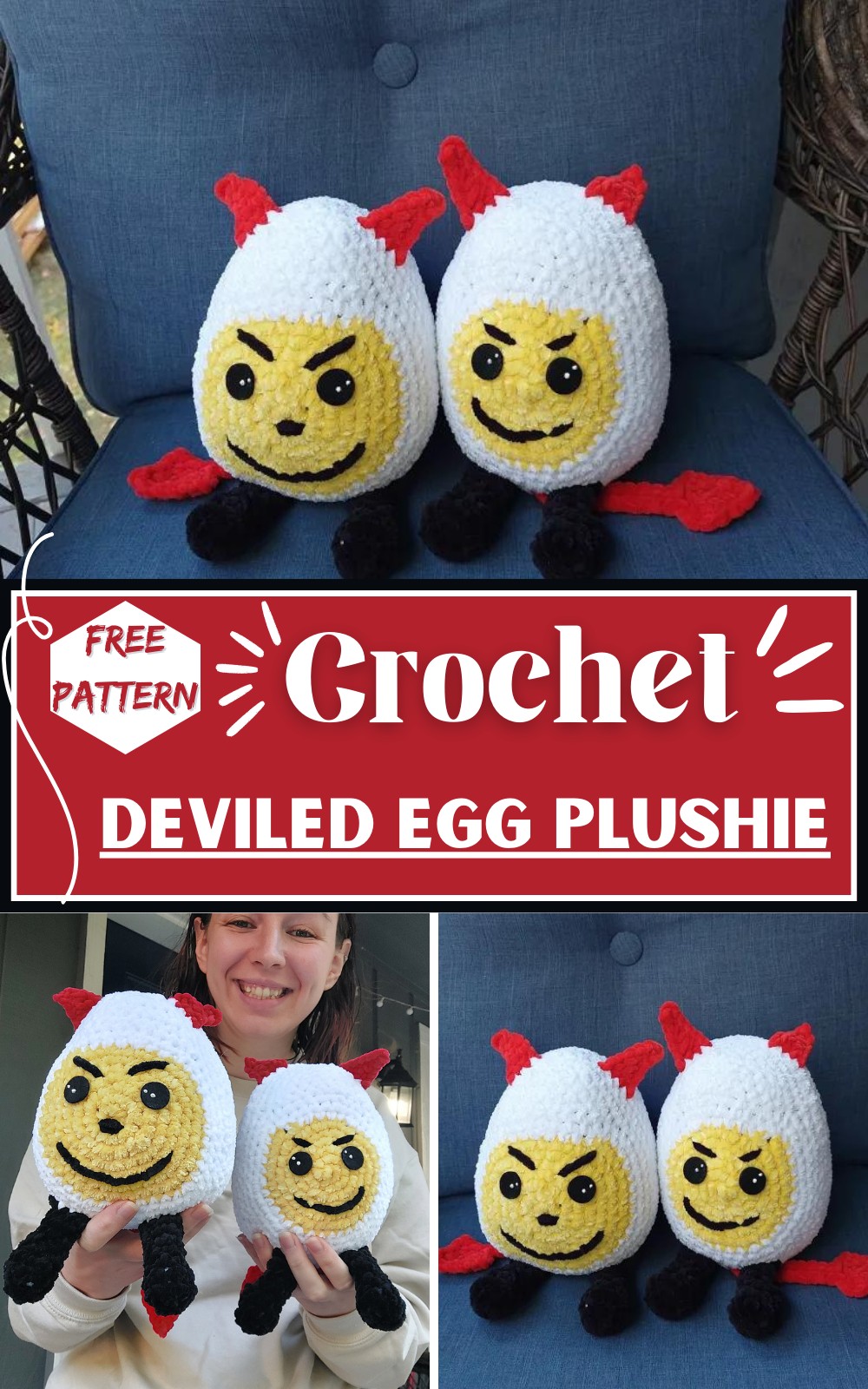 These adorable plushies are shaped like deviled eggs, complete with a yellow yolk and a white egg white having legs, ears, and a tail. They make perfect gifts for your child and are great for adding a touch of fun and whimsy to your home decor. As they use velvety thick yarn, they are quick and easy to make, even by beginners. Place one in the center of your child's bed pillows or shelves to add cheer and brighten their space.
Mitzy Mouse Plushy
Meet Mitzy Mouse, the adorable plushy that's ready to give you a warm hug. With its charming pink ears, hand, tail, and pointed nose, Mitzy Mouse is the perfect gift for kids and adults. Make smaller ones for keychains, or hang them in your car with bags, purses, and water bottles. Or make a large one for a hugable toy for your child. However, incorporate a wire in the tail for self-standing and amazing curls!
Angry Banana Plushie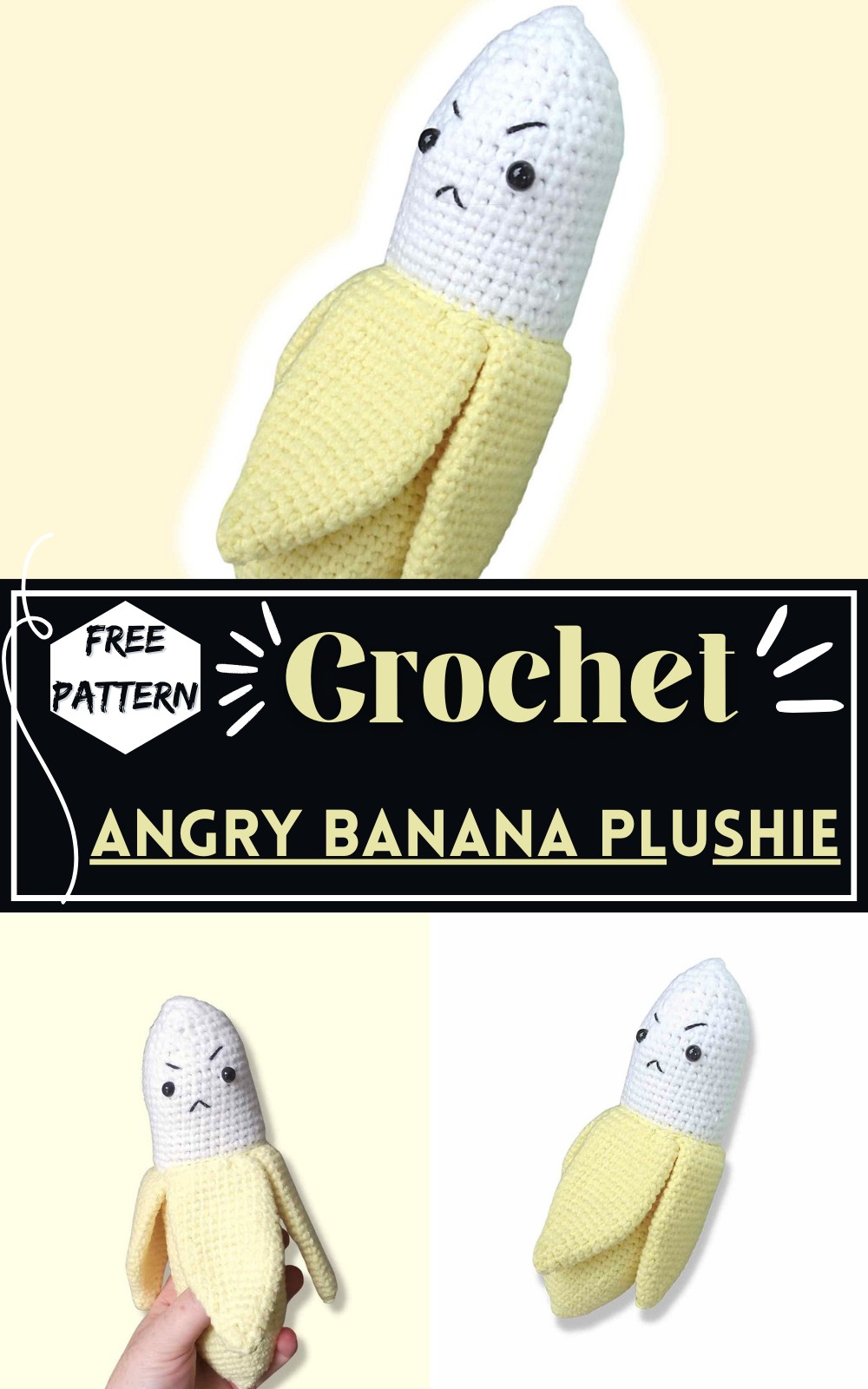 The Angry Banana Plushie is a fun and unique addition to any toy collection. This adorable plushie uses bright yellow shades of Lemon and Snow white and has a bold expression that will stand out in any room. It would also be a perfect gift for your child or young fruit lover. For the curling shape, you will use a pipe cleaner and also go with gentle and sweet expressions.
Cuddly Cactus Plushy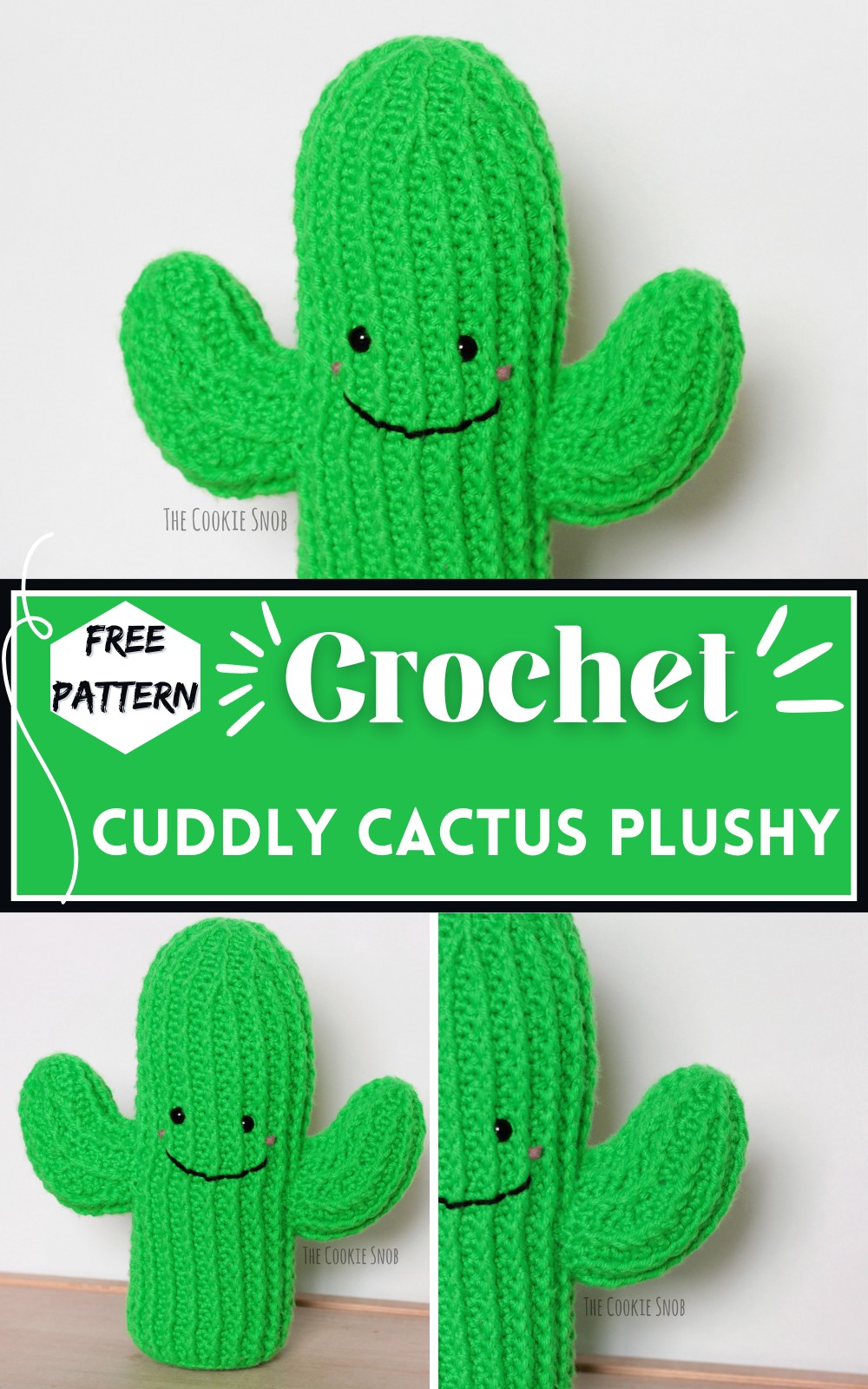 Detailed with an adorable smiley face and textured material that mimics the look of a real cactus, this plushy introduces a unique, fun-loving ambiance. Due to its soft texture and two arms, it is a perfect cuddly and snuggly partner for your child during naps. It works from down to top, and arms are attached at last. However, if making for a kid, avoid using safety eyes!
Candy Corn Plushie: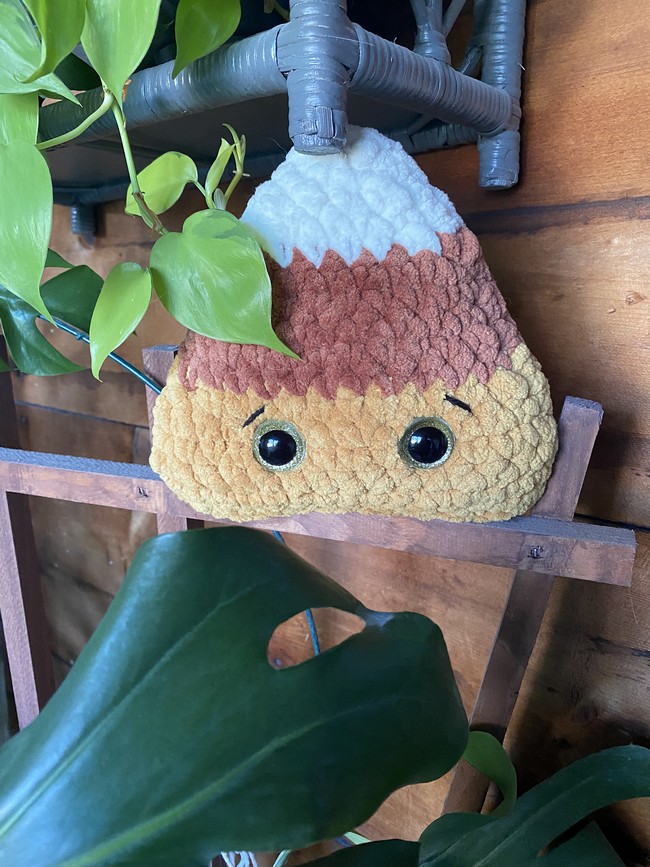 This adorable Candy Corn Plush will make the perfect addition to your Halloween decorations. It's made from a soft yarn, so you'll want to snuggle with it all year round. Add a touch of Halloween cuteness to your decorations with the Candy Corn Plush. This adorable plushie will look great hanging on your front door, as part of a table setting or as a backdrop in your home decor. This handmade Crocheted Candy Corn plushie brings a fun and festive feeling to your Halloween decor. In 3 assorted colors, it's soft and huggable for the perfect addition to any holiday gathering.
Materials
Chenille Home in white, mustard, and terra cotta. Any #7 weight yarn will do. I used about 110 grams of each color.
 10mm and 9mm hook
 poly-fil stuffing
 large eyed yarn needle
 24mm eyes
 small amount of worsted weight black for eyebrows
Abbreviations
 ch – chain
 sc – single crochet
 inc – increase
 dec – decrease
Teddiursa Pokémon Plushie: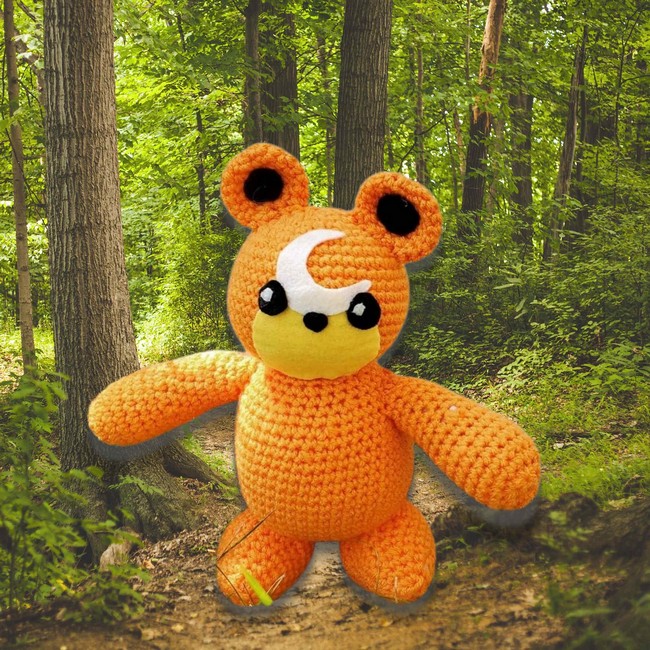 Crochet Teddiursa Pokémon Plushie is a must-have plush toy for all Pokémon fans. With its nostalgic and cute look, this animal toy is the best accessory for your kid's bedroom or playroom! This handmade crochet amigurumi makes a perfect gift for your friends, family, classmates, and colleagues on special occasions, Christmas, etc. The adorable Teddiursa Pokemon plushie is the perfect gift for any Pokémon fan! The crochet teddy features fuzzy white paws, a bushy tail, a cute pink nose, and its ever-so-famous yawning expression. This soft little buddy would love sitting on your nightstand or in your backpack.
Materials
-1 ball of worsted weight yarn in orange.
-4.00mm crochet hook.
-Dark brown felt for the inner ears.
-Black felt for the eyes and nose.
-Yellow felt for the face mask.
-White felt for the pupils and crescent moon.
-Fabric glue.
-Polyfill (stuffing).
-Stitch Marker.
-Scissors.
-Darning Needle.
-Sewing Pins.
-Row Counter.
Abbreviations
ch=chain
sc=single crochet
ss=slip stitch
st(s)=stitch(es)
F/O=fasten off
inc=increase
dec=decrease
Hatching Chick Plushy:
This Crochet Hatching Chick Plushy is a fun and adorable addition to any nursery or kid's room. Adorable hatching chick with a set of feathers and a beak, this plush crochet toy will surely bring a smile to children's faces. This crochet-hatching chick is soft and cuddly. It's a perfect gift for Easter or birthday occasions! Handmade from premium acrylic yarns, the Hatching Chick Plushies are made from 100% high-quality acrylic yarn, making them warm and cozy but not too heavy. This plushie is stuffed using premium quality polyester fiberfill inside a custom-designed body, making it extremely cute and huggable.
Materials
55 yds of I Love This Cotton! Yarn in White
38 yds of Yarn Bee Lush Loft in Mustard
6 yds of I Love This Cotton! Yarn in Glowing
2 safety eyes (6 mm)
Size G (4.0 mm) crochet hook
Tapestry needle
Fiberfill stuffing
Stitch marker
Abbreviations
st(s) = stitch(es)
ss = slip stitch
ch = chain
sc = single crochet
inc = sc increase (work 2 sc in the same st)
dec = sc decrease (work 2 sc together)
hdc = half double crochet
dc = double crochet
FLO = front loop only
BLO = back loop only
Theo the Valentine Bear: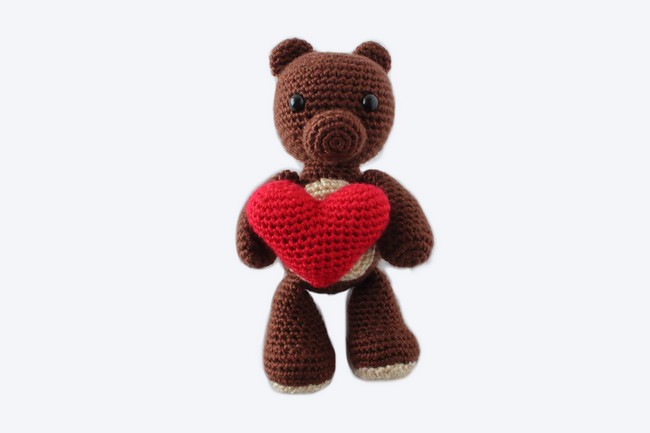 Crochet the Valentine Bear, Theo! The stuffed bear is 11-½ inches tall and designed by Sue Hillis. He is a great way to celebrate Valentine's Day, whether you give him as a gift or keep him for yourself! You'll love making this crochet Valentine's bear for someone you love. He's also a great gift for kids and works quickly in any worsted-weight yarn! Make this cute little Valentine's Bear, and you'll have a sweet decoration for Valentine's Day or any other occasion!
Materials
3.25mm crochet hook / D hook*

#4 medium weight yarn – I used Yarn Bee Soft Secret in Cocoa, Biscuit, and Red

stitch markers*

tapestry needle*

8mm safety eyes*

Polyfill stuffing*
Abbreviations
ch – chain
SC – single crochet
DC – double crochet
HDC – half double crochet
sl – slip stitch
All Hearts Pillow Plushy: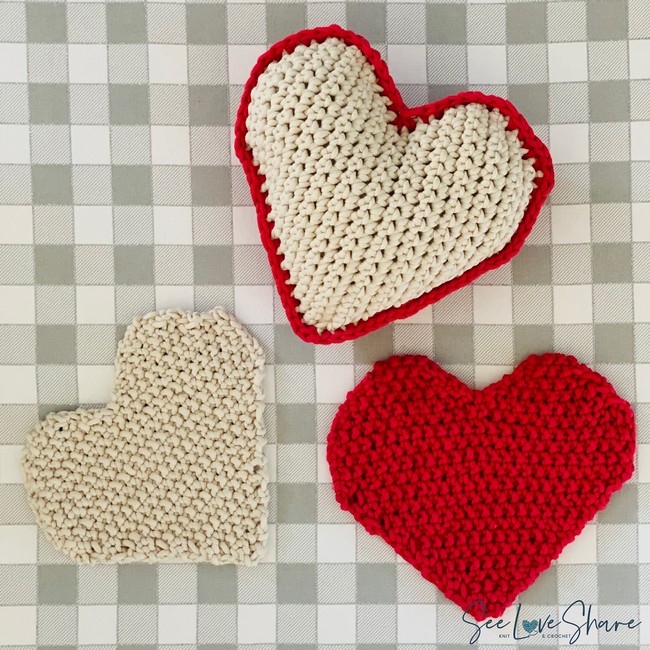 This adorable little pillow plushy can be the perfect addition to any living room, bedroom, or nursery with its quality material and vibrant design. The crochet all-hearts pillow plushy is super soft and stuffed with high-quality PP cotton inside. This cute pillow is great for your home, office, car, and anywhere you want to show off your love of crochet. This is a soft handmade doll. This lovely pillow is made from crochet cotton thread. It's soft and cuddly and a great gift for yourself or someone special!
Materials
Yarn Weight Category: 5
I am using Yarnspirations Bernat Maker Home Dec in Cream and Woodberry
8 mm (U.S. 11) knitting needle or 8 mm (U.S. L/11) crochet hook
Polyfill stuffing
Abbreviations
st/sts – stitch/stitches
sp – Space
rnd – round
ch – chain
sc – single crochet
hdc – half double crochet
dc – double crochet
tr – treble crochet
sl st – slip stitch
Duckling Plushie:
No duckling should ever be without a nice, snug little nest to sleep in. That's why we made this adorable crochet duckling so you can snuggle it or let it float and quack! You can even keep it on your desk at work as a cute accent piece. Crochet Duckling is the perfect companion for a lovely walk or cuddling when you're feeling blue. This cute little duckling has a huge personality, with large eyes and small wings. This little cutie is the perfect addition to your collection of stuffed animals. Each duckling is handmade, hand-crocheted from colorful yarns, and filled with polyester fiberfill for extra fluffiness.
Materials
-Worsted weight yarn (size 4), I used Big Twist Value in "Varsity Gold", and Caron One Pound in "Cream" because I just really liked the way they looked together, but you can use whatever you want. -Polyester Fiber Fill

-3.75mm crochet hook

-Yarn needle

-12mm safety eyes

-Scissors

-Sewing pins

-Stitch markers
Abbreviations
Mr- magic ring

Ch- chain

St- stitch

Sc- single crochet

Hdc- half double crochet

Inc- increase (sc twice in one stitch)

Dec- decrease (sc two stitches together)

BLO- back loops only (sc only in the back loop of each st)

FO- finish off
Huggable Heart Plushy:
This crochet huggable heart plushy is the perfect gift for any occasion. Whether you are giving it to your significant other, a close family member, or a friend - anyone who loves receiving cute gifts will love this! It makes a great decoration as well. Handmade in a smoke-free environment, with attention to detail and an emphasis on quality! This crochet Huggable Heart Plushie is the perfect addition for your loved ones. It's soft, cuddly, and gorgeous, a beautiful gift for confetti-loving kids or anyone who needs more love.
Materials
145 yds of Big Twist Twinkle yarn in Red
2 safety eyes (10 mm)
A bit of black yarn for the face
Size G (4.0 mm) crochet hook
Tapestry needle
Fiberfill stuffing
Stitch marker
Abbreviations
st(s) = stitch(es)
sc = single crochet
inc = sc increase (work 2 sc in the same st)
dec = sc decrease (work 2 sc together)
Lucy the Snowman Plushie: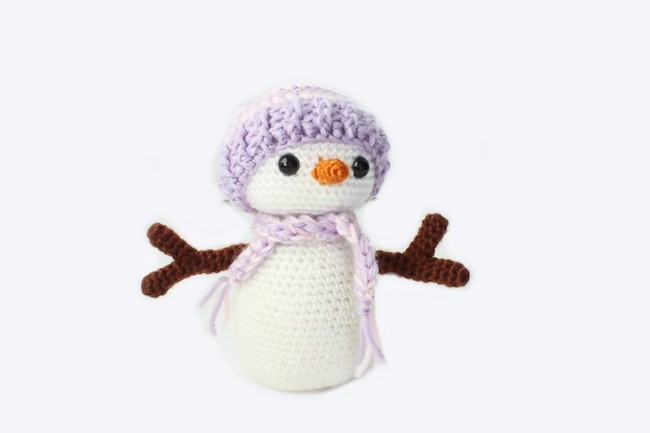 Lucy the Snowman is a plush toy designed with cotton and polyester fleece materials; this cute little girl will be your helper. It has taken up residence in the garden. If you want to add a decor dash to your home, look no further. This plushie will surely be an instant conversation starter and a conversation eer when it's time for bed. If you have always wanted to make your plushie light and soft, this is the toy for you!
Materials
3.25mm crochet hook / D hook*

3.75mm crochet hook
#4 medium weight yarn – I used Yarn Bee Soft Secret in White, Brown and scraps of orange and other colours for accessories

stitch markers*

tapestry needle*

8mm safety eyes*

Polyfill stuffing*

Poly Pellets
Abbreviations
ch – chain
SC – single crochet
DC – double crochet
HDC – half double crochet
FPDC – front post double crochet
BPDC – back post double crochet
sl – slip stitch
Toby the Newborn Dragon: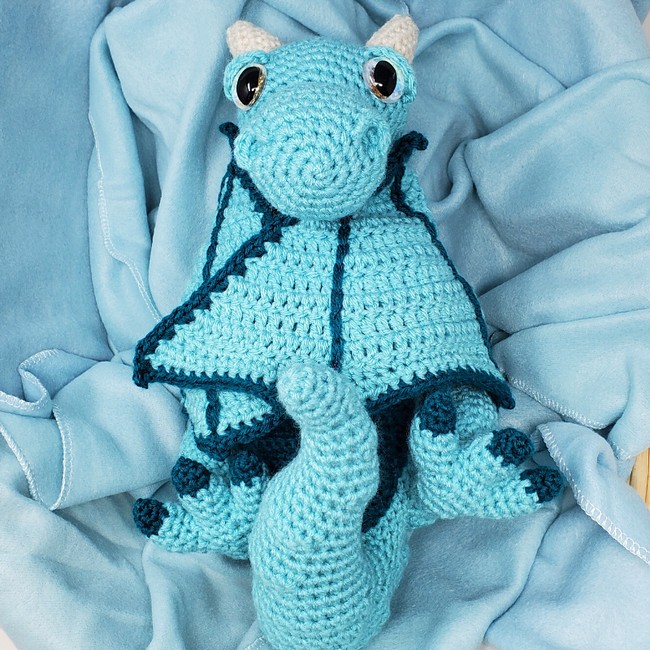 Crochet Toby the Newborn Dragon is a great gift for people of all ages. This adorable amigurumi dragon is a fun and easy crochet project that makes an excellent handmade gift! The detailed pattern includes lots of photos to help you along. This crochet pattern is specifically designed for beginners and advanced crocheters alike. The new baby dragon falls asleep on your lap or in his crib as you see fit, but he also has soft, bendable legs that allow him to stand on his own. His three-dimensional body looks so real you won't believe it's made of yarn.
Materials
Red Heart Super Saver yarn, 100% acrylic, worsted weight, 364 yds/7 oz/198 g, Aruba Sea (SEA), 1 ball; Real Teal (TEAL), < 1 ball; Aran (ARAN), < 1 ball.
G (4.00 mm) Furls Odyssey hook
Two 24 mm colored slit-pupil safety eyes
Polyfil stuffing
Tapestry needle
Straight pins
Stitch markers
Mini Bee Plushie:
This little bee is all dressed up in a crochet fabric ensemble. He features a black antenna, white wings, and a cute orange polka-dot body. A great addition to your desk or bedside table! This lovable mini bee will be a perfect companion for your dollhouse. The crafty bees love the sweet springtime air, and you can make her even more realistic with a simple coat of paint. This little plushie is the right size for your dolls to cuddle with.
Materials
Worsted weight yarn in yellow, black, white, and pink (or whatever colors you want)
3.75mm crochet hook
6mm safety eyes
Fiber fill
Stitch markers
Yarn needle
Scissors
Embroidery thread
Pins
(optional) keychain
Abbreviations
mr- magic ring
st- stitch
sc- single crochet
inc- increase
dec- decrease
ss- slip stitch
Mushroom Plushies:
Crochet Mushroom Plushies is a collection of whimsical and cute crochet mushroom plushies; these creatures make the perfect gift for anyone of any age. Our crochet mushroom items are safe for kids to hold and cuddle, so let them take your favorite mushroom home today! These cute little mushrooms are the perfect gift to make for your friends! This pattern has a written pattern and a step-by-step photo tutorial. Your crochet mushroom plushies will be soft, cuddly, and sturdy enough to be a desk buddy or book companion. Also great as decor or home accents, you can use these mushrooms anywhere you want to bring some spring cheer!
Materials
1 skein each of 2 colors Premier Home Cotton Yarn (or worsted weight #4 yarn)
Size H/8 (5.5mm) crochet hook
Finishing needle
Scissors
Polyfil
2 black safety eyes: baby 8mm (mama 12mm)
Abbreviations
Slip knot
Chain (ch)
Slip stitch (sl st)
Single crochet (sc)
Single crochet increase - 2 sc in next sc
Single crochet decrease - sc2tog
Pumpkin Plushies:
You'll love these adorable crochet pumpkin plushies! The lovely combination of pumpkins and gourds creates a cute and colorful design. Use the brilliant colors in your stash, or add a splash of yellow with some leftover yarn from another project. These pumpkin crochet plushies make the perfect Halloween accessory for your kids and pets! These sweet, soft toys will be a joy to snuggle up with on a cold autumn night. Crochet these little guys quickly, and get ready to enjoy handmade happiness!
Materials
4.25mm crochet hook
#4 medium weight yarn – I used Yarn Bee Soft Secret in Pumpkin Spice

tapestry needle*

Polyfil stuffing*

Hot glue
Cinnamon stick
Burlap ribbon (optional)
Abbreviations
ch – chain
SC – single crochet
sl – slip stitch
Anduin the Gryphon: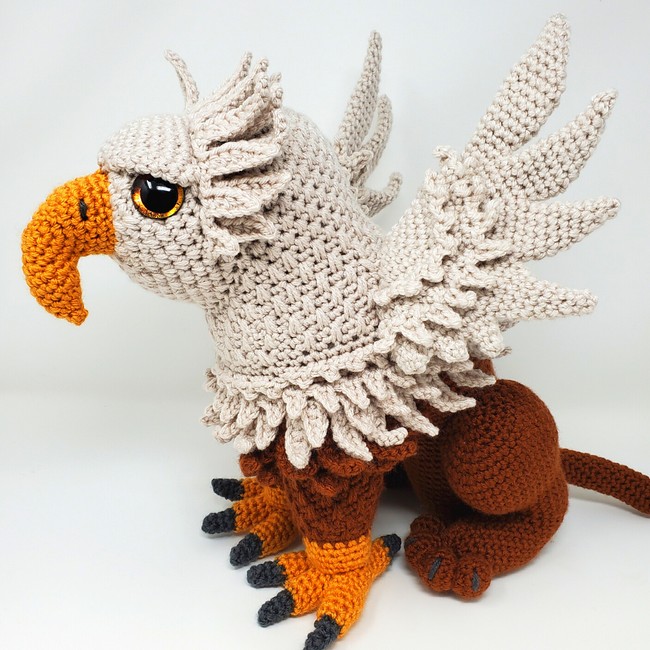 Crochet Anduin the Gryphon for your little one and bring these amazing creatures to life! With some basic crochet knowledge, this project is simple enough, even for beginner crocheters. It works up quickly but gives a result that looks impressive. This crochet pattern is easy to follow and is suitable for an intermediate crocheter. The pattern includes instructions for making Anduin the Gryphon and a pattern for creating his accessories.
Materials
Red Heart With Love yarn, 100% acrylic, worsted weight, 370 yds/7 oz/198 g, Ochre Brown (OCH), 1 ball; Stone (STO), 1 ball; Tangerine (TANG), < 1 ball; Charcoal (CHAR), < 1 ball.
G (4.00 mm) Furls Odyssey hook
Two 24mm colored round-pupil safety eyes
Polyfil stuffing
Tapestry needle
Straight pin
Plushie Pumpkins: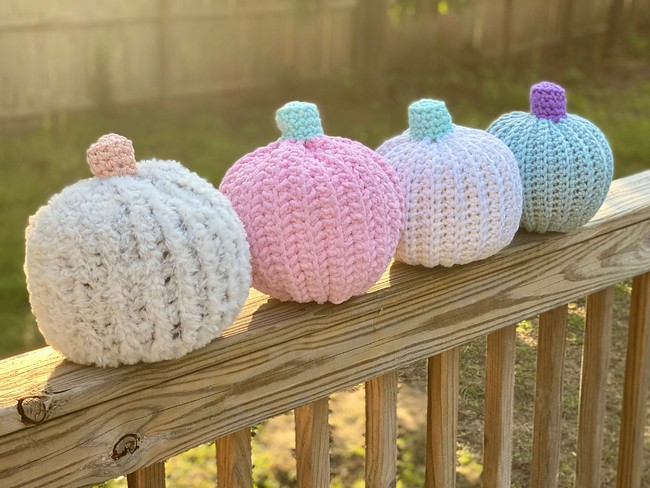 Crochet Plushie Pumpkins are the perfect DIY Halloween Props for your next party or even a little decoration. They can be used as ornaments or added to your table centerpiece. You can also make them in different colors and sizes! With the intricacies of crochet and knit, you can add these adorable plushie pumpkins to your home. They come in various shapes and sizes so that you can find the perfect fit for your little one. Add a little Sprite to your Halloween with these pumpkin plushies. These little plushies will add a sweet touch to any home. They are the perfect decoration for Halloween and Thanksgiving.
Materials
Size L-11 / 8 mm crochet hook
Size H-8 / 5.00 mm crochet hook
Super bulky yarn for large pumpkin (about 150 yds of Main Color, 20 yds of Stem Color)
Used in photos: Lion Brand Wool-Ease in Celebration (white sparkle pumpkin) and Mystical (blue sparkle pumpkin); Bernat Blanket in Baby Pink (pink pumpkin), Lion Brand Go For Faux
Thick & Quick in Chinchilla (white fur pumpkin); Lion Brand Hometown USA in Louisville Julep (teal stem) and Minneapolis Purple (purple stem); Paintbox Yarns Recycled Metallic Ribbon
in Pink Shimmer (pink stem)
Bulky Yarn for small pumpkin (about 75 yds of Main Color, 10 yds of Stem Color)
Used in photos: Bernat Velvet in Soft Sunshine (beige pumpkin and beige stems); Premier Just Chenille in Yellow, Pink, Blue, Lavender and Mint (pastel pumpkins and green stem on beige pumpkin)
Fiberfill stuffing
Yarn needle with large eye
Scissors
Abbreviations
BLO = back loop only
Ch = chain
FLO = front loop only
Rem = remaining
Rep = repeat
Rnd(s) = round(s)
Sc = single crochet
Sl st = slip stitch
St(s) = stitch(es)
Charlie the Celestial Dragon: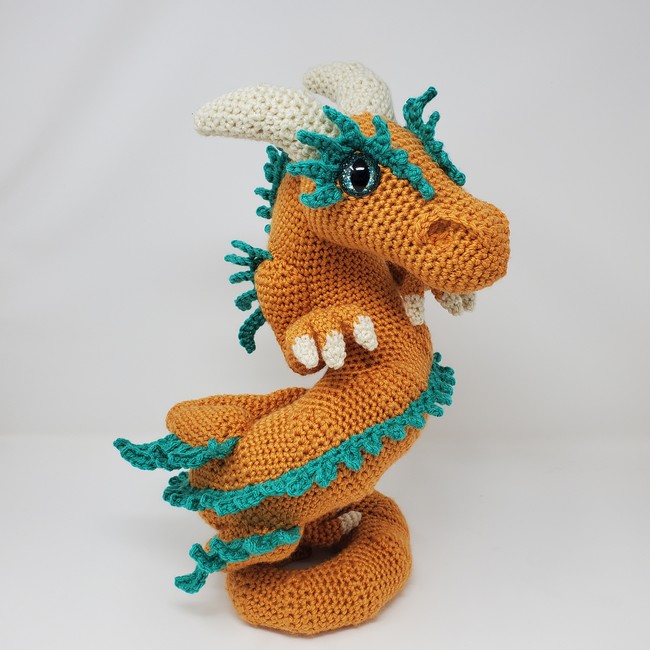 Celestial Dragon Charlie is a rare orange sky dragon with a long tail and wings. Comprised of many shades of orange, his crinkly golden horn and star-shaped tail will make you gasp! Meet Charlie, Crochet Dragon. He's a celestial dragon; by that, we mean he's a great heavenly friend! His body is made of three separate pieces with two back pieces joined together by straps at the shoulders, and an optional beaded waistband is included should you want to use it. He has a small-scale pattern, which makes the wings look more realistic!
Materials
Red Heart With Love yarn, 100% acrylic, worsted weight, 370 yds/7 oz/198 g, Tangerine (TANG), 2 balls; Jadeite (JADE), < 1 ball; Aran (ARAN), < 1 ball.
G (4.00 mm) Furls Odyssey hook
Two 25mm colored slit-pupil (cat eye) safety eyes
Polyfil stuffing
Tapestry needle
Straight pins