If you have a child who loves stuffed animals and wants to make their own, you're in luck! There are many animals to make, from cute dogs to elephants, ocean creatures, and woodland animals like foxes and bunnies. The great thing about stuffed animals is that you can make them as simple or complex as you like. There's no need for shapes or measurements to be precise, and there's nothing wrong with using your favourite colours and fabrics. You can make them as cute or scary as you want, so they're great for practising your sewing skills. Here are some unique and free stuffed animal patterns you can use to make amazing toys for your kids, friends' kids, or even yourself! These will all be the perfect gift for anyone who loves crafts and sewing.
Stuffed Animal Patterns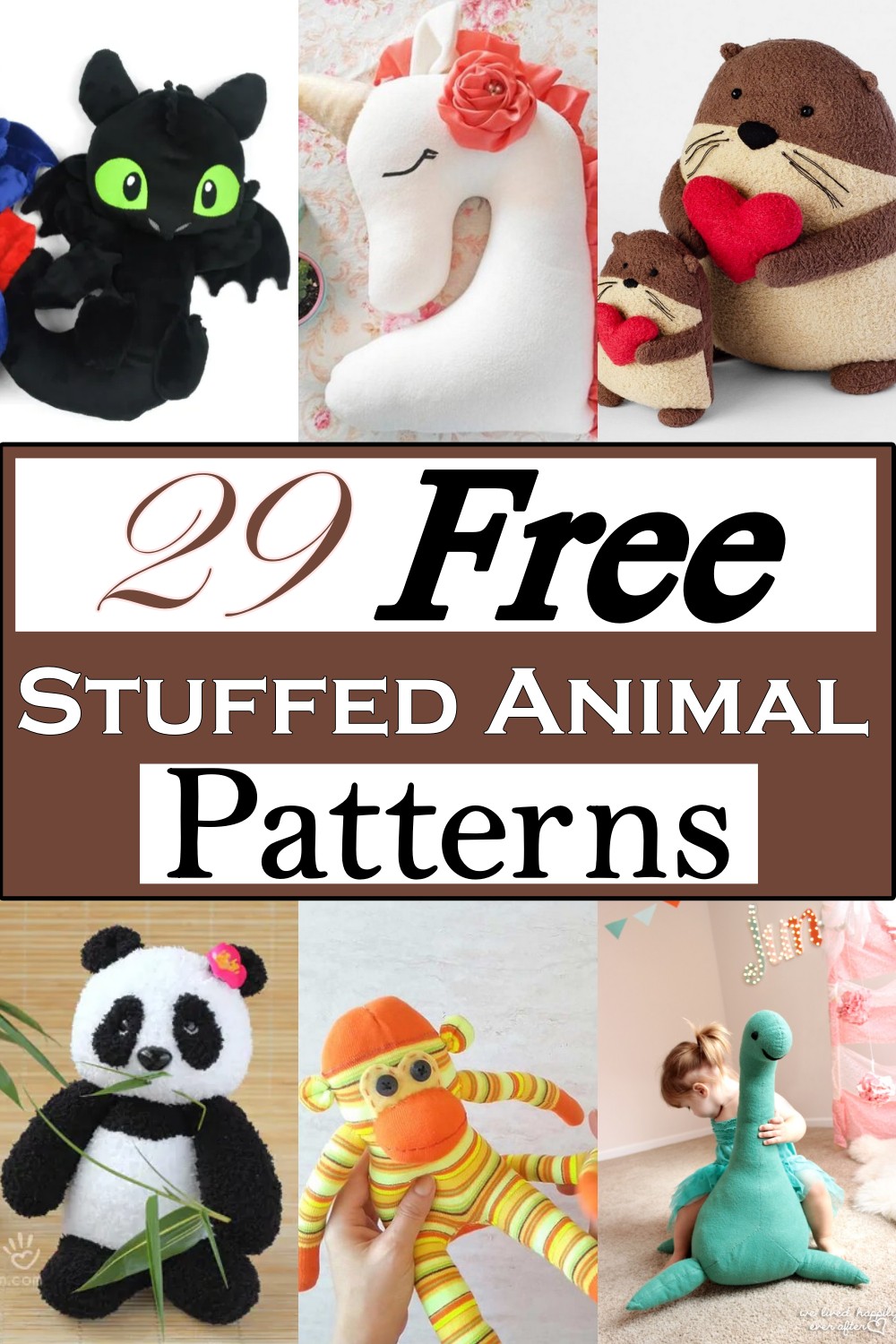 There are few things more exciting than when you can make something useful, or at least interesting to look at, using your own two hands. We believe that children should be encouraged to make things from a young age and that it is both fun and beneficial to their development. That's why we've collected these 29 free stuffed animal patterns for you to make for your kids or the kids in your life. You will find everything from simple toys such as the teddy bear to more complicated figures like the dinosaur and dragon, which require a little bit more skill, but you can try them.
We have collected 29 unique free stuffed animal patterns to bring you back the joy of the sewn toy! Check out our collection below and start sewing today!
You Can See: 20 Free Bag Sewing Patterns For Everyone To Try
Dragon Pattern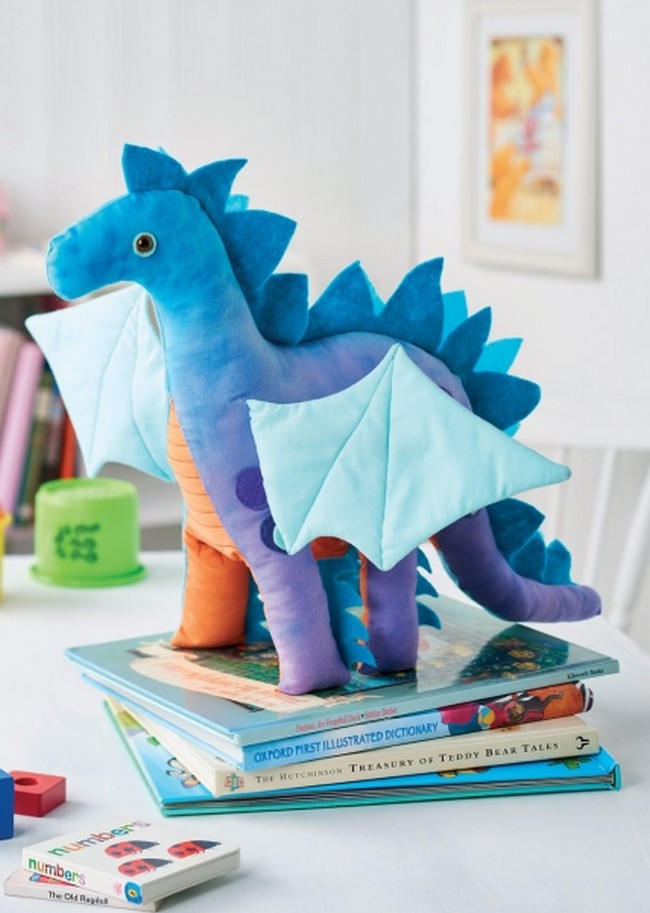 The Dragon toy will surely be a hit with kids with its beautiful bright colours. Not only is it fun to make, but you can also personalize him by adding sequins and felt spots for extra flare. Create a whole dragon family by making the toy in different colours! If you're looking for a gift for the aspiring artist in your life, this will be just the thing. This particular pattern is easy; it uses a simple stitch and will make your kids happy. Everything you need is there, including felt, stuffing and sequins. Put this toy together, sit back and watch your child smile as they play with it, and you might even get a few minutes to yourself!
via SewMag
Fabric Turtles Pattern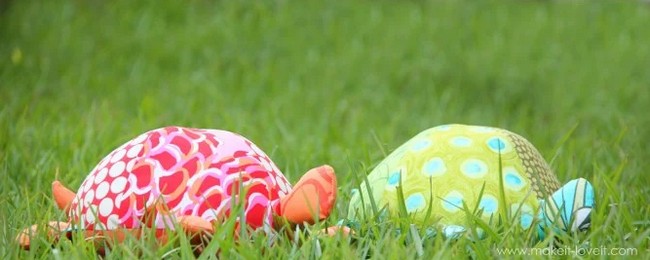 The turtles are a favorite around here, with the added benefit that they are easy to make. Whether for your little one or as a gift, you can whip these up in no time! Perfect for using up the last of your fabric scraps or small left-over pieces from other projects. The turtles are made with nothing that can be easily swallowed by babies, with one exception – please do not use these as teething toys.
via MakeitLoveit
Sock Panda Pattern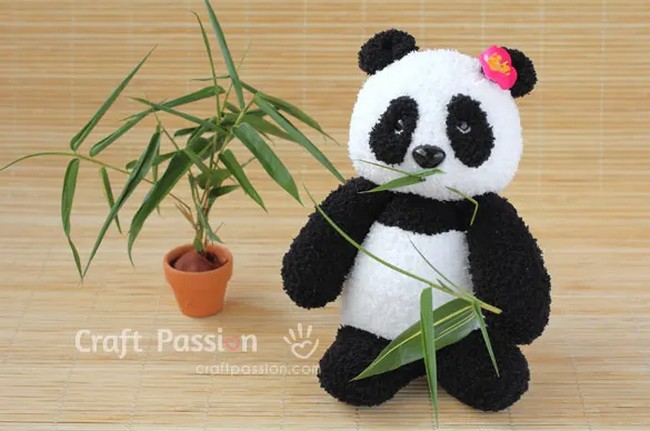 Make these two adorable Sock Pandas and their plant homes with the Sock Panda Pattern. This easy project includes everything you need: pattern and step-by-step instructions (pantographs), fabric, embroidery floss, stuffing and needles. These furry friends are the perfect gift for kids and adult friends alike! You will use up two pairs of socks in their creation, so don't worry about that stray sock going unused. This pattern is beginner-friendly, but with patience and stuffing, you can make them as big or small as you like!
via Craftpassion
Nessie The Loch Ness Monster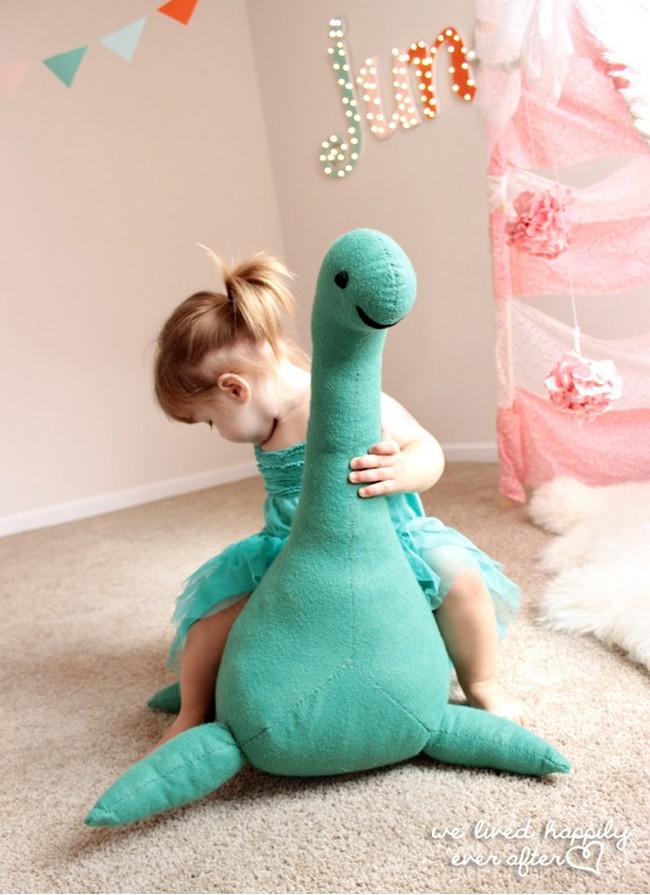 The Loch Ness Monster, or Nessie, is considered one of the most famous legends. Whether you believe it or not, this toy will delight any child - or adult! It will certainly make a memorable addition to your collection of stuffed animals. This large toy is a perfect gift for kids who love the Loch or for those who love fun, monster toys. The bright black eyes, wide smile, and long neck make it look almost real!
Among Us Crewmate
Dig through your craft bin and start saving those plushie scraps for a new crewmate to the AMONG Us game. This pattern includes easy-to-follow instructions, helpful tips, and diagrams to help you make one for your teen who just joined the game. This pattern is for all your crewmate fans. It works fast and is so fun to make – you'll also want to make one for friends and family! This pattern covers how to stuff the plushie, embroider, and assemble it.
via HelloSewing
Sock Monkeys Pattern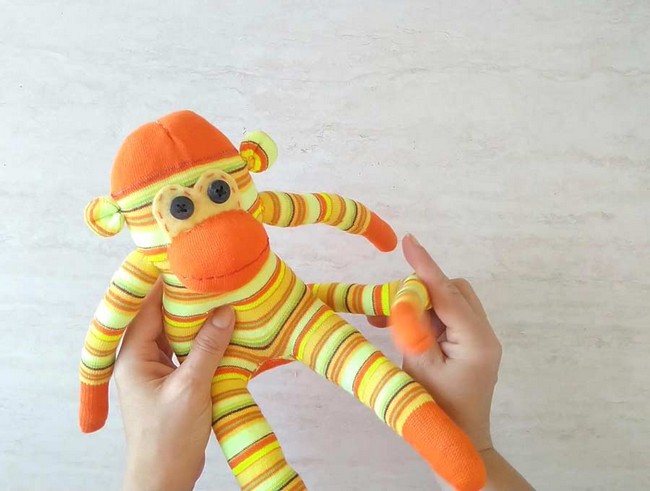 Sock monkeys your kids will love! Perfect for any child who likes monkeys and socks, these knitted toys are made from wool and cotton yarn, so they are durable enough to play with. The instructions include making them into a hanging toy using Velcro and buttons so they can hang upside down or clasp onto bags or beds. The eyes can be embroidered or buttoned depending on the maker's preference. It's sure to become a treasured toy for the kiddies or a unique decoration for their room.
Unicorn Plush Pattern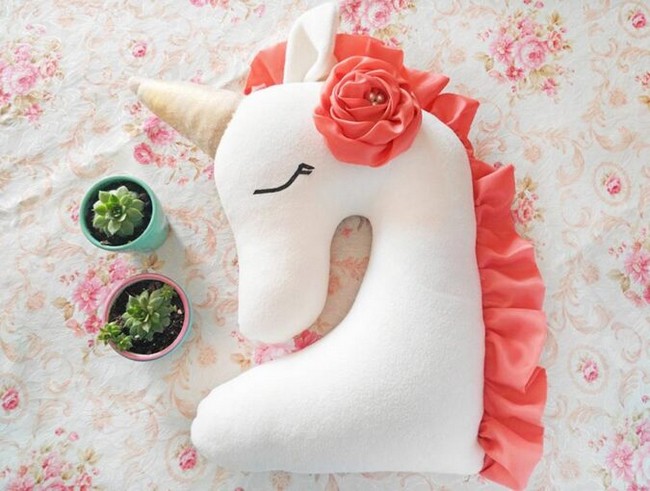 A super simple and fun pattern. Our Unicorn plush pattern is perfect for any child, little girl or boy, to make and play imaginative games with. They don't need fiddly legs or gussets to make this cute satin-maned unicorn stand out from the crowd. It is a step-by-step tutorial with photographs to guide you through how to make a unicorn. This unicorn sewing pattern is super easy to make and uses only two materials, so you can sit down with your child to create an extra special friendship present. So get ready to create a magical friend of your own!
Wallace The Whale
Wallace is friendly and fluffy, just like a real whale should be, and is also very useful. It can help children learn about whales by allowing them to discover their unique version of Wallace in the making. Children can also use it as a pillow for story-time or sleepovers. And, being soft and cuddly, it's perfect for little hands, too! Make this adorable toy to soothe and snuggle with during bedtime, or make your little one feel calmer when they're having an angry outburst.
via AllFreeSewing
Squeakers The Otter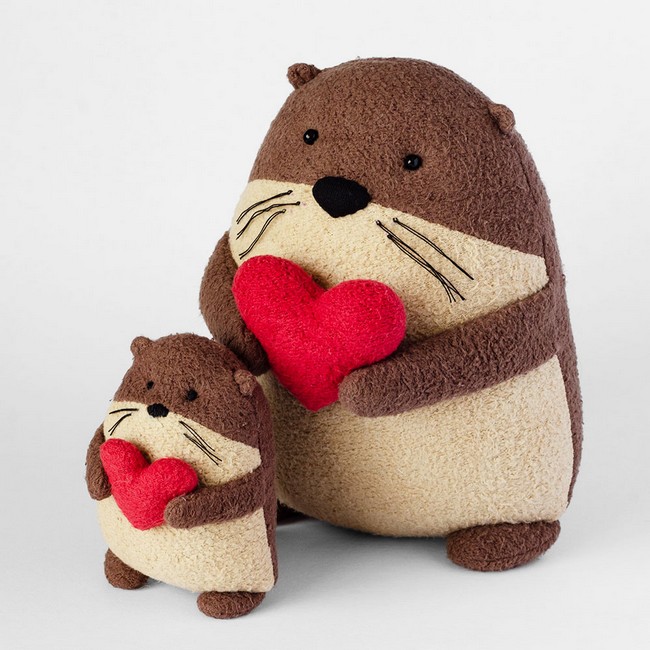 This adorable Squeakers The Otter Cross Stitch pattern makes a perfect gift for any occasion. Whether it's just for fun or for someone special, this design will surely put a smile on their face. This cute crochet pattern is perfect for beginner crocheters. The otter is cute, and the finished toy should be a wonderful gift. Instructions are clear and easy to follow. The heart embellishment makes this little otter special so that it can take place in your home.
via Fluffmonger
Night Fury Plush Toy Pattern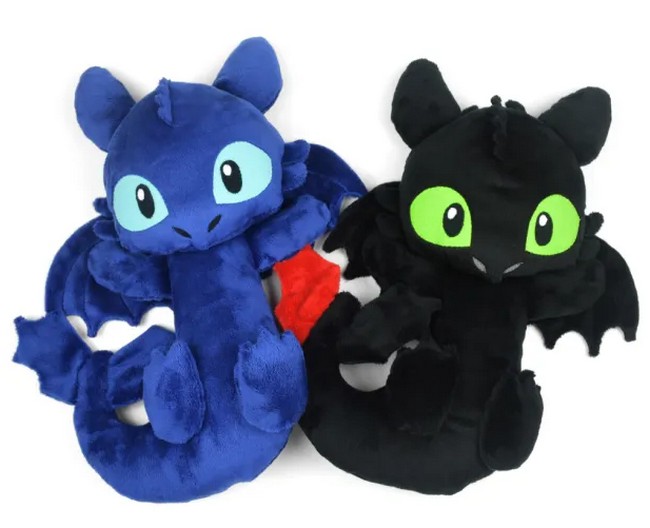 Fury dragons aren't exactly new, but this one's something special. The pattern is as easy to follow as you can, with sections for both a boy and a girl version of this mythical creature. This plushie is going to be a huge hit with dragon lovers. It has plenty of character and would be a great gift idea for a birthday or Christmas or as an addition to someone's existing plush collection. The Twilight Fury plush pattern gives you everything you need to make your plushie, and who wouldn't love to receive one?
via CholyNight
Mer Kitty Plush Pattern
You will love making this adorable little mermaid kitten plushie.  It's the cutest combination of a kitten with a mermaid tail.  You could embroider the face if you don't have an embroidery machine, but it would also do an amazing job and is super easy to do. The tail is hand-sewed and the face embroidered with a soft white felt tongue and giant eyes.  This can be done as a quick project set up as a pattern or as part of creating your sewing kit.
via CholyNight
Teddy Bear
There is a reason why teddy bears are such treasure toys. They are soft and warm, cuddly and comforting. This Teddy Bear pattern will help your kids keep their childhood companions for years. This Teddy Bear pattern is perfect for a child's first soft toy or as a gift for a little one. Great for the beginner to intermediate sewer, the pattern has all you need to make this delightful bear, including several pieces and instructions on creating his face, nose and pads on his paws.
via HowJoyful
Alpaca With Embroidered Saddle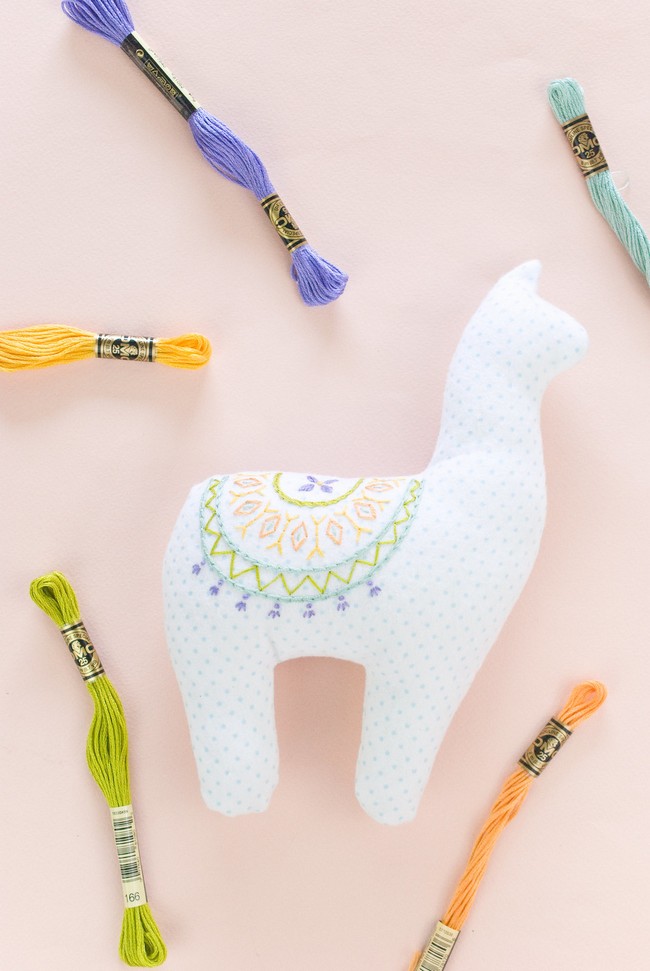 This is a super-easy pattern for a quick and fun plush toy. You will love the little saddle and how it adds a real feeling of style to these little alpacas. Embroidery may seem daunting, but this is easy to do, even if you are a beginner. Using needle felting techniques, surface embroidery and needle felting are covered within this design, making a lovely soft toy. You could also paint on the design instead. You could also use this pattern to make other soft toys - think of your feathered friends!
via WildOlive
Bunny Pillow With The Longest Softest Fur
The Bunny Pillow is the perfect companion for your little one. This pillow toy has a super long and soft fur, making it a great snuggle buddy for nap time. The adorable face features an embroidered nose, floppy ears and a red heart. This bunny is the softest and squishiest toy or pillow you've ever seen. It is made with ultra-long fur, ready to be stroked as often as you like. The sleeping bunny face is easy to embroider and will remain soft for years.
via SwoodsonSays
Reversible Octopus
Making a cuddly, reversible octopus is a great way to use leftover fleece scraps. In this video, you'll learn how to cut the adorable octopus pattern, hemming by machine and hand. You can use any materials for the legs and tentacles. The video will show how to make two different hats for the character; one for a boy and one for a girl. Fleece fabric is used to make this easy-to-sew octopus toy. Use a simple pattern to sew the body and add googly eyes and a cute face.
via Issas World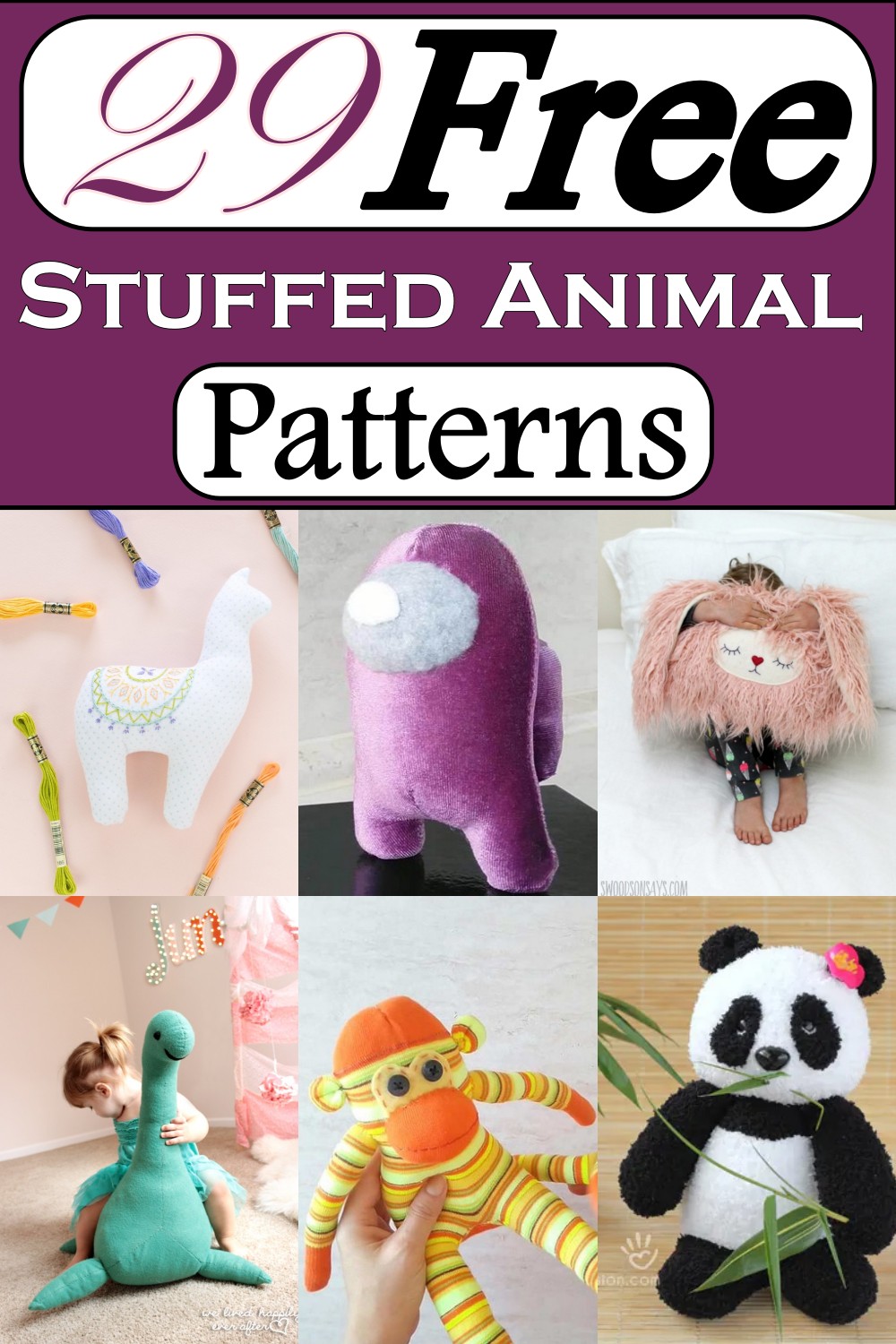 Mama Kangaroo And Joey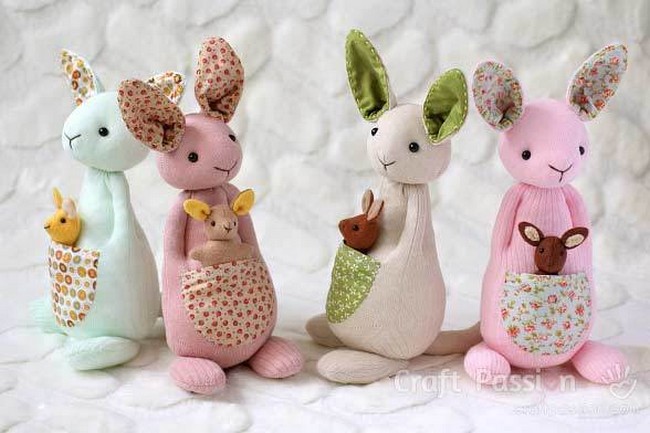 This plush toy is a sweet and cuddly pair and is the perfect gift for a child or may even be made for yourself. Made from a cotton sock and felt, this kangaroo has a squeaker inside and contains no safety eyes as it has plain eyes instead. It's made to fit perfectly in your hand, which makes it extra snuggly for any recipient. This is a great project for beginners as it involves straight seams and no zippers. If making your first stuffed animal, use thicker fabric such as denim or corduroy for the mama kangaroo to hold its shape better when stuffed.
via Craftpassion
Sloth
Many baby sloths are available as toys, but this one was made with a little more attention to detail than most. This Sloth is a realistically-scaled toy that can make in various fabrics, but one with a slight stretch is advisable. The Sloth is a super soft, cute and cuddly toy that you can adjust to hang from any surface. Perfect for babies who love to have soft toys to play with and carry around. The large eyes and wide smile make this a happy-looking kid companion.
via CholyNight
Cuddly Sheep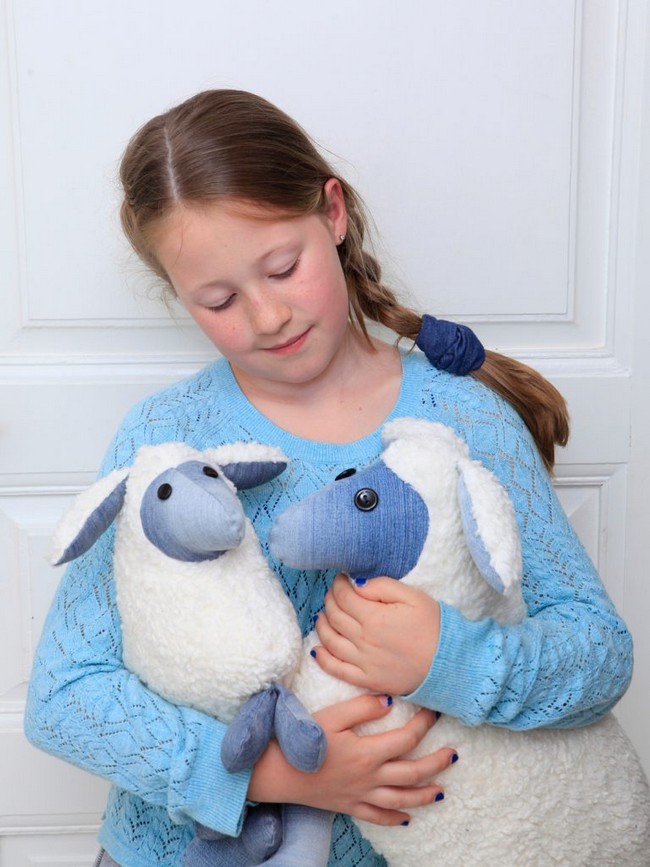 Add a touch of the farm to your child's bedroom with this Cuddly Sheep. Pop this fun project together in an hour, and you'll have a soft and snuggly friend to take on car rides or wherever your little one travels. This cuddly sheep is full of personality and can become a much-loved companion. The project is quick to construct, with a white fur fabric body and denim offcuts for the feet and nose.
via BerninaBlog
Plushie Sheep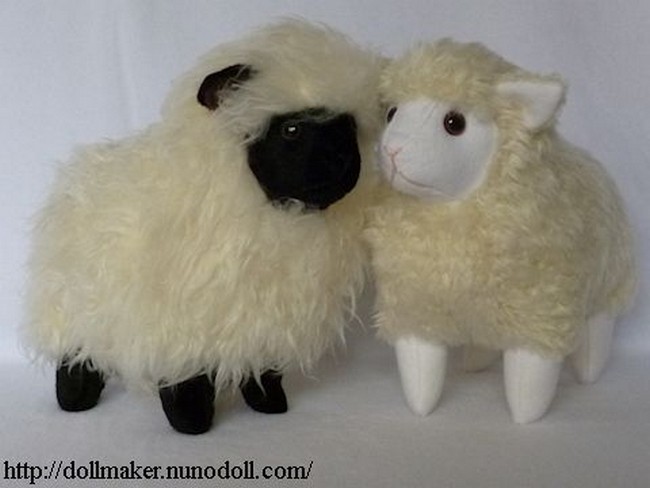 The Plushie Sheep is a small, cute, and cuddly toy. You can fill it up with polyfill or any other stuffing material. The legs are wire-free and act as a sturdy support for the plushie animal. This cute little sheep is perfect for a toy or decoration. It stands firmly on its legs, so there is no need to worry about it walking away! This pattern was originally designed for beginning sewers and is easy enough for novice sewists to use. Great gift for kids of all ages –
Swamp Fun Bean Bag Frog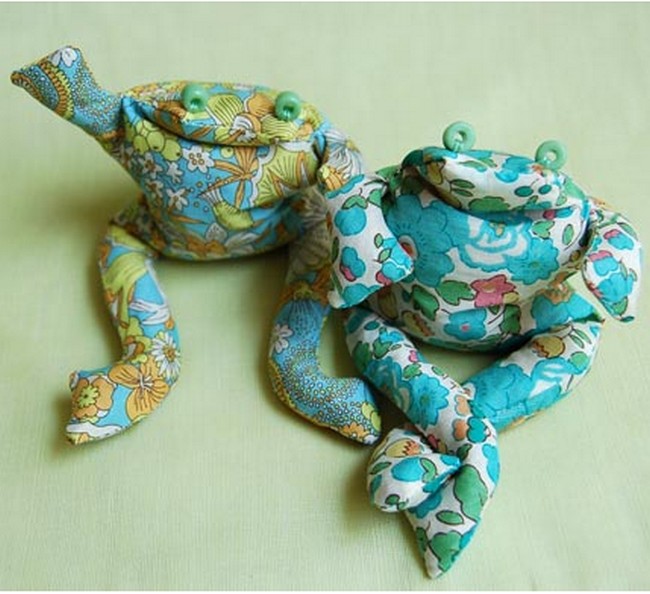 This soft, squishy, fun bean bag frog is a great gift for little ones! It's an easy sewing project to make from upcycled fabric scraps. Kids will love tossing this cute toy around and having picnics with their friends. All you need is felt or fabric, stuffing or foam, beans or plastic pellets, plus a bit of imagination! The Swamp Fun Bean Bag Frog Craft Kit is easy to make and great fun indoors or outdoors. The project is suitable for confident beginners and up, and the finished product makes a colorful addition to a child's room.
via PurlSoho
Squirrel
This high-quality felt squirrel is a great gift for the animal lover or anyone that likes cute things. Following easy instructions, you'll be able to create this adorable creature for yourself in just a few hours with nothing but scissors and a sewing machine. You can use any fur or fabric you like to add more detail. The legs are made of wire, so they'll stand up independently! It's the perfect gift for animal lovers or anyone that likes cute things.
via NunoRuno
Fox
If you are a keen crafter and wish to make your own felt fox, then this pattern is just what you need. The instructions are easy to follow, and there are plenty of pictures in each step. This adorable little fox will look great in any room of the house. With the Snuggly fleece fabric provided, it is easy to create a beautiful fox. The pattern is suitable for someone with a basic sewing ability or who has made their own clothing or toys.
Seahorse
This little seahorse makes a great first toy for your baby. It's easy to make, fun for older children too and can be made in just a few minutes. Once the tail is stuffed, it has a nice curly shape that looks real! This little seahorse is so adorable, and your child will love it. Making it easy and fun - you can use various materials like felt, yarn and cotton balls. Use this as inspiration for your creative ideas about making baby toys.
via LiaSpace
Flamingo
Who doesn't love flamingos? They are such a fun and colorful addition to any room, but they can cost a lot! Make your own flamingo stuffed animal with this easy sewing pattern. This free sewing pattern uses fabric scraps, works quickly, and is perfect for both beginners and experienced sewers. Swap out the fabrics in this pattern for your favorite colors and different textures to create the perfect plushie for any room in your house! All you need are basic sewing supplies and a few hours of your time!
via SewMag
Giraffe
This cute giraffe pattern contains everything you need to make this adorable, unique stuffed giraffe. It does not require any prior sewing experience and can be done by anyone comfortable putting pins in a dummy and using simple knots and threading needles. The legs are made from the same firm stuffing, with only a small amount of fabric strips. The giraffe's long neck and short legs make it a unique craft project and adorable addition to any young child's toy collection.
via Crafts beautiful
Shiba Cube Plush
This cute cube plush pet is soft to touch, light and easy to take. Cut it out of fabric, embroider the face and sew on whatever details you like - eyes, nose and even some whiskers. It's super easy and will give your little girl hours of inspiration while making it their own by adding a personal touch! The Shiba Cube has a super cute face and is so easy to make. And it only takes you about an hour to make!
via CholyKnight
Dolphin Plushie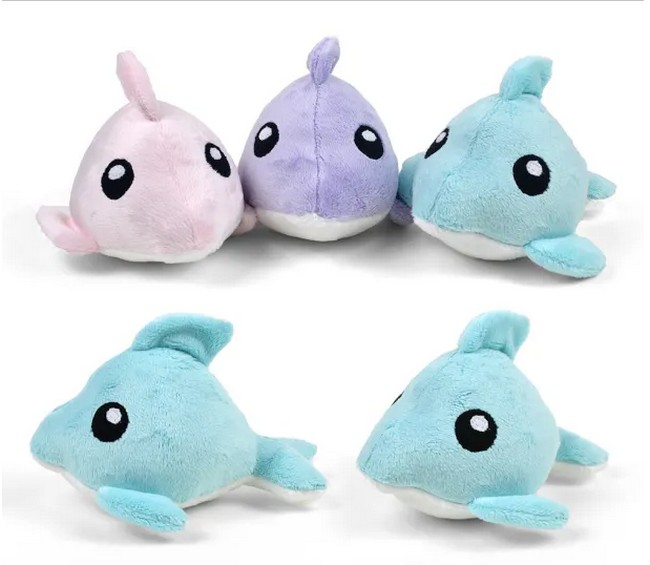 There's just something about sea creatures that have always fascinated all. A dolphin is a wonderful creature with an adorable design, making this so simple and fun for little ones. The pattern will enable you to make your pink dolphin. The pink dolphin is the perfect size for little hands to hug, and its tail is made from soft fabric so you can create a comfortable place for kids to rest their tired heads when they fall asleep.
via CholyKnight
Scotty Dog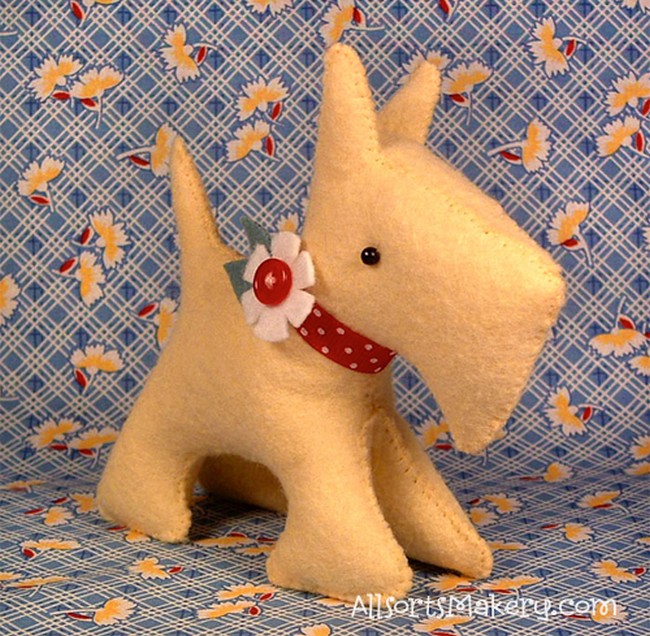 No soft toy collection would be complete without a dog. The Scotty is made with a simple stocking stitch body and knitted in the round so that you can sew the head, ears and tail together quickly. If you use black plush or corduroy fabric, you could easily create a cushy Scottish terrier! Why not make a Scotty Dog soft toy for your favorite one? This pattern includes easy-to-follow instructions and all the tips needed to finish this adorable dog in just one day. This pattern is perfect for beginners who want to try sewing plush from scratch!
via AllSorts
Reindeer Toy
This pattern is perfect for an animal lover to make a cute stuffed reindeer. The pattern includes instructions on making your plush reindeer and a template for cutting out the felt pieces. This is not a sewing pattern and does not include measurements for making the head, body or limbs. This pattern is easy to follow, resulting in a wonderful little toy you will love. It's an ideal children's present or stocking filler, or keep it for yourself as a special Christmas decoration.
via CutoutandKeep