14 Free Crochet Eye Mask Patterns To Keep Your Eyes Protected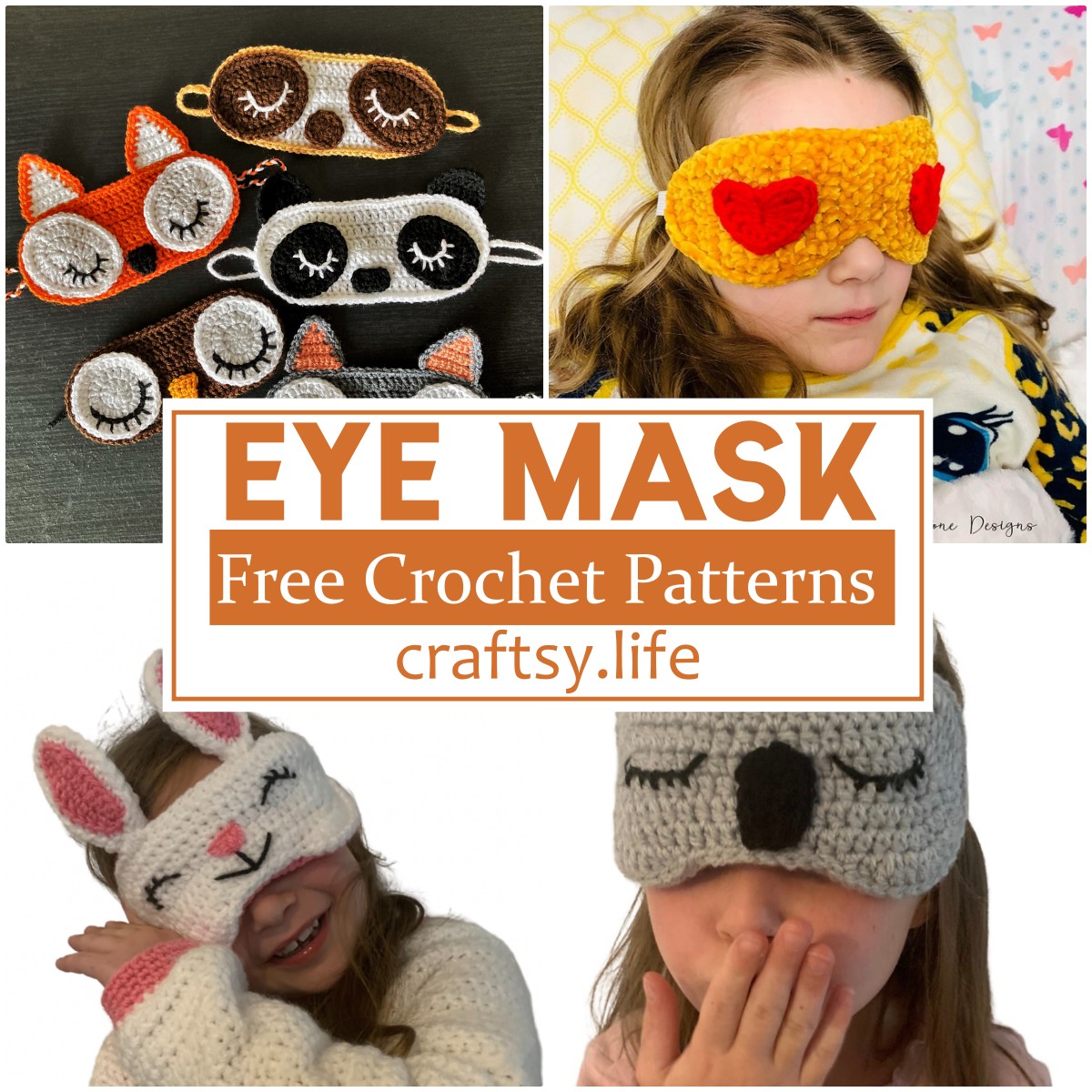 Great for traveling and for wearing in bed, these crochet eye masks are super quick to make. Create a cozy, one-size-fits-most eye mask in your favorite color of yarn with these free crochet patterns. Whether traveling or relaxing at home, these crochet creations will help soothe stressed eyes and block out light when needed. These crochet eye masks are a great way to hide under your eyes and look great simultaneously. They are so comfortable you will never want to take them off! This collection of 14 Crochet Eye Mask Free Patterns is perfect for that chilly autumn and winter nights when you want to cozy up in your favorite chair with a movie or a good book.
Crochet Eye Mask Patterns That Will Blow Your Mind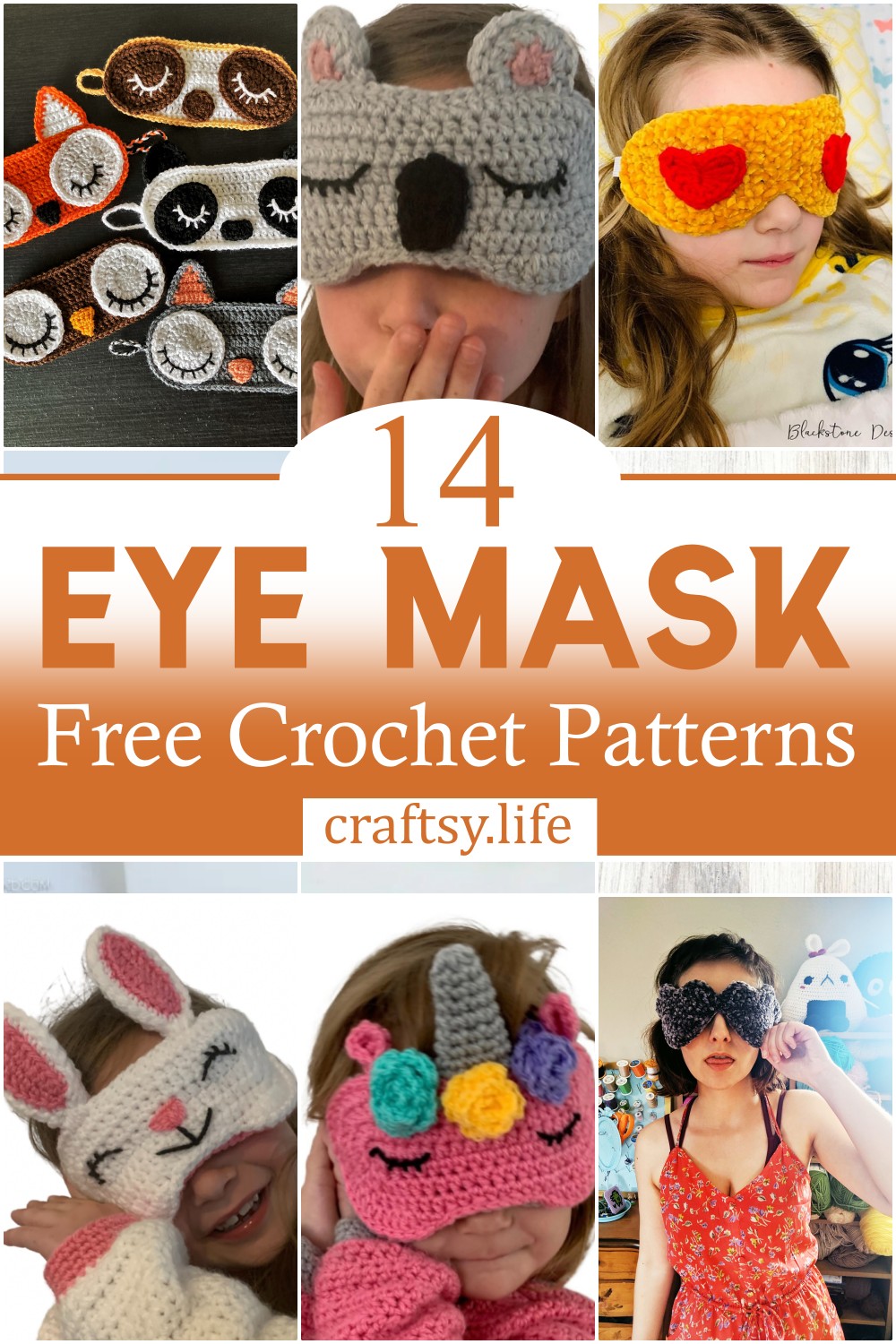 Crocheted eye masks are warm, comfortable, and effective—they're a great way to quickly get a good night's sleep without messing with complicated machinery. Plus, they offer the added benefit of looking adorable when wearing them. You can make something for the person who is always up late on the computer, for those who have a job requiring long hours in front of a screen in the cold, or for anyone else who could use a little extra scrunching power over their eyes. Crochet eye masks are a great way to block out light and can be used to help sleep or allow some privacy. These patterns come in various styles: simple, intricate, and colorful.
The 14 Crochet Eye Mask Free Patterns are a wonderful way to keep your eyes protected from the light and still be able to see what you're doing.
You Can See More: 20 Crochet Unicorn Patterns Free
Benefits Of Crocheting Eye-Mask Patterns
Crocheting is a great way to relax, unwind, and de-stress. You can create useful items while you're creating something beautiful. You don't have to spend money on yarn or other supplies. There are plenty of free patterns available at your local library or online. Here are some benefits of crocheting:
It's relaxing
Crocheting is a great way to unwind after a long day at work, school, or even just running errands. It can help you focus on the task instead of worrying about other things.
You can make something beautiful.
The biggest benefit of crocheting is that it's really fun! You'll be amazed at how easy it is to crochet and how quickly you'll learn new patterns and techniques. Soon enough, you'll be making beautiful creations for yourself and others! The best part about it is that once you learn one pattern, you can use it repeatedly with different colors or materials!
It's cost-effective
Crochet needles are inexpensive compared to other tools used in crafting, such as paintbrushes and glue guns (and they don't require batteries).
Crochet Bunny Sleep Mask
This crochet sleep mask is the perfect bunny to accompany you on all your adventures, complete with floppy ears and a paw-print nose. Sleep tight with this adorable crochet bunny sleep mask. Perfect for children who love bunnies, it's also a fun travel accessory for adults. In just a few hours, you'll have an adorable bunny mask to help you rest, and the bonus is that you will be learning to crochet! This is a fun and fashionable sleep mask with a sweet little bunny. This sleep mask can block light when you need it or add a little color and texture to your nighttime routine.
Unicorn Kids Sleep Mask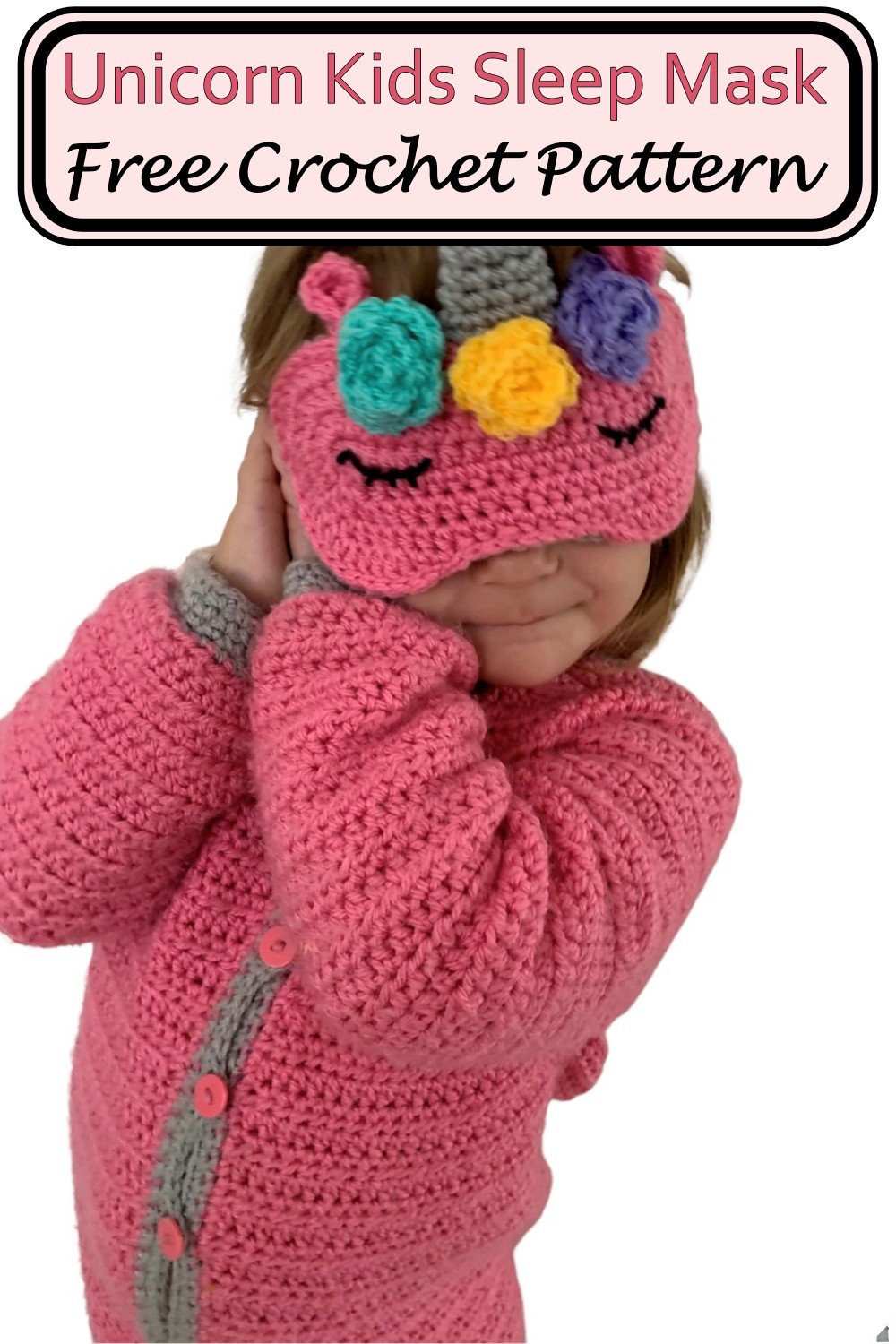 Unicorns and sleep masks are great bedtime companions. Grab this cool crochet unicorn kids' sleep mask, and go to rest in peace! This crocheted Unicorn Kids Sleep Mask features a handsome and innocent-looking Unicorn sleeping flat on his side with his head propped up against his hoof and a magical rainbow shooting out from behind him. This sleep mask will comfort your little one and help them sleep soundly. It's perfect for all ages, especially toddlers, preschoolers, and grade school children.
Koala Sleep Mask
Relax and let this squishy crochet koala help you fall asleep. The perfect addition to your bedtime routine, this mask is soft and comfortable as you drift off to sleep. Each handmade crochet sleep mask is designed as a sleeping companion to accompany designers on their commute and also makes a great gift for any occasion. The koala shape face will be sure to put a smile on the face of any traveler or person who needs a little bit of relaxation in their day. It can be used while sleeping and on long train rides or to protect your eyes from the bright lights of a phone or computer screen at night.
Velvet Dreams Sleeping Mask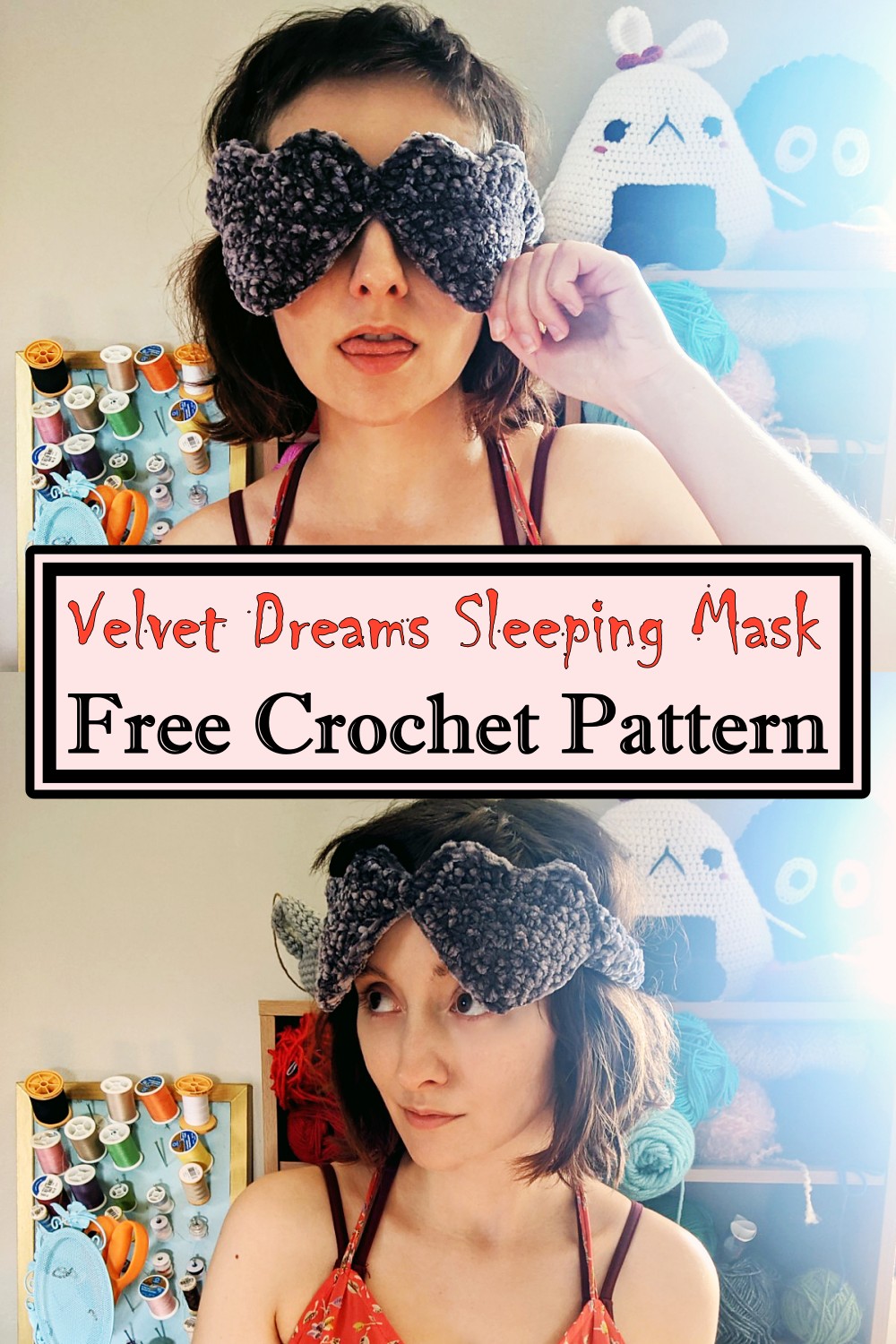 This cotton crochet sleeping mask is made of soft, chunky yarn and features a crochet lace border with a sweet little bow. Tie it around your neck during the day or cover your eyes at night for a peaceful slumber. Perfect for traveling, this sleeping mask is designed to block out light and provide you with maximum comfort. This sleeping mask is made of ultra-soft, comfortable fabric and features a wide-set design that improves airflow, enabling you to sleep soundly on any flight or in your own bed.
Cat Sleep Mask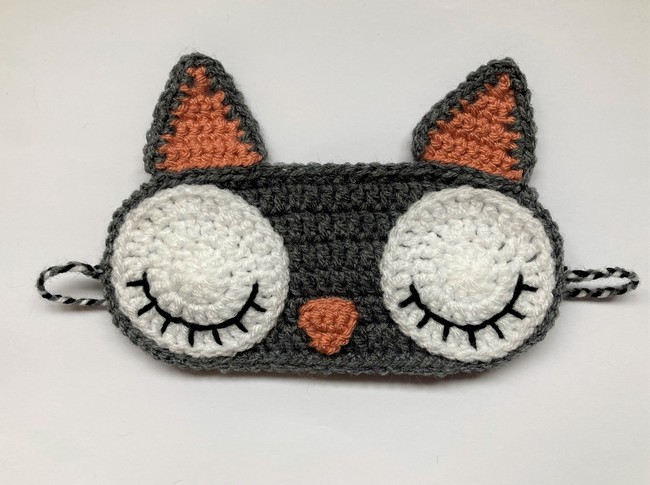 Take a catnap anywhere with this stylish and functional crocheted cat sleep mask. It can be adjusted to fit your head perfectly and features a soft elastic strap that stretches to fit all sizes. Get a good night's sleep with this cute cat sleep mask! Made from black cotton yarn and accented with orange and white, your favorite cat will keep you company at night. Perfect for traveling or if the light bothers you while sleeping or reading in bed. A perfect gift for cat lovers! This cute Cat Crochet Sleep Mask is designed to help you sleep by blocking out light. It helps you rest and relaxes. Perfect item for a holiday gift or birthday present.
See More: 25 Free Crochet Cat Patterns For All
Heart Eyes Emoji Sleep Mask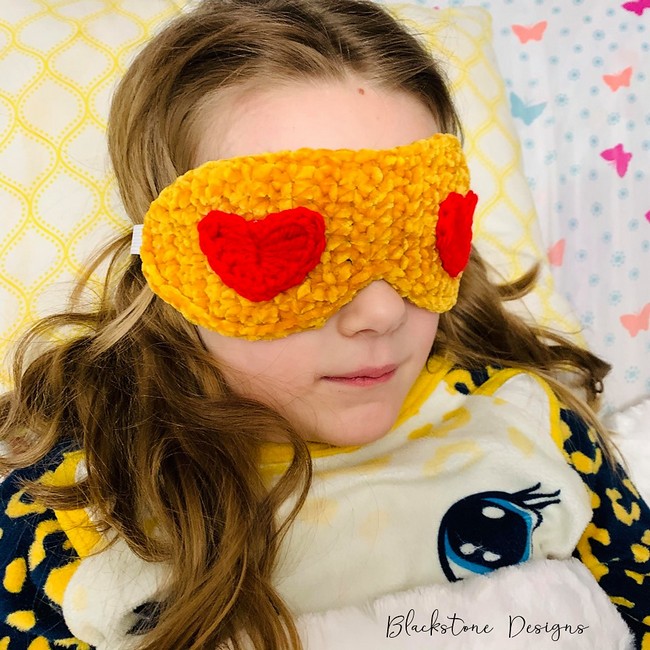 Crochet for that true millennial look, the Heart Eyes emoji sleep mask makes the perfect gift for the sleep-deprived. Slip on this eye mask, and you'll be well-equipped for any situation. The best way to sleep and look cute at the same time! These emoji masks make a great gift for anyone who loves sleep masks or wants a little extra cuteness. Throwback to your emoji phase with this crochet Heart Eyes Emoji Sleep Mask.
Giraffe Sleep Mask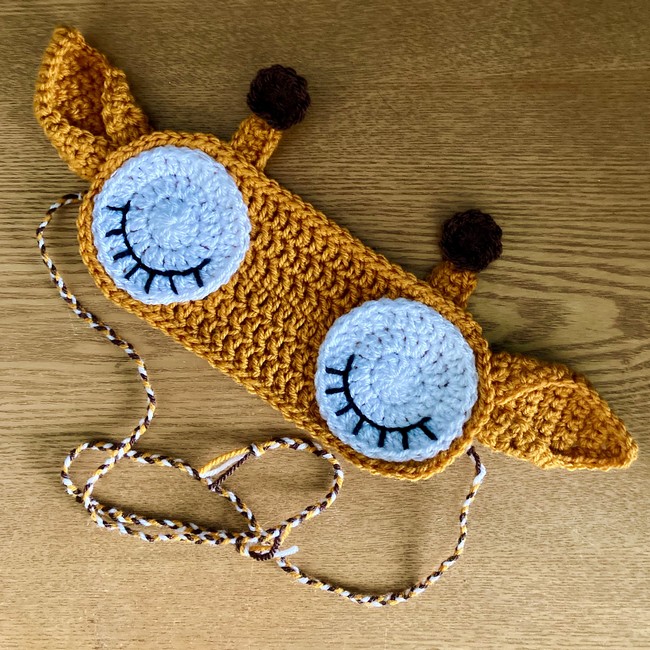 The Crochet Giraffe Sleep Mask is the perfect accessory to help you sleep and simultaneously keep the sun out of your eyes. Whether on a plane, train, or car, this mask can be adjusted to fit any head shape and size. This mask is soft and comfortable to wear during your naps. The best part about this mask is that it can be machine washed for easy care! This elegant crochet giraffe sleep mask is the perfect solution to help you get your beauty rest and stay comfortable. Made with a wide band for added comfort, this mask will become one of your favorite things to reach for!
Crochet Child's Unicorn Sleep Mask: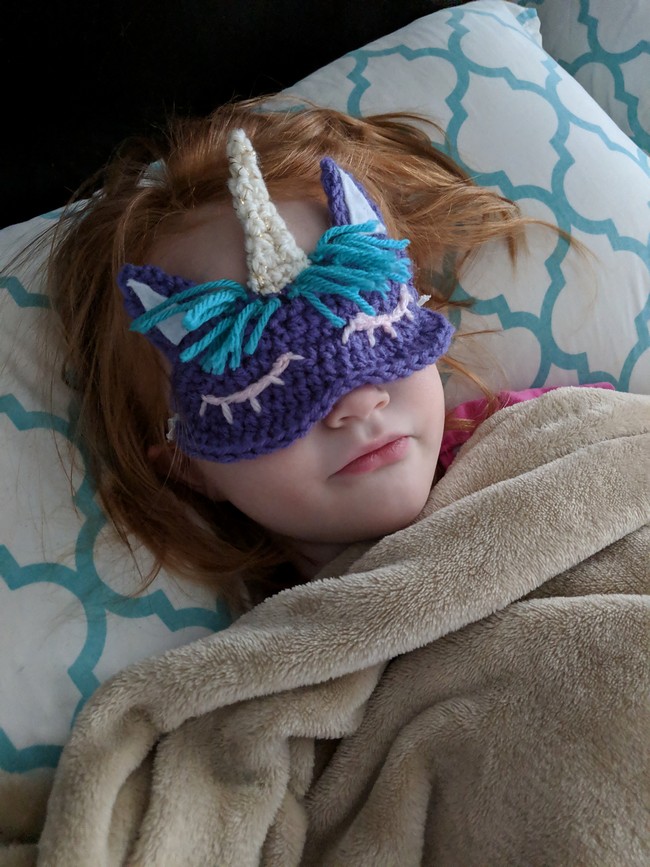 This crochet child's unicorn sleep mask is fun, functional, and adorable. Perfect for your little one during nap time, while playing video games, watching TV, or even hanging out with friends. Whether napping or dreaming, your little one will be at ease with the Child's Unicorn Sleep Mask. This easy crochet project is perfect for beginners and requires only a few hours of work! This sleep mask can be a good gift for your beloved baby. It will also help them sleep well because it covers their eyes and face, making them feel comfortable.
Aviator Sunglasses Sleep Mask Crochet Pattern: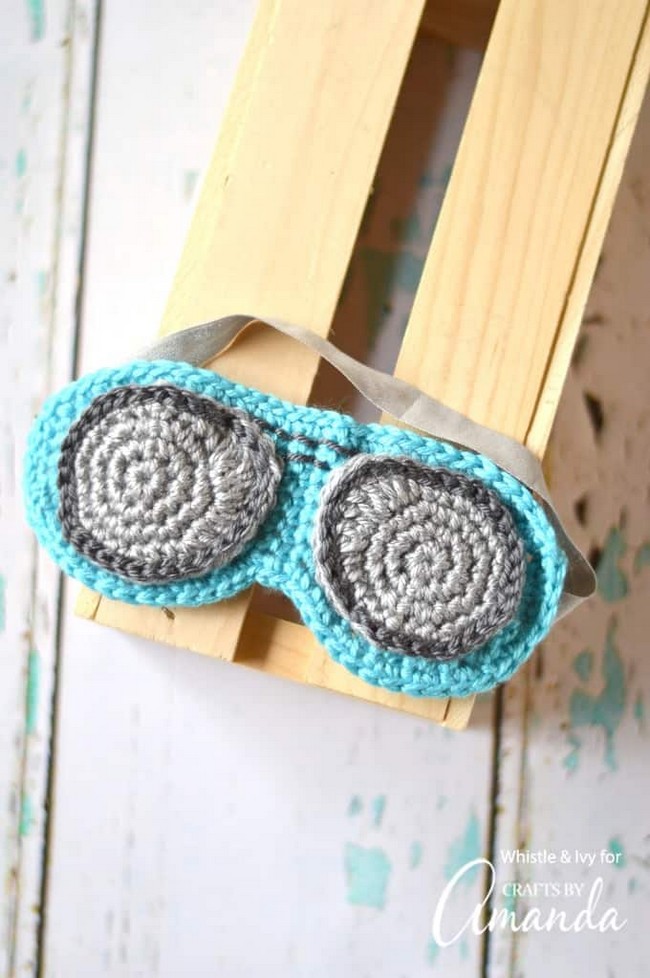 Aviator Sunglasses Sleep Mask Crochet Pattern: This Aviator sunglasses sleep mask is so cute and adorable to wear. This mask can make you more cute, lovely, and charming while on vacation. It's a perfect gift idea for travelers. This is another Aviator sunglasses sleep mask crochet pattern which is easy to make. This is the mask's main property you can wear during the hot season when you go outside your home on sunny days. This will give you a nice and adorable look.
Free Crochet Sleepy Owl Mask: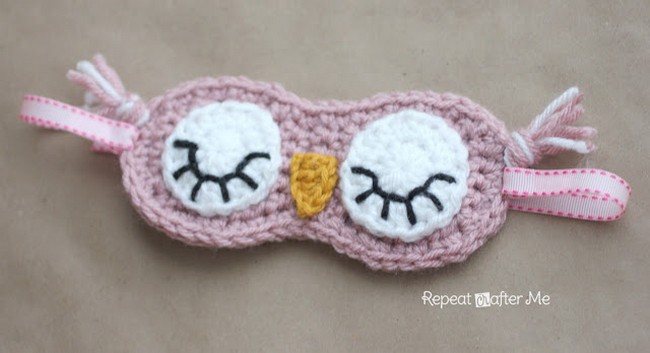 Do you love the owl shape? This crochet pattern is a beautiful design to be a mask that you can use during sleep or relaxation time. The owls can easily crochet with their big eyes, round head, and large ears. The sleepy owl mask is crocheted with cotton yarn. If you follow this pattern, you can make an adorable mask for your little girl or yourself. This crochet pattern uses only basic stitches and simple color changes, so it's perfect for beginners ready to move beyond the simple granny square!
Deluxe Beauty Sleep Mask: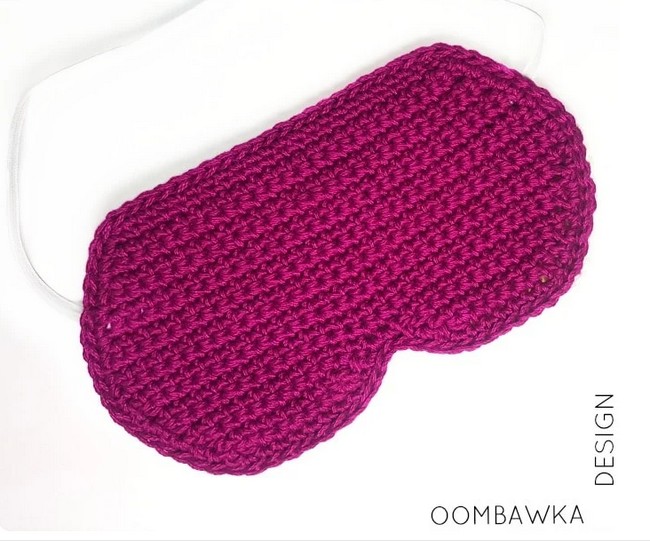 Light and relaxing, this eye mask is ideal for a good night's sleep. This crochet pattern used cotton yarn and was crocheted in light colors to help relax your eyes by blocking out harsh light or distractions. The sizing of this pattern is adjustable depending on how tightly you crochet each row, ensuring that you can find the right fit for your face shape. This is the most comfortable, softest, and largest sleep mask you will ever use. Its unique design will turn heads and give your comfort a new meaning. You can use it while traveling, working, or any time you feel sleepy to rest well.
Free Crochet Holly Golightly Sleeping Mask: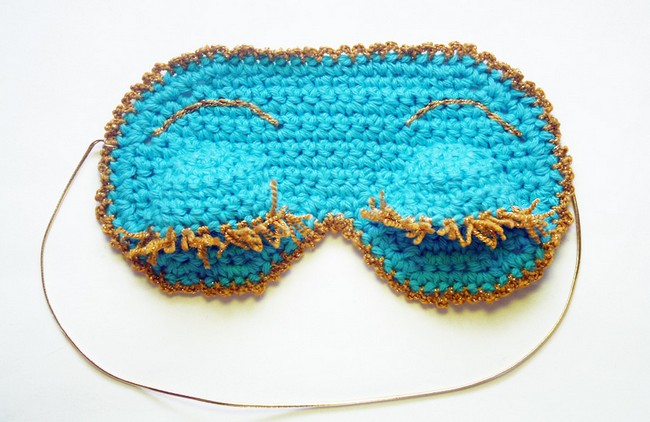 This free crochet Holly Golightly sleeping mask pattern is easy to make and uses cotton yarn for a soft fabric. Don't you love how Holly Golightly looks in her signature blue hat? This sleeping mask is a fun and simple project that is great for any skill level. This is a crochet pattern for a sleeping mask that you can make yourself and use to rest during sleeping. Depending on your preference, you can change the color or design of this mask, but it is better if you choose colors that do not irritate you. These masks will be great gifts to those who love using natural materials over synthetic ones.
Crochet Sleep Mask Free Crochet Pattern: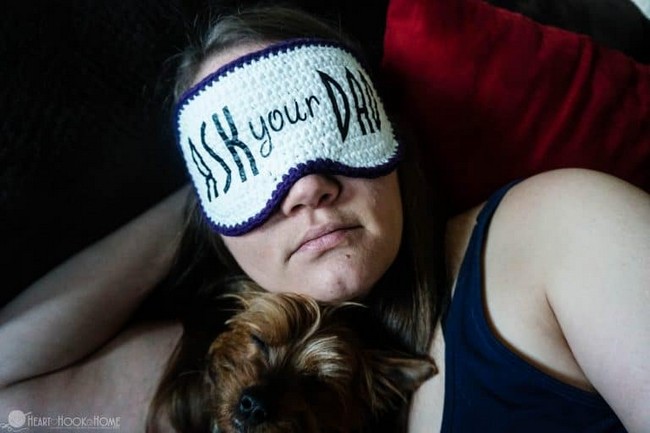 This is a free crochet pattern for a crochet sleep mask. The stitch is very easy to make, and it looks beautiful. If your knitting skills are not good, you can use this one because it has no stockinette stitch or other things you do not know. This one also helps you relax when someone wants to sleep and can be used while traveling by car, train, plane or boat, etc. It helps to reduce glare on your eyes so that you get involved in relaxation without any other troubles. This pattern is not tough, so it's easy to understand. You have to follow the steps, and you will get your desired crochet sleep mask.
Crocheted Cat Mask Free Pattern: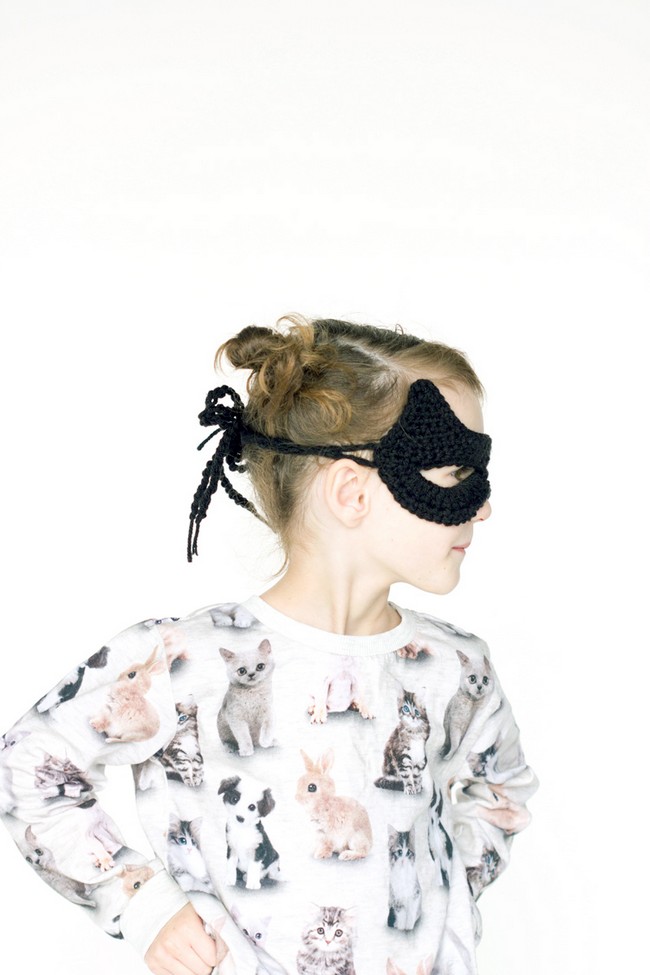 If you love cats, this crochet pattern is for you! This mask is made using cotton yarn and will help keep your baby warm and cozy. The design features a cute cat's face and makes this a great gift for any cat lover. Use up any leftover yarn with this free crochet pattern! This is an amazing pair of sleeping masks that are easy to make and crochet. It is soft and comfortable to wear but can use any yarn. The crochet work is just amazing, which would make your baby feel cozy and help them sleep well.