From their long necks to their stubby legs, it's hard not to be charmed by the iconic South American mammal, the Llama. Who doesn't want a llama of their own? With over 15 Crochet Llama patterns for various stuffed toys and accessories, we've gathered all the resources you need to fill your house with charming llamas. If you're looking for a simple project to get started with crochet, consider making a cute little ear warmer—it's warm and functional, just like real llamas! These patterns are free and easy to follow, so you can start crocheting immediately. Try these adorable amigurumi patterns if you're looking for something more advanced. You'll find plenty to love in this diverse Free Crochet Llama Patterns gallery.
Crochet Llama Pattern Free

Llamas are among the most popular animals in internet culture, and their popularity is about to reach new heights with these adorable crochet creations. The 15 free Crochet Llama patterns below let you crochet everything from a small llama keychain to a giant blanket that'd fit over even the largest llamas. Or if no real llamas are in your life, feel free to make up your own with the creative pattern possibilities available. From decorative wall hangings to adorable keychains, you'll love the versatility of these patterns and the motivation they provide to decorate your home.
Tips For Cute Crochet Llama Patterns
Llama patterns are a popular crochet project. They're also a great way to practice your crochet skills since llamas are relatively easy to make. If you're new to crocheting, making llamas will help you learn the basic stitches and techniques used in many other crochet projects.
Here are some tips that will help you create beautiful llama patterns:
1. Choose a pattern that is suitable for your skill level. If you're learning to crochet, choose a simple pattern with few colors and not too many details. Once you've mastered this basic pattern, move on to more complex patterns with more colors and intricate designs.
2. Use yarns of different weights and thicknesses for different parts of your pattern (such as horns or legs). This will give your Llama more depth and realism.
3. When working with multiple colors in one row of stitches, be sure they don't run into each other when they cross over each other in any way; otherwise, they may not look right when finished!
Llama with Saddle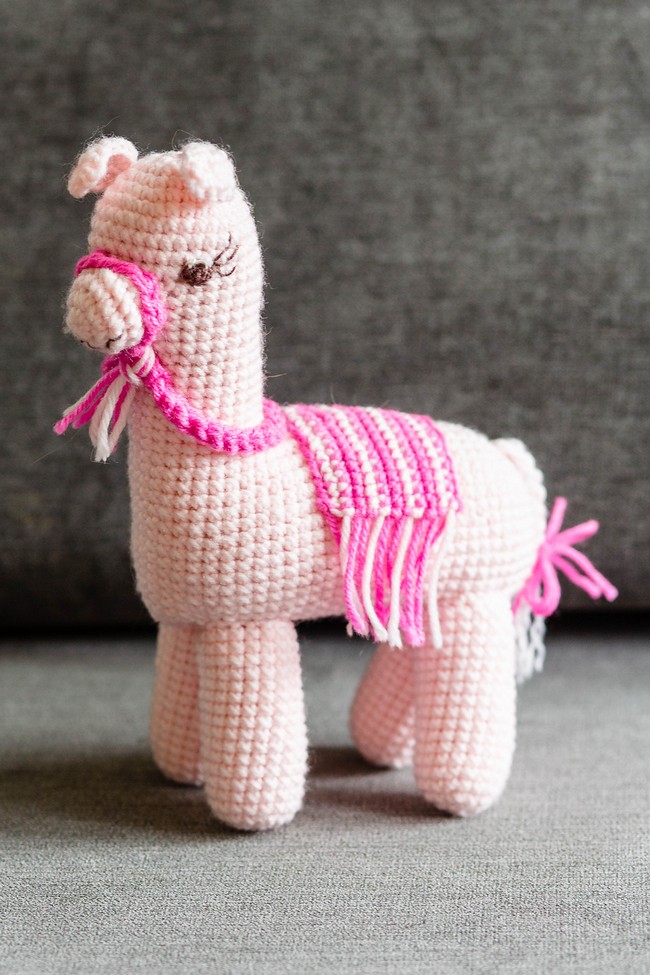 The Llama is a surefire conversation starter! Everyone who sees this little fellow can't help but smile and enjoy his company. You'll also love to share it with your friends and family! Add this adorable Llama llama to your collection of Crocheted Animals. A sweet crochet Llama with Saddle for any young animal lover. This is the perfect gift for someone! A great addition to your office, library, or anywhere you want to add a little whimsy.
Materials
2 colors of yarn
brown or black crochet thread,
white crochet thread.
Yarn: 3/light, crochet thread
Hook: C/2.75mm (body), H/5mm (tail and bridle)
Abbreviations
CH: chain
SC: single crochet
MC: magic circle
ST: stitch
INC: increase, 2 st into 1 st
DEC: skip 1 st
INV DEC: decrease, combine 2 st into 1 st
( )*#: repeat instructions the number of times stated
(#): number of stitches in the round
FO: finish off
Loki the Llama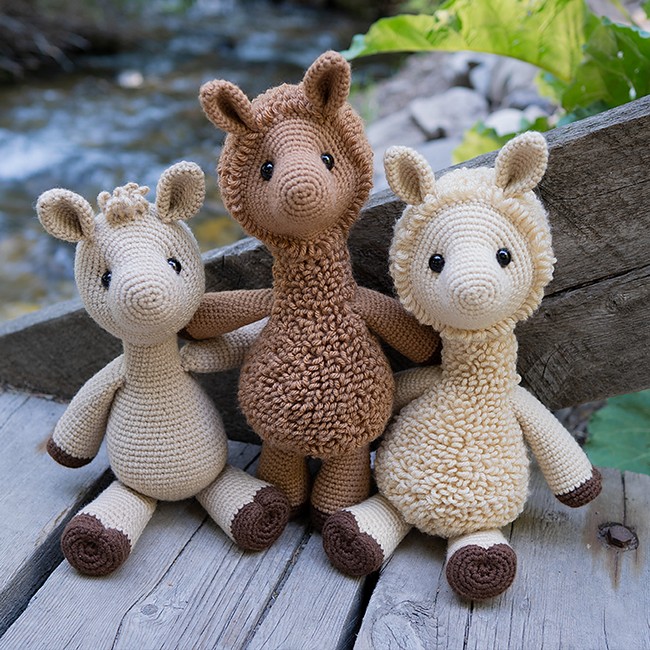 Sir Loki the Llama is an adorable llama amigurumi. This pattern is perfect for crocheters of all skill levels, as it's made in one piece and straightforward to follow. You can make it as small or large as you like by changing your yarn weight, hook size, and gauge! This cute Llama is the perfect gift for any animal lover! This Lama can be dressed in a variety of ways with the sewing kit included. The head, ears, and body are crocheted with high-quality plastic hooks and eyes. The legs are made from wool loops which have been stuffed to give them shape.
Materials
3.5mm (E) hook

15mm safety eyes

Stitch markers

Yarn needle

Fiber fill

Disappearing ink marker
Abbreviations
ch – chain
sc – single crochet
Loop Stitch – It makes a loop on each stitch's back, giving this animal its signature "furry" look. Rounds with "Loops" at the beginning should be completed in the Loop Stitch, including increases and decreases. Click the link for a video tutorial on how to do this stitch.
inc – complete two single crochets within the same stitch
dec – combine two stitches into one with an invisible decrease
BLO – crochet in the back loop only
*sc x* – repeat the instructions between asterisks(*) the indicated number of times. If the pattern doesn't tell you how many times to repeat, repeat the sequence until you reach the end of the round.
Lucy the Llama C2C Graphgan Square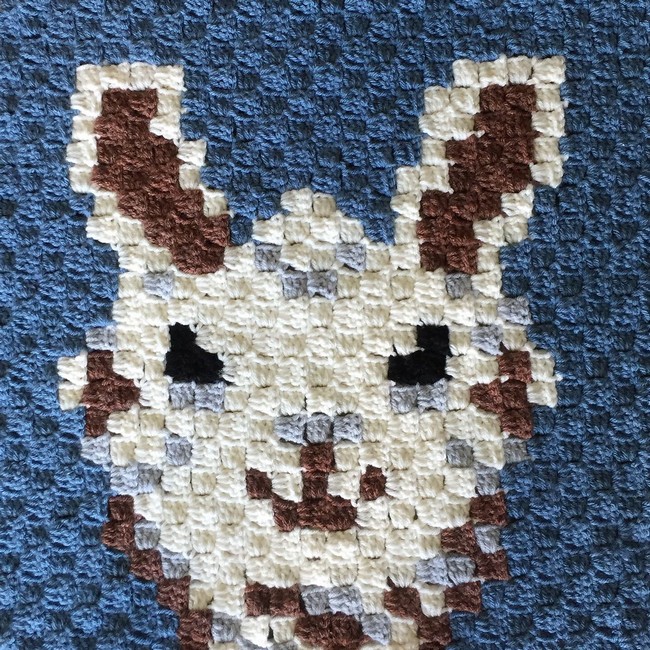 This beautiful Lucy Llama C2C Graphgan Square would make a perfect addition to any room in your home. It's great for afghans, blankets, scarves, and more! This llama square, part of our C2C Graphgan, will liven up any room in your house! Use it as a room decor piece, or add it to a blanket or pillowcase! This is a crochet graph and square; it's fun to work up. The pattern is easy to follow, so you'll have no problems following along when creating your Llama Lucy blanket or accessory.
Materials
5.5mm Crochet Hook
Bobbins (Optional)
Tapestry Needle
Scissors
Llama Wall hanging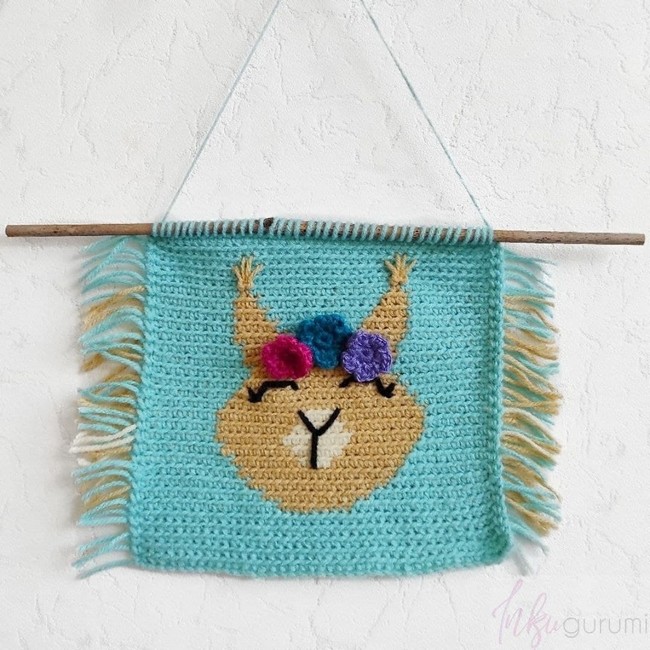 This crochet llama wall hanging is the perfect statement piece for your home, nursery, or office. With calming colors and soft materials, it's sure to be a conversation starter! This Llama Wall Hanging is a perfect gift for anyone who loves llamas or crochet. Hang it in your home, office, or anywhere you want to bring some character. Great if you have llama lovers in your life. It is perfect for that wall that you can't seem to fill. Made from high-quality materials, this makes a great addition to your home's wall or soft cushion.
Materials
-3,5mm Crochet hook
-Tapestry Needle
-Scissors
-A stick or twig
Abbreviations
MR = Magic Ring
CH = Chain
SC = Single Crochet
SLST = Slip Stitch
HDC = Half Double Crochet
Lama Picchu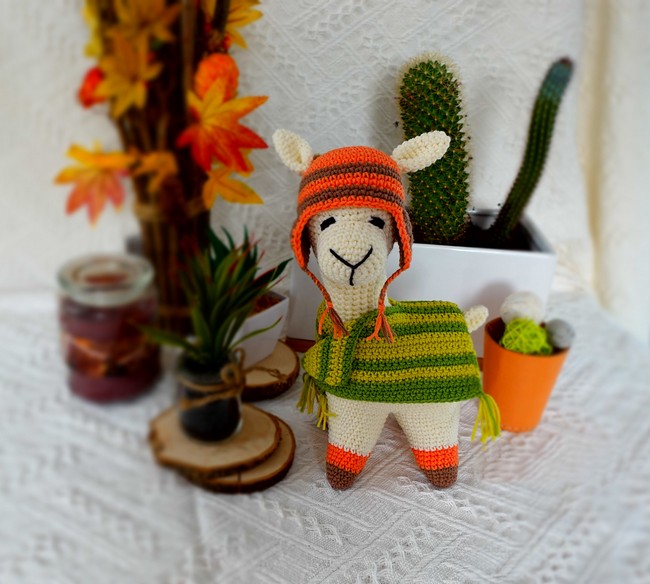 It is very easy to make and super cute. There are no complex stitches here, just easy ones. All you need are basic stitches like chain stitch and single crochet stitch. This is a perfect gift for your loved ones or friends as it is quick and easy to make; it can be made in an evening or two, depending on the size of the Lama you choose to make! They are versatile and will look great in almost any interior design style. It is simple to make, and you may use different color combinations so that your unique Lama can be as special as you are.
Materials
Crochet hook – 3mm (US D-3)
Scissors
Stitch markers
Toy fiberfill (Note: if you wish to explore some more options, then have a look at my Stuffing for Toys blog post)
Tapestry needle
Row counter
Color safety pin
Abbreviations
Mr – magic ring
Sc – single crochet
Inc – 2 in one
Decr – 2 together
Ch – chain
Slp st – slip stitch
Llama Patmos Amigurumi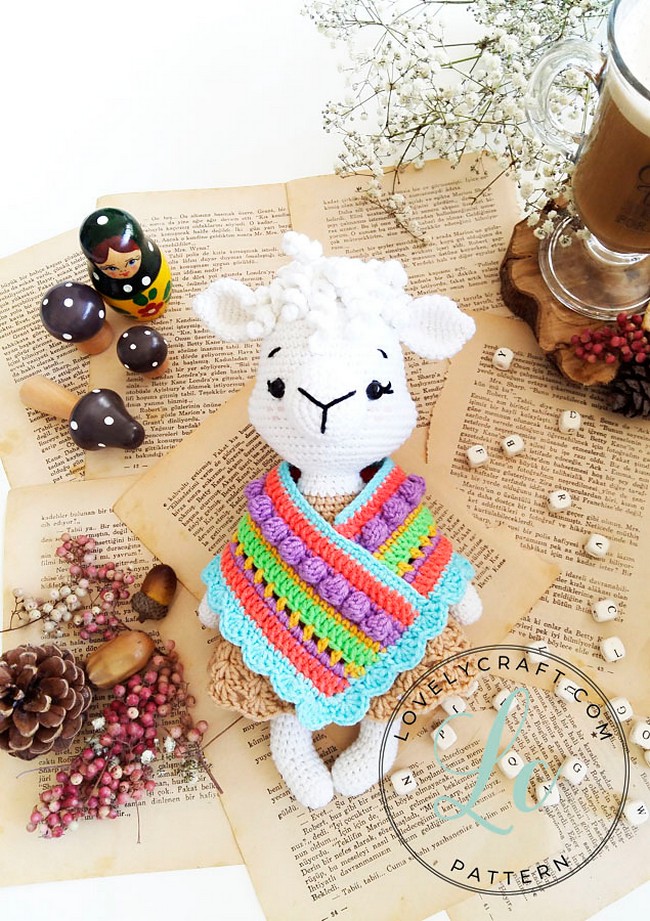 This Crochet Llama Patmos Amigurumi is the perfect handmade gift for kids, adults, and collectors. Whether you give it as a birthday present or a Christmas gift to someone special, this cute little crochet llama will bring smiles to anyone who loves llamas, animals, and stuffed animals. It is the perfect addition to your collection. He can be your special friend or companion while at home. This kit includes everything needed to complete this project. Only you will be free to create a beautiful llama with all your hands, implementing the free crochet pattern at the end of the article.
Materials
Yarnart Jeans / White (Color code 01)
Yarnart Jeans / Milky Brown (Color code 07)
Preferably pick 5 colors of Yarnart Jeans yarn for poncho
For embroidery: A black thread or yarn
9 mm Safety Eyes (Black)
Polyester Fiberfill
Embroidery needle
Pins
Size 2.5mm crochet hook or that fits your choice of yarn
Scissors
Abbreviations
sc : Single Crochet
inc : Increase
dec : Decrease
tr : Triple Crochet/ Treble Crochet
st: Stitch
dc : Double Crochet
st/sts: stitch/stitches
hdc: Half Double Crochet
sl-st : Slip Stitch
ch : Chain
FLO : Crochet into front loops only
BLO : Crochet into back loops only
BL : Bobble Stitch – do 5dc all in the same stitch and then yarn over and pull through all the loops on your hook (the original loop + 1 loop for each partially completed dc).
Llama Hand Puppet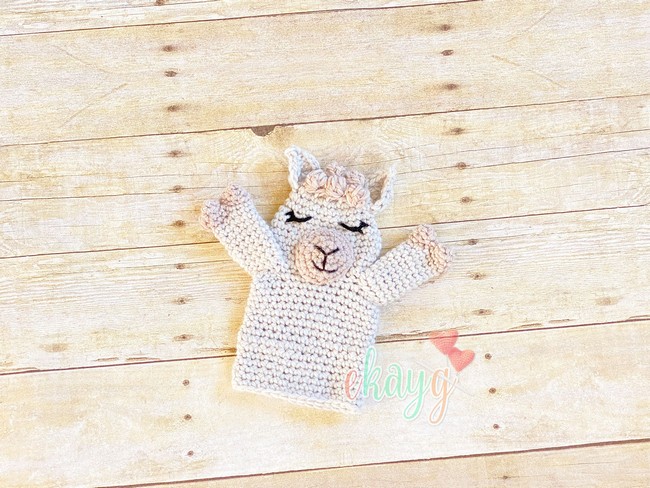 You'll never have a dull moment with this crochet llama hand puppet. It's a great gift for any child, looks realistic, and will entertain everyone at their next birthday party or special occasion. This adorable crochet llama hand puppet makes a great addition to your collection of handmade toys. It's a perfect activity for holiday gift-giving and is sure to delight any child who receives it as a gift. This llama puppet is the perfect gift for your favorite animal lover or a great decoration for any room. Add color and cuteness to your life with this adorable crochet llama hand puppet!
Materials
Bulky Weight 5 Yarn:
THE HOOK NOOK, YUMMY: Like a Dove (A) approximately 94 yds
THE HOOK NOOK, YUMMY: Latte Foam (B) approximately 12 yds
THE HOOK NOOK CROCHET HOOK, size H – 5mm
Stitch marker
Tapestry needle
Scissors
Abbreviations
Magic ring
Rnd, rnds – round, rounds
St, sts – stitch, stitches
Sl st – slip stitch
Sk – skip
Sc – single crochet
Inc – increase, 2 sts in same st
Hdc – half double crochet
Dc – double crochet
Llama coaster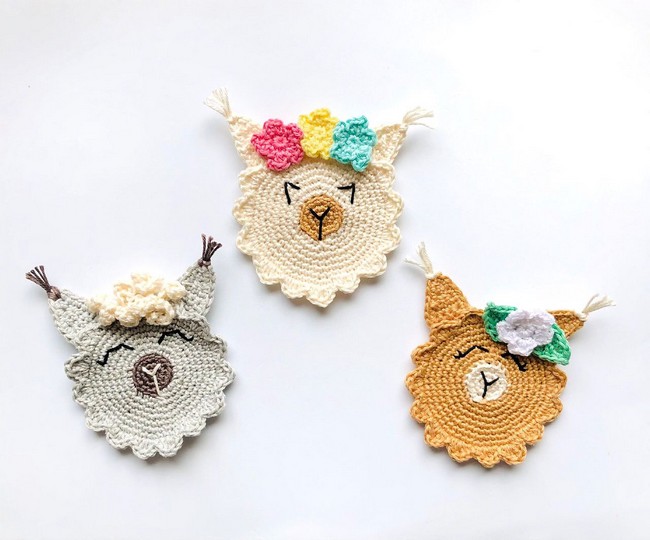 Creative, easy-to-crochet pattern instructions to create a beautiful and unique Add some fun and excitement to your kitchen with this handmade llama coffee coaster. This is a great gift idea for anyone who loves llamas! It can be used in the bathroom, office, or kitchen. The perfect mini accessory to protect your surfaces. And if you're crocheting-obsessed, you'll love our Llama's big, round eyes and soft little ears. Llama coaster. Using chunky yarn, it is portable and perfect for those you love.
Materials
-Light Brown yarn
-Beige Yarn
-Pink Yarn
-Yellow Yarn
-Blue Yarn
-Left over Black Yarn
-Tapestry Needle
-2,5/3mm crochet hook (C or D hook)
-Scissors
-Stitch marker
Abbreviations
mr = magic ring
sc = single crochet
slst = slip stitch
ch = chain
tch = turn chain
hdc = half dubble crochet
tc = tripple crochet
sc2tog = single crochet 2 single crochet together
2scin1sc = 2 single crochet in 1 single crochet
Mama Llama Cuddler
Now you can cuddle with a Mama Llama! This sweetly-crafted crochet Mama Llama toy features arms and legs that move so she can sit, stand and do whatever you like. Mama Llama is part of our exclusive Cuddle Collection—made for the fashionable, modern baby. This hand-crocheted soft pink llama cuddler will surely be a hit with your little one. They'll love its curly locks, soft pastel color, and adorable face. Made of acrylic yarn, the Mama Llama Cuddler is perfect for snuggling or as a cozy companion on trips.
Materials
250 yds of Red Heart Super Saver
Colors Used are Soft White, Cafe Latte, Turqua, Gold, Flamingo
Size H 5mm Crochet Hook
Yarn Needle
Scissors
Polyfil
Felt in three different colors (White, Tan, and Black used)
Thin Tipped Black Marker
Embroidery Thread
Abbreviations
CH – Chain
SC – Single Crochet
SC2TOG – Double Crochet Two Stitches Together
ST(s) – Stitch(es)
SLST – Slip Stitch
Alpaca Alexia
Bright florals with a soft alpaca blend give this cozy blanket a fresh twist. Sink into your favorite chair and enjoy a novel. Alexia is the perfect cocoon for reading or watching TV. Her soft, naturally heat-retaining alpaca wool is so luxurious that you might not be able to bring yourself back into the living room when it's time to take a break. This is a great pattern for beginners, but even the more experienced crocheter will appreciate the small size and quick turnaround. This is an easy pattern to follow and make quickly!
Materials
hook 3 mm and 5 mm
Tapestry needle
Stitch marker
Row counter
Scissors
Restyle stuffing material
2 black safety eyes (10 mm)
Amigurumi Alpaca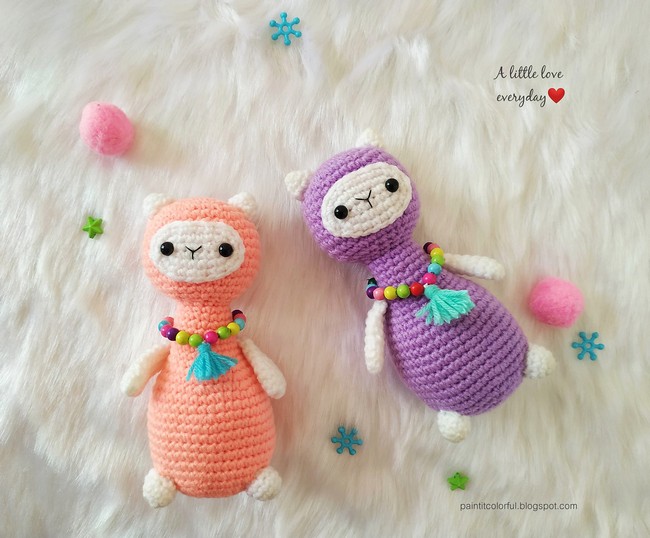 Whether you're a beginner who hasn't picked up a crochet hook in years or a master of Amigurumi, this crochet amigurumi alpaca pattern is perfect for you! This little alpaca will be your little helper when crocheting, even if that means snuggling up next to you. This Amigurumi Alpaca is a wonderful gift for newborns, kids, and adults! It's an adorable stuffed animal that looks just like an alpaca. Crochet Amigurumis are so easy to make, making them much more special. Give this as a baby shower gift or to an expectant mom.
Materials
Yarn in lavender and white colour ( i have used 4ply/ sport weight acrylic yarn).
Crochet hook according to the size of your yarn ( i have used 2mm hook).
Poly fiber fill
Tapestry needle
6mm flat back black beads for eyes or safety eyes.
Colourful beads.
Black embroidery thread
Abbreviations
ch - chain.
sc - single crochet.
st - stitch.
Inc - sc increase (2sc in one st).
dec - decrease (sc 2 together).
sl - slip stitch.
( ) - total number of stitches in a row.
Holiday Llama Chalk Bag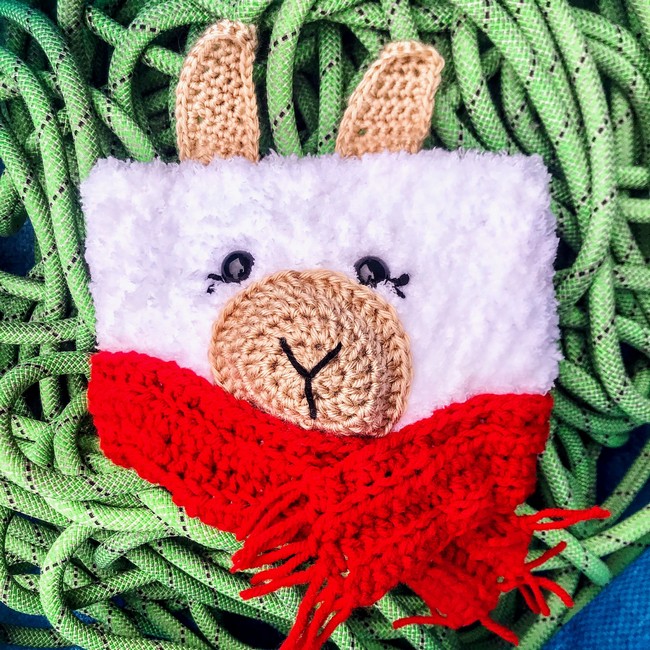 Crochet Holiday Llama Chalk Bag is a great gift for the holidays. The chunky yarn makes this so quick and fun to make, but you can use any yarn that suits your taste. It's perfect as a quick project while watching TV or on the go in your purse. People love these bags at gift exchanges and teacher gifts. Add a little color to your life with this crocheted holiday llama chalk bag. Made with 100% natural cotton yarn, this fun, and functional accessory can be used year-round. The perfect gift for the crafter who has everything!
Materials
Bernat Pipsqueak Yarn (Weight: 5/Bulky – 8.8 oz/254 yd) ~150 yards in Whitey White needed
Scraps of worsted weight acrylic yarn in tan and black
~50 yards of worsted weight acrylic yarn in red
Size J (6 mm) crochet hook and Size G (4 mm) crochet hook– I have recently begun using Furls Crochet hooks and have seen immediate relief from the hand pain that used to bother me. I affiliate with Furls Crochet and am proud to represent their quality products.
Safety eyes
Finishing needle
~1 yard of paracord for belt
Abbreviations
ch: chain
st: stitch
sl st: slip stitch
hdc: half-double crochet
sc: single crochet
sc2tog: single crochet two stitches together
dc: double crochet
blo: back loops only
Curly Hair Llama Hat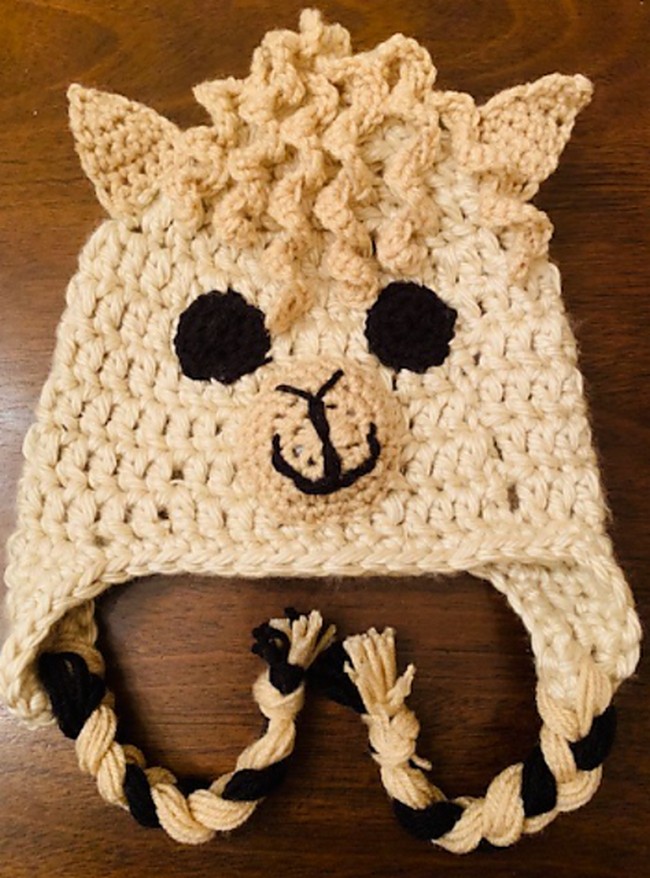 Let your little Llama listen to the beat with this cozy crochet Llama Ear Headband Hat. This hat will keep them warm and comfortable while they are listening to all of their favorite beats. This fun pattern is guaranteed to make you smile, and it's easy enough for even beginner crocheters to master. Make a custom llama headband for your little one, and get ready for that llama friend to be the talk of the town. This Llama Hat will stand out from the crowd. Your little one will love it, and so will your Llama!
Materials
Yarn: I used Lion Brand Hometown Yarn for the body of the hat, The color was Los Angeles Tan, For the nose, ears, and tassels, I used Red Heart Tan, Red Heart Black.
I chose the Lion Brand Hometown Yarn because it was so soft and helped you to work up the hat quickly. Also, it turns out to be thicker and warmer since it is a Super Bulky Yarn!
Hook: I used a K Hook,
Hook: I also used a H Hook for the small work.
Yarn Needle, Scissors
Abbreviations
Sc- Single Crochet
Dc- Double Crochet
Sc 2 tog- Single Crochet 2 together
Llama Pillow
This crochet llama pillow is a classic, loveable piece that makes a great accent to any room. It's sure to bring comfort to anyone who sees it. Perfect for the child or adult in your life! This crochet llama pillow is the perfect in-home touch for any room. It's a good size, not too small or too big - just right! Make your home feel lush and inviting with this crochet llama pillow. The soft material is made to last, and the vivid color scheme makes it a statement piece in any room.
Materials
350 yards size 4 worsted weight yarn (I used two skeins of Ivory Yarn Bee Denim in Color)
Small amount of brown (nose), pink (cheeks and bow), black, and white (eyes)
4 mm crochet hook
14-inch round pillow form (stuffing can be used as a replacement)
Scissors
Tapestry needle
Stitch marker
Sewing pins (optional)
Abbreviations
MC- Magic circle
SC- Single crochet
HDC- Half double crochet
HDC INC – Half double crochet increase
Sl st – Slip stitch
St(s)- Stitch(es)
Llama Just Llama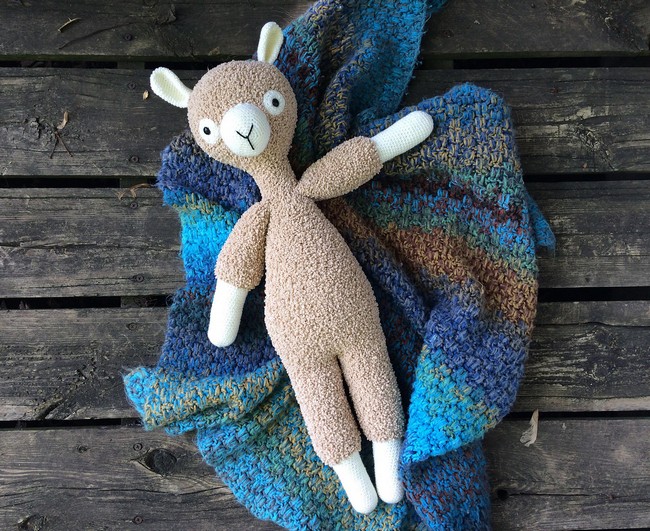 Crochet Llama Just Llama is a fun gift for the llama lover in your life. This Lama is handmade, so individual quirks make each one unique. The wool is soft and colorful, making it perfect for cuddling up when reading a book or watching TV. This soft and cuddly crochet llama is a wonderful gift for any kid or someone who loves animals. Its large size makes it easy to hold, and the detailed face adds to the realism of the toy. With just a little yarn and a simple pattern, you can craft this Lama in no time!
Materials
Crochet hook size:
B/2.25mm for the tips of legs, arms, nose, eyes, and ears.
G/4.25mm for the furry body parts
Yarn:
Fine/Weight 2 yarn
Lion Brand Beautiful You
Spanish Villa, 1.5 oz/140 yards
Super Bulky/Weight 6
Lion Brand Baby Boucle Yarn
Tan, every bit of 240 yards
Safety Eyes: 10mm black
Abbreviations
Ch – chain
Sc – single crochet
Sc2tog – single crochet 2 together