Crochet hedgehogs are adorable in their own way, and they can be a lot of fun to make. They're also highly customizable, so you can make them in your favorite colors or with your favorite accessories to suit any hedgehog lover. This roundup includes patterns for all ages, from baby to adult, so there's something for everyone on your list. These Free Crochet Hedgehog Patterns are easy to make and make adorable gifts, friends, or toys for children. All are made with love and care and have enough detail to make the cute little animals look like real hedgehogs.
Simple Crochet Hedgehog Patterns

If you've got a thing for these prickly little creatures, crocheting a hedgehog is the most adorable way to spend quality time with your hook. They're relatively simple to make and are surprisingly versatile: they could be used as soft toys, decorations, or even as a place card holder at a party (the possibilities are endless!) So whether it's for yourself or looking for a gift for the crafty connoisseur in your life, here are 10 different crochet patterns for hedgehogs that are bound to put a smile on anyone's face.
Benefits Of Realistic Crochet Hedgehog Patterns
Crochet hedgehog patterns are available in a range of sizes and colors. They are soft and cuddly, making them perfect for children and adults alike. Crocheting is a hobby that has been enjoyed for years, but many people need to learn how to start or what to use. Here are some benefits of crochet hedgehog patterns:
Easy To Learn: Crocheting is an easy craft to learn. You can create beautiful things with just a few simple stitches and techniques. It is a relaxing hobby and keeps your mind engaged and your hands busy!
Variety Of Designs: So many different designs are available for crocheting hedgehogs, so you will have no trouble finding one that suits your style or tastes perfectly! Some popular designs include baby animals, cartoon characters, and even cartoon characters in traditional clothes!
Easy To Store: If you have ever struggled to find storage space for your crafting supplies, this is something else that makes crochet hedgehog patterns so appealing! These little creatures can be stored easily in any space that you have available, allowing you to store them neatly away when not being used or show off proudly on display when needed!
Fuzzy Hedgehog:
Fuzzy Hedgehog is the perfect way to add a little all-natural texture to your home. These adorable hedgehogs are made with soft, warm wool and cozy fleece feet. This adorable crochet fuzzy hedgehog is so much fun to make! This little guy has a lot of fun tricks up his sleeve, from his fuzzy coat and cute little ears to his curvy legs and pointy nose. The pattern is crocheted using basic stitches, so it's great for beginners looking to practice their skills while creating an awesome addition to any home!
Materials
E US/3.5mm and H US/5mm crochet hooks
A small quantity of eyelash yarn
A small quantity of worsted-weight yarn
The short length of black yarn to embroider nose
Polyester fiberfill stuffing
2 eyes, approx 8mm diameter
Yarn needle to weave in ends
Stitch marker
Abbreviations
ch chain
dc double crochet (treble crochet for UK/Aus)
sc single crochet (double crochet for UK/Aus)
sc2tog single crochet decrease (double crochet decrease for UK/Aus)
(insert hook into stitch and draw up a loop, insert hook into next stitch and draw up a loop, yarn over and draw through all 3 loops on hook)
sl st slip stitch
st stitch
Stacey the Hedgehog: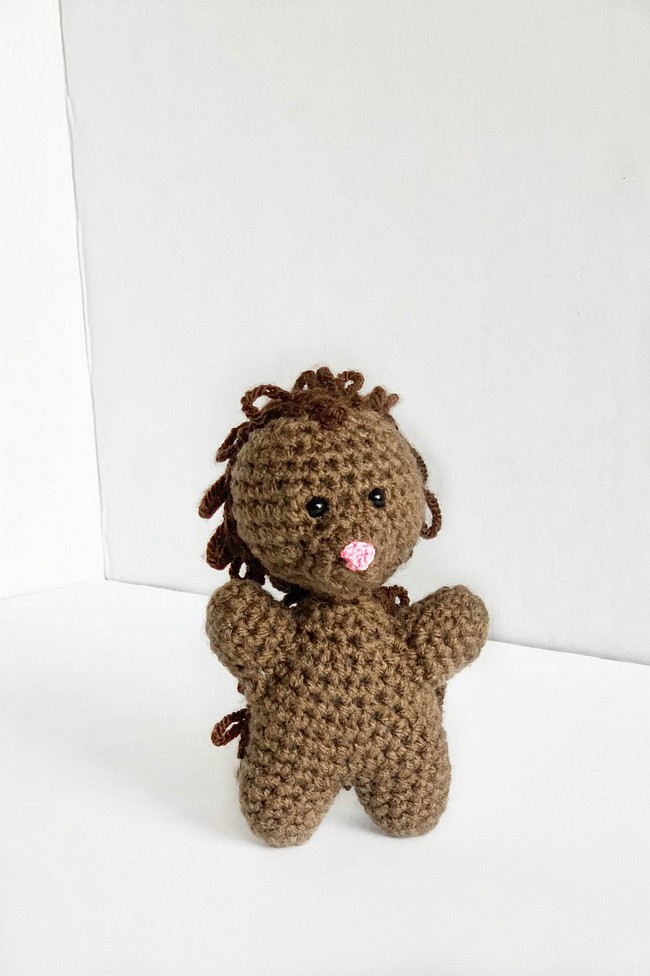 This adorable Hedgehog will make a great gift for a child or any child at heart! Crochet Stacey the Hedgehog is a beautifully designed little hedgehog that you can crochet in super soft yarn, She sits beautifully on a table or mantlepiece, talking to herself with her tiny little voice, but she also makes a perfect gift for a loved one or friend who loves cute handmade toys.
Materials
Tapestry needle
Stitch marker
Scissors
Fiber fill
Eye solution of choice: safety eyes (6 mm or 8 mm) or embroidered or crocheted eye
For this Hedgehog, I used about 40 yards of Red Heart Super Saver in Cafe Latte , and roughly 25 yards of I Love This Yarn in Brown.
I also used less than a yard of pink embroidery floss (like this Coats and Clark embroidery floss) for the nose.
I used two different crochet hooks: a 4.5 mm crochet hook for the main parts (legs/body/head, arms, ears, muzzle, tail) and a 2.0 mm crochet hook for the nose.
Abbreviations
ch        chain
dec        decrease
inc         increase
ls loop stitch
Rd        round
rep        repeat
sc        single crochet
Baby Hedgehog Amigurumi: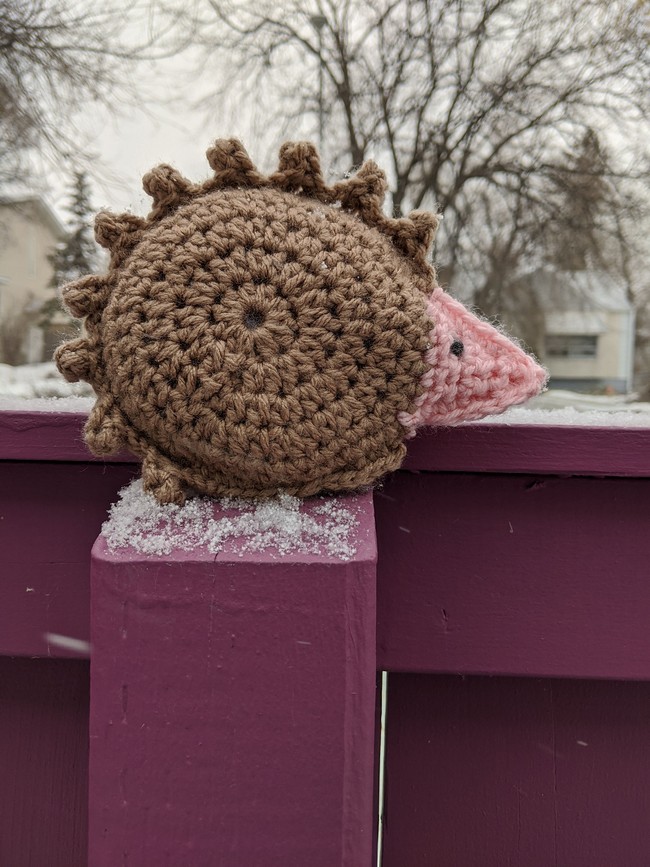 If you love amigurumi and hedgehogs, this is the perfect project! It's so cute, soft, and cuddly your little one is sure to fall in love with it. This amigurumi includes instructions on how to make a mobile that gives it an extra touch. This crochet baby hedgehog amigurumi is super easy to make and a great gift. It will take you less than 30 minutes to make this little guy from start to finish! It is the perfect addition to your collection! This little crochet baby hedgehog will make a great gift for any child or adult who loves hedgehogs.
Materials
Light Brown color yarn (Approx: 100 yards)
Cream color yarn (Approx: 50 yards)
H-8 / 5mm crochet hook
fiberfill
Tapestry needle for weaving ends.
Abbreviations
ch = chain
sl st = slip stitch
sc = single crochet
hdc = half double crochet
dc = double crochet
st = stitch
yo = yarn over
beg = beginning
*to; = repeat * to the instructions.
[ ] = work instructions within brackets as many times as directed
Special stitches
4-dc popcorn st = crochet 4 dc in indicated st, drop the loop from the hook, insert the hook from front to back under the top 2 loops of the first double crochet of 4 dc, grab the dropped loop with the hook and pull back through the stitch, ch 1 to close the stitch.
sc2tog = [Insert hook in next st and draw up a loop] 2 times, yarn over, pull back through all 3 loops on hook at once.
The Hedgehog Hedda: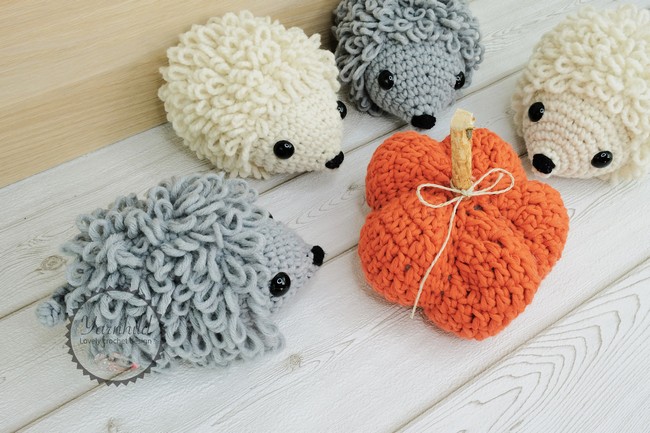 Crochet the Hedgehog Hedda and make her part of your family. This adorable little guy is a lovely gift for any kid or adult. A great project for beginners, this adorable stuffed animal will surely be surrounded by children and adults for years to come. These cute little hedgehogs can be turned into anything you like. It has all the patterns you need to make your adorable, super-soft Hedgehog. This super simple, light, fluffy crochet hedgehog will greatly add to your living room or nursery.
Materials
Filling materials
Stitch marker
Crochet hook 6 mm/ J – 10
Safety eyes 20 mm
Scissors
Chunky yarn about 80 g/2.9 oz for one hedgehog.  Small amounts of black yarn (5 g/0.18 oz).
Abbreviations
ch – chain
yo – yarn over
st – stitch
sl st – slip stitch
sc – single crochet
lp st – loop stitch
lp st dec – loop stitch decrease, crochet two loop stitches together
yo – yarn over
hdc – half double crochet
Chubby Hedgehog: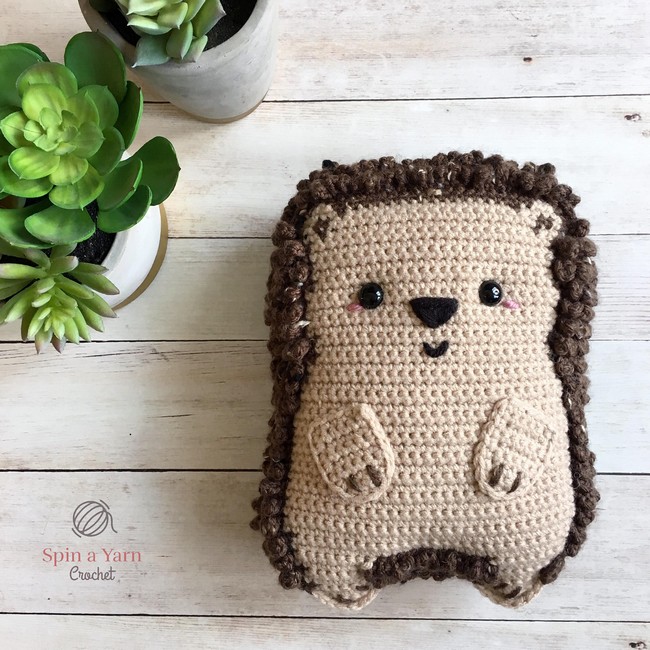 This Hedgehog is a perfect crib buddy, he comes with a lettuce base, and you can knit his pajamas to keep him cozy. He will join you on car rides and walks quite easily because he has been designed to be held close while carrying it by holding his arms or tail. This adorable little Hedgehog is a great toy to have as you travel. This Hedgehog will be your travel buddy, sitting in your purse or lap while you search for a hotel, a place to eat, or an outbound train. Not only will they love it, but they can also improve their imagination and creativity when playing with this Hedgehog.
Materials
3.25mm hook (I use THESE hooks!);
Bernat Premium in Chocolate Tweed (150g);
Bernat Super Value in Mushroom (50g);
Bernat Super Value in Black for nose and mouth (small amounts);
12mm safety eyes;
Stuffing;
Tapestry needle
Abbreviations
Ch – Chain
Slst – Slip stitch
Sc – Single Crochet (again, in rows with colour changes, sc stitches will be indicated with the Colour Legend letter instead of the usual "sc")
Inc – Increase. Work a regular sc increase.
Dec – Decrease. Work a regular sc decrease.
Hygge Hedgehog: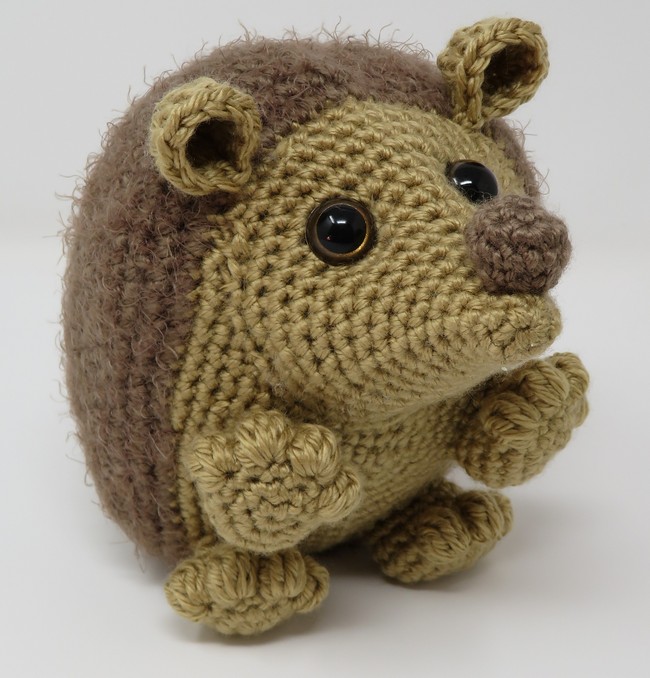 This cute and quirky hygge crochet hedgehog is the perfect gift for anyone who needs a little extra love in their life! It is super simple and easy to do and a wonderful skill builder. The pattern has a few rounds; therefore, the project is ideal for beginners and perfect for anyone who loves learning new things while having fun. This pattern is an idea great gift companion and will make your child happy. It is a perfect gift for someone you love or a great addition to your home decor. You'll want to snuggle with this sweet little creature and ensure he's always around.
Materials
Red Heart Soft worsted weight yarn, 100% acrylic, 256 yds / 5 oz / 141 g, 1 ball #7933 Wheat (MC), < 1 ball (20 yds) #E728 Cocoa (CA).
Red Heart Hygge bulky yarn, 70% acrylic, 30% nylon, 132 yds / 5 oz / 141 g, 1 ball #E869 Latte (CB).
G (4.25 mm) crochet hook
Two 15 mm brown safety eyes
Fairfield Poly-Fil stuffing
Tapestry needle
Straight pins
Stitch markers (if desired)
Abbreviations
[] Repeat instructions between brackets as indicated.
bobble st – Bobble Stitch: [yo, insert hook into st, pull through two loops] 5 times (6 loops on hook), yo, pull through all 6 loops on hook
CA – Color A
CB – Color B
ch(s) – chain(s)
dec – decrease
dc – double crochet
inc – increase
MC – Main Color
sc – single crochet
Romantic Hedgehog:
This Hedgehog is a fancy touch to your home or as a gift. Thrilled at the sight of this little guy, you will find yourself smiling whenever you look at him. This crochet hedgehog is just too cute to be real, and you can make one for yourself with this free pattern. Made with bright white yarn and a light pink satin ribbon, it's a beautiful gift for your Valentine. This little Hedgehog is lots of fun and will keep you busy crocheting. He is a perfect gift for yourself or any Hedgehog lover. This crochet pattern will help you to create a romantic and adorable hedgehog.
Materials
– 2.5-mm (C/2 US, 12 UK) Crochet Hook
– Sport, Fine 2 Cotton Yarn
I used Schachenmayr Catania in CA) Beige, CB) Brown, and CC) Black
– Tapestry Needle
– Stitch Marker
– Cotton Stuffing
Abbreviations
Ch – Chain
Dc – Double Crochet
Hdc – Half Double Crochet
Hdc Dec – Half Double Crochet Decrease
Inc – Increase
MC – Magic Circle
Puff – Puff Stitch
Puff Dec – Puff Stitch Decrease
Sc – Single Crochet
St – Stitch
Yo – Yarn Over
Amigurumi Hedgehog: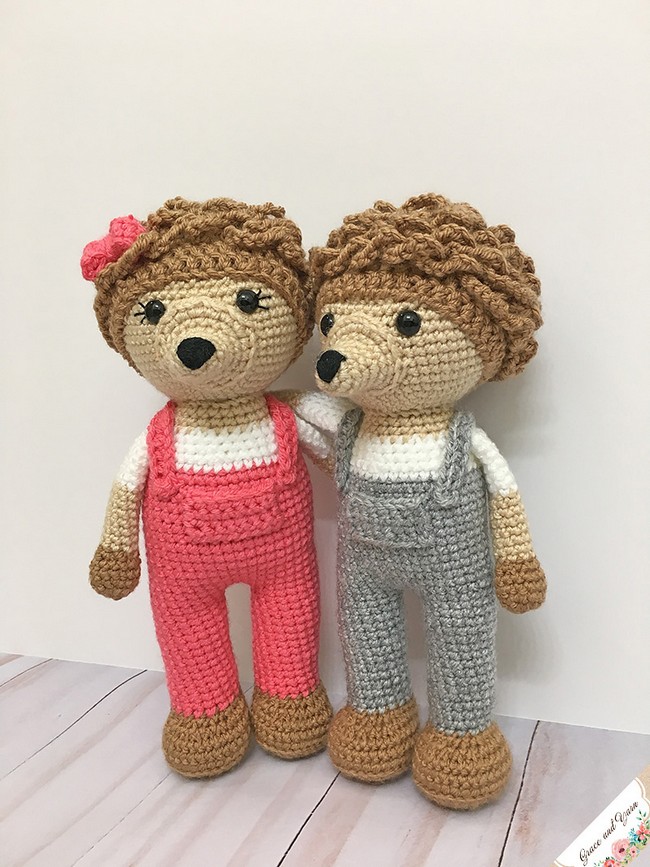 Crochet these adorable Hedgehogs in your favorite color scheme. They make great friends or work well with my other forest animals designed as a set. These crochet amigurumi animals are small and fuzzy, just like a real hedgehog! They're fun to make and make a great gift for animal lovers. They are super soft and cozy, ready for snuggling! Their smooth shape makes them great companions for children or as display items at a craft fair or on a shelf. It's great for play or displaying at a craft fair and perfect for any forest-loving kid!
Materials
Size 4 worsted weight yarn
25g choice color for overalls
15g beige
Small amount of:
Brown for paws/spines
Choice of color for shirt/sleeves
Black for nose/ Black embroidery thread for eyelashes
10.5 or 11mm  safety eyes
3.5 mm and 5 mm crochet hook
Scissors
Tapestry needle
Stuffing (Poly-Fil and Morning Glory are my top favorites!)
Stitch markers (optional)
Abbreviations
SC- Single crochet
SC INC- Single crochet increase
DC INC- Double crochet increase
INV DEC- Invisible decrease
HDC- Half double crochet
HDC INC- Half double crochet increase
Sl st- Slip stitch
CH- Chain
Rpt- Repeat
Little Hedgehog - Kleiner Igel: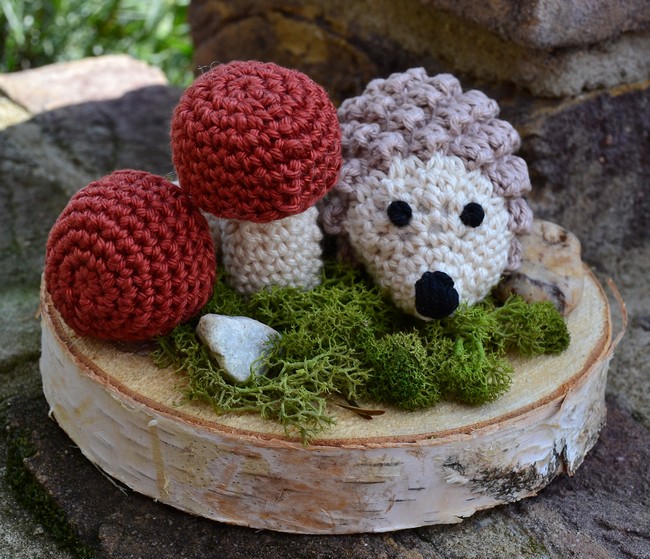 A little hedgehog wants to relax and sleep on your bookshelf or office cubicle, but he looks so cute you can't resist picking him up and playing with him! This adorable crochet hedgehog makes a great addition to any collection. You can be part of a global effort to spread positivity and joy! Create this adorable little Hedgehog, who makes a great toy for kids to play with. This little Hedgehog is here to protect your belongings from burglars. Crochet this hedgehog hoop and display it on your mantle, or use it as a pencil holder in your office.
Materials
scissors, yarn needle

crochet hook (I used a 3mm one)

yarn

fiberfill
Abbreviations
ch = chain stitch

dc = double crochet

dc2tog= 2 dc together

loop = loop made of ch

mc = magic circle

PC = Popcorn stitch (here made out of 5 tr)

tr = treble
You can also see: Crochet Plant Pot Patterns 
Amigurumi Hedgehog Pincushion: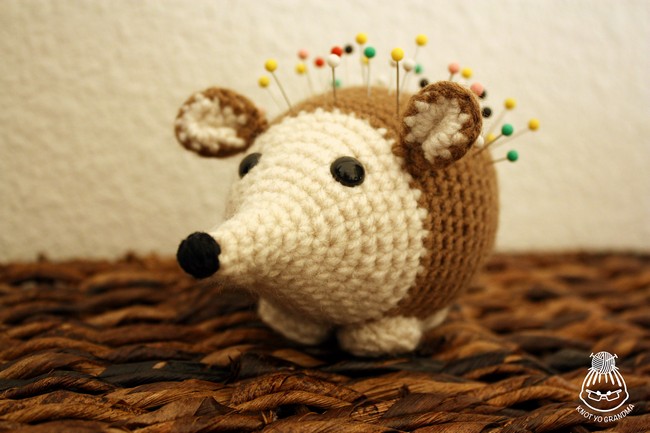 This Hedgehog Pincushion is a hand crochet amigurumi with a soft baby alpaca wool cushion, so it's super cuddly and perfect for keeping your stitching safe. The Hedgehog's body is made in one piece using a contrast color yarn, and the spikes are done separately and attached to the body afterward. This project is suitable for beginners who want to try their hand at amigurumi! Perfect decoration for the house, office desk, or children's room
Materials
Acrylic worsted weight yarn in two shades of brown (one light, one dark)
Size F crochet hook
Size E crochet hook
2 9mm safety eyes
Yarn needle
Black embroidery thread
Embroidery needle
Poly-Fil stuffing (or equivalent)
Abbreviations
CH= Chain
SC= US Single Crochet (UK Double Crochet)
SC BLO= Single Crochet in back loops only
Inc=Increase (2 stitches in 1 stitch)
Dec=Decrease
st= Stitch(es)
rep= follow instructions within *stars* this many times in a single round