10 Free Crochet Panda Patterns For Beginners
Do you have a friend who's a panda fanatic? Or do you have a soft spot for the panda's adorable face and bouncy bamboo-eating ways? Either way, these 10 crochet panda patterns are sure to delight you. From grumpy panda keychains to giant panda bears, there's something here for every fan of the world's most popular animal. These adorable Free Crochet Panda Patterns make gorgeous gifts, but they're also great for a child's toy! These cute little plushies will brighten up any room and give someone a warm fuzzy feeling.
Easy Crochet Panda Patterns

Everyone loves seeing pandas. With their black-and-white coat, they're one of the most recognizable animals on the planet. They're also very cute and even more so as very tiny plushies, which is why they're a favorite go-to design for crochet patterns. When you want to make an adorable and easy gift, it's time to gather your yarn and hooks and get crocheting! Whether you're looking for an adorable stuffed toy or a crochet amigurumi pattern to create as a gift for any recipient, these panda crochet patterns are sure to please! Check out these patterns today.
Tips For Crocheting Panda Patterns
Panda bears are so cute and adorable. They are also friendly and cuddly, just like the pandas in the panda bear pattern. You can crochet this pattern for yourself or as a gift for your loved ones.
The pandas in the panda bear pattern are made from single crochet stitches. The only difference is that you will have to do double crochets for their arms and legs, which are bigger than their bodies.
If you want to make your own pandas in the panda bear pattern, then follow these tips:
Use a size G (4 mm) hook and worsted-weight yarns.
Make sure that all stitches are worked tightly.
Make sure all rounds start with a chain 3 (counted as 1 dc).
Work each round into the same stitch as where you started from round 1.
Start each round with a slip stitch before working any other stitch.
Crochet Ruben the Red Panda: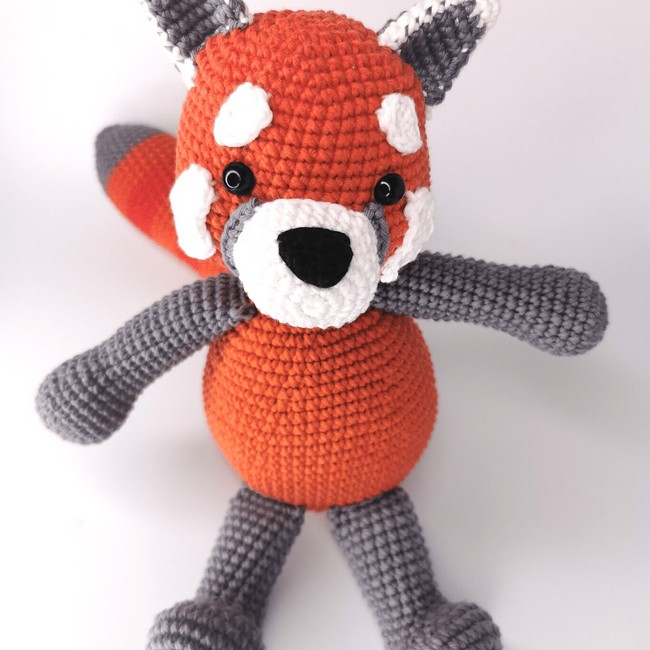 Say hello to Ruben the Red Panda! He's a little shy, but he loves to hang around people. Crochet this sweet red panda jumper and snuggle up whenever you feel like being hugged. The Red Panda Ruben is a super soft and cute crochet amigurumi pattern. The perfect project for anyone looking to learn new stitches while they make a fun, interactive toy! This is a very cute, crocheted Red Panda. It makes a great gift for anyone who likes red pandas or crocheted animals!
Materials
Aran / Worsted Weight yarn. I used Rico Design Creative Cotton Aran in the following colors. The amounts used are included in brackets.
Crochet hook size 3.5 mm (E)
Stuffing
Needle
Scissors
Pins
Stitch marker
Safety eyes 9 mm or additional black yarn/embroidery thread for the eyes
Abbreviations
R# – Row/round number
st – Stitch
ch – Chain
sl st – Slip stitch
mc – Magic circle
sc – Single crochet
inc – Increase
dec – Decrease
FLO – Front loop only
BLO – Back loop only
cc# – Change colour to the yarn indicated (#), e.g. ccB = change to yarn B (White)
[…] x … – Repeat the sequence of stitches in brackets x-times
(…) – Total number of stitches at the end of each row/round
Crochet Red panda:
A lovely handmade and very cute red panda toy that will impress your friends, or it is a perfect gift for your loved one. This pattern is suitable for beginners as well. Add a little cuteness to your life with this adorable crochet red panda! This is a lovely addition to your collection of softies. The body is crocheted in chunky yarn, while the head and ears are stuffed with polyester fiberfill. This cute crochet Red panda will guard your keys. Make one for yourself and give it to someone you love.
Materials
A 2.5mm crochet hook
Dk yarn in white, black, and orange
Polyester toy stuffing
A darning needle
A scrap of white embroidery thread and an embroidery needle
Giant Panda: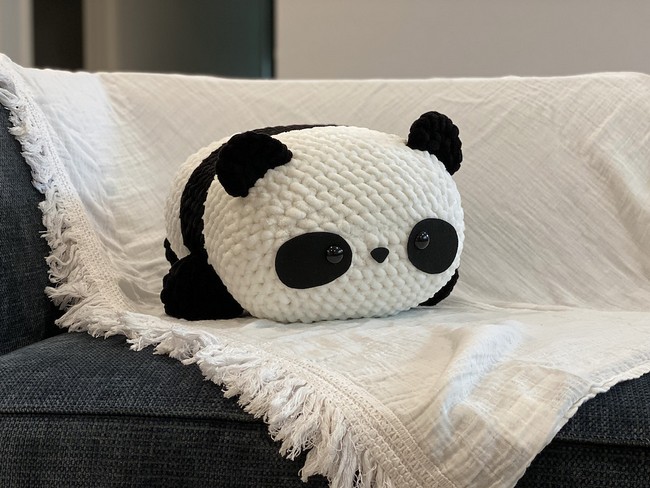 This big, little friend is quite the charmer. With his thick neck and bright little eyes, he's equally comfy to cuddle and scrunch. A great conversation starter for any room, this giant panda makes you want to get cozy with a good book or a favorite movie. This giant panda will make a great friend for your kids. They can play with it and pet the soft fur. The giant panda will make a good decoration too. This giant panda is sure to give your little ones hours of fun. Great for taking places and makes a great gift!
Materials
Clover Amour Crochet (10 mm) – Art. No 1057/NP
Jumbo size 7 chenille yarn in black (170 g) and white (267 g) (here, I'm using Sweet Snuggles yarn by Loops & Threads). Note that you will need a little over 1 skein of white (unless your tension is extra tight).
Mini Patchworks Scissors – Art. No 493/CW
Quick Locking Stitch Marker (Large) – Art. No 3032
Jumbo darning needle  – Art. No 340
Fiberfill stuffing (~680 g)
Size 24 mm safety eyes
Black felt for the eyes and nose
Hot Glue
Abbreviations
Ch –  chain
Blo – back loops only
Dec – (invisible) decrease
Inc – increase
Sc –  single crochet
St(s) – stitch
Slst – slip stitch
Rnd(s) – round(s)
[#] – stitch count
(…) x # – repeat the instructions within the parentheses # of times
Fleece Panda:
With this adorable panda, you can keep your head warm and your hair out of your face, all while looking stylish. This crochet fleece is super soft and makes a great gift for anybody! This soft panda plushie is an adorable handmade fluffball. Created using a super soft fleece fabric, these Pandas are soft and squishy! The Crochet Fleece Panda makes a great gift, or keep it yourself! This crochet fleece panda is made from high-quality material, soft and warm. This plush toy will be a great gift for your children. Let them play with this cute panda if you want a gift for your kids.
Materials
Go For Faux Fleece Sherpa Yarn (level 7 Jumbo) in "Slate" (1 skein = 184 g/89 yds) and "Cream" (2 skeins = 202 g/98 yds);
6.50 mm Clover Amour Hook
Large plastic yarn needle
Fiberfill
18 mm safety eyes
Lock Ring stitch markers
Black/dark grey worsted weight (level 4) yarn for nose, e.g.  Cotton Ease Yarn in "Pewter"
Hot glue (optional for added security of safety eye)
Red Panda Amigurumi: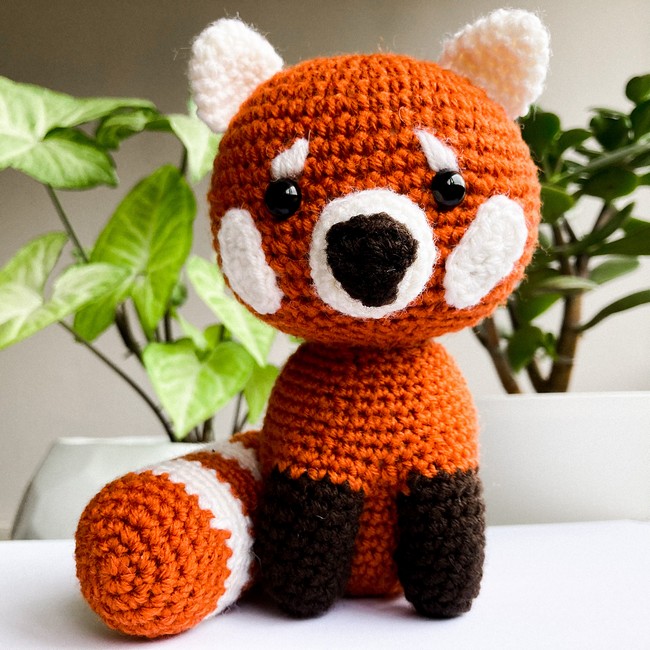 A great gift for anyone who loves these adorable creatures, this crochet red panda amigurumi is a fun project to make. It's an easy intermediate-level pattern that works quickly and has clear photos so that you can trust the instructions! This panda is the perfect friend to have around at all times. You will not want to put him down once you get started! This red panda amigurumi can be a great gift for any occasion. The crochet pattern is easy to follow, suitable for beginners, and a great project for advanced crocheters.
Materials
Yarn brand /name/color (SKU): Bonito
*Fiber Content : 50% Wool, 50% Acrylic
*Weight : 100 gr. / 3.53 oz. per ball
*Length : 300 m. / 328 yds. per ball
*Yarn Thickness : 3 Light: DK, Light, Worsted
Suggestion Needles / Hooks: 3 mm. US 3
Abbreviations
sc – single crochet
ch – chain
dec – single crochet 2 together
inc – 2 single crochet in one stitch
st/s – stitch/es
sl st – slip stitch
Pudge the Panda:
A super cute pandalicious crochet toy. A great gift for all ages, especially if you want to help children develop their imagination. Pudge is a panda with attitude! Perfect for holding all of your little one's treasures and favorite things, this panda friend is made of medium-weight yarn and stuffed with polyester fiberfill. Protect your little one from the cold with this super-soft panda handmade by expert crafters. The perfect size for kids, it's made of soft and warm alpaca fur that will keep your child warm without weighing them down.
Materials
3.25mm crochet hook / D hook*

#4 medium weight yarn – I used Yarn Bee Soft Secret in Blackand White
small black pom pom

stitch markers*

tapestry needle*

8mm safety eyes*

Polyfill stuffing*
Abbreviations
ch – chain
SC – single crochet
DC – double crochet
HDC – half double crochet
sl – slip stitch
Panda C2C Baby Blanket: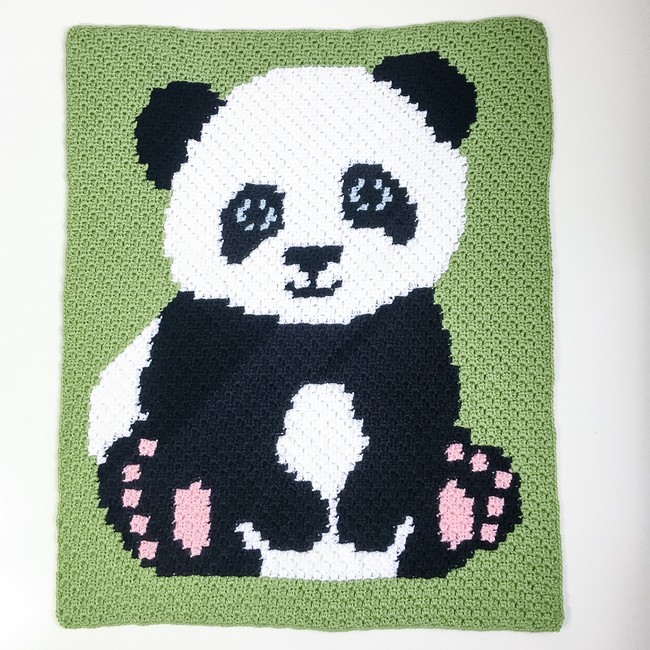 This crochet panda C2C baby blanket is a beautiful and unique gift for any new parent. Anyone who receives this blanket will love it, whether they're an animal lover or have kids. This super cute crochet panda baby blanket will keep your little one warm and cozy. It is done in an easy-to-follow C2C stitch that works up surprisingly fast. This blanket would be a beautiful gift for any baby shower or a great way to show off your crochet skills.
Materials
Size H/8 (5.0 mm) crochet hook
Tapestry needle
Scissors
Abbreviations
w = white
b = blue
bl = black
p = pink
g = green
RS = right side
WS = wrong side
hdc = half double crochet
ch = chain
sc = single crochet
sl st = slip stitch
New Year's Panda Keychain: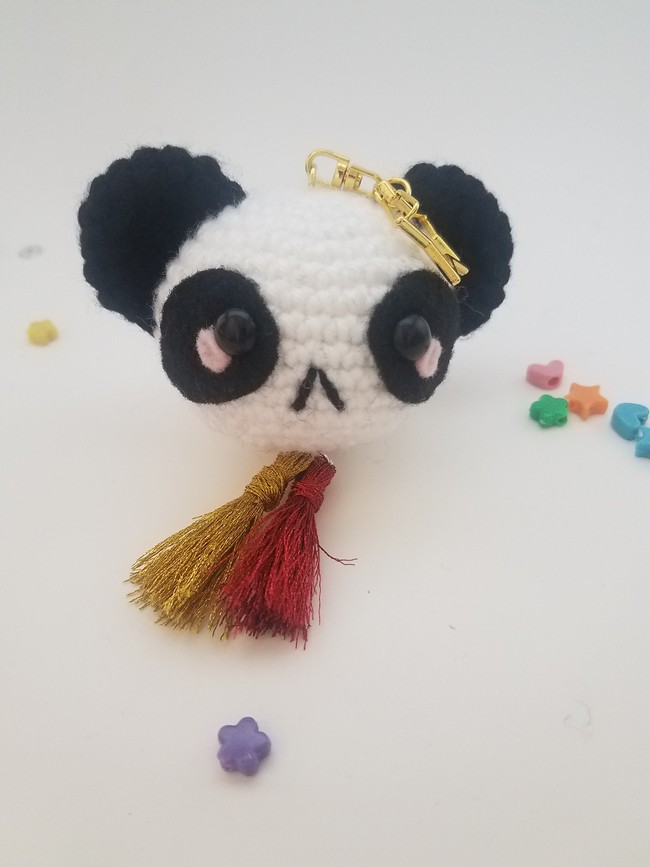 Perfect for your keychain or backpack, this panda is the perfect accessory to show off your love of crafting! This cute little crochet panda keychain is a fun addition to your everyday life. It's perfect for keeping track of your keys! This adorable keychain features a cute panda pattern, making it the perfect gift for anyone who likes pandas, cute animals, and knitting. This easy-to-make panda keychain is a great project to start with if you're new to crocheting. Plus, it's fun to give as a gift to anyone celebrating the year of the dog.
Materials
8mm safety eyes (x2)
Crochet hook (size G / 4.5)
Stuffing
Darning needle
Scissors
Pink felt for blush
Black felt for eyes
Hot glue gun (to attach the felt)
Keychain ring
Jump rings
Embroidery thread (red & gold)
Abbreviations
MC = magic circle
SC = single crochet
INC = increase
DEC = decrease
SS = slip stitch
CH = chain
* = repeat around
Polly the Panda: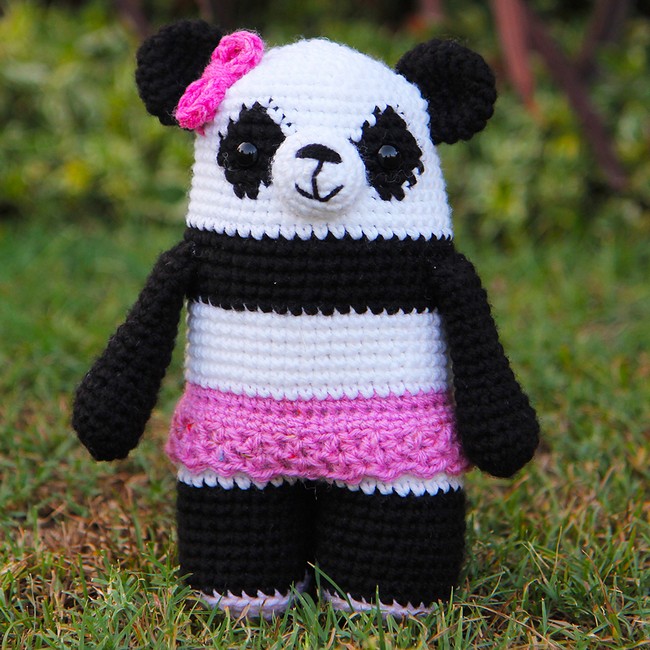 Crochet Polly the Panda is an easy beginner's level crochet pattern. This cute panda bear can be made in just one day and will make a great gift for all ages! This lovable plush panda is soft, huggable, and oh-so-cuddly! Featuring embroidered eyes and embroidered nose, Polly is the perfect addition to any child's toy collection. She has many personalities and has been lovingly stuffed with polyester filling, making her super huggable! Polly is made from start to finish by hand-knitted crochet; this sweet panda friend is an absolute must for any collector or animal lover!
Materials
Yarn: You need less than 100 grams of DK yarn in black and white and a small amount in light pink, light purple, and dark pink.
3mm Crochet hook: For amigurumi, you typically go down one or two hook sizes from that recommended on your yarn label.
Tapestry needle
Stitch marker: You can use a locking stitch marker but even a scrap of yarn will do! This pattern is worked in the round, so place a stitch marker at the first stitch of each round so that you can keep track of where each row begins.
Polyfill stuffing
2 9mm Safety eyes or you can crochet eyes for children under 3
Embroidery thread: A small amount of black for nose and mouth.
Abbreviations
Sl st: slip stitch
SC: single crochet
INV DEC: invisible decrease
INC: two SC in the same stitch
HDC: half double crochet
HDC INC: two HDC in the same stitch
BLO: back loops only
Red Panda C2C Square: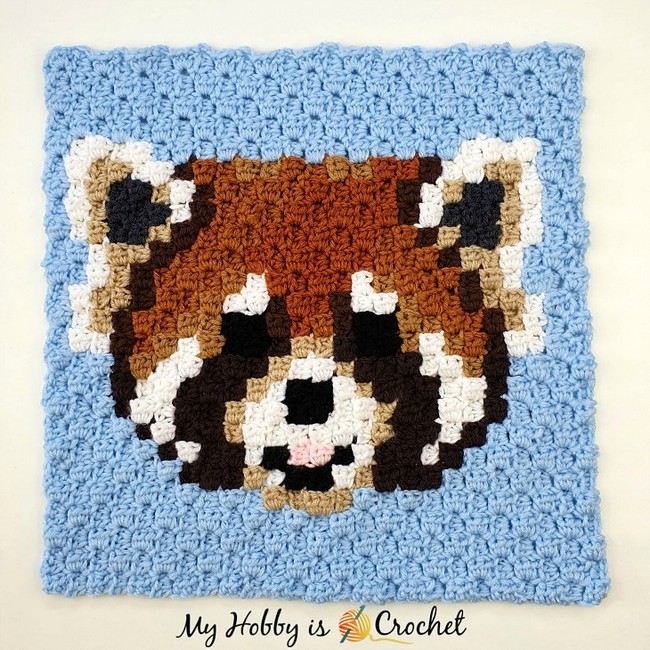 Perfect for Panda lovers. This crochet Red Panda square is as adorable as it is cozy and warm. Keep your feet warm with this C2C Bear blanket, or add a new crochet piece to your collection. This adorable Red Panda Square is so cute and perfect for any quilting or craft project you want to do. This square is part of the C2C (corner-to-corner) crochet trend that makes an easy, customized quilt project. Make these squares with or without popcorn stitching, or add them to your current stash today!
Materials
5.5 mm crochet hook (I have used Furls Wooden Hook, Cocobolo)
Tapestry needle
Scissors
Abbreviations
– RS: right side
– WS: wrong side