15 Best Free Crochet Zebra Patterns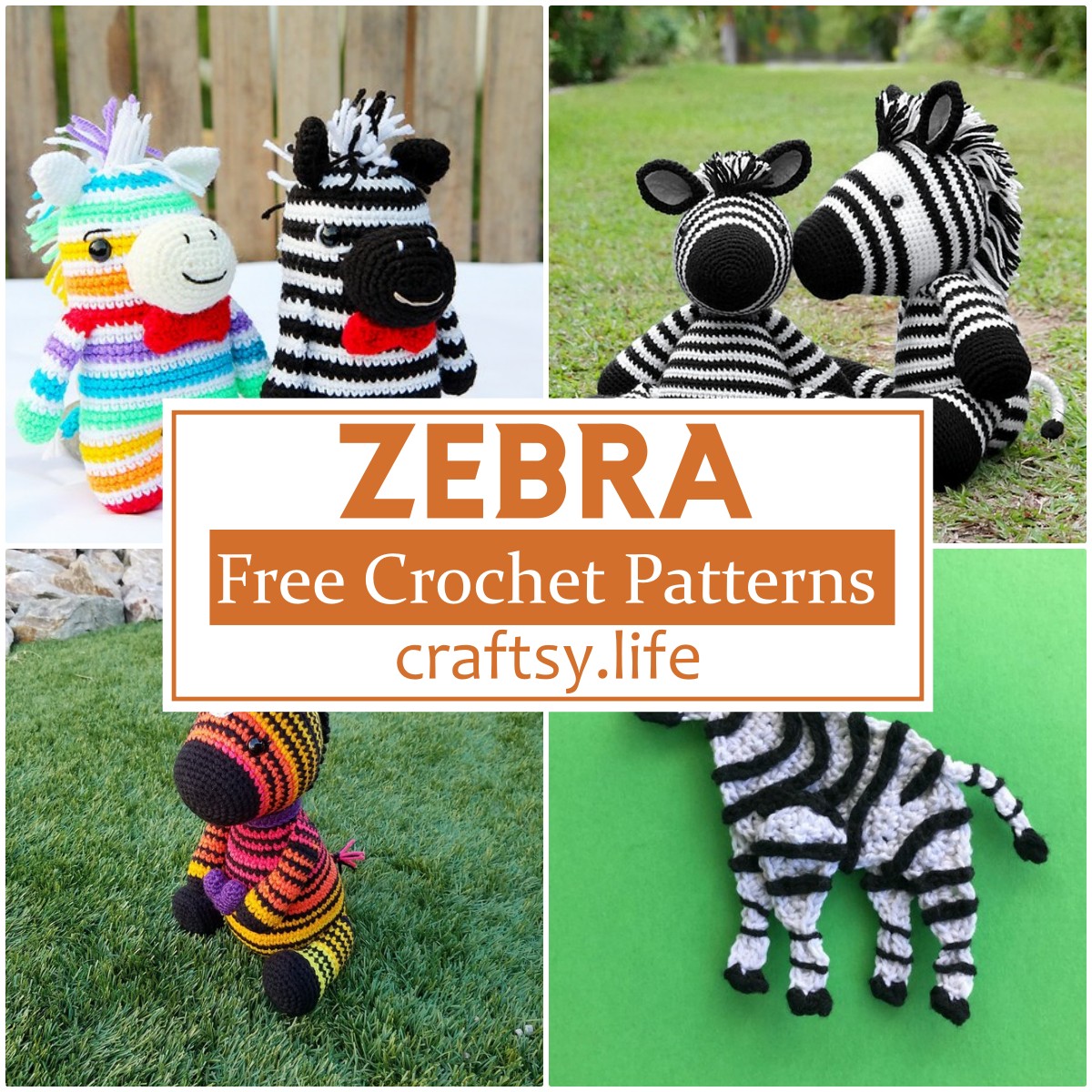 Zebra patterns are great for adding a little bit of wildness to your mundane life. Crocheted zebras make the perfect gift for that friend who always has a black-and-white theme party or someone who is just too boring to have any color in their life. And if you're looking for something more practical, zebra rugs are popular because they can help hide stains! Here are fifteen free crochet zebra patterns to get you inspired. There are many reasons to crochet a zebra pattern.  If you want to add some cuteness to your home decor, consider crocheting one of these free zebra patterns.
Crochet Zebra Patterns Free

These free crochet patterns will help you make a statement, whether it's the tropical flair of summer or the boldness of winter. Either way, these zebra patterns are ready to add some fierce style to your home decor. Crochet zebra patterns can be a lot of fun, and they're great for making adorable amigurumi animals. Whether you prefer to create striped zebra baby blankets or crochet a zebra doll using the magic circle technique, our crochet zebra patterns are just what you need. This list includes some fantastic free crochet amigurumi patterns that you can use to make a rainbow-colored zebra, an adorable panda zebra, and much more.
Tips For Free Amigurumi Zebra Crochet Patterns
Crocheting zebra patterns is not only fun, but it can be a great learning experience for younger children. Crocheting is an activity that can be used to help teach children about colors and patterns.
If you're looking to crochet some simple zebra patterns, here are a few tips:
Color combinations: The best way to start when crocheting your own zebra pattern is to choose two colors. This will make it easier for you to finish the project and make sure that the stripes are evenly spaced out on your project.
Stripes: If you want to ensure that your stripes stay in place when making your own zebra pattern, use stitch markers or safety pins. These items can help hold each stripe in place while you work on other parts of the pattern.
Patterns: Once you have chosen two colors and started working on your own zebra pattern, be sure that each stripe has exactly one row between them. This will help keep the stripes evenly spaced out, so they look like actual zebras instead of polka dots!
Ziggy the Zebra: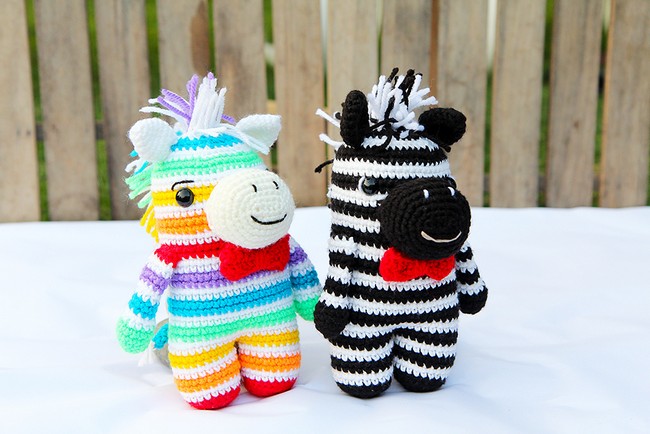 Ready to crochet your own Ziggy the Zebra? This is a pattern for an adorable amigurumi zebra that works up fast; it is a good beginner amigurumi pattern and is so cute! Ziggy has a rainbow counterpart, and they both look great together! Ziggy is a sophisticated crochet animal, perfect for home decor or as a gift. He has a mane and bow tie in bright colors that will light up any room. This free crochet pattern works up fast and looks adorable on the sofa or in your little one's bedroom.
Materials
Yarn: Less than 100 grams of DK yarn in black and white and a small amount of red for the standard Zebra. Less than 100 grams of DK yarn in white and a small amount in red, orange, yellow, green, blue, and purple for the rainbow zebra.
3mm crochet hook
Tapestry needle
Stitch marker
Polyfill stuffing
Two 10 mm safety eyes or you can crochet eyes for children under 3
Embroidery thread in white and pink for standard Zebra and black for rainbow zebra.
Abbreviations
Sl st: slip stitch
SC: single crochet
INV DEC: invisible decrease
INC: two SC in the same stitch
BLO: back loops only
DC: Double crochet
ZeeZee Zebra Amigurumi: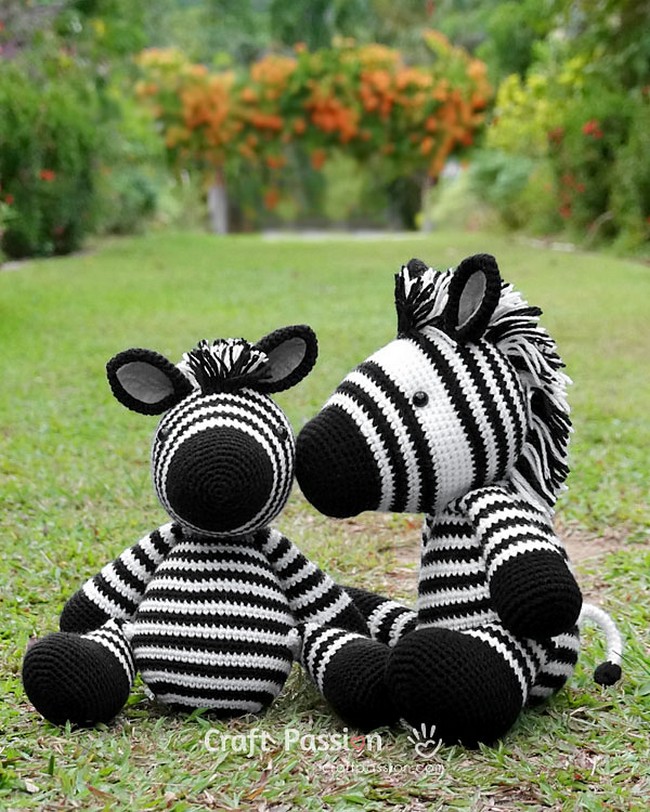 This adorable Crochet ZeeZee Zebra Amigurumi is the perfect toy for your child. It can be cuddled and carried anywhere without making noise or disturbing others. It will bring hours of joy to your child! This offbeat Zee Zee Zebra amigurumi is sure to please any child, young or old. Its black, white, and yellow stripes are inspiringly bold and playful. Made with soft fleece fabric, it makes for a snugly perfect friend to take with you wherever you go!
Materials
2.5mm crochet hook
Fabric Glue
Darning needle
Long Sewing Needle (about 2″) and strong thread (to sew button eyes)
4″ Cardboard (for winding the Yarn for the mane)
Fabric marker (water erasable)
Scissors
Pins
Abbreviations
ch: chain
sc: single crochet
inc: 2sc increase
inv dec: invisible decrease
ps3: puff stitch (hdc3tog)
Small Animal Collection: Zebra: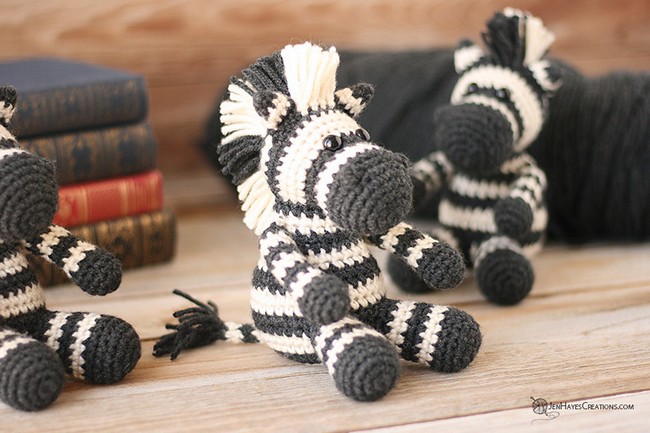 Zebra is an adorable amigurumi crochet animal ideal for kids or collectors. It works quickly in worsted-weight Yarn and is fun to make. The Small Animal Collection is a growing collection of crochet animals designed to be approximately 6 inches tall. Their smaller size makes them quicker to make, ideal for collecting, gift-giving, and sharing! This crochet zebra is part of our Small Animal Collection. It's the perfect gift for anyone who loves to crochet or for those who love animals.
Materials
Crochet Hook, Size E/4 (3.5 mm)
Stitch Marker(s)
Scissors
Stuffing
Tapestry needle
Pins
Safety eyes, 10 mm (optional)
Chopstick, dowel, or something similar to help with stuffing small parts
Yarnspirations Caron One Pound (worsted 4-Medium, 100% acrylic, Approx 812 yds/742 m, 16 oz/453.6 g): Color (A) Dark Grey Mix, used approx. 65 yds, Color (B) Off White, used approx. 40 yds
Abbreviations
bo – bobble (described below under special stitches)
ch – Chain
Rnd(s) – Round(s)
sc – Single crochet
sc2tog – Single crochet 2 stitches together (invisible decrease)
sl st – Slip stitch
st(s) – Stitch(s)
[ ] / ( ) – Work instructions between brackets as many times as directed
magic circle/adjustable ring
Amigurumi Zebra:
Give your child or doll a cuddly zebra friend with this adorable amigurumi crochet pattern. The friendly face and soft mane will bring joy to any recipient. This Zebra is ready to help you take a walk on the wild side! The Zebra has been designed for experienced crochet-ers and can be made in any color. It's a quick and fun project, perfect for adding to your crochet collection. Make this crochet amigurumi zebra and enjoy the fun of making your own toys.
Materials
Size 4 worsted weight yarn (25g of white; 25g of accent color)
3.5 mm crochet hook (These are the hooks I use and love!)
12mm safety eyes
Black crochet/embroidery thread for eyelashes/eyebrows (optional)
Scissors
Tapestry needle (Bent tips work wonders for amigurumi!)
Stuffing
Stitch markers
Sewing Pins (these are super helpful when it comes time for sewing)
Abbreviations
MC- Magic circle
SC- Single crochet
SC INC- Single crochet increase
INV DEC- Invisible decrease
St(s)- Stitch(es)
Crochet Zebra:
Crochet Zebra is a classic crochet pattern designed to be used on anything from scarves to hats or even blankets. It's modern enough to wear as part of your wardrobe and, at the same time, quirky enough for some special occasion accessories. Fun and friendly, you can't help but smile when you look at this unique cuddly toy. He's great for snuggling too! This little guy is a fun and easy crochet project to start learning the blanket stitch. It's a great way to practice making the first step in a new technique or skill using Yarn that has texture.
Materials
White, black and pink crochet cotton or wool, I used 4 ply crochet cotton.
A crochet hook, I used a 1.5mm hook.
Scissors.
Darning needle to weave in ends.
Sewing needle and thread to stitch the Zebra together.
Abbreviations
st – stitch
sts – stitches
ch – chain
sl st – slip stitch
sc – single crochet
hdc – half double crochet
dc – double crochet
tr – treble crochet
Baby Zebra:
A super adorable crochet baby zebra that is perfect for bringing home and adding to your little one's zoo collection! This Crochet Baby Zebra is a perfect gift for any new baby boy or girl. It's also perfect for any newborn photographers working with newborns and babies. The Crochet Baby Zebra is stylish without overbearing; it gives the baby a great black animal feel and looks more like cute plush toys rather than a load of crocheted animals. This baby zebra crochet pattern will make a sweet addition to your animal collection. It's easy to make and fun to play with.
Materials
40g Dk/light worsted yarn in white
30g dk/ light worsted yarn black I used Patons fab dk in black denim from LoveCrafts
2mm hook
8mm Safety eyes or black Yarn for sewn on eyes
Polyester toy stuffing
Needle
Abbreviations
sc=single crochet (double crochet UK)
inc=increase by crocheting two in the next stitch
dec=decrease by crocheting the next two stitches together
ch=chain
blo=back loop only
Slst-slip stitch
Zebra C2C Square: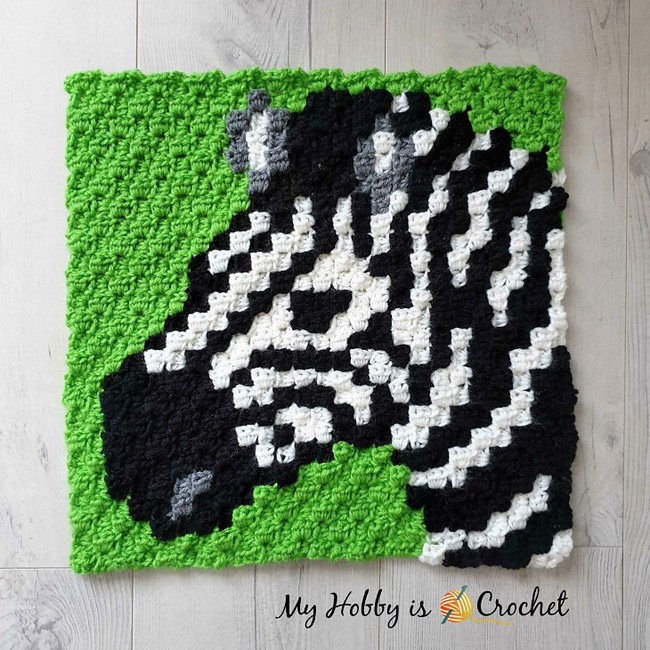 This Crochet Zebra C2C Square is fun to make and easy enough for beginners. You can create one of these zebra crochet squares in just a few hours or whip up an entire afghan using this pattern. Make this Crochet Zebra C2C Square with a free written pattern and chart. A quick and easy project to make and gives off a playful vibe that looks great on any wall or table. The outcome is a stunning geometric afghan that would look fantastic in any child's bedroom and add a contemporary feel to your home décor.
Materials
Yarn: Red Heart Super Saver ( yarn weight: Medium 4) in 4 colors:
Spring Green for the background approx. 120.84 yds (110.5 m)
Black approx. 125.21 yds (114.5 m)
Soft White approx. 84.75 yds (77.5m)
Grey Heather approx. 10.93 yds (10 m)
5.5 mm crochet hook (I have used Furls Wooden Hook, Cocobolo)
Tapestry needle
Scissors
Abbreviations
– RS: right side
– WS: wrong side
Zebra Unicorn: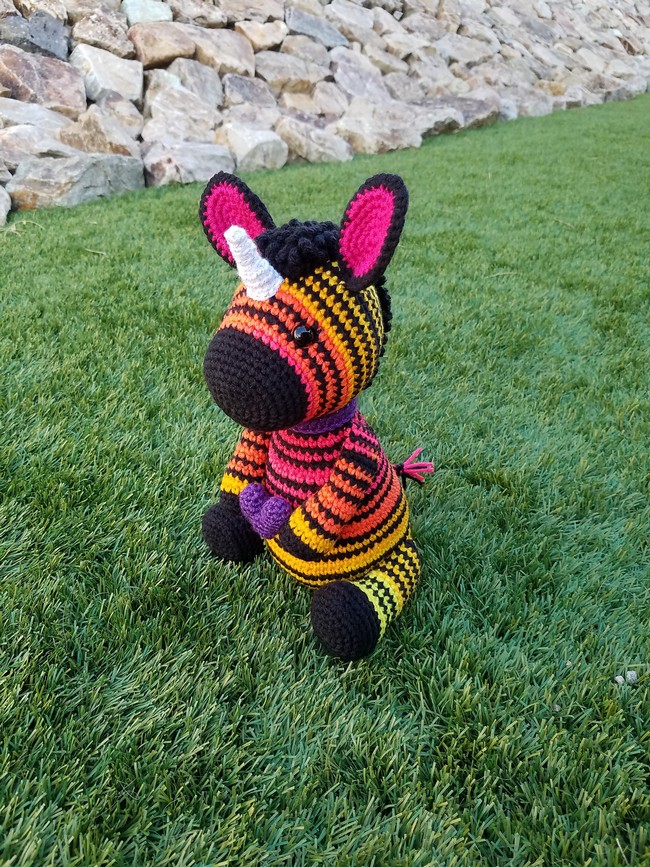 This super soft crocheted zebra unicorn will make any child happy. It is great for a present, Christmas gift, or just decoration in your home. This crochet zebra unicorn is the perfect gift for any child who loves zebra print. The unicorn is created using a beautiful, soft pink yarn that is machine washable and suitable for children's toys. It will keep them entertained for hours as it walks around on their hind legs or stands upright.
Materials
DK Weight or Worsted Weight Yarn: Black & White
(Optional: Grey for Horn & 1 Of Your Choice for Collar)
Optional: Black Eyelash Yarn (ie. Lionbrand Fun Fur)
Crochet Hook: B (2.25 mm) for DK Yarn and G (4.0 mm) for Worsted Yarn
Scissors
Tapestry Needle
Fiberfill
9mm-15mm Safety Eyes (Size is up to you, I used 9mm for DK Weight Yarn and 15mm for Worsted)
Abbreviations
MC = magic circle
ch = chain
st = stitch
sc = single crochet
inc = increase (2 sc in 1 stitch)
invisdec = invisible decrease
blsc = back loop single crochet
sl st = slip stitch
hdc = half double crochet
Optional: lpst = loop stitch (worked in single crochets)
Zebra Pocket Pillow:
The Crochet Zebra Pocket Pillow is a fun addition to your bed. This item can be used to decorate your room or add some decoration. This crochet zebra pillow will add a wild vibe to your room. The little pocket is the perfect place to stash your phone and keys while reading or watching TV. It is a great gift idea for kids and adults. It is made of colorful 100% cotton filling, adding a cheerful atmosphere to your room. Perfect as a throw pillow or decorative accent on your bed, sofa, or chair!
Materials
Red Heart Super Saver yarn (100% acrylic, 7 oz/198 g/364 yd/333 m) – 1 skein each in 311 White (CA) and 312 Black (CB), or approximately 228 yd (208.5 m) in CA and 300 yd (274 m) in CB in any medium weight yarn.
US Size F-5/3.75 mm crochet hook, or size needed to obtain gauge.
Fairfield Poly-Fil Crafter's Choice Dry Polyester Fiber Fill, 20 ounce bag.
15 mm black safety eyes – 1 pair.
13 mm heart craft nose in pink – 1 piece.Yarn needle.
Clover Quick Locking Stitch Marker Set, or 8-12 locking stitch markers.
Abbreviations
CA – Color A
CB – Color B
ch – chain
pm – place stitch marker
Rnd(s) – Rounds
sc  – single crochet
sl st – slip stitch
st(s) – stitch(es)
yo  – yarn over
* Repeat instructions after asterisk as indicated.
[] Repeat instructions between brackets as indicated.
Zane the Zebra: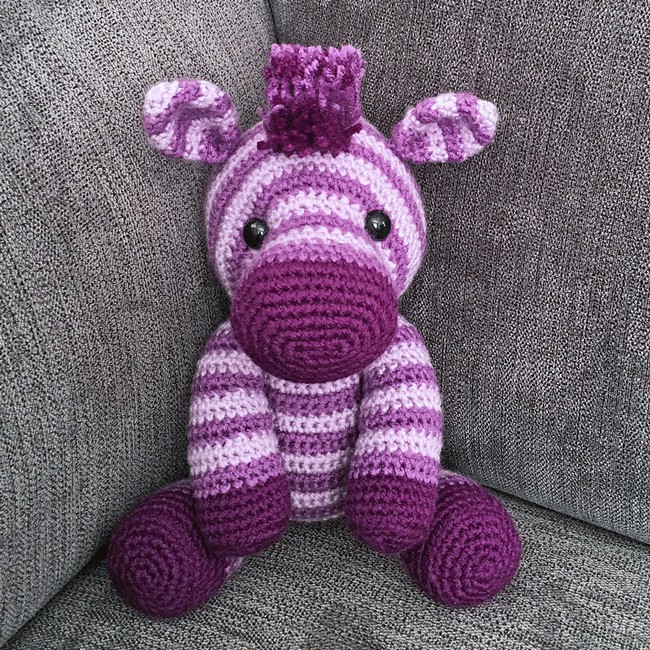 Crochet Zane the Zebra is the perfect plush toy for kids. This Zebra makes an adorable cuddle partner with his soft body and classic color scheme. A wonderful gift for any child! The Zebra is soft and very huggable. This makes a great gift for kids of all ages. This adorable Zebra is made with soft cotton yarn and stuffed with polyfill to help make him extra huggable. As he's worked, you'll be enchanted by the bright colors in his striped pelt.
Materials
3.5mm (E) hook

15mm safety eyes

 

(buy here)

Yarn needle

Fiber fill

Disappearing ink marker
Abbreviations
ch: chain
sc: single crochet
inc: 2sc increase
BLO: back loop only
dec: invisible decrease
The Friendly Zebra: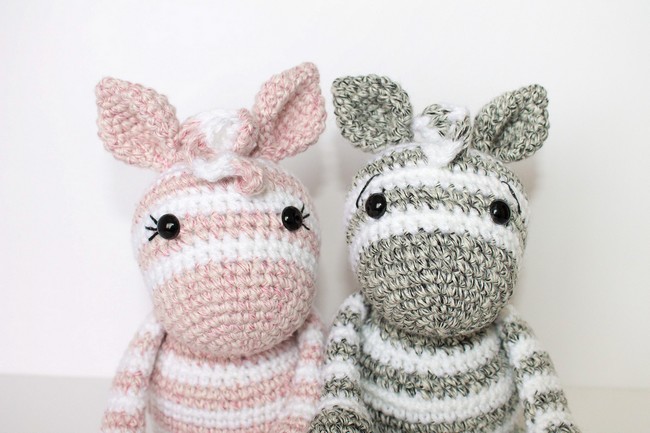 Who doesn't love Zebra? With their adorable stripes and great personalities, they are one of my favorite amigurumi patterns! This adorable little amigurumi Zebra is so cute and super simple to crochet. If you love this free crochet pattern and want, even more, you can get the collection with 25 animals here. His cuddly companion is easy enough for a beginner but will challenge more experienced crocheters too. The pattern includes instructions for multiple sizes and two different styles of ears.
Materials
About 50g each of Size 4 Worsted weight yarn in white and your chosen accent color. I used Yarn Bee's Denim in Color in pink and black, and I love this Yarn in White.
12mm safety eyes (there is a reason I recommend these… they are high quality and I have NEVER had a problem.)
Stuffing
E hook (3.25)
H hook (5.0)
Needle for sewing
Stitch marker
Abbreviations
SC- single crochet
SC INC- single crochet increase (2 SC in each stitch)
INV
DEC- Invisible decrease (put hook through the FRONT LOOP ONLY of two
consecutive stitches [two loops on hook] Yarn over pull through both
loops. [two loops on hook] Yarn over pull through two loops)
Magic Circle-
Make a loop, leaving a long tail to work with. Insert hook in center of
loop, Yarn over and draw up a loop. Yarn over, pull through to make the
first chain (this does not count as a stitch!). Continue to crochet
over the loop and tail with the number of stitches called for. (If you
need 6 SC, then crochet 6 SC inside the ring.) Pull the tail to close
the circle.
Christmas Zebra:
A fun, easy pattern for a super cute and cuddly crocheted zebra plushie that will delight young and older alike. Crochet Christmas Zebra will become a favorite decoration and gift for many years. It is a fun & easy craft project for beginners or experienced crocheters. Add a touch of whimsy to your Christmas decor with this crochet zebra. Completely handmade, the Zebra is easy to make and features an adorable personality. It is the perfect holiday accessory for your home and makes a thoughtful gift for your favorite cat or zoo lover.
Materials
Less than 1 skein of white Yarn (I used I Love This Yarn! Metallic in Ivory)
Less than 1 skein of red Yarn (I used Yarn Bee Fetching in Ruby)
Less than 1 skein of green Yarn (I used Yarn Bee Fetching in Emeraux)
Size F (3.75mm) crochet hook 

(Note: If you crochet loosely, you may want to go down a size to keep the stitches tight)

Tapestry needle
Fiberfill stuffing
10 mm safety eyes (2)
Optional: Stitch marker
Abbreviations
st(s) = stitch(es)
ch = chain
ss = slip stitch
sc = single crochet
inc = sc increase (work 2 sc in the same st)
dec = sc decrease (I prefer to use the invisible decrease stitch)
sc3tog = decrease across 3 sc
Zaza the Zebra: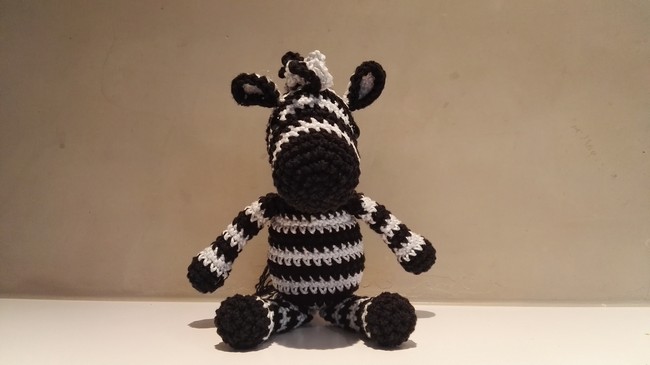 Crochet this cute little Zebra for your next baby shower! This crochet amigurumi is easy to make, but it looks like you worked hard. Zaza the Zebra is a fun, fast project to crochet. This little Zebra makes an excellent baby shower gift or first toy for your little one! Make one for your own collection! Crochet your own little Zebra in animal-friendly Yarn and reusable felt. This cute little model is perfect for a small crochet project but can be turned into a large soft toy to join a herd of other animals for relaxation or play. Make it yourself, or give it as a gift!
Materials
For Zaza I used cotton yarn, with a matching 3mm crochet hook. It is of course possible to make Zaza with different Yarn, as long as you use a matching hook.
You will also need:
– safety eyes (I used 8mm, feel free to use another size);
– some fiberfill;
– a darling needle.
Abbreviations
– sc – single crochet
– hdc – half double crochet
– inc – increase (2 single crochet in 1 stitch)
– dec – decrease (crochet 2 stitches together)
– MR – magic ring
– sl st – slip stitch
Little Bigfoot Zebra:
This is the perfect pattern for a beginner crocheter looking to make their first toy. Crochet with simple stitches in bold tones and produce an adorable, whimsical creation with this little pattern. From the creators of Little Bigfoot comes a new friend, the Zebra! This colorful two-legged creature is friendly, cuddly, and unlike any stuffed animal you've seen. Made with special allergen-free materials and lots of love, this unique stuffed animal features an easy-to-clean internal liner that allows it to be machine-washed.
Materials
– Black and white yarn;
– Black felt or Safety eyes;
– White felt;
– Hairbrush;
– Fiberfill;
– 4mm or 3.75mm crochet hook;
– Tapestry needle;
– Contact glue (it is only necessary if you are going to made the eyes using felt);
Abbreviations
st = stitch
sc = single crochet
2tog = 2 stitches together
ch1 = chain one
sl st = slip stitch
Zebra Baby:
These crochet Zebra babies are so adorable! They make great newborn props and are perfect for your little one or as a gift. The pattern is simple and uses easy stitches that beginners should be able to pick up quickly. Grab this free crochet pattern today for the next baby shower you attend. It looks adorable in polka dots or stripes and even comes with its own bow. This pattern can be customized in any number of colors and easily adapted to make a zebra girl instead by skipping the ruffled pink brim (and bow). The perfect newborn prop to add some fun to your photos!
Materials
Yarn: Medium, Weight 4; Black, White and Pink. Sample is made with Vanna's Choice (Black, White and Pink Poodle)
Hook: K (6.50mm)
Tapestry Needle, Scissors and Measuring Tape
Abbreviations
St/Sts: Stitch(es)
Sl St: Slip Stitch
Ch: Chain
Sc: Single Crochet
Hdc: Half Double Crochet
Dc: Double Crochet