20 Crochet Headband Patterns For Beginners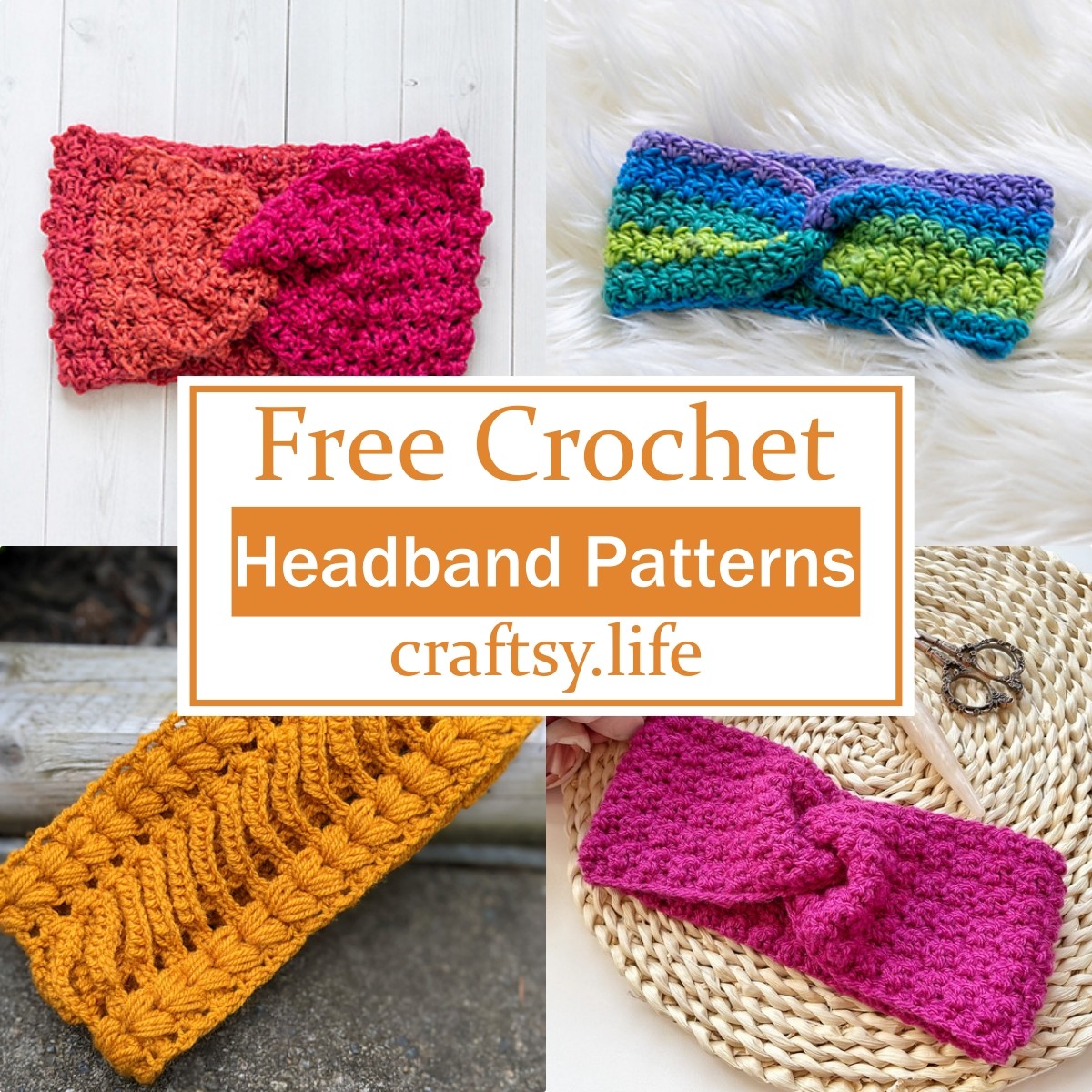 Crochet headbands are a quick, fun, and easy way to jazz up your wardrobe. They can be worn for many different occasions, whether for a casual day out with friends or a wedding or special event. Crocheted headbands are perfect for keeping hair out of your face while working on a project. They look great in any color and can be worn in almost any outfit. Here are some free Crochet Headband Patterns that you might want to try! They are also a great way to use scrap yarn and quickly work up.
Crochet Headband Patterns Free

These amazing headband patterns are so cute you'll want to make them all! Give your little girl the perfect summer accessory, or make one yourself. They can be worn around the neck or on your head, making great gifts for friends and family. The best thing about crochet headbands is that they're easy to make and take only a few hours to complete. The following crochet headband patterns have some pretty exciting styles that you can try out. These unique headband projects have instructions for everything from beginner to advanced skill levels.
Crochet Headband Patterns
Headbands are a fun way to add style to your hair. Crocheting them is easy and can be done in just a few hours. If you want to make a headband, here are the supplies you'll need:
Crochet yarn (look for a soft, thin yarn)
Crochet hook (size depends on the pattern)
Scissors
Tapestry needle
Crochet Lace Ear Warmer Pattern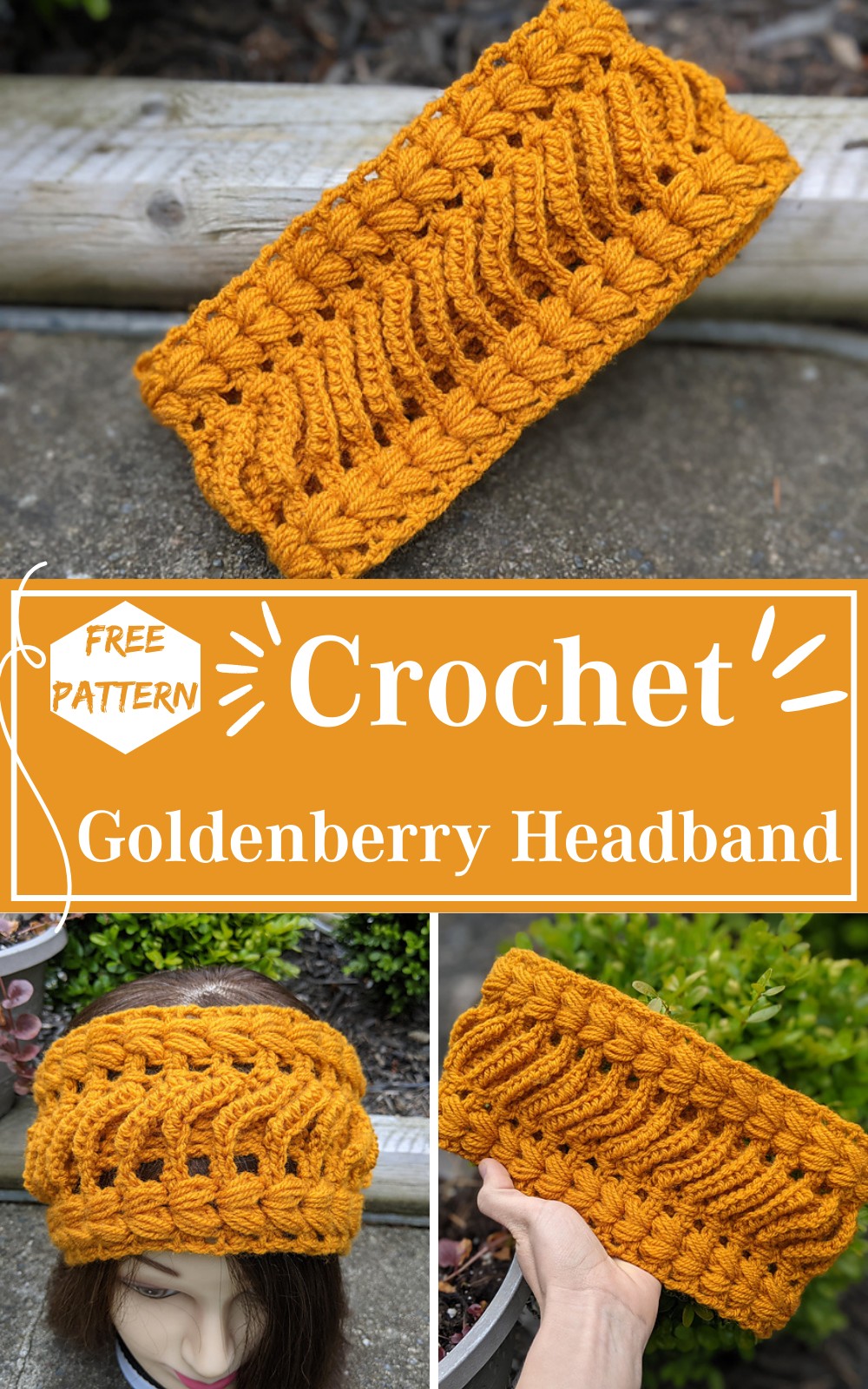 With its slip-and-puff stitches and easy customization, this crochet headband is a great project for beginners. It's an ideal accessory for a warm summer day, or pair it with cute dress at Christmas. The instructions are easy to follow and written in lovely pattern stitch that never needs to be turned.
Aurora Headband Earwarmer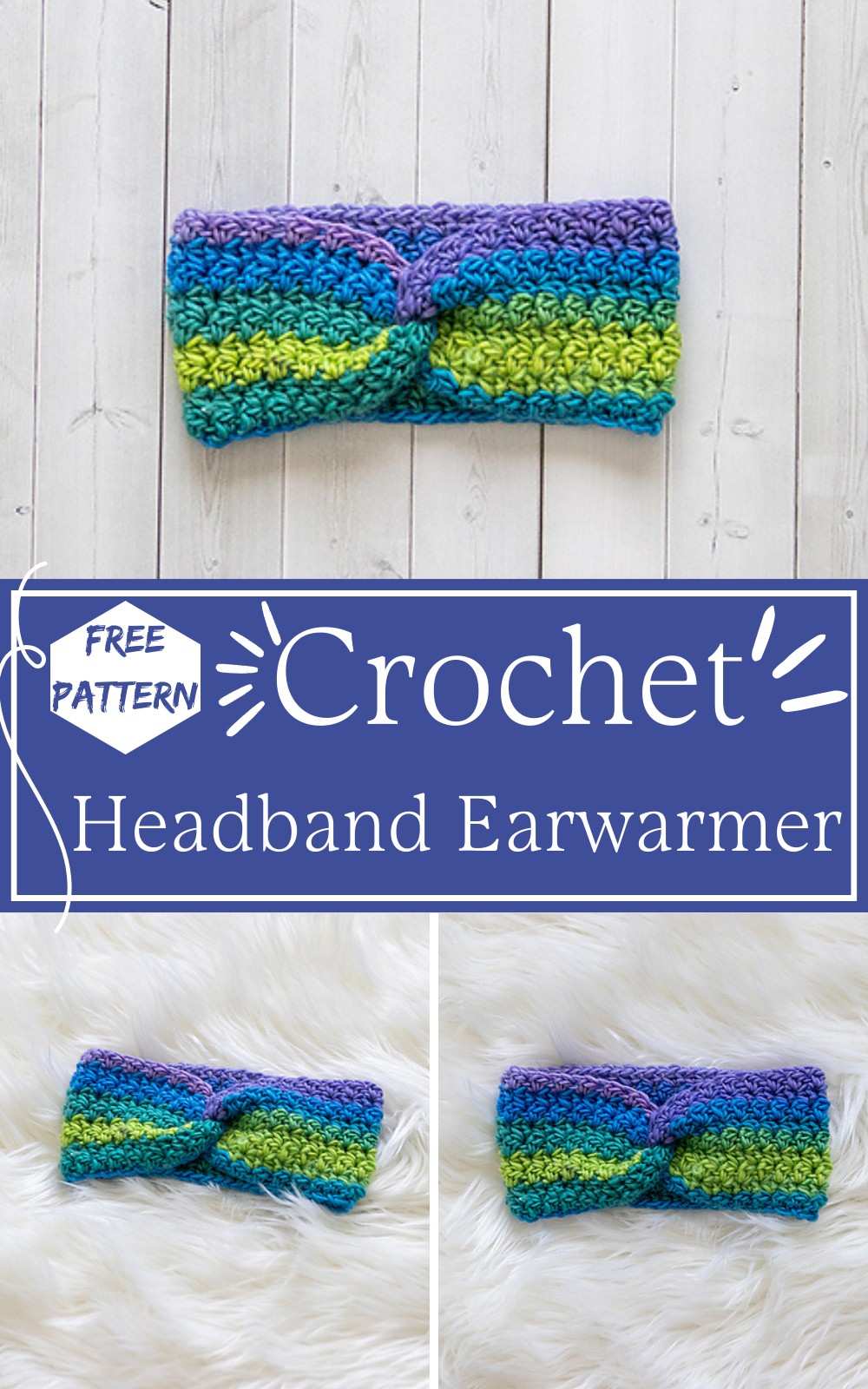 This intermediate-level crochet headband pattern features beautiful color-stripes making an awesome piece for winter to cover your ears smoothly. The Aurora Headband combines crochet stitches, simple crochet, and double crochet stitches, along with unique details like the eyelets for additional texture and a simple 5-row repeat for the color patterns.
Cable Headband
Made with a beautiful twisted layer, the Aurora Headband is designed to keep you warm while looking good at the same time. Featuring a large button and cable pattern, this headband is easy to wear and paired with any outfit. This crochet headband pattern is made with worsted weight yarn and an H crochet hook. The crochet cable headband worked in the round!
Braided Ear Warmer Headband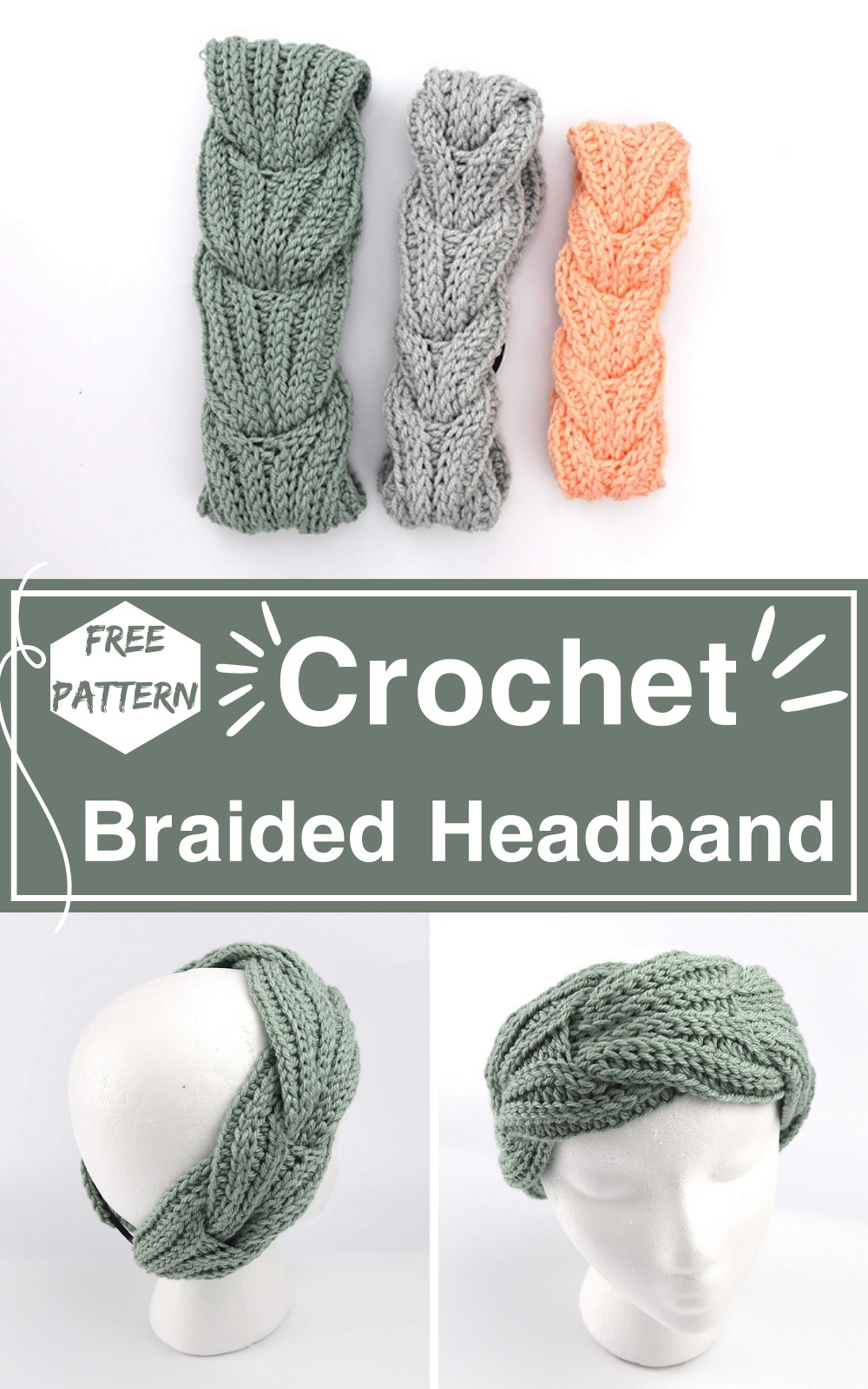 This crochet headband pattern is made with unique ribbing techniques for braided texture. It's quick and easy to make, perfect for last-minute gifts, especially during the cold winter. The contrast of colors and textures will give you a different look each time you wear it. This headband is the perfect accessory to keep you warm, whether going out for a snow ride or taking a walk on a crisp fall day.
Crochet Prismatic Headband Earwarmer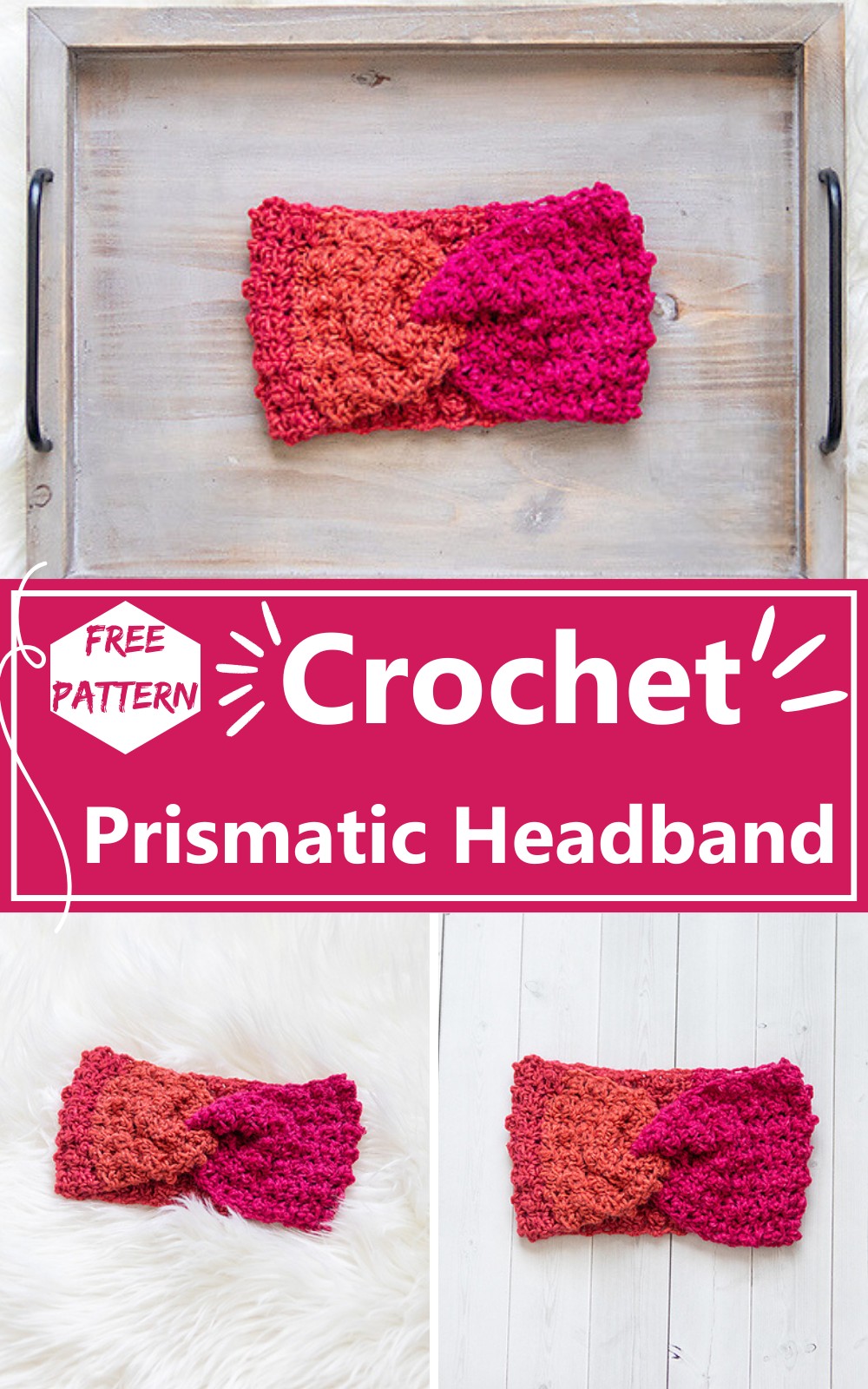 This classic winter accessory is for a wide range of ages! This pattern comes in six different sizes: children to adults. Its soft and beautiful texture is perfect to wear during chilly mornings, running, or while enjoying a winter walk. The design features a simple yet stunning stitch pattern worked flat and seamed at the ends to create the headband/ear warmer.
Skinny Picot Headband: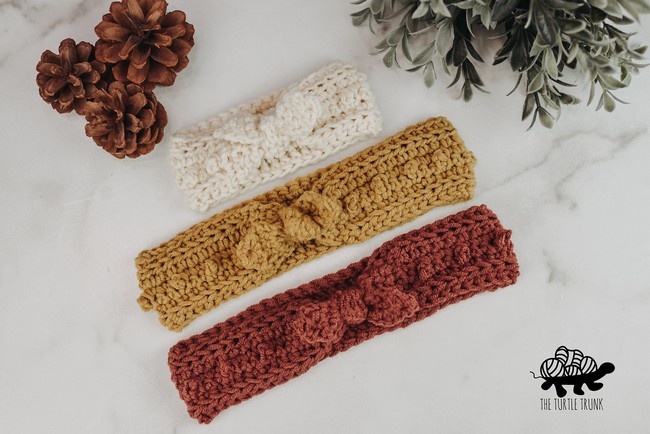 This Skinny Picot Headband is perfect if you want an elegant and fashionable crochet headband pattern. The skinny picot edge of this stylish crochet headband also gives it an extra unique look. If you don't want to use all the yarn, you can also make a shorter version – adjust the number of chains you begin with. This makes a simple, sophisticated style that looks great on everyone!
Materials
Medium (4) Weight Yarn (I used Lion Bran Yarn Color Theory)

            Baby: approx. 30 yards
            Child: approx. 35 yards
            Adult: approx. 40 yards

5.50 mm (I) crochet hook
Yarn Needle
Scissors
Abbreviations
ST(s) – Stitch(es)
CH – Chain
FHDC – Foundation Half Double Crochet
SC – Single Crochet
SC BLO – Single Crochet Back Loop Only
SC2TOG – Single Crochet Two Together
HDC – Half Double Crochet
PSC – Picot Single Crochet
Crochet Glow-in-the-dark Headband:
This pattern is ideal for those who want to crochet a headband. It's easy enough to make and super quick too. You'll be able to customize the length and width of your Headband as per your preferences. This glow-in-the-dark Headband is perfect all year long! It's great for workouts or to add something fun to your outfit.
Materials
– 1 ball Lion Brand DIY Glow (Weight 4/medium, 65m/71yd, 50g/1.75oz)
or 50 grams of similar yarn
– Crochet hook 9mm (US N/13)
You can also use an 8mm or 10mm hook if you don't have a 9mm hook.
– Tapestry needle
– Scissors
Abbreviations
– ch: chain
– st: stitch
– sl st: slip stitch
– sl st blo: slip stitch worked in the back loop only
* repeat what is between the asterisks as many times as directed
Twisted Tulip Ear Warmer Headband :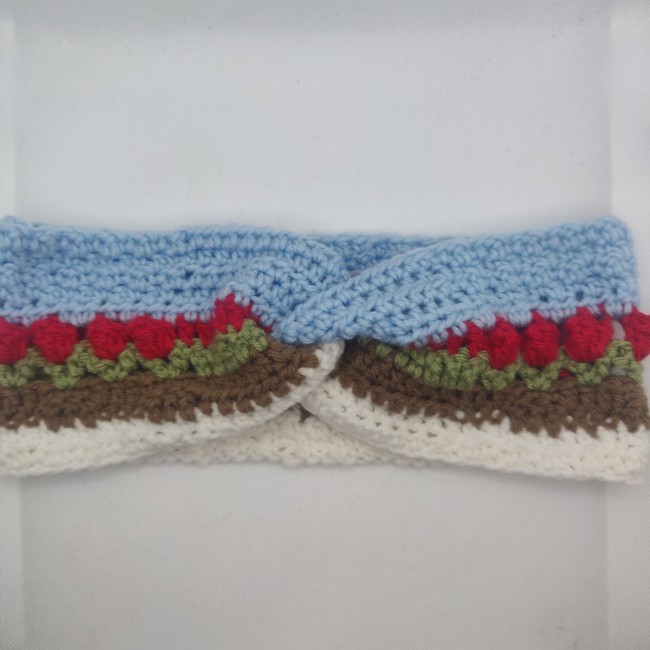 If you love to crochet, this Headband is the perfect thing for you to make! It's fashionable, great for keeping your ears warm, and, best of all, Moms will love it to keep their little one's ears warm, too! This is a fun and easy crochet project you'll love making for anyone on your gift list! It works up quickly and can be made to fit any size head. And it makes the perfect accent for any outfit!
Materials
Medium/worsted weight yarn
White
Brown
Green
Flower Colour of your choice
Light Blue
5mm hook
Scissors
Tapestry needle
Abbreviations
Ch – Chain
DC – Double Crochet
5-DC-PC – 5 Double Crochet Popcorn Stitch
EDC – Extended Double Crochet
EDC-Ch1-EDC – In the same stitch: Extended Double Crochet- Chain 1- Extended Double Crochet
ESC – Extended Single Crochet
FCh – Foundation Chain
HDC – Half Double Crochet
SC – Single Crochet
Sk – Skip stitch
StSC – Stacked Single Crochet
Knotty Headband: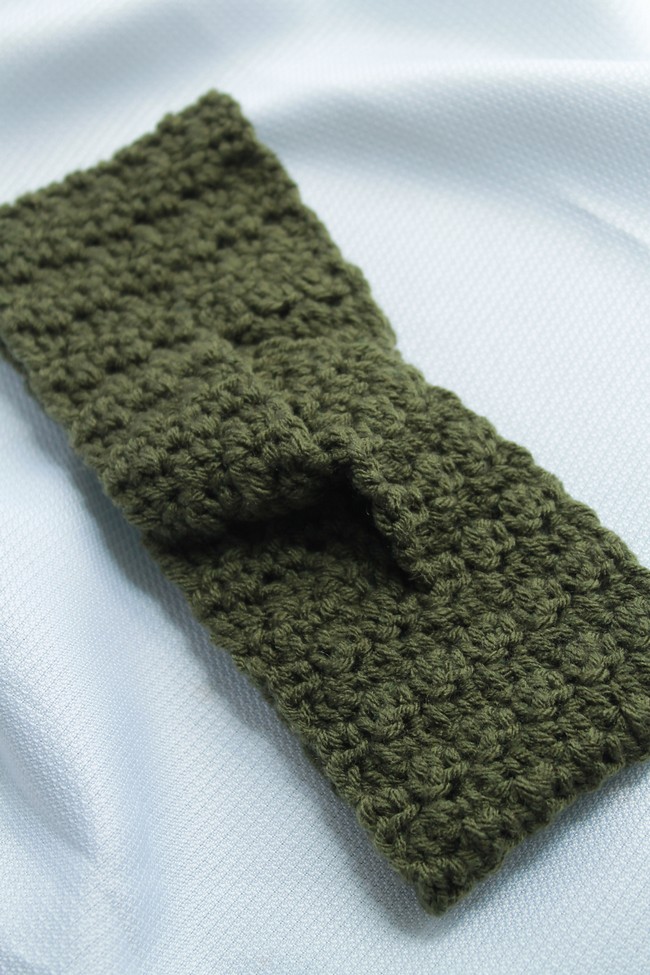 This unique crochet headband pattern features a knotty design with a simple slip stitch. It can be easily embellished to make it your own! The Knotty Headband is a fun and easy crochet headband to make. To keep the look simple, the pattern includes written instructions only, with illustrations to help you along the way. Learn how to crochet the Knotty Headband. This unique, stylish Headband is perfect for those cold winter months.
Materials
Yarn: Medium (4) Weight Yarn: Sample headband was made with Soft and sleek Low-Pill Fiber (Approx.80 yards for adult size)
4mm crochet hook
Stitch marker
Tapestry needle
Scissors
Tape measure
Abbreviations
bl: back loop
ch(s): chain(s)
dc: double crochet
sc(s): single crochet(s)
slst: slip stitch
st(s): stitch(es)
Easy to make Headband: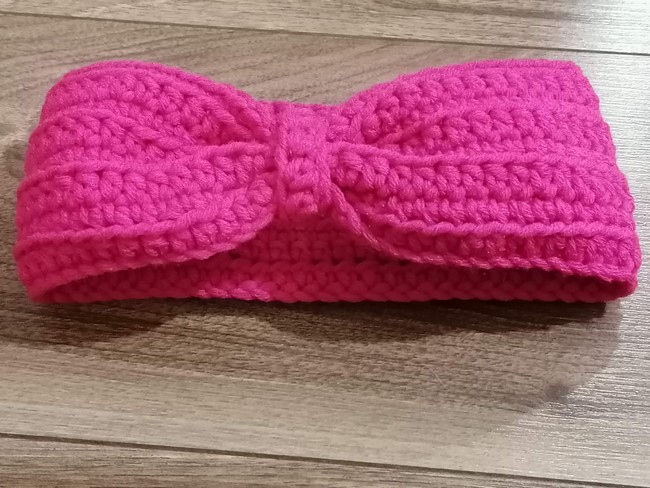 A crochet headband is a quick and easy crochet project to make for yourself or as a handmade gift! It's also one of the best handmade gifts for girls of all ages, including babies, toddlers, and teenagers. The pattern comes in different sizes (child/adult), and this is an effortless accessory you can make in just over an hour. Works up quickly to get out of your way in a pinch when you need it
Materials
Crochet hook I 5.5 mm
Lion Brand Wool Spun or any bulky yarn (5).
Yarn needle (tapestry needle)
Scissors
Measuring tape
Abbreviations
sc =single crochet
hdc =half double crochet
sl st = slip stitch
ch =chain
rep = repeat
st = stitch
bl = back loop
Crochet Cozy Ribbed Headband: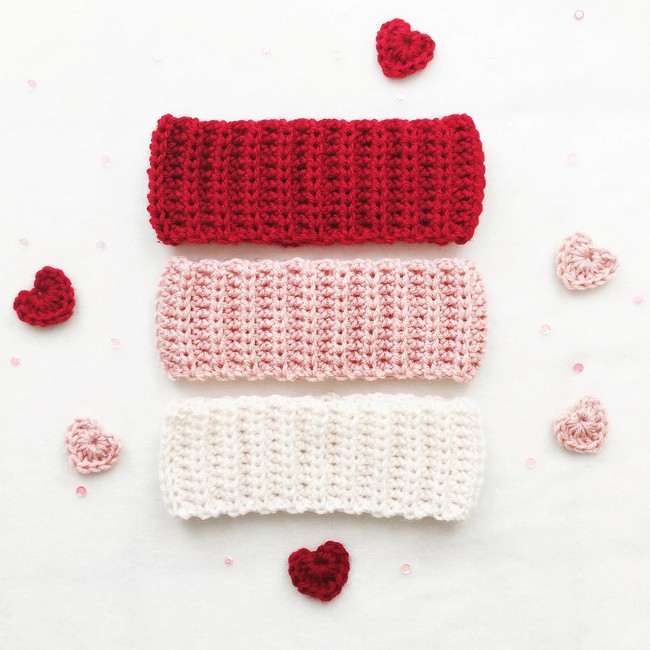 This cozy ribbed headband pattern is sweet, stretchy, and ready to keep you warm! The pattern can be made in any size to fit your head. This easy crochet project works quickly and will become a favorite winter accessory. This pattern is easy enough for beginners and fun enough for more seasoned crocheters. Perfect as a Christmas gift for someone special or to treat yourself!
Materials
CROCHET HOOK: 6.5mm – US K
YARN: Worsted weight yarn.
Recommended: Vanna's Choice by Lion Brand – about 42 yds
OTHER: Yarn needle, scissors

FOR POM-POMS (OPTIONAL):

pom-pom maker (2.5″), yarn scraps
3 D Heart Stitch Headband: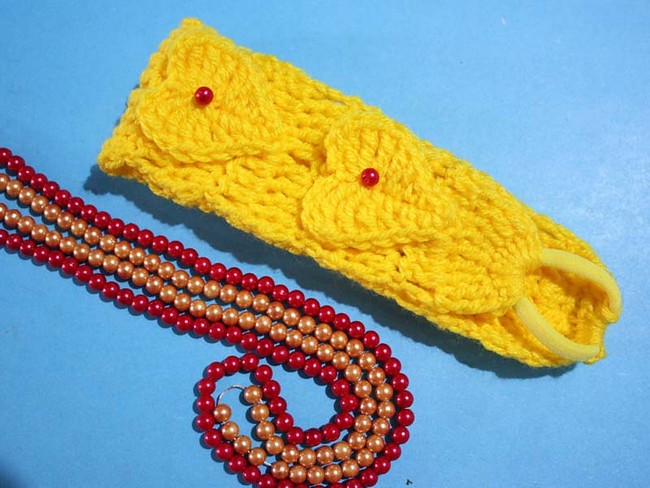 Crochet an adorable 3 D Heart Stitch Headband. This pattern is straightforward to follow, with instructions for how to make the Headband. The heart-shaped stitches are so cute, and this will undoubtedly be your favorite crochet headband pattern. This easy step-by-step tutorial will show you how to make a 3 D Heart Stitch Headband! One size fits all toddler to adult.
Materials
wool: DK Weight Acrylic 4 ply yarn (4dc X 2 Rows = 1 inch)
Crochet hook size 4mm (G)
Elastic Band
Pearls
Size: The kid's Small size
Gauge:  4 dc x 2 rows = 1 inch
Pattern for gauge: 
4 double crochet x 2 Rounds = 1 inch
3 D Heart Stitch
Abbreviations
Ch   chains
st     stitch
Sc    single crochet
Hdc  half double crochet
Dc    double crochet
trb    treble crochet
Sts    Stitches
Sl st   slip stitch
Love Life Headbands: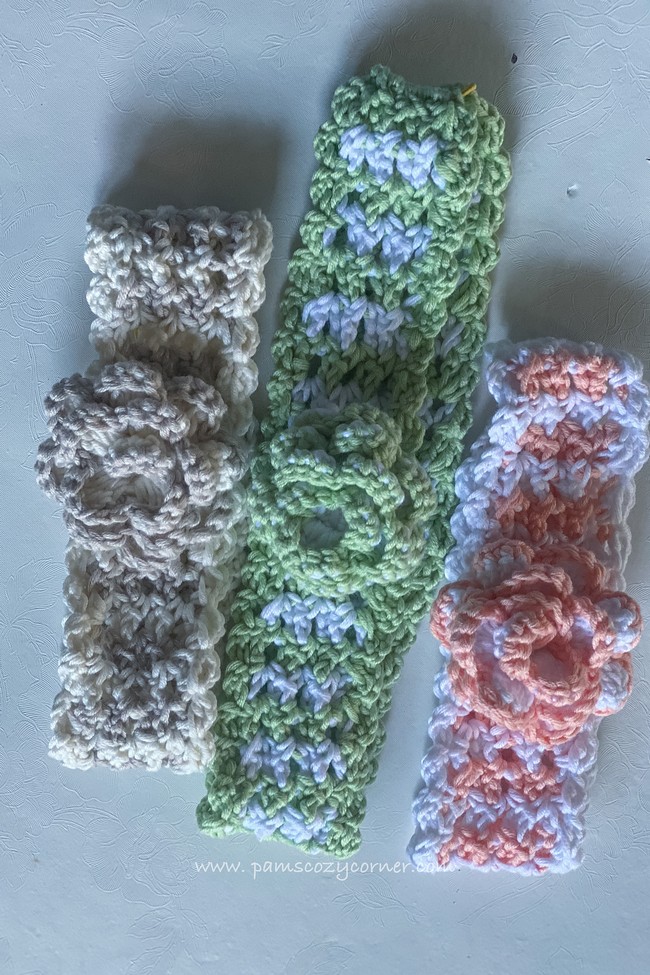 Love Life Headbands are a fun, fashionable accessory for women and girls! Made from crochet thread and topped with a colorful pom-pom, this Headband is great for casual wear or running errands. The possibilities are endless, as you can create many colors and styles to match any outfit. This simple and quick project is perfect for beginners or as a unique last-minute gift for someone special.
Materials
Bernat Baby Softee Cotton 60% Cotton, 40% Acrylic, 254 yds (232 m), 4.2 oz (120g) weight 3 in:
Feather Gray and Cotton
Clear White and Blush
Clear White and Periwinkle
Clear White and Jade Frost
Hook Size 4 mm (G).
Tapestry Needle
Tape Measure
Scissors
Hair Tie
Abbreviations
Ch(s) – chain(s)
St(s) – stitch(es)
Sc – single crochet
Dc – double crochet
Rep – repeat
Sk – skip
Sl st – slip stitch
Summer Leaves Headband: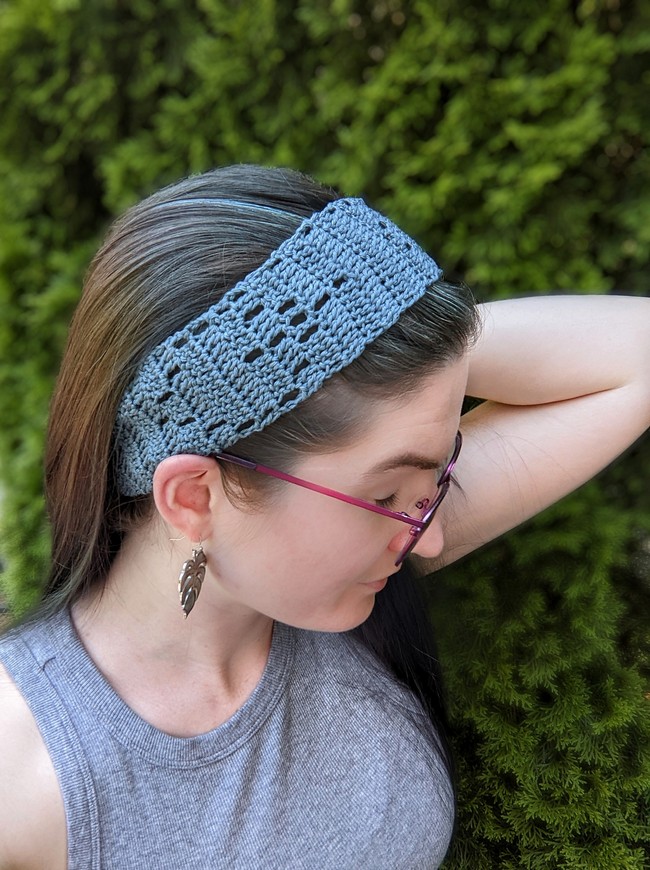 This Headband is a perfect crochet pattern for women. This pattern is so easy to crochet; you will be amazed at how great it looks finished. If you have never tried crochet before, this would be a great project to start learning on. It's super easy and only requires one skein of yarn! Make this easy flower crochet pattern and make several for summer!
Materials
Weight 3 or smaller yarn – I used Patons Grace (100% mercerized cotton) in Citadel blue.
2.5 mm crochet hook (again, see notes below)
Snips
Tapestry needle
Abbreviations
ch – chain

dc – double crochet
st – stitch
SK – skip
sp – space
Seaside Hair Trio: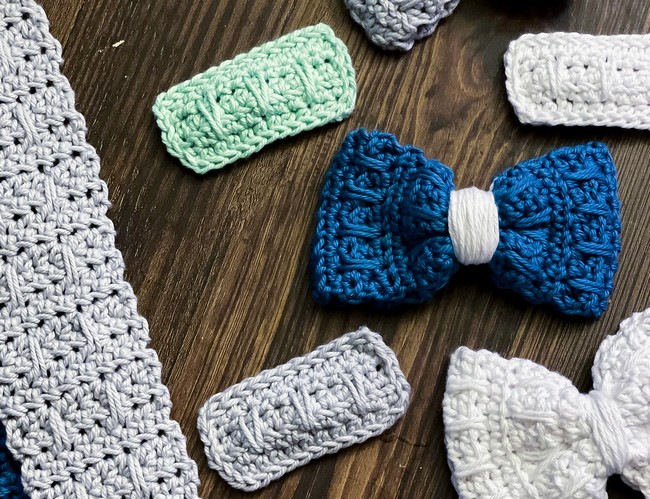 Sail away with this seaside-inspired crochet headband. This is perfect for any beach babe, whether you're spending time in a tropical resort or watching the sea from your balcony on a nice day. This is an easy-to-make Headband for a gift or a unique accessory for a nice party or night out! This beautiful crochet headband pattern collection makes it easy to create the perfect seaside hair trio.
Materials
Supreme Cotton by Universal Yarn (Clip – 11 yards, Bow – 38 yards, Headband – 68 yards)
Worsted Weight
4mm (G) + 5mm (H) Hook or hook that meets gauge (Tulip Hook is my current favorite, and I'm obsessed with this full set.)
Tapestry Needle for seaming and weaving in ends
Barrettes – 2 inch
Aleene's 33260 Ultimate Multi-Surface Adhesive, 1.5 oz.(for adhering bow/clip to a barrette, or you can sew them to clips instead)
Abbreviations
r – row
ch(s) – chain(s)
sc- single crochet
hdc – half double crochet
st(s) – stitch(es)
Twisted Bobble Headband Ear Warmer: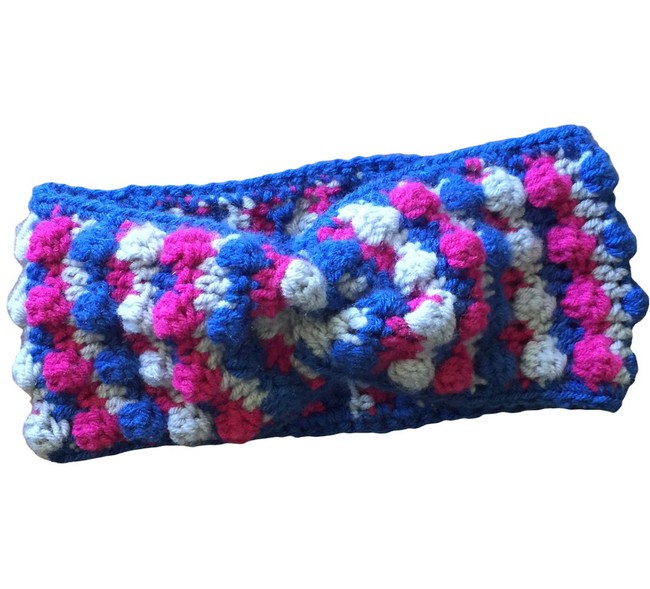 Bring some whimsy to your wardrobe by adding an adorable ear warmer. The classic bobble stitch combined with a double crochet stitch gives this yarn headband a beautifully textured look while keeping your ears warm. The crochet texture makes this a fun and quick project for an afternoon or evening. It makes a perfect crochet gift for anyone and is stylish enough to be worn daily. This pattern is easy to follow and works quickly.
Materials
Premier Just Yarn/Light Grey Acrylic Worsted Weight #4 (Scraps)
(1/8 Ball)
Premier Just Yarn/Royal Blue Acrylic Worsted Weight #4 (Scraps)
(1/8 Ball)
Premier Just Yarn/Magenta Acrylic Worsted Weight #4 (Scraps)
(1/8 Ball)
Crochet Hook 5.5 (I)
Tapestry Needle
Abbreviations
FO = fasten off
bbl = Bobble
ch = Chain
dc = double crochet
hdc = half double crochet
rep = repeat
sc = single crochet
st = stitch
sts = stitches
tog = together
yo = yarn over
Twisted Lines Headband: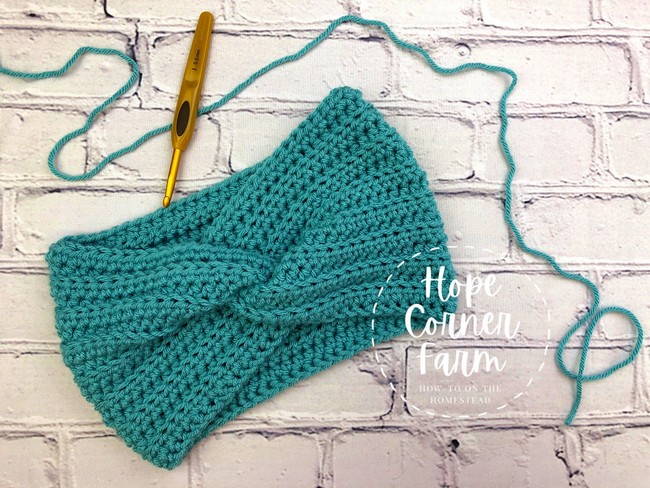 The Twisted Lines Crochet Headband Pattern is an easy crochet pattern that can be worn as a headband, hair tie, or bracelet. The zigzag lines are created in the front and back post stitches to create this beautiful stretchy garment that can adjust to fit almost any size head! This is made with Medium-weight yarn, so it makes a great last-minute gift for anyone in your life who loves crochet!
Materials
I (5.5mm) Crochet Hook
Medium-weight yarn (I used Hobby Lobby's I Love This Yarn)
Scissors
Yarn needle
Tape measure (for checking dimensions)
Abbreviations
Foundation Single Crochet (FSC)
Chain (Ch)
Single Crochet (SC)
Half-Double Crochet (HDC)
Back Loop Half-Double Crochet (BLHDC)
Crochet Classic Baby Girl Bow Headband: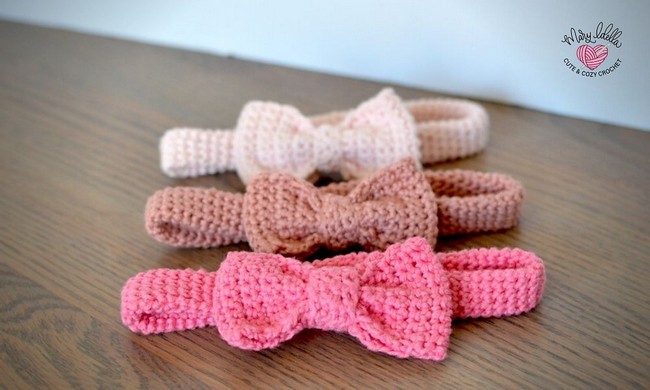 Crochet a Classic Baby Girl Bow Headband in your favorite color with this easy step-by-step tutorial. This simple-to-follow beginner-friendly pattern does a perfect first project for beginners. Work up this cute bow headband in under an hour; the perfect way to turn your everyday style into something special! It's easy to make, and once you start, you can whip up a bunch of these adorable headbands in no time!
Materials
Lightweight cotton yarn in my favorite color (I used both Paintbox Cotton DK and Lion Brand Coboo)
3.75 mm (F) crochet hook ( I LOVE these Hooks!)
⅜ inch (9mm) braided elastic (see sizes for measurements)
A small amount of thread
Yarn needle
Sewing needle
Measuring tape or ruler
Abbreviations
ch – chain
sc – single crochet
sc dec – single crochet decrease
sl st – slip stitch
st(s) – stitch(es)
f/o – finish off
The Amina Earwarmer Pattern: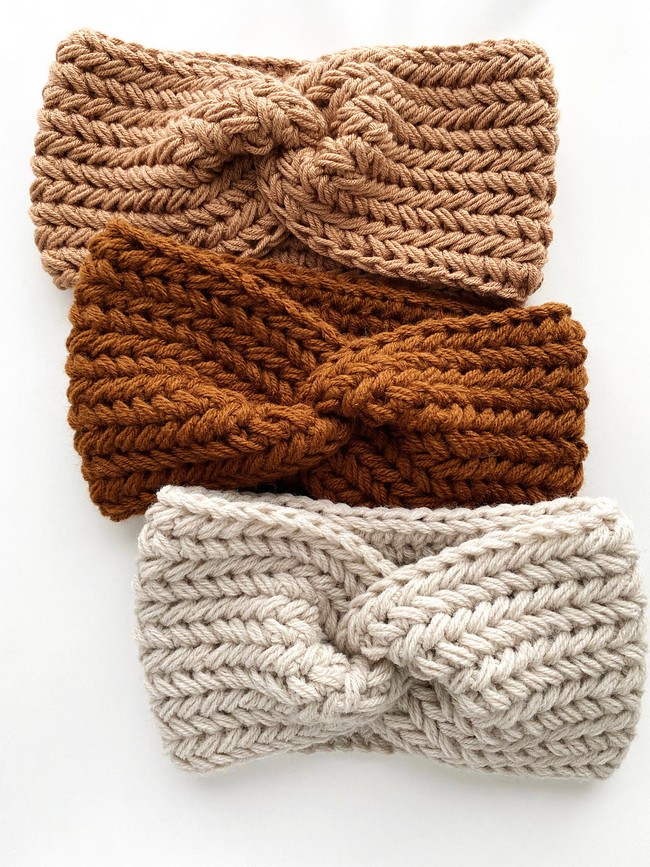 The Amina Earwarmer is a seamless design that knits up quickly and easily. The ribbed pattern makes it very soft on the ears and adds a bit of stretch, so one size fits most. This ear warmer is an excellent accessory for any woman. It's a straightforward crochet pattern, so it's perfect for beginners! Make your own in various colors, or make a nice gift for your friends and family.
Materials
worsted weight yarn (held double)
6.5 mm crochet hook
scissors
tapestry needle
Crochet Helma Twisted Headband: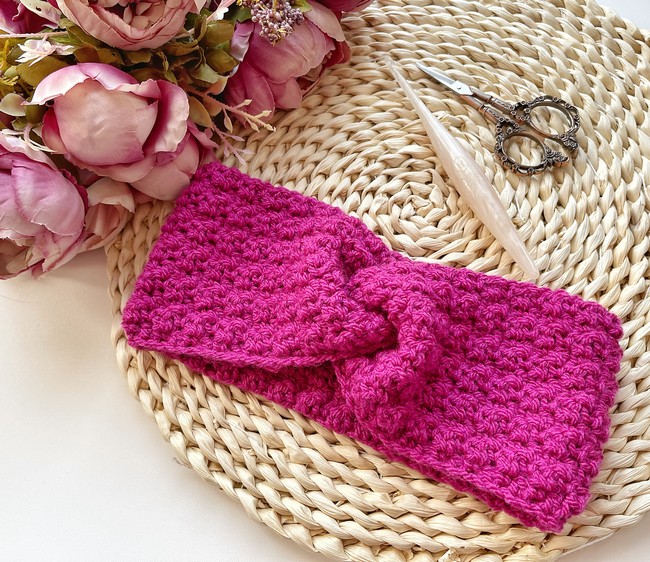 This crochet headband pattern is quick and easy to make, with a comfortable fit that compliments your hairstyle. Wear it to warm your ears or add a flare to your look. This Headband uses less than half yarn skein to make for yourself and friends! This is a great pattern to make your Headband; instructions are given on how to make this Headband, with instructions on how to make it all in one piece.
Materials
5 mm (H) size hook (I used Cream Streamline by Furls)
40 grams, 80 yards/74 meters of Aran/Worsted weight yarn (I used Paintbox Yarns Simply Aran in Raspberry Pink shade)
Yarn needle for weaving in ends
Scissors
Stitch markers (optional)
Abbreviations
CH = chain
ST = stitch
SC = single crochet
DC = double crochet
[ ] = used to repeat a longer set of instructions between these brackets, the number of times given