These crochet blanket patterns are one of the most versatile items you can make. They can be made in any stitch pattern, yarn weight, and size, including tiny baby blankets. All crochet blankets will keep you and your loved ones cozy, making you feel good both as you craft them and use them. In addition, many people prefer to use all-natural fibers rather than acrylic, which means that a crochet blanket will keep you warm even if it doesn't have a heating element.
Our given Crochet blankets can make wonderful gifts. They can be made in any size, using any stitch pattern, so you can make something perfect for whomever you are giving it to. Crocheting a blanket creates something beautiful and practical at the same time! There are so many crochet blanket patterns to choose from you'll be able to make something for everyone. The possibilities are endless, and the results are always beloved items that will last for years. Start planning your next one now!
Crochet Blanket Patterns

These crochet blanket patterns make lovely gifts for baby showers and weddings and a practical bed-warming accessory for adults. This collection contains patterns for blankets in any stitch pattern you like, in any yarn weight you prefer, and in any size, you will need—even tiny baby blankets. Though small in size, most of these designs conjure up images of comfort, coziness, and warmth. So, without wasting time, put your hand on this series and follow making them.
Sunny Comfort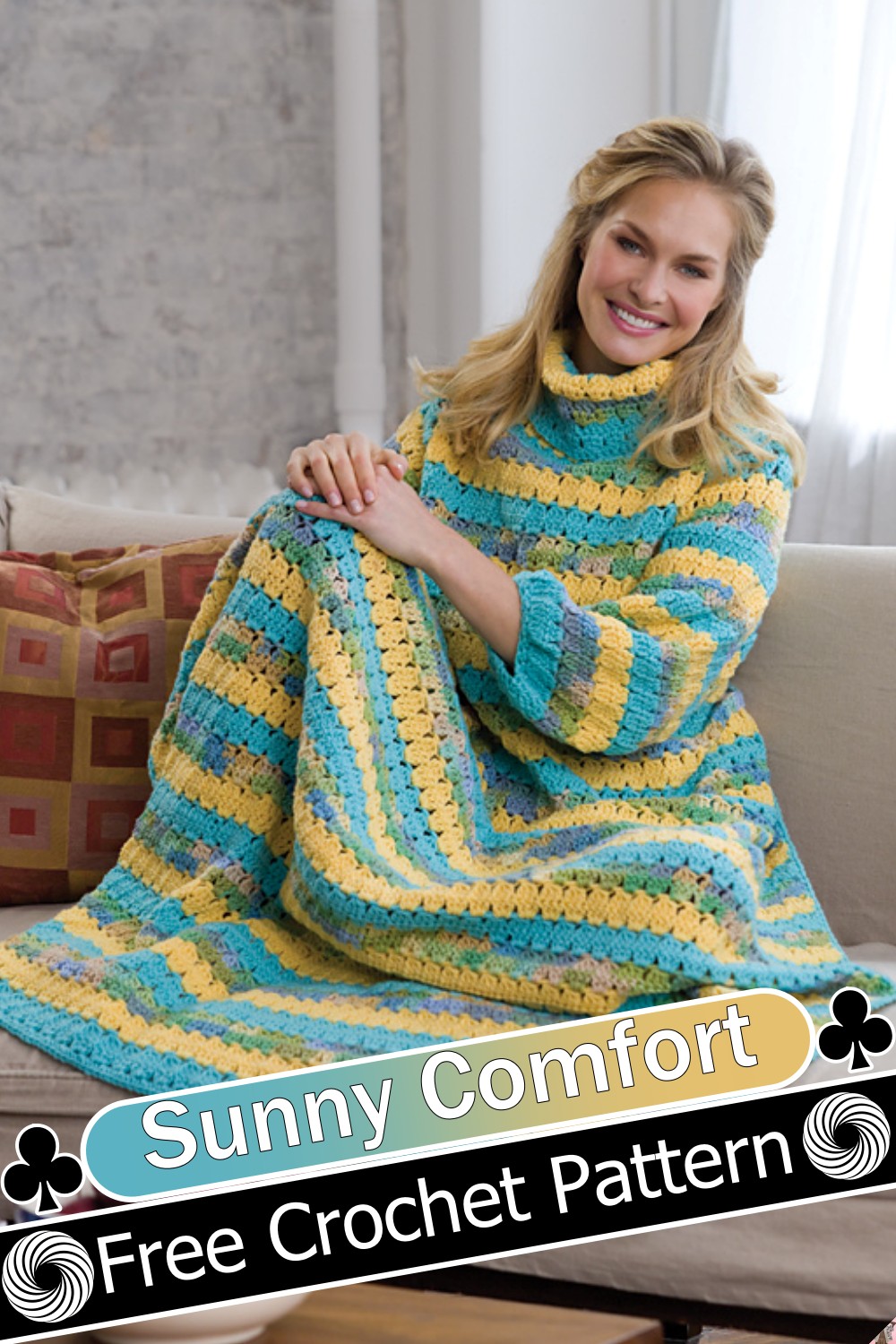 This super admirable and unique crochet Sunny Comfort blanket pattern is one of the most fascinating blanket patterns. It contributes to your blanket collection that you can always take pride in. The reason for it is its impressive look and wonderful texture. With crochet Sunny Comfort you can enjoy the beauty of comfort, warmth, and luxury.  It is an attractive blanket with a very nice surface that invites you to dive into the softness on a cold day.  The Sunny Comfort blanket pattern is easy to follow and can be made by everyone regardless of their skill level.
Turtle Pillow Cover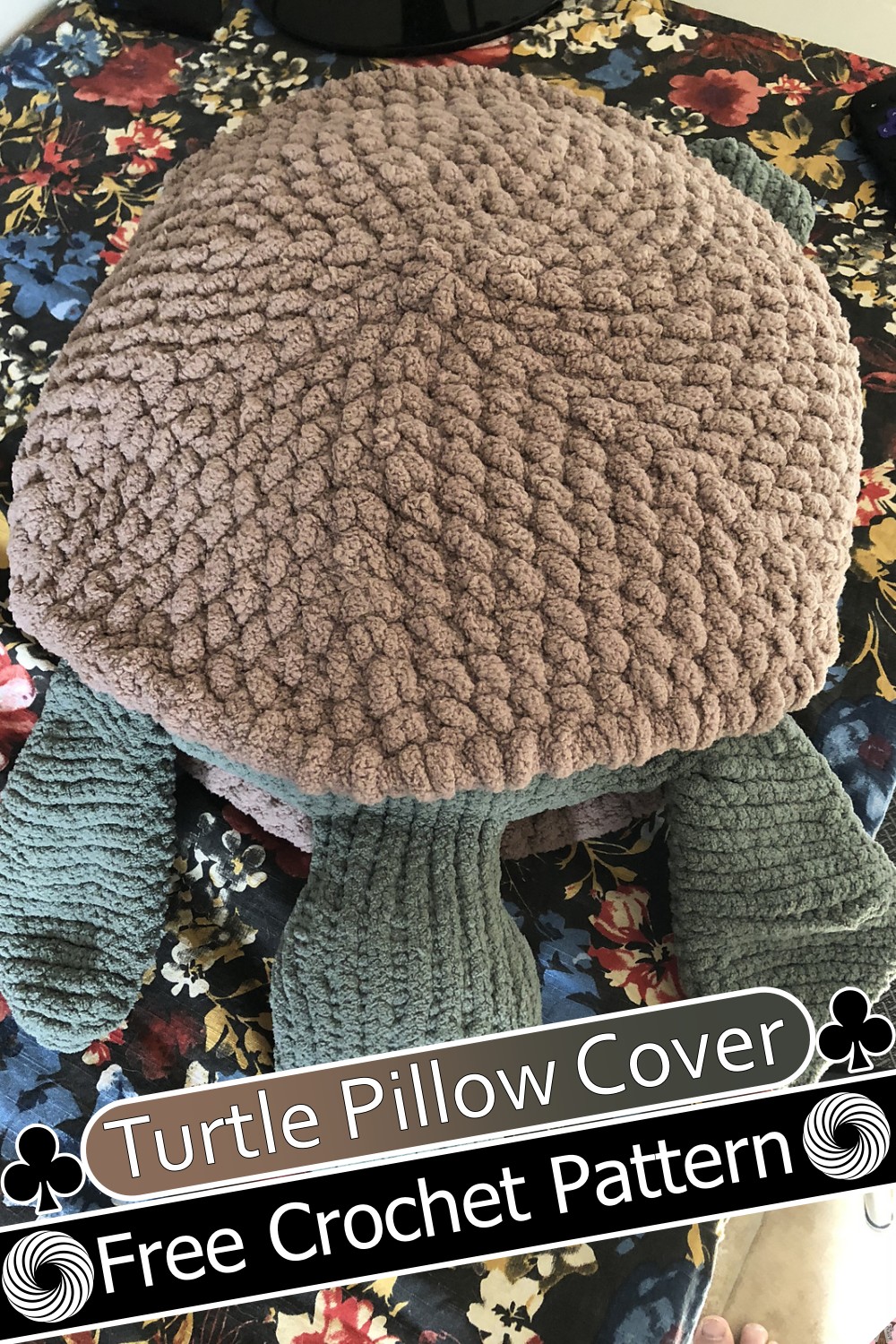 This turtle pillow cover is the perfect way to keep little ones cozy and protect the beautiful pillows that grace your living room sofa. Crochet in Bernat Blanket yarn, the body of this lovable turtle is soft and cozy, with a removable shell that lets you wash it in the washing machine. The shell is crocheted with Bernat Blanket Extra yarn - two skeins are required, one in each color. The shell is removable so that you can wash your pillow cover just like you would a blanket. This pattern is easy to follow, with pictures included for everything you need to know, including tacking down loose ends and closing up your turtle.
Picot Blanket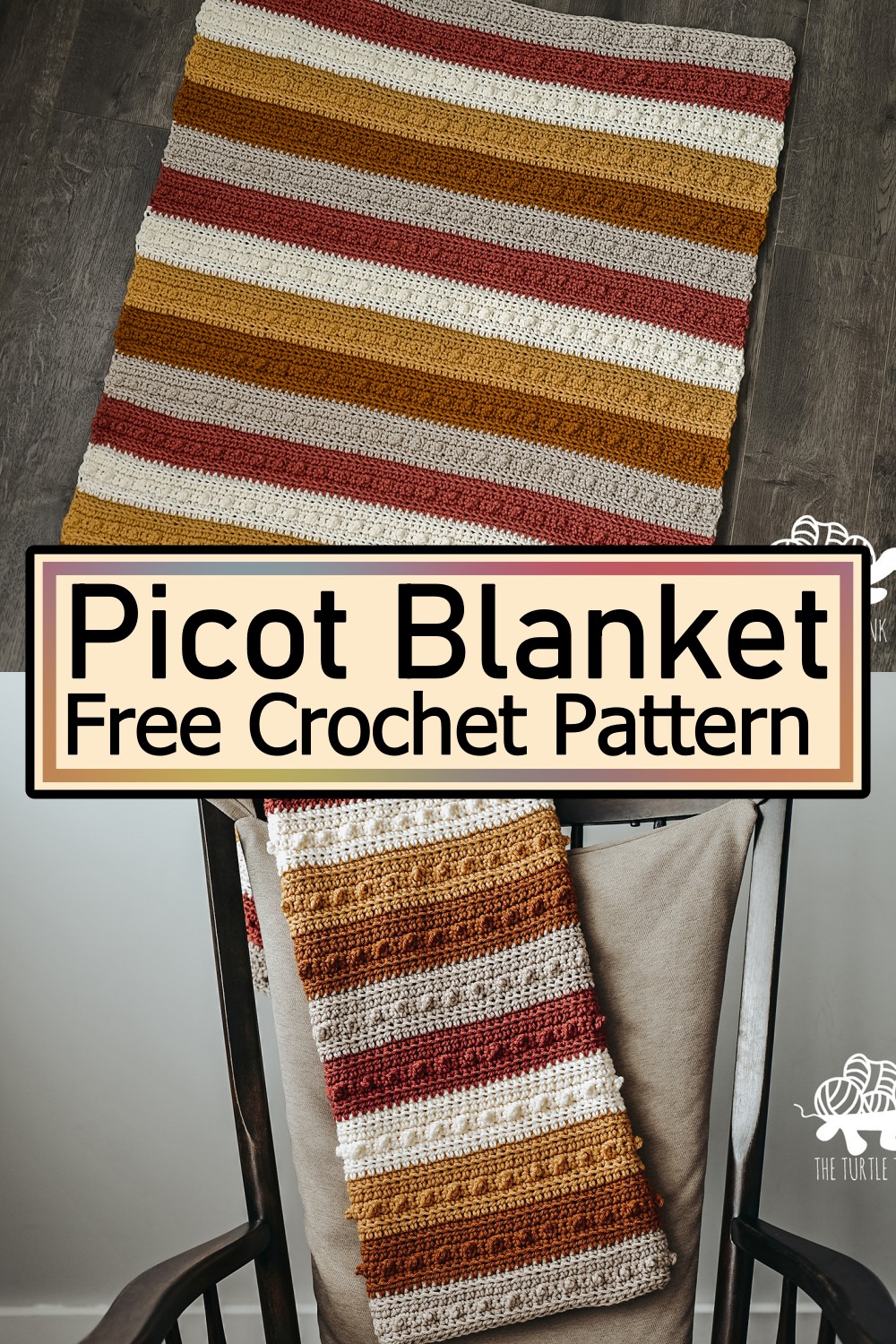 This amazing blanket is the ultimate in cozy comfort, with a modern and stylish look. It is made with super soft yarn but has a design that will keep your interest with its varied textures. This blanket features a simple six-row repeat that can be customized to any size you choose! It is crocheted using very simple stitches and wonderful lace patterns. The Picot Blanket is perfect for using up your stash yarn, or if you're new to crochet, this does a great first project. You can use any type of yarn or fiber with this pattern, as long as it has similar yardage (or length).
Bebe Baby Blanket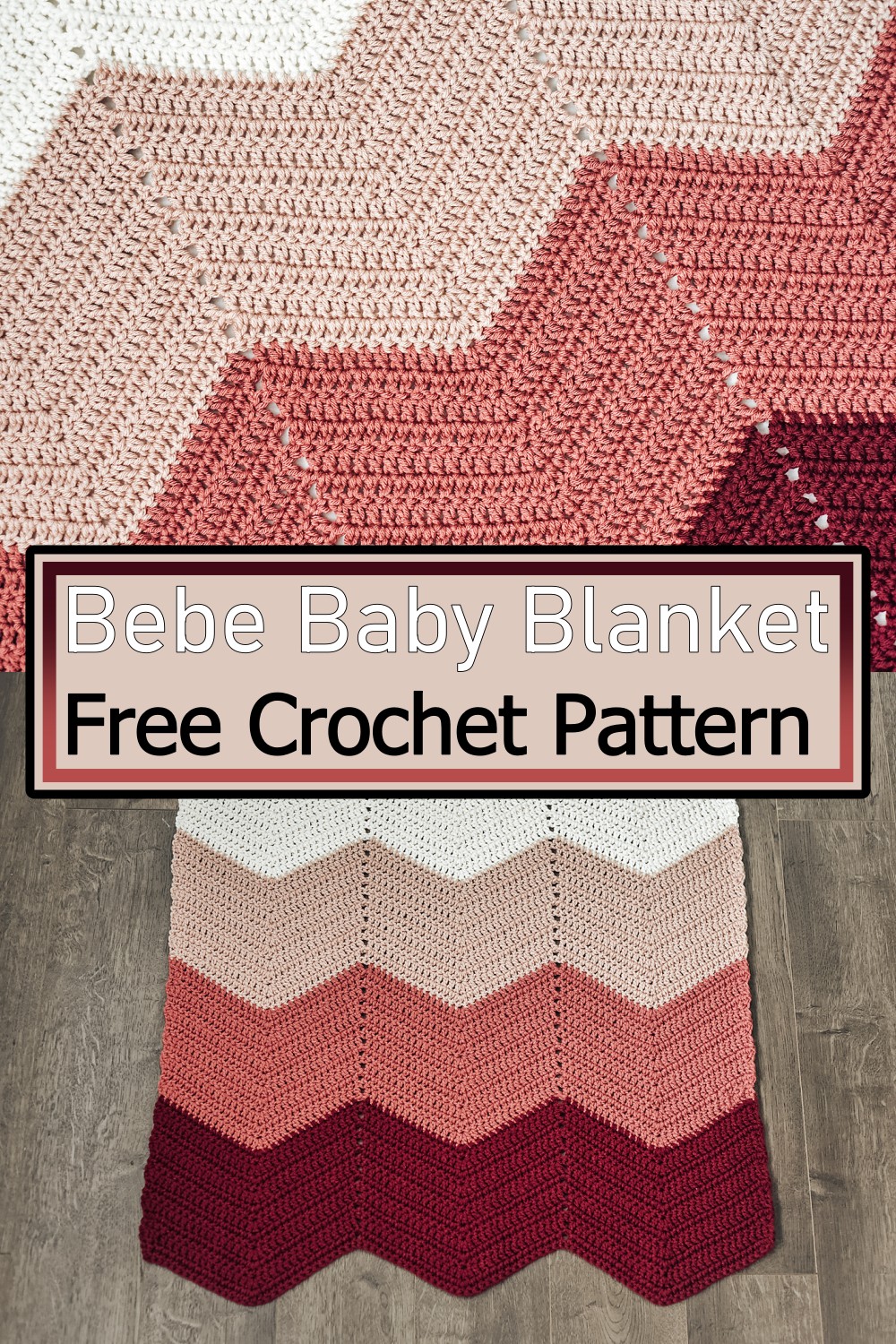 Simple but magnificent, this is the best crochet Bebe Baby Blanket pattern you could ever get. It'sIt's a cozy blanket to wrap up your baby and keep them comfortable in any season! This attractive crochet Bebe Baby Blanket pattern will be an important addition to your wardrobe or a perfect gift for your loved ones. Any embroidery lovers will find this pattern very useful and easy to remember. You can use this as an heirloom in your baby'sbaby's wardrobe. The blanket is lightweight and soft, suitable for all seasons, including fall, spring & winter.
Ocean Granny Square Afghan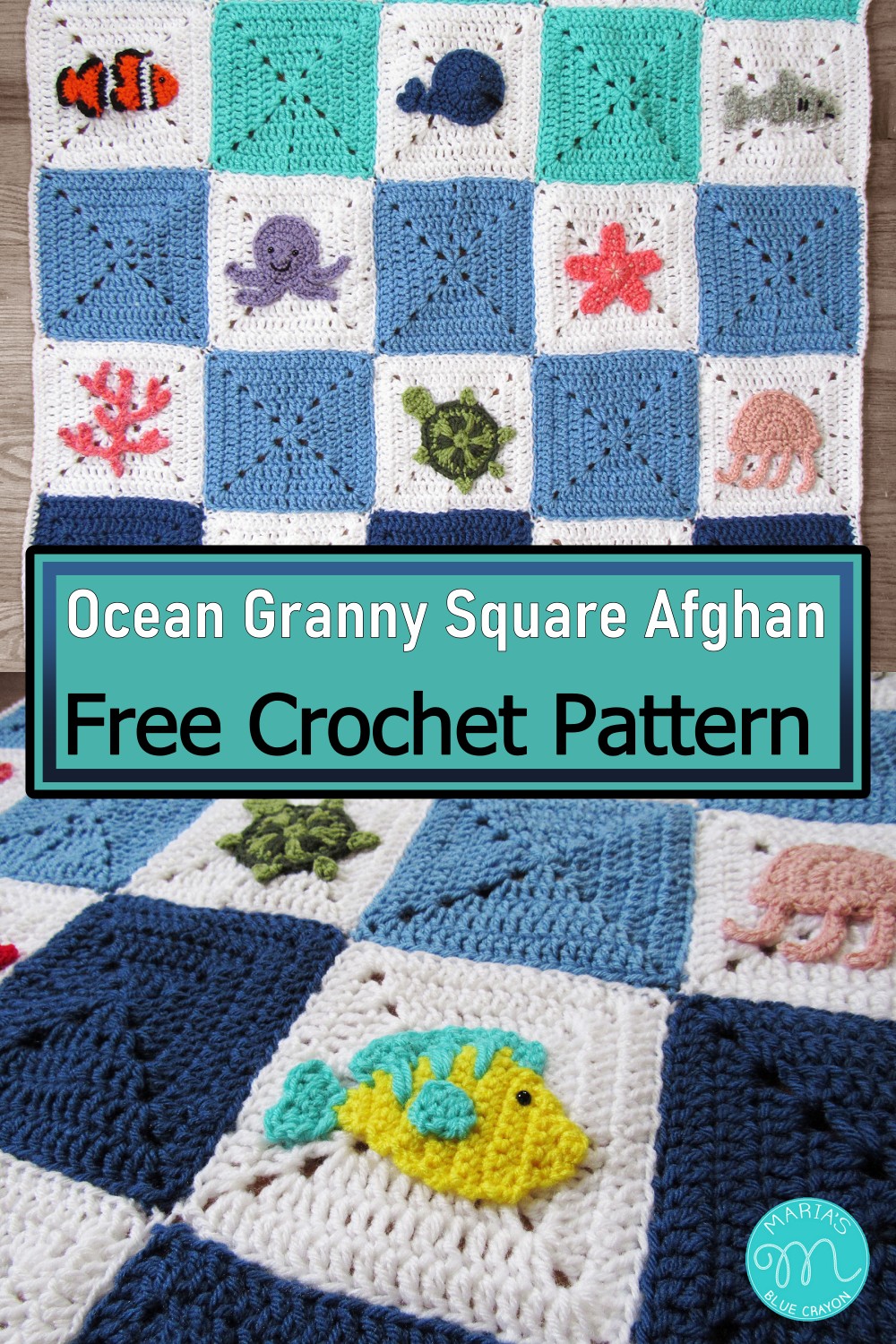 This blanket is the perfect way to show off your crochet skills. Made with just four colors, it's fun and easy to make but will look spectacular when you are done! This is a great project for beginners wanting to tackle more advanced stitches or seasoned crocheters looking for something small and portable. It works up quickly using bulky weight yarn that makes it soft and warm – perfect for curling up on the couch. It's easy to crochet a fun and easy pattern that creates a beautiful blanket. This is the ideal pattern for a beginner or someone who doesn't have time to spend on their project.
Bonfire Blanket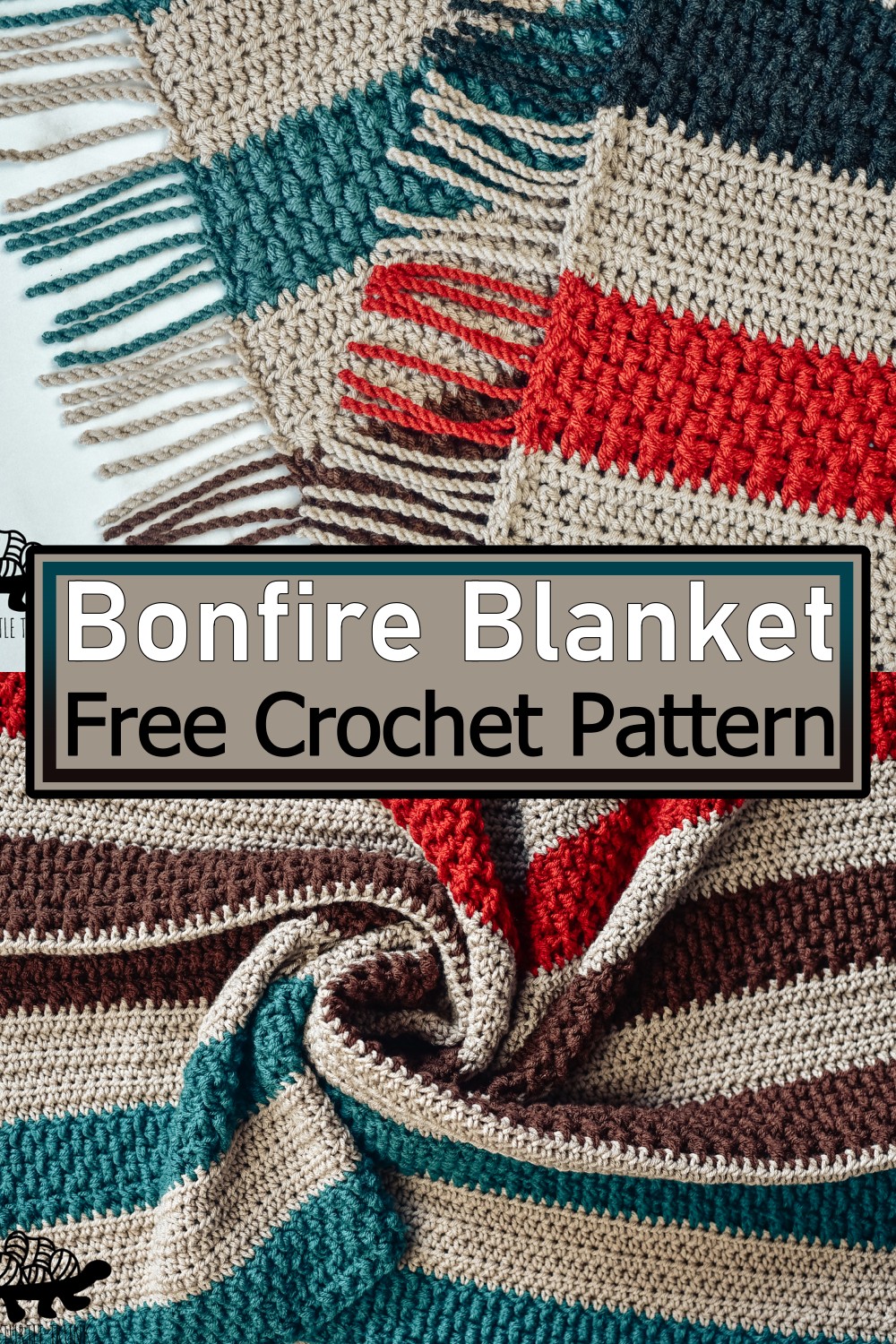 This blanket is perfect for the chilly fall and winter nights! The crochet pattern makes use of beautiful texture; fun stripes, and twisted fringe to give you something to keep you warm on those cold evenings. This blanket is easy enough not to bore with the project and interesting enough so you won't slow down by it. The blanket uses a simple two stripe repeat that is easy enough to work up but interesting enough to keep your attention. This design has a modern look to it but feels cozy and warm; like a firelight reflecting off of logs on a cool Fall or Winter evening.
Crocheting can be a great way to unwind and relax after a long day, but it can also be a terrific way to add something beautiful and handmade to your home. It can be hard to figure out where to start when you're just getting started. Luckily, there are tons of free crochet blanket patterns available in this article. These patterns allow you to try out different techniques while making something you'll love for years. The crochet blanket is a classic in the craft community for a reason: it's both lovely and helpful, making it the perfect gift for anyone in your life. If you're looking for ideas and inspiration, check out the list below!
Crochet blankets are a great way to show off your crochet skills and keep you and your loved ones warm during winter. There are many kinds of crochet blankets for you to make; some have a distinct pattern, while others feature a solid color throughout. Below, we've compiled 31 free crochet blanket patterns for you to choose from, no matter what style you'd like to create. The most pleasing thing about these patterns is that they're all absolutely free!
Free Crochet Blanket Patterns: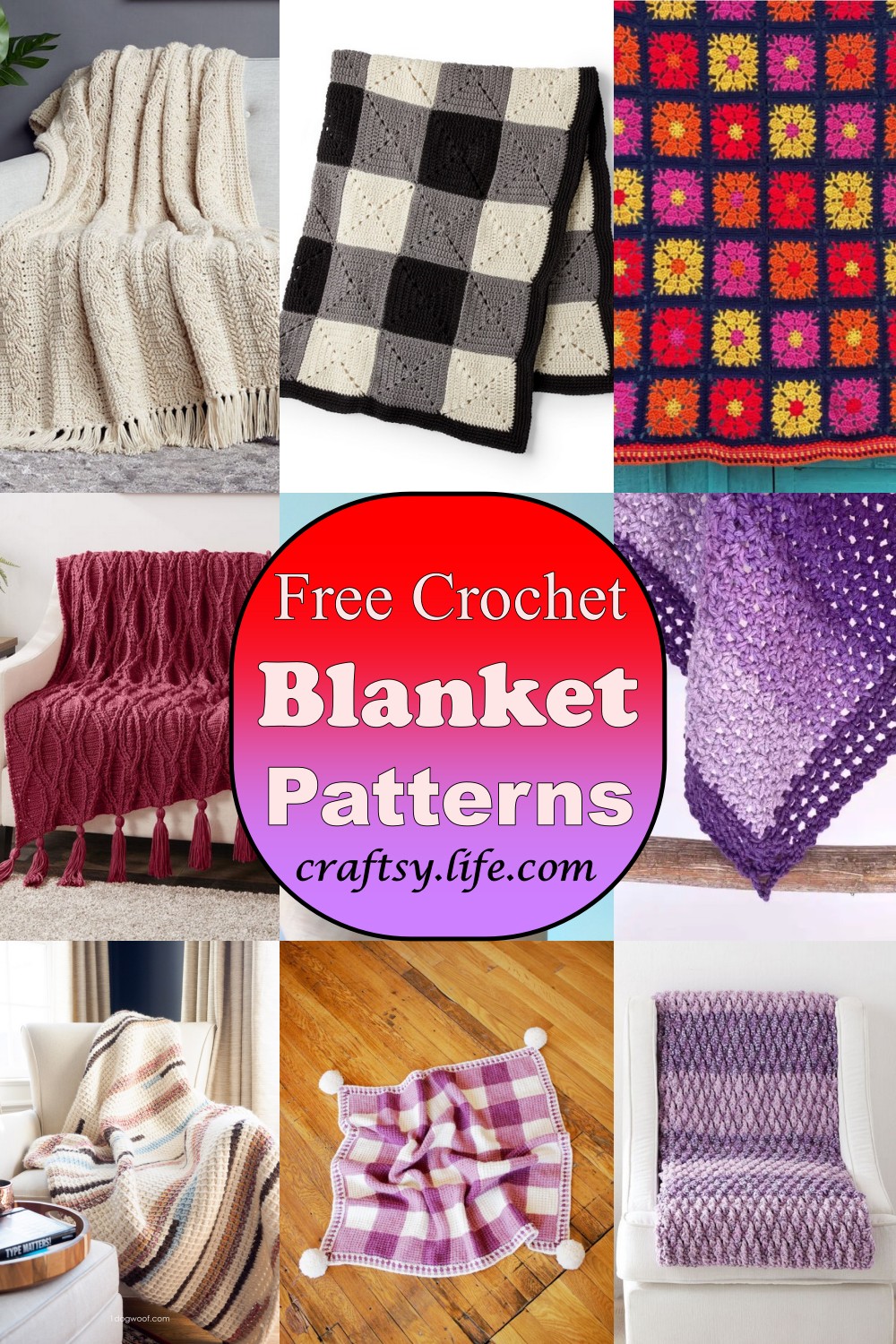 Addison Baby Blanket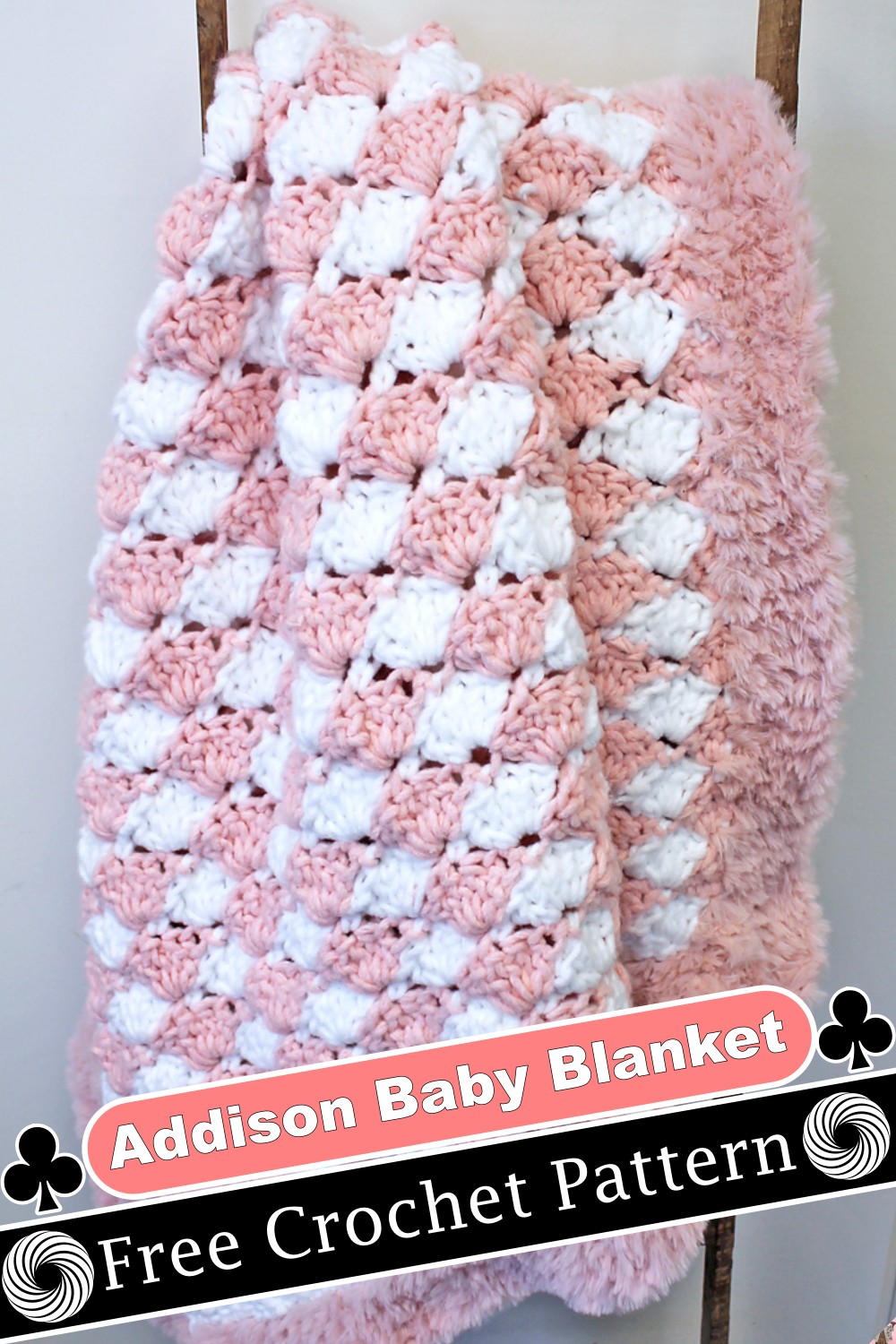 This free crochet pattern is for a baby blanket that will be perfect for keeping your little one warm and cosy. You can make it with different colour combinations or use only two if you want to use a lighter-weight yarn. This pattern is beginner friendly, but the designer also teaches a free tutorial, so you don't have to worry about any of the steps along the way! Use a single strand of super bulky yarn, and make quick work of this project. Once complete, you'll have a beautiful afghan that can be passed down from one generation of babies to the next.
Flower Power Blanket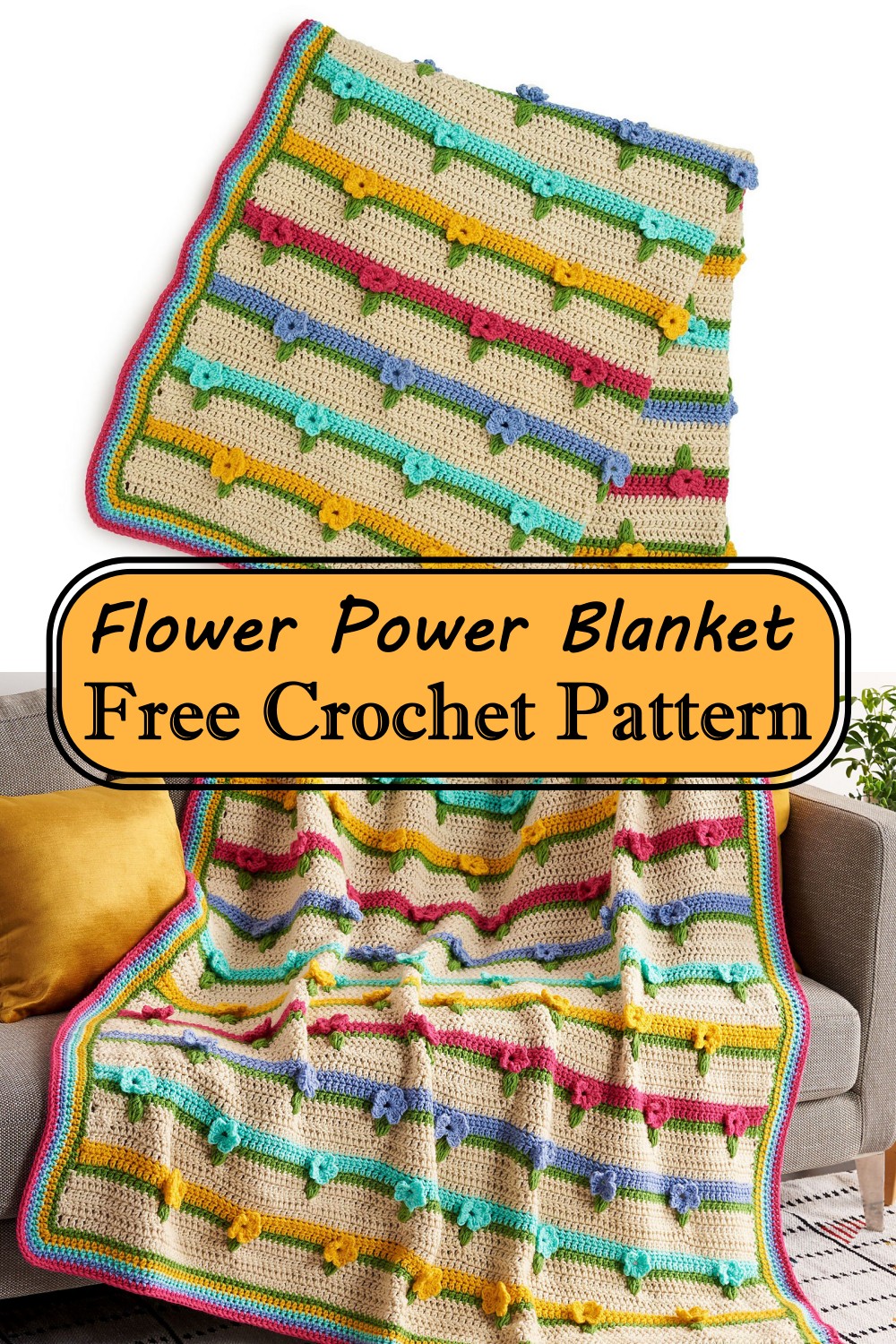 This free crochet pattern for a Flower Power Blanket adds fun to your home. The blanket uses basic stitches, beginning with single crochet ribbing and ending with a beautiful shell stitch edging. This Flower Power Blanket is crocheted in a colourful array of colours. The pattern is written for an adult-size throw and can be adjusted down to any size you desire. This blanket is perfect for the younger child who loves to play outside during the warmer months. It is light, breathable, and can be folded into a bag to take with you on quick trips out of the house.
Alpine Stitch Blanket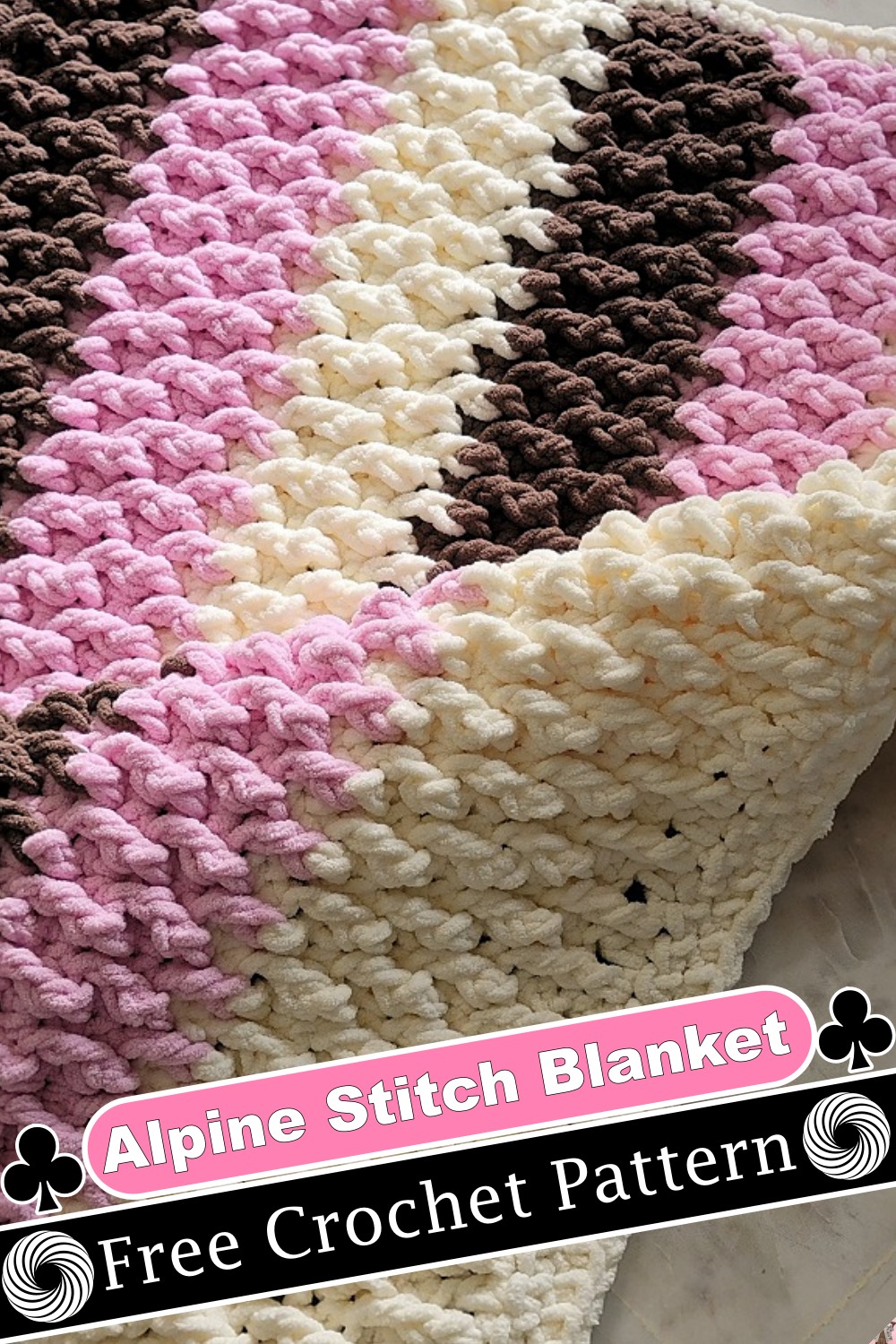 The Alpine Stitch Blanket is a lovely textured blanket in chunky weight yarn. The stitch is a very easy 2-row repeat and is worked into the back of the previous row's stitch. It is created by working two stitches together, which makes this pattern very forgiving if your count gets off. It's super squishy but with a lot of texture — not exactly like a summer sweater, but more like a thick, warm blanket that you would snuggle up with on your couch. The finished size is generous -- perfect for cuddling under on the couch or at the beach!
Maggie Blanket
If softness is your aim, then the Maggie Blanket is for you. This blanket will be snuggled up all year round and made from Stylecraft's Special wool and acrylic blend. This blanket is the perfect throw or lap blanket to curl up on your couch. The blanket uses the corner-to-corner (c2c) method, which works quickly due to the nature of the stitch pattern. This clean design creates an amazing look without any joins or seams.
Angelus Lovey Blanket
As a new family member, this little angel will provide warmth and comfort at night and accompany you on your adventures during the day. A wonderful gift for any baby to receive from family and friends. Make it special with the perfect combination of colour work and finishing techniques to practice in a small project! This is a fun and easy pattern, ideal for beginners. You will learn how to create the chenille effect and make the blanket bigger or smaller. Also, you can choose many different yarns with different weights and textures so that you can adapt this pattern to your needs.
Buffalo Plaid Crochet Stadium Blanket: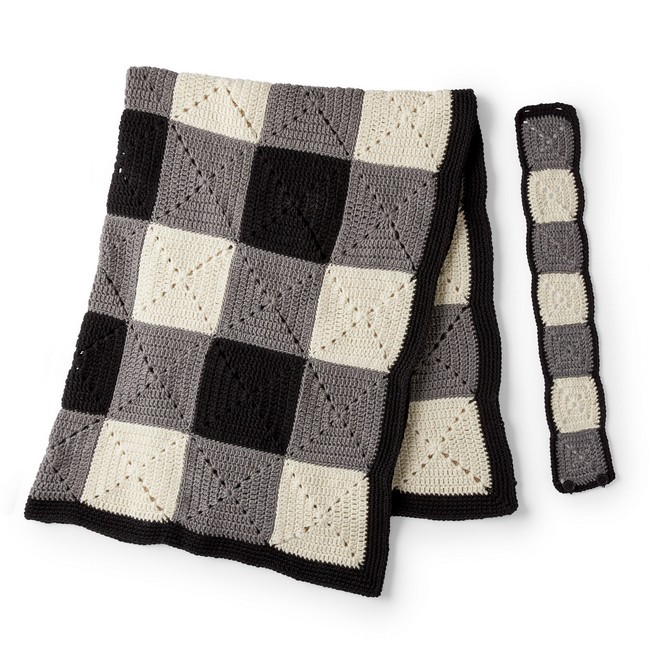 This crochet stadium blanket is the perfect way to practice your crochet skills. You can make your blanket as shown or pick any three shades to create a similar effect - it's a fun and easy way to learn! The pattern includes instructions for working double crochet and granny squares, assembly, chain stitch, slip stitch, working in rounds, and more. This fun stadium blanket is perfect for a football weekend and a great way to practice your crochet skills.
Crochet Cables Blanket: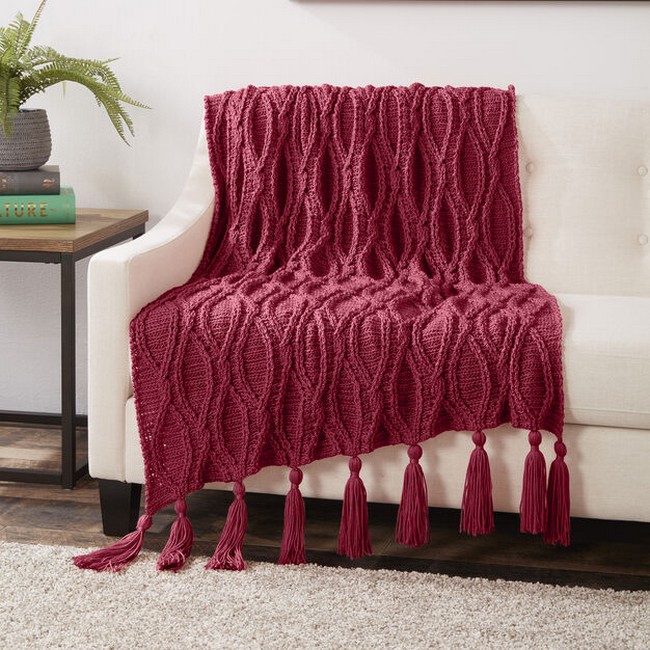 Make this blanket using the same materials and gauge as a chunky yarn to get your desired size. The oversized hook creates points that intermingle and play off of one another, creating a fun texture. It's a great project for practising crossed stitches, half double crochet, double crochet and triple crochet stitches! The textured pattern shines with bold colours that perfectly complement your skills. Pattern includes an easy-to-follow visual chart. The pattern includes a chart for easy-to-follow instructions.
Carousel Blanket Free Crochet Pattern: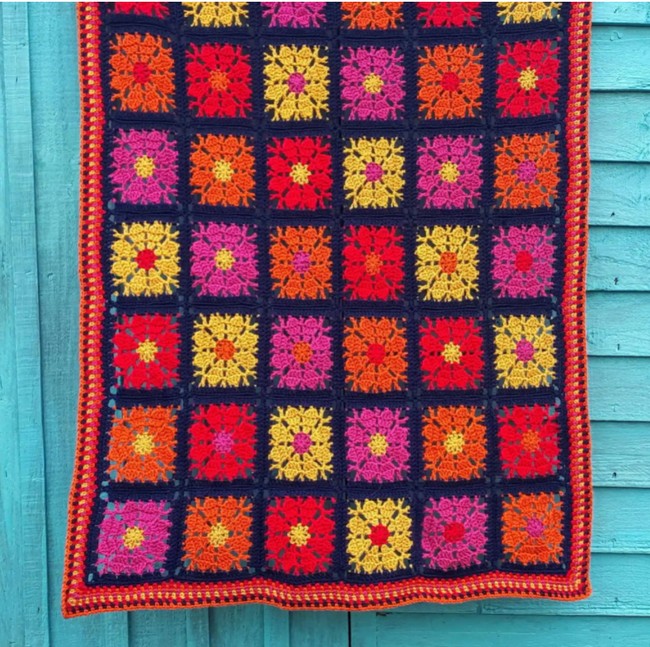 The Crochet Carousel Blanket pattern is a large baby blanket or lap afghan that would make a lovely addition to an adult bed. This Crochet Carousel Blanket is a classic crochet project with an easy-to-follow pattern, written in US terminology. This free crochet pattern is a stylish blanket that will keep you warm in winter. The soft cotton yarn can be crocheted with a pretty colour. You will love to crochet this colourful blanket and use it as a gift for your beloved.
Free Tunisian Crochet Blanket Pattern: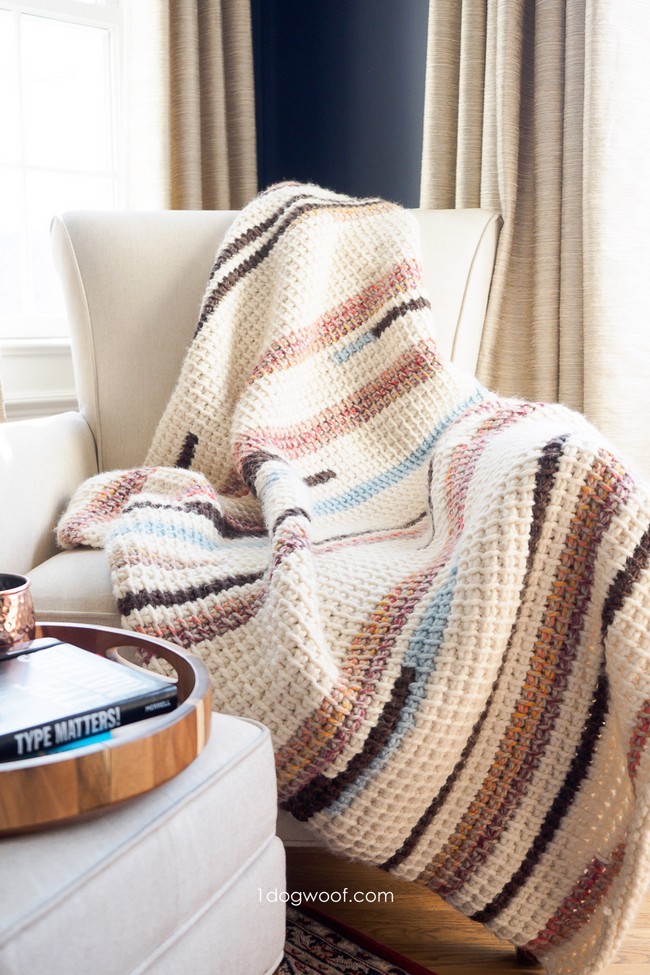 Are you looking for a new Tunisian crochet blanket that is very comfortable, warm and easy to carry? This free Tunisian crochet blanket pattern will be a great choice because it is made with the best quality materials. This is a very simple Tunisian stitch that is made from many colours. You can choose any colour according to your style and taste. It does not take much time to make this beautiful blanket. Click below to view the full description and details about this Crochet Blanket Pattern.
The Sweet Gingham Blanket: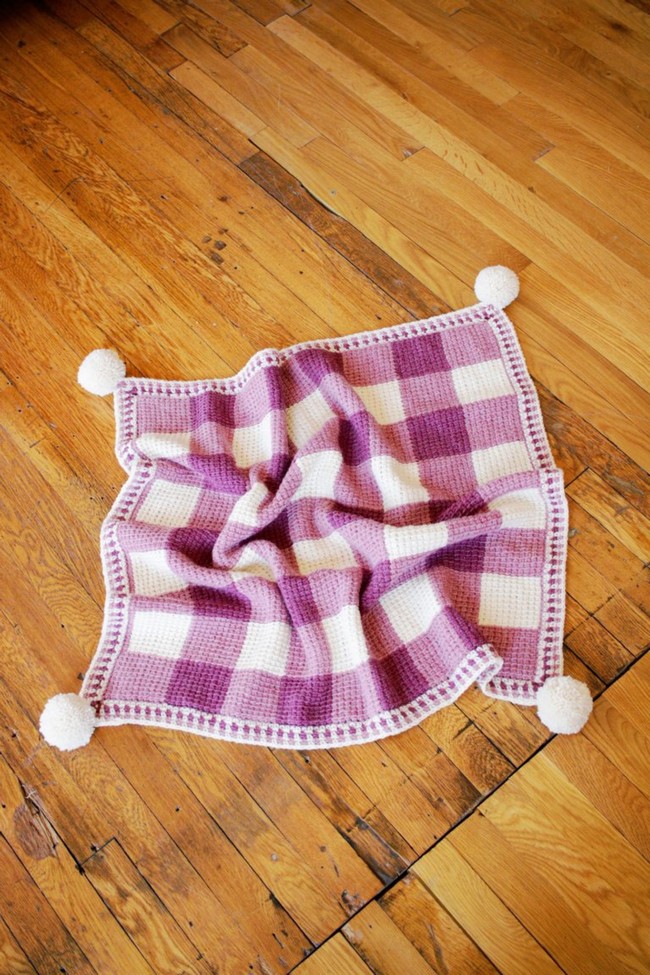 This is a fun, easy, crocheted blanket using basic stitches, perfect for beginners! The Sweet Gingham Blanket is a great start to learning how to crochet. Depending on your time and colour preferences, this project can be completed in one afternoon. You'll love the texture and design of this warm blanket. You can use it as a blanket and throw it or place it on the bed, couch or sofa. This gingham crochet pattern is easy to follow and practice; if you are passionate about crocheting, surely you will love this project.
Comfortable Ombre Baby Blanket Free Crochet Pattern: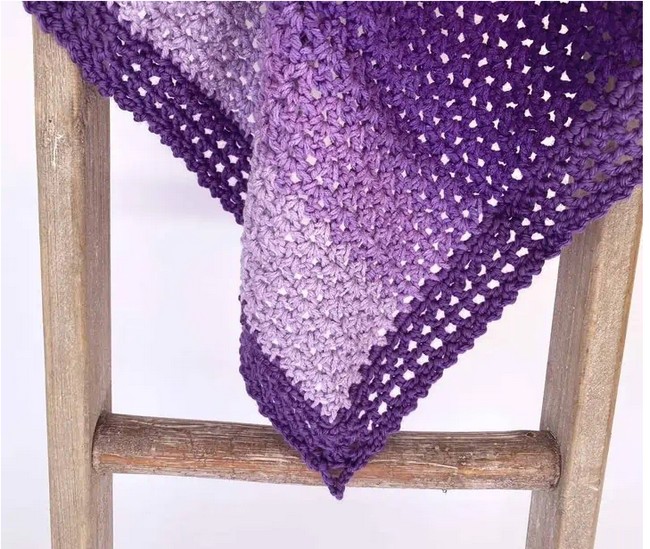 Keeping your baby warm is always challenging when winter and the temperature drop. But with this ombre baby blanket, you will no longer have to worry about that. This amazing crochet pattern is perfect for both girls and boys; Another great thing about this blanket is that you can change the colours if you want! The ombre baby blanket is very comfortable. The softness of this blanket makes it easy to sleep, and you can use this as a babysitting blanket for your baby. This pattern is free, so grab the crocheted pattern and start making one for your sweetheart.
Granny Patchwork Blanket Free Crochet Pattern: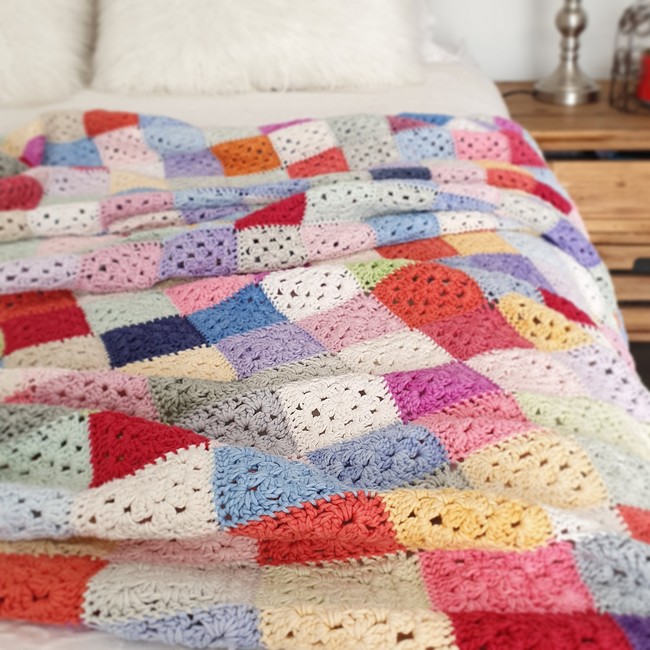 As the name suggests, this blanket is a classic granny square patchwork. The whole blanket is made from squares, so it can be customized to meet your needs. Using four yarn colours and a hook, you'll crochet one large square for each colour and then weave them together. Use it as a bed cover or make it smaller for kid projects. Crochet this Granny Patchwork Blanket for your baby, your loved ones or yourself in various colours. You can adjust the size you need, and it is perfect for a beginner and advanced crocheter. It features a super soft acrylic yarn that will keep you cosy and warm during cold winter days.
Free Crochet Pattern Painted Hexagons Blanket: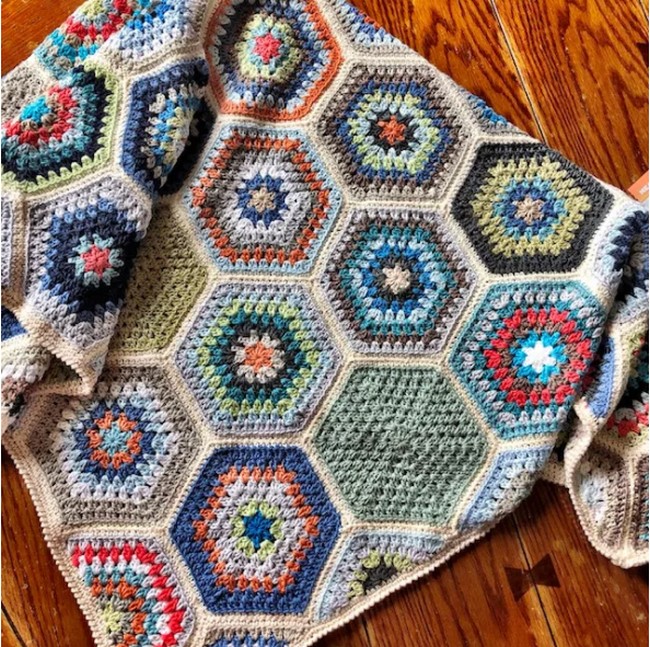 Make this Painted Hexagons Blanket a beautiful decoration for your bed, couch, or any other part of your room. This blanket is made up of crochet hexagons which are joined together. If you want to make it for your little girl, then choose the bright colours of her choice. You can join some more hexagons and make larger blankets to meet your requirement, like the ones. But these blankets look nice as decorative items for your home too.
Sweet Pea Blanket Cal: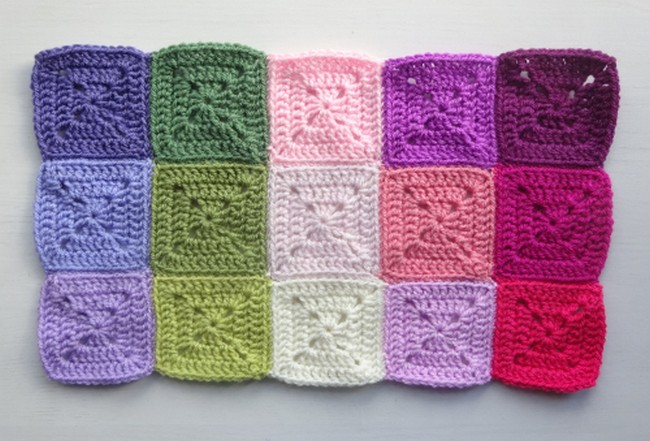 This Sweet Pea Blanket Cal is quick and easy to assemble, which makes it a great project for last-minute baby shower gifts. Make one of these sweet little crochet blankets in any colour to match your nursery decor, or use this blanket pattern as a starting point for any larger patchwork quilt you wish – add more squares until it's the size you want. And the fun doesn't stop with the baby! This blanket makes an excellent lap throw for your couch or reading chair.
Braided Cable Crochet Blanket: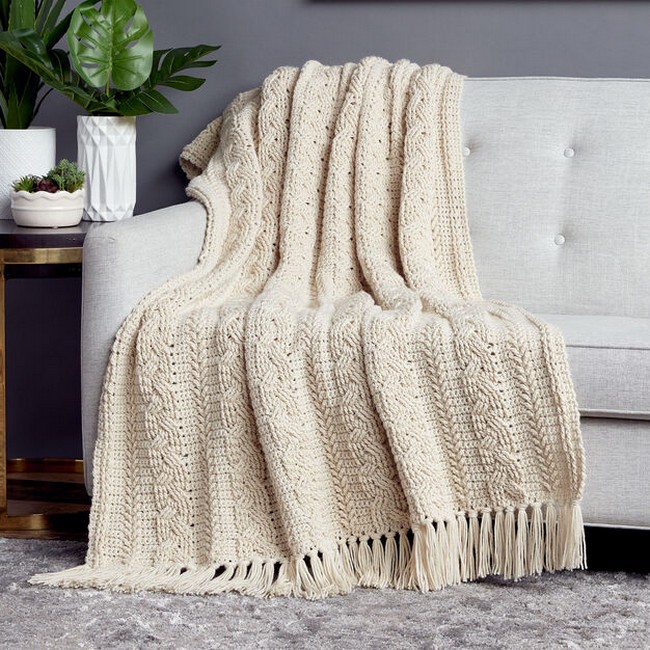 Were you looking for an easy crochet blanket pattern? This braided cable crochet blanket is lovely and quick to make, so perfect for a beginner crocheter. The braided cables are made with a crochet hook, making it a time-saving project that still looks wonderfully complex. The braided cable crochet blanket pattern is a great design for both men and women. The large cable stitches look beautiful, giving this blanket pattern a rich and luxurious feel. You may change the yarn colour to suit your taste. Give this crochet blanket pattern to your loved ones, or get it yourself! Try this braided cable crochet blanket today!
Circle Takes The Square Crochet Blanket:
This crochet blanket pattern is stunning and perfect for any home decor. The bright colours in this blanket will make it stand out, and you can arrange the colours in any way you like. This pattern's soft texture will give your home a luxurious feel. Follow the pattern steps, and soon enough, you'll have a cosy blankie to cuddle up with! It's a relatively simple pattern, but the result is so beautiful! You will want to make one of these for every season and give it as a gift.
Waffle & Fringe Crochet Blanket:
Soft, cosy and warm. This waffle crochet blanket with fringe pattern is a great addition to your home decor. Create a charming room accent with this free baby cocoon pattern. Perfect for the entire family and can be made in any colour you choose to match your style. Many crochet enthusiasts love this blanket because of its simple design yet attractive look. Experience with this crochet pattern can make learning other complex crochet projects easier. This free crochet baby cocoon pattern is so easy and simple that you will make more than one or two of these!
Textured Life Crochet Blanket: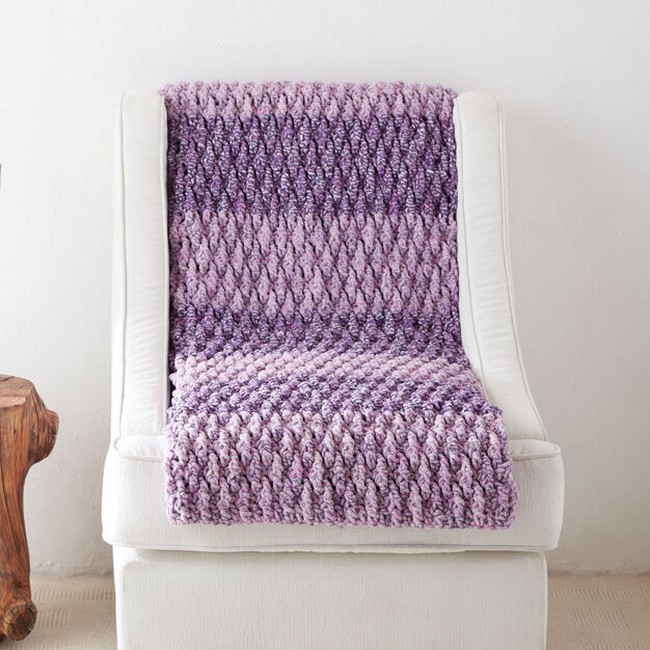 This crochet blanket pattern is an awesome addition to your house. It is great for fall, winter and spring, and you can also use it as a couch throw. The beautiful shade of this blanket makes it so unique among others. This crochet blanket pattern is easy and quick to make with top-quality yarn. The beauty of this blanket is that you can make it in any colour combo you desire; there's no limit to your colour combination possibilities!
Textures Stripes Crochet Blanket: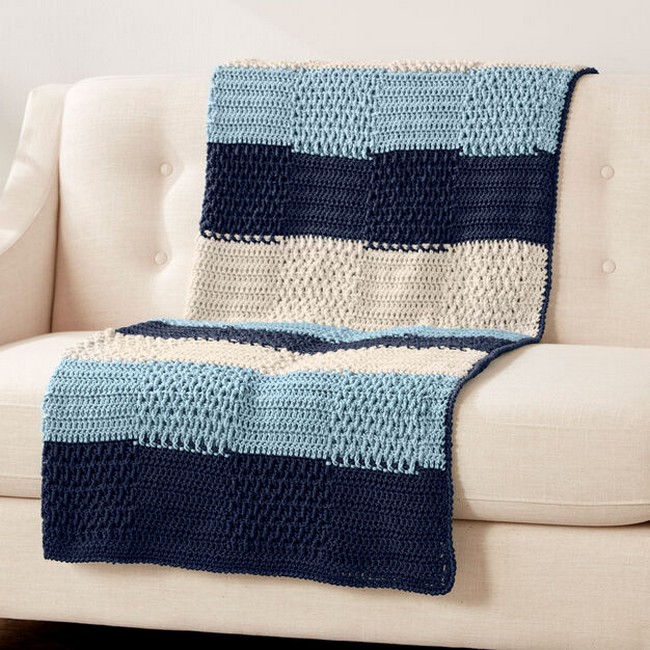 Keep your home decor warm with this Stripes Crochet Blanket. You can also gift it to your beloved ones who love cosy and beautiful blankets in their homes. Make this blanket for your sofa and make it look beautiful. For making this crochet texture stripes crochet blanket pattern, you need to use cotton yarn or chunky crochet-type yarns. It is easy to follow the pattern, and this blanket is worked using simple stitches.
Easy Peasy Crochet Blanket: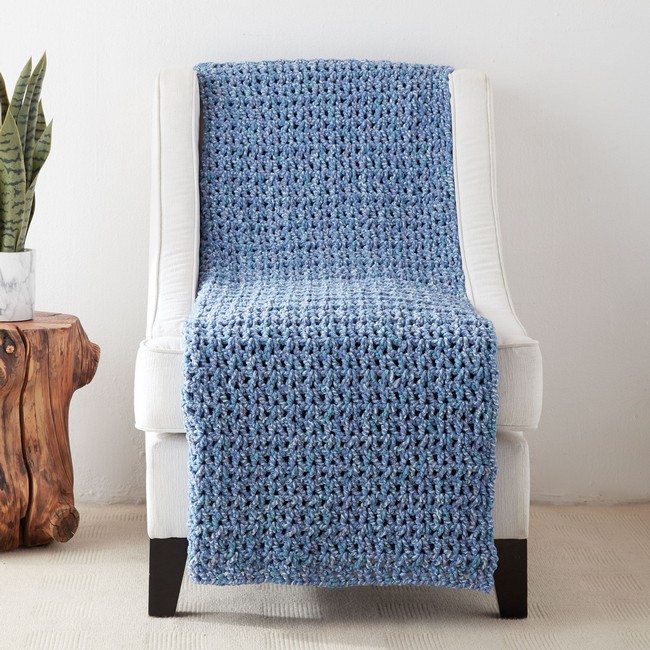 This crochet blanket pattern is the best if you want to give your home a cosy look. You can use it as a throw in your room, over a sofa, or even on the bed. If you want that perfect pattern for winter, this crochet blanket pattern will be really helpful. This pattern uses Bernat blanket twist yarn and (l) sized crochet hook, so if anyone wants to make it, they can easily follow these instructions.
Summertime Stripes Crochet Blanket: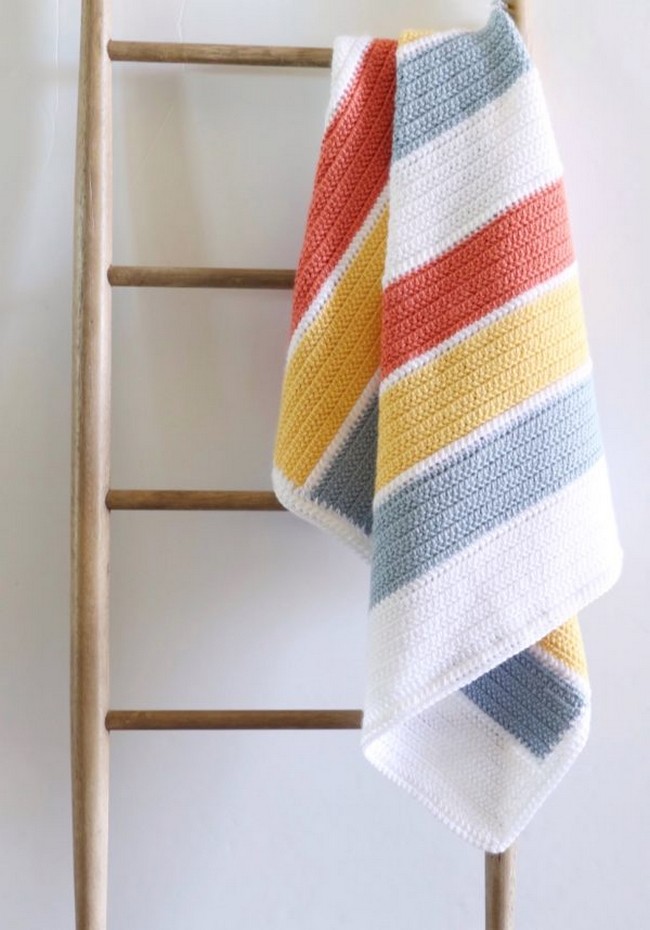 You can either use these soft and cosy blankets yourself or give them to a friend with the same interest in handmade wool crochet products. By making this blanket, you can keep your body warm from the cold winter during fall and winter. These blankets will provide warmth d beauty to your home. These are great for beginners who want to learn the skill of crocheting. The stitches and rows in this crochet blanket pattern have been given with row-by-row instructions, so you can make this colourful crochet blanket without having any doubt in mind.
Crochet Lines And Dashes Blanket: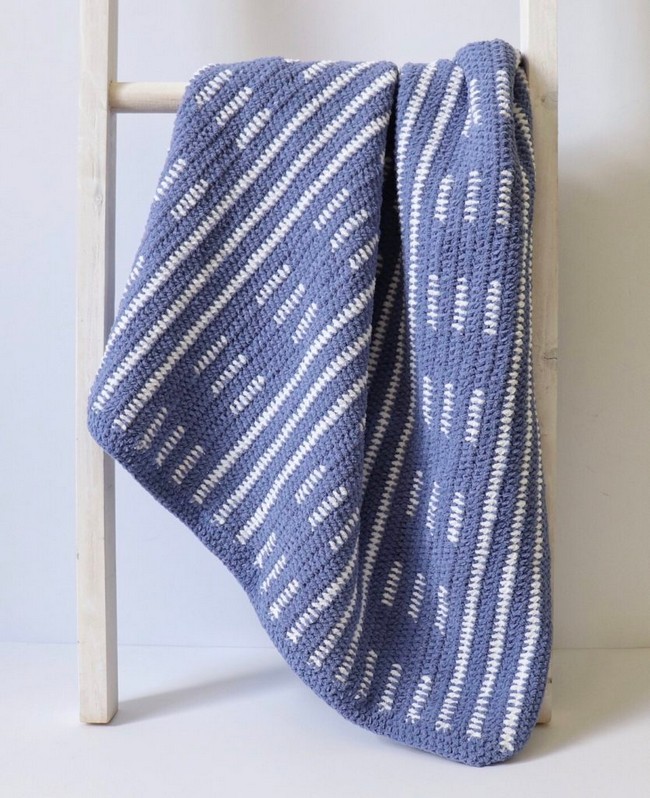 If you love the look of a crochet blanket but want something simple, stylish and modern, this Lines and Dashes Crochet Blanket pattern is perfect. It works quickly using the chainless double crochet stitch, and the result is a stunning look that would be perfect in any room of your house. This crochet blanket pattern is written for beginner skill levels, so you only need a little time and patience to make a new blanket for your home!
Crochet Gold Front Loop Chevron Blanket:
This golden front loop chevron afghan pattern is one of the best patterns with a combination of golden-coloured yarns. The golden colour of this crochet blanket pattern looks extremely attractive in the front loop chevron stitch. Crochet this blanket any size, and you will get a perfect finished product. It shows off your crochet skills attractively and is enough to put you in the spotlight. You can finish this crochet blanket project within a week.
Crochet Modern Boho Granny Blanket: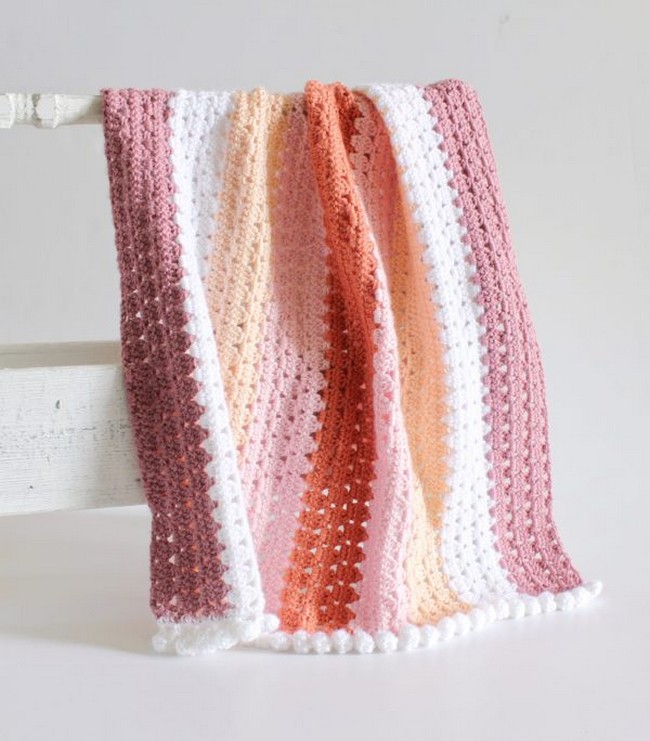 This is a lovely new crochet modern boho granny blanket pattern. If you're looking for a fun new project that would look great in various colours, this pattern is it! It has a beautiful changing of colour one after another layer that adds to its beauty. You'll have fun crocheting with this wonderful design, so check out the full tutorial! This makes the perfect gift for anyone in your life who loves crocheting and making beautiful things for their homes.
Free Crochet Pop-a-minute Blanket Pattern: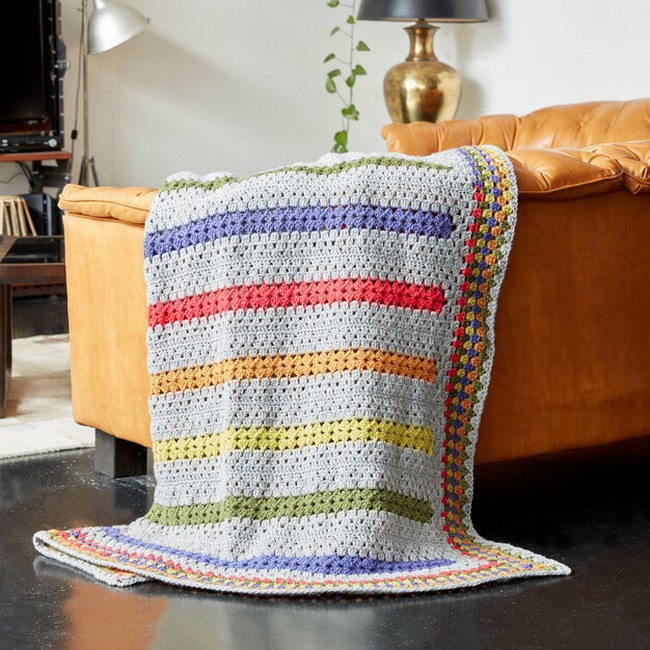 The Pop-A-Minute Blanket is fun and easy to crochet. This blanket is perfect for a quick gift or a relaxing evening with a great TV show. The stitch pattern is simple, but the finished squares look amazing! You can make this blanket any size you like simply by altering the number of starting chains in each colour and making as many rows or rounds as needed for your desired size. You'll be amazed at how quickly this blanket comes together and will be cherished for years.