What does a baby cocoon look like? It's not a pattern as much as a finished product. A crochet baby cocoon is a blanket that is mostly or entirely closed in by more than one thread loop. The looped thread will help keep the warmth inside and prevent the baby from accidentally kicking it off while sleeping. These can be made of cotton yarn and come in different sizes to fit newborns to toddlers. Here are 6 crochet baby cocoon patterns that look adorable on your little one!
How To Crochet A Baby Cocoon For Beginners

Crocheted baby cocoons are a great way to keep your little one cozy and warm, but they're also ideal for colder climates that can lead to your baby's delicate skin becoming dry and chafed. The best crochet baby cocoons mimic the sensation of being wrapped in your mother's embrace, hugging your child, and keeping them warm from head to toe. Whether making your first-ever crochet piece or having been an avid crocheter for years, these six irresistible cocoon patterns will bring out your inner baby cocoon maker. They're simple, and you can finish them quickly. Also, you can buy pre-made baby beanie hats to put on top of your creations for a finished look.
Free Crochet Baby Cocoon Patterns
They're easy to make. You don't need to be an expert crocheter or even know how to read a pattern. The instructions are simple and clear!
They're portable. You can take them with you since they're lightweight and small enough to fit into a purse or diaper bag. For example, if you need something to keep your baby warm in public places, this could be what you need!
They're easy on sensitive skin. Crochet baby cocoons are made from soft yarns like cotton or wool that babies love to snuggle with because they feel warm and cozy. This makes them perfect for keeping babies calm during car rides or doctor visits!
They come in handy when you need something warm for your little one but don't want to bother making anything complicated like a sweater or jacket from scratch (though those things can be fun, too!).
Just Peachy Baby Cocoon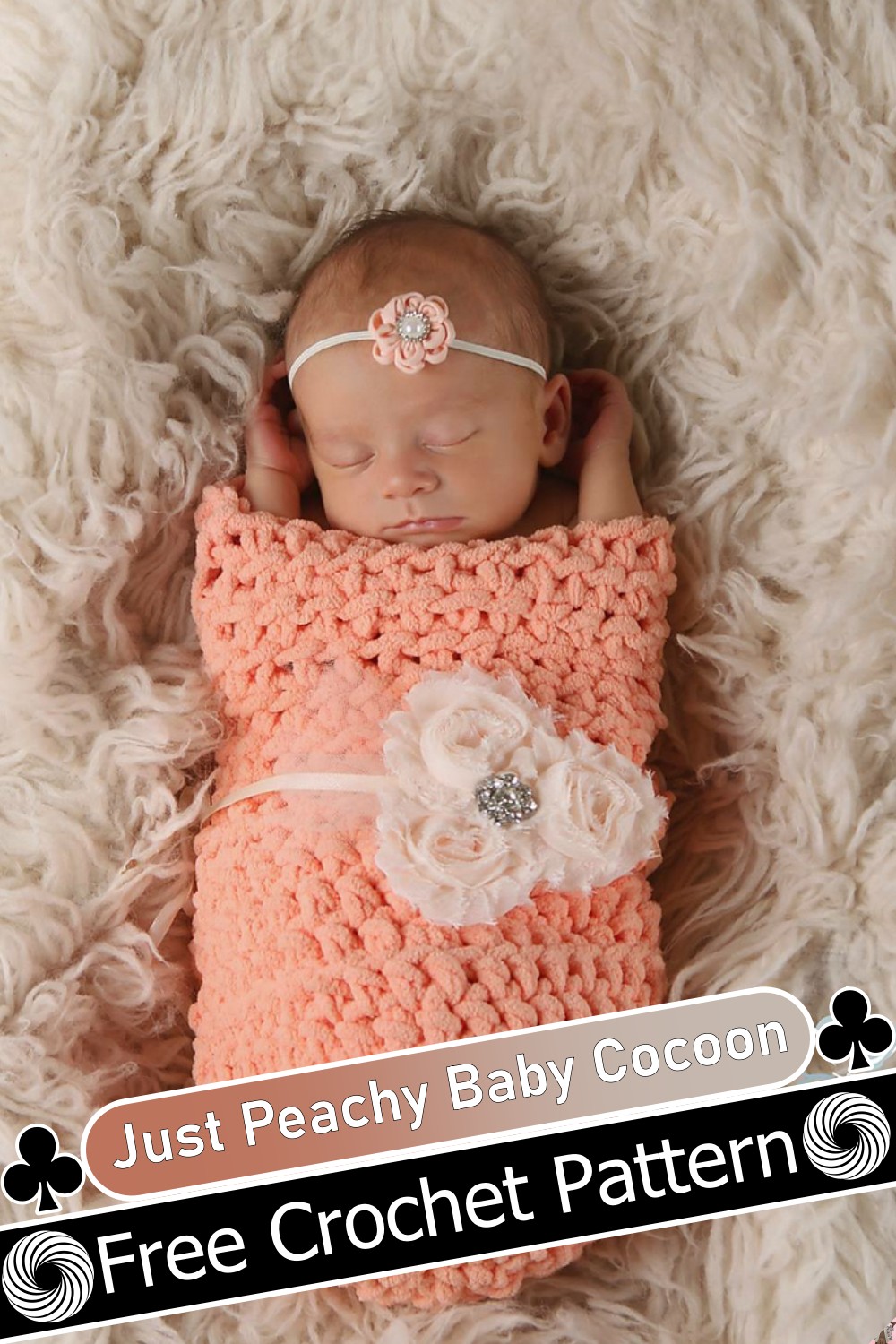 The Just Peachy Baby Cocoon is your go-to to keep your little one warm and cozy. It is made with a soft and lightweight fabric that will keep your child happy and comfortable all night long. This sweet baby cocoon is crocheted with a lovely textured pattern and frilly edging. It can be used as a car seat cover or for tummy time, making it the perfect gift for new parents. This beanie has super soft materials, making it ideal for your newborn to snuggle up and get a restful night's sleep. It's warm enough to keep your baby cozy during its first winter months but lightweight enough to wear it indoors or out.
Layered Crocodile Stitch Cocoon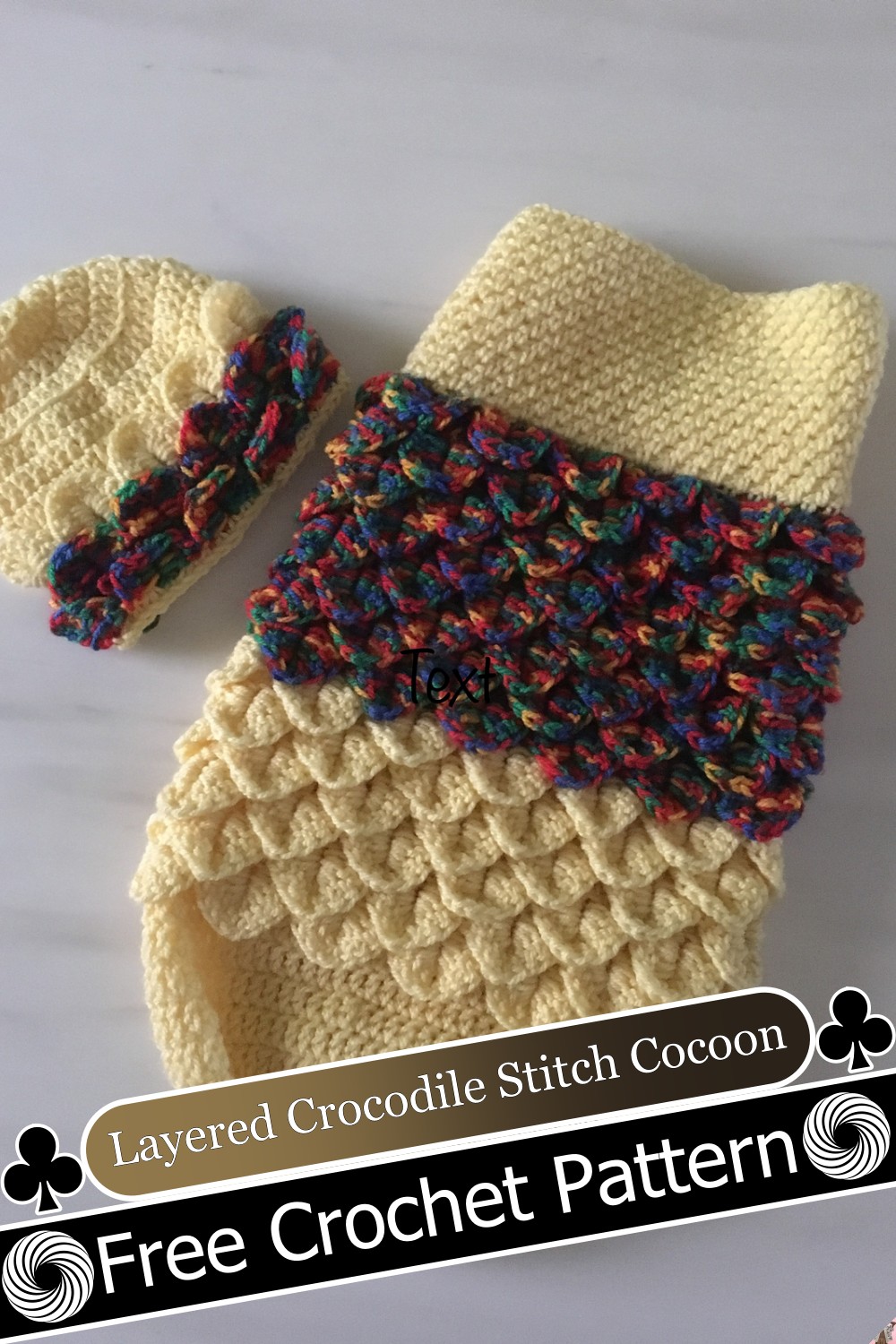 Crochet Layered Crocodile Stitch Cocoon is made of pure cotton yarn, which is soft, comfortable, breathable, and comfortable. With a perfect design, it fits all occasions, such as daily wear, party, clubbing, and so on! This crochet cocoon is ideal for snuggling up during cold winter. The crocodile stitch gives a beautiful texture to the cocoon, making it even cozier. Crochet your way to a relaxing night's sleep with this easy-to-crochet cocoon pattern! It's the perfect size for an adult and can be made using any yarn and hook.
Crochet Ocean Baby Cocoon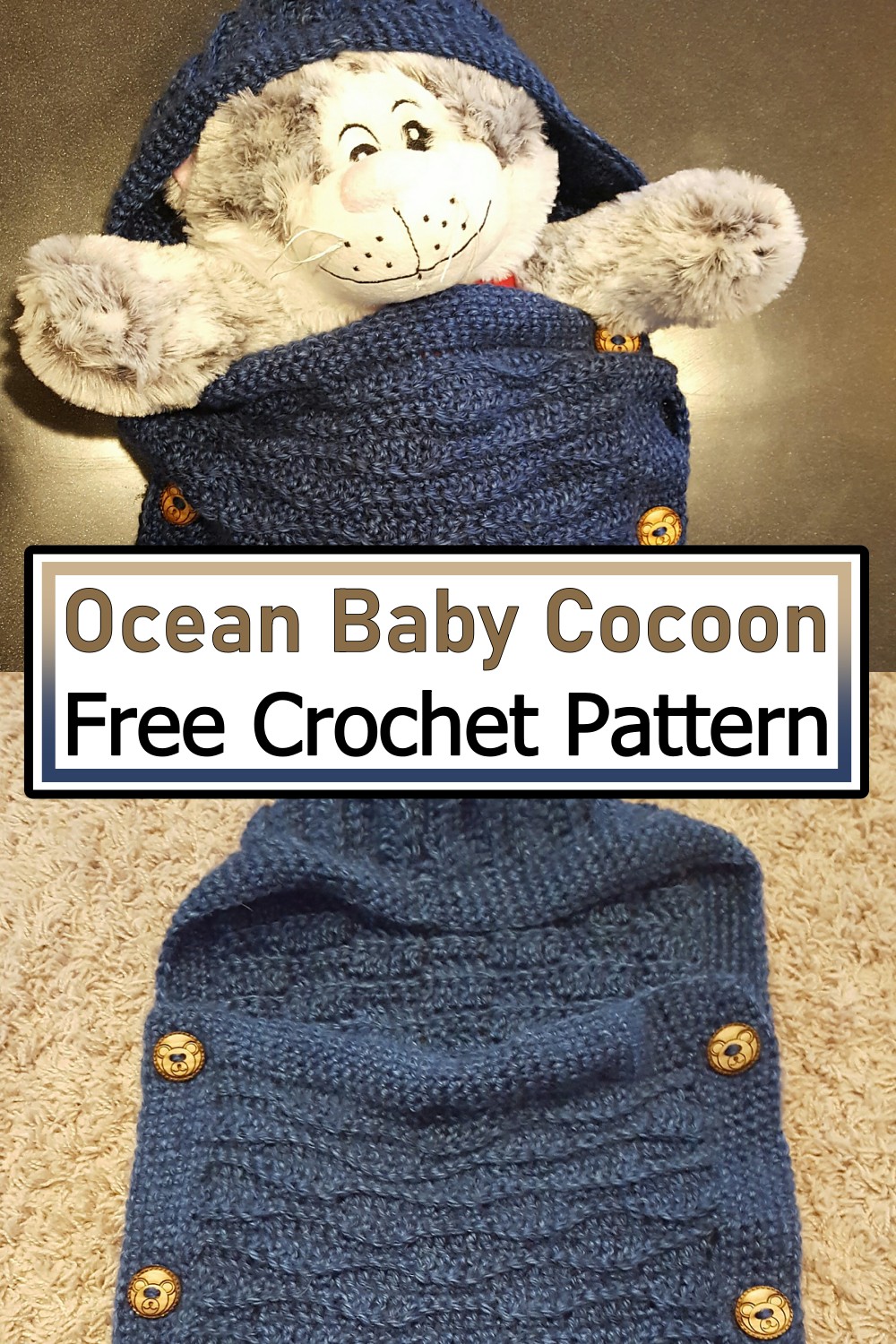 Turn your baby into an ocean explorer with this crochet cocoon! This easy-to-crochet pattern is excellent for beginners and only requires one of our Luxe Baby yarn skeins. Baby will love to snuggle up in this adorable cocoon, complete with a stitched turtle hood. This ocean child cocoon will become your child's favorite blanket. Soft, breathable, and light, it's perfect for sleeping in or playing on the floor. It's easy to make too!
Succulent Baby Cocoon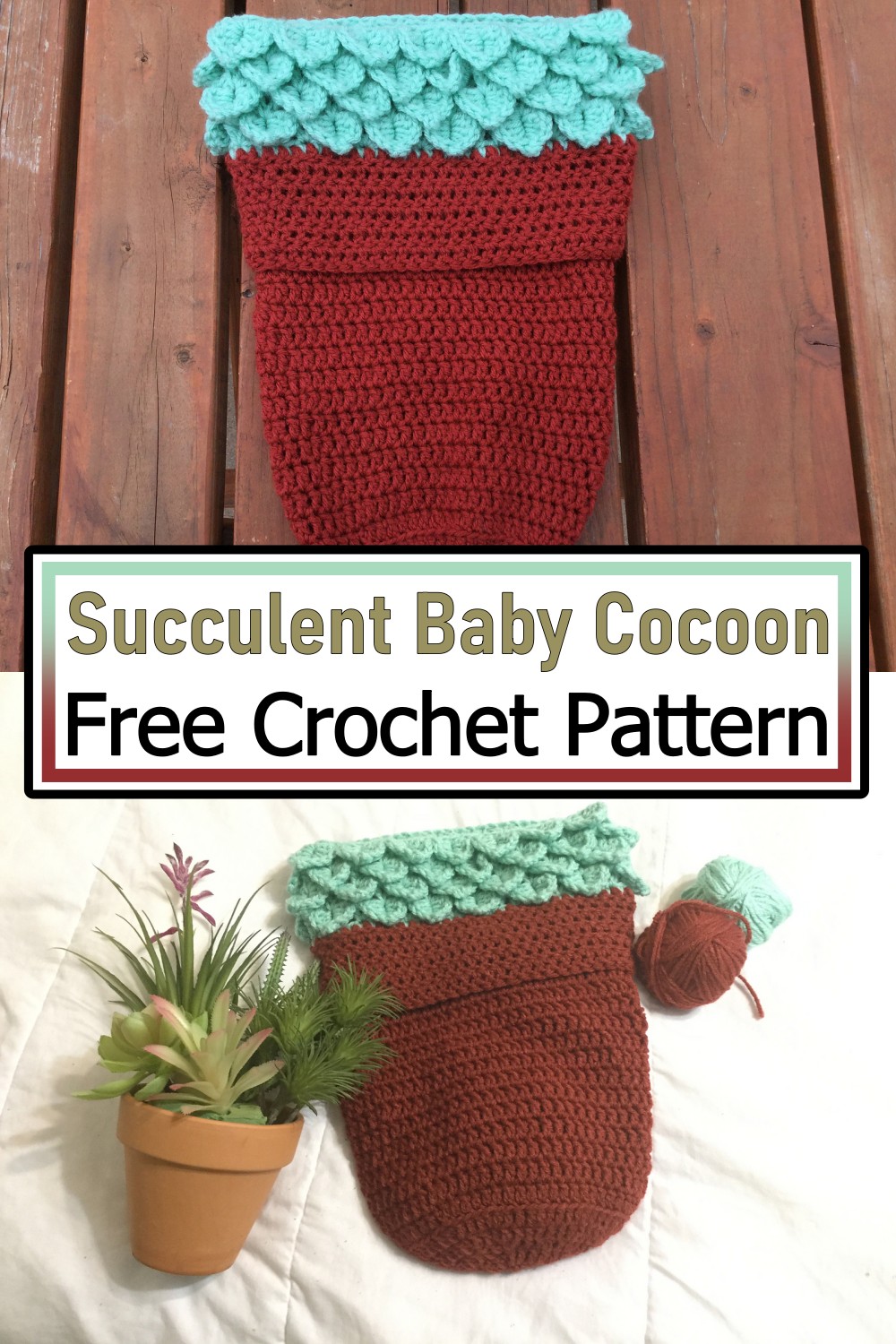 Crochet this lovely Lucite Succulent Baby Cocoon in various colors, or choose your favorite solid color. You can make it any size, but the pattern is written for a newborn baby. The cocoon is worked in rows and then sewn together to finish. This crochet baby cocoon is the perfect way to keep your little one cozy, warm, and safe. Made from easy-to-crochet chunky yarn and tons of comfortable cotton, this cocoon can also be used as a mobile for your little one once they reach an age and size where it's safe to use this over their stroller or crib.
Crochet Little Hunter baby cocoon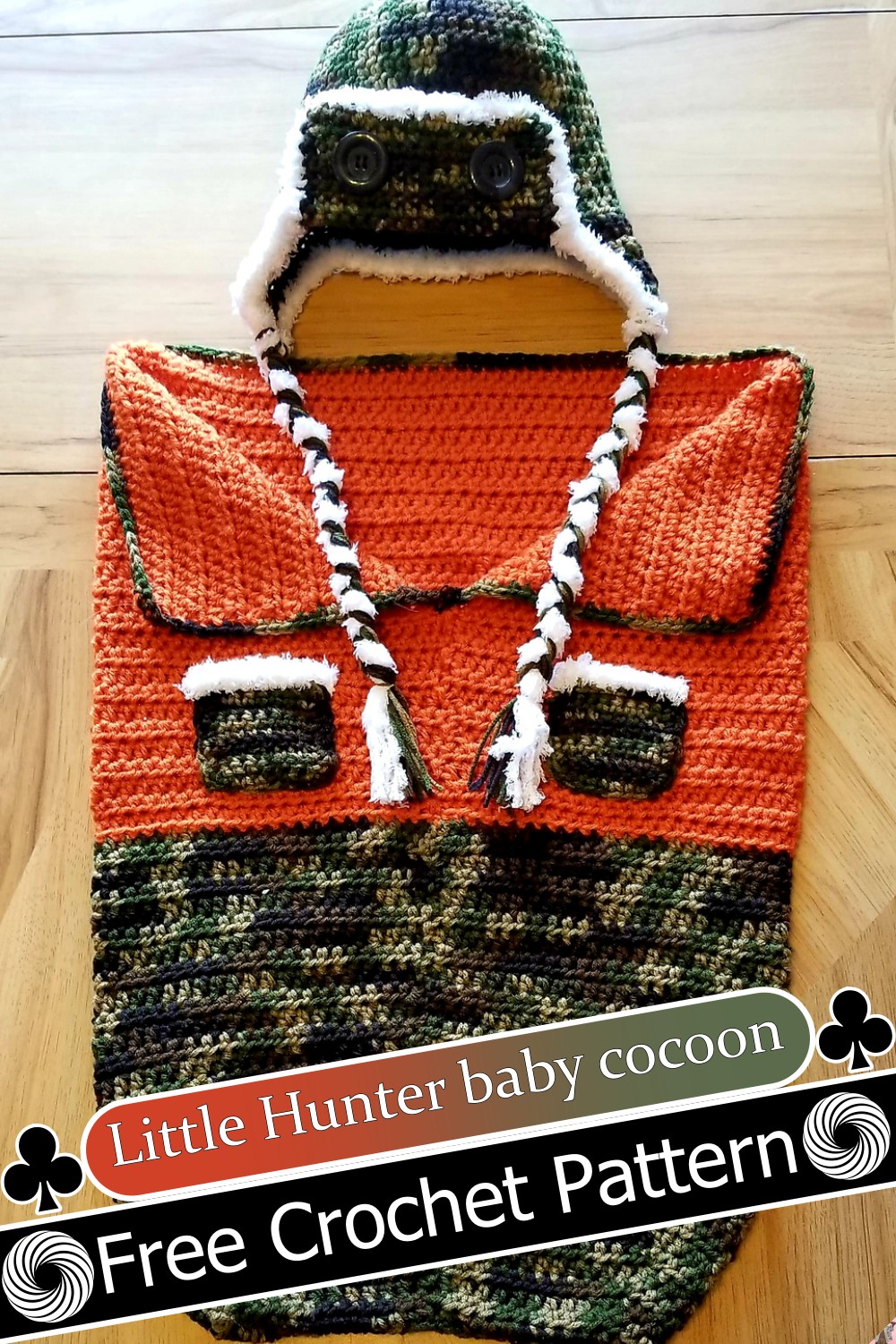 Little Hunter baby cocoon was designed to the last detail to provide your baby a comfortable and warmth. Crochet Little Hunter Baby Cocoon is a soft, friendly, and cozy blanket intended to be light and airy so that baby feels comfortable. The crochet technique gives the fabric a beautiful texture that brings an exquisite look. It's stylish and modern yet classic simultaneously, making it perfect for both boys and girls. The cocoon has an organic cotton lining that is soft on your baby's delicate skin while keeping them warm throughout the night.
Crochet Baby Star Cocoon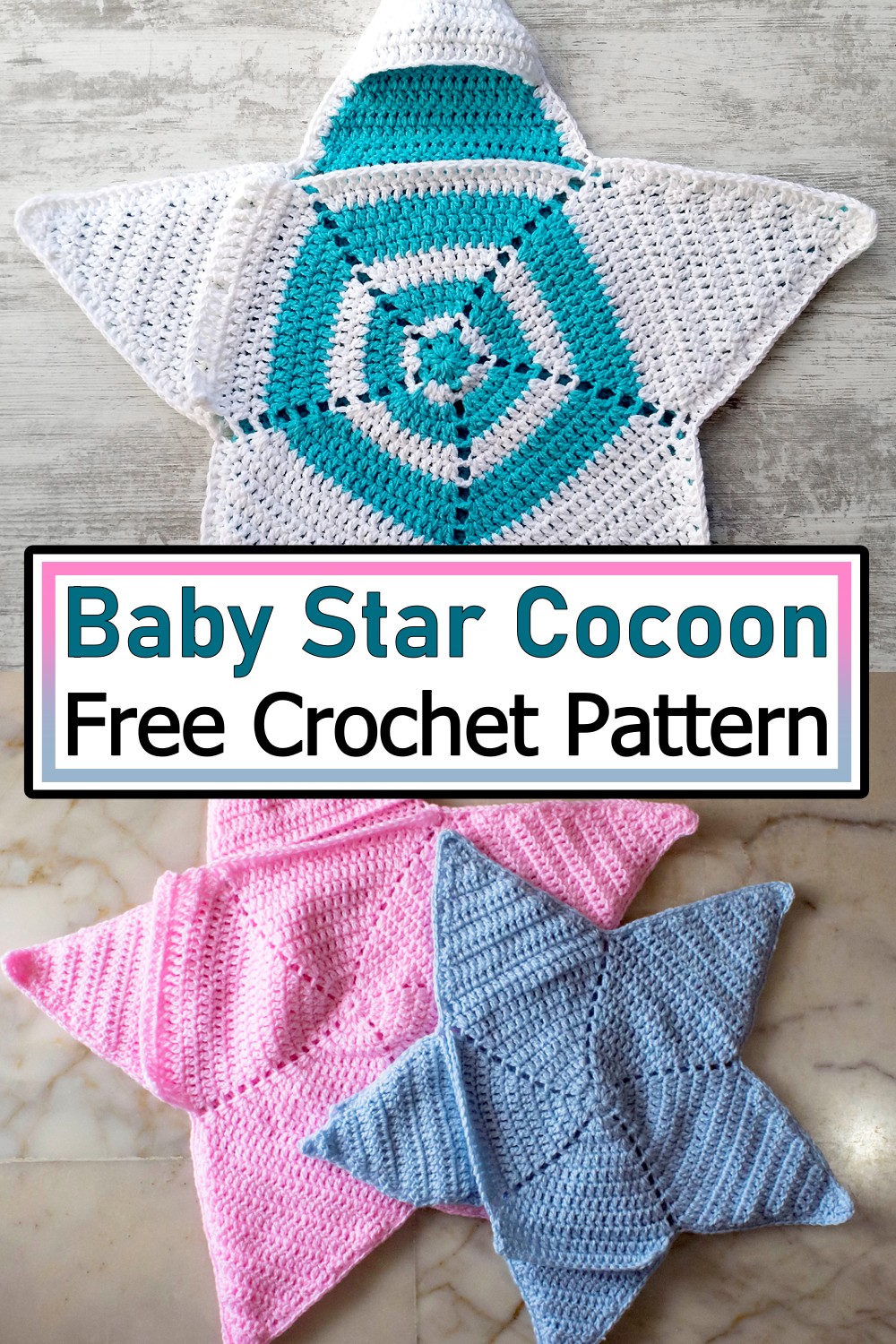 This handcrafted crochet baby cocoon is perfect for a newborn to nestle and drift off to dreamland. This is a cocoon you can crochet for a unique baby! Crochet the ring and then use it to make crocheted granny squares that form decorative stars. You can also substitute other patterns of your choice. The possibilities are endless with this versatile design! You can use this unique gift for the newborn in your life or your own little bundle of joy.