Crocheting is a great way to stay busy while watching TV, and if you're looking for cute patterns to test your skills, check out these crochet turtle patterns. You'll find a variety of designs, from easy beginner projects to those that are more advanced. They're so small and fast to stitch up that you can finish several in one sitting. And the result? You can use cute little turtle plushies for fun play or as decorations! Here are some free crochet turtle patterns that are so adorable that you won't have any problem finding the perfect one.
Baby Turtle Crochet Patterns Free

If you're looking to make a gift for your favorite little one, why not make them a crochet turtle? Crochet turtle patterns are much easier than they look and can be made in less than an hour. Crochet turtles are great because they are fun to play with and easy to hold. They also have friendly faces, perfect for children as young as six. The different patterns allow you to make a turtle that looks just like the real thing or is more cartoonish. Some turtle patterns are harder to complete than others, so plan for trial and error with these projects. After you've completed your first turtle, you'll want to make another to display in your home or give as a gift!
Crochet Turtle Patterns
Crocheting a turtle is a great way to spend time with your kids. It is also a fun project for yourself.
Here are some benefits of Crochet Turtle Patterns:
It Is Easy To Learn: If you have never tried crochet before, this is a great project. You don't need any previous experience with it, and the instructions are very easy to follow.
It Is A Great Way To Relax And Enjoy Yourself: If you have ever tried crocheting, then you know that it can be very relaxing. You can sit back and enjoy yourself while making something beautiful and useful at the same time.
You Can Make It As Big Or Small As You Want: You can make your turtle as small as want or as large as you want!
Crochet Tiny Turtles Pattern
This crochet pattern is made to fit two shades of each color, creating a small turtle design. Craft it with a little help from a friend and enjoy hours of fun making adorable turtles together! Find the perfect creative project with these Tiny Turtles. These crocheted turtles will make an adorable addition to your home or a wonderful gift for turtle lovers. They make a simple design but are super easy to make and cute!
Materials
worsted weight yarn in 2 colors (samples made with Caron Big Donut in Blue Moon and Mint Julep)
G crochet hook
small safety eyes (6mm)
fiberfill
yarn needle
All In One Turtle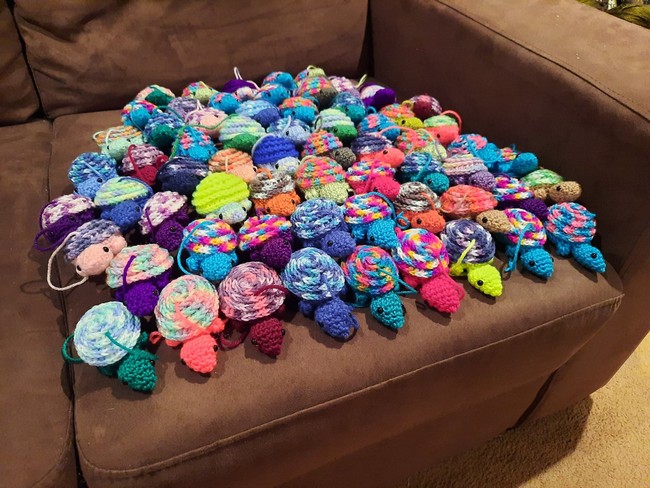 This is a pattern for an all-in-one crochet turtle. In this pattern, you will find the instructions to complete the set of different color turtles yourself. Crochet it in soft acrylic yarn, ready to be played immediately! The pattern is suitable for all skill levels and easy to read, with detailed instructions and photos to help you along the way. It takes approximately 3 hours to make the complete set of the turtle.
Materials
It is recommended to use two different colored threads if possible.
One for the shell and one for the body.
When using a 3.5mm crochet needle, use a 5m thread. (Station: No. 6 crochet needle, said to use 5 meters of yarn.)
Option - Use 5mm or 6mm size doll eyes. However, it can be replaced with a French knot or stitching. Please note that this tortoise's head is quite small, so the eyes etc., of your choice may be large to use. (Reverse: I recommend embroidering.)
Abbreviations
CHAIN ​​– Chain
SC – Single crochet
HDC – Half Double Crochet
INC – Increase
DEC – Decrease
BOBBLE – 5 DC bobble in one stitch. Try not to pull too tight when making DC's
in this stitch. A looser bobble sits out for the feet a little better.
(Reverse: 5 nose bubble stitch (popcorn knitting). It is said to be good for feet.)
BACK BAR - You will need to know how to work in the back bar of an HDC stitch.
Some great videos online show you how to do this if you are unfamiliar.
No-sew Mini Turtle
If you're looking for an easy no-sew crochet pattern, this baby turtle is the perfect project! It's great: not too small, but not too big. The best part is, you don't need to sew anything! The main piece of this crochet baby turtle becomes the shell, and once it's done, you need to stuff it and add eyes for "eyes" and a smile. They are easy to make and fun to crochet. You can use them as decorations anywhere in your home or give them as gifts to family members and friends.
Materials
2mm crochet hook
3ply 100% cotton yarn in 3 different colors.
Stuffing material
Scissors
Sewing needles for the eyes.
Or, you can use safety eyes! The position is at the end of this post.
Pumpkin Pie Turtl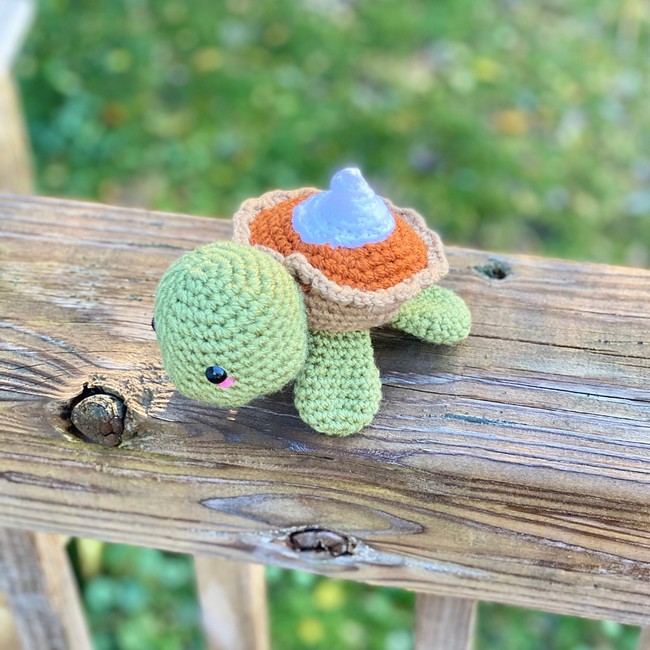 This little guy is so sweet and perfect for Fall! He would be a perfect gift for that special someone or just for yourself. This easy-to-follow crochet pattern includes detailed instructions on how to make him from start to finish. This crochet turtle pattern couldn't be easier to make, and you'll love how he came out. The pattern is written in standard US crochet terms, and the total finished size is approximately 3 - 3.5" tall, depending on how tight you crochet!
Materials
Size D/3 – 3.25 mm crochet hook
Size L/11 – 8 mm crochet hook
Fiberfill stuffing
Yarn Needle (if making large size – one with a large eye)
Scissors
Abbreviations
*= indicates beginning/end of a section to be repeated
BLO = back loop only
FLO = front loop only
Hdc = half double crochet
Rem = remaining
Rep = repeat
Rnd(s) = round(s)
Sc = single crochet
Sc2tog = single crochet 2 together
Sl st = slip stitch
St(s) = stitch(es)
Amigurumi Birthday Turtle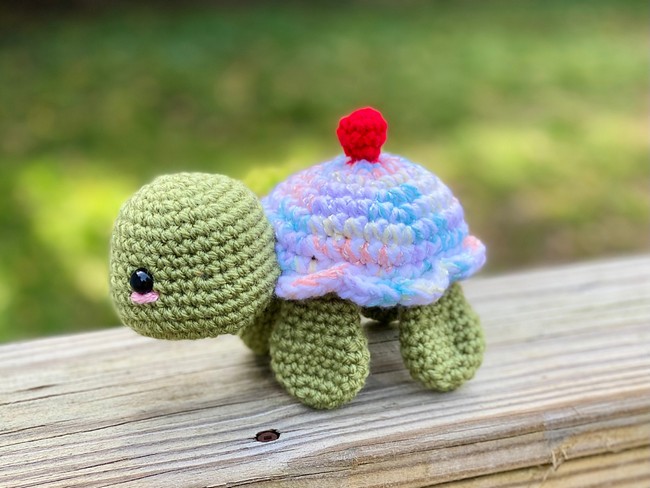 Get ready to make your child's day by indulging them in the cutest crochet turtle pattern! Usually, buying a toy or present is not exciting for children as they want something unique and personal. With this crochet pattern, you can create a handmade gift that your kid will adore and cherish. It has a small shell and is fun to hold. The turtle has round eyes, a small beak and stubby feet. This turtle amigurumi will make it easy to create something special for your son or daughter.
Materials
Size D/3 – 3.25 mm crochet hook
Size H/8 – 5.0 mm crochet hook
Size L/11 – 8 mm crochet hook
Size N/P/15 – 10 mm crochet hook
Fiberfill stuffing
Yarn Needle (if making large size – one with a large eye)
Scissors
Abbreviations
*= indicates beginning/end of a section to be repeated
BLO = back loop only
FLO = front loop only
Hdc = half double crochet
Rem = remaining
Rep = repeat
Rnd(s) = round(s)
Sc = single crochet
Sc2tog = single crochet 2 together
Sl st = slip stitch
St(s) = stitch(es)
Turtle Ornament
This crochet pattern for a turtle has a smiling face, big and little claws, and a friendly-looking smile. This Turtle Ornament is a great beginner pattern! You can make this crochet turtle in a matter of minutes, but with so many variations, it will keep you coming back for more. Try different colours and different size hooks and even add some beads to the eyes. Be creative with your project and make them extra special!
Materials
I Love This Cotton worsted weight yarn: 20 yards Christmas ombre (MC), 30 yards green (CC)
Size G (4.0 mm) crochet hook
Peel & stick felt
Ribbon or cord for hanging
Mini Turtle Keychain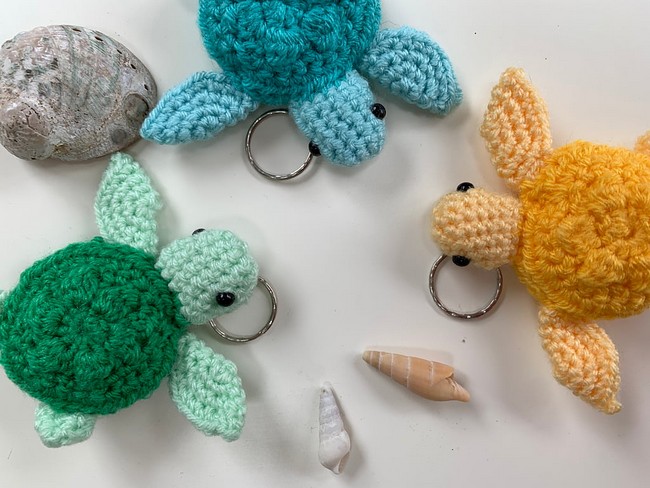 This Mini Turtle Keychain is perfect for the little child in your life. Both fun and practical, it will stand out from all the other keys and be a great conversation starter for anyone that sees it! This pattern is easily adaptable to make any size turtle you want, so pick up some yarn and make your own! This pattern will be perfect whether for a birthday gift or the classroom.
Materials
I've used DK yarn and a 4mm hook.  These are a perfect stash buster and cheap to make as they take so little yarn.
I made the green and brown one "traditional sea turtle colours" with Stylecraft yarn
The two tone turtles in yellow, blue and green were commissioned to be featured in Crochet Now Magazine.
These little guys used Cygnet DK Yarn.
In Aqua and Peppermint, Sunshine and Buttercream, and Apple and Mint.
Abbreviations
bbl – bobble
3bbl – 3 bobble
DC- Double crochet
HDC Half Double crochet
SC – Single crochet
SS Slip stitch
ST (STS) stitch / stitches
Yrh Yarn round hook
Nala the Turtle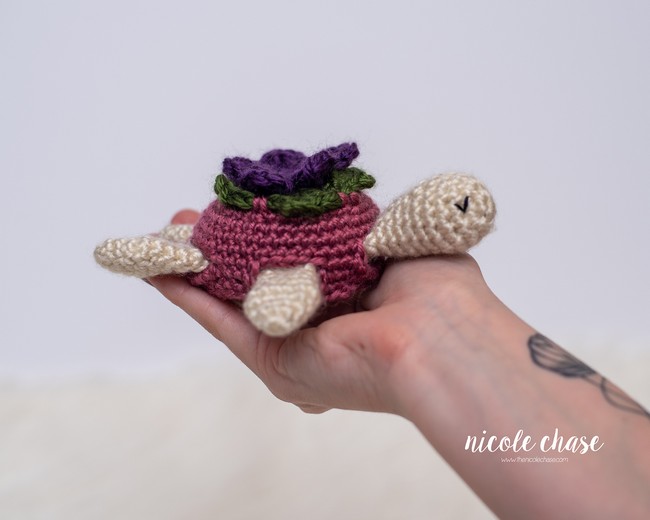 Are you a person who enjoys learning new things but also loves to find unique gifts for the people close to you? Then this is the perfect pattern for you. Crochet the turtle with its simple design and cute face and even teach those little ones colours using different colours. You can use it as a decoration for your next party or decorate your child's room with this beautiful animal. In this pattern, you'll learn how to make your turtle.
Materials
Measurements: Approximately 5.5" long and 2" tall
Gauge: Not necessary for this pattern; see notes
Hook Size: 3.75mm
Other Tools: tapestry needle, stitch markers, scissors, sewing needle
Yarn Weight: Medium (4), Worsted
Yarn Used: Furls Wander Yarn
Yardage: color A (snow): 35 yds, color B (dragonfruit): 4 yds, color C (meadow): 4 yds, color D (amethyst): 10 yds
Other Materials: poly-fil stuffing, embroidery floss
Abbreviations
st = stitch
sl st = slip stitch
ch = chain
SC = single crochet
SC2tog = single crochet 2 stitches together (invisible decrease is recommended)
TC = treble crochet
DC = double crochet
Teenage Mutant Ninja Turtles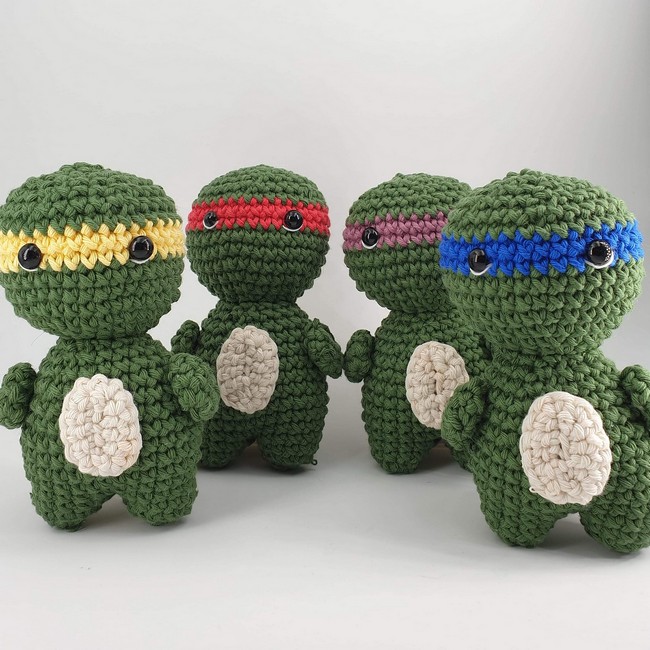 This turtle pattern is easy to follow, and even a beginner can make it. The turtles are made in one piece (body), with no sewing required! This is a great pattern for anyone who wants to crochet amigurumi. This Crochet Turtle Pattern is cute and fun to make! Take him with you on your adventures, and have fun doing so! So, Use this crochet pattern to make your Teenage Mutant Ninja Turtles turtle. You'll love this super simple, easy-to-learn pattern.
Materials
Aran Yarn (green, beige, light brown, colour scraps)
3.5mm crochet hook
9mm safety eyes x 2 per turtle
Stitch markers and pins
Yarn needle
Stuffing
Abbreviations
Sc = Single crochet
Slip st = Slip stitch
Invdec = invisible decrease
FLO = Front loops only
BLO = Back loops only
** = a repeating stitch pattern
Mini Sea Turtle Amigurumi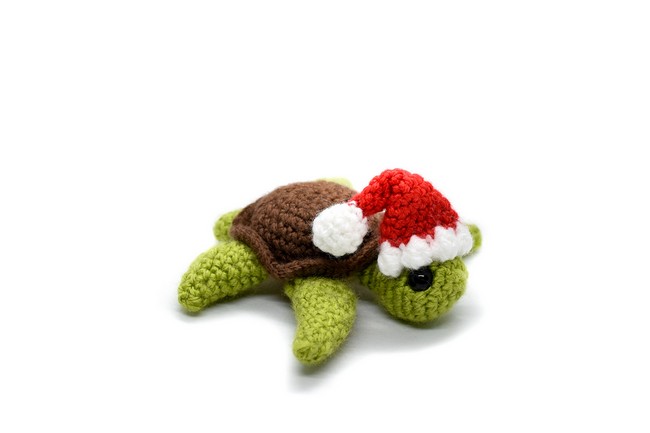 This crochet sea turtle pattern is perfect for kids and adults alike. It's a great addition to any child's toy box or a cute thing to hang by their crib! It also makes a lovely gift! So, Make this adorable crochet sea turtle pattern with easy-to-follow written instructions and step-by-step photos. In this pattern, you will find the crochet turtle pattern, the method for making the shell and its closure, and a simple bobble stitch to make its head.
Materials
DK weight/#3 yarn (Paintbox Yarns Simply DK or similar): Light green, brown, light brown/caramel
Size C / 2.75mm crochet hook – I highly recommend the ergonomic Clover Amour hooks
Two 8mm black safety eyes
Fiberfill stuffing
Yarn needle
Scissors & pins
Stitch marker – I recommend locking stitch markers
Abbreviations
Mc: Magic Circle
Ch: Chain
Sl: Slip Stitch
Sc: Single Crochet
Inc: Increase
Dec: Decrease – I recommend using the Invisible Decrease
BLO: Crochet in back loop only
FLO: Crochet in front loop only
Smaller Sea Turtle
This turtle craft is a great crochet pattern for beginners. It's also perfect for practising your single crochet stitches and making a cute turtle that can be given away or kept as a gift. This sea turtle crochet pattern is also perfect to practice your new skills or to make as a gift for someone special. They take around 60 minutes to make and are great for beginners.
Materials
Dk yarn (two colours)
3mm hook
Filling
Safety eyes
Needle
You can also see: Crochet Blanket Patterns 
Plush Turtle
The Crochet Turtle Pattern is a great craft for a beginner. The pattern includes instructions on how to crochet the turtle's body, tail and head. Now you can create your plush turtle with this affordable pattern. This is a great place to start if you have never crocheted before! This crochet turtle pattern is quick and easy and can be whipped up in no time. It's also a great project for beginners looking for a simple but cute crochet project.
Materials
Chenille Chunky Yarn in 3 colours. I used James C. Brett Flutterby Chunky in pink, blue and white.
6mm crochet hook
10mm plastic eyes
sewing needle
scissors
Abbreviations
ch – Chain
sc – Single Crochet
FLO – Front Loops Only
BLO- Back Loops Only
dc – Double Crochet
inc – increase (2 sc in one stitch)
dec – decrease (sc two stitches together)
Tiny Turtle
This little crochet turtle is just the right size to keep your keys safe and sound. This cute pattern is easy to follow because it's broken down into small, easy-to-follow steps. The instructions are clear and well-written to give even beginners the confidence needed for this project. The result is a cute piece of crocheted artwork that could be given as a gift or used as a paperweight on your desk at work!
Materials
#4 yarn – 10 yards brown, 30 yards green
4mm hook OR use any yarn and hook combo!
Pattern written in US terminology
Finished item: 3" square, including fins (in #4 yarn)
Abbreviations
Ch: chain
Sc: single crochet
Dc: double crochet
Hdc: half double crochet
Sl st: slip stitch
Turtle Coasters
You will learn how to crochet your cute turtle coasters in this pattern! You can use these coasters for any beverage, traditional beer bottles or fancy coffee. These cute turtle coasters will keep your table tops crack-free. They are fun to make and easy to modify. This is a great project for beginners, and it comes together quickly. It's also a great way to use up your leftover yarn. You'll be making these wonderful coasters in no time!
Materials
Dishie (worsted, 100% cotton, 190yds/100g) MC Swan 25409, 1 skein; C1 Dewdrop 28099, 1 skein
Small amount of black yarn for face details
Crochet hook 4 mm (US G/6)
Tapestry needle
Scissors
Abbreviations
ch = chain
st/s = stitch/es
sl st = slip stitch
sc = single crochet
inc = increase
dec = decrease
Benjamin Turtle Nap Buddy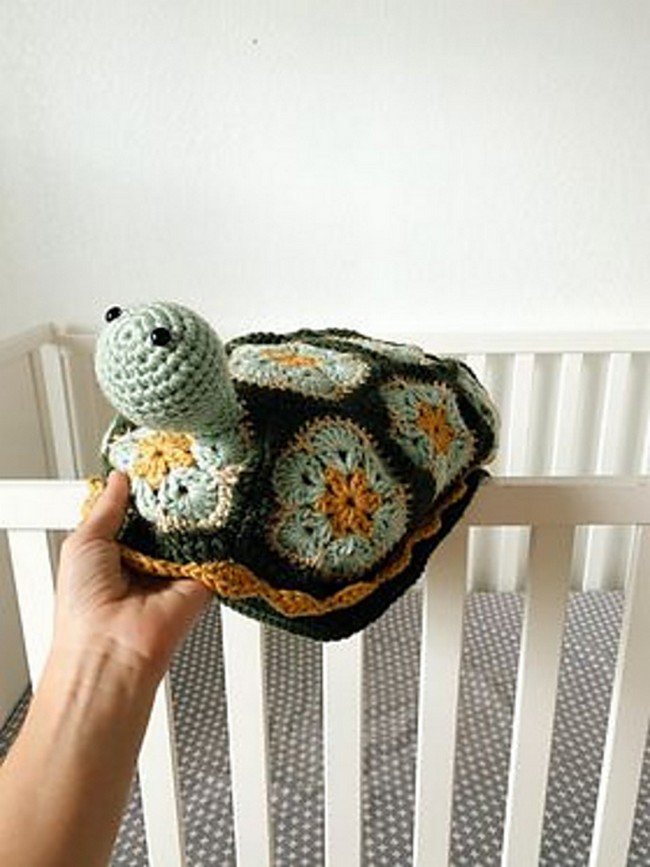 The Benjamin Turtle Nap Buddy crochet pattern is a soft, cuddly friend that little ones will love to take on sleepovers and trips. While this is a relatively simple project, it's so cute that even intermediate crocheters will want to make one for their kids or grandkids. This is a great gift for any child in your life. This pattern is perfect for baby showers and holidays as a gift. He's more than just a cute sleeping buddy! This also makes a delightful addition to your child's nursery decor, making him a welcome in-home accessory.
Materials
I Love This Yarn's worsted weight
21 oz. Dark Olive
6 oz. Mild Green
5 oz. Toasted Almond
2 oz. Sungold
Size H (5.0 mm) crochet hook
Fiberfil
Yarn needle
Two 8-mm black safety eyes
Three ¾" buttons