Free sewing patterns for scarves are great because they allow you to make beautiful items without spending much money on materials. Even though some people like to use expensive designer fabric for their clothing, it's possible to make something just as nice (and even more personal) with simple natural fabrics. You can even wear old clothes that don't fit you anymore and turn them into a new scarf! If you want to learn how to sew, these Free Scarf Sewing Patterns are a great place to start—and if you already know how to sew, they're a great way to use up the fabric scraps you may have lying around.
Free Scarf Sewing Patterns for Adults and Kids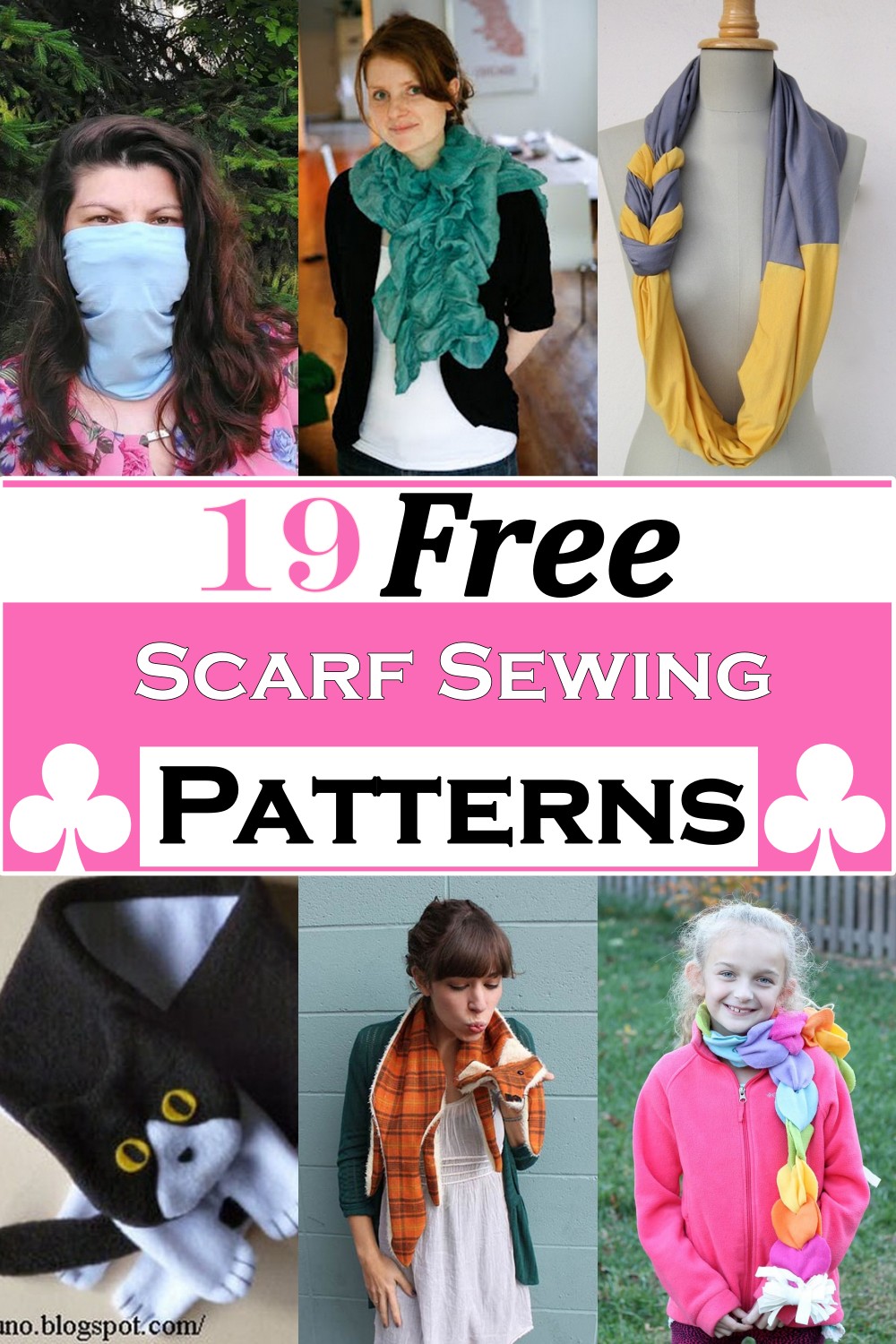 Sewing a scarf is a great way to use up some of your stash of fabric scraps. Since it's a quick project, you can make one in the afternoon and have a nice new accessory to match any outfit. With so many beautiful and versatile scarf styles, you'll want to consider making several! The free scarf sewing patterns below are easy for any beginner to tackle. Whether you're looking for a beginner project or want to add some new styles to your repertoire, these free scarf sewing patterns will help you transform that old shirt into something you'll wear again and again.
Below are 19 Free Scarf Sewing Patterns to help you find the perfect scarf pattern – whether you're new to sewing or a pro!
You Can See: 20 Free Jumpsuit Sewing Patterns
DIY Neck Warmer
If you don't like wearing a scarf but still want to be warm this winter, this great neck warmer is a perfect compromise. They are super comfortable and casual, so you can wear them when going out and during winter sports. The velcro strap keeps it in place, so you don't have to worry about it slipping around. It fits nicely around your neck and doesn't move around while you move, so you can wear it while playing sports or staying active!
Hooded Scarf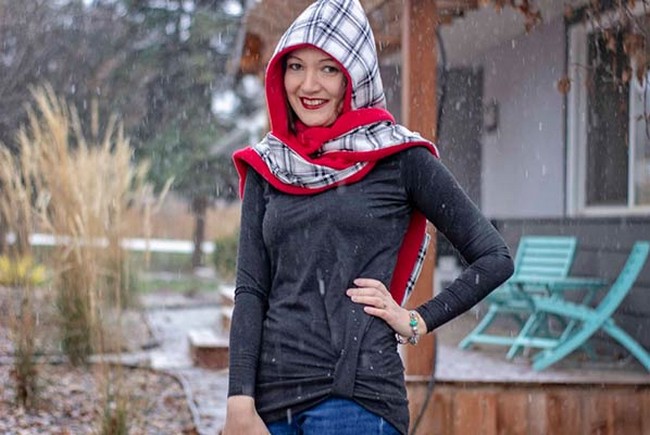 The hooded scarf is a great accessory in your wardrobe, especially on a chilly winter. This scarf is made from high-quality fabric and will keep your face and neck warm while protecting you from the wind and rain. Not only that, but with pockets at both ends, you'll be able to keep your hands warm inside too! This holiday season, make your very own hooded scarf! It's a great way to stay warm on those chilly days and nights but also lets you show off your unique style. This scarf is perfect for gifts or just for yourself.
Leather And Flannel Scarf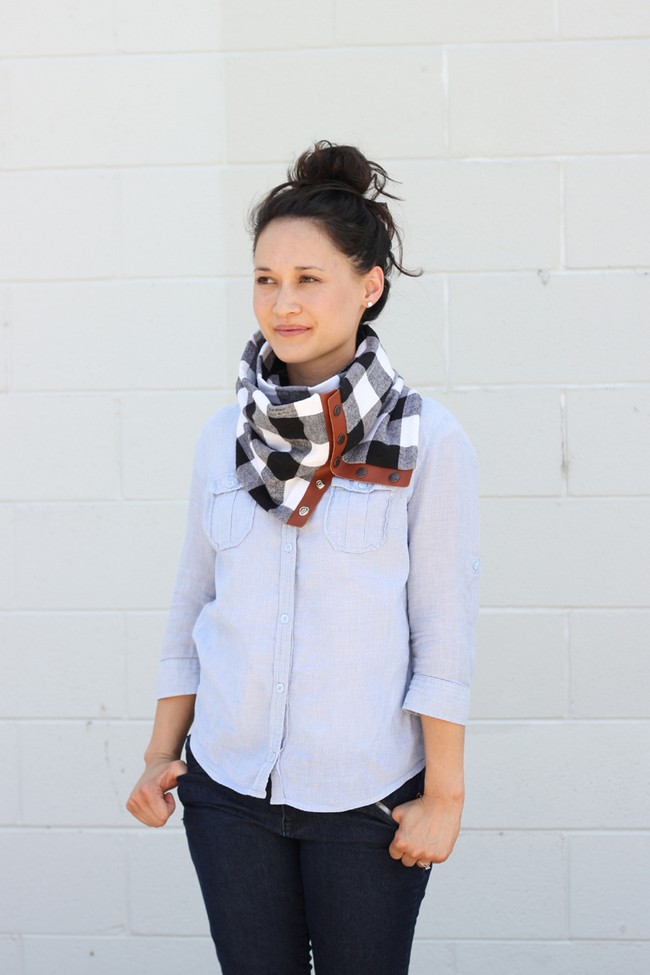 This flannel and leather scarf is comfortable, easy to make, and stylish. It works great when it's windy outside or cold, thanks to the flannel sections, which trap heat. It also works as an extra layer for your fashion needs or when it's snowing outside. As long as you have the materials and a sewing machine, making this scarf is easy! Make this yourself for a much lower price than buying it from a store, and give yourself something unique to wear.
by Deliacreates
No Sew Blanket Scarf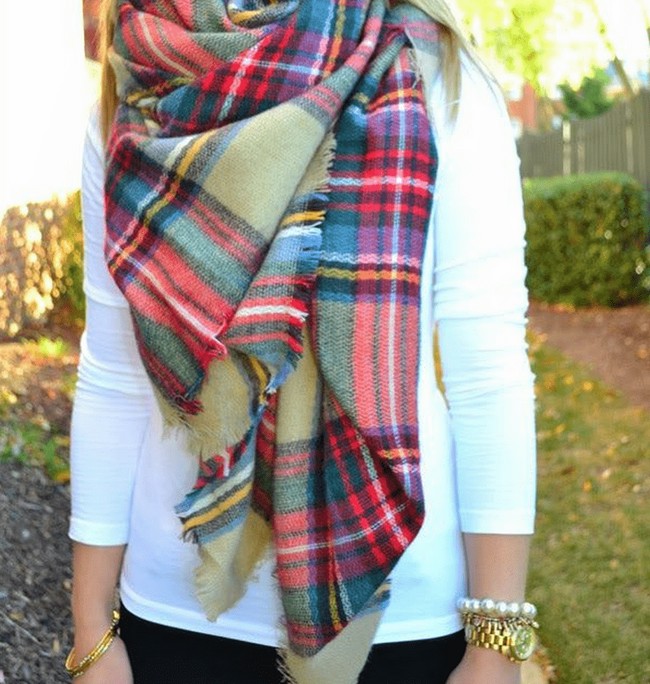 Blanket scarves are the perfect addition for any cold weather adventure. This project is simple, fast and makes you look like a fashionista. It's also perfect for a last-minute snow day adventure when you don't have time to get dressed. It works best when made from old blankets in your closet! Make your no-sew blanket scarf with this easy pattern. All it takes is one long piece of fabric and a few simple steps to create a unique and warm scarf to keep you warm this winter.
by Momadvice
Cute Infinity Scarf
The infinity scarf is a simple project you can knit in a day. It's perfect for fall and winter weather as it keeps your neck warm without the bulkiness of regular scarves. You can customize the look by adding different patterns and colors to make it stand out in your wardrobe. These are just some fun things you can do with knitting, so try them out. This easy-to-sew project is perfect for beginners, and you'll have fun adding color and personality to it.
by HelloSewing
Felt Rainbow Scarf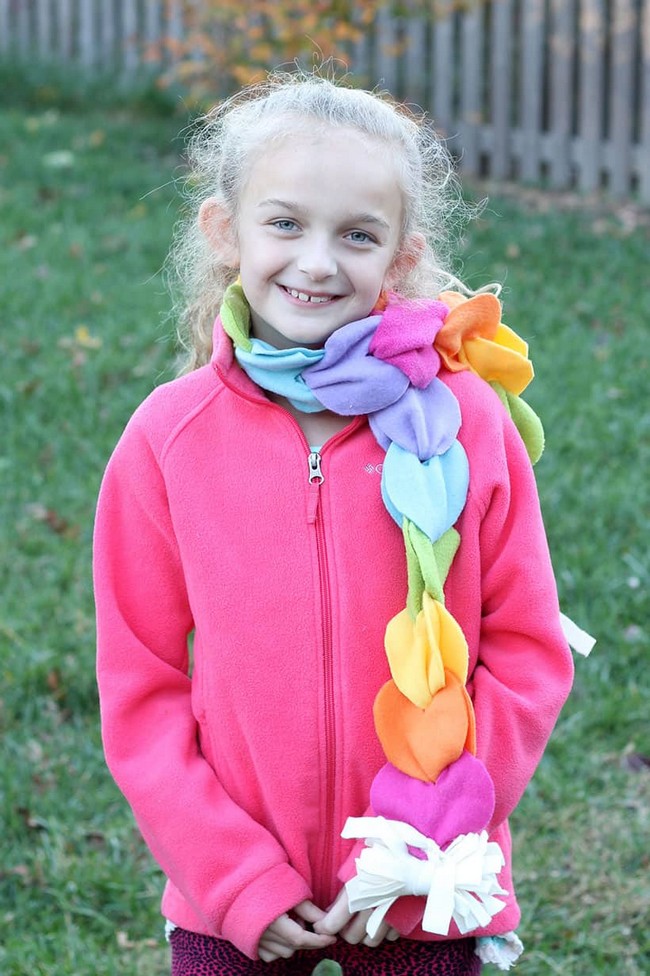 Are you a cheerful person who's always ready to share your warm and friendly energy with others? Are you always the happiest person at social gatherings? If so, then this scarf will be an excellent addition to your wardrobe. Make it for yourself or as a gift for someone special! The Felt is nice and soft, so it feels great against your skin. This scarf is a fun size for children, adults and teens. It's a lovely way to celebrate the color of the rainbow and will make you very popular in no time! The best part is that you can make it yourself in the afternoon.
A Gaiter Scarf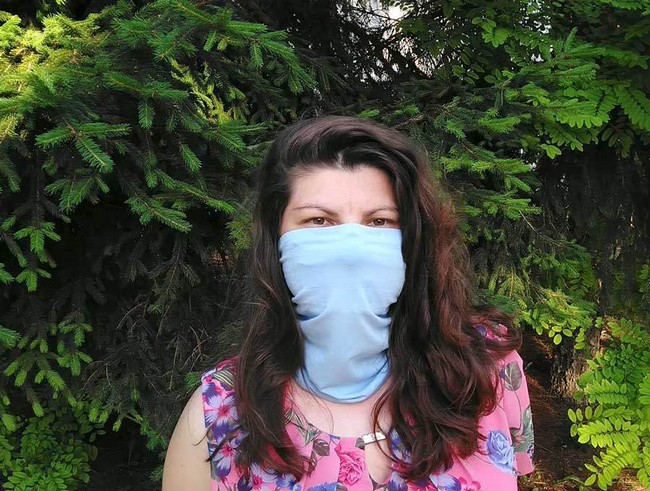 If you love scarves but can't find the right ones, this Gaiter scarf is for you! This scarf is more than a scarf - it's a combination of accessories: When worn as a bandana over your head, you have time to grab a jacket on cold mornings. It is worn as a ponytail holder and adds an elegant touch to your hairstyle. This versatile scarf also works great as a mask and as an extra layer of padding under helmets and bike helmets. Not just that, it can also be used as a headband and much more.
Braided Scarf Out Of Tshirts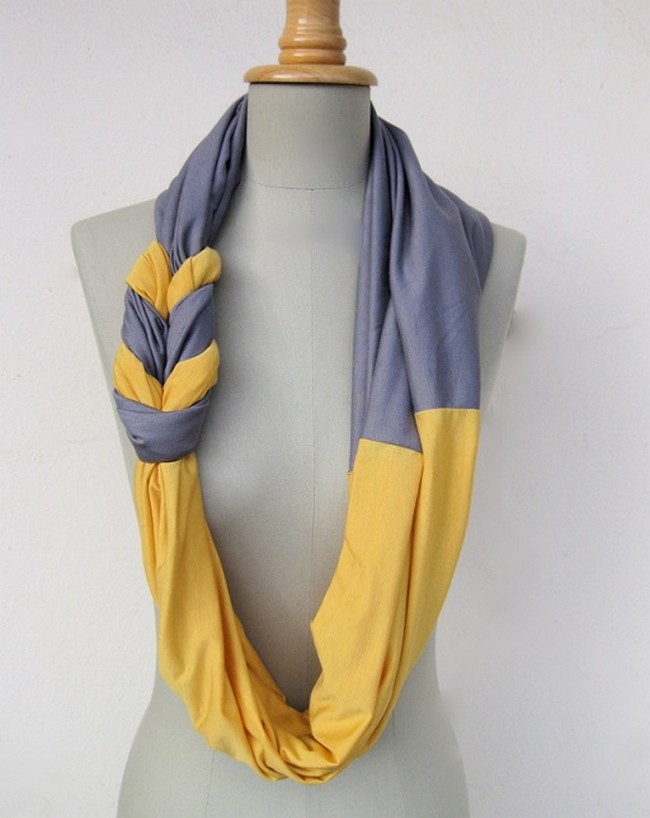 Upgrade your look with a stylish and unique infinity scarf. This is a great opportunity to repurpose old t-shirts you don't wear anymore into something useful – making you look amazing. This project will help you make an ultra-cool infinity scarf from two t-shirts. Follow this pattern to sew it, and you will be able to make an infinity scarf out of old t-shirts that look so stylish! The infinity scarf pattern is also for those beginner sewers who haven't sewn a single stitch before.
by Alldaychic
Anthropologie Inspired Scarf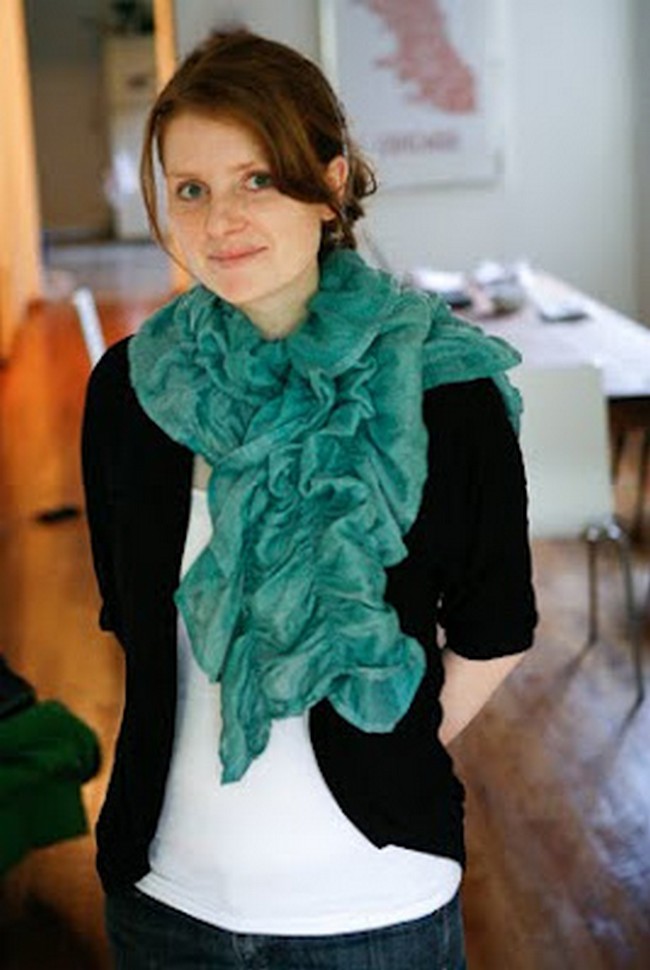 Make your spring and autumn scarf with this simple, beautiful Antropologie-inspired pattern. It's perfect for those transitional months when you don't know if it's warm enough to wear a thick scarf or whether it will get colder before it warms up again. This one is lightweight and thin, so it won't feel too bulky but will keep you warm. You can simply knit one in any color by changing the yarns used in each scarf section. This would be a great project for a beginner, as the pattern is simple and minimal.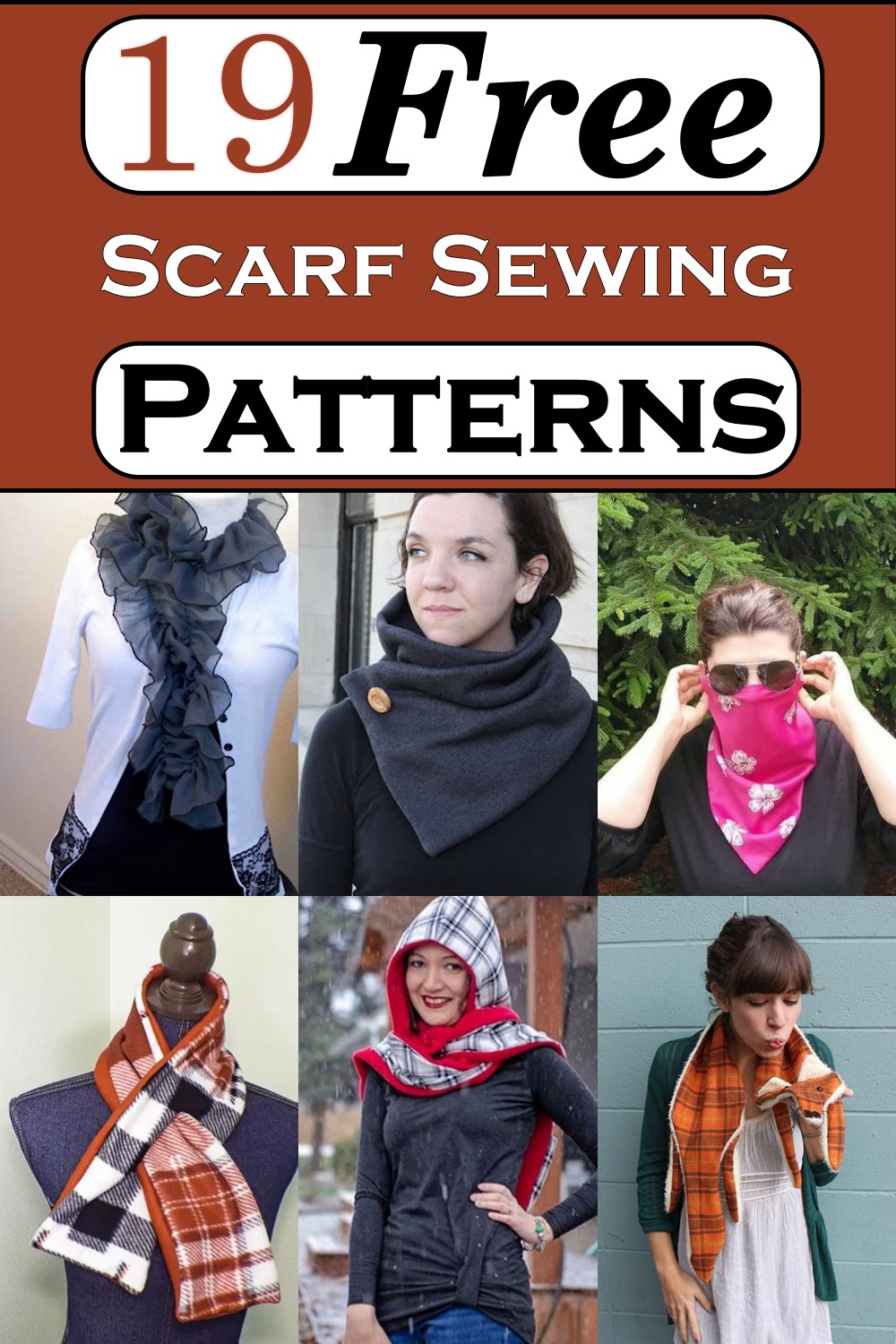 Turn A Sweatshirt Into A Cowl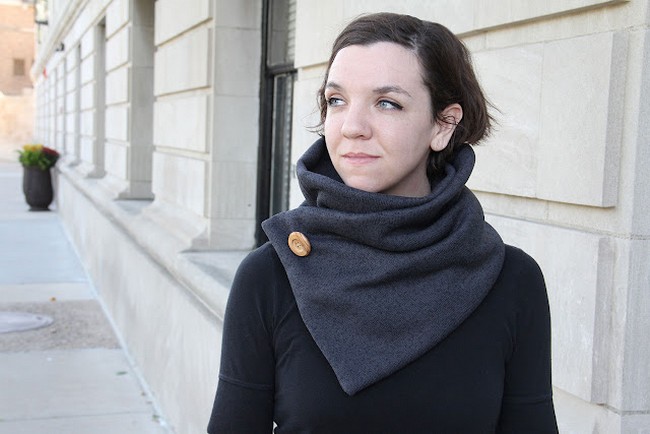 Are you looking for a way to upcycle your old sweaters? Look no further - the Turn A Sweatshirt Into A Cowl Pattern is here! Using only a few simple steps, this pattern lets you create a beautiful cowl out of an old sweater that would normally end up in the trash. It's easy to make and looks stunning thanks to its slouchy fit and large button. This project is great for beginners, intermediate crafters, and veterans who want a challenge. You can use any pattern or style of sweater, too!
Shirred Scarf
This is a great scarf for those days you want to feel comfortable and cozy! A shirred scarf, it's soft and fluffy at the same time but still maintains its shape. The ruffles make it look like jellyfish, which adds some flare to your outfit! This is a unique scarf that can be worn in many ways. It looks great with an elegant outfit combination or even with casual clothes. This fun-to-make shirred scarf is easy and quick to knit! The pattern is written in a way that even beginners can follow, but it's something that you can use as a stepping stone to learn new techniques or try out some new stitches.
Scarf Face Mask
This Scarf Face Mask project is for all those who need to carry a face mask for protection and a scarf for warmth and fashion. This one-size-fits-all scarf mask features a ribbon tie closure for easy adjustment so that you can rest assured it will stay in place when you put it on! Because it's made from soft fabric and insulated with fleece inside, your face will be warm and protected from the cold. This is also great for children looking for something cute to keep them warm this season!
Kitchen Towel Scarf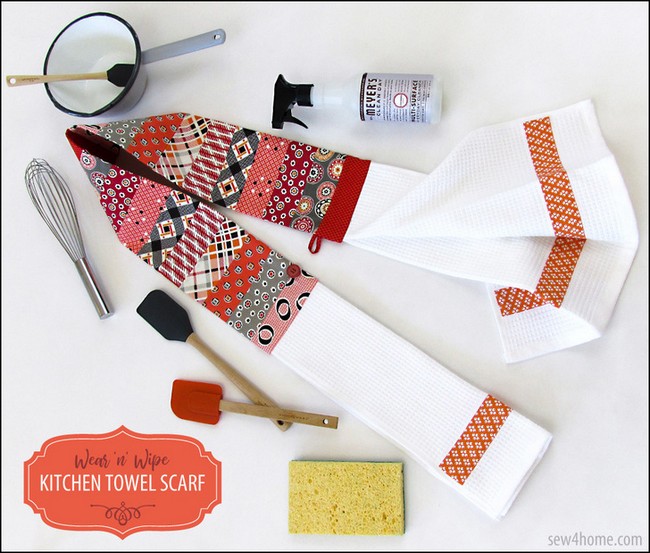 Don't let your kitchen towels take up space on the table – keep them handy, instead. The Kitchen Towel Scarf has a restaurant-quality cotton center wrapped in two towels with each other. This scarf can absorb water, so you won't have to worry about getting wet when washing your hands or cleaning counters. It also has an ergonomic design that hangs comfortably around your neck while you work. The versatile design makes this scarf a must-have addition to any kitchen.
by Sew4home
Fox Scarf Pattern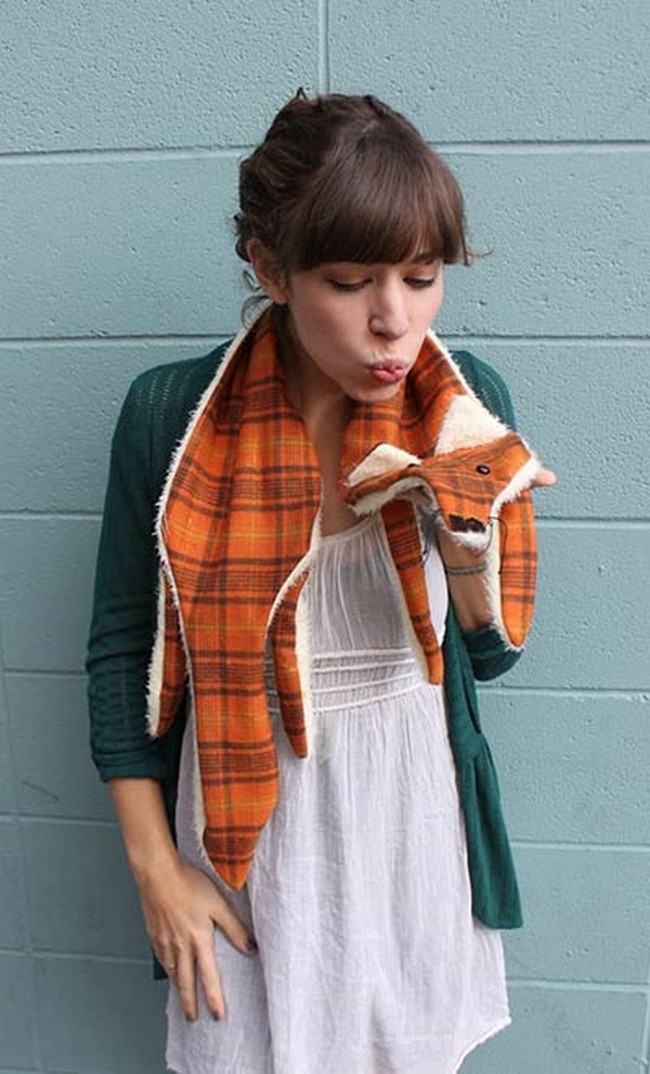 Make your own Fox Scarf Pattern! Right now, it's a fox scarf, but it will still be just as cute when you change it into a bear or a monkey scarf! Whether you make the pattern for yourself or gift it to someone special, this easy-to-sew scarf will make them smile and feel warm. The pattern is suitable for beginners as well as advanced sewers. You must have basic sewing skills to be able to complete this project.
Cat Scarf Pattern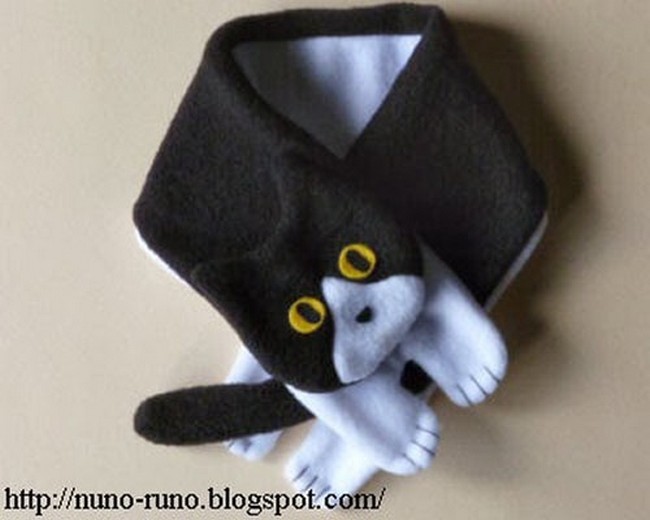 This pattern gives you all the instructions to create a perfectly suitable scarf for cat lovers. It's easy to follow and includes patterns and instructions for creating a cat face with whiskers, nose and closed eyes, and an optional tail. Once you start, you'll probably find yourself looking for another excuse to make another one! Make this cute cat scarf and wrap it around your neck. It looks so warm, snuggly, and cozy! You'll envy everyone in town when you wear this accessory.
by Nuno-runo
Easy pet over the collar bandana
When your pet is feeling cold, give them this easy-to-sew scarf with a personal touch. The scarf will fit all cats and dogs, so anyone who owns a pet can make one for them! This lovely project makes a great handmade gift. Your furry friends will happily wear this adorable, winter-ready bandana over their collars. The triangular scarf has a simple construction--you'll need to sew the right sides together and turn it right. This pattern works best with lightweight fabrics like silk, linen, or cotton.
Bandana with ties
This scarf for pets is a unique style of bandana that can use on any breed or size of the dog. You can even use it on other animals and see how they look in the wild. It's made of fleece, which is soft and comfortable while still handling rough wear and tear. The long ends can tie together as you wrap it around your furry friend, so you know it'll stay in place and not pop off when playing outside.
Fringe Scarf Pattern
This scarf is a great project for anyone who's short on time but still wants to DIY something that looks chic. This fringe scarf is easy to make and great for beginners. Made from luxurious 100% wool, it is soft and cozy on the skin and will add warmth to your winter outfits. Faux fringe edges are chic and modern. The instructions will show you how to create your fringe scarf.
by Merricksart
Reversible Keyhole Scarf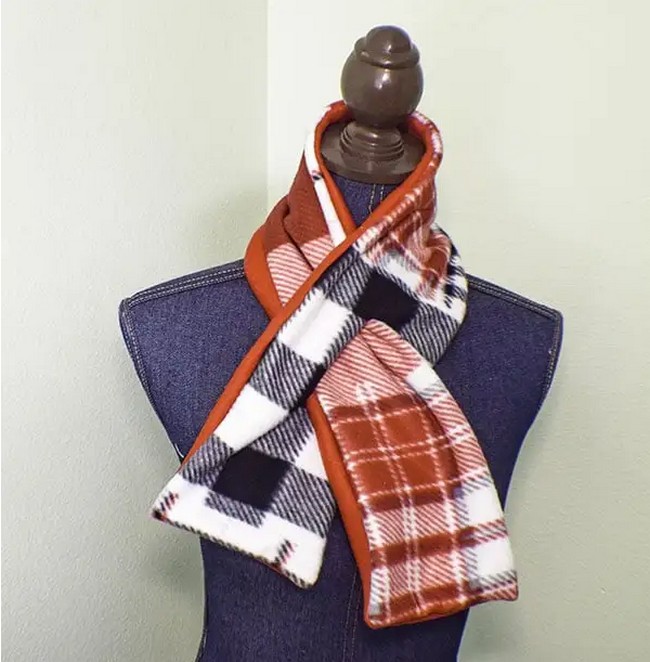 Are you ready for the cold days of winter? Then it's time to make your reversible keyhole scarf. It's a great scarf for those who want something to keep them warm but not too bulky around their neck. This reversible scarf is a big-time saver. No need to knot it around your neck because it has a keyhole opening with an easy pull-through. It's soft and warm, so you'll be cozy no matter what side you choose. Wear it once and reverse it for the next time.