If you love sewing and you're the type who hates buying new clothes constantly, this bundle is for you. We have saved you time and money by gathering a collection of our most popular vintage jumpsuit sewing patterns and putting them in one easy-to-make bundle. Make your little one look the best at the next baby shower by sewing a fabulous jumpsuit for them. Ready-to-wear options can be easy, but when you want something original and handmade, these jumpsuit sewing patterns are here to help!
The mommy and baby duo are ready for the warmer months with these cute and easy-to-make rompers or free jumpsuit sewing patterns. Each pattern includes instructions on how to make a romper or jumpsuit in multiple sizes. These fun patterns let you start slow and work up to the more challenging ones with extra pockets, snaps, or buttons!
Jumpsuit Sewing Patterns

Whether you are looking for a casual jumpsuit or a formal one to wear at your best friend's wedding, we are sure there is something for you in our collection! We have patterns for children and adults of all sizes – X-Small to XXL. Most of the patterns are made from stretch fabrics but if you want to make them more comfortable and stylish, check out the selection of quality fabrics we offer. I hope you'll find your dreamy stylish, and vogue jumper sewing pattern here.
Easy Valley Jumpsuit
Our Valley Jumpsuit will be your go-to outfit this summer. Our Valley Jumpsuit will be your go-to outfit this summer. Use this pattern to make yourself fun and stylish overalls with a button-up closure at the front and a back slit near the neck for extra comfort and arm movement range. The sleeves are ¾ length while the legs reach down to your ankles. The jumpsuit has a high and narrow neckline, an elastic waistband, and practical pockets.
Free Morina Jumpsuit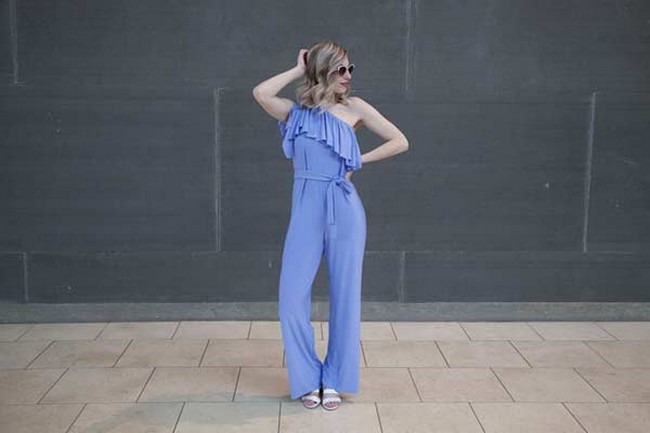 Ready to take the runway by storm, this jumpsuit features an elegant and fashionable design. The sleeveless bodice that goes over just one shoulder is joined to the loose below-the-knee legs with a hidden seam. A stylish fabric belt follows the flap line that hangs off the neckline, covering any imperfections in your styling. The seam that joins the front section to the back section is hidden by a fabric belt that runs down through it. A stylish fabric belt follows the line of the flap that hangs off the neckline, covering up any imperfections in your styling.
British Sewing Bee Jumpsuit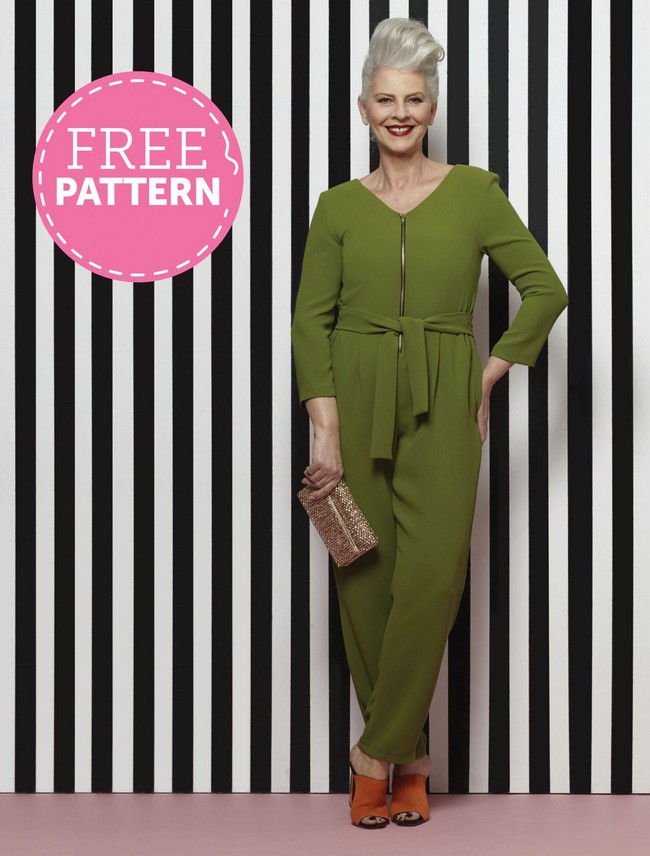 Enjoy this jumpsuit's freedom of movement when you want to bend and stretch your body or relax. Pull the zipper up to keep yourself warm in any situation, or let it down if you want to get some sunlight on your face. This jumpsuit is a lovely addition to your wardrobe and can be worn as a midi dress or dressed up with heels for an evening out. The basic design will work well when you want to go classic and elegant, but the stylish V-neck cut and wide belt still have enough edge to make it stand out.
Stylish Jumpsuit Tutorial
We've designed this stylish jumpsuit ideal for spring or summer due to its comfortable and breezy shape with wide armholes, long but spicy pants, and a sash tied at the waist. With a V-neck at the front, shoulder strap sleeves with wide armholes, and a zipper at the back, it goes well with loafers or sandals. The loose-fitting pants have wide armholes, zip closure at the back, and decorative fringes. This garment looks elegantly bohemian when worn with a simple top or blouse.
Oversized Dungaree Pattern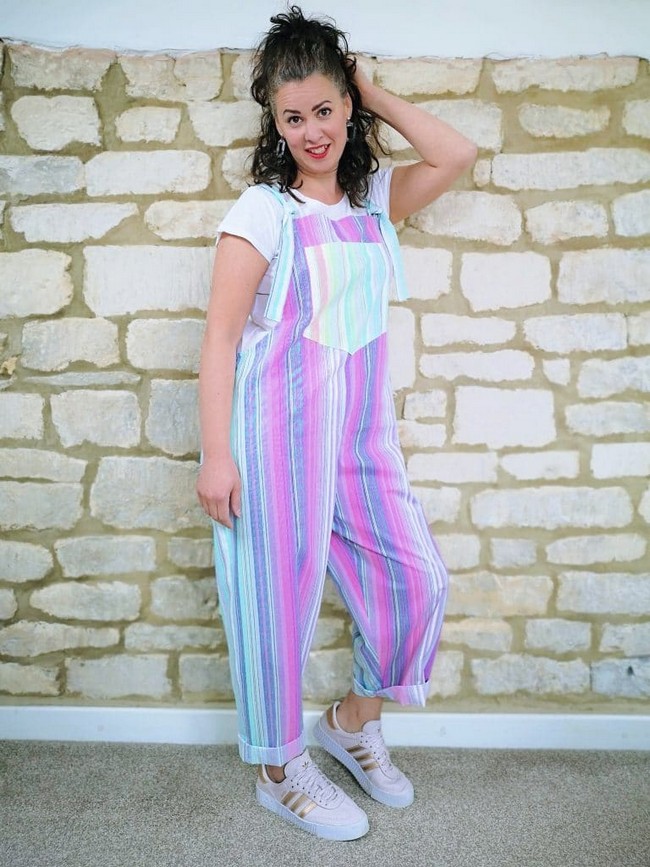 This pattern is the perfect resource if you've always wanted to make your Dungaree. Crafted by an expert, it allows you to turn yourself into the most fashionable handyman in the world—and with no effort at all. Unlike other drafts, this one features long pants, a straight neckline, and those characteristic overalls shoulder straps that are loose so they can be tied once you put on the suit. And because it's our draft-your-own pattern, it's super easy to put together so that you can complete your new suit in no time!
Luna Jumpsuit Pattern
Love to wear bodysuits and culottes? Then this pattern will be the perfect combination for you. With an exposed back, a gathered waistline, and free-flowing full-length legs, it's the perfect choice for bright summer days. It has a spaghetti strap top, making it easy to pull over your head, and wide-leg culottes with an elastic waistband on the back, so it's easy to put on. The bodice is sleeveless, with a triangular neckline at the front, and a low back with a beautiful ribbon that connects the straps, so they don't slide off your shoulders easily.
All At Sea Jumpsuit Pattern
Our All At Sea Jumpsuit is the perfect addition to your summer wardrobe. Its knit fabric and innovative print make it an eye-catching piece that can turn heads. This cozy jumpsuit has a creative wrap front that adds an extra layer of style, making it ideal for layering over your favorite tops and showing off at casual gatherings. It's a mix of oriental and western ideas with a wide waistband and floral lace that wraps across the bustline in an option that makes this piece a must-have for your spring wardrobe.
Forrest Jumpsuit Pattern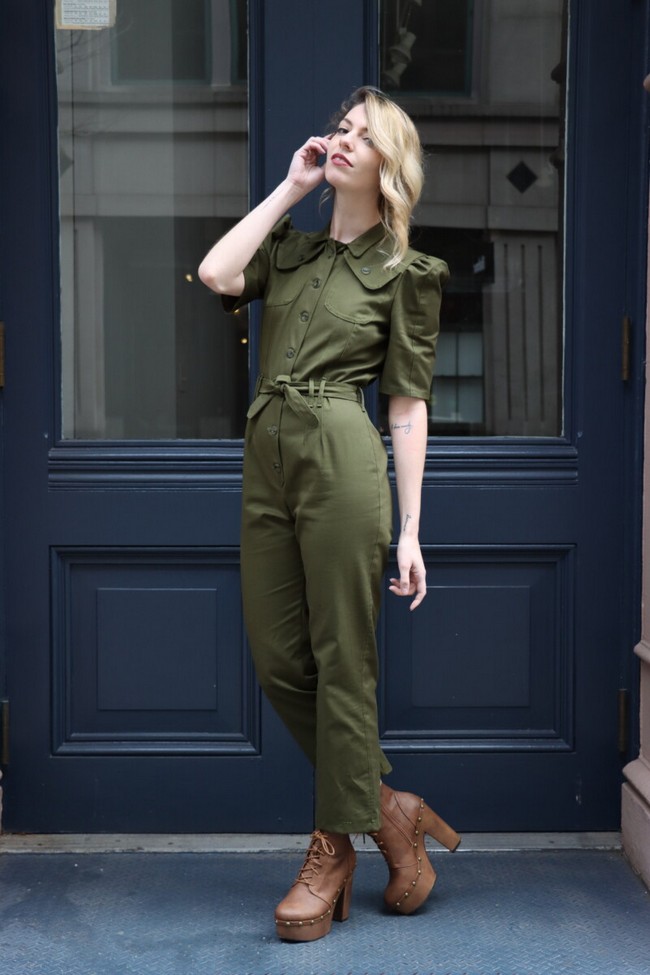 Unzip the front closure of this jumpsuit for a breathable option that's surprisingly cool. With a forest-inspired design, you'll feel like you're in the wild woods with every step. Featuring a collar, puff sleeves, and patch pockets at an angle below the collar. The front button-up closure goes from the neckline down to the cross point. If you like that look of a jungle explorer, this jumpsuit will most likely intrigue you with its short puff sleeves, a beautiful collar, and interesting patch pockets set at an angle just below the collar.
Palm Jumpsuit Creation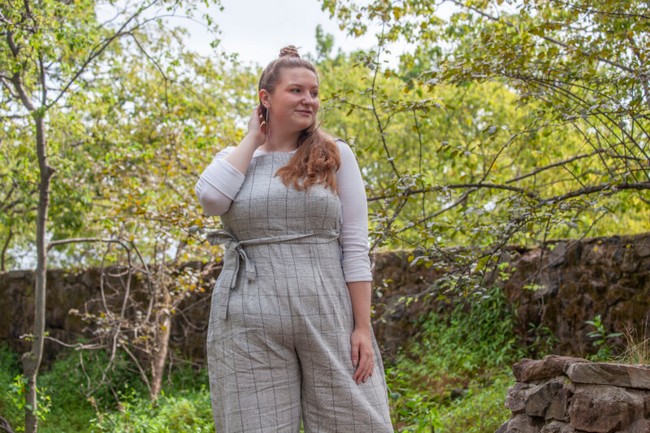 This Dungaree jumpsuit is exactly what you need for the summer. It's made from a cotton fabric that is comfortable and breathable and comes with a neat belt that conceals the high waist seam and narrow shoulder straps. The neckline is straight and reaches your armpit height, unlike the much lower back, which means that wearing this suit doesn't show off your back or shoulders. On top of this, it has a practical side zipper that allows you to put it on and take it off more easily. This outfit features flared long legs with cuffs, a neat fabric belt that conceals the high waist seam, narrow shoulder straps, and a straight neckline reaching your armpit height.
Dana Linen Jumpsuit Pattern
We designed this linen jumpsuit to be the perfect wardrobe staple, whether you're running into work or planning a weekend trip. The neckline is straight and high, while the back is scooped out. We added two parallel strap buttons underneath each shoulder that let you disconnect the straps if you prefer a different look. This jumpsuit is constructed from a lightweight linen blend and is perfect for hot weather. It features two parallel buttons on each shoulder strap, allowing you to disconnect the straps if necessary. The neckline is straight and high, while the back is also straight but much lower, reaching your armpits.
Meadow Jumpsuit With Wrap Front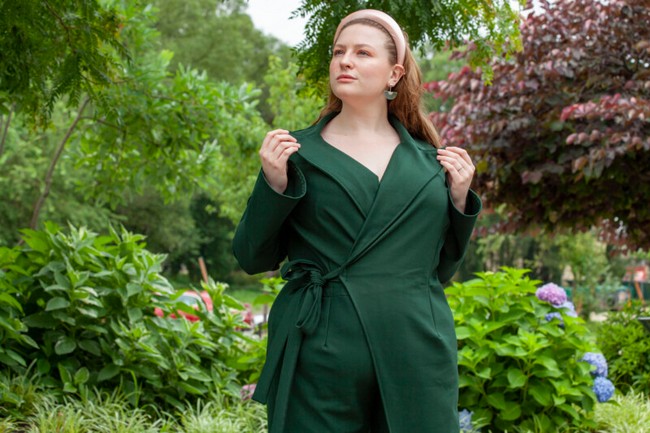 This gorgeous jumpsuit is practical, comfortable, flattering, and beautiful. The wrap front is open with a waist belt for easy dressing, and the tie bow at the neck adds just enough detail to make this piece one-of-a-kind. The and elastic fabric are a great choice for this design, offering you the best fit possible. The long sleeves overlapped at the ends and the belt at the waist make it look like a Renaissance dress and add a modern style touch.
Celine Pull On Jumpsuit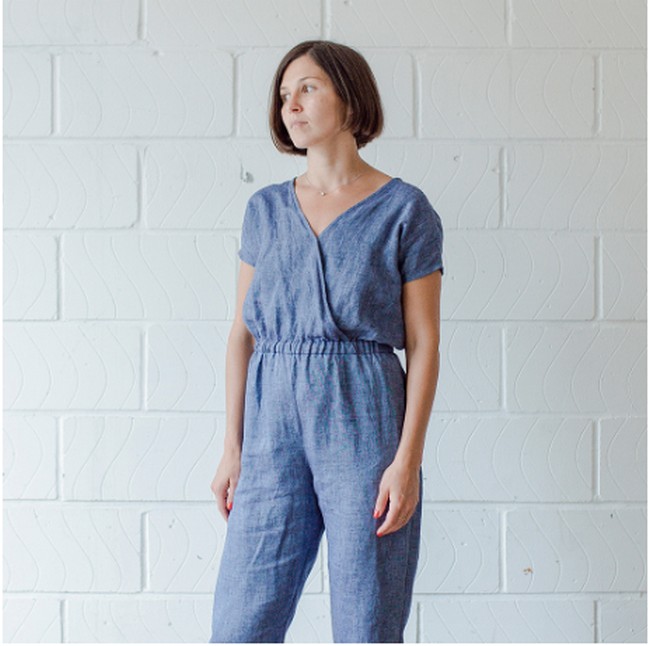 This casual jumpsuit is perfect for relaxing at home or hitting the beach, sporting events, and more. The wrap-style bodice can unwrap to give you plenty of room to get in and out of the outfit as needed. The suit has deep pockets and an elastic waistband, so you're comfortable all day long. The pull-on jumpsuit has short sleeves, a wrap-style bodice, long pant legs, deep side pockets, and an elastic waistband. It closes with an easy-to-use wrap style but can be opened enough to easily get in and out of the outfit. The pants have a drawstring waist and belt loops that allow you to use your belt if desired.
Strapless Playsuit Idea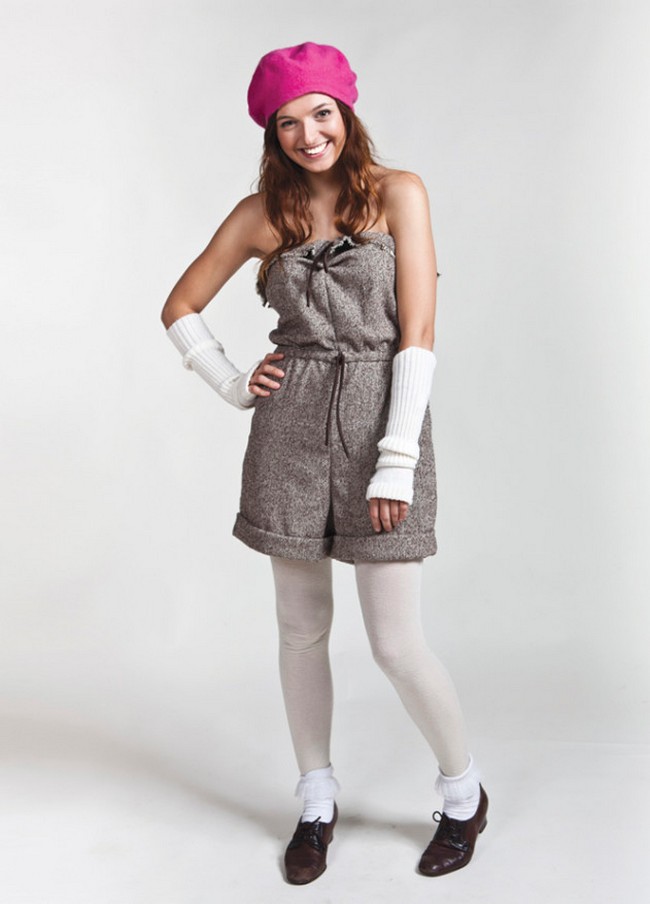 Who says playsuits are just for summer? This pattern is for a strapless, playsuit-style garment with waist and skirt ties for fabrication. The front bodice has a tube top design and elasticized neckline that you can tie at the back of your neck or the waistline if you prefer. This playsuit pattern will surely be the talk of your next social event. The strapless bodice and ankle-length pant legs give it a modern, fashion-forward vibe. The top can also be worn as a bikini top or halter dress.
Adorable Kids' Dungarees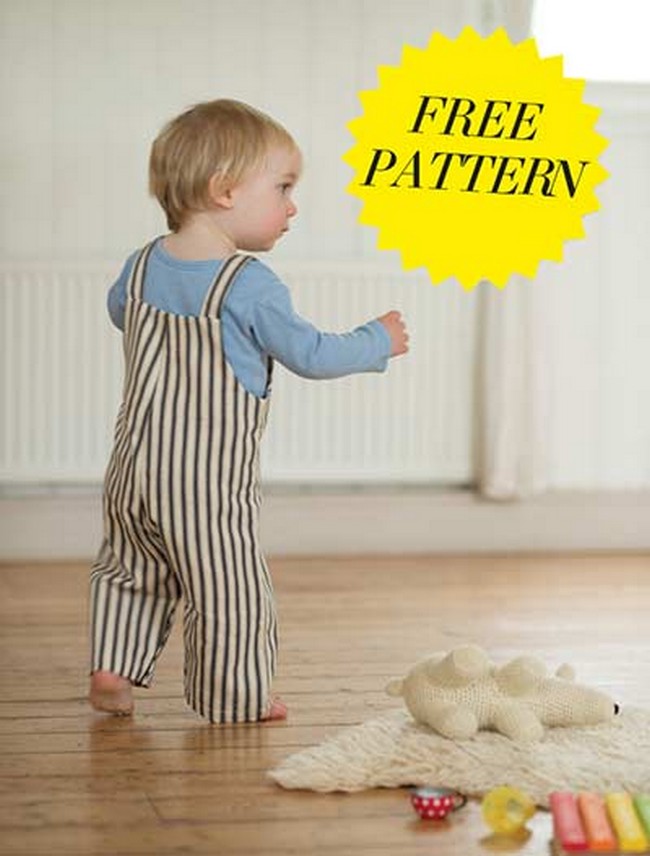 This Adorable Kids' Dungarees pattern is the perfect project for beginners who want to learn how to sew. With a simple-to-follow guide, you will be able to create this adorable jumpsuit with a hat and toy in your color choice. These adorable dungarees are easy to make and perfect for the cooler months. Easy-to-follow instructions with loads of photos showing you exactly what to do, layer options to suit every taste, and many more features, including a wide range of sizes as standard.
Short Playsuit For Women
This Short Playsuit is the perfect summer outfit for you and your baby. Made from cotton fabric, this jumpsuit with thin shoulder straps and a comfortable wide leg design will keep you cool during hot summer days. Another great thing about this playsuit is its deep straight neckline that starts above your armpits and the back that has its top half open. The front pockets that store your essentials add charm to the outfit. Make this work as you stay fashionably cool while wearing this short playsuit. Its deep straight neckline, deep straight back, and thin shoulder straps make it perfect for lazy summer days.
Poplar Overall Tutorial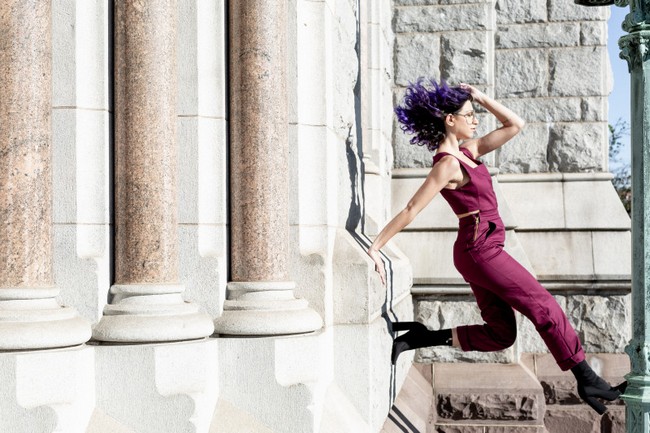 This jumpsuit is the perfect clothing item for women who need to look stylish and professional. It is a two-piece suit with a sleeveless top and skinny pants connected only at the belly, leaving a gap between them at the sides and back. The top has a deep square neckline and one side zipper. The bottom has a side zipper and front pockets. The high collar and deep front neckline add to its feminine look without being too revealing, so it's an ideal choice for a date or any other special occasion.
Cloe Linen Jumpsuit Pattern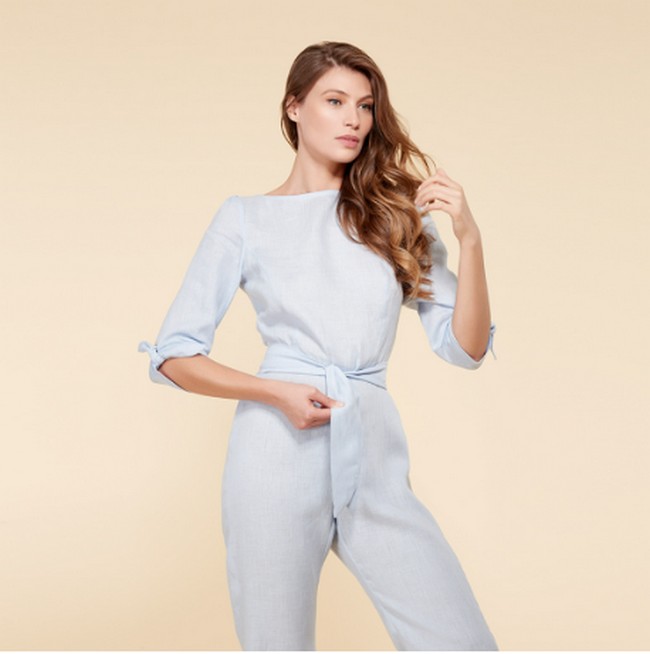 The Cloe Linen Jumpsuit Pattern with Back Zipper is perfect for your summer adventures. The jumpsuit can be worn casually or dressed up for a night out on the town! With its superbly feminine look, this jumpsuit will make you the center of attraction in any room. The wide neckline complements your slender shoulders, and the sleeves that reach just below your elbows finish off the style to perfection. The fabric belt and the sleeve ends tied with adorable bows add to the charm of this outfit.
Unisex Romper Suit Pattern
This wonderful pattern for baby boy and girl romper suits will instantly become one of your child's favorite ones. The bottom inside sides of the shorts will also give easy access to your baby's diaper. The shoulder straps that cross over each other at the back allow for quick changing in and out of the suit while snaps securely fasten it at the waist. You can choose to make a short or long-sleeved shirt. The Romper Suit comes in three sizes: 3 - 6 months old, 9 - 12 months old, and 18 - 24 months old.
Linen Work Jumpsuit Pattern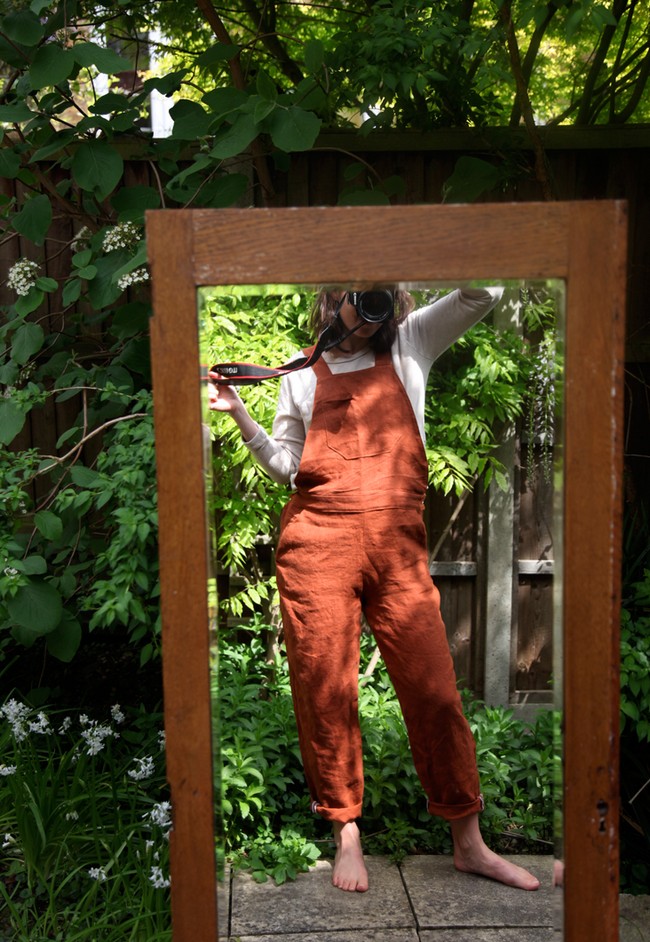 This jumpsuit pattern is designed to make you look stylish while you work. The pants and top part of the outfit are easy to wear and made using linen fabric or hemp twine. This pattern is a great way to add fashionable flair to your wardrobe. It has long pants, shoulder straps, and a pocket where you can keep your spare piece of thread for sewing. The overalls have an exposed back, making them perfect for wearing when doing physical work. The shape of this jumpsuit is simple and elegant, with small darts placed on the waistline to create a nice hourglass silhouette.
Toddler Jumpsuit Pattern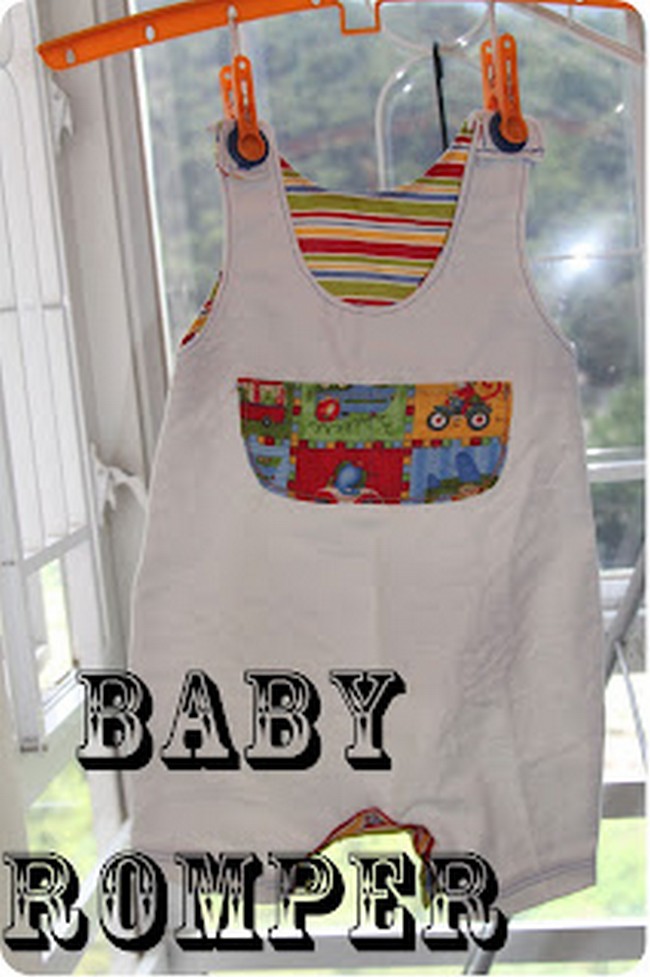 This charming jumpsuit is perfect for slightly older toddlers. The shoulder straps are secured to the front of the bodice with buttons, while the button-up waistband gives them a fun and necessary way to pull diapers up and down. The jumpsuit has short pant legs; it's great for warm weather or as an alternative to wearing pants. A bib pocket on the front adds a cute detail, making this pattern great for boys or girls. To complete the look, we suggest adding a cute mustard yellow bow!