The casserole carrier is a great way to transport your casserole to a party without the risk of breaking it or making a mess in the car. It can also be used as an oven-to-table serving dish, allowing you to serve your casserole directly from the carrier and keep it warm until everyone has finished eating. If you're looking for patterns for your next casserole carrier, below are some unique and great Free Casserole Carrier Patterns to get you started!
Easy Free Casserole Carrier Patterns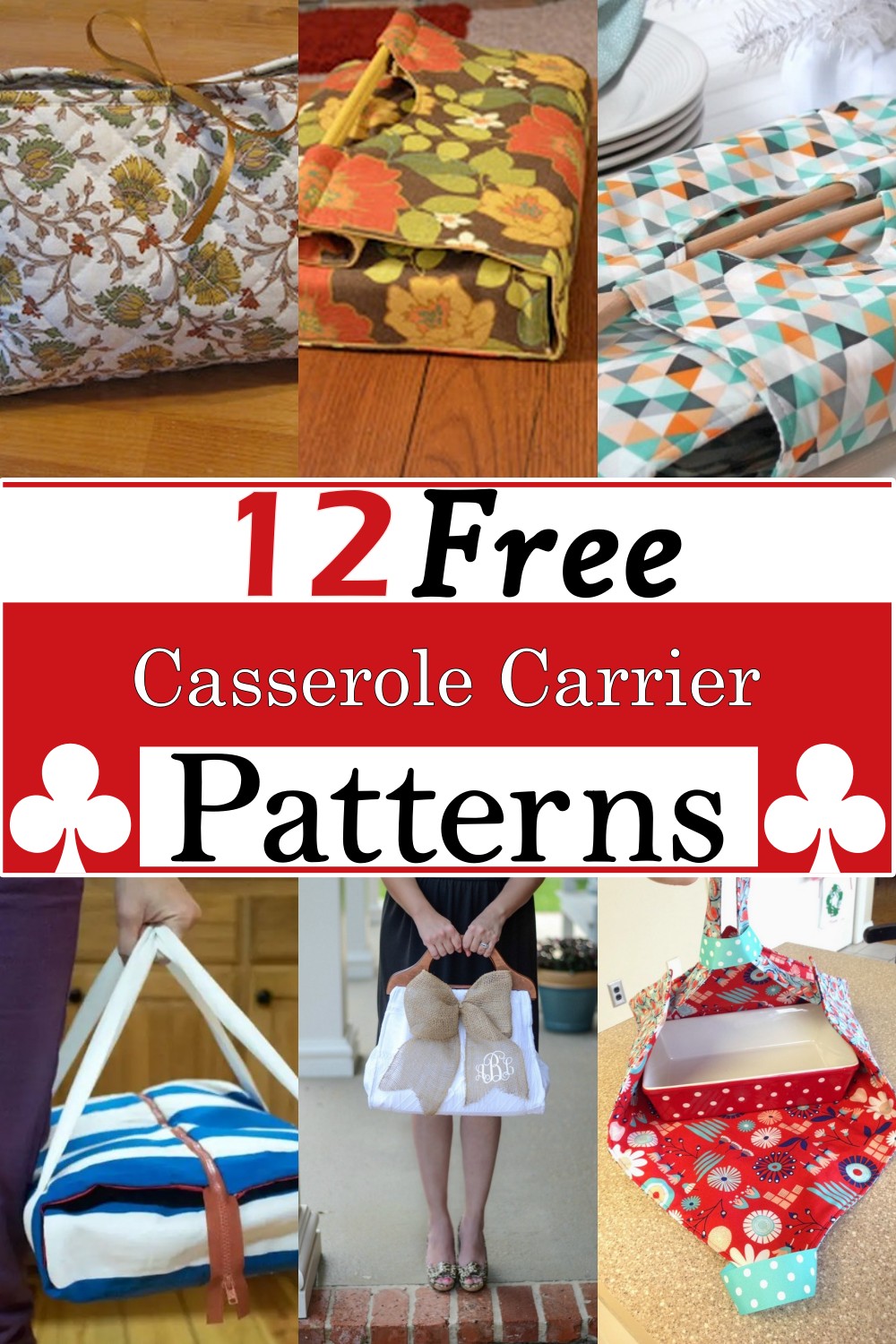 These free casserole carrier patterns make it easy to take your favourite dish to a friend's house. They're also a great way to transport food when you don't have time to cook but still want to bring something special. The carrier is also very useful for those who don't have much space in their kitchens or don't have room for a dishwasher. The carriers are easy to clean, and they make it easy to transport dishes even if they aren't completely cool. Here are 12 great free patterns to get you started!...
These 12 free casserole carrier patterns are what you need to transport your food from the oven or stove and serve them to your friends and family.
You Can See: 20 Free Bag Sewing Patterns For Everyone To Try
Sturdy Casserole Carrier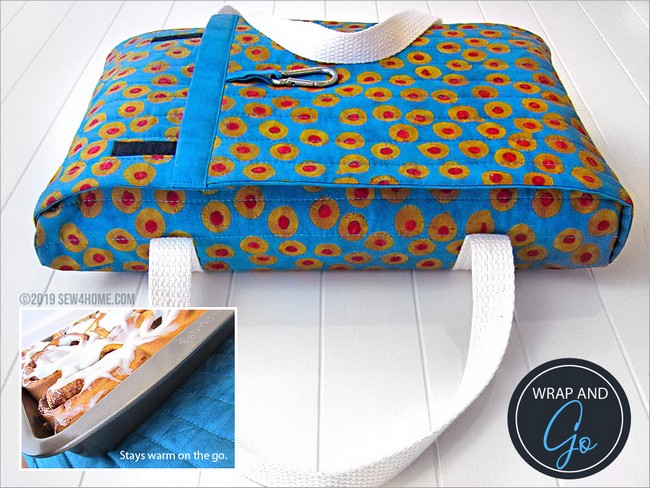 Take your favorite casserole dish on the road and keep it warm with this easy-to-make carrier that looks like a pizza delivery bag. It has two handles, a pocket for utensils and napkins, and a hook for mittens on the outside. This sturdy, insulated carrier can use in any kitchen. It's made with a quilted pattern to keep food warm as you carry it to its destination. Includes a pocket for essential tableware and attachable mittens!
by Sew4Home
Casserole Carrier With Zipper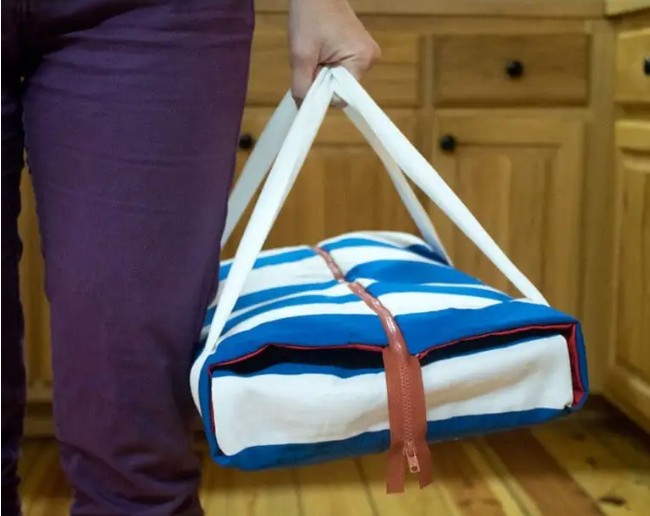 What's better than taking a delicious casserole to a friend's house for dinner? Having them in a carrier allows you to carry all of your food items easily, even when you're on the go! Plus, it has handles for easy carrying, so you can keep your hands free for other things like getting through the door before it closes or changing from high heels to sneakers on a long hike. With this pattern, you will make your casserole carrier with a zipper! You can make it with embroidery, fabrics, and more! This is a great beginner project and works up quickly!
Hot Mess Casserole Carrier With All Around Zipper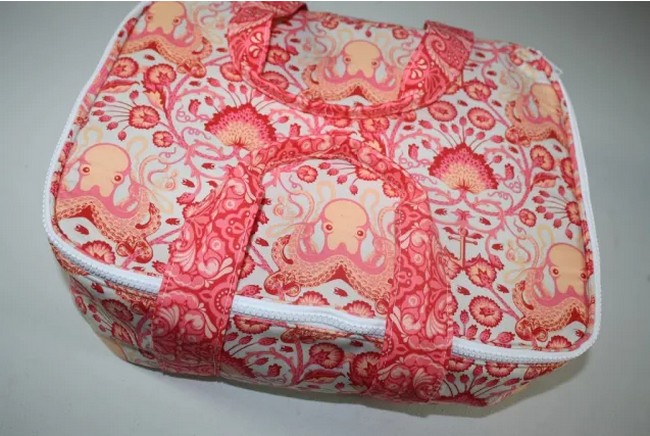 This pattern is great because it includes a zipper! You can easily close the top of your casserole carrier, and it's good to go, ready for any occasion. It would be perfect for potluck dinners or picnics, where you don't want to carry a hot dish around. It's perfect for heating leftovers, taking your lunch to work, or bringing a hot dish to a potluck. The sturdy box shape is also great for storing your favorite recipes in an easy-to-access spot. And as a bonus, it's made of fabric that will keep your food warm during travel!
by SewSweetness
Furoshiki Casserole Carrier Fits Various Sizes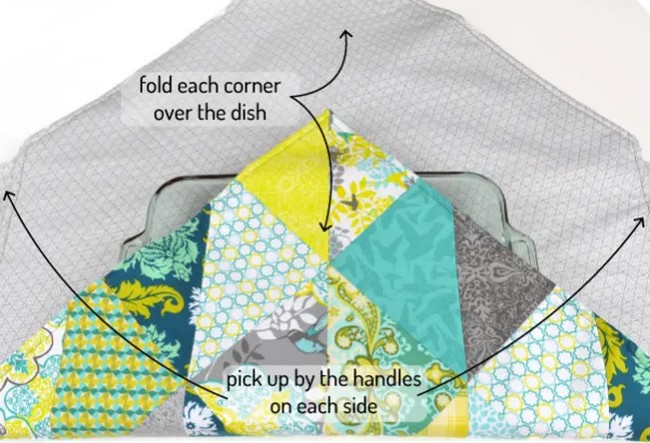 Using a furoshiki, the Japanese have carried food in easy-to-fold carriers for centuries. This pattern combines that knowledge with the minimalistic style of modern life to give you a versatile carrier for large items like casseroles and bowls. The perfect way to carry anything dinner related! Use the Furoshiki casserole carrier when transporting a casserole, pie, or other dishes that won't fit in a standard paper bag. It's a rectangular piece of fabric with handles that gives you plenty of options to carry your delicious meal easily.
by CholyKnight
Easy Reversible Insulated Casserole Or Pie Carrier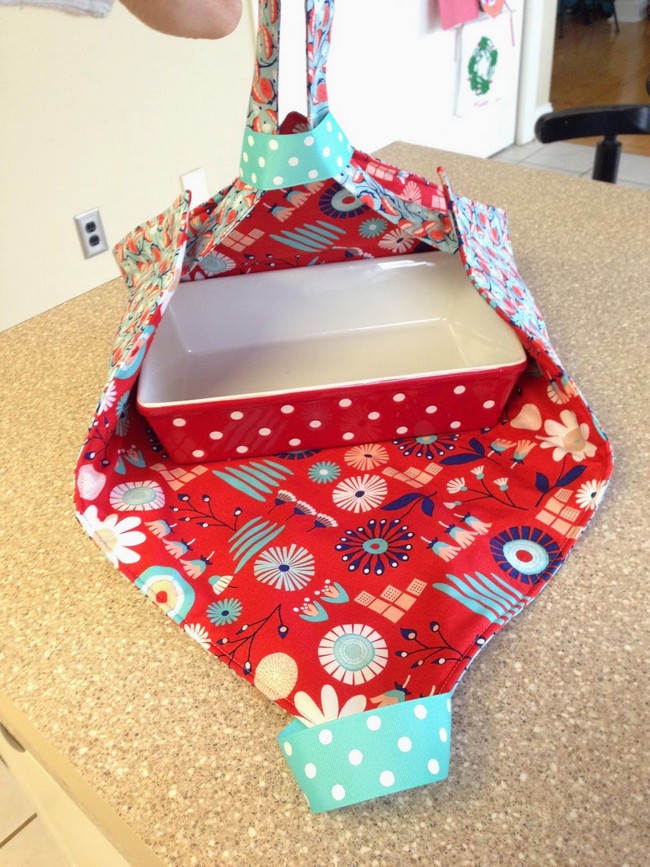 This simple and cute casserole carrier lets your friends know that you love them. Made with only one layer of fabric, this reversible casserole carrier folds up for storage. It's fast and easy to make, too! This one will be your favorite pattern ever because it makes a super simple, modern carrier that looks like a piece of art when your food comes out. You can use it as a bag or fold it into a cute cover.
Insulated Casserole Carrier With Fabric Handles And Utensil Holder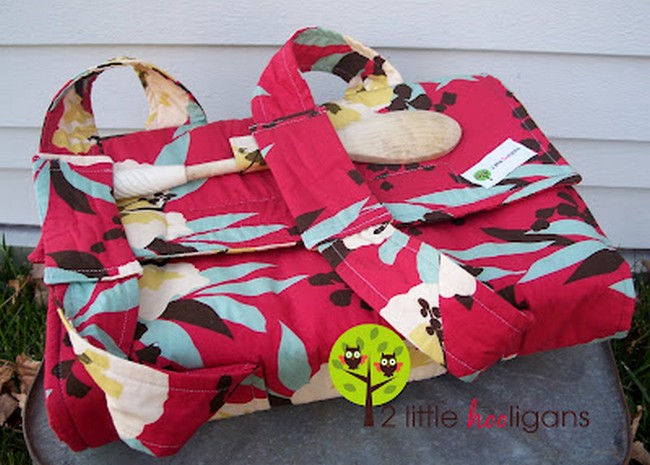 It's time to beef up your kitchen gear with this amazing casserole carrier, made of high-quality fabric materials and designed for durable use. The carrier is big enough to hold any rectangular, round or square pan without a hitch! It has a nice loop that can hold your spatula, keeping it safe and sound until you use it again! Make your casserole carrier! The instructions are super simple, and you don't need to spend money on a new one. Just use the instructions to create your carrier that will be perfect for all your kitchen delivery needs.
Quilted Casserole carrier
The Quilted Casserole Carrier has two big advantages: it's easy to make and reversible so that you can use both sides of the fabric. To create your carrier, you need only a few pieces of fabric, needle and thread and some scissors! This simple-to-sew carrier is made with a square of fabric that gets stitched up on two sides and a strap sewn across the top. It also has loops at each corner to secure together before use. Once it's filled, pull the ends together, thread the loop through one more time and done!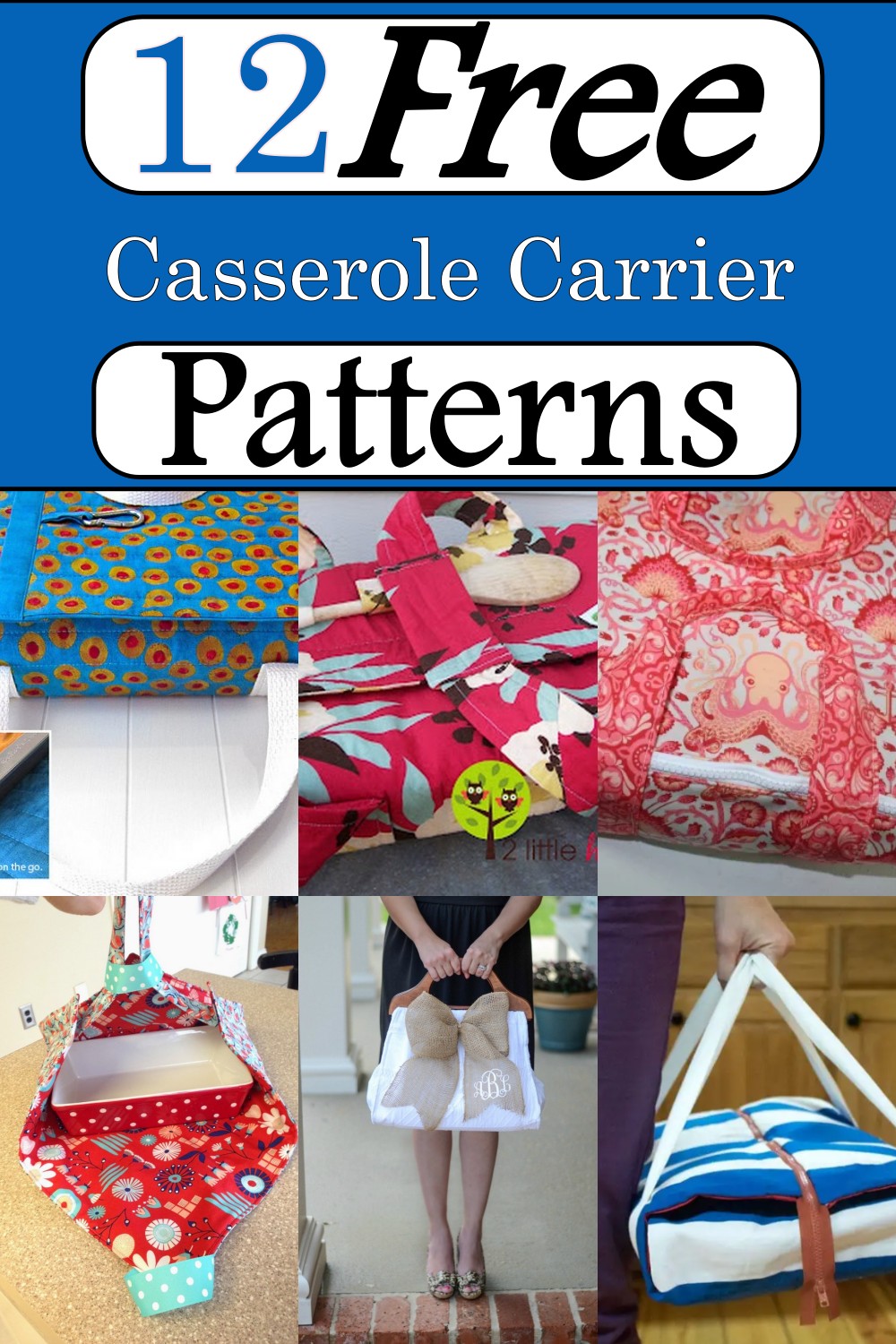 Casserole Carrier Using Peg Board And Dowels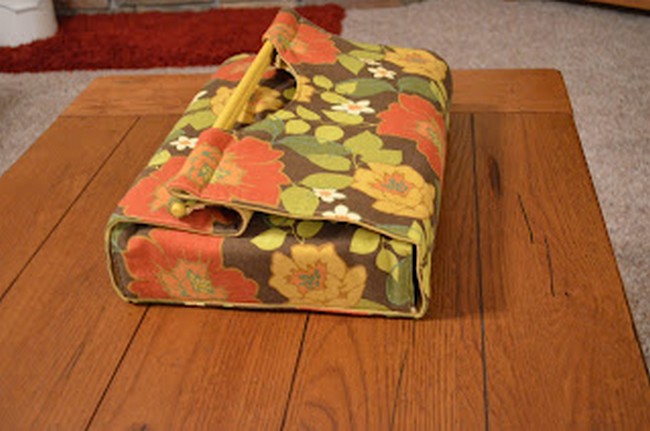 If you're tired of making casseroles that spill, then you need to make this casserole carrier. Your casserole will be held tightly in place with dowels and a pegboard. You won't spill again when transporting your delicious food! This casserole carrier is made from two pieces, the pegboard base and the dowels that keep the casserole flat so it doesn't spill. The piece of pegboard can be any size you want, but the larger you make yours, the more stable it will be for carrying a particularly large dish.
Casserole Purse Carrier
Do you have a hard time ferrying your casseroles? Good news! You can now carry them in style with this beautiful, sleek, chic purse cookie carrier. It looks like a normal designer handbag, but its flat bottom allows you to carry your food without spilling. The bag has lots of room for your serving utensils and dishrags. Make your casserole carrier purse! It's a gorgeous and practical bag that allows you to carry your meals when you go to someone's house or just a few things around town. Casserole Purse Carrier is the perfect pattern for bakers too!
Image by AimeeBroussard
Casserole Carrier Out Of Placemats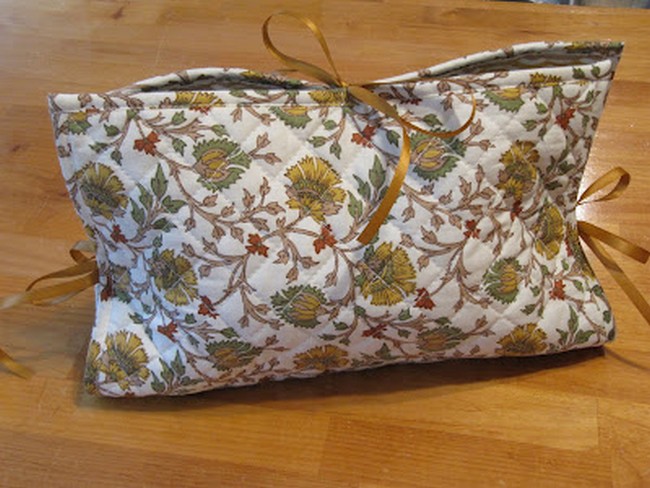 Is there anything worse than carrying a hot casserole or a heavy dish to the dinner table? Now you can avoid this unpleasantness by making your casserole carrier out of placemats you don't use anymore. A single piece has a handle on top or two pieces stitched together to make the sleeve for carrying it. It's easy to sew and even easier to use. Ready in less than ten minutes, you will use your new carrier whenever you need to transport food to a gathering.
by Sewmanyways
Casserole Carrier With Spoon Handles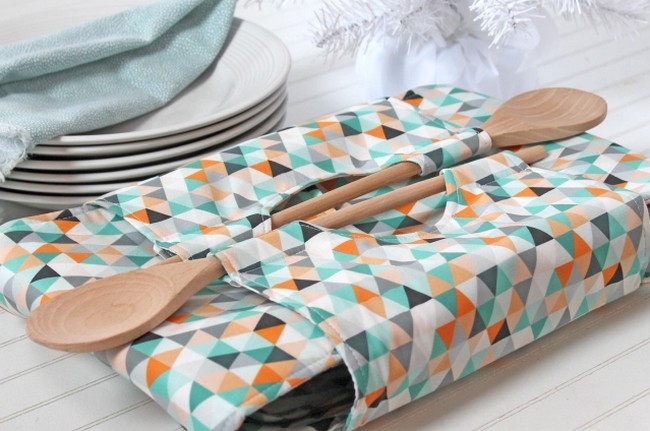 Make your Casserole Carrier With Spoon Handles! You'll love how easy it is to bring your casserole dish wherever you go. This pattern creates a great-looking casserole carrier. The handles are made out of spoons that serve as stirrers! It's an oven mitt in the shape of a casserole, so you can lift it and pour out your food for serving. The steps are easy to follow, and photos are included to help you get started. This is a must-have for anyone who loves cooking and hosting friends (or family!).
Fabric Pie Carrier
Fabric Pie Carrier is just what you need if you want a lovely way to transport fresh pies to a party! This handcrafted pie carrier features a square base and a strap with loops at the corners, allowing you to place the pie in its center before folding the corners. Pull the straps through the loops for easy carrying. For pies, desserts and similar dishes. The simple design is easy for beginning sewers or craft enthusiasts to make at home.