When you're looking for something to spend your crafting time on, it's sometimes tempting to decide that what you really need to make is placemats. Placemats are easy because they're a small project and don't take a lot of materials or time; this is good for beginners but can often become a problem when people are stuck with a seemingly limitless number of patterns to choose from. This article is here to help. 17 free quilted placemat patterns have been included below, each with its own set of instructions on making the finished product.
Free modern Quilted Placemat Patterns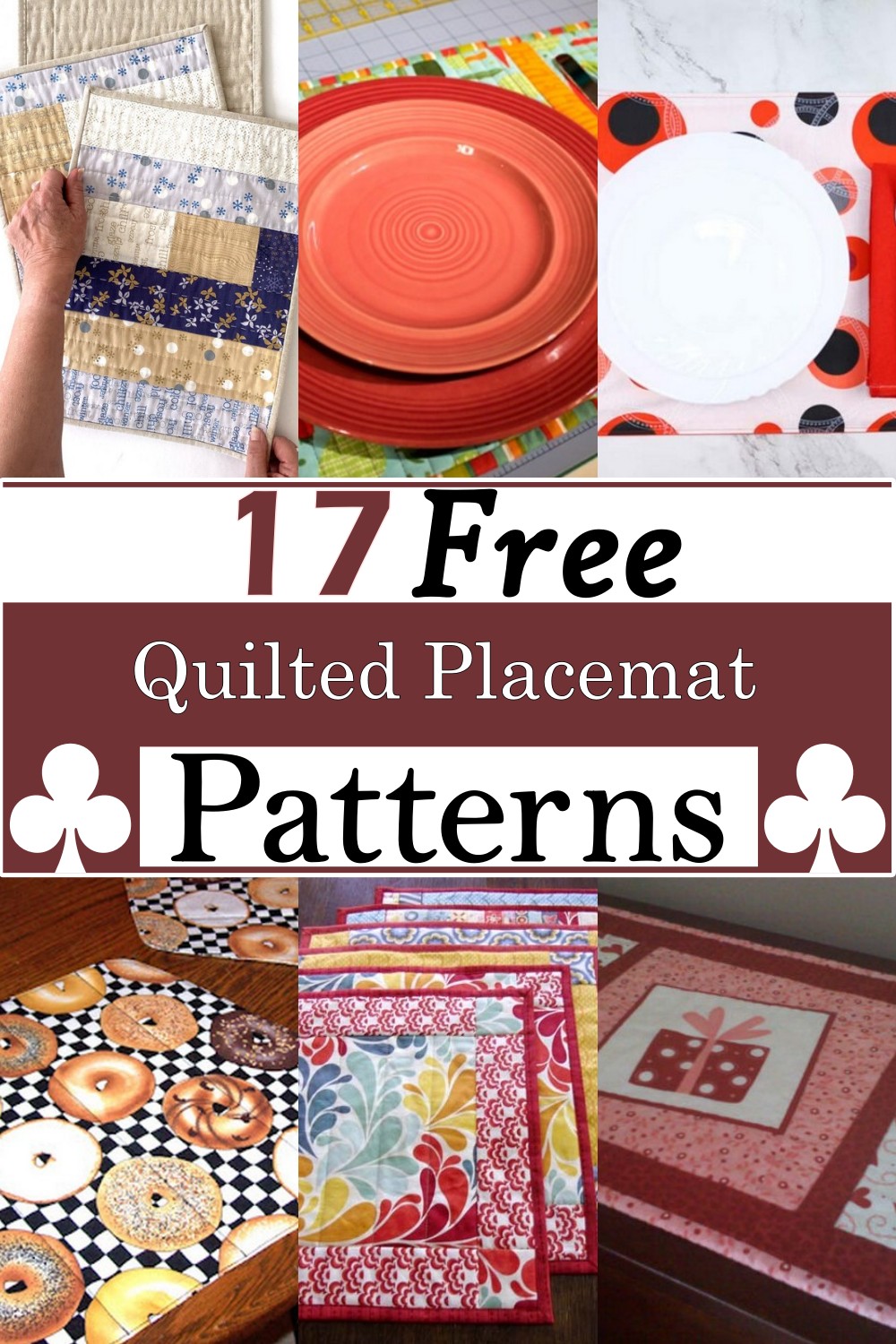 Quilted placemats are a quick and easy way to add elegance to any table setting. You can easily stitch together this simple pattern with materials you probably already have on hand. Placemats are a great middle ground between a bare tabletop and a full-place setting. They add color and pattern but don't take up any extra visual real estate on the table. In addition, they're an effortless way to dress up an otherwise normal dinner table to make it feel special for a special occasion. Below are some unique Free Quilted Placemat Patterns that help you make your own.
Below are 17 Free Quilted Placemat Patterns that are a quick and easy way to bring a little fun and creativity to your dining table!
You Can See: 22 Easy Back To School Sewing Projects
Christmas Placemat From a Panel
Make placemats for the whole family just like grandma and grandpa with this gift-worthy project. With its simple design, this is a great project for beginner quilters. You can even do this quick and easy project with children. Making your placemats also save money, as you won't have to buy them in a shop. Instead, pick a festive panel that matches your table setting, or go for something more festive if your Christmas decorations are already up!
Modern Quilted Placemats Pattern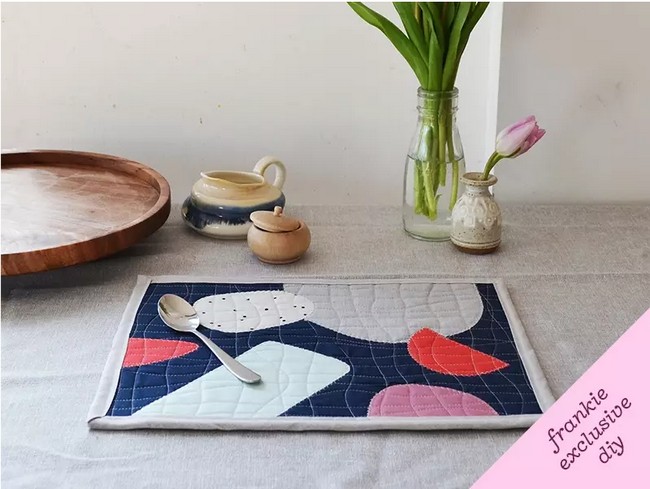 Bring a little modern style to the dinner table with this quilted placemat. The geometric shapes in various colors make it the perfect spot for some fun conversation starters and create a world of their own. You will love this quilted placemat. You can use it on your dining table or the countertop to protect you from scratches. These are the simple steps to make this piece yourself without any trouble that you can finish in just a few hours.
by Frankie
Placemats From Charm Squares
Enjoy creating a masterpiece for your table place setting. This placemat is made of charm squares and can be done on the weekend, including cutting and sewing. It has a patchwork center and uses the classic Froebel Star template as its design inspiration. They make perfect gifts, as each one is different and unique. If you want to make these for friends and family or just for yourself, check out this video tutorial for more information about how to do that!
Spring Butterflies Placemat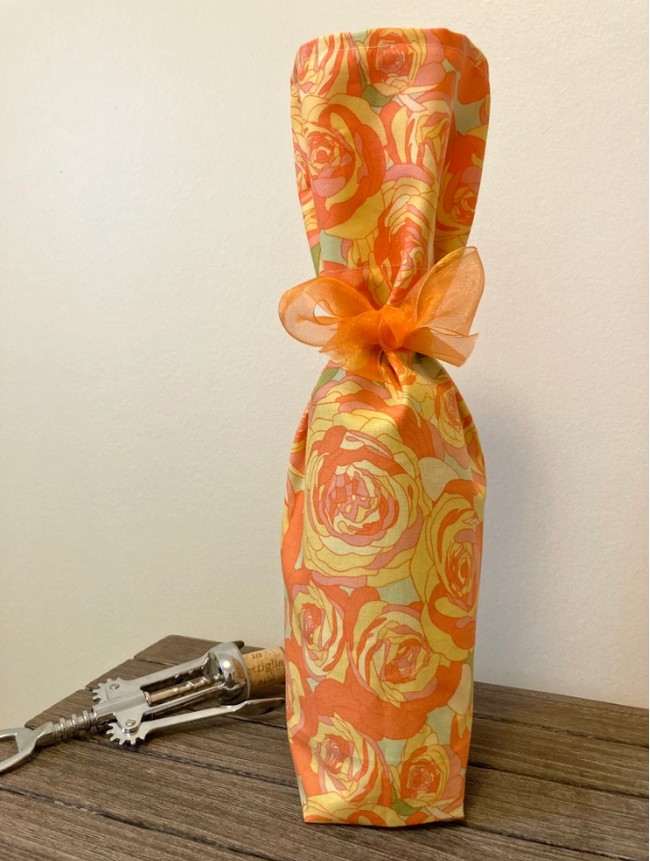 This placemat is perfect for you if you love to be outside and enjoy your meals al-fresco while watching the world go by. Featuring a peaceful meadow with blue skies and sunshine (and butterflies!), it will make your lunch breaks feel like the height of summer all year round. This placemat is in a range of bright colors and is perfect for kids, who will love feeding their imaginations while they eat with these striking designs. If you're ready to start your spring-themed placemats, here's a step-by-step tutorial to help you create the perfect set.
get the free placemat pattern here by Mondaymorningdesigns
Hexagon Pieces Placemat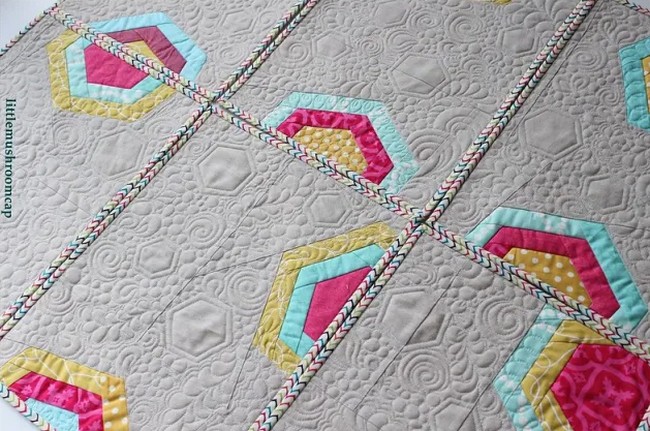 This stitching is made with hexagon shapes, but they are joined together by concentric lines. This makes the stitched areas look like a diamond! It's an easy way to make something unique and very attractive. This placemat is a great way to experiment with hexagons while practicing your sewing skills. Make your unique placemat that you'll be proud to put out whenever you have guests. This hexagon piece is perfect for dinner parties and special occasions. You can also use this technique to create fabric, bags, tablecloths and clothing!
Simple Reversible Placemat
Create a unique placemat that's perfect for everyday use! Sew a reversible rectangular placemat with this simple sewing pattern. Both sides of the placemats are functional, so you get 2 out of 1! Choose from three fun fabrics, and create as many matching placemats as you need for your home or gifts. They are also easy to clean; wash them in your washing machine with cold water and then tumble dry on low heat.
Wedge Shaped Placemat For A Round Table
Wedge-shaped placemats make your tabletop look clean, organized and professional. A wedge is a great option for round tables because of its shape. The curved edge makes it easy to align with your table, and the two side edges will fit perfectly down the sides of your table. The straight edge at the top completes it, making it an ideal addition to any home. It is also easy to store away after use without taking much space in your kitchen drawer or cupboard.
by Sidquits
Christmas Pinwheel Placemat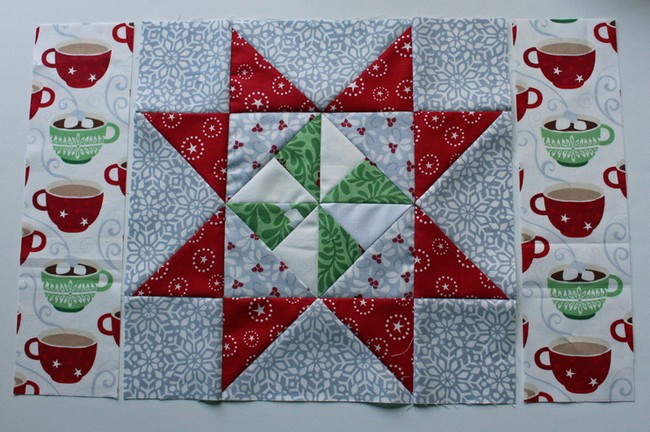 Every year you get a new placemat and feel something is missing. A little bit more decoration and more color, Well, this is your chance! Make your own Christmas pinwheel placemat! Don't be afraid of using fabric, old clothes or other colourful things to make your flavor of Christmas. It will put a smile on your face or the faces of those who see it and will look great at any holiday gathering. Stitch up a few of these, and enjoy them throughout the year!
Vintage Placemat
Make your own Vintage Placemat and give your table a great revival. Let your style take over with this project. Made with bright colors, this project is fun and easy to make. With the Quick Easy Mitered-Binding Tool, you can create this placemat easily and quickly. Whether decorating your kitchen or giving a gift to someone who loves to cook, this project will brighten up your table and add a touch of vintage charm. Make it in an afternoon and enjoy that feeling of satisfaction knowing you made something beautiful for your home.
Valentine's Day Placemat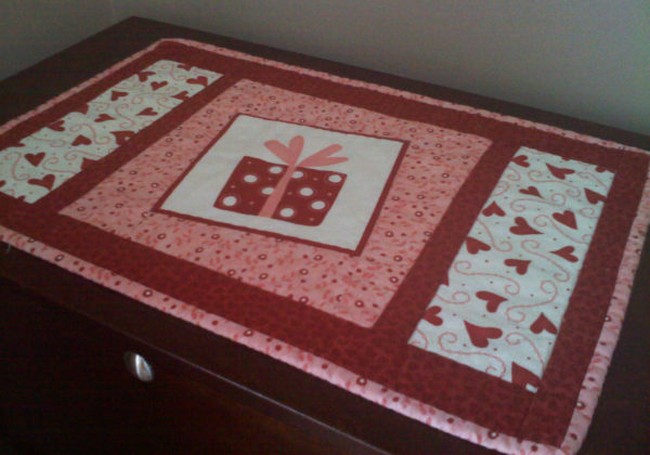 Everyone wants something special to make their Valentine's Day even more special, and Valentine's Day Placemat is just what you need. It's so simple to make, and it looks so good. This placemat is designed to frame the dinner table and add a touch of romance. The frame has heart shapes on both sides, showing your love for your partner, while a gift box in the center represents their present to you. You will not want to give up this chance to make your placemat that will surely bring a smile to the person you love.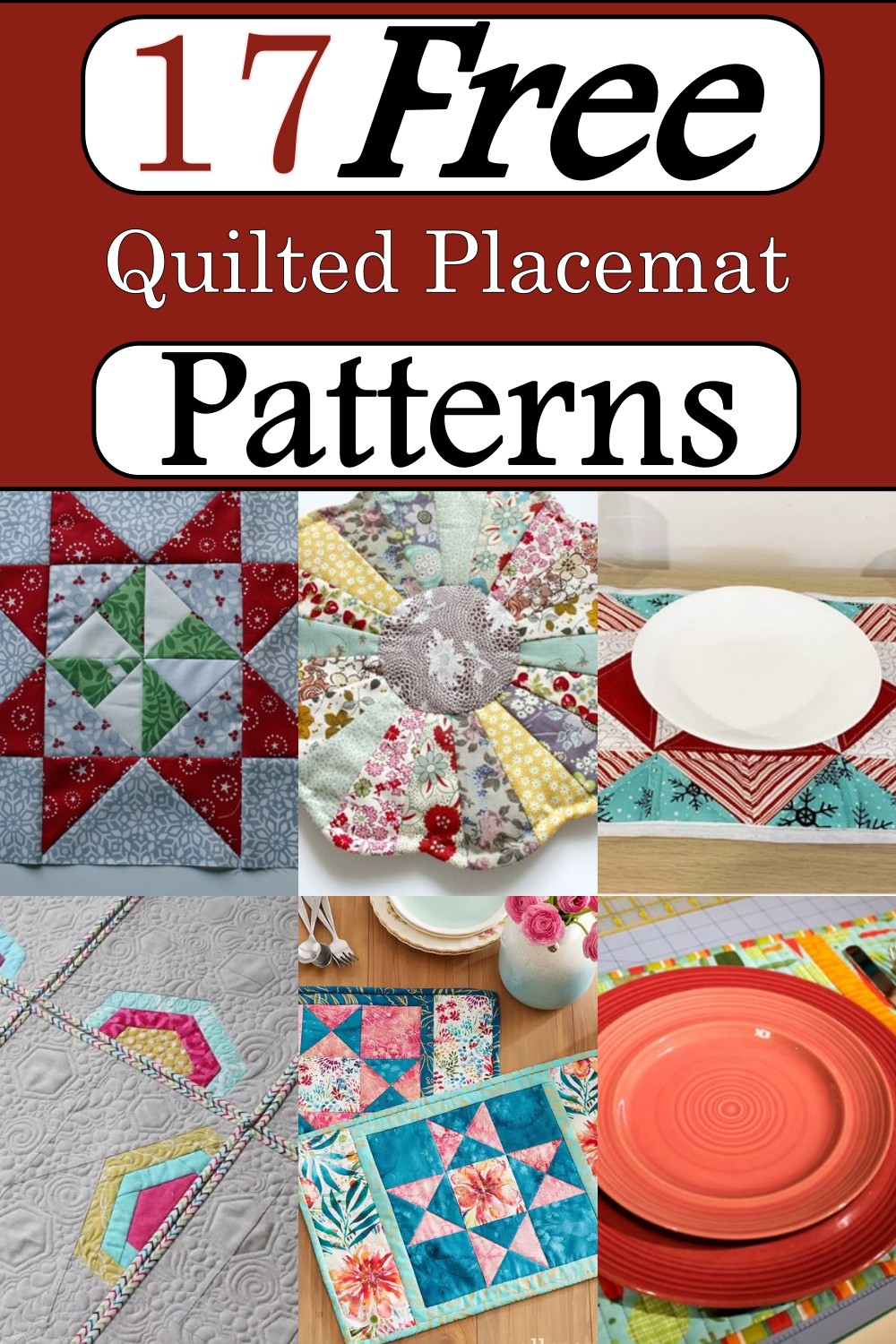 Round Quilt Placemats Pattern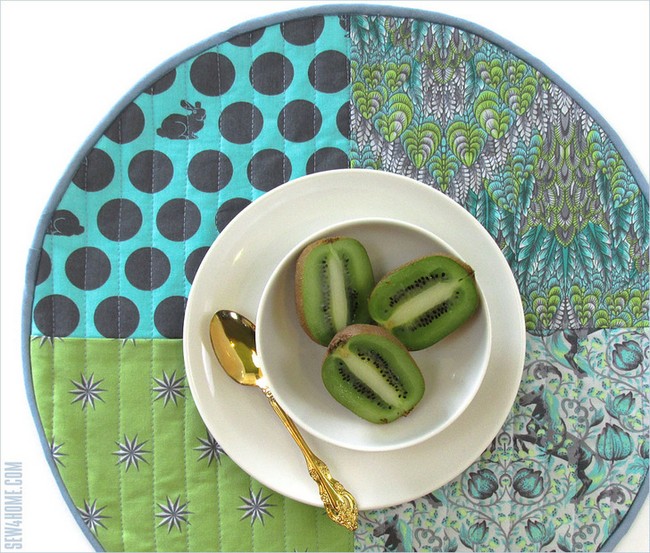 Looking for a stylish way to decorate your dining table, this Round Quilt Placemats Pattern has everything you need! Just cut out four fabrics, cut a circular frame from that fabric and stitch it together. It's so easy, and even beginners will be able to make these in no time! Create your placemat and give your dinner table a stylish look. This pattern includes everything to guide you through making the placemats. This pattern has everything from cutting the fabrics to sewing all those little pieces together!
by Sew4home
Framed Star Quilted Placemat Pattern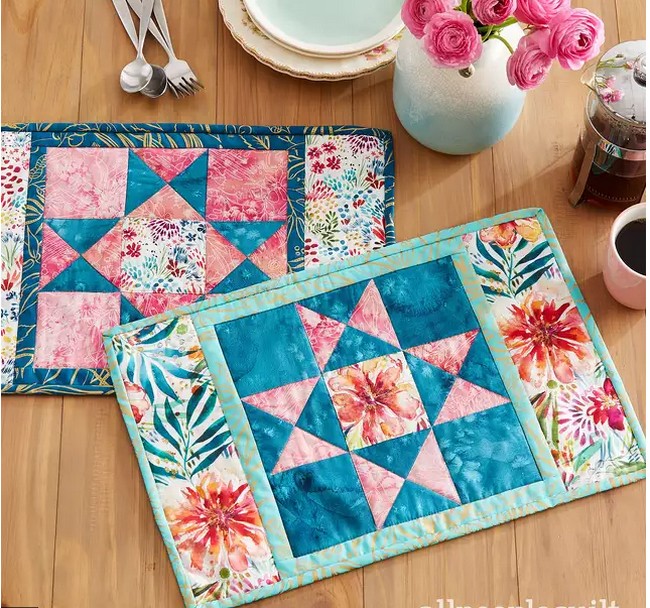 Bring the glamour of Miami to your home with these beautiful, star-themed placemats. This placemat Features a Froebel star in the centre and floral vertical columns on the sides. Make a beautiful, custom star placemat that is perfect for any tableware! Use bright, classic fabrics and have fun with your colour choices to create the perfect style for your home. It will look amazing when displayed on your dining table. The pattern includes full instructions on making each step to create a unique star quilted design.
Placemat With Pocket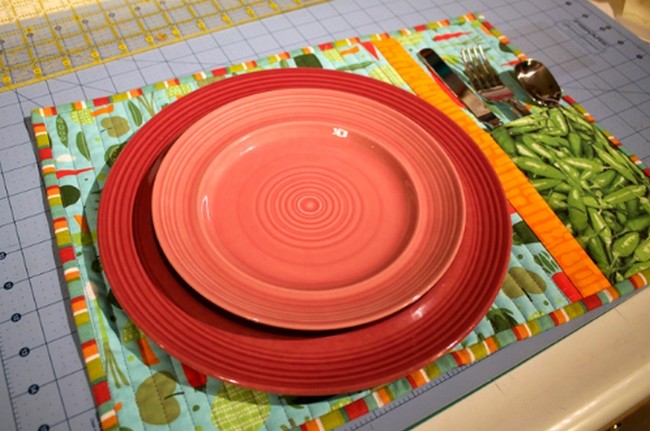 If you love a beautiful placemat with style, this one placemat With a Pocket is for you. With this product, you will have a placemat that is not only easy to clean but also stylish as well. What makes it special are the two layers that make up this piece of art. It has a pocket at the side where you can slide in your tableware before starting your meal. Make your placemat with a pocket! All you need is the materials, a sewing machine and some time.
Modern Scrappy Placemats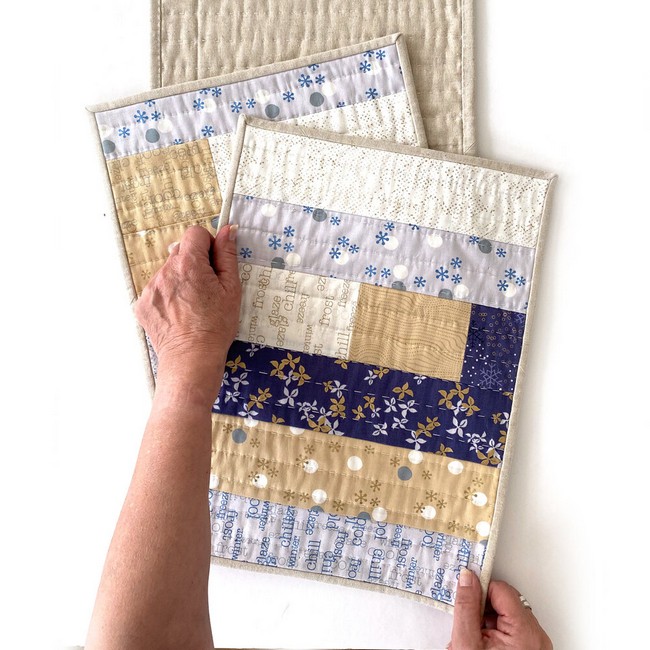 Make your Modern Scrappy Placemats this weekend! This easy-to-make placemats pattern will use up your stray bolts of fabric. All you need is a little time, a needle, some thread, and pieces of fabric! Before you know it, you'll have a new set of placemats for your dining room table or kitchen countertop. You can also use this pattern for anything that needs a little color and fun added to it. It's perfectly fine to use a sewing machine instead of hand stitching.
Quilted Log Cabin Placemats Pattern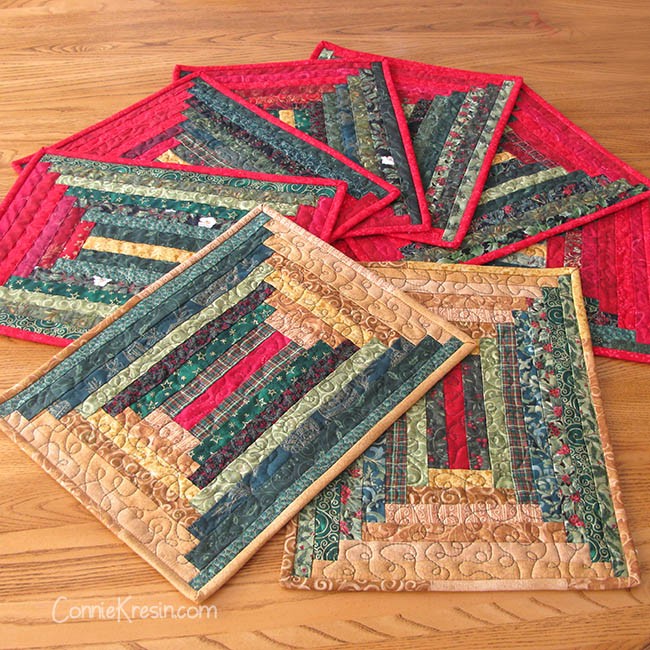 The Quilted Log Cabin pattern is a many-coloured strip dimensional design of many different fabrics. Each piece is cut and joined together in this pattern to create a patchwork log cabin look. The exposed seams are covered when the fabric is sewn together, so this is an easy project for beginning quilters. This Placemats Sewing Pattern is a craft project that will give you hours of sewing enjoyment. These beautiful placemats are great for any occasion and will surely be a hit at your next family gathering!
by Conniekresin
Flying Geese Placemat Pattern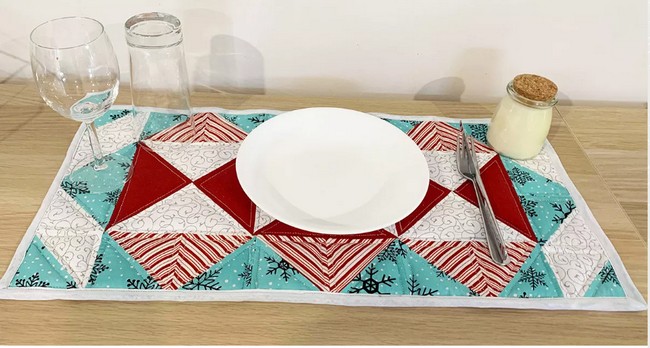 Flying geese's Christmas placemat is a great way to start a new Christmas tradition in your home. You can make this placemat using any fabric you like and color palette, whether you want to stay true to tradition or mix it up with cheery colors! The Flying Geese Christmas placemat is so easy to make that you can even have a child make it with you. The flying geese's design makes the small squares look like diamonds, so it isn't easy to imagine they are triangles in the middle! You could add an extra geese block in each square if you want your placemat to be longer or wider, but the basic one with three squares is perfect for lunch or dinner.
by Singerco
Dresden Placemat
This Dresden Plate placemat, with its cheerful colours, cheerful napkin ring and a small circle in the centre of the mat, is a joyful addition to any dinner table. Make your own Dresden plate placemat using beautiful fabrics! This placemat is perfect for picnics or wherever you might want to put dinner plates. There's no need to wait for an event to enjoy this Dresden plate plaid placemat. The beautiful flower design will brighten up any table, and you can use it daily.