Felt animals are the best way to get your kids involved in sewing and crafting. These little guys are super easy to make, but they'll keep your little ones busy for hours! Felt is a great material because it's inexpensive, easy to cut and sew, and can be used for many different things. It's also an excellent material for teaching your kids about colors, shapes, and sizes. If you want to make some fun felt animals with your kids, you have come to the right place! Here are some free felt animal patterns that will keep them busy for hours!
Free Felt Animal Patterns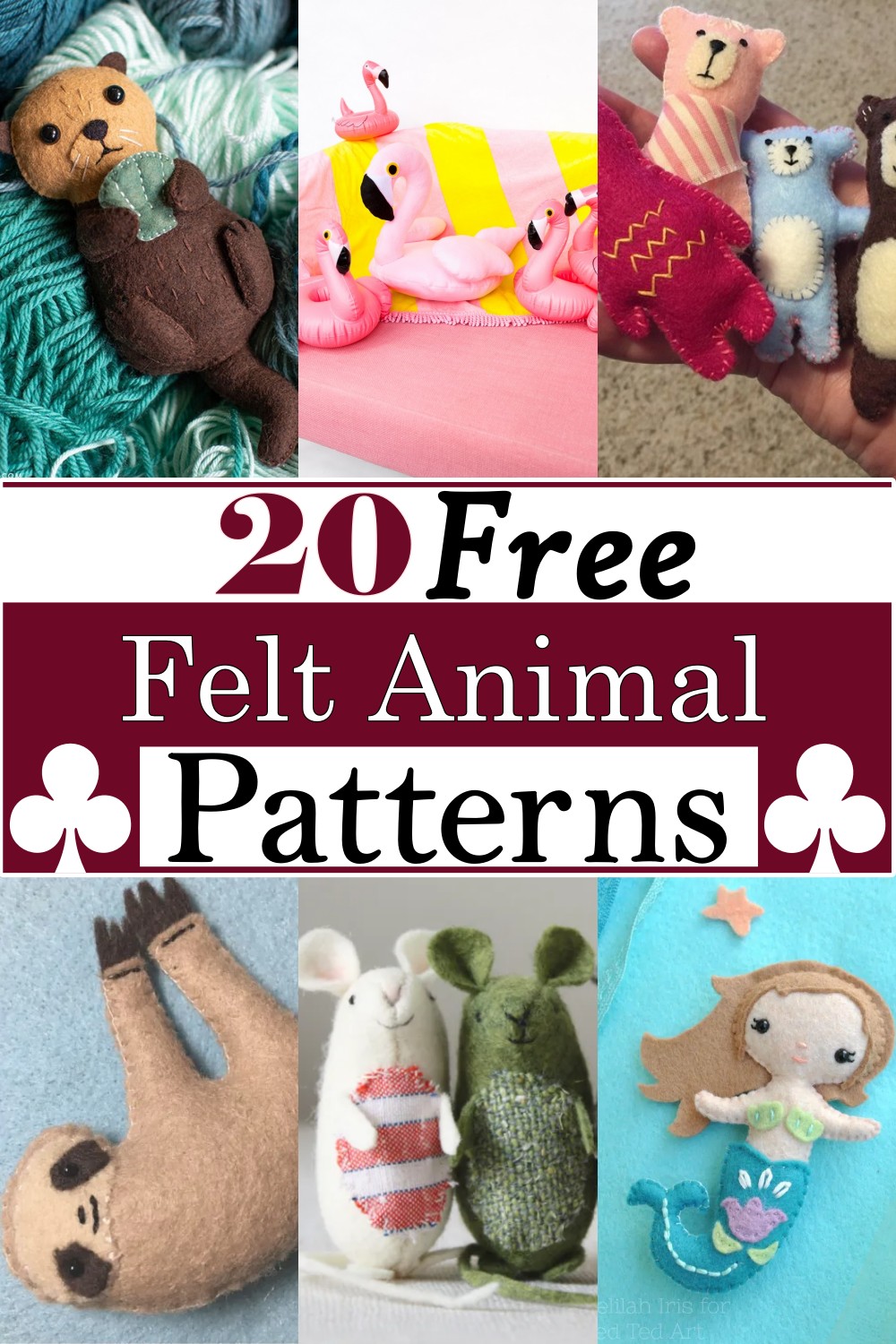 Many toys for children are made from fabric and felt. Such toys are cheap, unique, and can be made by both parents and kids themselves. Making your own toys can be fun and rewarding, especially knowing they were made with love. You can make felt animals, colorful toys, and even some nice-looking (and easy) puzzles! So if you're willing to be handy with your sewing machine and have some free time on your hands this holiday season, check out these Free Felt Animal Patterns!
Need an idea for a kid's craft? These 20 free-felt animal patterns are a quick, easy and fun way to keep the kids occupied on holiday.
You Can See: 11 Free Teddy Bear Patterns
Felt Finger Puppets
Children and adults will love this simple felt finger puppet craft. They are really easy to make, and yet they look so cute! Each puppet only takes a few minutes to put together, so it's the perfect craft for any child who wants to make something special for themselves or their friends and family. Turn your needle and thread into a puppet show with these felt finger puppets. The simple construction and colorful felt will have you making fun, one-of-a-kind creations in no time!
Source: hellosewing
Flamingo Felt Pillow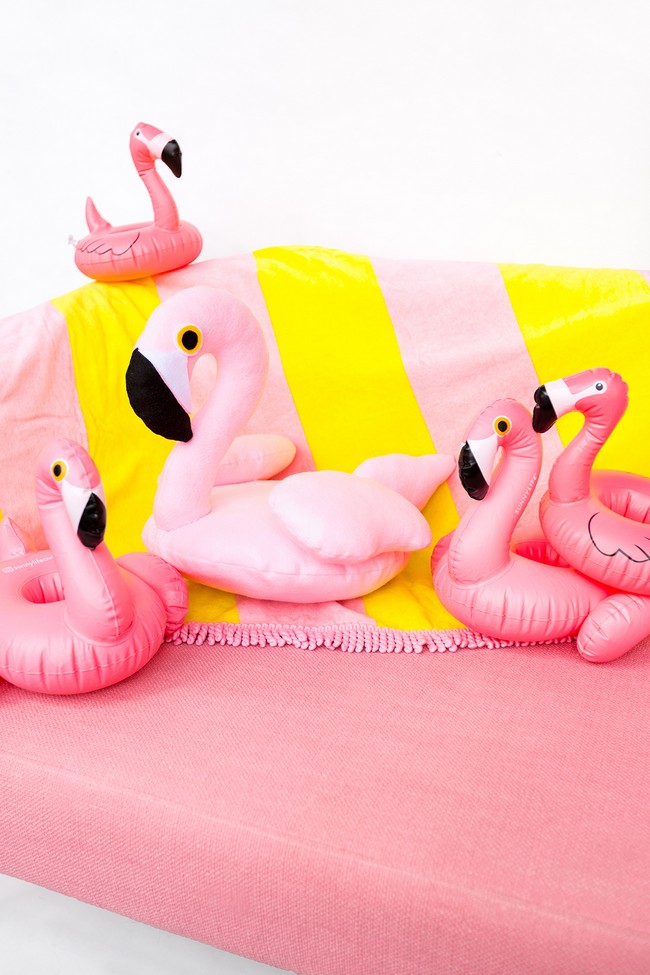 Learn how to make your flamingo pillow! This DIY project is quick and easy, making it a great craft for beginners. To make this flamingo pillow, you will need felt and a sewing machine. Use this sweet little pattern to make the hanging pillow flamingo you can decorate with or cuddle up with in the summer! These pillows are perfect for kids, but they'll also look great in your reading nook or living room. Use bright colors, or go more muted if needed—it depends on what you want!
Source: awwsam
Felt Elephant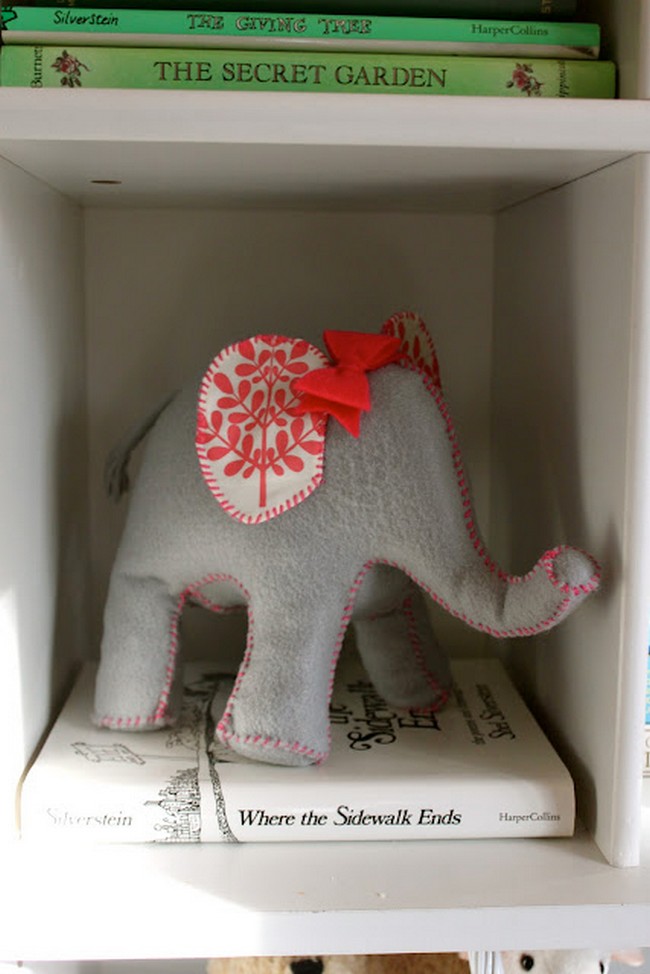 This adorable felt elephant is fun to teach your kids about DIY projects and sewing. Made out of felting, it's quick and easy to make, and you can customize it as much as you want – choose its colors and design, or make one for each kid in your house! This felt elephant makes a beautiful doorstop for your child's room. The finished piece is soft to the touch and ready to start collecting everyone's attention. Your child will love this cute elephant and decorating it: feel free to give different colors or patterns to your animal's body!
Source: CreateStufio
Felt Koala
It's fun to make cute little animals. If your kids have had the opportunity to see a koala in real life, this project will be an exciting one for them. Surely, you and your kids will enjoy making your own felt koala on a tree, and you can use it as an ornament. This project is perfect for the beginning seamstress. The instructions are simple and easy; all you need is a needle and thread — no sewing machine required.
Source: frugalmomeh
Felt Seahorse
It's a simple project, yet so perfect. You'll be surprised how something so simple can turn into such a beautiful creature: This felt seahorse is amazing. Unlike other seahorses made of paper or cardboard, this one is handmade from felt and is so pretty and easy to make. No sewing machine, needle or thread is required. So try it if you like seahorses and have some time on your hands. And you can always use it as decoration at home on the wall or in other places you want.
Source: Easypeasyandfun
Felt Mouse Pattern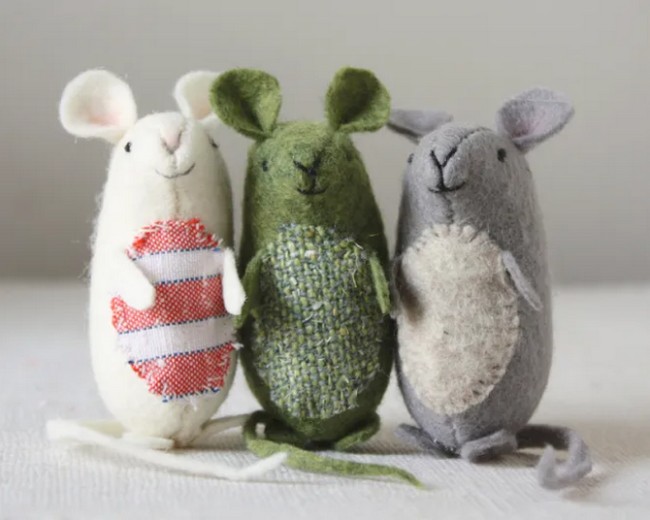 Felt Mouse is one of the most popular patterns, and with good reason! They are so cute, with their little button noses. Add a little ribbon to make a face more piquant, and you've got a sweet toy for your kids or grandkids. The pattern is suitable for beginners and intermediate sewers and includes detailed instructions with many photos. Your mice will finish in no time! Don't make just one, though, because they need a friend!
Source: AnnWood Handmade
Felt Ladybug
The Ladybug Craft will surely bring a smile to your little one's face. Your child can choose from different ladybug colors, depending on their mood and create their unique ladybug. The classic felt fabric is great for kids who love crafts because it doesn't fray or fray easily, making it very simple to sew by hand. The pattern includes cutting out the fabric and sewing the felt ladybug. The result is a cute felt ladybug toy that you can use as a backpack tag or keychain.
Source: wildflowerramblings
Felt Mermaid
This felt mermaid is the perfect project for you to practice your needle felting skills. You need some wool roving, a pair of needles, and stuffing to make this cute little mermaid. Make sure you choose the right colors, so your finished felt sea creature looks beautiful! This is also a great sewing project for children. After making the body and fins, sew on eyes and embroidered mouth. Where will this little one live in your home?
Source: redtedart
Felt Flying Squirrel
If your kids love animals but don't want them to have yet another plush toy on their bed and instead prefer something more eco-friendly, the flying squirrel is a perfect choice. This sweet and cuddly Flying Squirrel is easy to make! The felt animal is made with needle and thread and is ready in no time. Kids will love having their flying squirrel to snuggle with on movie night. With this step-by-step guide, they can easily create a flying squirrel out of felt.
Source: WildOlive 
Felt Sloth
If you love sloths, it doesn't get much better than this. This little, cuddly stuffed toy is the perfect gift for kids. It's ridiculously easy for even novice sewists, and the great thing about felt is that it's washable too! It will take you less than fifteen minutes to complete, which gives you plenty of time to make at least one or two more so you can surprise your family and friends with them! A great handmade gift for any special little person in your life..
Source: Americanfeltandcraft.
Felt Llama
Not only is the Llama a beautiful creature, but it is also very well behaved. This felt Llama makes a pleasant addition to your desk or a great companion at home. This is a great way to improve your sewing skills and simultaneously make a cute llama stuffed animal. This pattern has simple, step-by-step instructions and detailed photos for every stitch. You'll learn how to sew two pieces of felt together, add eyes, make pompoms and more! Once you make one felt Llama, you can make hundreds!
Source: Thecraftaholicwitch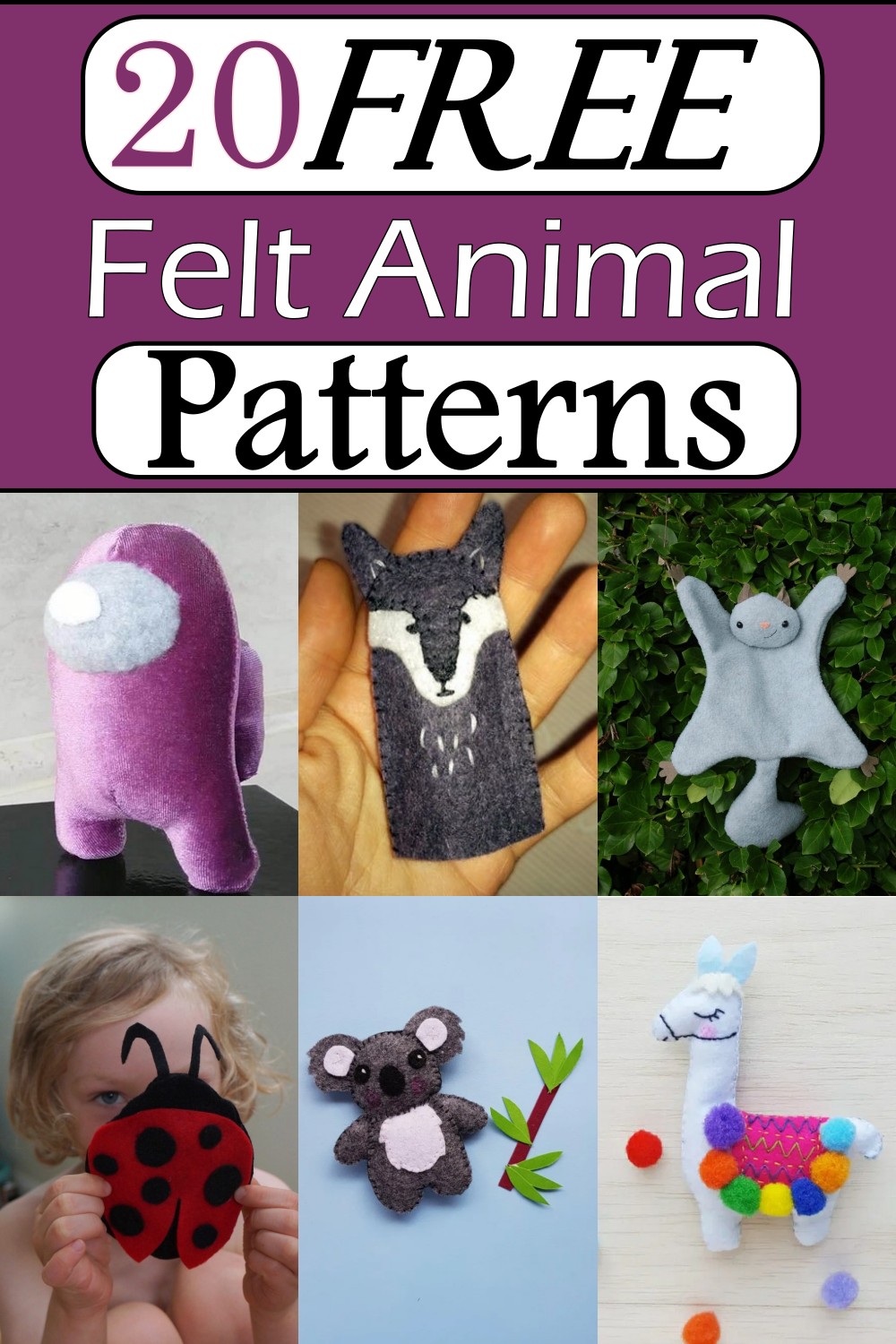 Felt Among Us Plushie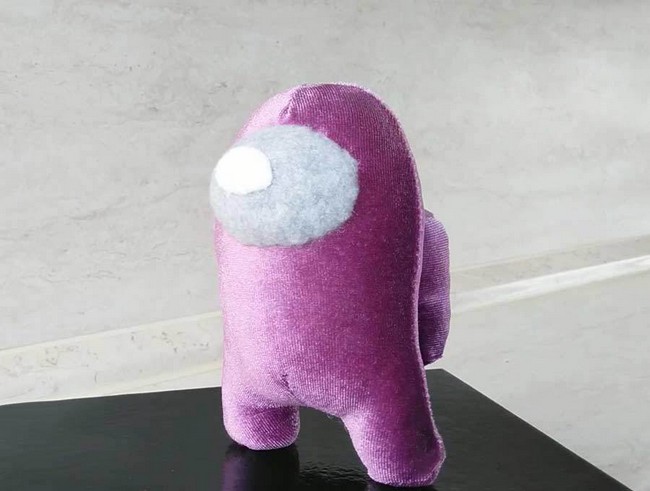 Are you looking for a fun father + son project or a great gift for your daughter? This plushie kit is perfect for kids to make with their parents or for teens to make on their own. This pattern is easy and fun to make, whether you're new to sewing or have been doing projects for years. The finished plushies are perfect for decorating your gaming room, giving as a gift, or just collecting a small keepsake from one of your favorite games.
Source: HelloSewing
Felt Turtles
These adorable little felt turtles are a great way to pass the time and make something special for someone. Your kids will love creating these crafts, and you can't help but smile when you see how cute they are. These turtles are so cute you'll be tempted to put them on display! The fun part about these little guys is that you can make them look any way you want—stripes, spots, paint, the sky is the limit.
Source: Yourdiyfamily
Felt Penguins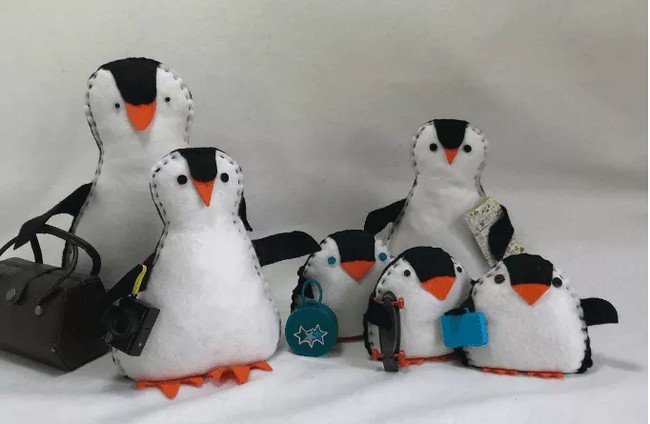 v
Source: sewasoftie.com
Felt Teddy Bear
Teddy bears are the ultimate companions for kids. They are soft and cuddly, safe and comforting, small enough to go anywhere with you, and big enough to hug. Felt is a wonderful fabric for making bears because it's sturdy, relatively inexpensive, and comes in various colors. Making teddy bears is a great way for kids to use their creativity by customizing their bears; paint them with acrylic craft paints or stitch on some extra details such as buttons and eyes.
Source: allmomdoes
Felt Sea Otter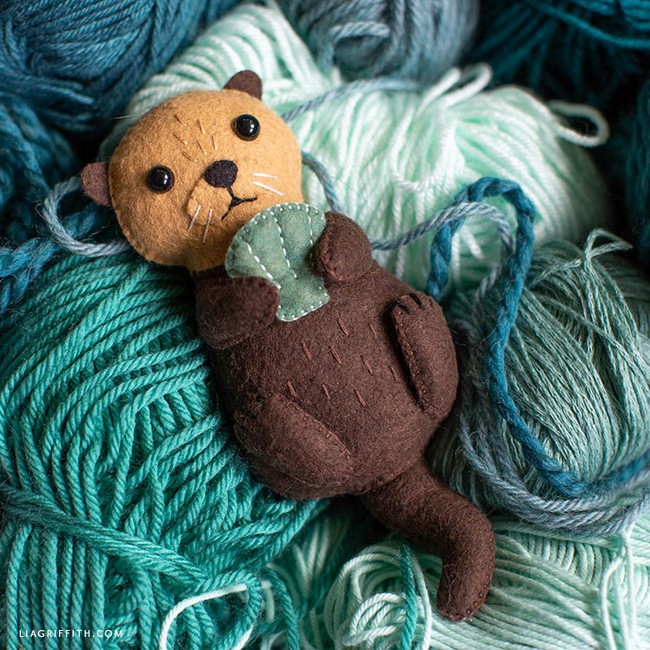 Craft your own felt sea otter with this easy sewing pattern. The instructions are detailed, and the material list is short. You'll need wool felt, black embroidery thread and a needle, plus a small amount of stuffing. yOur felt sea otters are sure to make great additions to your little sailor's room, so get the felt in place and let them sail away! This little sea otter wants to play. Make him and keep him company, or give him to your favorite animal-lover.
Source: Lia Griffith
Felt Giraffe
Free felt animal patterns like this giraffe are a great way to get kids started in making their toys. This fun and simple felt pattern are easy to follow, with minimal sewing. The finished product makes a wonderful keepsake or can be added to your child's crafts room. Because it's so easy for kids to see how it is made, they will want to use their imagination and playtime ideas when creating instruments or even clothing for their felt friend!
Source: liagriffith
Felt Cat
Cats are great companions, and now you can make a felt version of your own. It's small enough for a child to carry around and cuddle and durable enough for the most energetic play. Make your own Felt Cat and purr away! Your little one will love this cute, furry friend. You can make your own felt cat at home with a few supplies and under twenty minutes. It's a great way for children to learn about sewing and craft making!
Source: liagriffith
Felt Dolphins
Sea life need not be confined to the sea, and your kid can give a home to a bunch of cute dolphins in their bedroom. With this DIY felt dolphin, you could even make them for your child as a special gift! Sew the folded felt pieces together, and that's it! You'll make a whole bunch of dolphins from the pieces of felt, making this craft perfect for back-to-school or storing them and using them as an interactive toy you can play with.
Source: liagriffith
Felt Wolf
Create a wolf that will not eat you in this fun felt project. You can do this very simple and quick tutorial in no time, so get ready to introduce the cutest little wolf to your friends! With just a few basic sewing supplies and a little bit of creative thinking, you can make your very own felt wolf. It's easy to make, whether you are new to sewing or have some experience, so get started and make your own in no time.
Source: Liagriffith