So what's a parent to do? You can't afford to buy a thousand new teddy bears every time your kid gets attached to one and has it for a while. The solution is, of course, to find the patterns and make them yourself. Below are plenty of free Teddy Bear patterns; you don't have to break the bank to get them all. These bear patterns can be made from scratch, or you can use an old sweater or shirt and recycle it into a teddy. It doesn't matter if you are a professional sewer; these patterns are also suitable for beginners, and they're quick to make.
Free Teddy Bear Patterns You Can Sew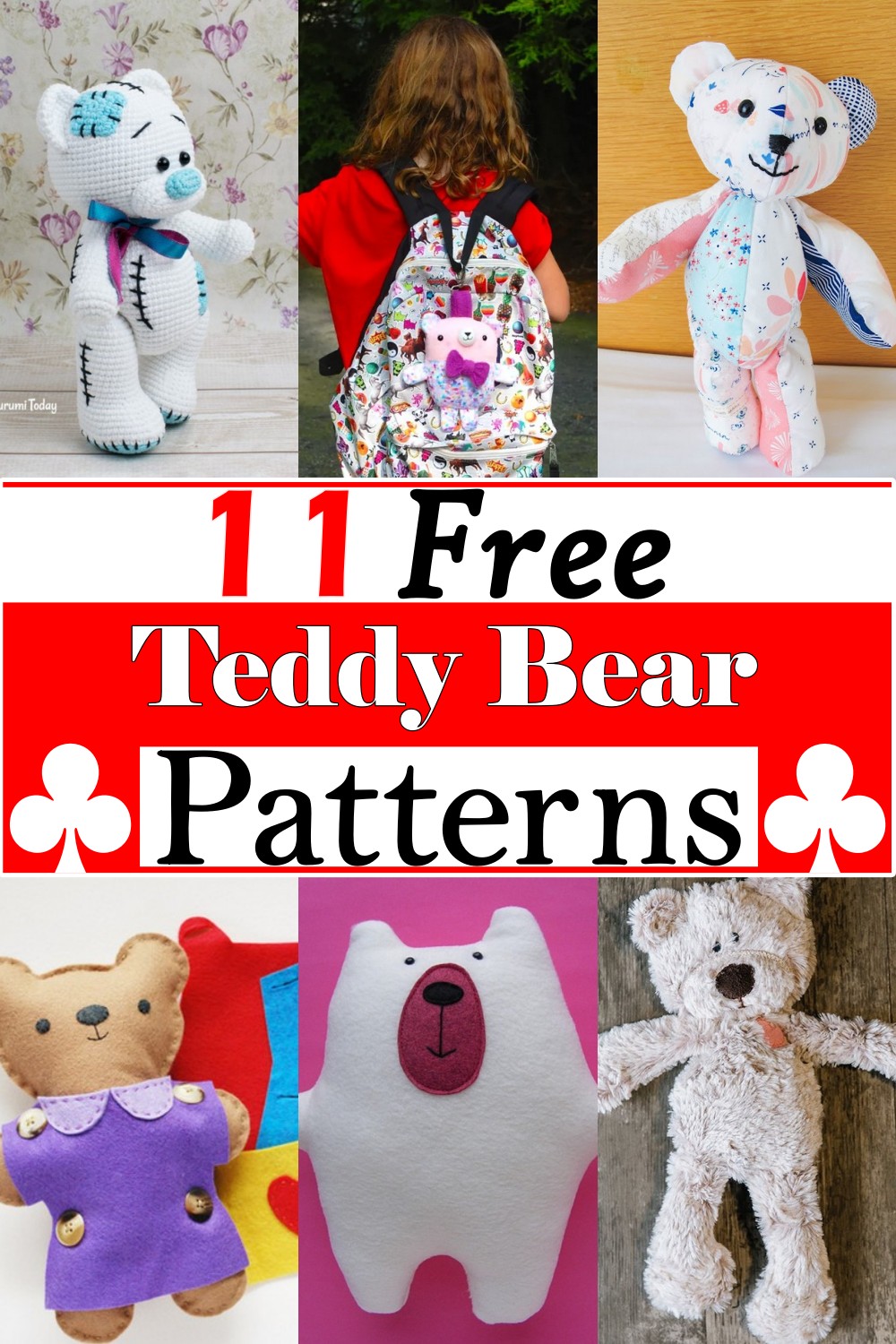 Teddy bear making can be a fun, satisfying project that can provide an outlet for your creativity. Although it is time-consuming and requires concentration, it will eventually create an adorable bear that can be treasured forever. When you are working on a teddy bear, you may wish you had the right pattern, There are plenty of options out there, but we've selected some of the most popular and well-reviewed Free Teddy Bear Patterns you can use to make your own teddy bear.
If you're looking for quick, easy, and free teddy bear patterns, you've come to the right place! Here are 11 free teddy bear patterns for beginners.
You Can See: 29 Unique Free Stuffed Animal Patterns
Stuffed Teddy Bear Pattern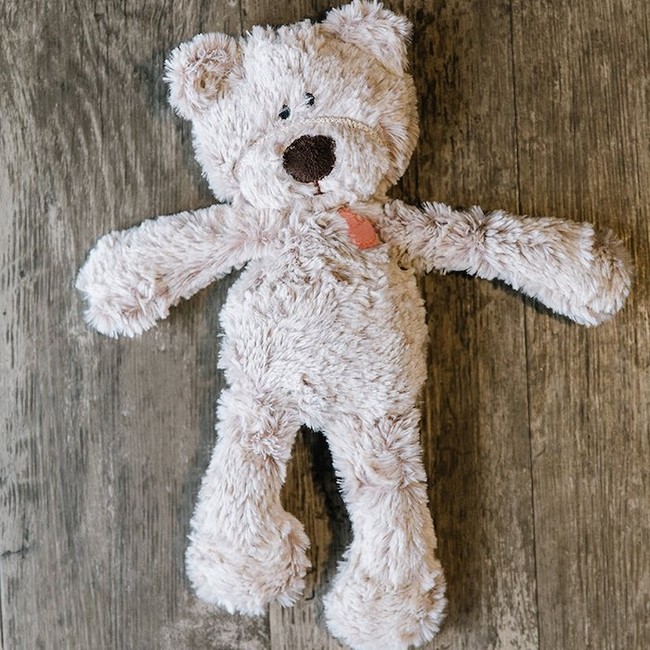 Stuffed plush toys are one of the most beloved childhood toys, and this pattern will bring a smile to a child's face. This pattern is simple, with very little sewing involved. You can complete this project in about an hour or two. You'll need some basic sewing supplies – thread, scissors and pins, a needle, and some stuffing/fiberfill – but other than that, it should be easy as pie! You can check out this free pattern here if you'd like to make your bear even better by adding arms and legs to give him a more realistic look.
Teddy Bear Sewing Pattern

Looking for a gift idea? Well, who doesn't like a soft stuffed animal? Make someone happy with this super cute teddy bear pattern! This is the perfect decoration for a child's room and also makes an excellent gift for adults! You can personalize it and make every bear unique by adding embroidered fabrics, pockets, and stitches that represent your loved ones. The pattern isn't difficult to follow, but it still offers plenty of details to let you enjoy the sewing process and add your creative touch.
by HowJoyful
Memory Bear From Baby Clothes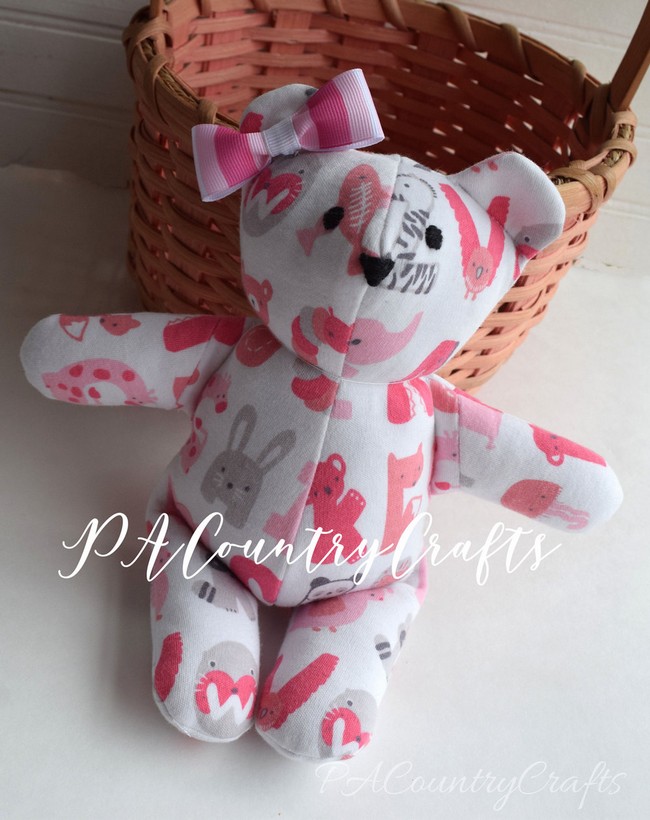 This cute bear is the perfect way to preserve those baby clothes you no longer use. Make it out of all the clothes your baby has worn, or use scraps and leftovers from other projects that are too small but still good enough to be used! Make sure to let your little one know that this is their old clothing before giving it over to become a new toy. These are easy-to-make bears that can be used as pillows or cute decorations!
Homemade Teddy Bear With Joints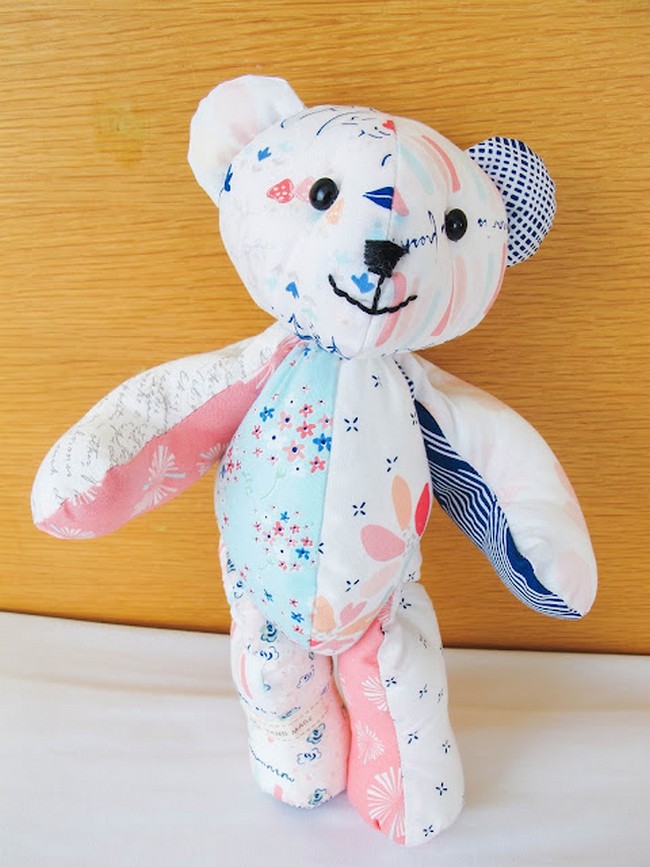 Start with this easy-to-follow tutorial and get ready to make yourself a jointed teddy bear! This pattern will help you to make a lovely teddy bear with joints, whose arms and legs are attached to the body in a way that allows them to move as if the teddy is an action figure! Just set it up in sitting, standing, running and many other positions! With clear step-by-step instructions and professional tips, you'll have your handmade teddy in no time. It's a wonderful gift for any occasion — from birthday parties to Mother's Day.
by ZakkaArt
Easy Teddy Bear Pattern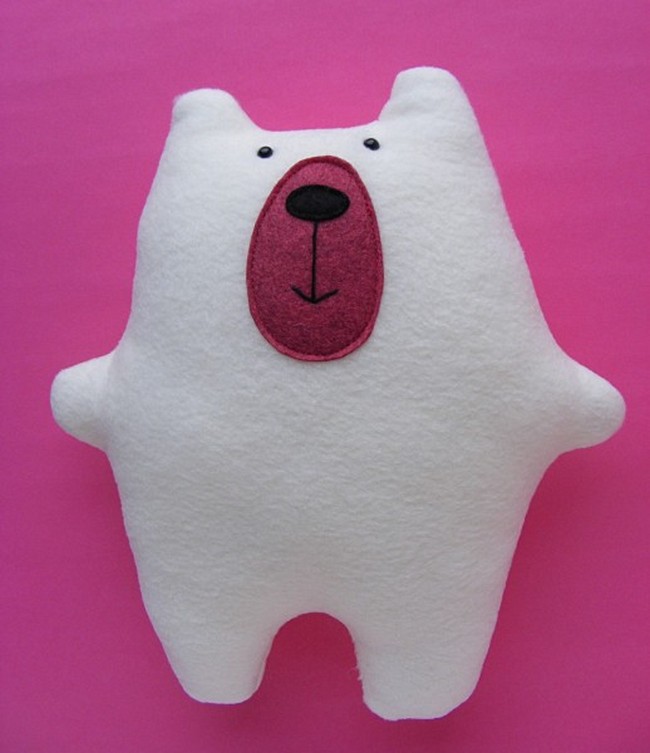 If you love making stuffed animals and donating them to children who need extra love, then the Easy Teddy Bear Pattern is perfect for you. With this simple pattern and a few hours, you can make your teddy bear that instantly conveys happiness and joy. This little teddy bear is quick to make, so it can make in a huge batch, which makes it perfect for charity projects. It's also super easy and allows you to make something special for your little recipient. The combo of its small size, simple design and softness are sure to make every child happy.
DIY Teddy Bear Backpack
Want your kids to carry their stuff in style while always having the comfort of a favorite plush toy? Then this sewing pattern is for you! This simple backpack pattern will show you how to turn any plush toy into a cute, functional back-to-school accessory. In the afternoon, you can transform any old stuffed animal into a new backpack for your little ones. It's also a perfect gift idea for kids with favorite plush toys! This easy sewing project will have you making plush toy backpacks in minutes.
check DoodleCraftBlog
Backpack Bear Pattern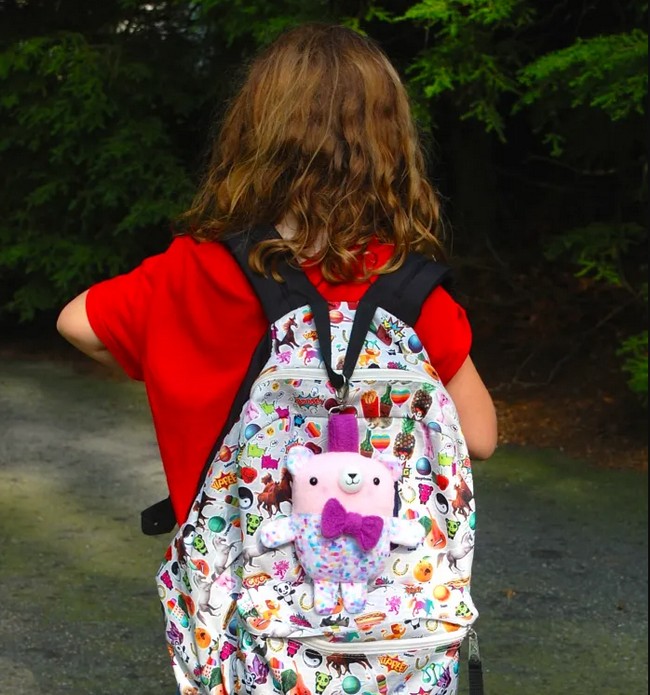 If you've got a little one going back to school or need something to add some style to your life, this Round Bear has you covered. Get your child's imagination running wild with this Backpack Bear Pattern. He will follow them in their backpack, helping them get accustomed to classes faster and more easily. Not only does it look adorable on any backpack or messenger bag, but it also makes for an ideal travel companion.
by WhileSheNaps
Easy Free teddy bear plushie out of a sock
This sock teddy bear is the perfect project for upcycling! It's an easy DIY teddy bear that almost everyone can make – even complete beginners. The result is a bear with an adorable face, tiny tongue and snout, chubby hands and a soft tail. All you need is a plain sock and some basic items you probably already have in your cupboard. This adorable chubby teddy bear is perfect for all occasions and will charm anyone with its simple, thread-for-eyes face.
By Oktocrafts on YT
Felt Dress Up Teddy Bear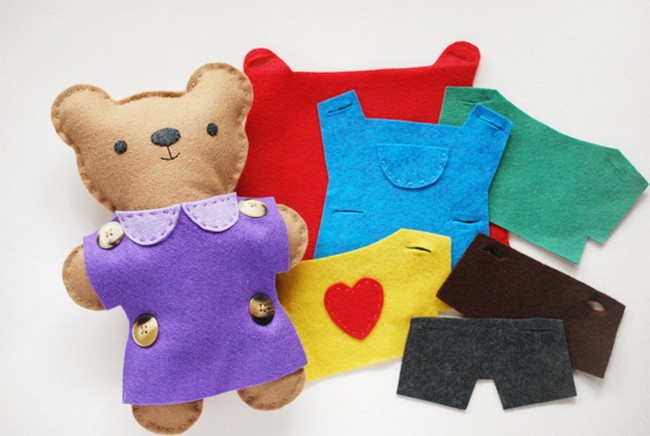 This felt teddy bear pattern is fun to make and play with! The body is flat, with four buttons sewn for a hook and eye closure. A zipper can also be used for dressing up your bear—sew it in place. There's plenty of room for sewing on clothes, and you can use any fabric scraps you want or even recycle some old items into tiny outfits for your bear to wear. Sew matching pieces like shirts, overalls, and skirts so your kid can give their bear a fun look each time they change their outfit!
by HelloBee
Fleece Polar Bear Pattern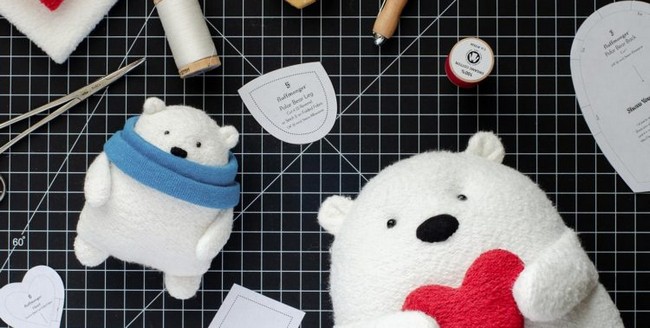 Our Polar Bear is a lovable, huggable plush animal that's perfect as a gift. This soft and cuddly plush toy will give your child endless hours of entertainment, an adorable teddy bear that looks just like a real polar bear. With its round body, short hands and legs, tiny ears and eyes, and cute snout, it is sure to be your kid's best friend!. It also has a removable scarf that can use to dress up or decorate the teddy bear.
by Fluffmonger
Amigurumi Teddy Bear Crochet Pattern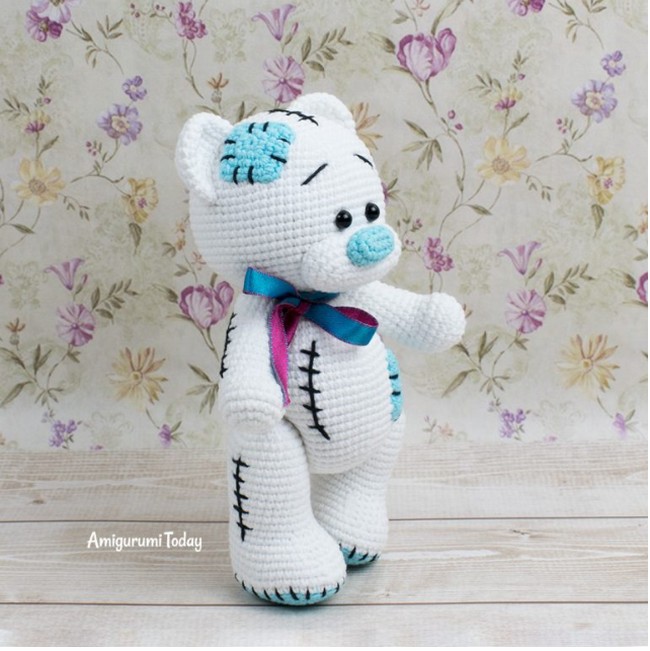 Amigurumi Teddy Bear Crochet Pattern is perfect for anyone who loves to make adorable toys and stuffed animals. The pattern shows you how to crochet the bear from start to finish, including all of its facial features, allowing you to make your dream amigurumi come true. The beads for the eyes are attached by hand, making this piece perfect for any home as a unique display piece. This pattern is straightforward enough for beginners but has enough interest to keep more experienced crocheters happy.