Halloween is the most suitable time of year to get creative and make your own Halloween sewing costumes. It's also a great excuse to use all those leftover Halloween decorations from previous years. Whether a beginner or a more experienced sewer, these easy Halloween sewing projects will help you create something spooky for your home or costume. These Halloween sewing projects are easy to make, super fun, and perfect for the upcoming holiday. All of these projects can be made in a weekend or less!
Free Halloween Sewing Projects And Ideas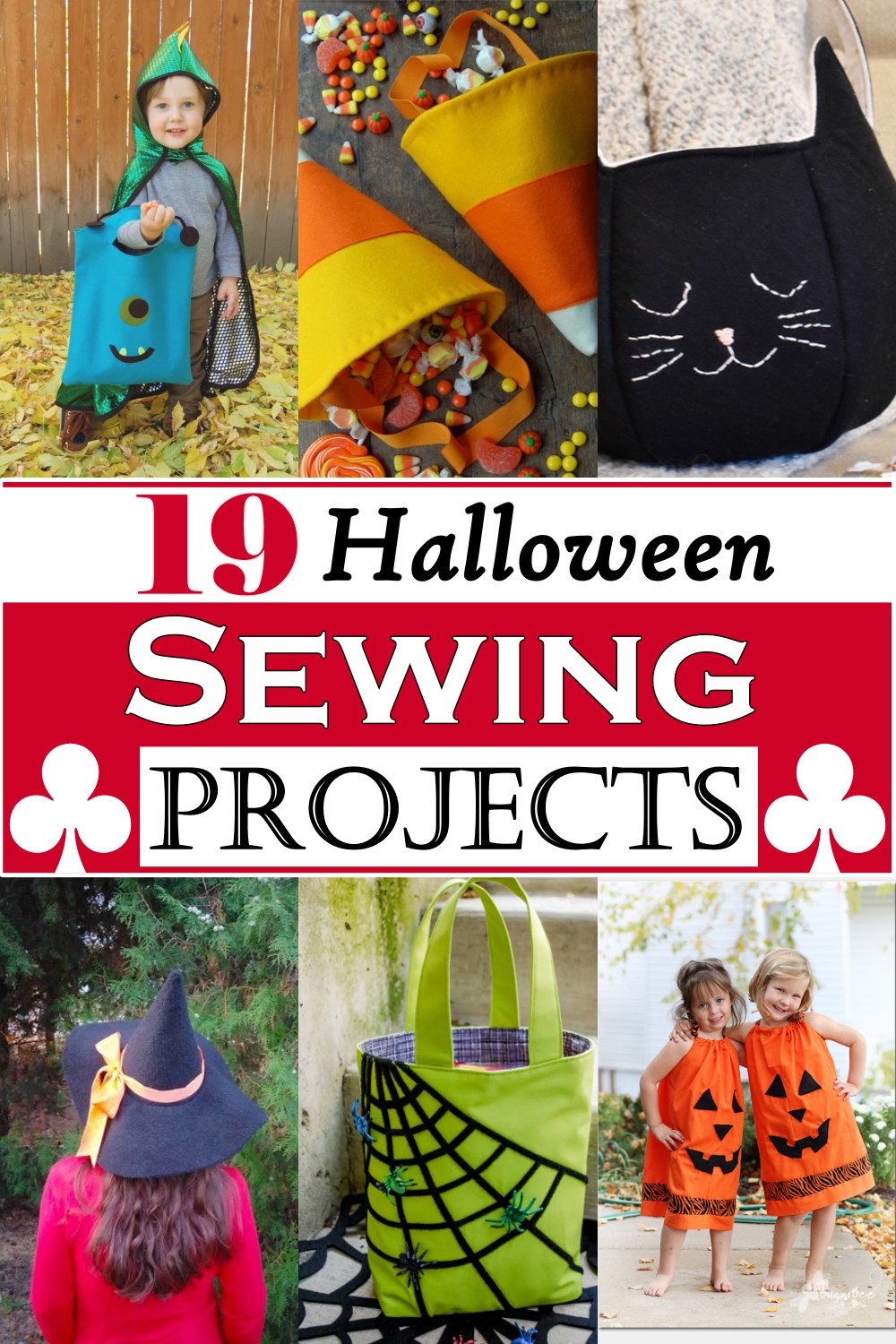 The Halloween season is filled with all sorts of monstrously fun things to do—there are haunted houses, hauntingly good costumes, and fantastically scary decorations. But it's also a favorite time of year for many to get crafty. From handmade Halloween treats to spooktacular decorations, there are lots of easy DIY (do it yourself) projects that can bring a little extra spirit and frisson of fright into your home. Whether you're planning on handing out candy, hosting a Halloween party, or just looking for some fun DIY ideas, there are plenty of sewing projects in this roundup for you to try. We've got some great Halloween Sewing Projects for costumes and decorations from different genres.
Welcome to the 19 Halloween sewing projects! If you're looking for cute, creepy, and spooky ideas for this year's costume, then you've come to the right place!
You Can See:  11 Free Teddy Bear Patterns
Halloween Cat Costume
This costume is great for all the little girls who love to dress up as a little cat! It's super easy to make and doesn't take much time or skill. All you need are several fabrics, some glue, and some knowledge of sewing techniques to get this costume done in no time at all! This costume will be a hit at the Halloween party and at every other fun event. And the best part is that it's so quick and easy to sew that you can make it without too much effort.
Ghost Costume
This unique costume makes your little one a scary ghost from the beyond. Magnetic eyes on the front hood make your little one look like they are peering out of a hole in the sheet. The included hat makes them look like they've been flying above the ground, and watch out for that ghastly grin! It's an ideal costume choice for Halloween or other spooky occasions and looks especially good when paired with other items.
Skeleton tee costume
This full-body skeleton costume will turn your little one into a terrifying sight just in time for Halloween. With an all-black base and oversized bone cutouts, this costume is a must-have for any child who loves skeletons! Transform your child into a hauntingly cute Skeleton with this easy-to-make costume. This Skeleton T-Shirt makes a great Halloween ensemble for kids three and up. And it's easy to make, too - Watch this video to learn how to make one for your kids.
Witch Hat
Witch hats are one of the most recognizable parts of any witch costume, which makes them a must-have item for Halloween. With this witch hat pattern and instructions, you'll be able to create your own in no time. All you need is some black fabric, a place to sew, and the pattern and instructions for this cute beanie. With this witch hat pattern and instructions, you'll be able to create your own in no time.
by HelloSewing
Cloak With Lined Hood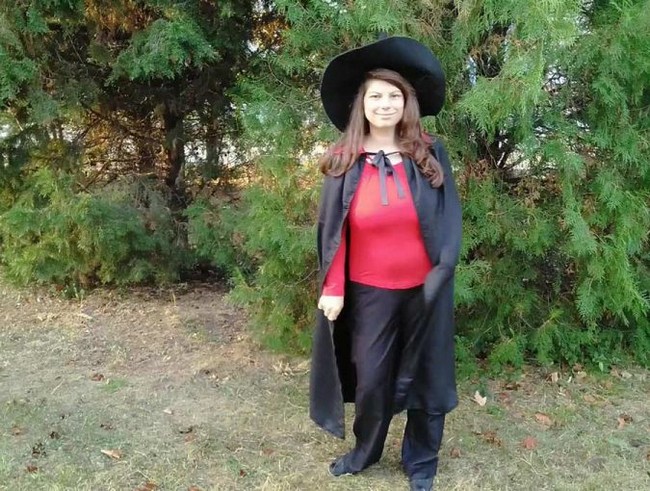 The cloak is a staple of every wardrobe, no matter the time! Whether you're dressing as a Hobbit or an elf, this simple and charming hooded cloak with lining will allow you to enjoy your night without worrying about the cold or rain. This cloak is the perfect addition to any costume. It is simple yet elegant, perfect for both men and women. The hooded cloak will add a touch of style any time of year for many years to come.
by HelloSewing
Pillowcase Pumpkin Dress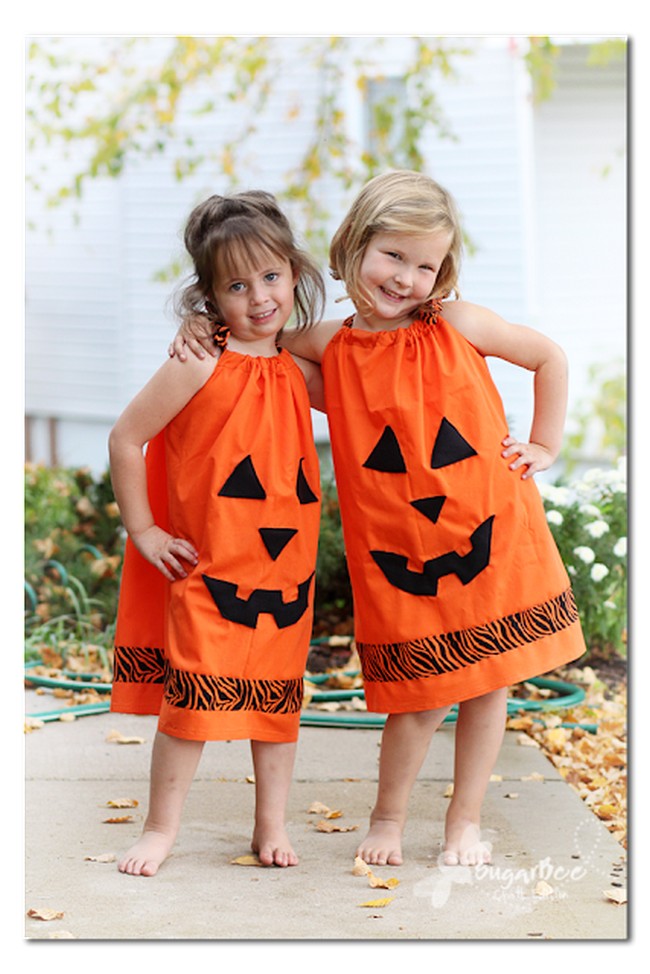 This sassy orange sleeveless dress makes a fresh new spin on your kid's wardrobe. It's equipped with a carved pumpkin face motif and decorative stitching for an extra pop of personality, making it the perfect choice for any young girl who wants to rock the room. Your girl will be ready to celebrate Halloween wearing this bright orange sleeveless dress. The pumpkin face pattern is unique and fun; she'll love showcasing her creativity this holiday season!
Candy Corn Treat Or Treat Bag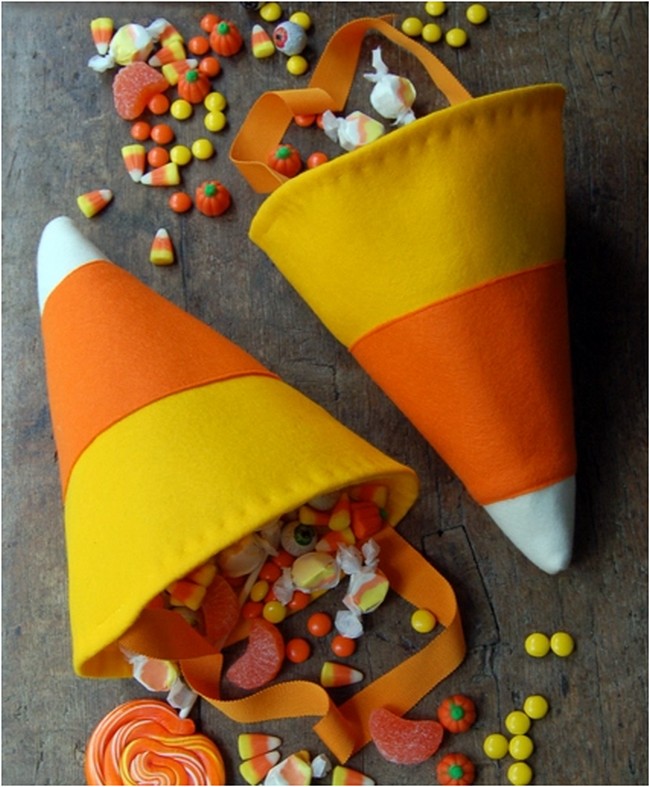 Get that sweet tooth ready because this little treat bag brings Halloween goodness. Candy corn is an iconic Halloween character, and this little bag will keep your treats safe and sound during the night of trick or treating. This lovely bag is great for kids of all ages to use year after year. The bag features candy corn colors with alternating stripes to look like the popping colors of a real box of candy corn. It's easy enough for novices and fun enough for more advanced sewers too!
by PurlSoho
Easy Treat Bag
Who doesn't love a good tote bag? This is a super-easy project, with zippers so you can make it any size - they are perfect for either kids' stuff or grown-up essentials. The treat bag is super easy to make, and your modifications to the pattern and embroidery should be perfect for any Halloween celebration. It's also a great project if you want to try out some applique or embroidery, as it has both elements.
Sticky Spiderwebs Bag
Spoil your kids this Halloween with a bag of tricks or treats like never before. The webbed bag shows off its contrasting face and lining, while the black spiders bring in the scary touch. The flat design of the bag makes it more convenient for arranging candy, soda cans and other items. This classic design will look great as you give away candy to your young guests! You can create different sizes and shapes of webs.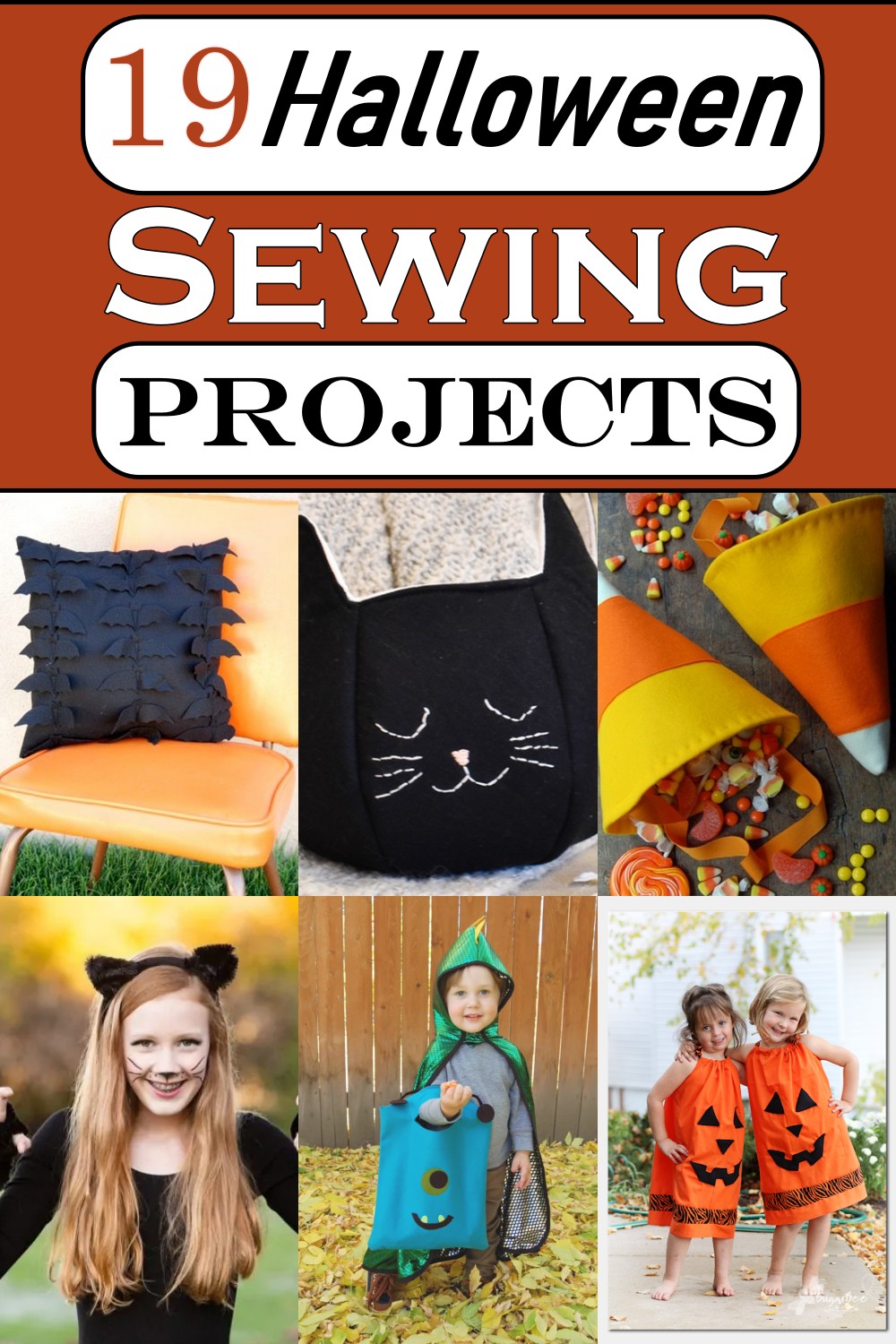 Black Cat Treat Bag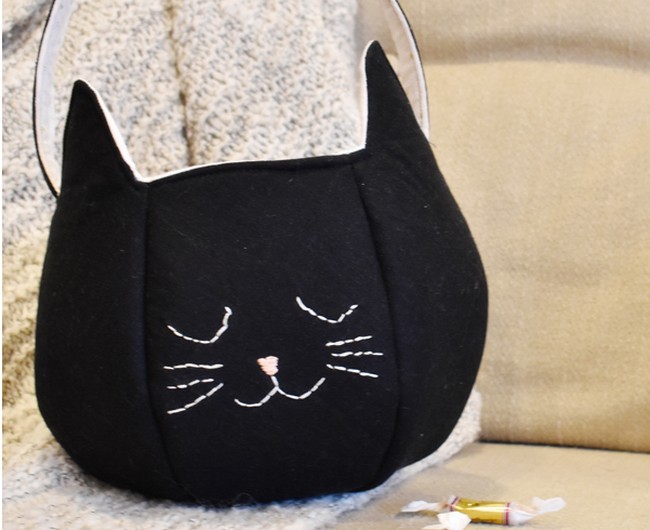 This Black Cat Treat Bag is so cute and will make the perfect addition to your Halloween costume! It's round with a flat bottom and small, so it won't be a bother to carry around. You can use this to store treats for trick or treaters or just as a decorative item that speaks for you! This simple, easy-to-make black cat treat bag is the perfect way to show off your love for felines and Halloween. All you need is some sewing skills and the pattern you can download free of charge.
Easy Felt Bags
Make this fun and easy monster bag for your child to carry their Halloween candy. It's a lot like a tote bag but has a friendly one-eyed face, a smile, and a pair of antennas above the handles. You'll want to make more than one of these because everyone else will want to use it, too! It's easy to carry, has room for all their candy, and is sized to fit an adult's hand!
by PiperGirl
Simple Tote Treat Bag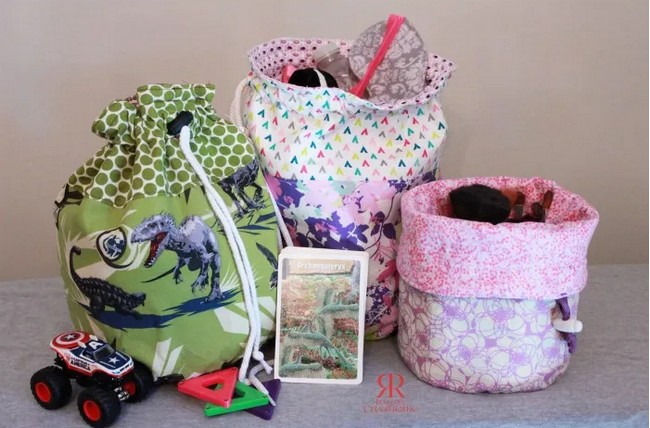 Add a Halloween twist to your treats this season by wrapping them in a matching burlap! This bag is simple to make and can be used for any holiday or special occasion. Treat bags are great for Halloween parties and celebrations, but if you're looking for something different than the common fold-over paper bags, this tote bag is perfect. You can create an awesome bag in under an hour with the right fabrics and a little glue!
Halloween Cat Pillow
Do you love cats and want to add some fun to your living room? Then this is the right project for you. This homemade pillow features a subtle cat face on its front and cat ears, making it unique. It's also not too difficult to make with this easy-to-follow tutorial. This cat pillow will add a bit of humor to your living room. It makes a great gift, and it's quite comfortable too! It'll feel like you're cuddling a kitty when you rest your head.
Bat Pillow
Are you afraid of a dark, creepy corner of your room? Do you find yourself petting your bed all the time when no one is around? Are you a millionaire and have trouble sleeping at night? This project perfectly suits you if you answered "Yes" to any of these questions. The bat pillow is a playful and creative DIY project that is easily executed by old and young alike. It makes an ideal gift for children or an exciting addition to your bedding collection!
The 20-Minute Halloween Table Runner Tutorial
Grab your sewing machine and prepare for this super easy table runner tutorial! Cut pieces of fabric in the desired lengths, then sew them together with a zig-zag stitch. Trim the corners, turn it inside out, and voilà: a quick-and-easy table to wow your guests with this Halloween. This Halloween Table Runner is the perfect way to help you prepare dinner on time this holiday season. This bright colors table runner will be the perfect base for your Halloween decorations. When you need to hide messy party decorations, use this runner as a cover-up.
Halloween Hexagon Table Topper
This Hexagon Table Topper is perfect if you're looking for a colorful and charming way to dress up your audience table. This topper is designed with fun in mind. It's made with six main colored fabrics and one in the center to create the hexagon shape, and it's got rick-rack trim. Unlike other table runners, this one will save you time, effort and money. This tutorial will help you make a hexagonal table topper, which is quick and easy. It's the perfect accent piece for any Halloween table.
Halloween Face Pillows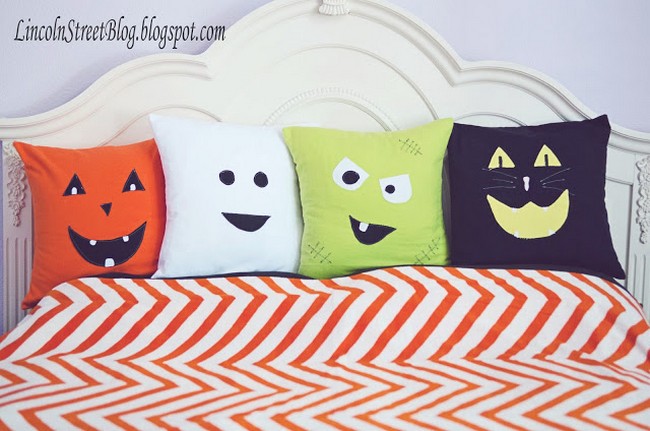 These goofy face pillows will add fun to your Halloween decorations. Make fun and goofy Halloween pillows to add a spooky touch to your living room. Choose from carved pumpkins, silly faces and even bat faces. They are super easy and fun to make, so everyone will be able to make them! The patterns are available, so it's easy for beginners. Follow the step-by-step instructions and get started on your creative project!
by Eighteen25
Stuffed Fabric Pumpkins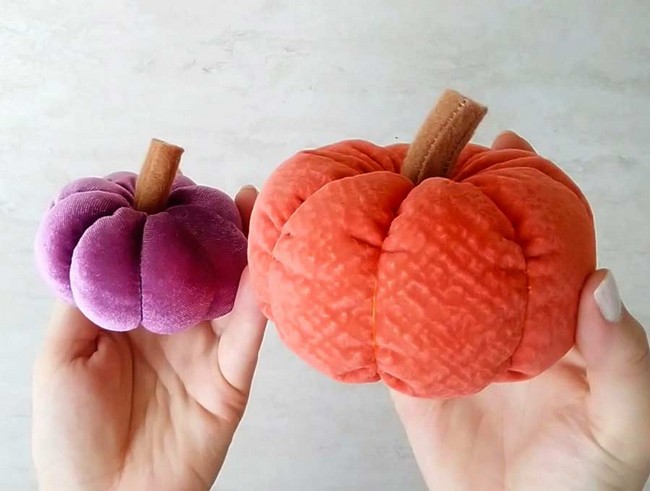 What better way to celebrate Halloween than with a few spooky fabric pumpkins? These make great decorations, but they can also be used as gifts. These are sure to do the job if you want to spice up your home decor. They're a breeze to make in different trendy colors, so you can mix and match for extra flair. They look particularly wonderful in your window or door with a string of twinkle lights around them!
Halloween Quilt
Ahhh, the Halloween quilt! It brings together the homey comfort of quilts and that special Halloween spirit in one. You can't go wrong with orange, brown, red, and black colors that are comfortable to lay on or put on display. This quilt combines the comforts of a quilt and that spooky spirit of Halloween. The colorful quilting pattern will keep you cozy all day long! This project will be a hit with your kids and keep their imagination alive long after Halloween has passed.