We live in a world full of clothing options. There's always something new to buy, and it's easy to get overwhelmed by all the colors and styles, thinking that you can't possibly make anything yourself. But stop, take a deep breath, and remember those skills you were born with. You can sew! And with this collection of easy dress patterns, you can make an entire closet full of clothes. These patterns are so simple that even someone who says they're "not good at sewing" could follow along, and everyone else will find them enjoyable to create. You may already have some of these fabrics lying around the house (depending on your style), and the rest are available for cheap at any fabric store. Make one for every day of the week!
Short-Sleeved Dresses Patterns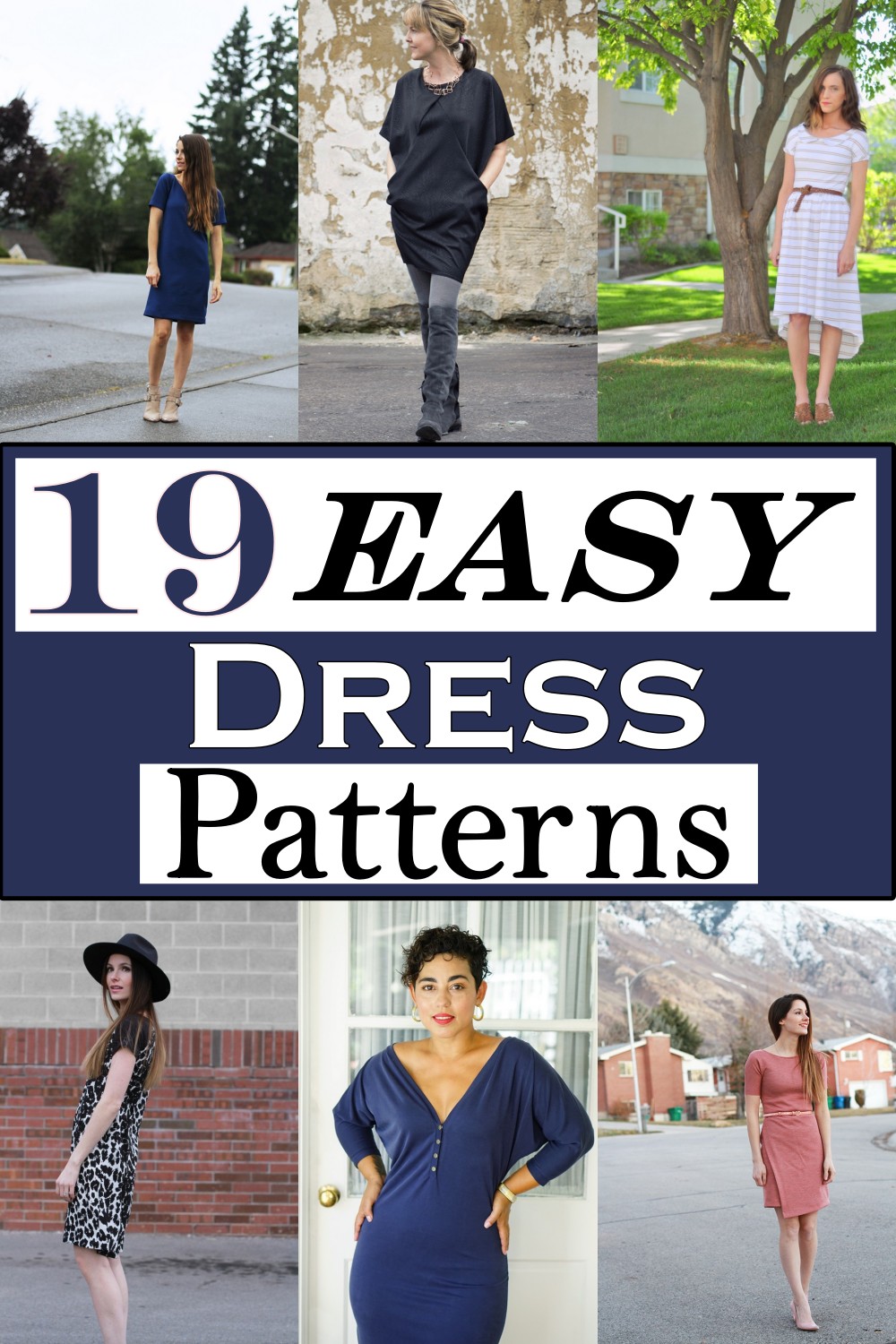 Plenty of amazing patterns are perfect for trying your hand at sewing, but many of them can be pretty intimidating. If you're unsure where to start, these 19 easy dress patterns should give you a place to start. The styles run the gamut from ultra-feminine to comfortable basics, so there's something for everyone. They're also super simple in construction; most require two or fewer pattern pieces and could be made by a beginner in a few hours. Use them as templates for your own designs, or just use them to add some new looks to your wardrobe!
Below are the perfect collection of 19 Easy Dress Patterns to let you make your own dresses, inspired by the sewing patterns of the past.
You Can See: 15 Free Swimsuit Sewing Patterns
Vintage-inspired Boxy Dress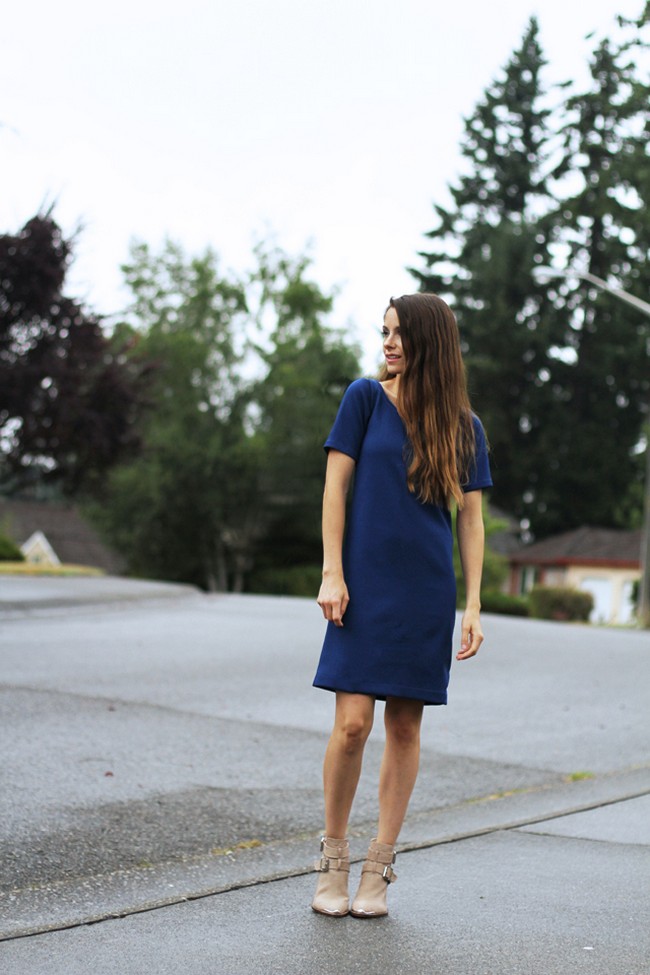 This vintage-inspired dress is the ideal addition to your wardrobe. Its boxy shape is flattering, and it can handle bold fabrics to make you look sharp for a lunch date or a day at work. The hem isn't too short, and the neckline is higher, giving you visual room for statement shoes and leggings. It's also easy to make! Choose from an array of colors and fabrications to find the one that fits your style; go through this guide to learn more!
Contrasting Raglan Sleeve Dress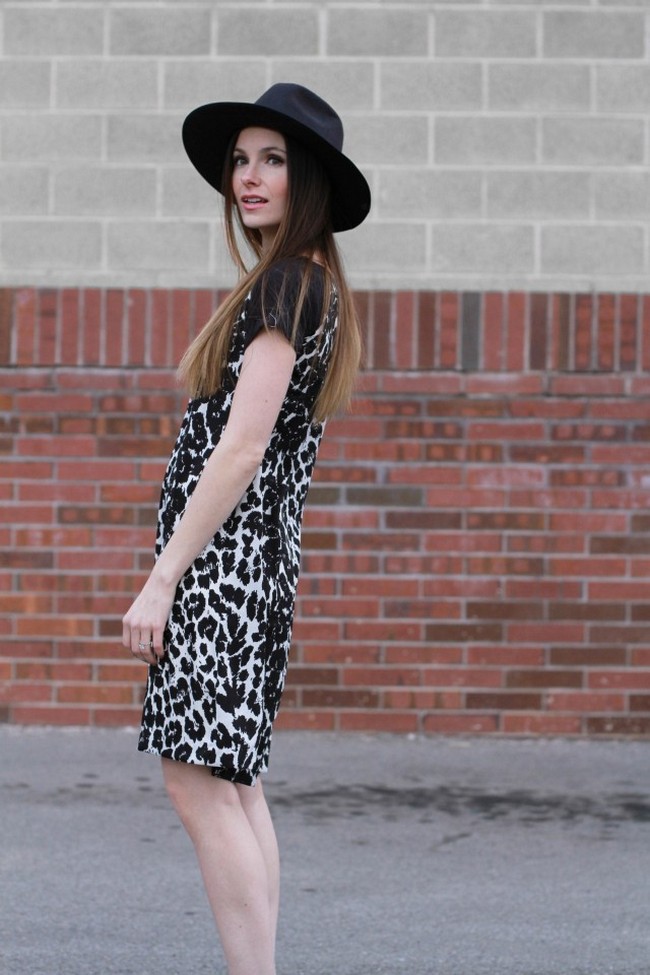 This is it if you're looking for a dress to wear to work or play. A classic cut with raglan sleeves and a cute print, it's perfect for running errands around town or a casual evening out with friends. Raglan sleeves are a classic pattern that never fails to look great. These dresses are designed with a raglan sleeve, which means that the sleeves are symmetrical, and the entire length is knit across at once. This raglan sleeve dress is one you'll want to wear all the time!
Hanging On A Cliff Dress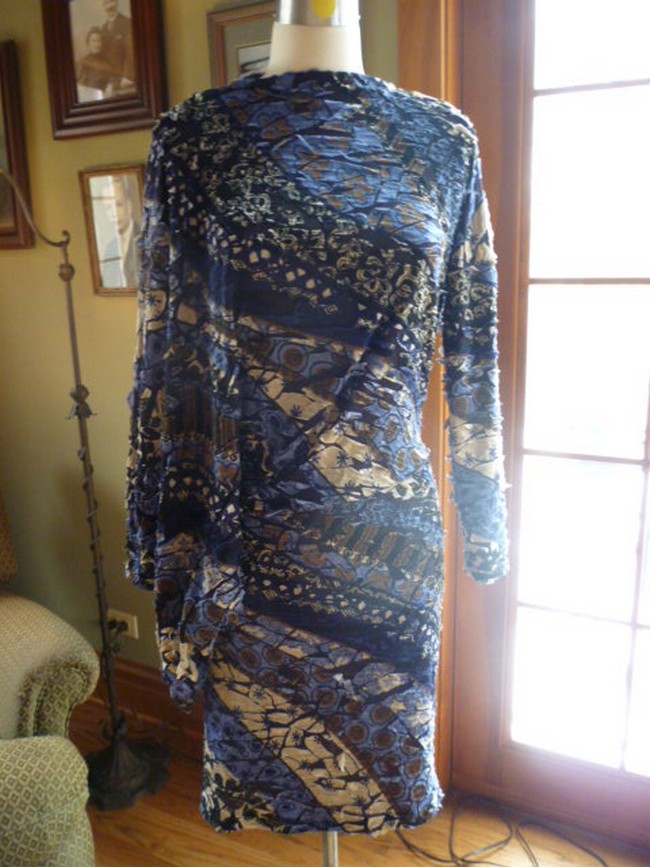 You will love this classic dress that is form-fitting but not too tight. A classic design in a flattering cut, you will look professional every time you wear it in your work closet. With three sleeve lengths and two necklines to choose from, this clean and classic style dresses up for a night out or goes casual for relaxing on the weekend. The Hanging On A Cliff Dress pattern is easy to make and made from sewing-friendly fabrics that everyone has in their closet.
High Slit Maxi Dress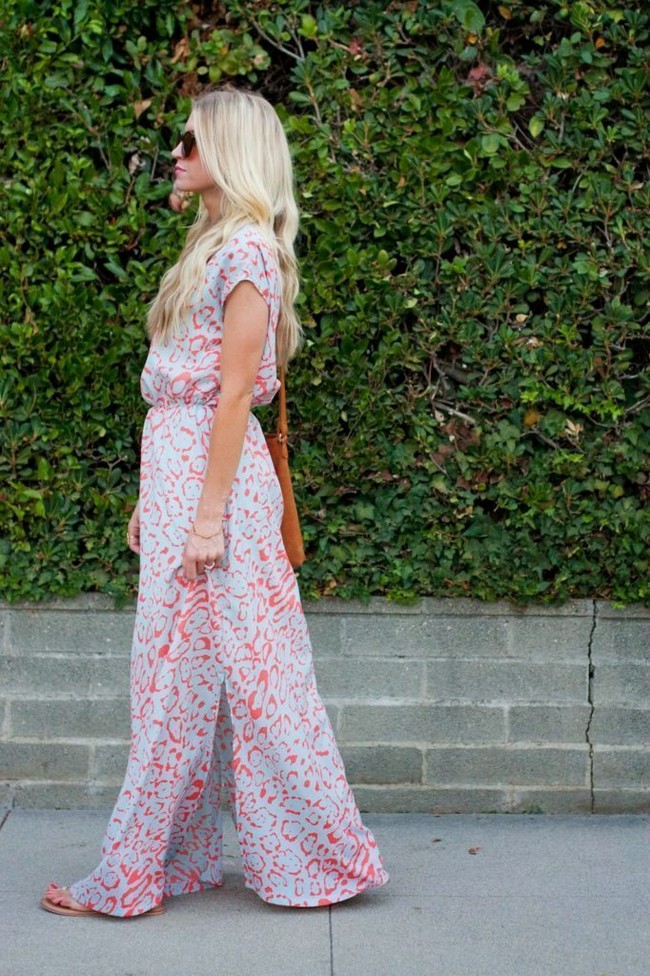 Add a slight flair to your summer wardrobe with this High Slit Maxi Dress. Featuring a breezy skirt with a long slit, this option looks amazing in bright patterns. Great for barbecue season and beyond, you will want to check this one out for summer barbecues. The breezy skirt and long slit will make you feel as cool as a cucumber, even on the hottest days. If you want to make your own, go through this guide below!
via Elle's Apparel
Asymmetrical Knit Sheath Dress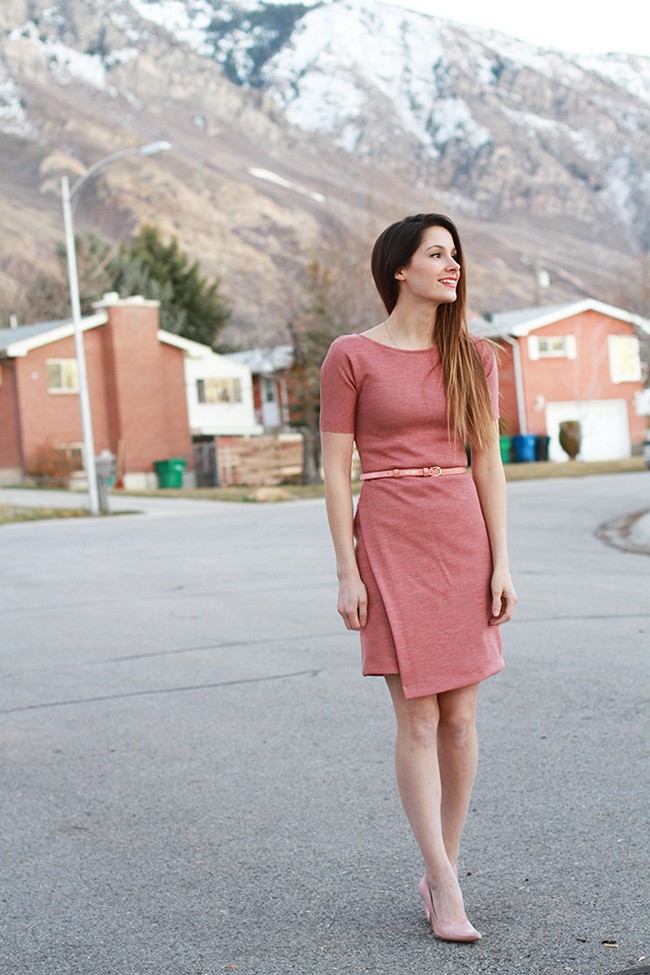 This dress is a short, sleeveless knit sheath that can be dressed up for any occasion. The draped sleeve detail gives this casual piece a feminine touch. Whether you want to wear it with sandals or heels, this dress will look fabulous on you. This dress's simple yet stylish design allows you to mix and match with other pieces in your closet without looking overdone. This is sure to be your next big summer trend!
via Cotton and Curls
Knit Tapered Dress With Peter Pan Collar
This knit dress is another summer favorite. Simple yet stylish, it has a Peter Pan collar. The asymmetrical hem adds an element of romance; Its short sleeves make it a breeze to wear, while the fit flatters curves with its slightly fitted bodice and gentle flow into the skirt. The knit fabric is lightweight, so you can wear this dress all day long without getting hot. The cut is extra breezy, making it a perfect option for long walks on the beach.
via Cotton and Curls
Bat Wing Dress
The Bat Wing Dress is the perfect addition to your wardrobe. The long batwing sleeves provide a very elegant and sleek look which can be paired with heels for a night out or flats every day. Perfect for the holidays, this dress is elegant and effortless to wear. It features long batwing sleeves, giving the dress a sleek, sophisticated look that you will want to wear repeatedly throughout the year. This dress also features an elastic waistband that provides a comfortable fit.
via MimiG style
The Soho Maxi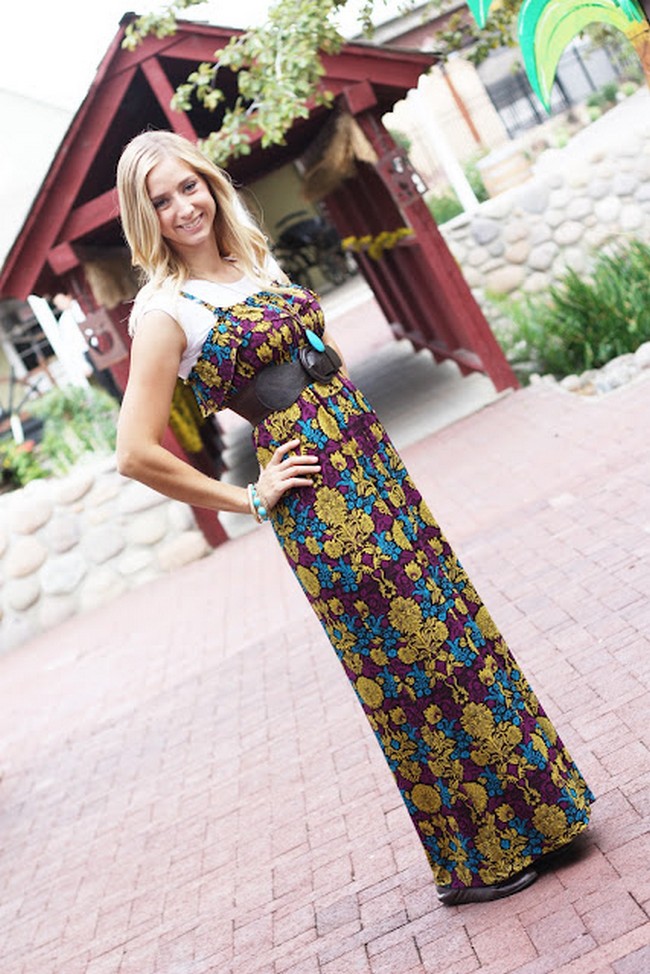 The Soho Maxi pattern is made for summer nights. You'll be ready for just about anything with spaghetti straps and a ruffle around the bust. Whether you're headed to your favorite rooftop bar or downtown for dinner and drinks, this maxi has covered you. The spaghetti straps and ruffle bust are comfortably stylish, but the trendy wrap front will have everyone in the room asking where you got it from.
via Sew Much Ado
Hint of Vintage Maxi Dress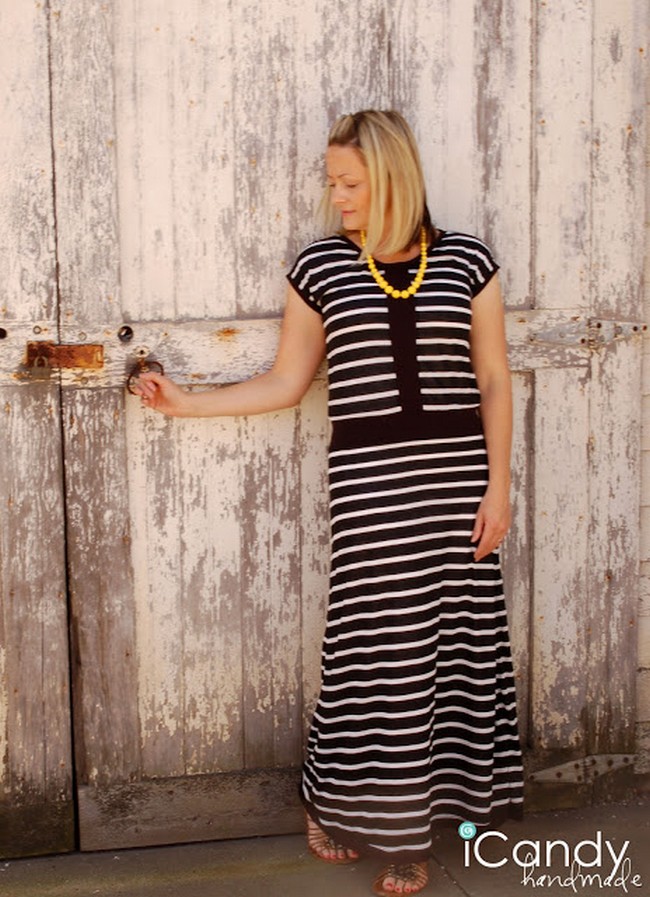 Love a classic style? Looking for a piece that is timeless yet modern? This is it! The hint of the vintage maxi dress by Simplicity sewing patterns is sure to become one of your favorites. Perfect for church gatherings and family lunches, this dress has a nice higher neckline and cap sleeve. Make this warm, easy-wearing dress in the afternoon. It's the perfect piece for anyone in need of an easy, comfortable dress that looks great paired with boots in the fall and sandals in the spring.
via Icandy Handymade
Two-Tone Maxi Sundress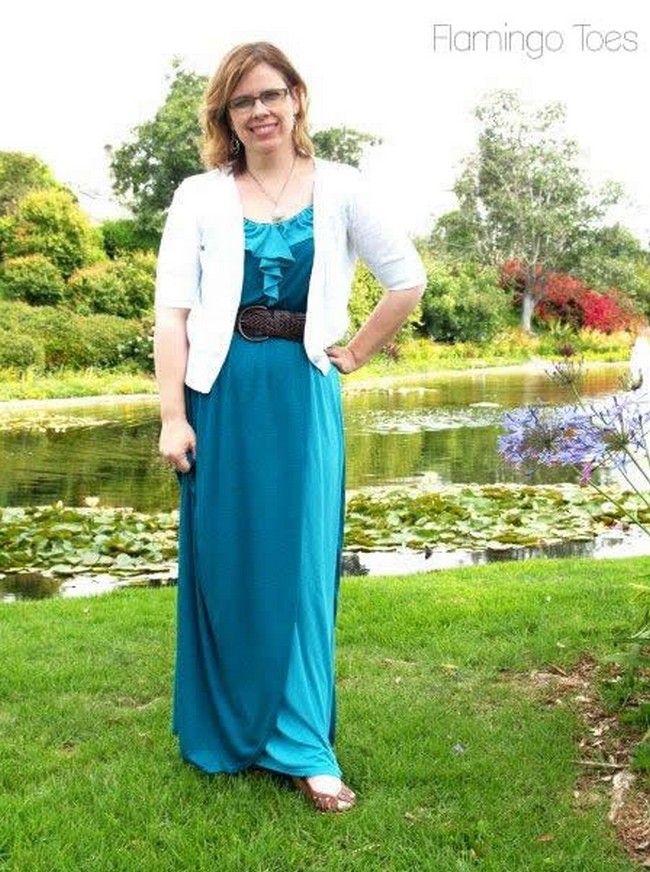 This two-toned maxi sundress features an extra color peeking through the neckline and bottom hem, making it a must-have piece in your closet. It's a clean, classic silhouette with a twist, and it's just for you! This maxi sundress is designed with a subtle two-tone color scheme and exposed seam detail at the waist. The split hem also helps to balance out any height differences in the front and back while adding personality without taking away from your ensemble.
via Flamingo Toes
Shirt Dress
The perfect mix of sophistication and femininity, the Shirt Dress pattern is exactly what you need to feel like a million bucks. It sports a color and clean tailoring up top so that you look classy while out to brunch or at the office in the evening with heels. Create an easy, approachable look with this pattern; It features a classic silhouette that you can pair with a pair of booties or wedges to take your look from day to night.
via Bernina's Blog
Wrap Dress
Look no further if you're looking for a day-to-night dress that transports you from the office to cocktails with your friends. This wrap dress is designed with a floral print and flattering waistline, so it has the perfect amount of sass without being overkill. This wrap dress has a flirty ruffle hem, giving it a fun and carefree vibe. The wrap style further adds to the garment's relaxed feel. You can also Rock it on your next vacation or shopping trip when you want to be comfortable and stylish.
via Mood Fabrics
Scoop Neck Maxi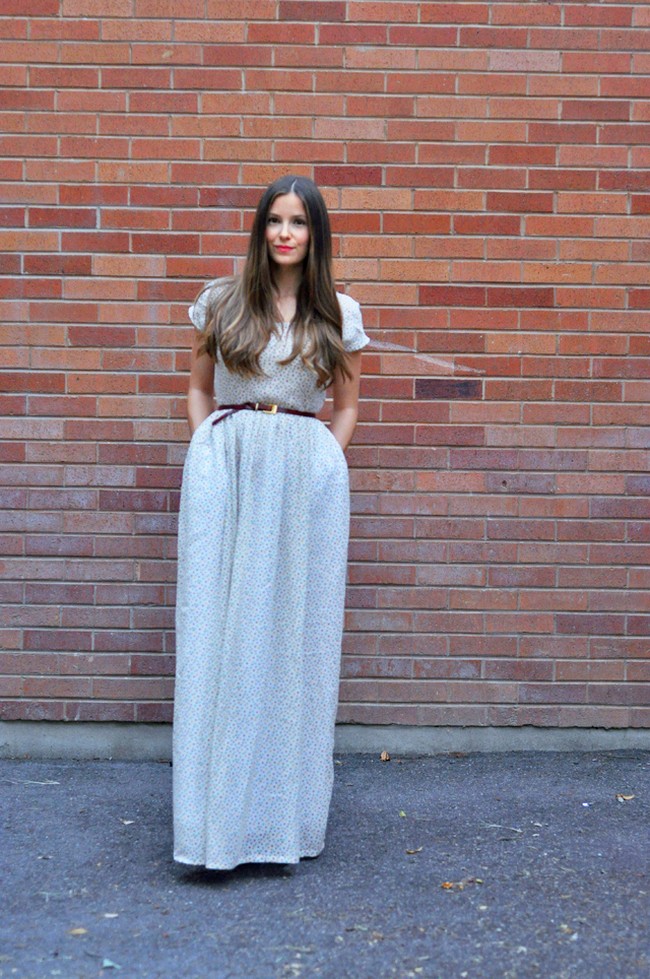 The Scoop Neck Maxi Dress is your new go-to summer dress. Constructed out of lightweight chiffon, this fabric drapes beautifully over the body. This maxi dress pattern is sure to be a hit! The gently scooped neckline and short sleeves give the silhouette a soft and classic appeal, while the fabric's softness adds a whimsy touch. This maxi dress is ideal for showing off your unique print and can be worn with or without a belt. Tuck it into boots, or wear it with flats and jewelry for an effortless look.
via Cotton&Curls
My Favorite Tee Dress
This easy dress pattern is the perfect item to create in the winter. It features an A-line skirt and top, so you can choose which mode you want to wear from day to night. Choose between a short sleeve, long sleeve, or sleeveless version for any year's season. This pattern is easy and fun to sew. The dress features a simple cut, but it has the comfort of your favorite tee shirt. This dress is a perfect fit for the winter months.
via Icandy Handmade
Day Dress
The long-sleeved day dress is a wardrobe must-have: simple, comfortable, and easy to wear. This easy-wearing, comfortable day dress is perfect for every occasion. The crisp cotton makes it a great choice for cool weather, while the fitted bodice will easily flatter your figure. This lovely day dress is quick and easy to sew, yet it has a timeless elegance that's perfect for wearing out of the studio. It's also a great weekend getaway dress. Try it in polka dots with a pop of color around the collar or cuff.
Tulip Dress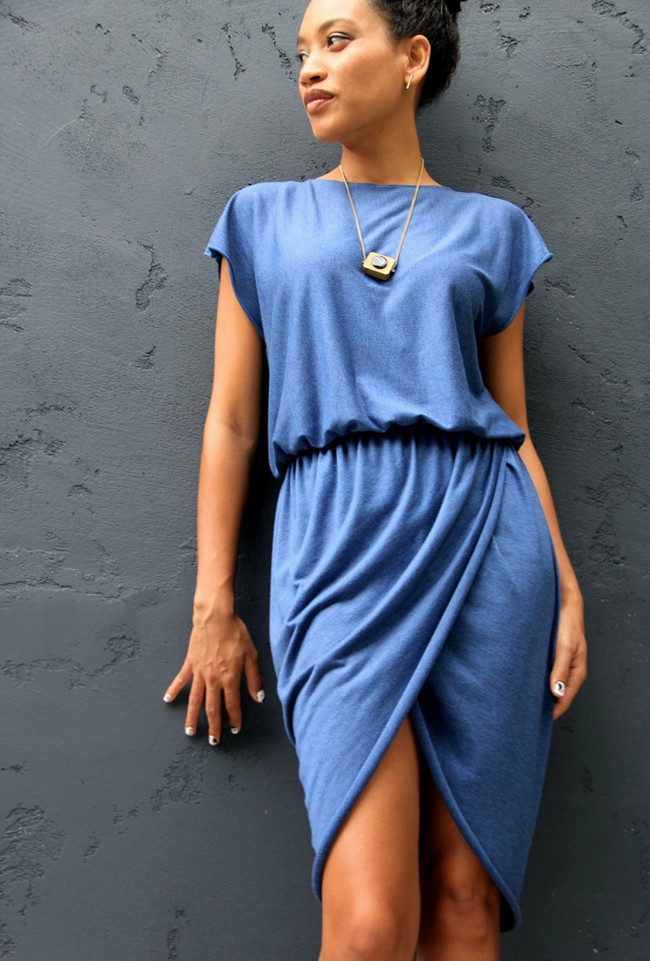 The Tulip Dress is a sophisticated take on a classic summer staple. Featuring a wrapped hem and a straight neckline, this dress is perfectly balanced for easy wear. This dress is the perfect example of minimalist design and effortless style. This piece features a straight neckline, open shoulders, and a simple yet stylish silhouette, a classic wrap dress that can be worn just about anywhere. Everything about it, from the wide wale corduroy to the coordinating trim details-makes this dress easy to style. And for those who want to look good at every moment, everywhere? This dress is the answer.
Chevron Dress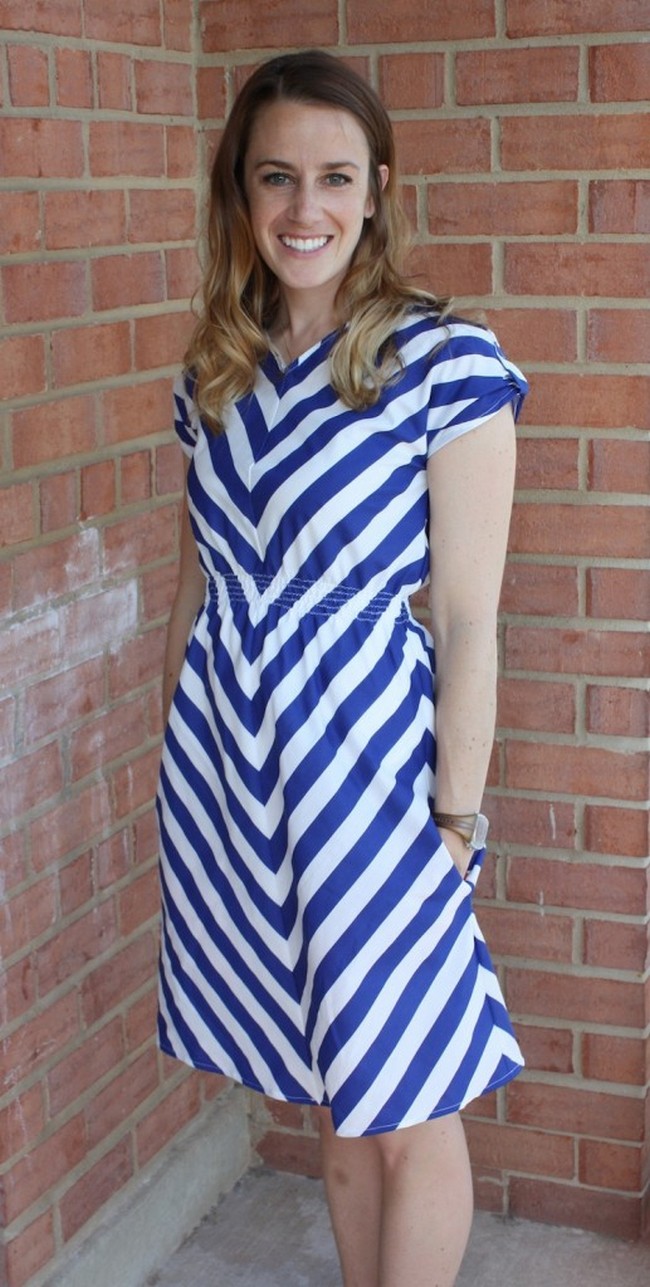 This perfect summer dress is great for a day on the beach or a night on the town. The fitted bodice and slimming skirt are sure to impress, while your confidence will shine through in this fabulous piece. This easy-to-sew dress is the perfect addition to your closet. It requires matched pieces of fabric and makes a great go-to outfit for brunch, church, or even a night out.
The Museum Tunic
Are you looking for a new stylish piece? This tunic is perfect with its longer length, larger sleeves, and V-neckline. Try it out in your favorite bordered fabric! The Museum Tunic is a great pattern to use that special bordered fabric. The larger sleeves and deep V neckline make this one a little more sophisticated than the average t-shirt but still totally easy to wear. Try it for that museum trip or book club meeting!
Lace Dress
This wonderfully classic and versatile dress pattern is perfect for beginners. It's made with a medium-weight woven fabric and a soft lace that works so well together. The neckline features a keyhole detail, and it sews up amazingly in white, but it's not limited to that. Pick your favorite color of cotton or linen fabric to change it up. This Lace Dress is a classic coming back in a new design. It's chic, edgy and timeless. Don't be afraid to try out a large or small lace with this one.