Sewing is an innovative and fun way to decorate your home, clothing, gifts, and much more. If you've been thinking about getting into sewing but are intimidated by spending more money on supplies than you know you'll use or getting frustrated with products that are too complicated to figure out, try these inexpensive, Cute, And Easy Sewing Projects. The instructions will help you get the hang of basic stitches and techniques, and they're all super simple projects that use small amounts of fabric scraps. These make great starter projects for beginners, and even experienced sewers can find inspiration in the bookmarks, pillows, and other unique ideas here.
Easy Sewing Projects You'll Love: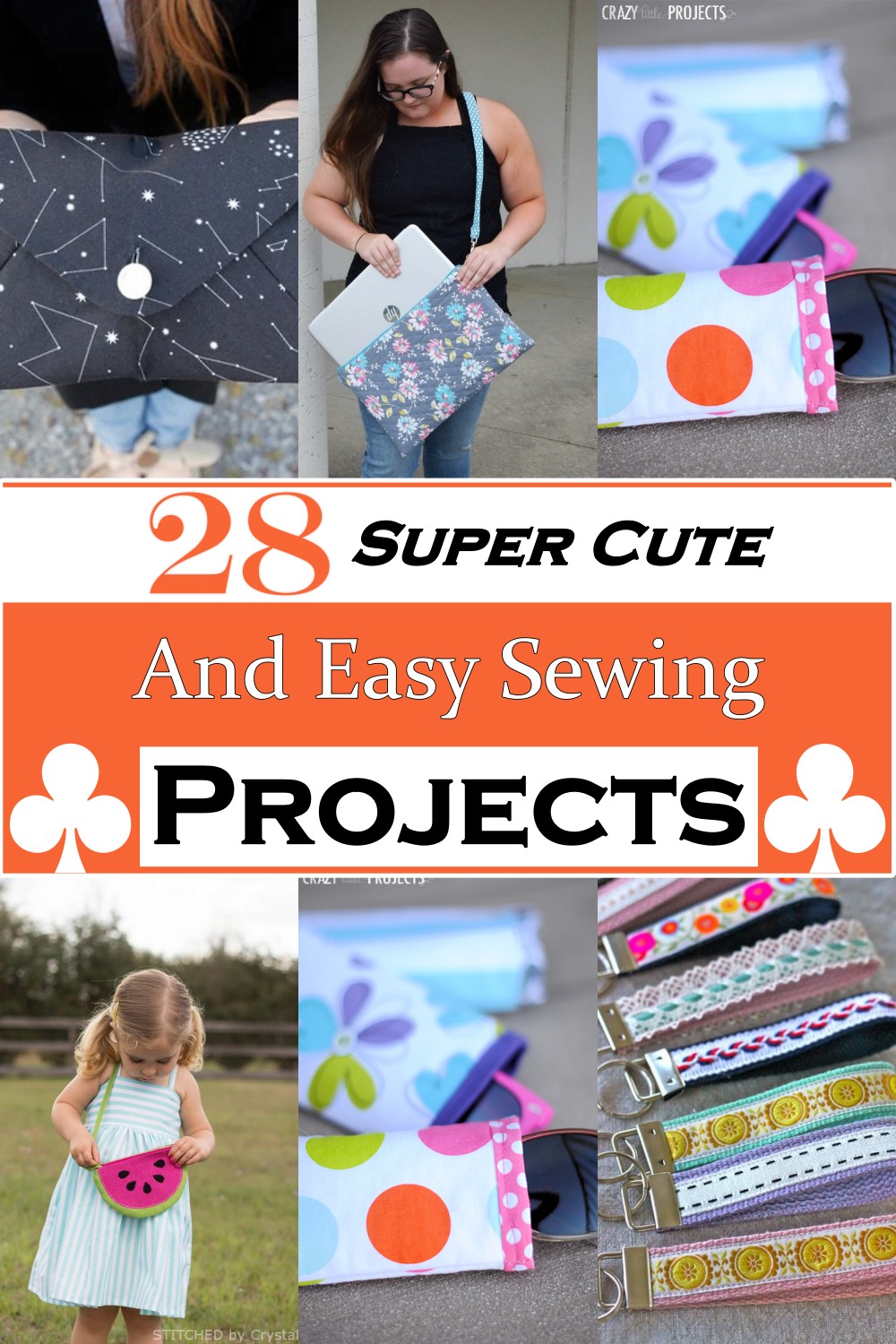 Sewing is a fun hobby, especially if you're a beginner; plenty of options exist. That's why we've made this list of 28 Super Cute And Easy Sewing Projects to help you choose the perfect sewing project for beginners. We hope you'll find something that makes you enjoy and motivate you to start sewing. If you want to get into sewing but don't know where to begin, check out this list of easy sewing projects for beginners!
Below are 28 super cute and easy sewing projects that will keep you busy for a month; In addition, they're so much fun to make!
You Can See: 23 Easy Free Throw Pillow Patterns
Easy Drawstring Bag In Under 5 Minutes
Make a useful drawstring bag that you can use for storing and carrying just about anything. This project is easy-peasy, even for beginners. All you need is a piece of fabric, some ribbon, and a pair of sharp scissors. Don't worry if you don't own a sewing machine — you can use this technique with any fabric by cutting out your pieces by hand! This guide will walk you through sewing your bags in under 5 minutes.
via See Kate Sew
 Soft And Super Easy To Sew Baby Blanket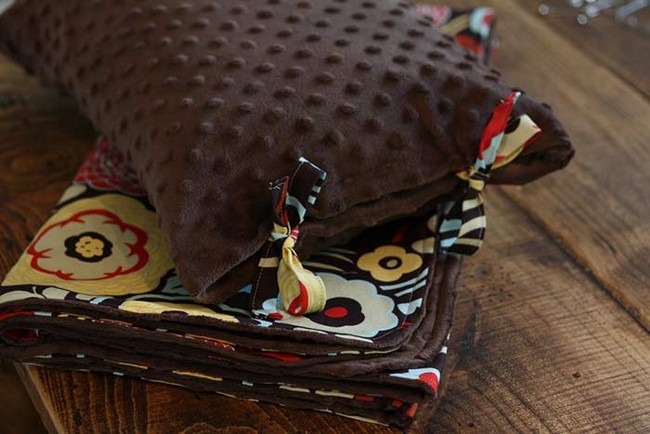 Make this cute, adorable, and super soft baby blanket with ease. It is a perfect handmade gift for any new baby or even the older ones who are celebrating their birthday! Your friends and family are going to love these baby blankets. They work up quickly and make a unique gift for any occasion or baby shower. The best part about this DIY soft and super easy-to-sew baby blanket is that it's so versatile – you can create an adorable personalized blanket for boys or girls!
via Melissa Dark
Fabric Bins For Your Sewing Supplies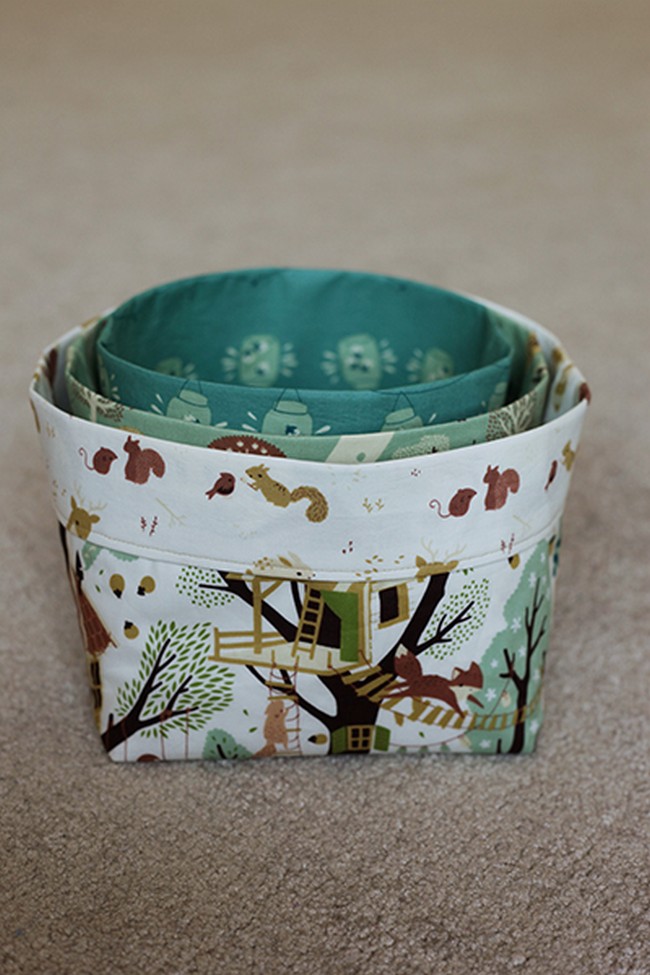 Let's face it... As a sewing enthusiast, you've accumulated a lot of fabric over the years. Lucky for you, it is a new way to store all your colorful materials! This tutorial will show you how to create neat bins and organize your craft space in an easy step-by-step manner. You'll be amazed at how quickly these bins can transform into the perfect storage solution for your sewing supplies. They are a great beginner project, and you'll be the envy of other sewists everywhere!
via Birch Fabrics
Easy Sunglasses Case
This easy-to-sew sunglasses case is a great gift for that special person in your life or yourself! You can also personalize it using fabric from your loved one's favorite team. This is an intermediate sewing project, but you'll make it look effortless when you're done. All you'll need to create this incredible DIY sunglasses case is some embroidery floss in your preferred color, along with some thread. Feel free to add charms or other embellishments as well!
Cute Envelope Clutch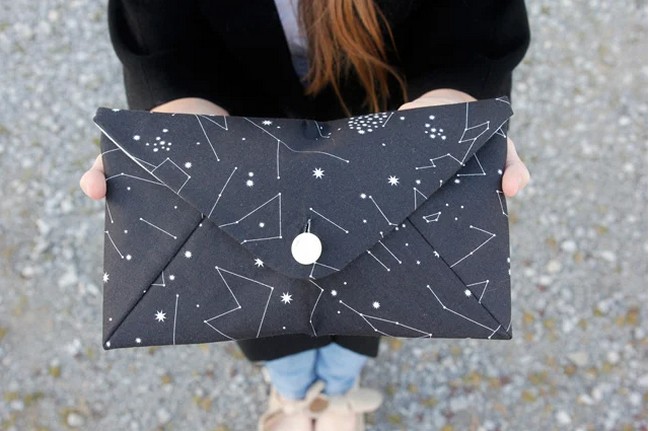 Make this gorgeous envelope clutch, and give your bag an upgrade without paying much. With only three pieces of fabric, interfacing, and a button, you can create a fabulous envelope clutch in no time. This is a great project for an advanced beginner to intermediate sewer since it has some challenging steps, but don't let that scare you away! The result will be so worth it! Follow this Step by Step Tutorial to show you how easy it is to make these yourself!
via See Kate Sew
Pool Bag With Pockets
If you want to make a pool bag with pockets, follow these easy gift ideas and create a perfect gift for yourself or your friends and family, or bright and colorful bags for your trip, you don't need to look anywhere else. This fun project will help you create a stylish bag by combining two complementary fabrics from your scrap pile: one for the body of the bag and the other for the lining. This tutorial will show you how to sew on a strap, finish the fabric edges with binding tape, and make the side pockets.
Oh-so-chic Napkin Tutorial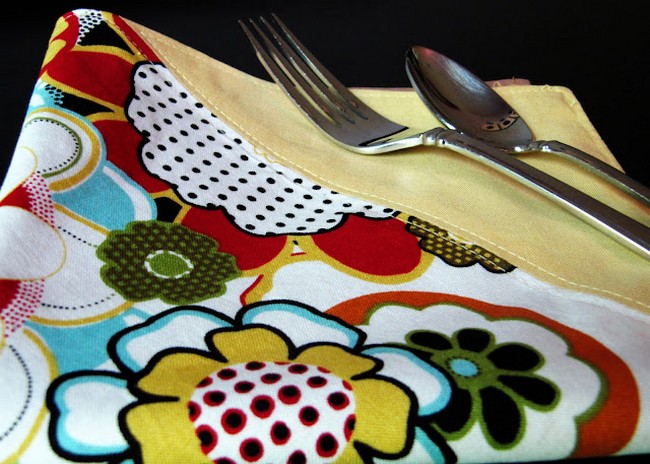 Keep your kitchen cloth napkins in good condition with these pretty napkin rings. They will add a touch of elegance to any table and make any hostess feel special! A little embroidery and hand stitching are all you need to make these oh-so-chic napkins. It's a perfect project for beginners who want to get their feet wet in sewing or for advanced crafters who need some simple sewing projects that they can do quickly and easily. These fabric napkins are also perfect for hostess gifts, wedding favors, or even gifts for birthday parties!
Wristlet Key Fob
This little DIY project can be as simple or elaborate as you like. It's the perfect way to express creativity and use extra ribbon, buttons, and fabric scraps in your stash. Once you've crafted your creation, all that's left to do is fill it with your favorite keys and put those hands to work! The best part? It's fast, easy, and fun! There are many ways to customize this si,mple project and make it your own.
via Pretty Prudent
Fruit Slice Purses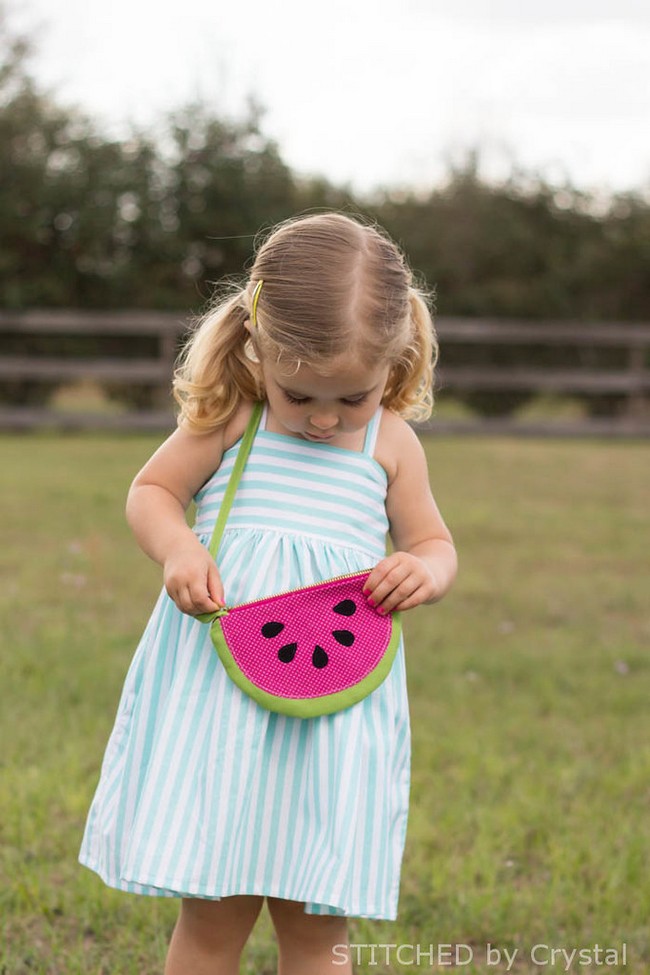 Fruit Slice Purses are a great gift for girls and are so cute! These purses are easy to make and can be customized with different fabrics. You can make a fantastic scrap project, or you could use up some leftover fabric from previous sewing projects by making them out of those fabrics. These Fruit Slice Purses are the perfect little project for you to create with your child and keep them occupied for hours. They will be thrilled to show off their new bag at snack time!
DIY Laptop Bag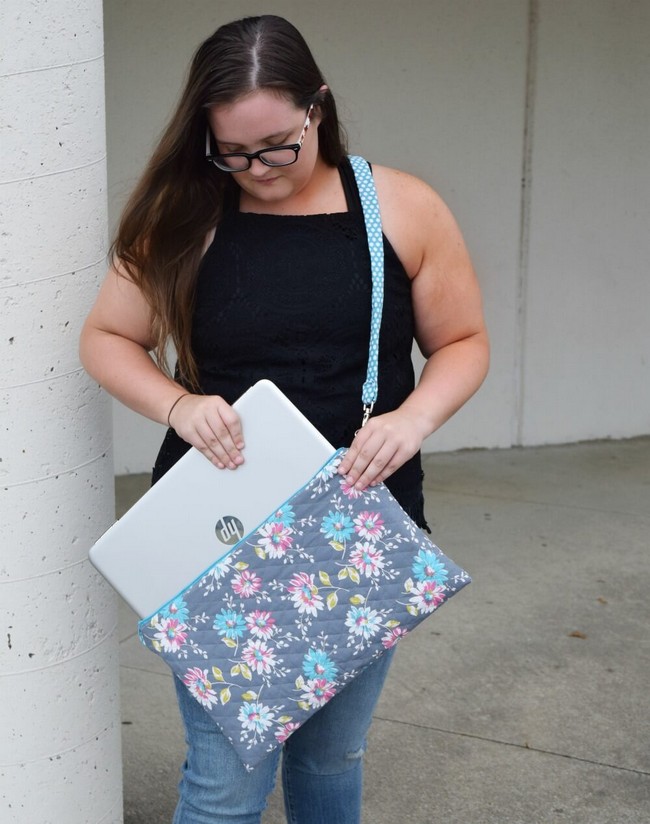 A laptop bag is a handy present that you can make yourself. It also makes it easier if you need to carry your laptop on holidays or work trips but want something more than a slipcase. Make a laptop bag with this easy-to-follow sewing tutorial. Learn how to cut, sew and finish your project with professional results so that you can be proud of all of your DIY projects. The design includes space for your chargers, accessories, and power source.
Makeup Bag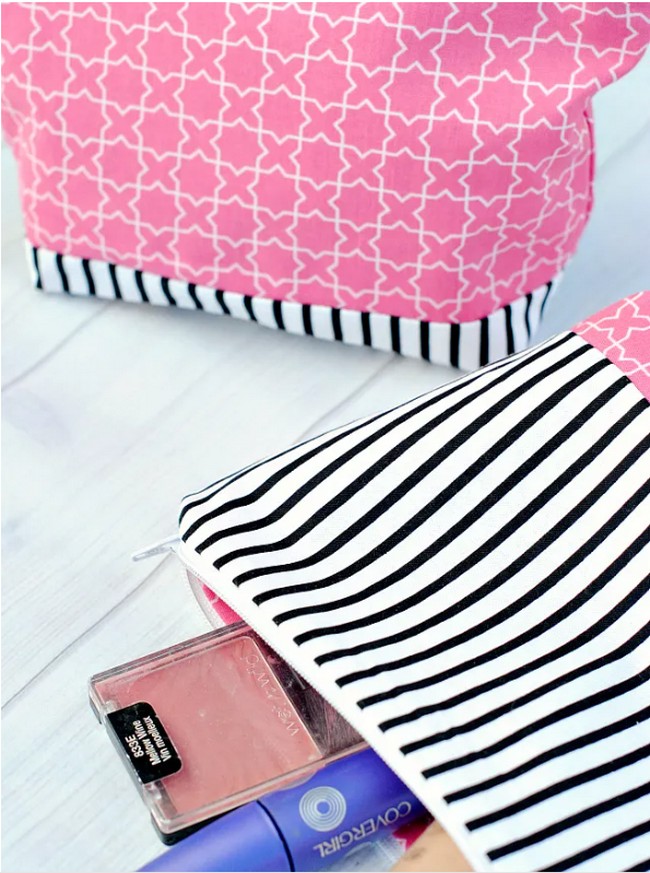 If you love makeup and want a stylish way to store your beauty essentials, this DIY makeup bag project is the perfect fit. The steps are simple, and there are many opportunities for customization so you can make it perfect for you. This is a great project for beginners and experts, making it an excellent gift. Once this project has been finished, you'll be amazed at how easy it is and how many compliments you get.
Fun Two-color Pillowcases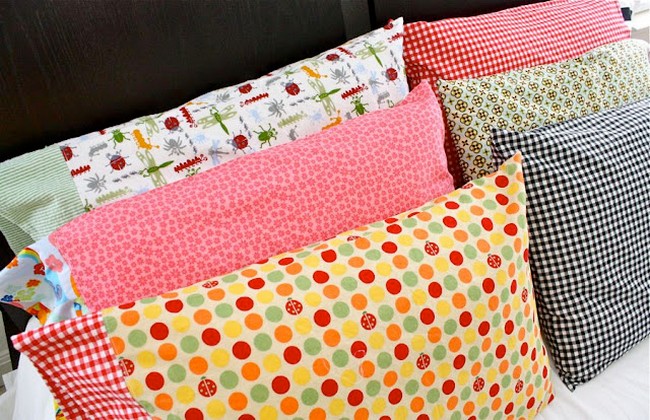 These two-color pillowcases are an excellent sewing exercise as an attractive way to customize your home and make it your own. Make these pillowcases with basic sewing skills. They look great, and you can easily personalize pillowcases for everyone in your family and make some to give as gifts. In this tutorial, you will walk through the steps of making these fun pillows that are a creative addition to any room in your house.
via Made Every Day
Reversible Placemats
Making your placemats will save you money and can always be personalized according to your taste. This is a simple project that anyone can complete; it just takes some basic sewing skills and materials. Turn your favorite fabric into a piece you can use in your home daily. Use this easy-to-follow tutorial to learn how to make a beautiful placemat set using durable interfacing and high-quality thread. The best part is that when you're finished, you'll have a beautiful set of placemats that you can use for fancy dinners or everyday meals.
via Real Coake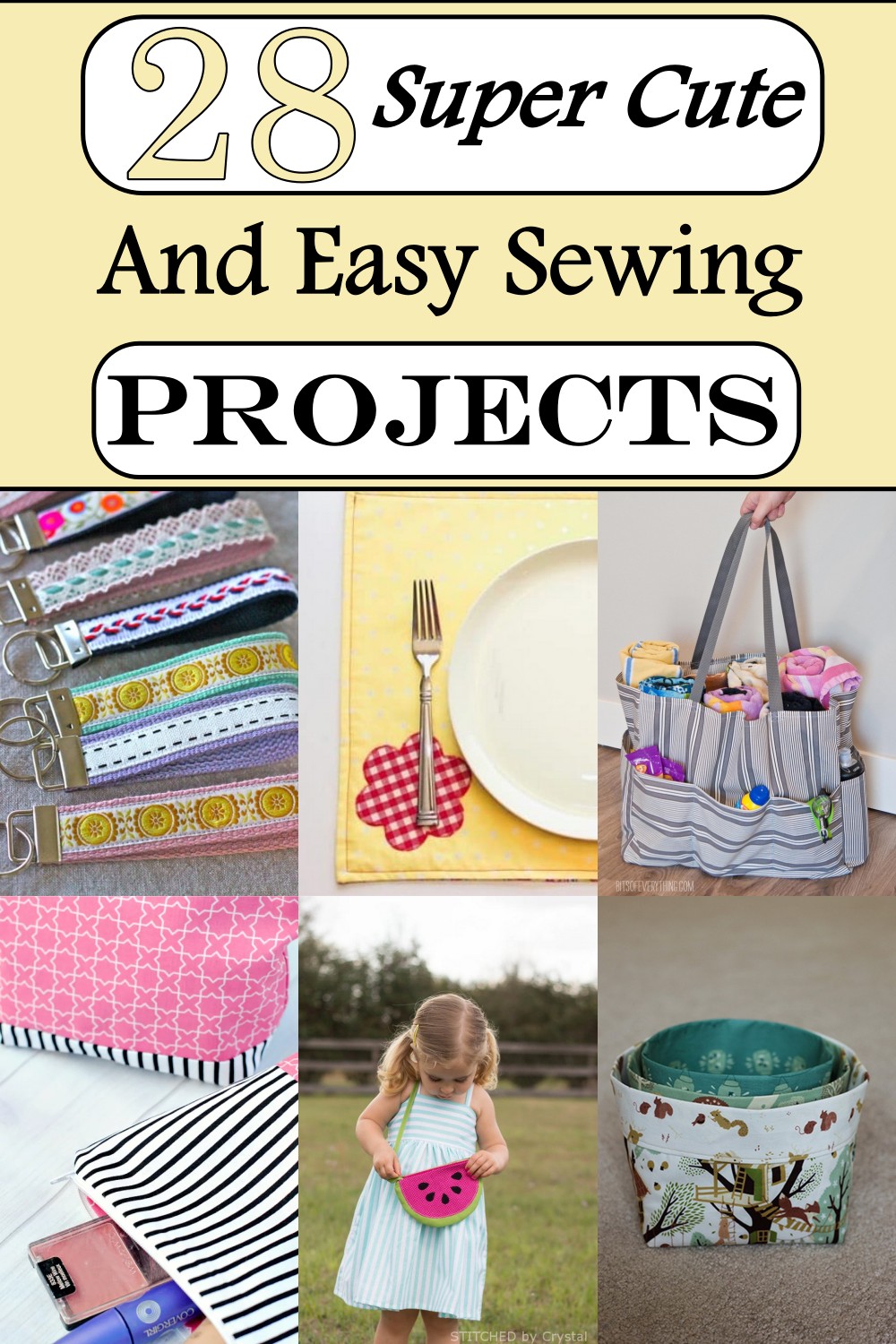 DIY Fabric Bookmarks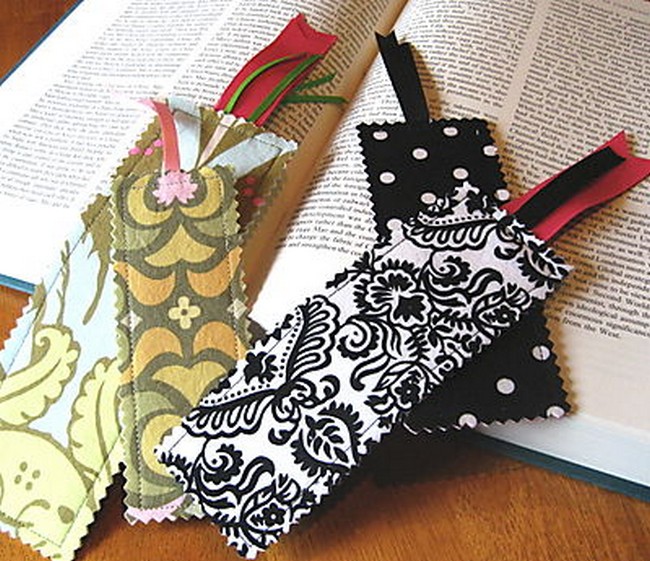 Get your sewing skills together and make these super cute bookmarks. They can be made in any size or shape, with any ribbon or fabric. You can choose any color of your choice, match it with a ribbon and carry these pretty bookmarks in your bag wherever you go. You will also learn to use a simple sewing machine. This will be a perfect gift if you find someone who has read many books or keeps track of what they've read.
via 7 Layer Studio
Fabric Letters For Any Occasion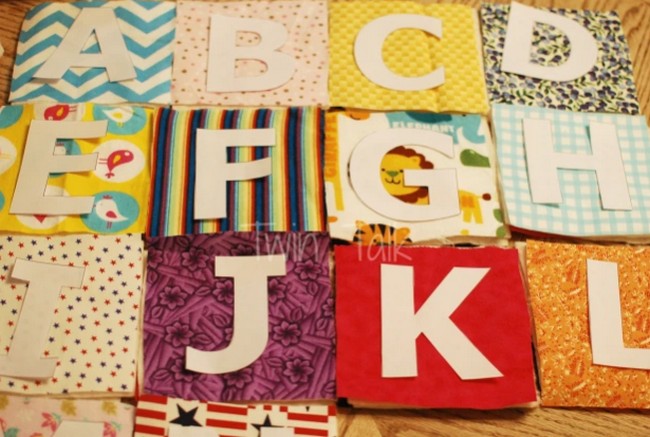 Are you looking for a great way to teach your child about the alphabet? And would you like to make your own set of fabric letters for learning purposes? If so, then you've come to the right place. This tutorial will show you how to easily sew and turn ordinary fabric into durable letters for playtime! These fabric letters are so easy to make that anyone can do it! You can use these for celebrations, holidays, and any other type of occasion or theme.
via Twin Talk Blog
Mini Reversible Messenger Bag For The Little Ones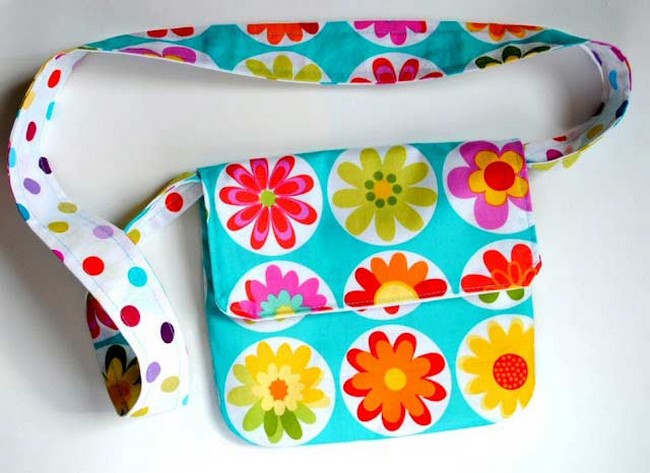 This Mini Reversible Messenger Bag For The Little Ones is a perfect beginner sewing project. This messenger bag is designed with you and your little one in mind! Its flip-flop-friendly size is perfect for going to preschool or ballet classes. And when the day is done, it can be easily transformed into a backpack by simply flipping over the flap and straps. Give your little one something they can carry around that is just their size, and make yourself something adorable to carry around too! It's a great learning tool for your child to practice sewing and pattern tracing and an easy gift idea for the little ones in your life!
Toy Sack
This Toy Sack is perfect for you and your kids, who love to play with toys. It can help them create a clean, organized, and tidy space for their toys. Also, it will be easy to store things like legos, soft toys, shoes, etc. The drawstring bag is easy to make and sew, and it will keep the toys well intact in a mess-free manner. The Toy Sack is the perfect project to make for kids but also for yourself. Sewing skills are not required to make this adorable toy sack. It's simple, fun, and very rewarding.
via Toni Coward
Easy Upcycled Pajames: From T-shirt To Nightgown In 15 Minutes
Here's a fun project for the whole family. In just 15 minutes, you can turn an old T-shirt into a nightgown for your little girl that looks like it came from the pages of Vogue. It's easy to do and uses only materials you already have in your home or can easily purchase from any fabric store or craft store. This fun and easy project will upcycle your sleeping apparel into a sweet new pajama set in no time. The perfect gift for yourself or to make someone special.
DIY Maxi Dress With Just One Seam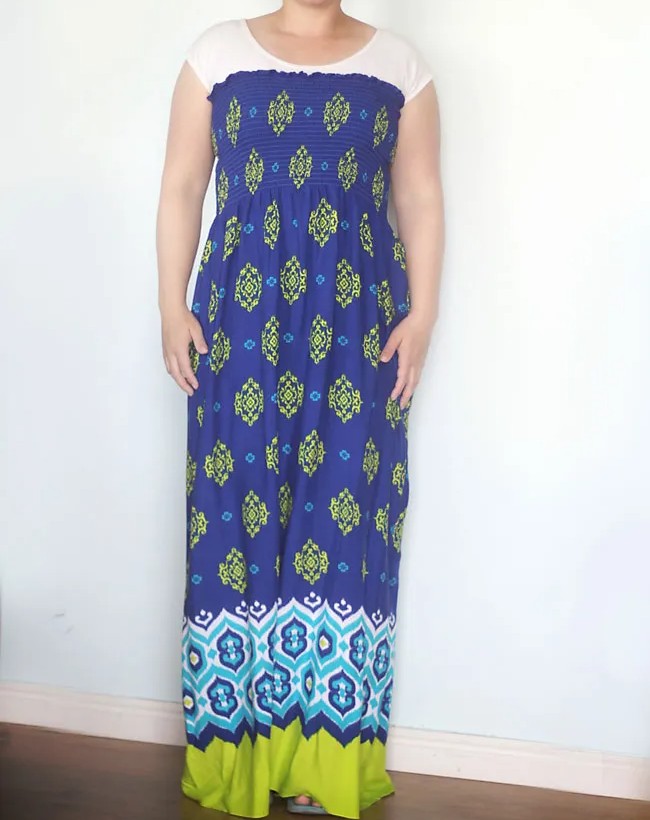 Making a maxi dress with just one seam is super easy, and you can even start from scratch with a small scrap of fabric! You will learn how to sew curves and darts that give the dress its shape; once you have mastered these techniques, you may even want to move on to more complex styles. Create this simple maxi dress with one seam, no zippers or buttons! While this is a perfect project for beginners, all levels of sewers will appreciate this simple technique. It's a great pattern for summer days and nights that won't break the bank.
Fun Single And Double Layer Circle Skirt
It's great for trying new techniques and learning how to sew a circle skirt while making it unique with a single or double-layer hemline. The design is simple, and the tutorial is easy to follow. It's a great project for beginners and more experienced sewers, who will find it fun to play around with circle skirts. Making this skirt is super easy, and in just two steps, you can have a new skirt to add to your wardrobe.
via Made Every Day
Roomy And Clouchy Ladies T-shirt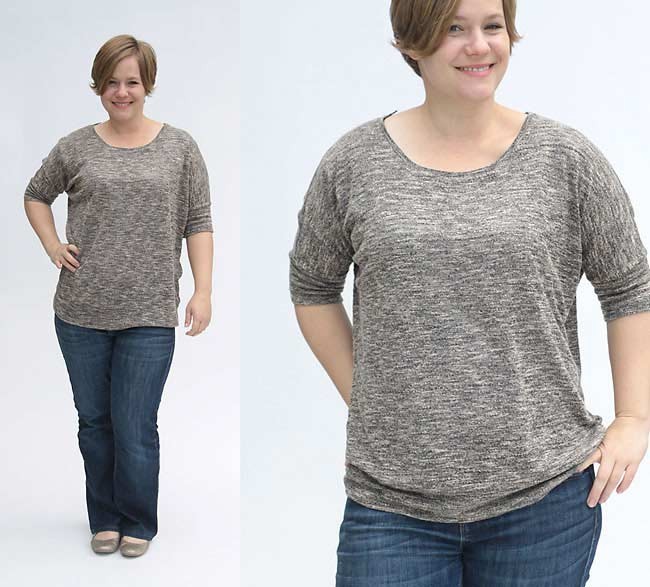 Sewing your dress can be a lot of fun. This easy pattern for a super roomy and comfy t-shirt is perfect for beginners who want to start making their clothes. It's also a good project for those who want to get more comfortable with sewing knits, learn how to topstitch and serge, and become familiar with the basic sewing skills required for more complicated projects! It is also a great project for those who want to improve their sewing technique.
Gathered Skirt
Create your own versatile, flattering, and fun-to-wear gathered skirt by following this step-by-step guide. It includes all the necessary tools and materials needed to complete this project. You'll learn and practice taking body measurements, cutting and sewing your fabric, and a few other key techniques, and then use those skills as you cut out and construct your own gathered skirt. You can make your own unique style with minimal sewing and measuring.
via Tuts Plus Crafts
Easy Ruffle Skirt Tutorial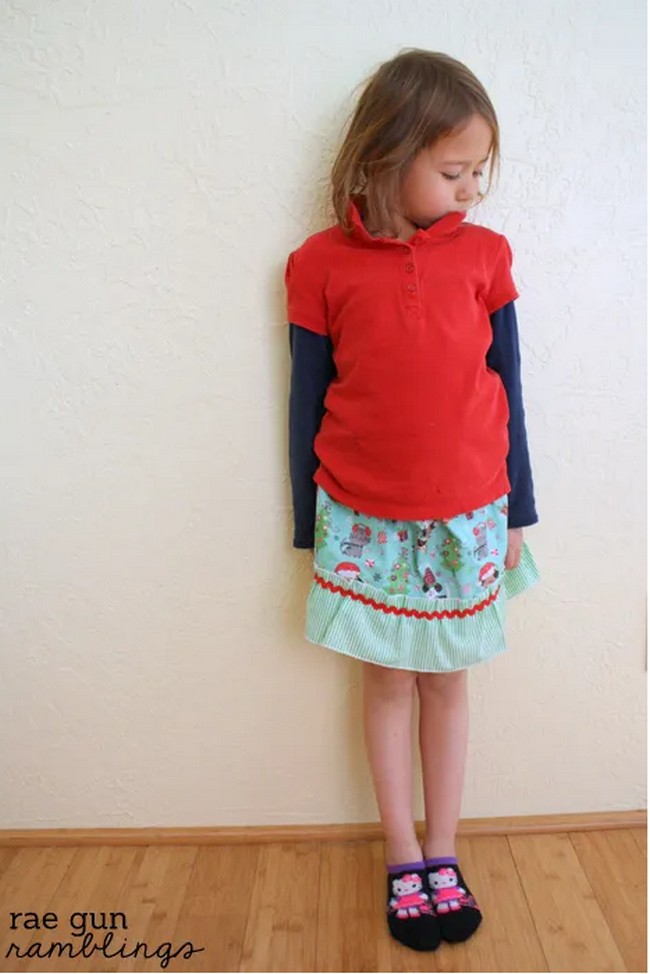 This easy ruffle skirt tutorial is designed to help you learn basic techniques and gain a valuable garment-making experience.  The final product is really cute, super comfortable, and great for warm weather outdoor activities. This skirt is perfect for any occasion! In this step-by-step tutorial, you'll learn how to make a dress ruffle skirt with the sewing machine needed. This easy alteration will look great dressed up or down and can be completed in just a few hours.
via Raegun Ramblings
Quick T-shirt Refashion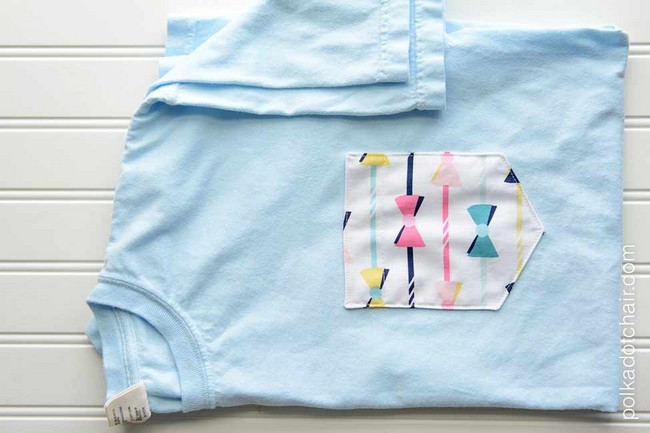 This project is a great way to use ratty old T-shirts that you might have lying around. It only takes a few minutes to make, and you can get creative with your design. This can also provide a great wardrobe refresher since it will add a new, one-of-a-kind item to your closet! It is ideal for beginner sewists who want to learn how to maneuver a sewing machine and make a simple garment.
via Polka Dot Chair
Pillowcase Dress
If you want to make a dress but don't want to spend money on fabric, you will love this project. You can make a cute dress by using a dressmaker's pillowcase and some sewing supplies. Use the included measurement chart to make the right size for your little one. With this tutorial and handy pillowcase dress pattern, you can make a simple yet stylish tunic-length dress. This project involves nothing more than cutting and sewing. Check out the link below to get started!
via Polka Dot Chair
Gorgeous And Simple To Sew Tulle Skirt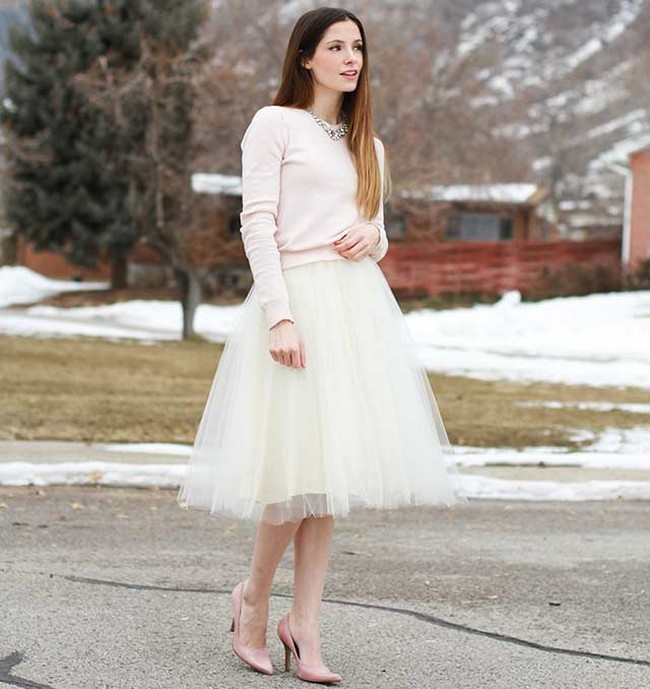 If you love ballerina skirts but don't want to buy one, this project is for you! It's also a great way to recycle old tutus. Why buy something that can make from scratch? In this project, you can sew a beautiful tulle skirt with your hands. It does not require any special skills and the materials are quite cheap. The tutorial is easy to follow and explains step by step! Get some tulle, lining, and elastic, and start this project. Your ballerina skirt will be ready in no time.
Five Minute Infinity Scarf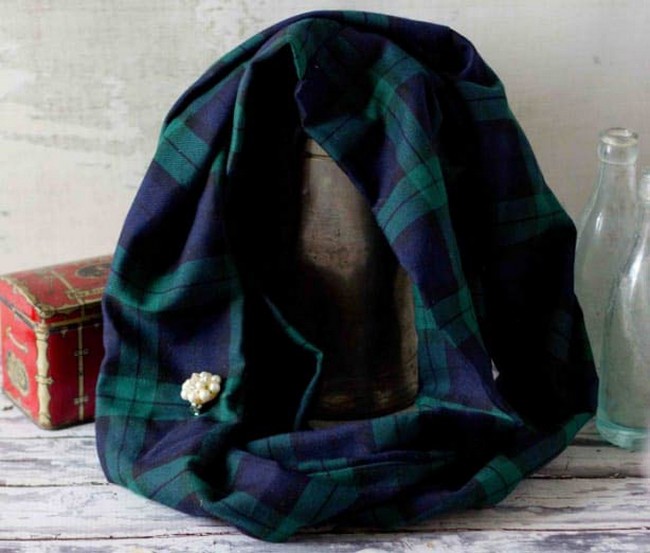 The Five Minute Infinity Scarf is a great project for beginners and experienced sewers. You can make it in just a few minutes with a yard and a half of fabric and a needle and thread, or make it in less time with a sewing machine. This scarf makes an excellent gift, and you can use any fabrics of your choice to create one-of-a-kind accessories that are perfect for every season. This easy-to-follow guide will show you how to make your infinity scarf with various patterns and patterns that you can customize.
via Sweet CS designs
Easy Pillowcase Skirt
This easy pillowcase skirt project is a quick and fun way to create a new skirt out of an ordinary pillowcase. You will need some elastic, pins, a sewing machine, and some trim as an added touch. Simple steps, elastic, and a sewing machine will get you from cutting to wearing in no time. Suppose you have never seen it before; this is the perfect opportunity to try something new. Refashion a new pretty pillowcase into a real skirt with this amazingly easy project.