Valentine's Day is almost here! This can be a great time for creating handmade gifts for those we love. But if you're the crafty type, you probably already have a lot on your plate. We've put together a list of sewing ideas that are both simple and creative. You can grab any of these projects and have them done in less than a Day! Valentine's Day is one of the most popular days in February, and while it might not bring with it as much gift-giving pressure as Christmas, it can still be daunting to know what to get your loved one. A homemade gift can be a great option—and here are some Valentine's Day Sewing Projects for how to put your sewing skills to use!
Valentine's Day Sewing Projects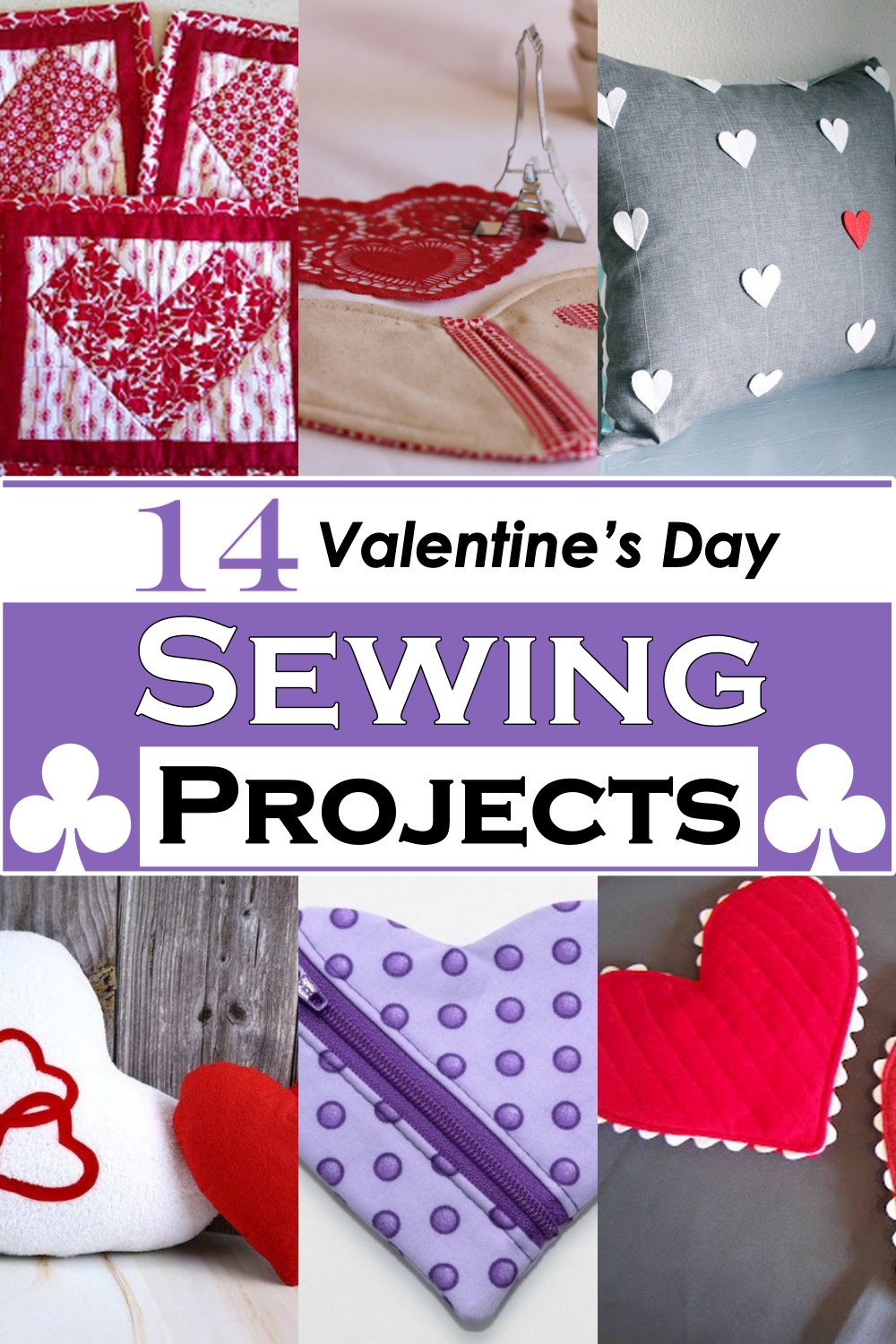 It can be daunting to think about how to show your love on Valentine's Day. Luckily, you don't have to break the bank or go out in the cold to find a gift that will make your special someone feel as loved as they are. Instead of going for something store-bought (and manufactured), why not get creative with something you make yourself? It shows that you're dedicated to ensuring everything comes from the heart, not just any heart, but your own. The projects below might seem intimidating at first, but they're made specifically so that anyone can complete them—so if you want to give handmade this Valentine's Day, start with one of these ideas and see where it takes you!
Need some lovely and easy projects to make for your valentine? Browse 24 Valentine's Day sewing ideas just in time for the holiday in this free sewing pattern roundup.
Bursting Heart Pillow
Valentine's Day is almost here! Make this adorable pillow to have something cute and festive to set on your couch. It is filled with pink and red hearts and will be a great conversation starter for all your loved ones! You'll learn how to make a simple version of this bright, modern pillow - perfect for any spot on your couch or bed. This will be a great gift for your sweetie or a fun decoration for your living room. You will love the unique, modern look; it is such a quick and easy project!
Reverse Applique Heart T-shirts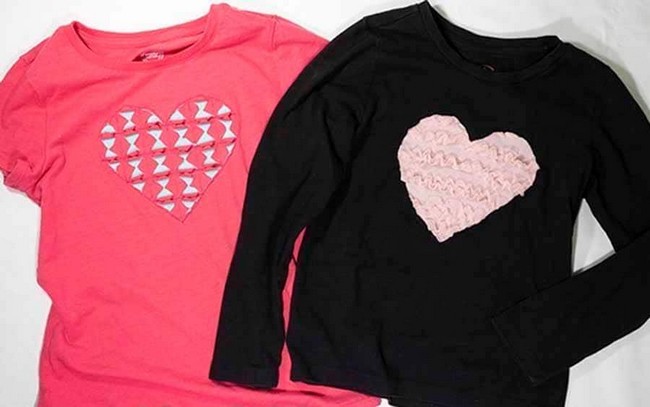 Make your own reversible heart applique shirt! An ideal gift present for Valentine's Day, Mother's Day, or any day you want to show someone how much you love them. This is a fun and easy project that takes just a few hours and can be done by anyone who has made one applique before. The tutorial includes many pictures to help show how it's done. You'll have one lightweight cotton-blend t-shirt that is the perfect size, with a cute little heart on each side!
Source:Momof5tryingtosurvive
Heart Mini Earbud Pouch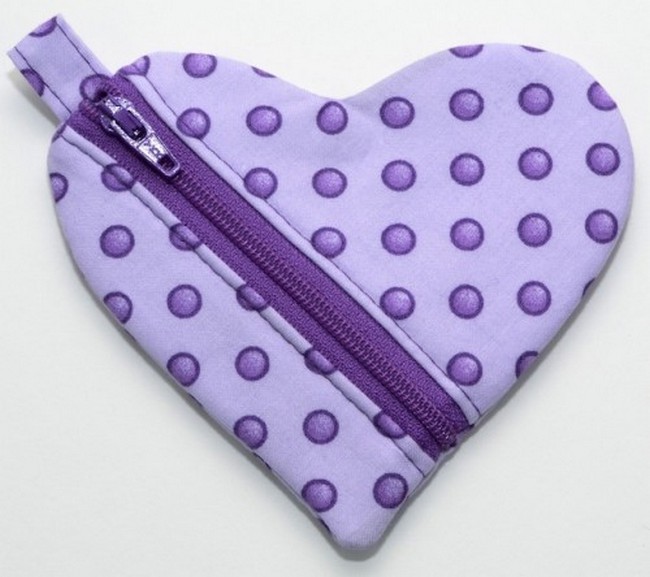 Whether you're planning a hanging out with friends for a little boost of love, these are the perfect stylish earbud pouches for storing and keeping your earphones safe on the go. They have a Heart patterned fabric which is beautiful and unique and can be personalized with embroidery. You can also use this heart mini earbud pouch to store your valuables, makeup essentials, passport, travel documents, and more. This heart mini earbud pouch is the perfect Valentine's Day gift.
by ErinErickson
Heart Hot Pad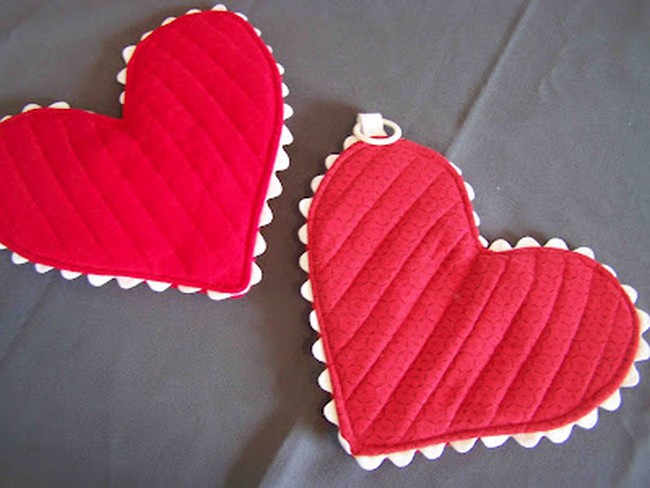 A heart hot pad is a great gift for your girlfriends or even your mom or grandmother. They are so useful and also make great conversation pieces. Hot pads are easy to make yourself, and you can use almost any leftover fabric for the background of the heart. This project is a great way to spend quality time with your children, grandchild, or friend. You will have fun making these together! This is the perfect project for your next crafting or sewing night. You can make this heart hot pad in about an hour, and it's so easy!
Heart Bookmark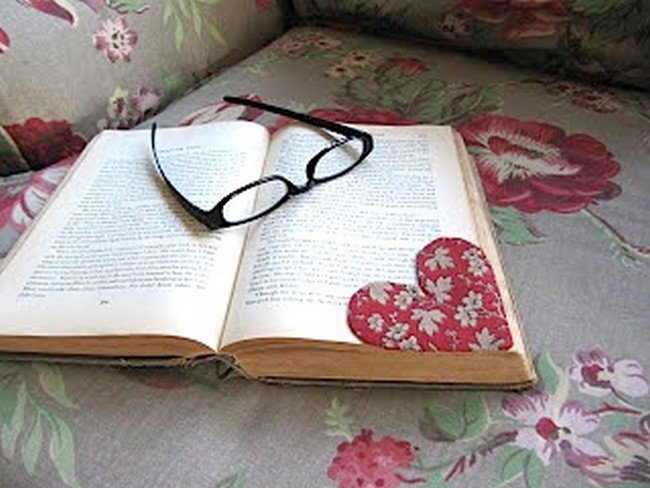 Love small gifts? Love to give them or love to have them? This simple heart bookmark is quick, easy, and cute. You can pick up some fabric scraps or use a favorite fabric: just some lines to follow and your favorite color thread. In no time, you will have made a fun little gift that can be given alone, with a note, or tucked inside a book. This is a quick and easy heart-shaped bookmark perfect for anyone or anytime.
by Sewmanyways
Quick Valentine Table Topper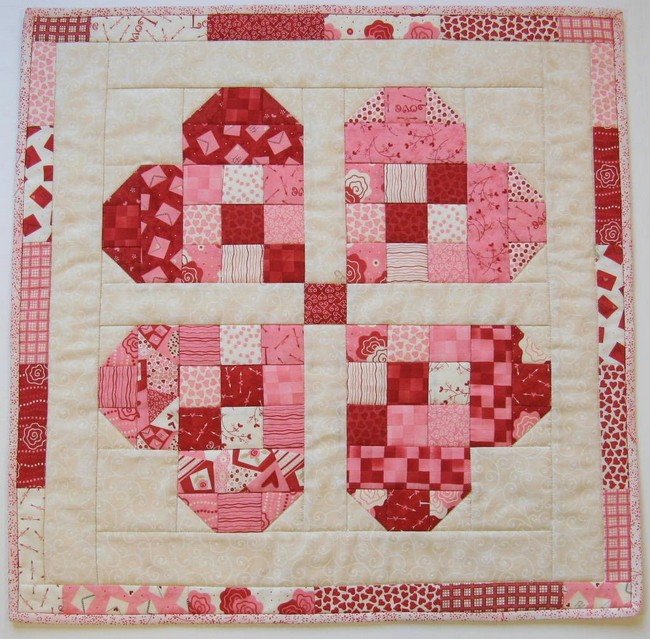 Are you trying to make a meaningful statement in your Valentine's decor this year? This little table topper is the perfect project. You can use a charm pack from your stash or any fabric on hand. It doesn't have to be complicated to be meaningful. It doesn't have to take many hours or cost much money either! These quick Valentine table toppers are the perfect way to make your home feel festive and special this season. It's quick to sew up and makes a sweet addition to your table this Valentine's Day.
by klee2strings
Striped Heart Mini Quilt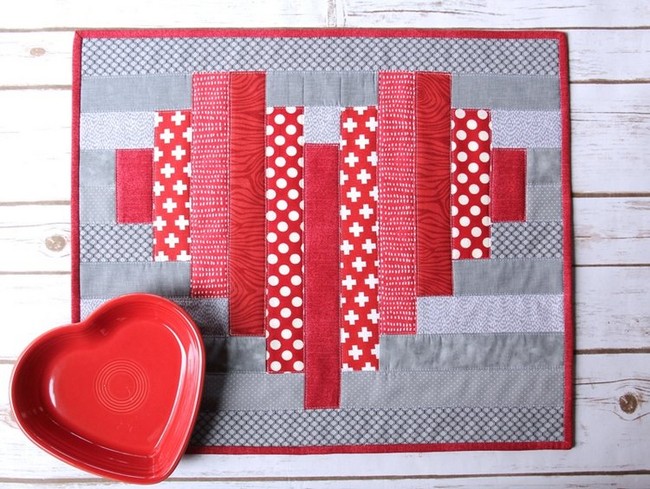 With Valentine's Day coming up, your home may need some Valentine-themed accents. This charming heart quilt is one possible project to use up some of those smaller scraps of fabric you have lying around. To make this, you'll need cotton fabric for the background, heart, backing, and thin batting. Remember how your kids used always to have something going on? This year, let us help you make their home filled with love—these easy-to-follow instructions at every step.
Valentine's Mug Rug
You can create beautiful mug rugs for your home or as gifts for your friends. Give them as Valentine's Day Gifts! This easy-to-follow Mug Rug tutorial will help you make different heart mug rugs. It also includes step-by-step photo tutorials, so you will know exactly what to do. Make one for yourself and make some extra Valentine's day gifts too! This mug rug is perfect for hot coffee, tea, or cocoa.
Heart Pillow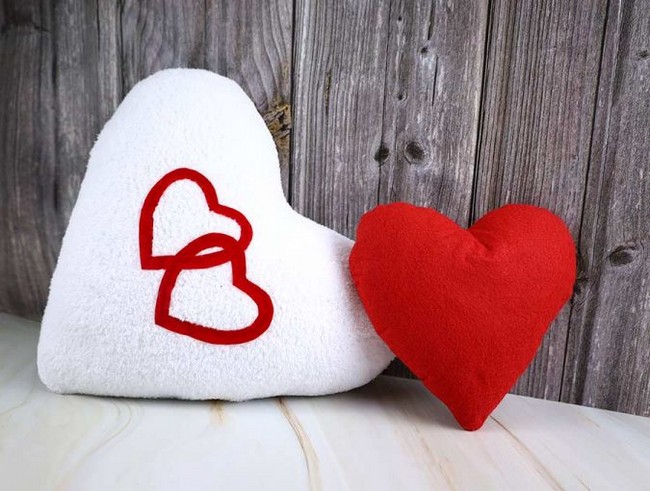 Your loved ones will have a romantic time when they sleep on this lovely pillow by their side. It's perfect for any occasion - and even any special Day! Sewing the heart shape out of fabric and embellishing it with buttons and other fun embellishments will make it extra special. This project is easy for a beginner but cool enough for the advanced sewer who wants to make their pillows from scratch. You need to choose your fabric, draw the heart and sew it.
Source: Hellosewing
Hanging Fabric Heart Garland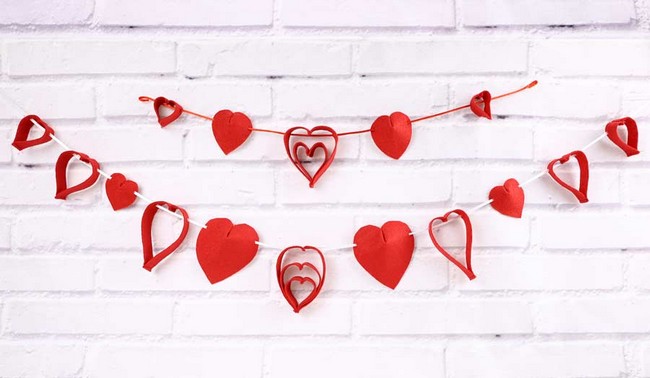 What a wonderful way to surprise your Valentine! Create this heart garland that's easy to make and can be personalized. This fabric heart garland is a fun project for Valentine's Day. You can complete this project in 10 minutes without sewing, and the whole family will enjoy making it. Just cut out hearts from some fabric scraps, gather them together and tie a ribbon at the top. Hang it from above to create an instant valentines day atmosphere in your home.
Source:Hellosewing
DIY Hand Warmers
These DIY Hand Warmers are super helpful when your hands get cold, and use them frequently to keep your hands warm, particularly on a cold day. This is a great gift for Valentine's day too! This Valentine's Day, show someone special just how much they mean to you by making a special gift. They are easy to make, but they're super effective. They smell delicious and look beautiful, too; pick any scent of essential oils you like, or even mix it up with different scents for each pair!
Source:Hellosewing
Quilted Heart Coaster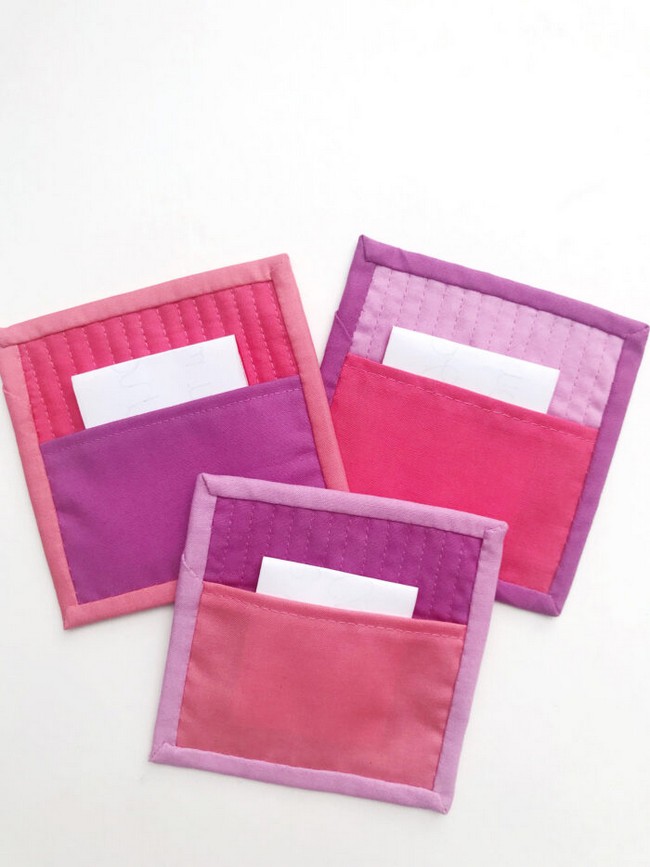 Who doesn't love a good quilt or two? But sometimes, you want something quick and easy to make. These quilted heart coasters are the perfect gifts for friends, family, and loved ones. In addition to being useful, they make great decor pieces. Even if you don't sew or quilt, this project is simple enough that you can handle it! With just a little sewing and a few extra steps, you can have a unique coaster set that will impress your friends and family!
Source:Polkadotchair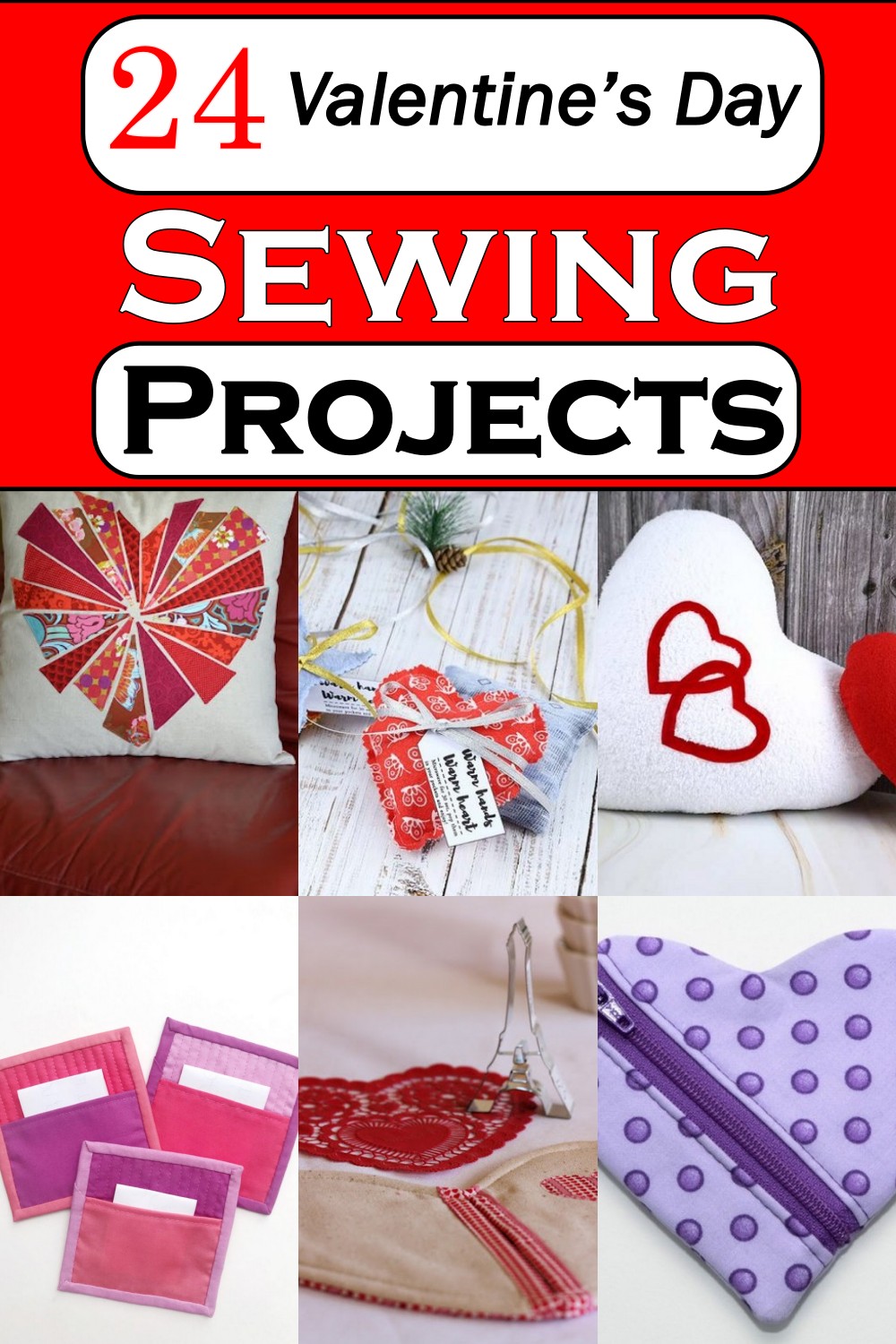 Valentine Pot Holder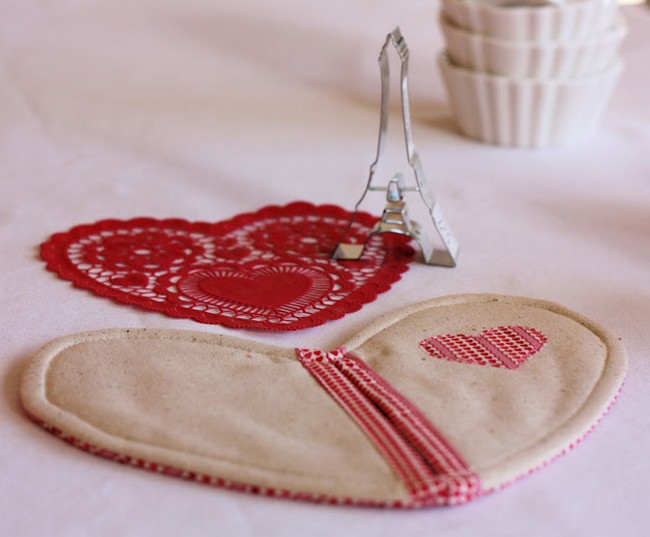 Create a fun and easy project using felt and fabric. Make one to keep, use, or give as gifts this Valentine's Day! A great way to practice sewing and get to know different stitches. Try this DIY project over the weekend and fill your home with a warm glow of homemade charm. Making pot holders is great fun, and you'll be surprised at how easy it is. Use your favorite fabrics and materials to create something beautiful for that special someone. The possibilities are endless!
Source:Aspoonfulofsugardesigns
Heart Strings Pillow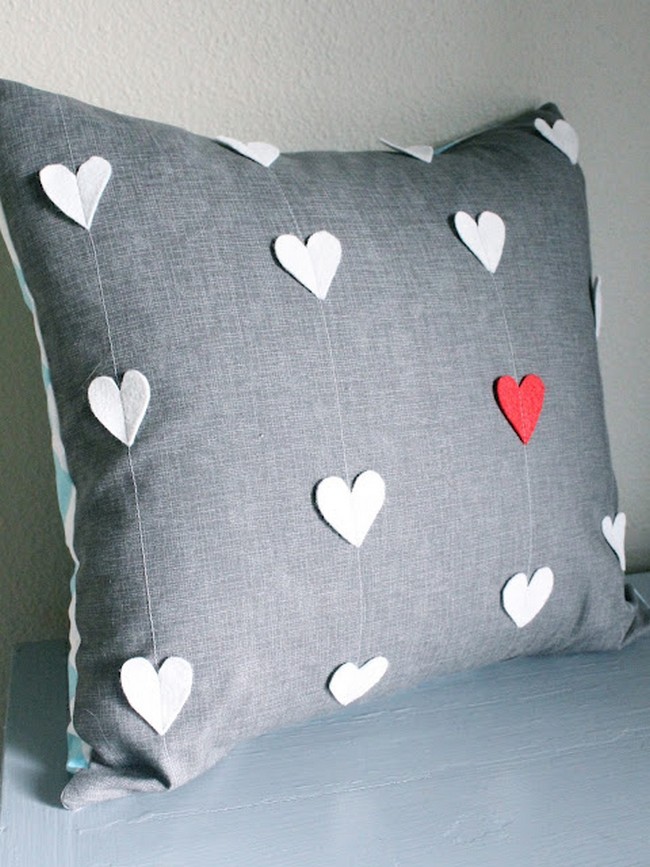 This cute heart pillow is ideal for Valentine's Day and all year round. Open up your creativity and make it, then give it to your love! It's super easy to make, yet pretty and cute. You can hang it on a wall or place it on your bed. Use it as a decoration or curl up with a good book and enjoy the plush comfort of this lovely heart pillow! It's made with simple shapes, so it's perfect for beginners.
Source:Quiltish
Gathered Heart Pillow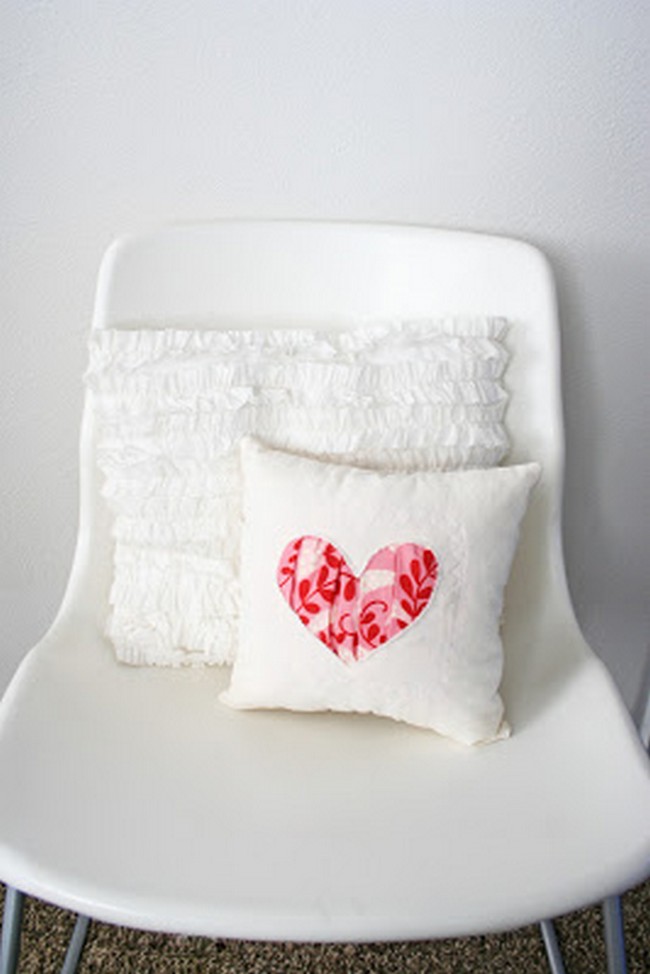 Do you want to make your heart pillow? If yes, then this tutorial got you covered! The tutorial will guide you to make a gathered heart pillow using a simple technique. You can make it in a few days. It's so easy; you must cut some felt and sew it together. You can change the shape of your heart as you feel like it. You can choose a different color palette, making the final result even prettier.
Source:VanessaChristenson
Heart Quilt Block
Sink your teeth into a new project for Valentine's Day with this Heart Quilt Block. All you need is a sewing machine, some buttons, and basic quilting skills. This beginner-friendly project will greatly add to any Valentine's Day project list! Making these hearts is such a breeze! You can make many blocks as you like. Once they are all sewn together, round up some beautiful quilt patterns that will inspire you. Make this heart quilt block to show your love and create a beautiful Valentine quilt! Especially nice for couples to make together.
Source:Diaryofaquilter
Pixel Heart Quilts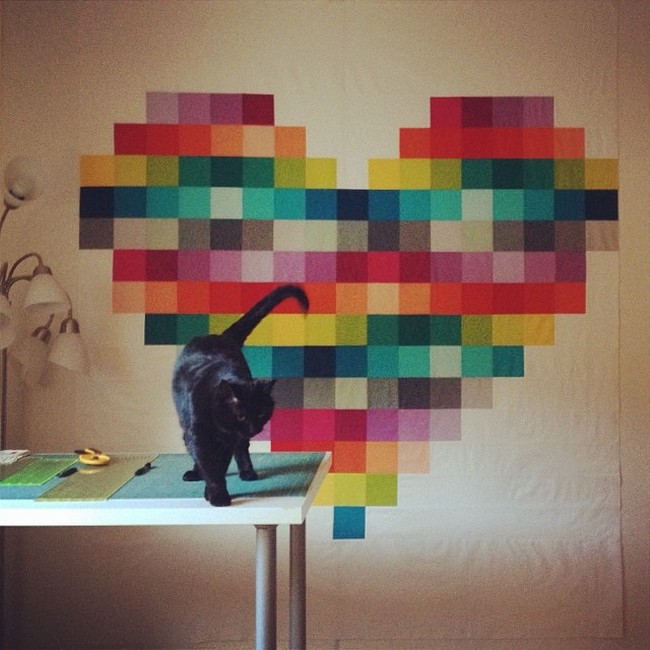 Do you love quilts but can't find a traditional block that speaks to you? Look no further! This pixel heart quilt block is the perfect project if you want something unique and creative yet fun and easy. The block uses the same technique as traditional pixelated quilts, but you get a cool addition to your favorite quilt! This pixel heart quilt block is perfect for Valentine's Day. It's also a fun touch to any new quilt project or add to your favorite quilt as an extra special touch.
Source:Elizabethhartman
Heart Keychain
Learning to upcycle old materials into something new, fun, and creative is a great way to use your imagination. Making your heart keychain is a simple way to show your loved ones that you care. The best part? It gets easier when you make one! The search for materials will be second nature, and you'll be faster at creating the same product each time. This is a perfect gift for your loved people: your significant other, your parents and family, or your friends. Make it unique by adding some personal touch to it.
Source: Cucicucicoo
Pom Pom Heart Pillow
This little pom pom pillow will fit into anyone's Valentine's Day celebration. Please put it on the couch, in your bedroom, or on a chair at the dining table. It's soft and simple but so fun to make that it might become your new favorite valentine! Cute, fun, and easy to make, this pillow will surely be a hit with you and your loved one. Try making this cute pom-pom heart pillow. Not only is it cute, but it will make your home smell so good!
Source: Orangebettie
Fleece Ear Warmer Headband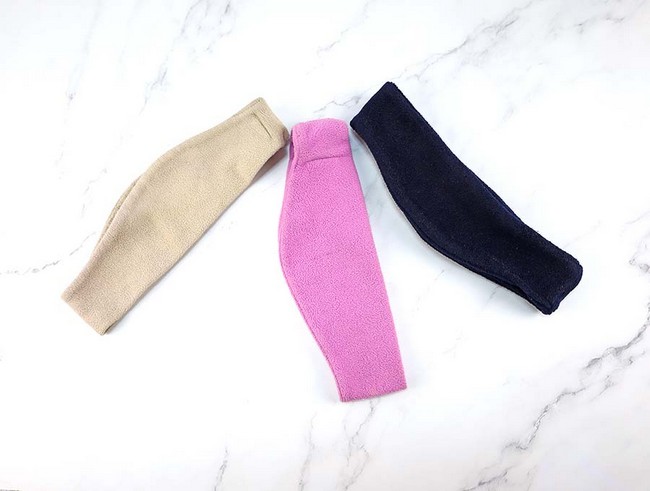 This headband is the perfect gift for your love or yourself! It will keep their ears warm while they enjoy the wonderful winter weather. They can also wear it while working in the shop and keeping their hair out of the way. It's a cheap, fun project that can be finished in about ten minutes. Make this pretty and practical headband for your loved one. They'll love its cozy warmth, and you can complete it in less than ten minutes. Just follow this free pattern. You can even use up your leftover wool from other projects!
Source:HelloSewing
Sweater Mittens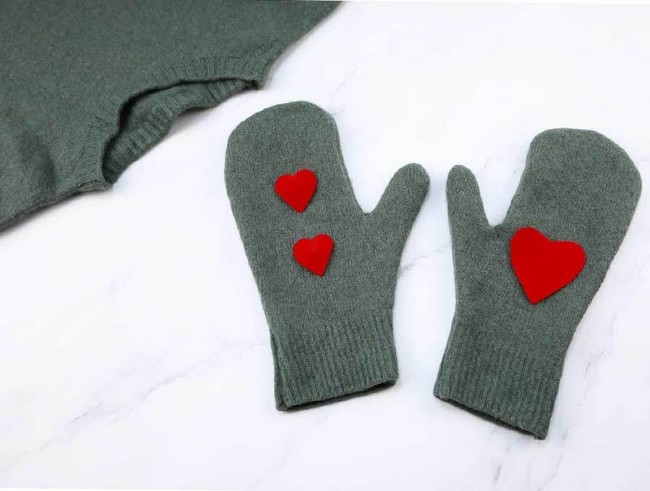 If you love cozy clothing, a set of handmade mittens is a great holiday gift for friends and family this season. Using a pair of old sweaters, you can make your Sweater Mittens for valentine's day. You will need a pair of an old sweaters, scissors, and some thread in a contrasting color. See how to make mittens that stay on your hands. Pair it with jeans or a cozy sweater, and you're ready to flaunt your handknits throughout the season. This is a great home project as it will save you money and reduce the environmental impact of gift giving.
Source:HelloSewing
Bow Tie
Are you looking for a fashionable way to apologize to your love? Or just something to wear for the occasion? Create a one-of-a-kind bow tie using this simple recipe. Few accessories can make someone feel more polished than a well-tailored bow tie. It may not be every man's first choice of neckwear, but it is a great finishing touch to your formal attire. You can make this elegant piece in just a few short hours with these easy-to-follow steps! A bow tie is always in style from Valentine's Day to Father's Day.
Source:HelloSewing
Beanie Hat
Make your lover's Valentine's day memorable and come up with this perfect headgear. Why not give it as a gift on Valentine's Day? You can make it in a few hours; the approximate time will depend on how fast you are with a sewing machine or by hand. This beanie is perfect for those cold winter days and nights when you need to keep your head warm. It's also great to add some fashion to his everyday wear! It will last for months, but as soon as it starts to wear down, you can make another one in a new color or design.
Source: HelloSewing
Cord Keeper
If your man's always got some electronics buried in a tangle like this, this is the perfect gift for him this Valentine's Day! a DIY Cord Keeper that can be used to store earbuds or wires from any gadget in a cute way. Make this easy, no sew cord keeper in just a few minutes. You can customize this gift by putting your man's favorite team on it or any message to show him how you care about him!
Source:HelloSewing