If you are a person who likes to go out with friends, take trips or keep your things in order and tidy, then choosing a truck with a great truck bed storage system is essential. One thing that a lot of people do not realize is that there are so many options out there for a truck bed storage system. This article will go through some easiest DIY Truck Bed Storage Plans that you can use to get the job done correctly. These truck beds are not just a place to put your equipment; they also let you show off your personality. And if you want something great, then DIY is the way to go!
DIY Truck Bed Storage Ideas

By installing these DIY truck bed storage plans, you can greatly improve the amount of stuff you can carry. The solutions in this article range from simple tie-downs and hooks to elaborate systems built right into the bed. These are just some of the options out there. Pick whatever suits your purpose and personal taste best. This not only helps increase the number of things you can carry but also helps you be much more organized.
Homemade DIY Truck Bed Storage
If you love spending time outdoors with your vehicle, then you know the value of having a supply of important equipment close by. We have the perfect solution for all your storage needs with our DIY Truck Bed Storage Plans. Offering great versatility, they can be customized to fit any truck bed and can even be installed underneath a tonneau cover if needed. They come in different sizes and styles depending on how much merchandise you want to carry. It is also easy to install and use, so you can enjoy the extra space at a low cost.
Benefits Of Adding Extra Storage To Your Truck Bed
DIY Truck Bed Storage Plans are a great way to maximize the space in your truck bed and make it easier to haul heavy loads. They can be used as a space divider, so you don't have to worry about your tools rolling around during transit. They all work great, offer many different solutions, and will complement any aesthetic inside the cabin of your truck. This guide contains a wide range of simple ideas to build and keep your items safe while you travel.
Sliding drawer system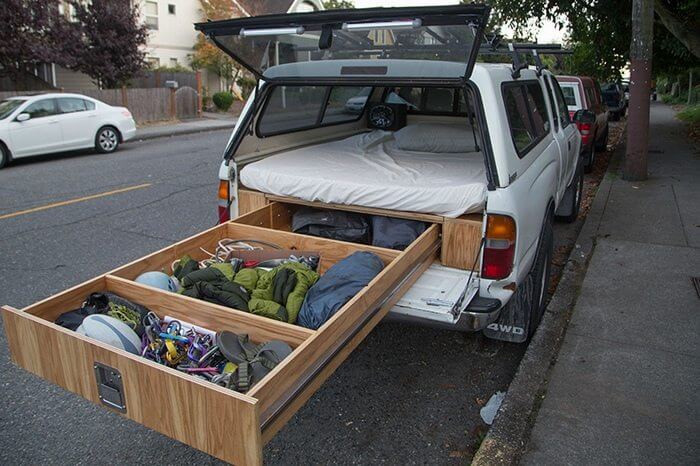 This project is easy to complete, and with some planning, you can create valuable extra space in your car. You will need plywood and screws. Fashion some plywood squares to fit your vehicle bed, and screw them firmly to the floor. Once you have done this, fashion the drawers using more sheets of plywood. Once finished, you will have a sturdy and reliable unit that you can use for extra storage space when you go on trips. This system is quick to install and will keep you organized while traveling!
You can also see: DIY Wood Truck Bed Ideas 
Bed slide construction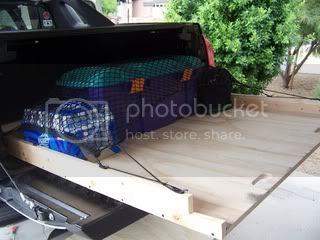 The bed slide construction is an easy way to add utility to your truck by giving you a different platform on which you can put your things. All in all, the build is pretty simple and only requires basic woodworking skills. You will need some plywood and brakes, plus wheels on your plywood so it can slide out of the cab when you want it to. On completion, you will have a platform that slides out of your truck's bed, allowing more room for storage.
Reared end partition
You often find that you need to carry many things in your truck. However, when you do this, you realize how stressful it is to have all these items in the back. This is especially true when groceries get shaken up all over the place as you drive down the road. The solution: a partition to separate your groceries from the rest of your belongings, keeping them extra secure and safe. The good thing is that you can get some partitions to design a partitioned area, just like how taxis are designed. You can have the crates off to one end of the partition, so you do not have to worry about them being all over the bus as it moves.
Bed divider
Truck owners and drivers know that their beds are a great place to store cargo, but they also have to manage their truck's space. A bed divider is an easy way to create more usable space and end up with a more organized truck. This bed divider is great for anyone with a truck that needs to make the most of their flatbed. It is a quick project that can be made with the tools already on hand. It will easily fit within a standard-size pickup truck, and it is simple enough that anyone can do it.
Waterproof boxes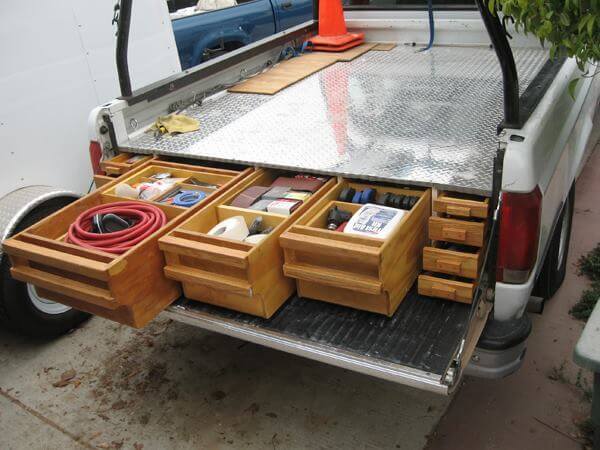 Add waterproof box storage to your truck, car, or boat with this DIY three-section case. This DIY project comprises a shallow lid, middle section, and deep base. The top lid has a thick pad to sit on and Velcro straps so it can be secured when closed. The middle section is also covered with a thick pad that has Velcro straps to keep it in place when open or closed. The bottom section has hardware and rope holes so you can secure your goods inside, then cover it with diamond plate aluminum to protect the wood from water and elements.
A Grill on the bed
Camping is popular in the truck community, but many people have trouble with their grills. It isn't easy to cook when you have to set the grill down and then pick it up again. We set out to create a way for your grill to pivot so that you'll never have to set it down when you're cooking. This one can easily be pulled forward or backward, allowing you to cook your food without setting it on the floor of your truck bed.
Workstation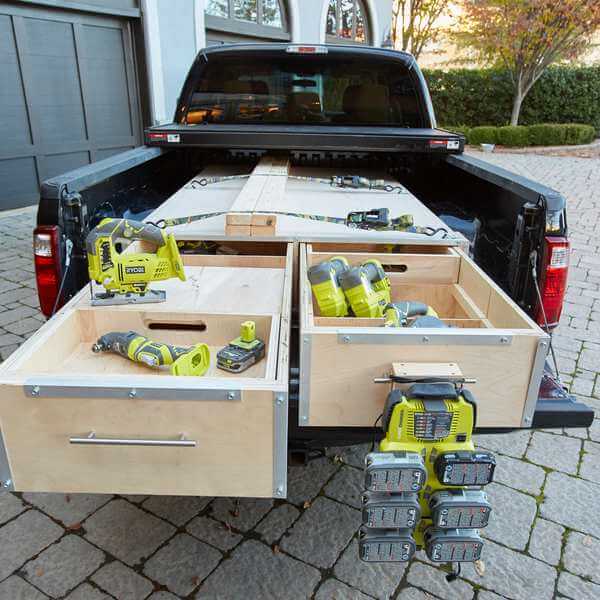 If you are a contractor or a handyman, this will be the perfect solution to your tool storage problems. This can be installed directly onto a pickup truck bed and locked in place. By doing so, you can use it as a portable workshop, allowing you to have everything ready for use. The drawers offer great flexibility by letting you compartmentalize all your equipment into different sections. You can also use this as a workspace in your garage. Just pull over anywhere and get to work on your current task!
A Bike Rack Mod
The problem with cargo beds is that they can be awkward to use. Parts may get knocked off and damaged. Who wants that? With our simple bike rack design, you can safely and securely transport bicycles without any problems. With PVC pipes, some glue, and elbow connectors, the bikes will stay put, and it will be easy for people to put on and off the cars themselves. These instructions are easy to follow, and you can create your own bike rack that is quick and easy to set up.
Apply a bed liner
Besides protecting your truck from scratches, applying a bed liner will prevent water from seeping through the cracks. This can happen when it rains, and the rainwater gets trapped between the bed and the truck. A liner applied to your vehicle keeps the water at bay. It can apply to the inside of the bed and is available in different textures, colors, and styles to match your needs. Choose one that is durable and strong enough to withstand whatever you want to take in your truck.
PVC fish rod holder
If you love fishing, having a fish pole holder is a must. These PVC rod holders will allow you to safely transport your rods and reels while still being able to use them. Featuring lightweight yet sturdy PVC tubing, this rod holder has been designed specifically for you to use on your truck while camping or fishing. They fit right on the back of any truck bed. Drill small holes where the rod will go through, and voila! Now you have a safe place to store your rod or even multiple rods.
Install a hammock on your truck bed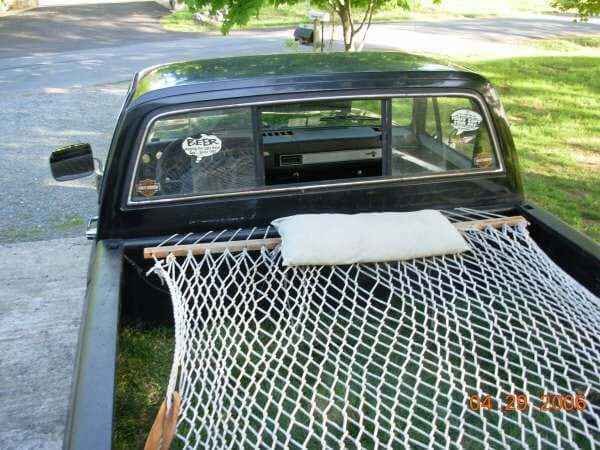 Hammock on your truck bed is one of the most relaxing activities you can indulge in after a long day. The installation is easy and only takes a few pins at both ends of the truck bed, ensuring that it is not too tight or loose. The grass may be used as an additional layer underneath to be comfortable. With a pillow added, nothing beats having your own hammock in your truck bed. Just ensure that it is not too tight or loose to have ample comfortable space.
Bed storage turned camper
This project is for you if you want to go camping but don't have the resources for a tent. You can build your own camper with a few modifications to the storage bed and center. The side parts can hold water and other necessities, while in the center part, you can have a bed. This is only useful for those who have trucks with a roof. It sounds too good to be true, but you can have this same experience with a few modifications to your truck bed.
Install some LED lights
These LEDs are easy to install and will be useful in many ways. They help you load and unload your products smoothly and without any hustle. This can be done either during the day or at night. They consume less energy than other bulbs, which is cost-effective. This is one of those additions that look great and add to the truck's functionality. If you choose the right kind of strip lights, you may be able to save on energy costs at a later stage. One way in which these handy lights can help you save money is by saving electrical usage at night or in the dark.
Slide-Out Truck Bed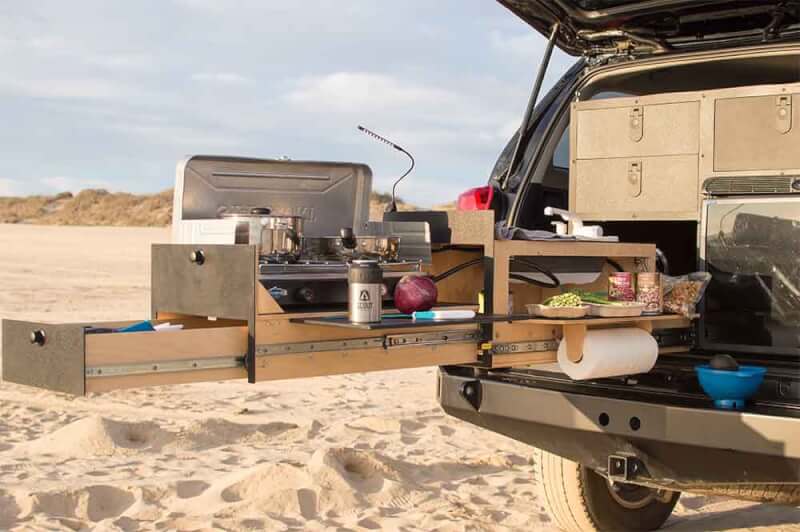 Tired of having to move around in your truck bed to reach the back? Look no further. The Slide-Out Truck Bed adds functionality, motivation, and style to any pickup truck. This allows you to load easily and unload the truck during the day or at night. It would be best if you had wires, LED strips, and a few basic tools to install each component easily. Slide-Out Truck Bed allows you to add additional storage space to your truck. It gives you both the functionality and aesthetic appeal you search for.
Cabinet on the Truck Bed
When you need to hit the road, there's nothing like a truck bed. It's big enough to fit all your gear and gives you plenty of room to go camping or fishing. Cabinets can be useful accessories for many applications, but finding one that looks good and functions properly on the back of your truck can be tricky. With plywood, wood glue, and a few power tools, anyone can make a fantastic two-drawer cabinet for their truck. This handy piece of furniture is both fashionable and functional.
Camping set up
This camping setup can store the camping essentials and make it easier for you to go camping. You can also use it for storing materials and tools required for general purposes. This setup has been created by modifying the truck's sides where the wheel wells are making space for storage. The divider can carry clean drinking water and a portable fire pit to make your camping trip safe and fun. This design is very useful and can be modified to suit your needs better when you want to go camping!
Storage with an Ice Box
Sometimes you need to carry a lot of cargo and keep it cool, but you don't necessarily have enough room in your car. This solution is a mini fridge that can be placed in the back of the truck, pivoting on its stand so that you can access your goods without having to drop them down through the bed. We've developed a mini-fridge that fits into your truck's storage box and connects to the batteries in your truck bed so that you can plug it into a source of electricity on-site. You can open the fridge door when not in use and attach it to the front with the pivot included in the box.