If you are an avid camper or RV-er, slide-out storage trays are the best option to keep your kitchen items in place while you are on the go. They also help you save ample space often lost in every RV. These simple DIY RV Slide Out Storage Tray Ideas will allow you to build them inside kitchens, offices, and workshops. They come in different shapes and sizes with different uses. That's why homeowners need to remember this storage tray's positive features before choosing one for their RV or home. These DIY organizers are made of wood, plastic, metal, and many other materials. However, thanks to the internet and crafty people, that ideal is closer than we think. You no longer need huge trucks to hold your camping gear; these slide-out storage trays help keep your home organized while driving. Keep your supplies organized and at hand with these storage trays!
Practical Slide-Out Storage Trays Tray Ideas DIY For RVs & Camping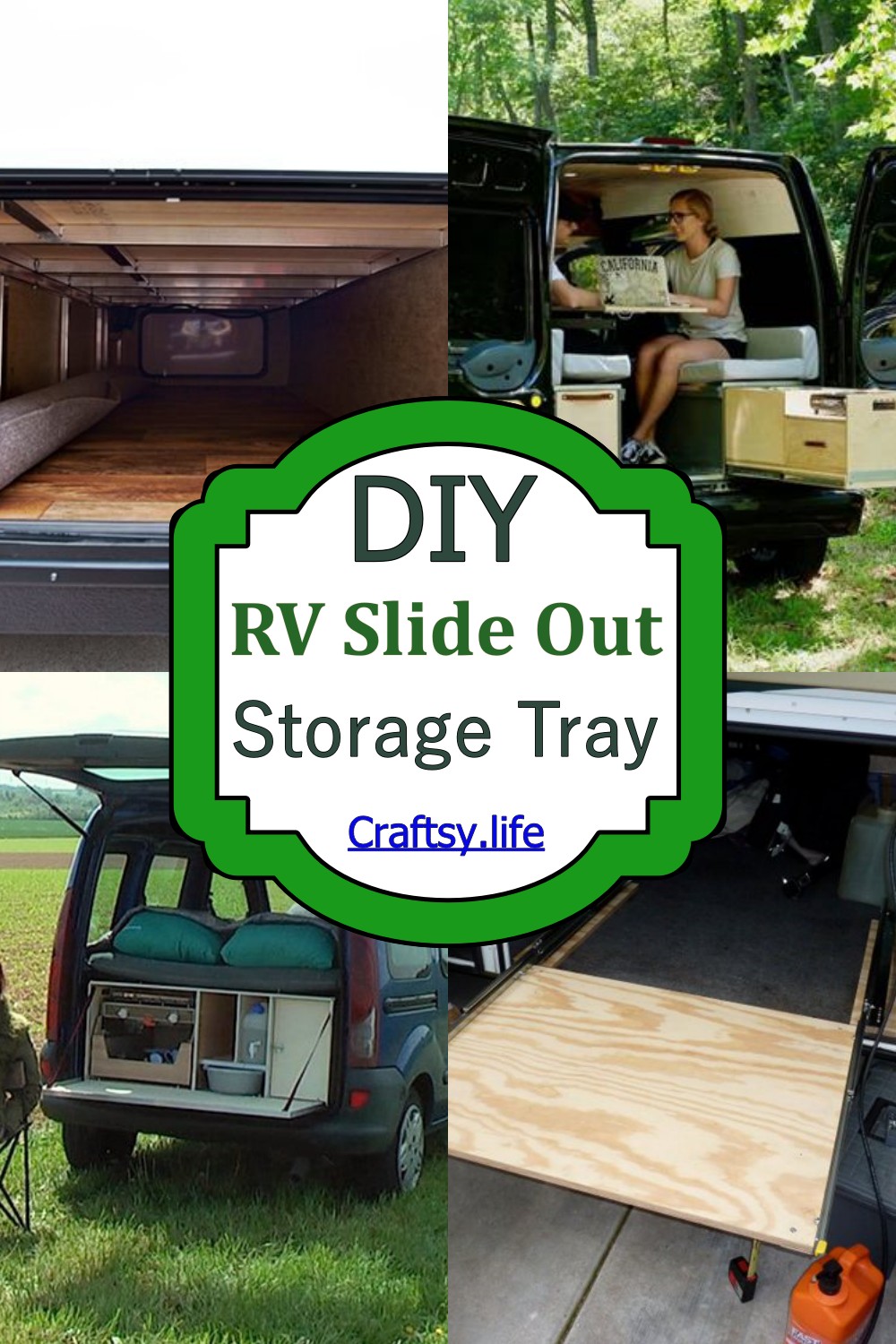 Looking for some sliding door storage ideas? Look no further: we have collected a variety of DIY RV Slide Out Storage Tray Ideas, from simple plywood boxes to fancy custom-built sliding compartments. Making a slide-out storage tray is simple, inexpensive, and effective. It's the easiest way to add more storage space to your RV. Follow our simple tutorial to learn how to make a slide-out storage drawer tray with free plans and step-by-step instructions.
Uses And Scope:
If you are familiar with RV slide-outs, you know how important storage space is. RVs come in all shapes and sizes, meaning they have different storage capabilities. Finding just the right spot to store your items can be challenging. But with the right DIY RV slide-out trays, you can maximize your storage space while adding a stylish aesthetic to your mobile home. Slide-out trays are especially helpful for storing cleaning supplies, medications, toiletries, or other small items that need to be easily accessible while camping or traveling. These easy DIY RV Slide Out Storage Tray Ideas are a great way to get the most out of your truck camper or 5th wheel.
There are lots of cool ways to store your items for quick access, and below, we've collected 15 fantastic DIY RV Slide Out Storage Tray Ideas that will make you want to build a slide-out storage tray for yourself!
See More:
DIY Sliding Aluminum Tray For RV
This aluminum tray is very strong and has a legendary reputation thanks to its simplicity and effectiveness. It can be used in a variety of situations. This project will take you less than two hours to build, but you should not rush it because it may be important to add the fifth hole after reading the instructions. This device will last you forever if properly maintained, so make sure that cleaning is always done correctly and correctly. See this tutorial and learn how easy it is to make your very own sliding aluminum tray.
DIY Roll Out Cargo Tray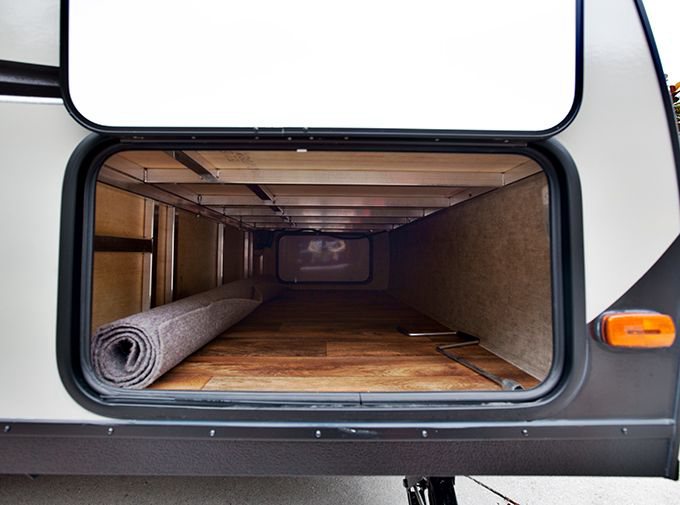 It can be very annoying and discouraging to get everything through the pass-through storage compartment of your van because you do not have a cargo tray available yet. This nifty DIY roll-out cargo tray helps to save frustration and discouragement. It comprises plywood, hinges, side frames, glue, racks, staples, and paint. You'll enjoy this simple and easy way to create a roll-out cargo tray for your vehicle with just a few simple steps.
RV Slide Out Storage Tray Guide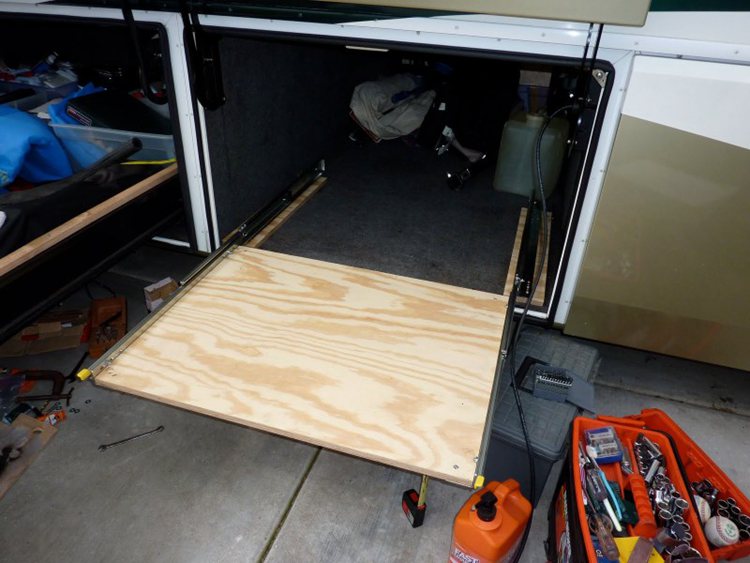 This DIY build is exactly what you need. It's easy to make and will save you time, money, and frustration. This RV slide-out storage tray guide is made of ¾ inch birch plywood, making it sturdy and durable for holding 300-500 pounds of weight. Plus, the backside adds extra support that keeps it from sagging when a heavy load is on it. Not only do you have to find extra space for your stuff, but you also have to make sure they are safe so they can be moved around easily without breaking or falling apart.
RV Slide Out Storage Tray DIY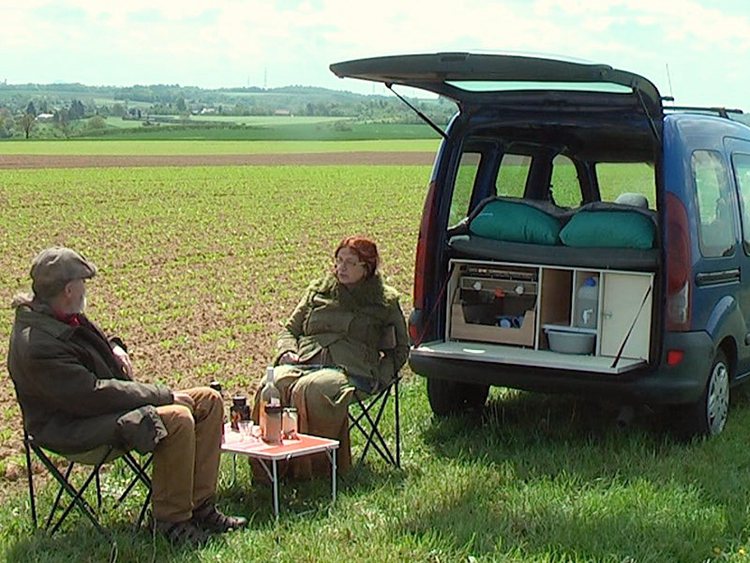 If you love being outdoors but hate the hassle of packing everything up every time you go camping, this is for you. This slideout storage tray is easy to make and can be customized in multiple ways. With this system, you can turn any car into a camper on wheels. Now you can take all your gear with you on the road, including kitchen supplies and all the food you need to cook in the wilderness. This project will take a few hours to complete, but it's necessary if you want to be prepared for camping trips.
DIY RV Storage Drawer
It's a challenge to fit everything inside your RV. Sometimes you need more than one drawer to organize all the items. This DIY RV storage drawer can be used for storing household tools and clothes. All the materials needed to make this DIY RV storage drawer are easily accessible, like plywood, screws, etc. Assemble them together later on with the help of glue and a nailing gun. Follow this tutorial, where we will guide you on creating your own wooden bedside table with drawers!
DIY RV Storage Bay
We can all agree that our most important information and items are kept in our storage drawers. As a result, we always want to ensure that we have the best storage solution for our RV. This DIY RV storage bay is the perfect solution to your problem, as it will help you save money and space and make your life easier when traveling. It's not only a fun project for the kids but also saves money and unnecessary expenses in times like this!
How To Build A Slide Out Tray For RV
This weekend the family is planning a trip to the beach. You have plenty of things to bring but are concerned about storing them. You already have a slide-out pantry to store some food, but there is still more space you can use. Why not build your own slide-out tray for your RV to make things easier? With this hack, you can finally get refills on everything from toiletries to snacks. This build is simple, cheap, and easy to finish in about one afternoon. It's mostly plywood, hinges, drawer slides, and trim.
DIY RV Slide Out Storage Tray
Using slides for a small storage area can help increase your living space. This video will teach you how to build a slide-out, even if you have limited building experience. It also shows you how to install the slide-out to stay on while driving. With this guide and some elbow grease, you'll be able to create extra storage space in your RV that can be accessed without having to lift heavy items or spend money on a custom rail. It's quick and easy to build and will help you save money and space.
Easy DIY Slide Out Cabinet Tray
A slide-out tray for your tools can help you save time and money. One of the best things is that you can easily make it yourself in just a few minutes. This is a simple DIY project that anyone can do, even if he or she has no prior construction experience. It's also great for small spaces like a car, bus, or RV needing a slide-out tray. This slide-out cabinet tray can be built in just a few hours and is also portable, so you can use it when needed. Below are all the instructions on how to make your slide-out cabinet tray.
DIY RV Slide-Out Storage Tray
This video guide will teach you how to take measurements, cut them and go on with the installation procedure. This is a DIY storage tray for overlanders. It is made of heavy-duty steel and requires heavy-duty machines for cutting and drilling. The materials need a lot of restraint to make it easy during creation. The video will guide you through measuring, cutting, and drilling your own slide-outs to fit them into your vehicle. With a little help from the proper tools, this can be an easy DIY task!
DIY Van Slide-Out Storage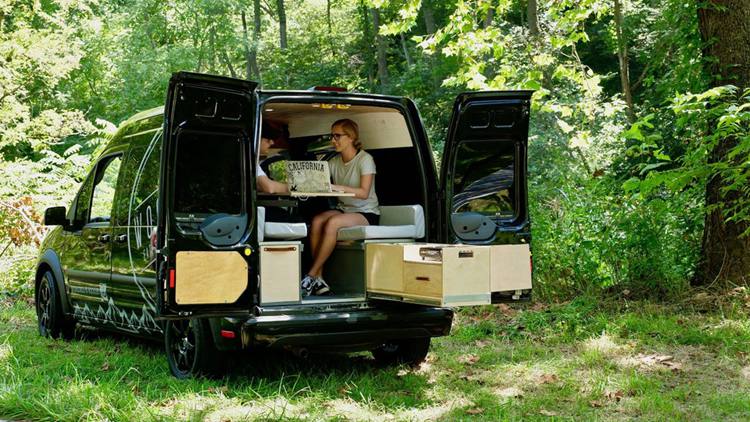 A slide-out is a practical option when looking for a new machine tool. The reason behind having one is that they offer increased storage room and excellent space savers. When you get it right, your fridge will also look like an integral part of the RV kitchen rather than an add-on that sticks out like a sore thumb. This model is 34" long, but the design can easily be adapted to different lengths. You can create this slide-out platform yourself, which will be much cheaper than any other option on the market!
DIY Slide-Out Tray Installation
Adding a slide-out to your kitchen or bedroom cabinet is useful and provides much extra storage space. You can use it for storing books or even dishes. Adding a slideout to your cabinet that comes out of the front section is easy and can be done by yourself. If you are on a budget and want to save money on hiring someone to install a slideout, then this DIY is right for you. All you need to do is follow the steps carefully and accurately and see how it all falls into place in no time.
DIY Heavy-Duty Trailer Tool Drawer
The DIY heavy-duty trailer tool drawer is adorable, easy to slide, and made of brushed aluminum. It offers an elegant look with its industrial style. Although it's time-consuming and quite tasking, the outcome permanently erases the stress you went through just to create it. This heavy tool drawer is made from brushed aluminum, which requires strength and screws for installation. The tools are stored in their own slide-out sections so you can easily find them when needed.
How To Build A Storage Slide For Your RV
This tutorial will teach you how to make a storage slide. We'll use materials such as hinges, plywood, steel, screws, and more. This DIY storage slide is a great option if you're looking for an easy way to store anything in your office or around the house. Plywood and steel hinges are used to build easy-to-use, sturdy sliding storage shelves that will help you save time. Whether you're hiding things in your tool shop or making space in your RV or camper, this storage idea is perfect!