Building your loft bed is a great way to save money while making yourself a relaxed, comfortable, and unique place to sleep. The DIY loft bed plans are an excellent way to add more space and comfort to your home. Loft beds are a great way to maximize the space in your they are a great solution if you're looking for extra sleeping space in your home. They can be used in bedrooms for children, guest rooms, study rooms, or even home offices. Here are some of the best DIY loft bed projects for adults and kids, which can be built at the weekend and decorated to match your décor (you don't want an awkward-looking kid's bedroom, after all). You don't need a degree in carpentry to build your loft bed. With the right supplies, you can create a custom space for sleeping and relaxing or even an office.
DIY Loft Bed Plans For Every Room
Are you looking to make your loft bed? Look no further. These DIY loft bed plans have been designed with various approaches, from simple hand tools to advanced techniques and specialty jigs and templates. They are intended for many skill levels, providing everything from detailed written instructions and blueprints to a quick overview or guide. Most of these loft beds require at least basic woodworking skills and knowledge of the basic hand and power tools. You can easily follow these impressive and useful DIY ideas to make fun bedding and storage options for your rooms with minimal cost and effort.
Easy Loft Bed Construction DIY
Do it yourself and save money. Build your loft bed yourself, saving at least $1000. No carpentry experience is required. This loft bed construction DIY - Build It Yourself is the perfect addition to any child's bedroom. Constructed of wood, the bed features a twin or full bed option and can easily be converted into an adult loft with a single mattress. Predrilled holes make assembly a breeze, so you can get your child sleeping in their new space in no time!
Make Loft Bed For Kids
Now you can easily make this loft bed in your DIY workshop. If you are looking for a creative space to store, this loft bed will be it. Imagine a small room with little storage space and making it into something more. This bed is perfect for anyone who likes to build cool stuff. You can make an awesome loft bed that your kids will be proud of. The woodworking skills in this guide may be a bit advanced, but you will have an excellent finished product. The guide walks you through every step needed to build this great loft bed. In the end, you will have created a functional and sturdy loft bed that you can use for years in your home.
Simple DIY Loft Bed
Building a loft bed is one of the easiest ways to convert unused space in your home into an extra bedroom. Adding a loft can get more use out of that area above your garage or even a hallway. It uses lumber wood, glue, screws, bolts, and other items. This project can be completed in about an hour by two people if you have all the tools handy. This DIY loft bed project is simple and will only take a few hours to complete. It's a great way to give your son or daughter their own space but still be close enough to them for the kids.
DIY Queen Loft Bed
Use your imagination and the versatility of a loft bed to create a cozy and practical space. Start by designing the bed frames with the SketchUp software, then measure, cut, and assemble the pieces to form your queen-sized loft bed. Once you have created your queen loft bed, you can design a deck to go with it. If you want to save some money on material, you can also use old wooden pallets as the base for your desk instead of buying hardwood boards. The DIY Queen Loft Bed is perfect for small rooms, and it has a desk so you can do your homework.
Build A Loft Bed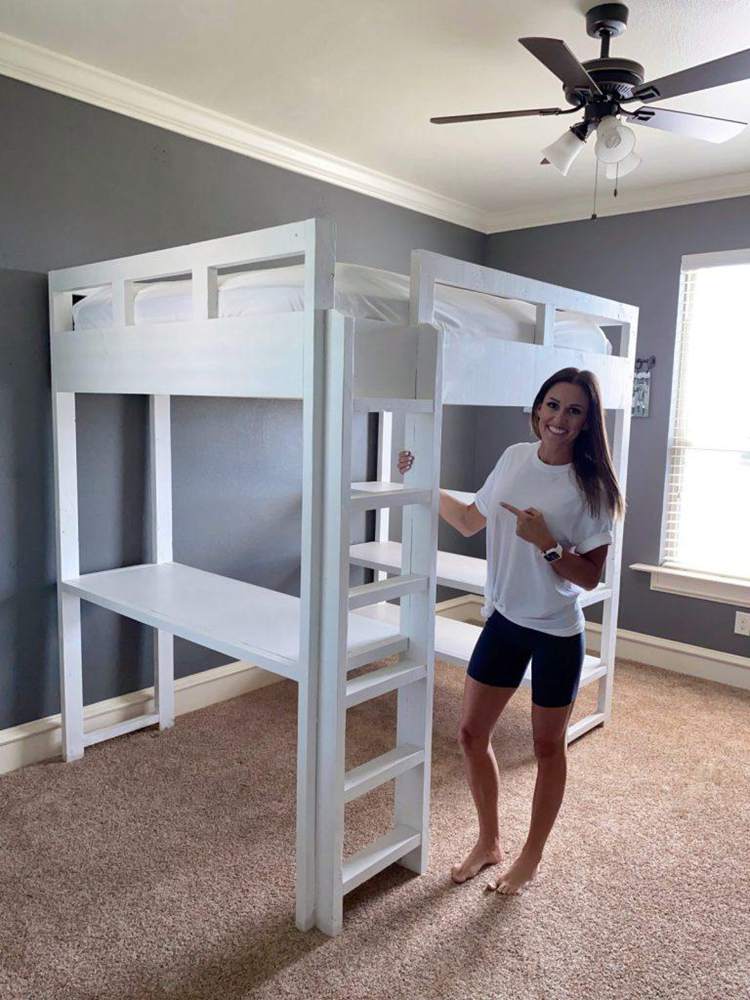 This is a great DIY project for any beginner carpenter or anyone looking to save money by building their bed. The materials are relatively cheap, but building the frame will take some time. This loft bed is the perfect addition to any bedroom. It is a quick and easy project, and most of all, it is fun! The best part about this loft bed is that it can be customized according to your home's style. As much as they are a few cheap loft bed plans on this DIY, there are also pretty expensive ones. This loft bed costs about $300 and is one of the most substantial loft beds you'll ever see.
Building A Loft Bed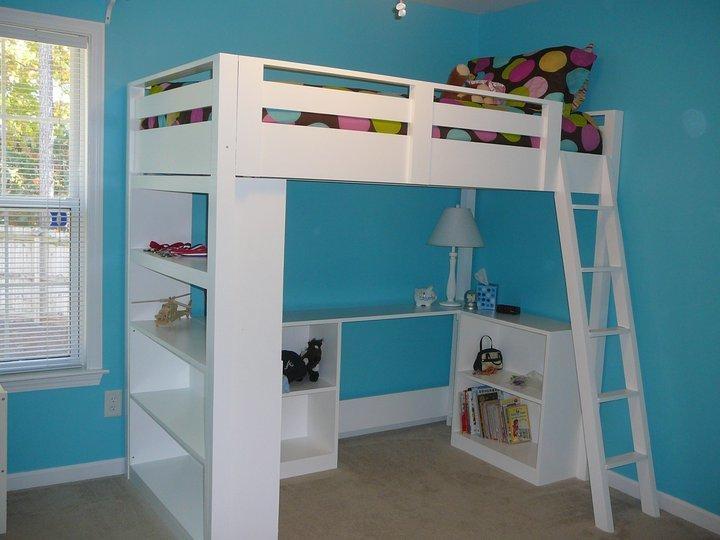 Loft beds are great for a small space but can be difficult on your back. You will need a sketch of how you want your loft bed to be before starting anything. This job doesn't require expert woodworking skills, so you can efficiently perform this task with a few woodworking tools. This design makes climbing up and getting into bed easier by building a frame onto the headboard of your bed using plywood and 2x4s. Once done, you can slide into the bed from underneath, just like a bunk bed.
DIY Loft Bed With Stairs
The Loft Bed With Stairs is a simple and effective design that transforms the space in your child's room into a multi-functional room. This DIY loft bed with stairs is a must for any teen or kids' bedroom. Being able to design and build the bed of your dreams is one of the most satisfying and worthwhile DIY projects. The results are great looking, functional, and affordable, so it's easy to see why this type of project is so popular among do-it-yourself homeowners and hobbyists alike! The durable furniture meets safety standards and is designed to fit most home interiors.
DIY Loft Bed
Let this DIY Loft Bed be your inspiration to start making changes in your life that you've been meaning to make. It has a detailed manual, so you can build this project using our instructions or customize it to fit your style and space. It is a simple, modern, and sleek solution to a child's bedroom. The bed looks like two levels rather than steps, making it more accessible for children. It's also made from sustainable pine wood slats finished with a natural satin varnish. A tremendous space-saving design; you can easily add a desk underneath the bed to make the room seem spacious!
DIY The Budget Loft Bed
Are you looking for the best and safest DIY loft bed? Build an excellent kids loft bed with this easy step-by-step tutorial! This DIY loft bed doesn't require special tools and is a great place to store toys and hide clutter. It can be challenging to pick the right one as many are out there. However, this simple DIY loft bed project is perfect for a growing child. It's easy to make (no complicated construction), sturdy, safe, and affordable! This project is not only affordable but also easy to make. You need some essential tools, including a jigsaw and drill. Get your creation finished in a matter of hours with these step-by-step instructions, and then enjoy the look of your new bed!
How To Build a Loft Bed With Stairs
Here is a step-by-step tutorial for building a loft bed with stairs. Whether you have limited space in your room or want to have a new and exciting sleeping platform, this project is for you. This loft bed differs from most because of its built-in stairs and headboard, making it an excellent design feature. The smooth finish and unique design make this bed stand out in any room. It's made with all-natural wood materials, so it is safe for kids. This loft bed with stairs is a great way to save space in smaller bedrooms. It's also an excellent way to make your child feel like they are getting their room.
Loft Bed With Movie Theater
This loft bed idea will do it if you want to add a little magic and mystery to your space. This DIY project has been constructed with a movie theatre under the frame, making it look like an entire room is under the bed. It is perfect for the movie lover in you. With this DIY loft bed, you get a movie theatre under the bed frame, and the projector, screen, and other things are on top. The tutorial on this is relatively easy and can be done by anyone who has some basic knowledge of carpentry skills. The video guide is easy to follow and includes all the needed plans!
Floating Loft Bed For Kid's Room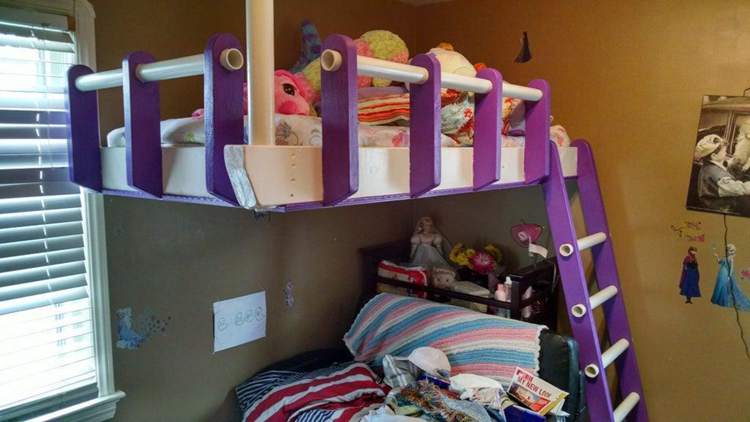 Floating loft beds are excellent for kids' rooms, giving them a place to play and sleep simultaneously. They are especially appealing for those with limited space, as this bed occupies just one room wall. Create a floating loft bed with this simple DIY project. This bed frame doesn't have any support for the bottom of the bed, but it does have brackets to hold up the side rails and cross beams above. Making your floating loft bed is a fun and creative project that almost anyone can do. This project, which doesn't require power tools or special skills, will work in just one weekend.
Kids Clubhouse & Loft Bed Plans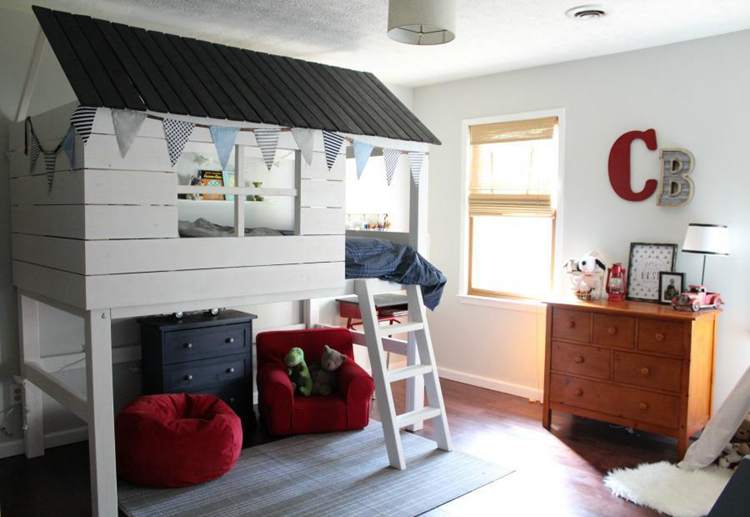 If you're looking for a simple and fun way to build a loft bed for your kids, then this DIY Kids Clubhouse & Loft Bed Plans is for you. The design has all of the basic features you would expect from a kid-friendly design, and it can be efficiently completed inside a weekend. Your kids can come up with their ideas for the clubhouse bed. They'll have a lot of room to hide books, toys, and clothes. They can also make it their writing desk or a spot to hang out with friends. It is so versatile that they could even use it as an adult loft bed if they wanted to.
$200 Study And Sleep Loft Bed
This loft bed is an excellent idea for those trying to find something they can use as a study or an additional sleeping space in their house. This is the perfect addition to your home and will give you what you need and want from a loft bed without spending much money on it. Get a relaxing sleep and study space with this loft bed! You can build your own, and it was simple to do with a few essential tools like a drill, clamps, and a tape measure. Because this project seems expensive, it will guarantee that the strength and durability of the loft bed will be top-notch.
Fire Station Loft Bed
A bed is the focal point of your bedroom, and a loft bed gives you extra room to sleep or play—and it's super cool. If you are looking for an easy and fun woodworking project, this DIY Fire Station Loft Bed is the right one. With its striking design, this bed is perfect for both boys and girls. The woodworking difficulty level is low and can also be done by beginners. Don't wait any longer; start with a new fun project in your creative life! This loft bed was inspired by a fire station, with its oversized gear-shaped LED lights on the headboard and footboard. You can customize it to suit your child or teenager's tastes.
Rustic DIY Loft Bed
You can build your loft bed with a few essential woodworking tools and materials. Before doing anything else, you must first measure your loft area and ensure it will fit your bed's size. Follow the video guide for help on how to calculate the total measurements that you need. Once everything is checked and verified, you can proceed with the construction process. The wood plank is cut to its specified length, and some essential woodworking tools and materials are gathered. With just a little bit of elbow grease, you can get this built for under $100.
DIY Loft Bed
This unique loft bed idea can fit any room in your house. It was built with stairs leading up to the bed and featured a unique design you won't find anywhere else. This loft bed was designed to fit anywhere in your house. It can be made as large or small as you want with the stairs, or you can make it without the stairs. The best part is that the plans are free, and you can build them with only a few essential tools. You'll be impressed by how simple it is to build at home.
Make A Cheap Loft Bed
This loft bed is a straightforward project that anyone can do. If you don't want to spend money on premade loft beds, this is a great way to make your own. Even if you don't have any tools, you can still build this in about an hour. Just use some 2x4s and some plywood for the frame and rungs, then use wood glue and screws to hold things together. All it takes is a couple of lumber, a miter saw, and a drill to get through this project. You can sleep on your loft bed in less than an hour.
Easy Loft Bed Stairs
A loft bed is a great home solution for kids that allows them space to play and hang out. Unfortunately, kids also need a staircase to get up and down to the loft bed. Loft bed stairs are a great addition to your loft bed. Loft beds are a stylish and convenient addition to any bedroom, but this video is for you if you have a loft bed and no stairs to climb. This video has several essential tips to help you if you're building a staircase for a loft bed - or even just building custom stairs for your home!
DIY Lego Loft Bed Plans
Here is an excellent DIY Lego loft bed that can work in just a few hours. If you have kids and they love Legos, this is the perfect way to keep their space organized and let their imagination run free. The idea is that the loft provides more storage and workspace, and the bench underneath allows that extra space for kids to play with their toys or work on projects while they're at home. Building it will take time and skill, but the finished product will be well worth it if you are willing to take on the challenge.
DIY Micro Bus Bunk Bed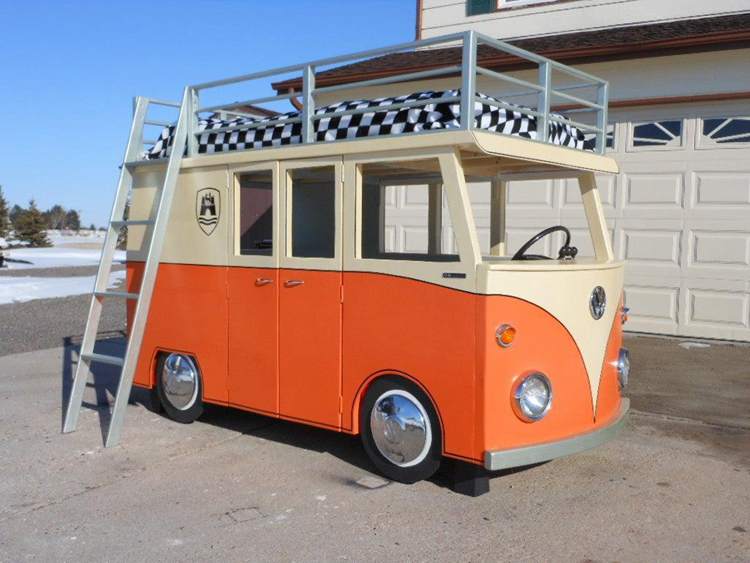 This is the perfect project for you if you want to create a stunningly relaxed and comfortable space that gives your family a great bunk bed. The overall design of this bunk bed is fantastic, offering all the necessary storage space but also an elegant design. Building your own DIY Micro Bus Bunk Bed is an exciting, fun, and challenging project. Not only will you be building the bed yourself, but you will also be creating a cab for the bus using recycled materials from around your garage. This project is perfect if you want to build something unique that will last. It's excellent for mechanically inclined people because it requires essential power tools such as a saw and drill.
Pipe Loft Bed Creation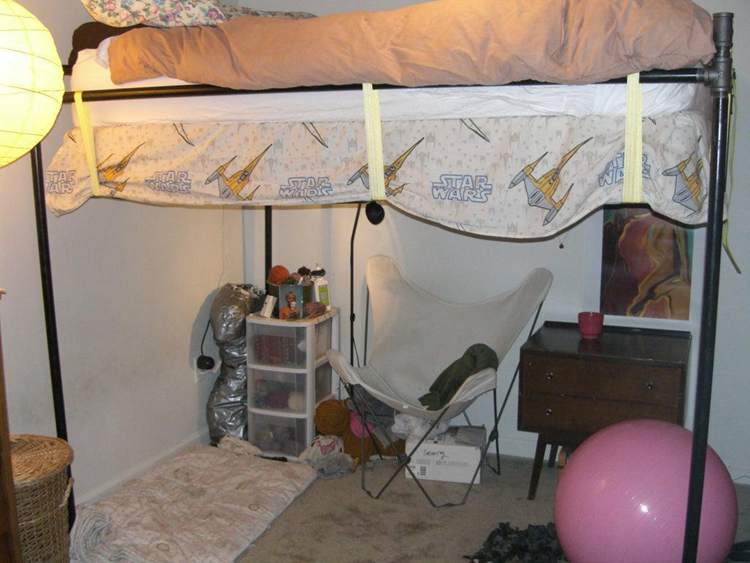 Do you want to create a super cool loft bed for your kids? If yes, follow along with this detailed DIY guide on how to use iron pipes. It is surprisingly easy and cheap to create this bed—this unique and fun way to make the perfect loft bed for your child. There's so much room under the bed for storage and extra seating. The best part is that it's super stable with bar supports that are perpendicular to each other. The best thing about it is that the materials needed are not hard to find and can even be recycled. With this tutorial, you will only spend around $100 on a 6 feet long pipe. So what are you waiting for?
DIY Castle Loft Bed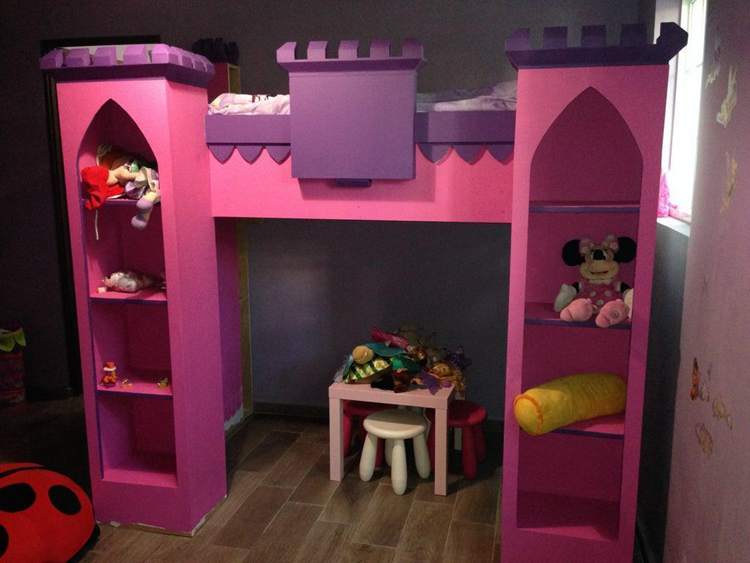 The DIY Castle Loft Bed will be a hit with kids. They are big fans of knights and castles, so this bed is the ultimate choice. This loft bed can be made in just a few hours by an adult or someone skilled in carpentry. The result would be an epic piece of furniture that will last for years. It is one of the most popular kids' beds on the market. This loft bed is made of durable pine wood and has two levels for sleeping, lots of storage space, and a ladder for easy access. The design of this bed is perfect for children who are growing up and need more room to spread out.
Make Great Loft Bed
If you're looking for a bed that will look great in your dorm room and is functional and long-lasting, this large loft bed is a perfect choice. It will fit the needs of a college student to an adult. This DIY bed is a great project to do with your kids or surprise them when they get home from school. It will only take around ten days to build it, and you will spend less than $350, including the paint, screws, and plywood. LOTS of storage space! The best part? There's no need to sacrifice style or comfort when building this bed because it comes with a workspace and a bookshelf!
DIY Junior Loft Bed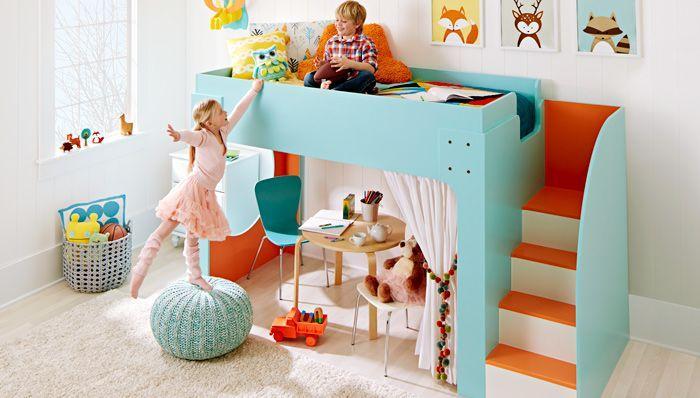 This DIY Junior Loft Bed is perfect for small rooms and can be an excellent place for the kids to hang out with friends. Plus, it will save you lots of space in your home. The project will take about 10-12 hours to complete and around $500 to build. All you need is a drill, screwdriver, and saw to do the job. The result will be a sturdy and unique loft bed that kids of all ages will love. You must plan ahead and carefully follow the detailed instructions to have a perfect result every time.
Floating Loft Bed Build
Looking for a great and affordable DIY floating loft bed build? Look no further. This is the perfect way to get a modern, stylish loft-style bed with extra storage for your bedroom. You will love how simple it is to build, but with such an excellent finished product! This floating loft bed is made to be sleek and modern while keeping the design simple. The pieces are all solid wood, but you can use plywood to make them even lighter. Since this project uses essential hand and power tools, anyone with little experience in using those tools should be able to make one of these beds.
DIY Loft Bed Plans
Do you want an excellent loft bed to sleep on or add extra space for your kids? This is the perfect plan to make one. Not only will it be fun and easy to make, but it will also be helpful! The built-in storage space under the bed can hold everything from clothes to toys. The blueprints are simple so that even novice woodworkers can build them themselves! Follow this DIY loft bed plan, and you'll be able to build your loft bed. This simple loft bed uses only essential tools and materials, so even new builders can succeed with this one.
Twin Loft Bed With Storage And Desk
This simple, easy-to-follow plan will help you build a twin loft bed with storage and a desk. You can make your own DIY twin loft bed with storage and desk as it is easy to construct. The design of these trendy bed plans will be a great addition that not only adds functionality but also enhances the aesthetic appeal of your room. If you are an advanced woodworker or someone who has built furniture before, this project should be easy for you to do. You can use the same design to create additional beds for your home, office, or rent. The desk is also great for doing homework or having tech time with friends since it has perfect lighting.
How To Build A Loft Bed
This loft bed will keep you close to the sky and far from the ground. This design is perfect for a kid's room with basic carpentry skills. Build your loft bed with these woodworking plans. If you're new to woodworking and don't have the space or money to buy a bed already built, these plans are for you. Depending on your needs, this loft bed can be used as an adult bed or a child's toy chest. Follow the project guide and build your bunk bed confidently to get started.
How To Make A Full-Size Loft Bed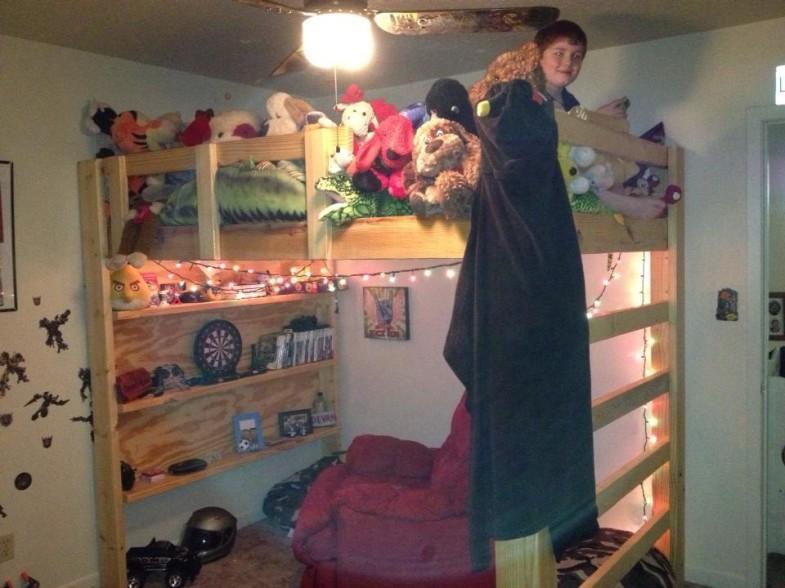 If you love the look of loft beds but don't want to deal with metal rails and a ladder, then this DIY full-size loft bed is the perfect option. It's great for smaller rooms and can complete in as little as one day. Additionally, it's super sturdy, so you don't have to worry about your child falling out of bed. All in all, it's an easy project that will add value without taking up space! The full-size loft bed is a stylish, multifunctional, and quickly assembled platform that provides a lot of space for sleeping. It's made of plywood sheets with a simple construction design, but it requires a minimum of tools and time.
DIY Little Cottage Loft Bed
This adorable cottage loft bed makes the perfect little getaway for your child. This new beauty blends timeless style with modern design, making it a great addition to your child's room. It only takes one afternoon to complete this bed, and your child will love it throughout their childhood years, even as they grow up. The bed can also be a twin-sized bed when you're older if you are short on space. It is perfect for creating a cozy hideaway in your child's room. This is an easy build, even for a novice. Start by gathering the necessary material, readily available at the local hardware store, including lumber and plywoods.
DIY Loft Bed
Want a place to sleep in but don't want to take up precious floor space? This loft bed was made with scaffolding and a wardrobe, but you can also use it as a workspace or shoe rack. Please make your loft bed using the scaffolding to stand it on its side. This DIY build is super functional, with a workspace and wardrobe inside. You can also add a shoe rack for additional function if you're into that sort of thing! It is perfect for small rooms and apartments. It's made of scaffolding and includes a wardrobe and dresser, with plenty of room underneath for extra storage.
Queen Loft Bed
This queen loft bed is perfect if you're looking for an affordable, fun, and easy-to-build DIY carpentry project. You can have a new bed in no time with just a few simple steps and some essential tools. This easy-to-follow plan at the ready is the perfect addition to any teenage girl's room or anyone who wants to add some stylish style to their bedroom with minimal effort. Following the easy step-by-step directions and building plan for a queen loft bed, you can have this lovely bed with storage space underneath in a few days or even hours.
DIY Easy Loft Bed
A loft bed can help save a lot of space in the room. It creates an additional floor space, which is ideal for space-saving homes today. This loft bed is going to be your favorite bedroom upgrade ever. The desk area underneath is an intelligent design, allowing you to work from home without having to take over the dining room table. Have fun making your loft bed, and have a comfortable night's sleep! You can use this loft bed as your workstation or a place to sleep. This DIY loft bed is helpful for multi-purpose use, saving space and money.