A floating bed frame is one of the unique ideas you can use to make your house look more stylish and elegant. Floating bed frames are the perfect addition to any home. They add interest and character while also providing a sturdy, flat surface to sleep on. Modern DIY floating beds can be customized to match your room's design style or reflect your personality. Whether you're building your first floating bed or just looking for new ideas to try out, this collection is sure to have something for everyone. Here are 20 DIY floating bed frame ideas that can be made from simple everyday materials to more complicated pieces crafted from salvaged wood.
DIY Floating Bed Frame Designs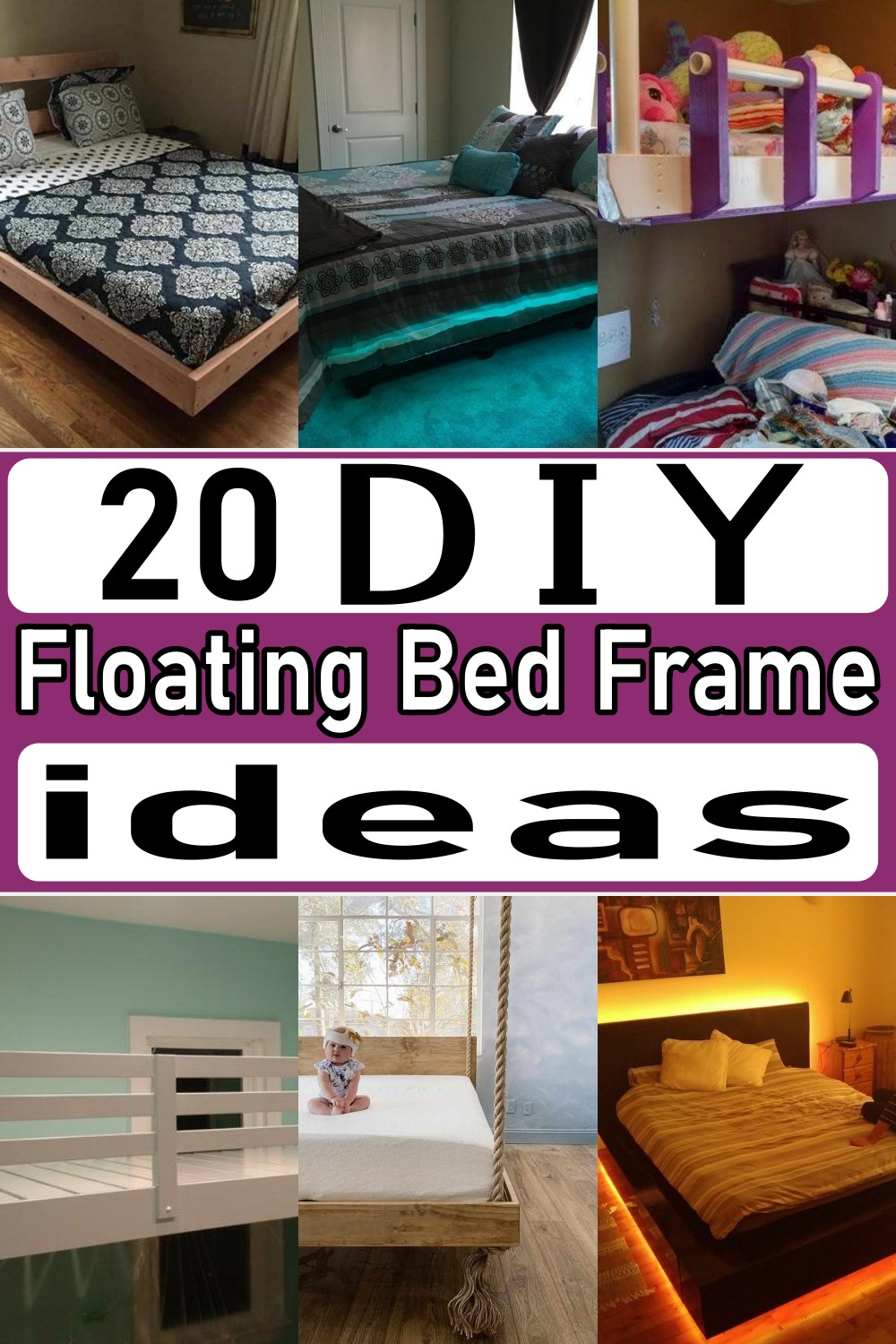 Floating bed frames are an easy and inexpensive way to add style to your bedroom. They're also a great way to hide dust bunnies and clutter that you don't want anyone else to see, so if you have a messy dorm room or a cluttered guest room, one of these would be a great choice. These floating bed frame ideas will let you create the look you want for little more than the cost of some paint and plywood. The best part? You can make one yourself. Some of these DIY floating bed frame ideas are simple and only require a few tools, while others use more advanced skills and techniques.
Benefits Of DIY Floating Bed Frame Ideas
DIY floating bed frame ideas are very popular and a great way to get a new look for your bedroom. With this design, you can create a truly unique custom look. There are many benefits to using DIY floating bed frames in your home. Here are some of the top reasons why you should consider this type of design:
It allows you to create a custom look that fits your style
You can use this option if you have limited space, such as a smaller home or apartment
It can help save money by allowing you to buy less expensive materials
You will have more options when it comes to choosing your own design
How To Build A Floating Platform Bed
Floating platforms are a popular choice for beds. They can be great for small spaces or even in homes that have low ceilings. When done right, a floating bed can be incredibly elegant and functional. Make a floating platform bed with this easy DIY tutorial. This bed is simple to build and perfect for any homeroom. Add the finishing touches with a headboard and mattress or box spring, then line it with a comforter or bedding set.
DIY Floating Bed Frame With LED Lights
This LED rope light bed is perfect if you want to add a wow factor to your home. The bed will be the show's star with its floating design and sleek look. The top frame is made from solid pine wood and stained with an earth-friendly finish, while the base uses 2x4s that you can find at any local hardware store. This easy-to-make floating bed frame with LED lights is a great addition to any home. It features a unique design and clear instructions to make it easy for everyone to follow.
DIY Platform Bed With Floating Night Stands
This DIY platform bed is simple, sturdy, and the perfect canvas to create a stunning focal point in your bedroom. The materials needed for this bed include a miter saw, screws, tape measure, and sandpaper. Make sure you take some time to plan out each step before making any cuts so that it will come together seamlessly. This project is open and inviting, featuring a minimalist look with a modern flair. The six-piece set comes complete with two nightstands, four floating shelves, and one headboard that can be customized to fit your needs.
DIY Full Size Floating Bed Plans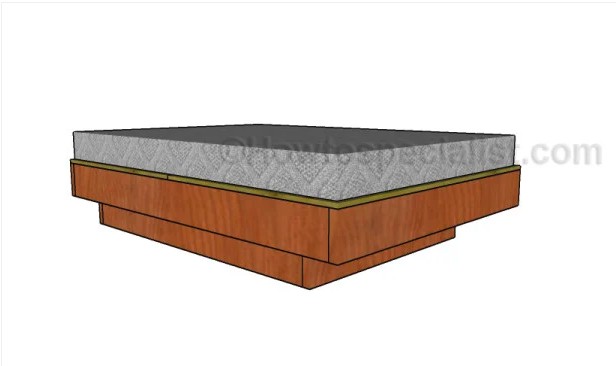 Floating beds are the latest trend in interior design. While they're not a new idea, it has a renaissance as people look for ways to mix modern design with more classic furniture. This bed DIY is great if you want to make your house look more appealing. With this plan, you can create a floating bed look, which is easy and inexpensive. This project is perfect for both amateur and expert woodworkers alike. Start by measuring the dimensions of the bed frame and the base. Cut all the pieces and assemble each piece. Then, flip the bed frame over and attach the base tightly and carefully.
How To Make A Floating Platform Bed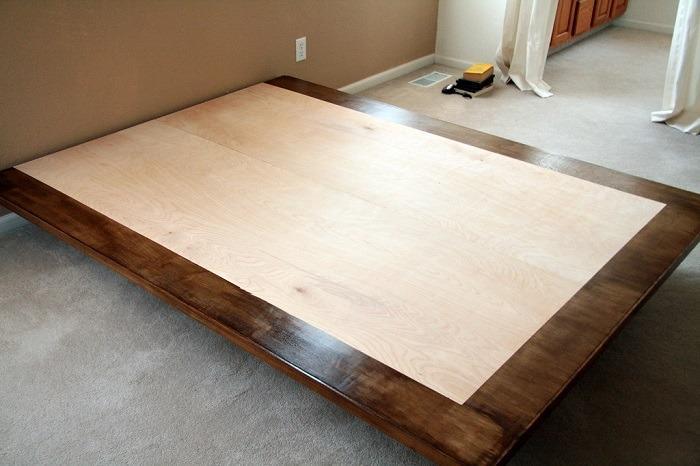 Floating platform beds are stylish, low-profile, and very cool. They allow you to show off your mattress while adding that pop of personality to your space. Put an elegant spin on your bedroom with a DIY floating bed. This simple DIY project requires no more than the two mainframes and some stain, but the result is a beautiful addition to any space. This floating bed platform will be the perfect addition to your living room. Make sure you are comfortable at night with soft sheets, pillows, and LED rope lights that will focus on you.
DIY Floating Bed With LED lighting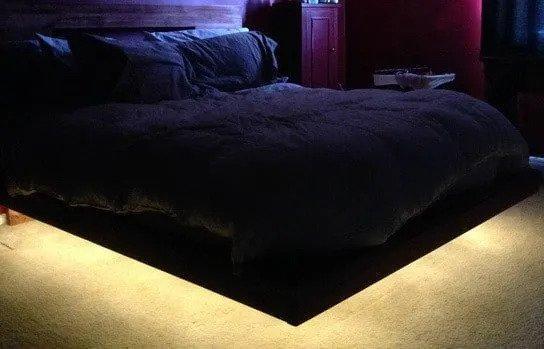 You can use the DIY Floating Bed with LED lighting to transform your living space into a place of comfort and relaxation. With just a few simple steps, this DIY floating bed frame is easy to set up, making it perfect for any home. A floating bed is a simple DIY project that brings the modern look of concealed lighting to an old-fashioned platform bed. Most floating beds use duct lights, which are not seen when the lights are off. But this project uses a rope of LED lights that wraps around the top frame and shines down onto pieces of plywood on the bottom. The result is a modern bed with cozy, glowing light.
DIY Floating Platform Bed
This floating bed frame is made from a combination of wood and metal. It can be assembled or disassembled in minutes and provides a clean look to your bedroom. The design is versatile and fits most bedrooms seamlessly. The bed base, also known as a slatted base, can be modified to fit your specific preferences if you are a DIY expert. You have the power to make your home comfortable, and that begins with your own comfort. The floating bed design will make you feel like you're sleeping on a cloud. This DIY project will take only an afternoon and create a relaxing sleep space for years. Let's get started!
DIY Floating Bed
This DIY floating bed design is truly unique, and it's completely built by yourself. You will need wood, screws, sandpaper, a drill, and a circular saw. It's really easy to make, and the materials are cheap. This project is perfect for a beginner or intermediate skills level. This floating bed will give you an extra sitting space and bring some lighting to the room. You will first need to get the materials needed; wood and a drill. Then cut some wood strips and join them perpendicularly with screws while leaving a gap between them to fit in the light bulbs.
DIY Floating Bed Frame King Size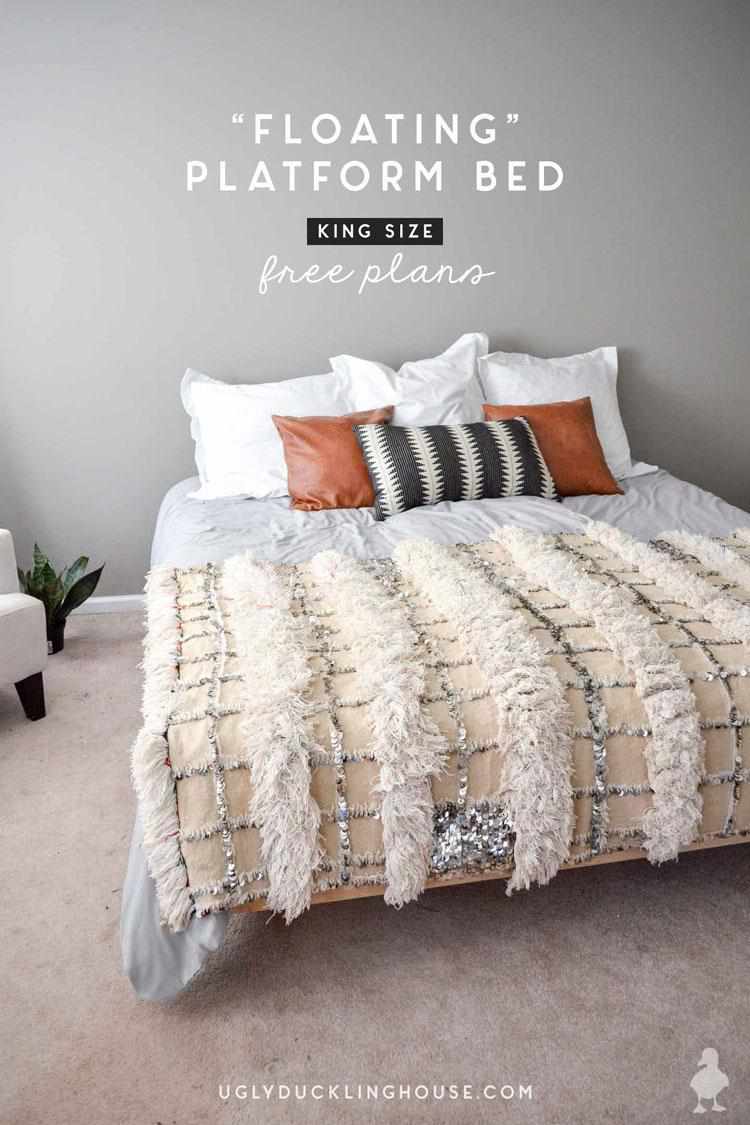 This floating bed frame is simple, stylish, and incredibly affordable. The diy floating bed requires only a miter saw and a few other basic tools. This DIY floating bed frame is a great addition to your room. Made from reclaimed wood, it is eco-friendly and easy to assemble. Follow this guide to create a stylish and unique floating bed for your bedroom. The height of the wooden headboard and base helps keep the mattress at its ideal level while also giving you plenty of leg room. It may sound difficult, but this DIY project will be easy to make with tools that anyone can find at a hardware store.
DIY Floating Bed Frame Plans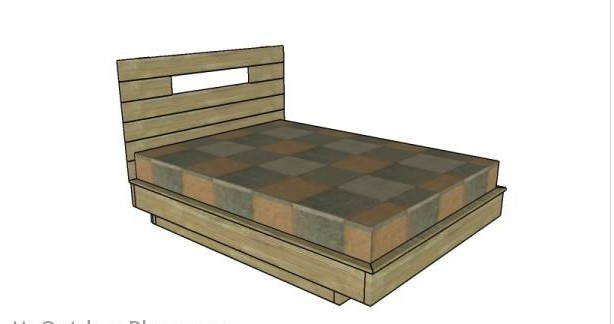 This is the perfect project for you if you're looking for an easy-to-follow plan to make a floating bed. Build it yourself without spending a lot of money while creating something more luxurious than your standard bed frame. Turn any bed into a floating bed. These DIY floating bed plans show you how to build your own floating bed frame with a plywood base, sturdy legs, and elegant details like a stretcher and curved ends that give you a nice place to sit or rest your feet. This DIY project is straightforward but might take some time if you're new to woodworking.
How To Make A Floating Bed
This floating bed will do the trick if you're looking for a unique way to upgrade your bedroom makeover. The project is a fairly easy DIY and only needs basic woodworking skills, so it's perfect for beginners. You'll need some wood and screws, and you're ready. A floating bed is a great addition to any room, especially the kids'. This DIY project is easy and cost-effective, so look at the instructions on how to build one.
DIY Floating Queen Size Bed Frame
This DIY floating bed can be a wonderful addition to your home. Its elegant design allows you to change its look as your needs change. Make this DIY floating queen-size bed frame project, and you will have a stunning floating bed. This floating bed is made of wood, plywood, and a few other materials, which can be easily found in local stores. It is quite easy to build it, but it is recommended to use a miter saw for making the sides and corners of the bed frame to ensure they are perfectly true.
Large Floating Bed DIY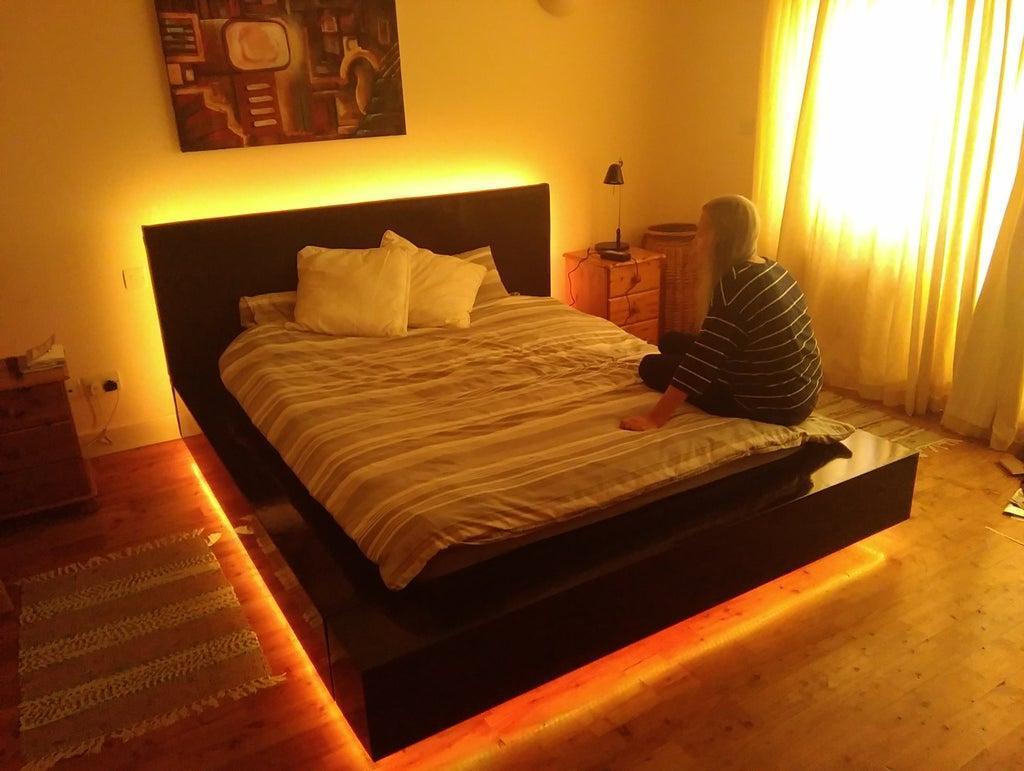 This floating bed DIY is a great project to do with the kids. They will love helping out with the cutting and painting. This is also ideal for you to teach them about DIY projects and kitchen skills such as basic maths and geometry. You can create a one-of-a-kind floating bed with a few hours and basic tools and skills. This DIY project will allow you to enjoy your space in its purest form without worrying about the structure holding it all up.
DIY Floating Bed Frame
Do it yourself and make a floating bed frame. It is easy to make, and you can change the style to suit your tastes. This is a fun project and a great place to relax. With this floating bed frame, you can easily adjust your sleeping position according to your feelings. Since it's made from wood and painted, this bed is durable enough to hold up even kids when they sleep on it. This DIY floating bed frame is a great way to add some storage space to your bedroom without sacrificing the comfort of a mattress.
DIY Modern Floating Bed
This DIY Modern Floating Bed is perfect for making your home look modern. This floating bed is made with two pieces of wood and can be assembled in minutes. We have a wood planer, dowels, and glue to help you make the frame for the bed. You need some sheets and pillows to create the perfect modern bed when it's done. You can't buy this bed at a store, but you can certainly make one yourself. The frame is made of wood and features floating beams that are held together with dowels and glue. This DIY project is perfect for those who want to try something new and like working with their hands.
DIY Floating Platform Bed
This DIY project will teach you how to build a floating platform bed while saving money on store-bought furniture. It's an easy project that can be completed throughout one weekend. This DIY floating platform bed frame is a simple build and a great way to add storage space underneath your bed. The bed base here is designed to be super easy to build from low-cost materials, resulting in a modern and sturdy bed frame that works well with any bedroom decor.
DIY Hanging Bed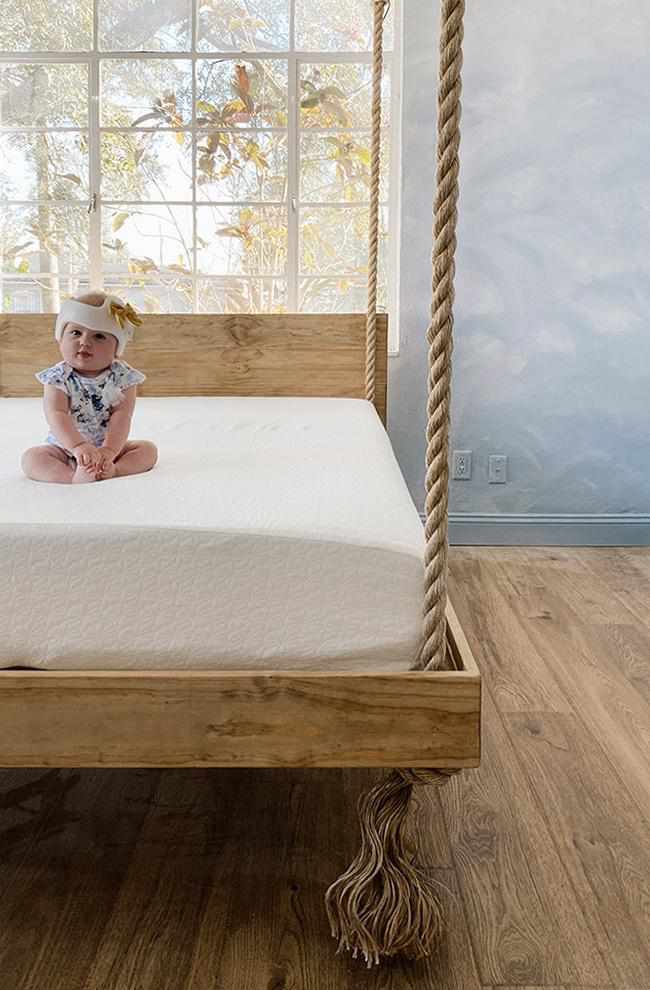 If you love to create things, you will probably like this DIY hanging bed. It is a simple project that can be done in two days and does not require much money. This DIY hanging bed can be easily made with the help of a few hand tools and simple materials. All you have to do is measure the size of the bed and fix the joist hanger using liquid nails. After that, make support using lumber and rope and attach it to the joist hanger, which will lift your bed frame.
DIY Floating Bed With LED Lights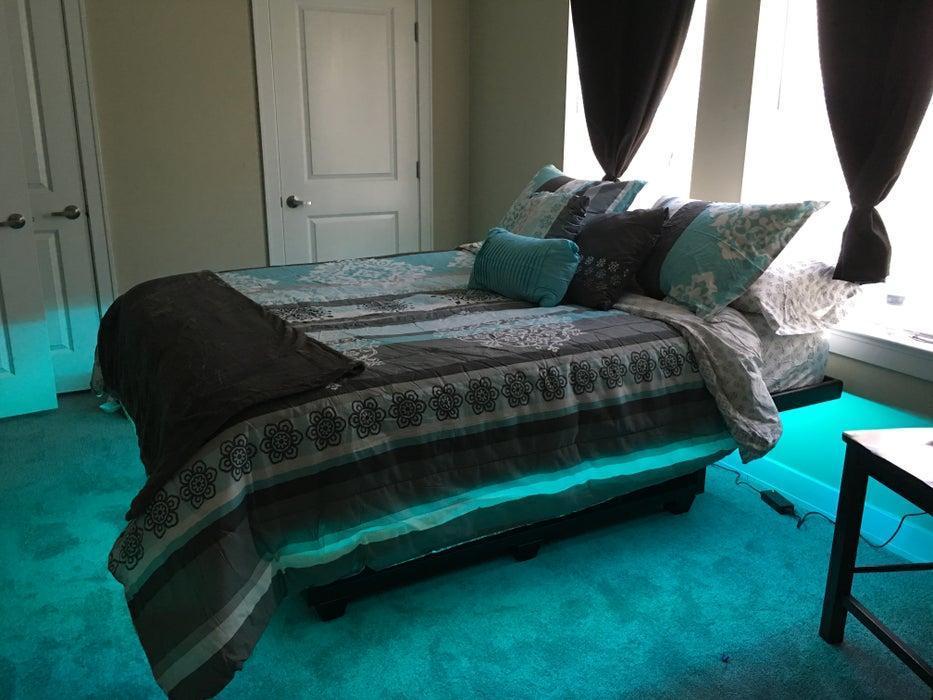 This DIY floating bed with LED lights makes your room look more attractive. The base frame makes this bed look so nice, and no wires connect it to the wall. This floating bed is also very easy to assemble; anyone can do it. The floating bed frame only requires simple tools and basic craft supplies that you can get at your local hardware store or discount retailer.
DIY Floating Loft Bed
The DIY floating loft bed is a great way to increase your staircase's storage and make space for yourself. You can achieve this by attaching a strong PVC pipe to the ceiling joist, where the fourth corner of the bed will be. Cut pieces of wood for the bed's perimeter and add braces. Line the braces with plywood, then prepare the wood strike for the sides of the bed. Drill holes on strike and pass a PVC pipe through them to hold them together.
Loft Bed Floating DIY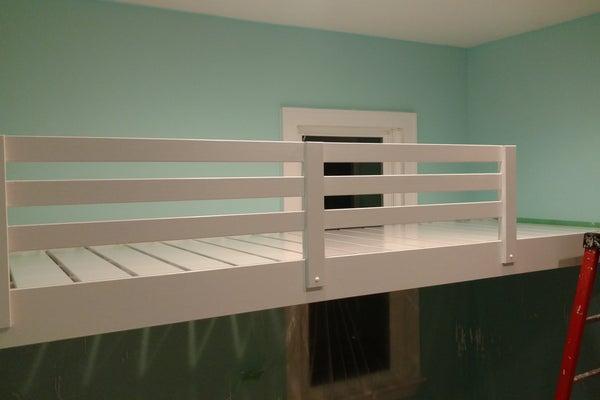 Tired of your boring old bed? Do you want to have a unique bed? If yes, then this loft bed floating DIY is something you want to try because it is inexpensive and easy to make. Building it will take some time, but it won't cost much. This diy floating bed is a snap to put together and very inexpensive compared to buying a new high-end bed frame. Use old and new materials to build this space-saving lofted bed with a staircase, perfect for small rooms.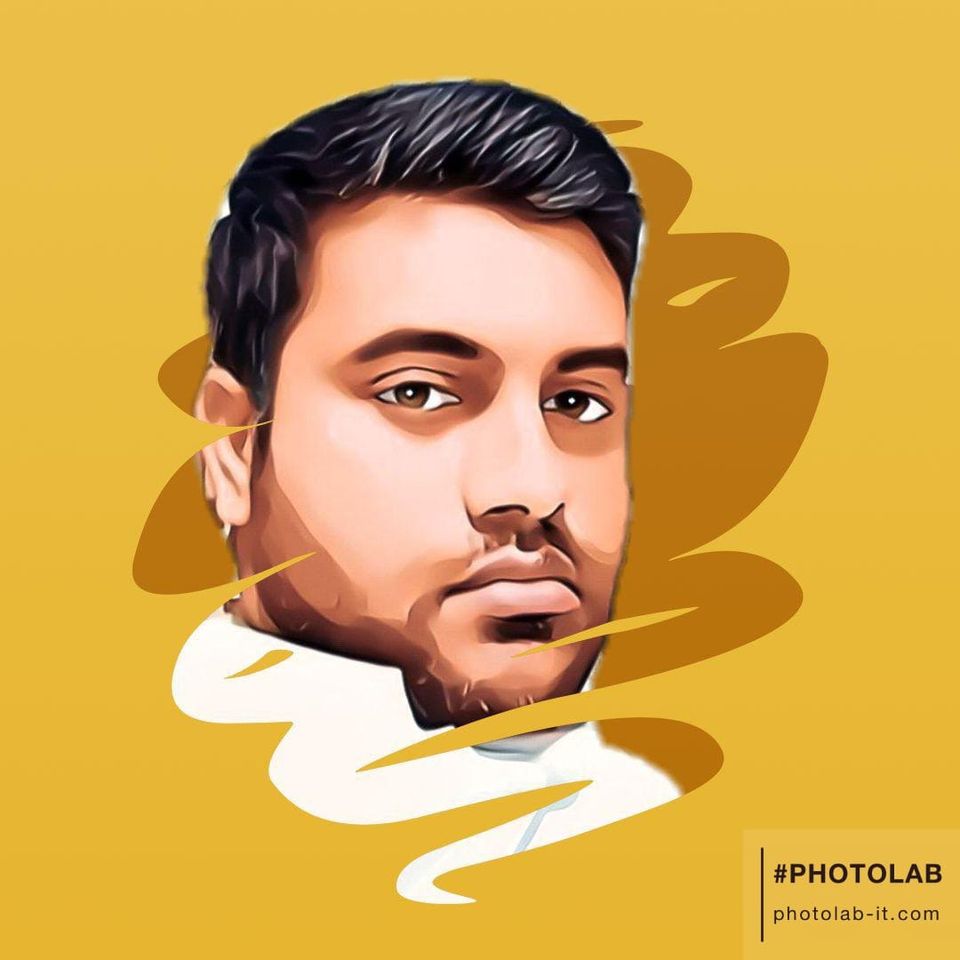 I am Raza, a crafts expert with 6 years of experience. I run this site for DIY lovers to provide the most exciting projects and ideas for your home, office, and everyday life. See More