Are you looking for an ice cooler for your upcoming indoor or outdoor parties or picnics? Then stay here; below are some Do-It-Yourself Ice Chest Cooler Plans that are the best way to make your ice chest cooler uniquely and differently. Use these DIY ice chest cooler plans and make your life happier. You can create a custom design for your own needs, which will make it easy to navigate and set up. These DIY ice chest cooler plans are easy to follow and implement. They do not require any special skills or tools. You need a few hours of free time, a little knowledge about woodworking, and a few tools such as pencils, saws, drills, etc.
DIY Ice Chest Cooler Plans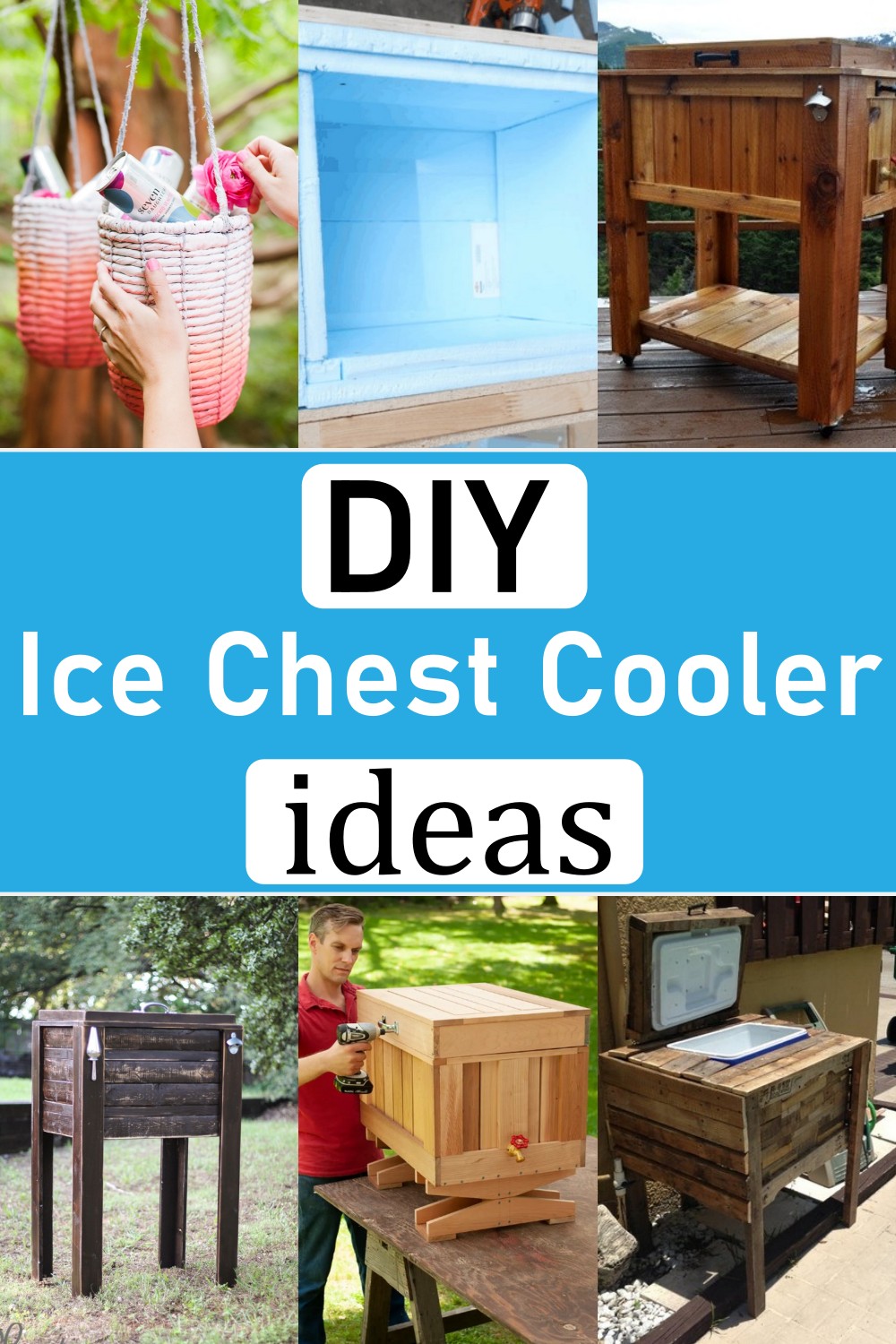 These Ice chest coolers are handy when you want to keep your drinks chilled; They do not cost much, but they can add a lot to improve your drinking experience. These DIY ice chest cooler plans are great ideas for those who want to make their cooler. They will help you get the best cooler for your picnic party or BBQ night. There are so many different designs and styles that you can choose from when making your DIY ice chest cooler. You can make them in any size you want, but they are typically made of wood, plastic, and degradable materials. Some people like to paint theirs or cover them with vinyl to match the decor of their home or patio. Every plan has its guide that helps you make an ice cooler to enjoy your drink chilled this summer.
$70 DIY Yeti Style Super Ice Chest Cooler:
Are you looking to make your own DIY Yeti Style Cooler? This 20-gallon cooler will keep ice for days of use and is excellent for parties, fishing, and more. Make it yourself in just a few hours with this detailed tutorial! This video will show you an easy way to build your own Yeti Style Ice Chest for only $70. This is great if you want something portable to keep your drinks cold for the summer, especially outdoors.
Portable Deck Cooler Bar And Stand:
Enjoy your next party with this Portable Deck Cooler Bar And Stand. This DIY project will give you everything you need to set up a fully stocked bar outside your pool or near the beach, so you're ready to entertain all summer! This portable cooler has a sturdy base and an easy-to-assemble frame built to last. Not only does it hold a full-size bottle of wine, but it holds up to 4 ice packs. You can also use this homemade cooler stand as a bar for serving drinks at an outside party or picnic, too!
How To Build A Cedar Ice Chest: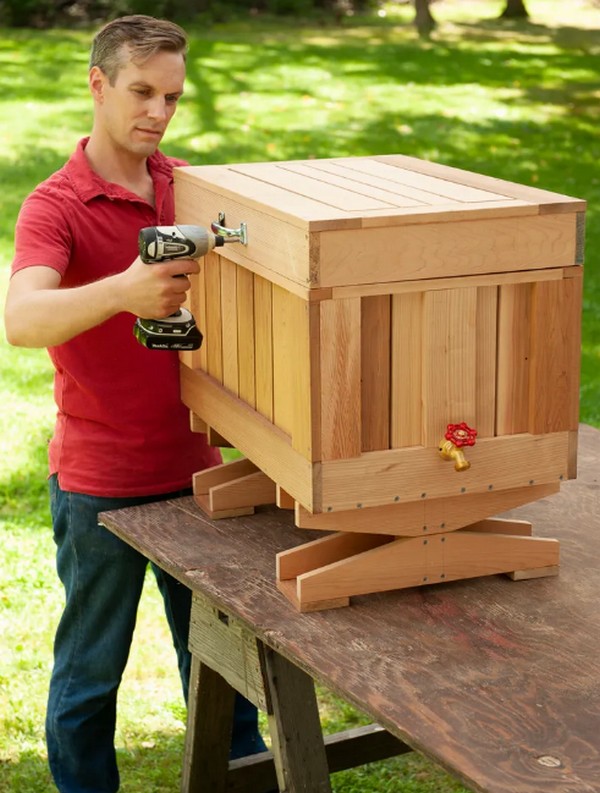 This beautiful cedar ice chest is perfect for family picnics. You can make it with a few tools and the plan provided in this guide. It will be great to keep beer cool on warm days and look good doing it. This plan will provide all the information you need to know to make your attractive ice chest from cedar. It will surely be a decent option to eliminate the ugly store-bought plastic ice coolers.
$10 Home Built Super Cooler:
No one wants to spend a lot of cash to buy an ice chest, but when you're out at the beach or want fresh veggies from the farmer's market chilled, you want something that works excellent without costing a fortune, Then this home-built super cooler will be best for you. You can make this cooler by using materials readily available in your home like plastic bottles, wooden boards, and other things. Watch this video tutorial that will teach you the whole making process.
Outdoor Ice Chest:
If you love summer and having parties, this Ice Chest is a must-have in your backyard. Made of antique reclaimed wood, it is the perfect way to keep your beverages cool and always available. This ice chest can be used as a wine box, as more relaxed, or just as a side table for extra storage space. This video guide shows you the complete step-by-step instructions and follow-up steps.
Do It Yourself Cooler Stand Plan
This do-it-yourself outdoor cooler stand is a great project for anybody who loves the outdoors. The cooler is made from cedar and was built to keep the ice cold for longer times. The cooler is easy to modify to fit the stand and easy to do. This detailed woodworking plan explains how to build your outdoor cooler stand from scratch or modify an existing cooler. The cooler design can be made any size you want, and the cedar exterior will last a lifetime!
Wooden Cooler Box:
Look no further if you need a mobile cooler for your tailgate parties, the beach, or any other outdoor event! This DIY Wooden cooler box is perfect for keeping your drinks ice cold and making them extra fun with a bit of color. You can create this great cooler yourself if you know how to use basic carpentry or just let someone who knows do it for you. Watch this video tutorial that will teach you the whole making process.
Create A Yeti Cooler:
This video will teach you how to make a Yeti lookalike for parties, camping, tailgating, and other social events. The best part is that it takes a few bucks from the hardware store and your time and attention. Watch this DIY tutorial, follow the steps carefully, make your own Yeti Killer, and enjoy a high-performance, unique ice cooler system for your special party days and occasions.
How To Make A Patio Cooler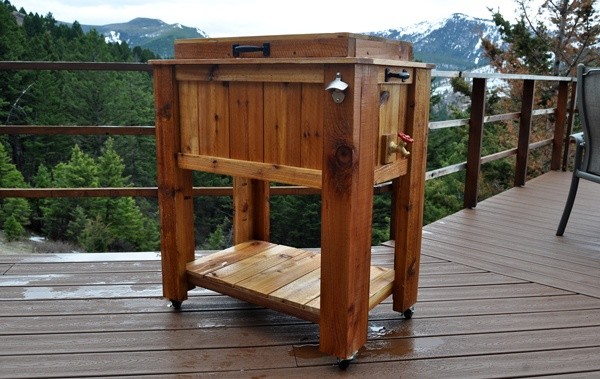 A wooden Patio Cooler is an excellent way to keep drinks cool on a hot day. This project is easy to make and only takes a few hours. All you need is some wood and some simple tools. You can also apply this design to create a cooler for long-term storage or use it as a catchall box in your home. This project is perfect for beginners looking to build their first piece of furniture with detailed instructions.
Make A Colorful Hanging Ice Chest: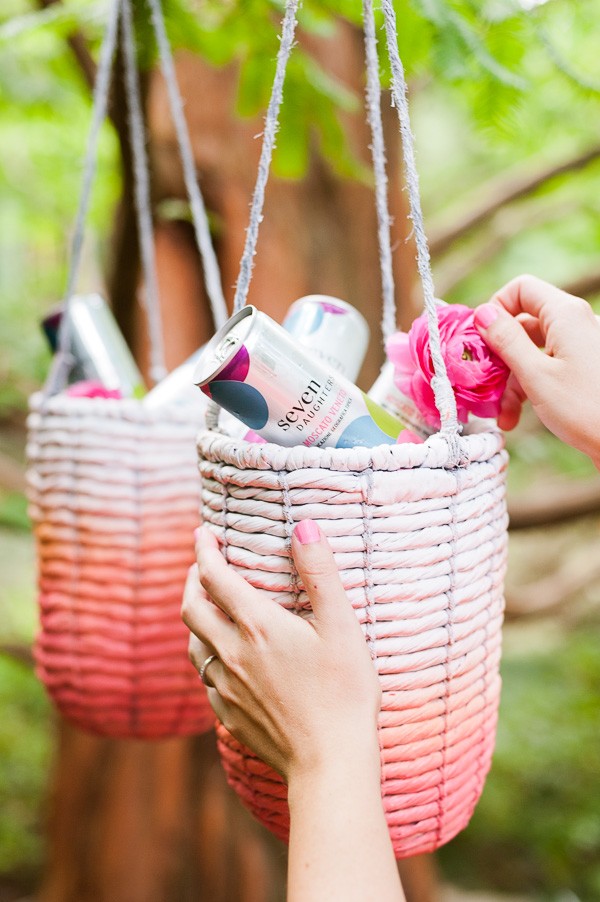 Make this hanging ice chest to take on your next trip to the beach, camping site, or outdoor party. All you need is jute yarn and a few other materials, which can be found at most craft stores. Make sure to keep the ends of each strand of yarn loose as you tie them together so that they will be easier to untie. You can attach it to a tree limb that's about chest high for easy access and filling up with ice if needed. This guide shows you the complete procedure.
DIY Wood Cooler Project:
If you are looking for a cooler, look no further. This wood color project will impress the whole family and other friends. This DIY wood cooler project is the perfect addition to your outdoor space. The color and finish are easy to apply, and you can mix them up to make your custom color! This project is simple and easy to do but very beneficial and rewarding simultaneously. It is perfect for anyone looking for something that will improve their home and make it more beautiful.
Improvised Ice Box Using Insulator Foam:
This DIY chest cooler is fantastic because it's a very efficient and convenient tool to keep cold drinks and food items. It is easy to make and use on any occasion, like a picnic or fishing trip. The best advantage of this DIY ice chest cooler plan is that you can make it yourself home and won't spend too much money on it! This video guide shows you the complete step-by-step instructions and follow-up steps.
Backyard Cooler Cart Project:
This backyard cooler cart project is the perfect solution to all your summer worries. This perfect combo of the grill and cooler cart is all you need to give you the best time when chilling with your friends and family. It can chill your drinks, be used as a dining table, can turn into a BBQ grill station all at once! You can use it to serve the drinks or the barbecued food and keep everyone happy at a party. With this all-in-one ice chest, you can fold the doors down and use it as a table. The storage space on top makes it convenient for storing anything from plates and utensils to beer bottles.
Outdoor Patio Cooler Ice Chest :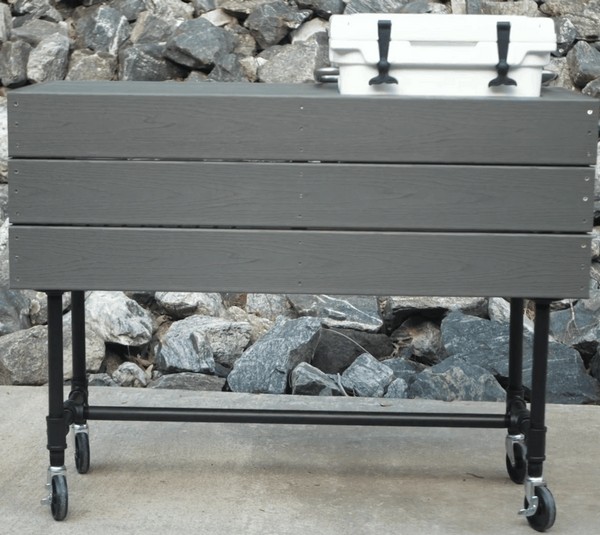 This fantastic tool will help keep drinks cold and ready for your guests. With this DIY project, you can create an outdoor cooler with a capacity of up to four times that of a conventional cooler. It's affordable, environmentally friendly, and easy to build. This guide will show you how to make your outdoor cooler attractive enough to leave out on the patio all year.
Easy DIY Cooler Box:
Your next party will be a hit when you hand out drinks in this beautiful wooden cooler box. It's fun to build and easy to follow, so you can mix it up with different colors and stain your wood the way you want. Aside from having this cooler on hand for your summer backyard bash, it is an excellent addition to your home decor and will always catch some eyes when someone enters your home! Watch this video tutorial that will teach you the whole making process.
Making Of A Yeti-Style Cooler: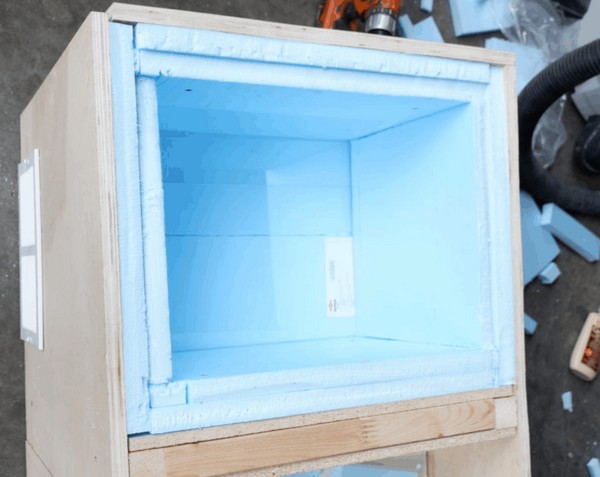 Are you looking for a fun do-it-yourself project? Have you ever wanted to create your custom cooler? Have you ever wanted to learn how to build a Yeti-style cooler? If so, then this DIY project is perfect for you! The guide below will show you exactly how to make an ice chest that will keep your food and drinks cold for days! It's easy, cheap, and only takes a few hours - even if you have no prior experience with crafting.
Cedar Ice Chest Cooler:
This Cedar Ice Chest Cooler is a fun and easy DIY project to save money. It's made with rough-cut cedar, which gives it strength and natural insulating properties for keeping ice frozen for 2-3 days. This video's fantastic DIY ice chest plan includes detailed illustrations, step-by-step instructions, and full-sized patterns. This is a DIY project that looks great in your yard or on the deck of your home.
DIY Ice Chest Cooler:
This plan gives instructions for making a beautiful and practical cooler that is easy to build. The materials list is short; you probably already have all the parts, or you can get them quickly. This cooler will be perfect for picnics, camping trips, general outdoor activities, and storing drinks in your home bar. This guide shows you the complete step-by-step instructions and follow-up steps; follow the guide and Make your cooler with this easy, DIY ice chest cooler plan.
Vintage Ice Chest From Wood Pallets: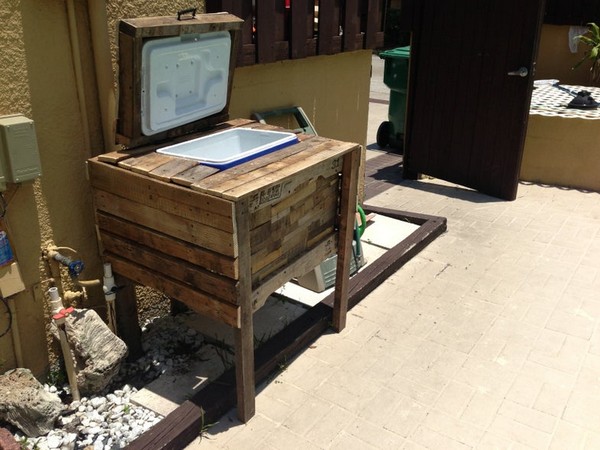 Keep your drinks and food cool at your next barbecue or outdoor party with this Vintage Ice Chest from pallets. The DIY design is simple to make, using essential tools that are almost certainly to be found in any home. This container will last years without fading or cracking made from high-quality pallet wood. Go through this guide and Make a great-looking ice chest just in no time for summer with this simple but sturdy design.
Build A Rustic Cooler: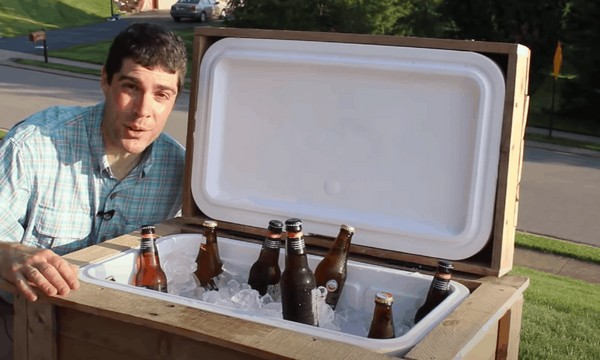 Making a rustic cooler from a pallet is an excellent project for anyone who is thinking of making something unusual from pallets. This cooler looks like something you could use in the summer when you're at camp or there's a picnic in the garden – it would make an impressive feature. This guide shows you the complete step-by-step instructions and follow-up steps, so it can't be too difficult.
Wooden Ice Chest Cooler: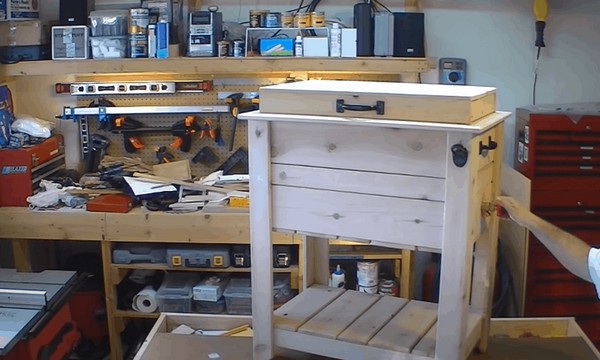 A wooden Ice Chest Cooler is the perfect addition to your outdoor getaway in the summer! While it's a fun project, it requires time, effort, and supplies. This Ice Chest Cooler is perfect for keeping your drinks and food cool on summer trips or in-between adventures. You have a great wooden cooler by building around that plastic and adding some simple hinges and a handle. Once you have all your materials, this DIY is quick to make and will be used for years.