Do you have a kayak? If so, do you ever have difficulty bringing it home from your adventures? Are you tired of dragging your Kayak around and looking for an excellent place to put it? Do you want to take it with you on your adventures without worrying about lugging it around? Look no further than the homemade DIY Kayak Cart. You can build one out of simple materials and make one in just a few steps. The best part is that you can customize it and make it fit your needs.
DIY Kayak Cart Instructions

The kayak cart is the ultimate accessory for a sea fan. If you own a kayak, it's an absolute must-have. Whether a hardcore angler or a casual paddler, the kayak cart will make your journeys on the water much more accessible. Multiple models are available on the market, but they can be expensive. Whether tackling a DIY project or just needing a new way to store your Kayak, these DIY Kayak carts are here to help. We've gathered 10 of your favorite ideas for building your own kayak cart, so you can be sure to find something that fits your needs and your budget. There are carts with and without wheels, with and without handles, so there's no shortage of options to consider!
Pros And Cons Of Homemade Kayak Cart Plans
DIY kayak cart plans are a great way to save money, but there are some pros and cons to consider.
Pros:
Cheaper than buying a commercially made cart. Building your own kayak cart is an option if you're on a budget or want to save some money.
Aesthetics – You can customize the design to fit your taste. You don't have to be limited by pre-made options.
Cons:
Time-consuming – Building your own kayak cart takes time and effort. You'll need to spend some time preparing materials and completing the construction process itself.
Inconvenience – Some things, if not impossible, would be challenging to do yourself, such as welding metal parts together.
DIY Kayak Cart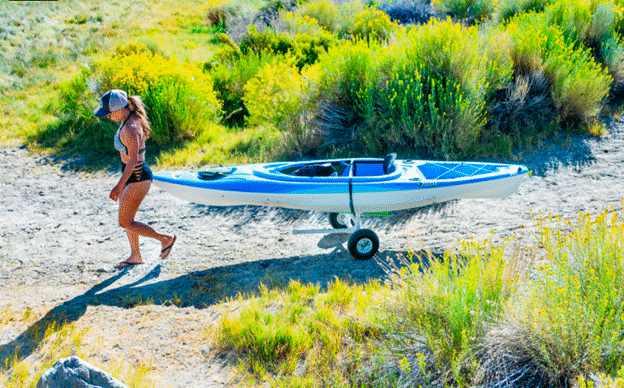 Save money and build your own kayak cart by visiting this guide and making the necessary adjustments for your Kayak's length. This DIY kayak cart is easy to construct, inexpensive, and super simple. This DIY Kayak Cart is a great way to save money while enabling you to haul your Kayak without any problems. You can build it in just over an hour, and all the materials are easy to find at your local hardware store. This model is 10 feet long, but if you need something different, we also have guides for a 5-foot design.
How To Build A Low-Budget Kayak Cart
Build your own kayak cart on a budget! Here's how: Use a furniture trolley and cut off the base with a saw, smoothen it over, attach the Kayak to it, and you're ready to go. This quick tutorial shows you how to build a kayak cart for your kayaks and canoes, using nothing but some lumber and screws. Whether you're looking to expand your storage capacity or want to make it easier to transport your boats, this simple DIY project is a great way to save money.
DIY Kayak Trolley
This Kayak trolley DIY has been designed for anyone looking for a simple and affordable solution to carrying their Kayak. You're planning on taking your kayaks to the next level - using them as water sports and having a lot of fun. This Kayak troller is designed to be an easy kit that you can assemble without needing special tools. It's the perfect present for someone who loves to fish or wants to try kayaking. This DIY kayak trolley is simple, easy, and handy to use. Once you assemble it, you will be ready to take it wherever you want.
PVC Kayak Cart DIY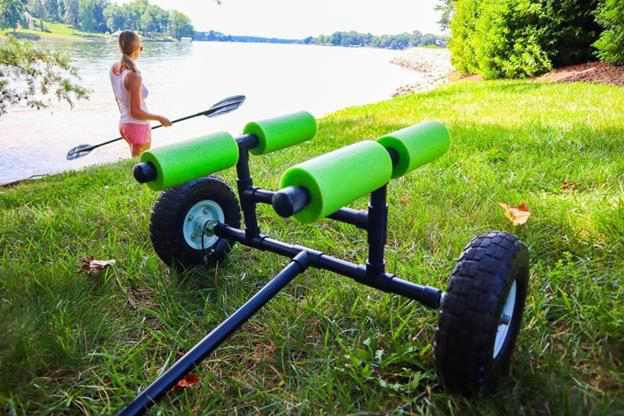 This is an easy-to-make kayak cart, which can be very useful for transporting your kayaks. The PVC Kayak Cart DIY is lightweight and easy to move around because of the rubber wheels. This PVC Kayak cart can be placed on a deck or in your garage. Its construction and design make it easy to transport your Kayak when not in use. The kit includes the basics needed for building and allows you to create a double-sided mount to accommodate most kayaks. You can paint it any color you want!
How to Build a DIY Kayak Cart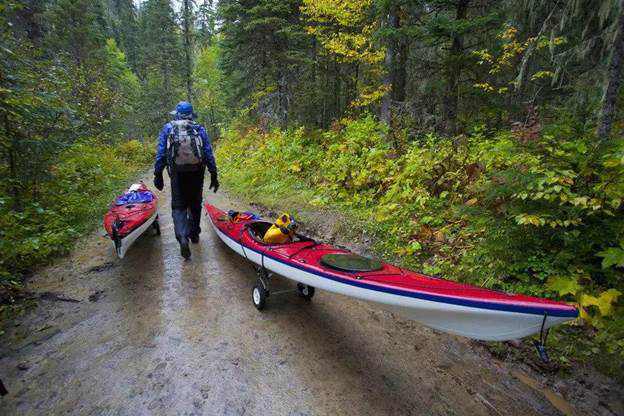 With a DIY Kayak cart, you can easily transport your boat from one place to another. It's cheap and easy to build, too. This DIY kayak cart project is excellent for those who want to save money or don't want to buy a wobbly and short-lived cart. This one is the most durable and can hold any boat since the Kayak can be tied down with straps. It also has wheels that allow you to move around quickly, even on rocks and gravel. The process is fun and easy since you only need two hours to complete it.
DIY PVC Kayak Cart
While carrying your Kayak across the dunes is not such a good idea, you still need a light and compact cart to move around. You are making this PVC Kayak Cart will require some materials. The main PVC pipe used in this project is a 3-inch diameter pipe, and the smaller ones are 1-inch in diameter. The wheels are large enough to allow you to roll over the beach sands with ease quickly. It also has an adjustable bungee cord attached to each side which can be used to carry other items.
How To Build a Kayak Cart out of PVC
Kayaking is fun and exciting, but when it comes to packing up at the end of the day, it can take a toll on your back. Maybe you want to go kayaking but don't want to carry your Kayak. You can make this PVC frame, put rubber wheels on it and roll your Kayak behind you! This easy DIY kayak cart under $30 works great and is stable. When complete, the frame consists of 3 main pieces assembled. Wash all parts thoroughly before assembly and wear gloves when handling parts as bare hands could get cut if not careful.
DIY Kayak Cart With PVC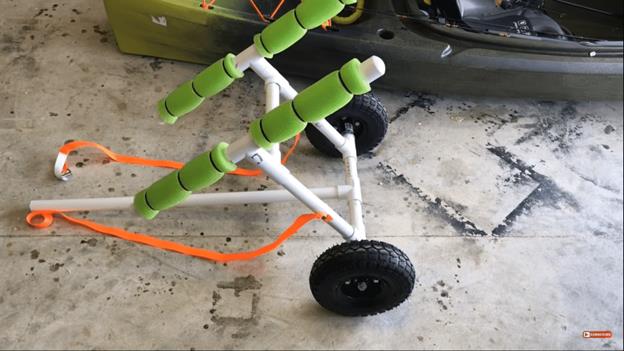 Save yourself time and money by making a PVC Kayak Cart. This video shows you how to make an easy DIY kayak cart with many options for your kayak storage needs. You need a kayak cart that's not only functional but also easy to build, and you're using PVC. This project is straightforward to make, and you only need one pool noodle to complete it. This Kayak Cart is a great way to get your Kayak to where you want it to be. This particular cart is made of PVC pipe and other materials, making it both functional and aesthetically pleasing.
DIY Sturdy Kayak Cart
If you want to take your Kayak outside, there is a specific cart that you will need. This DIY Sturdy Kayak Cart has a power strut as its primary body and can be modified with wheels of your choice. This will enable you to take the Kayak through rough terrains without any safety or stability issues. This is an easy project that anyone can do. When you're done, you won't have to worry about how you'll transport your Kayak; it will be a breeze with the help of this DIY Sturdy Kayak Cart.
DIY Kayak Cart Under $25
When you want to go kayaking, the last thing you want is to have a heavy kayak strapped to your roof rack. With this easy DIY kayak carrier, all you need is some PVC pipe, a rubber wheel, and nuts and bolts. You can build the cart for less than $25! This DIY kayak cart is an excellent alternative for those who don't want to spend much money. It costs only $25 (the cost of the PVC pipe), so you won't break the bank. The design is simple, but it gets the job done; this cart will help you to move your Kayak without as much effort or strain as if you had to carry it on your back.