Rowing your own kayak is a great way to enjoy the water. And if you're serious about it, you'll want to find a way to store your kayak safely, so it doesn't end up damaged. You may even want to invest in multiple kayaks, which means you'll need room for them and racks! Several great homemade kayak rack plans are out there that you can follow to build your own storage rack. All of the ones listed here have detailed instructions and illustrations, and all of them are very easy to build—even if you don't have much experience with carpentry. Each one offers its own unique benefits and features; consider these amazing DIY kayak rack plans as inspiration for whichever one you decide to make today!
Easy DIY Kayak Rack Plans
The rich, contrasting hues of the kayaks against the white wall backdrop can be a good excuse to spruce up your walls with a color you wouldn't normally use. If you have some old pallets, which can be reused for many other things besides making a kayak rack, then you should consider building the DIY kayak rack. It is one of the most creative ways to display your collection. We've collected some of the best DIY kayak rack plans around. Some are easy to build, while others may take a little more time and effort. But with these plans in hand, you'll be ready to build your own racks in no time.
Benefits Of DIY Kayak Rack Plans
Here are some of the benefits of building your own kayak rack:
Cost savings: You can save money by building your own kayak rack instead of purchasing one from a store. This will also allow you to customize the design to fit better in your available space.
Space-saving design: If you have limited space for storing your kayaks, you can use this DIY kayak rack plan to create a storage system that uses vertical rather than horizontal space. This will allow you to store more boats on each wall in your garage or shed without additional floor space.
Safety factor: If you build this DIY kayak rack yourself, you know it's safe and doesn't pose any danger to your family when using it or storing their boats.
1. Simple Kayak Rack From PVC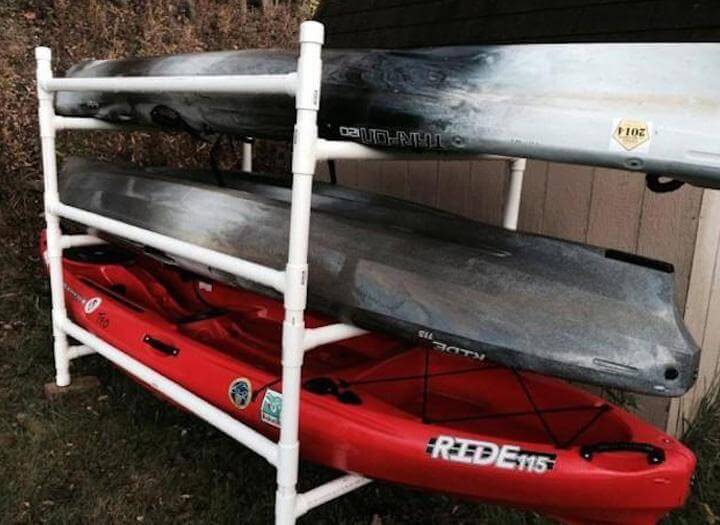 A kayak rack is an essential part of every kayak holder. It keeps your kayak organized and accessible and helps keep your precious watercraft safe from harm. This PVC Kayak Rack is both simple and inexpensive, yet sturdy enough to reliably hold your kayaks in place - even in areas that experience a lot of wind exposure. Suppose you want to install a kayak rack in your home but do not know how. Follow these simple steps to create one using PVC pipes, fittings, and adhesive. It is inexpensive and suitable for all types of kayaks.
2. DIY Wooden Kayak Rack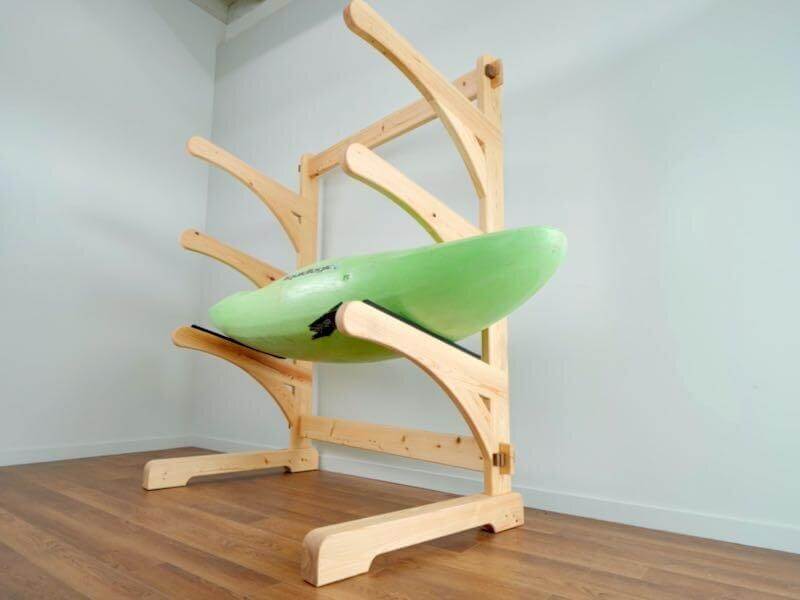 If you are a kayak enthusiast, you know how frustrating and expensive it can be to find a good place to store all your different kayaks and other boating equipment. Luckily, with this DIY wooden kayak rack project, you can quickly build a rack with just the right amount of storage. Build your own DIY wooden kayak rack to store your kayak and paddle in style. This project is ideal for those who want a little something different for their home; the design will look great in any space.
3. Kayak Rack Plans DIY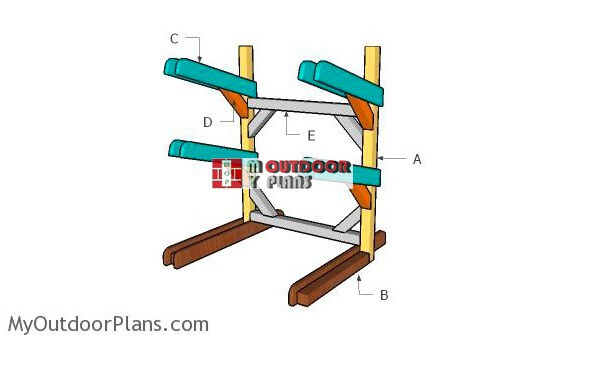 This Kayak Rack Plans DIY is a great way to store your boats. It has a rigid base and two sides designed to hold the boats by their hulls. The rack is made from lumber and features carriage bolts, wood glue, spray paint and more. Create a kayak rack in your garage, porch or shed. This simple-to-build and easy-to-follow plan feature the building process and assembly instructions. Pictures and detailed instructions make it easy for you to create the perfect storage solution.
4. How To Build A Kayak Rack
If you want to store your kayak easily, making a kayak rack is the best way. It is simple to make and well worth the effort. You only need a few simple materials like wood, clamps, screws and tape measure to build this easy DIY project around the house. To make this rack, first, you need to run measurements on the size of boards you need. Then cut them, so they are all roughly the same length. Once they are all cut, use a chisel to make grooves into their edges and centre like an outline of where your kayak will sit. Apply some glue and place it in its place. Let the glue dry before using it for storage.
5. DIY Kayak Rack From Scrap Wood
It is easy to make a rack to store your kayak. This project is perfect for those who have an old wood or scrap wood in the garage. The first step is to measure the kayak and then cut a piece of wood accordingly. Then screw all parts together with screws, and you are good to go! Learn how to make this kayak rack from scrap wood in less than an hour. It is super easy and cost-effective!
6. DIY Kayak Rack
Kayaking is a great way to get your mind and body out of the city. However, finding the perfect spot to store your gear can be challenging when you get there. With this DIY kayak rack stored in your garage or shed, you will never have to worry about trying to fit all your kayaking equipment into one spot again! This simple, inexpensive kayak rack can be built in about one day or less. It is solid and durable, looks great in your garage, and stores your kayak for easy access.
7. How To Make A Kayak Rack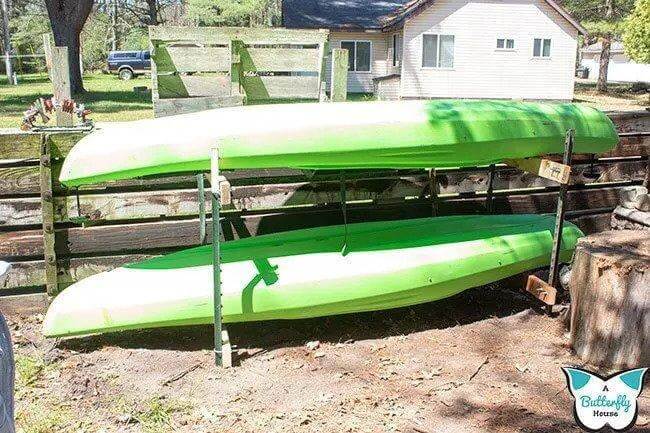 Are you looking for a kayak rack that will last for years? Making a kayak rack is easy, inexpensive, and excellent for the environment. It is also low-cost enough that you can make several of them in different spots around your property. This simple kayak rack is quick and easy to make but sturdy enough to hold your boat securely. Make it in just a few minutes with materials from any home improvement center.
You can also see: DIY Kayak Trailer Plans 
8. DIY Kayak Rack
Whether a kayaker or paddleboarder, this DIY kayak rack is an easy way to keep your gear stored safely. It is made from wooden shelf brackets and a single metal rod for easy mobility and reliable storage. Build your kayak rack for storing your boat and supplies using these easy-to-follow plans. They provide measurements and cutting templates so you can customize them to fit your needs. The rack fits one boat, but it is easy to modify the design if you want to add more!
9. PVC Kayak Roof Rack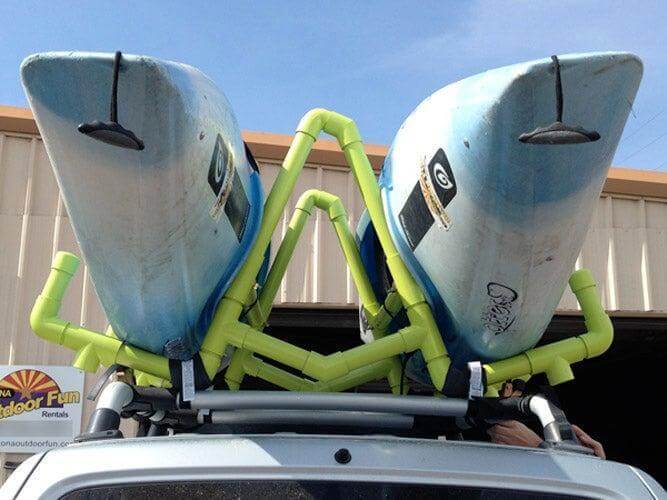 Kayaking is fun and a great way to exercise. However, transporting your kayak can be a difficult task. This PVC Kayak Roof Rack will help if you want to transport your kayak from one place to another. This kayak roof rack is easy to assemble, transport, and install. It can hold up to 2 kayaks securely on your vehicle's roof. The PVC pipe used in this project is light, durable, and weatherproof. You can use this kayak roof rack to transport all kayaks, including sea kayaks and fishing boats.
10. Best Kayak Storage Rack Build
This kayak storage rack features a unique, functional, and affordable design. It is easy to build, can be completed at the weekend, and can hold several kayaks of any size. The build process is detailed in step-by-step instructions with illustrations, so you can follow along easily, even if you are new to DIY projects. The design is simple, and the structure is made only from plywood and PVC pipes. Its parts are readily available in your local hardware store or lumber yard.
11. How To Make A Kayak PVC Stand
This homemade kayak stand is so easy to make that you wonder why you have not made one before. It is ideal when space is limited, and everyone needs a place to hang their next adventure in the garage! Here is how you can build a kayak stand that keeps your kayak off the floor and upright. For this project, you will need some PVC pipe, fittings, elbows and glue. This project can be completed by following simple instructions in this video that do not require special knowledge about plumbing.
12. DIY Kayak Rack Build
If you are a kayaking enthusiast, you will know that it takes up much space. You can use this simple DIY project to organize your boat and prevent any accidents from happening. This DIY kayak rack is easy to build and requires minimal carpentry skills. Made from a box of high-strength vinyl coatings and four caster wheels, this rack will keep your investment safe and secure. It is also compact and lightweight, so you can take it with you when you travel. Keep your kayaks organized and secure with a DIY kayak rack.
13. DIY Kayak And Bike Rack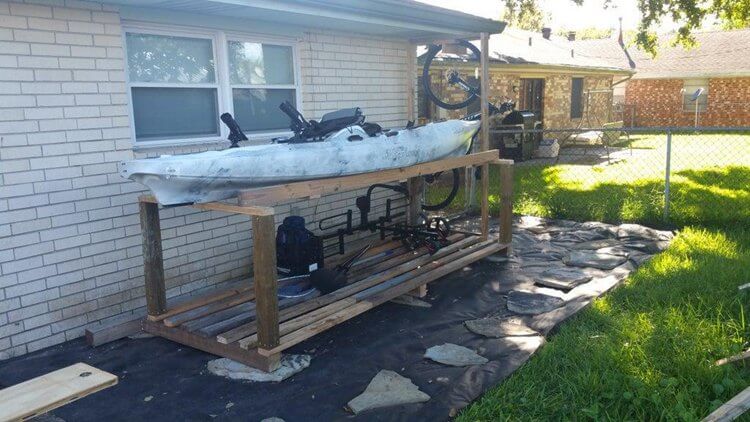 Have you ever wanted to get the most out of your garage or shed? Well, this kayak and bicycle rack is just what you need. Created from scrap wood and with a black paint finish, this simple rack can be installed in no time with the supplied instructions that include a complete material list and diagrams. This DIY kayak and bike rack is simple to make and only requires a few tools, such as a circular saw, a speed square, vice grips, and a nail gun. The finished product will look great in your garage or shed, allowing you to hold two kayaks or two bikes in the same space as one.
14. DIY Outdoor Kayak Storage Rack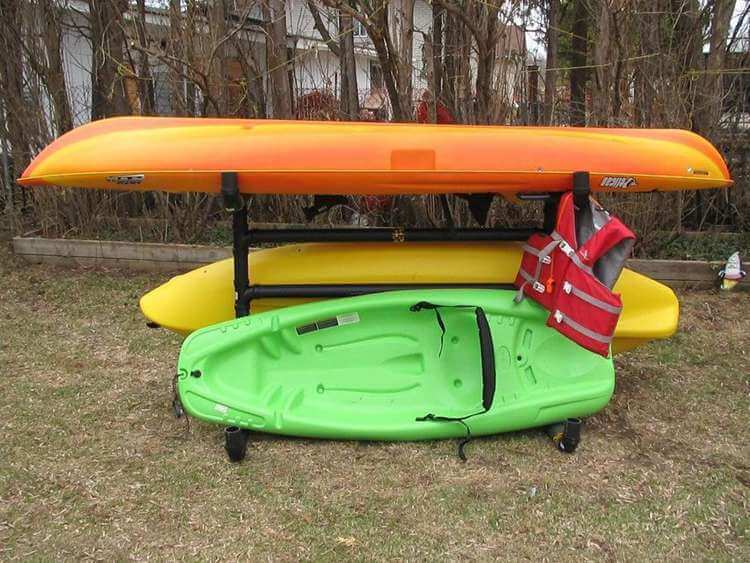 Keep your kayak safely out of the way and get more space in your garage by building a DIY outdoor storage rack. This simple design will mount to a wall, out of the way, keeping your kayak upright and off the ground. If you have a warm and spacious garage or shed, you can use it to store your kayaks. You can build an overhead rack that holds kayaks on each other. This DIY Kayak Storage Rack is easy to make and will help you organize your kayaks in your house.
15. DIY Kayak Rack for Less than $100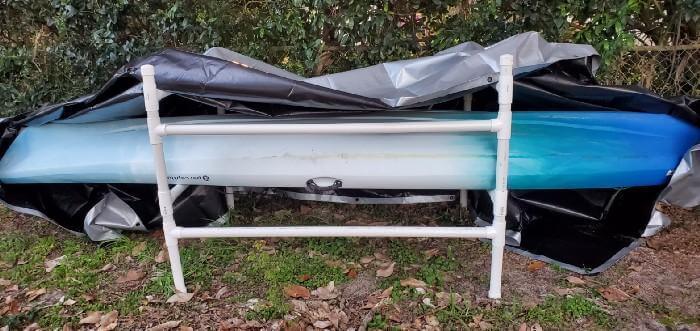 If you love having a kayak and want it on display in your home, then this DIY Kayak Rack will be perfect for your home. With a small amount of work, this fantastic product will give you a place to store your kayak without taking up much space. This is a great DIY project for the whole family. It can be made for very little money with standard materials and tools. Just get a PVC pipe, some glue and some caps to use as an end. You can add personal touches, like ribbons or embellishments that match your decor.