Discover how to build sophisticated dining chairs from old furniture with this simple DIY dining chair plan. Bring your favorite chairs back to life with paint and new cushions, or keep the existing wood as-is. These DIY dining chair plans range from simple to complex, but each is a great way to get the chairs of your dreams without spending too much money. Some chairs may require basic woodworking skills, while others need to be able to use a power drill and follow instructions. The more advanced plans might require additional skills like welding or metalworking, so ensure you can safely execute them before diving right in!
Easy DIY Dining Chair Ideas

If you're looking to spruce up your dining room but don't have the money for new furniture, you can save some cash with these DIY dining chair plans. Dining chairs are small items, but they can bring out the personality of a room, so it's a good idea to invest in quality ones that you can customize to your taste. There are a lot of free step-by-step instructions online if you want to learn how to make your beautiful dining chairs, and some of them are simple, so even beginners can try them out. You could also use these plans to help fix up old furniture or redo an existing piece that you already own—why spend money on something if you can make it yourself?
Benefits Of DIY Dining Chair Plans
DIY dining chair plans can easily get exactly what you want without dealing with a furniture store. Here are some of the benefits of DIY dining chair plans:
You will better understand how much each piece costs and how long it will take to make it. This will help you plan for more time or money if needed.
You can choose the best materials for your needs and budget.
Most importantly, you can customize your dining chair plan to fit perfectly with your decorating style!
Dining Chair
You can add a dining chair to your home to create a more comfortable space for you and your guests. The chair is an excellent addition to your living room or kitchen area, where you can gather with friends. The Dining Chair, with its contemporary silhouette and graceful lines, is a timeless classic designed to be the cornerstone of your entertaining ensemble. The Dining Chair is a light and simple chair for the dining room. Whether hosting an intimate dinner party or entertaining a crowd, this dining chair will complement your space. Crafted from sturdy material, this chair is designed to last through many gatherings while ensuring you're both comfortable and stylish.
How To Build Wooden Chairs For Dining Table
One simple wooden chair can change the look of your dining room dramatically. The wooden chairs are perfect for those with limited space and budget to buy a new dining set. Building a wooden dining chair can offer some advantages over purchasing the chair. You get to create a beautiful piece of furniture, usually saving money. Building a custom dining chair that fits into your home design scheme is possible in as little time as it takes you to finish one chair. Using this step-by-step video tutorial, essential tools and materials, you can build a comfortable wooden chair.
DIY Dining Chairs For Less Than $100
Need a new set of dining chairs to go with your antique table? This easy DIY project is the way to go. Best part? They cost less than $100! This is a super easy project and will be an impressive addition to your kitchen or dining room. You'llYou'll save money, too! This step-by-step video tutorial shows you how to make these dining chairs with minimal tools and materials. These DIY dining chairs will add a touch of rustic charm to your home. They are perfect for sitting around the dinner table or as extra seating when hosting a dinner party.
Building a Midcentury Modern Dining Chair
There'sThere's nothing as sleek and stylish as a modern mid-century dining chair. Now it's time to create your own! This step-by-step video tutorial will show you how to build a midcentury modern-style dining chair. This would make a great piece in your home or the patio. You can build your dining chair with a little effort. You'llYou'll be able to adjust it to match your style or the room it'sit's placed in. This project involves easy construction techniques and should only be attempted by those with some experience working with power tools!
Making A Dining Chair
A dining chair is an essential piece of furniture in your home. Whether looking for a chair to go with a new dining table or redecorate your kitchen or dining room, you need a functional and stylish chair to make the experience worthwhile. This project is an excellent option for learning how to use hand tools. This project is manageable and can be completed concisely by nearly anyone. If you have a chair that has seen better days, you can use that furniture instead of buying new materials. The great thing about this project is that it looks like a professional did it!
How To Build A Dining Chair
A chair is an essential piece of furniture for any home and office, as it provides a place to sit comfortably in case of official meetings or formal gatherings. Good dining chairs make all the difference in your dining room. Making your own would ensure even better quality, design and comfort. You can learn how to build this simple dining chair. This step-by-step video tutorial will teach you how to build a dining chair to brighten your dining area. The process takes a few hours and is ideal for beginners because no prior experience is necessary.
DIY Upholstered Dining Chairs
If you love the look of upholstered dining chairs but want something a little more budget-friendly, try this DIY project to create your custom dining chairs at home. Once you've made your dining chairs, you can easily use them in various settings and rooms. This upholstered dining chair is a perfect DIY project, and with just a few tools, you can convert any old dining chair into a beautiful new seating option. It'sIt's an excellent project for beginners who want to try upholstering and get some practice before tackling an oversized chair or couch.
Modern Angle Chair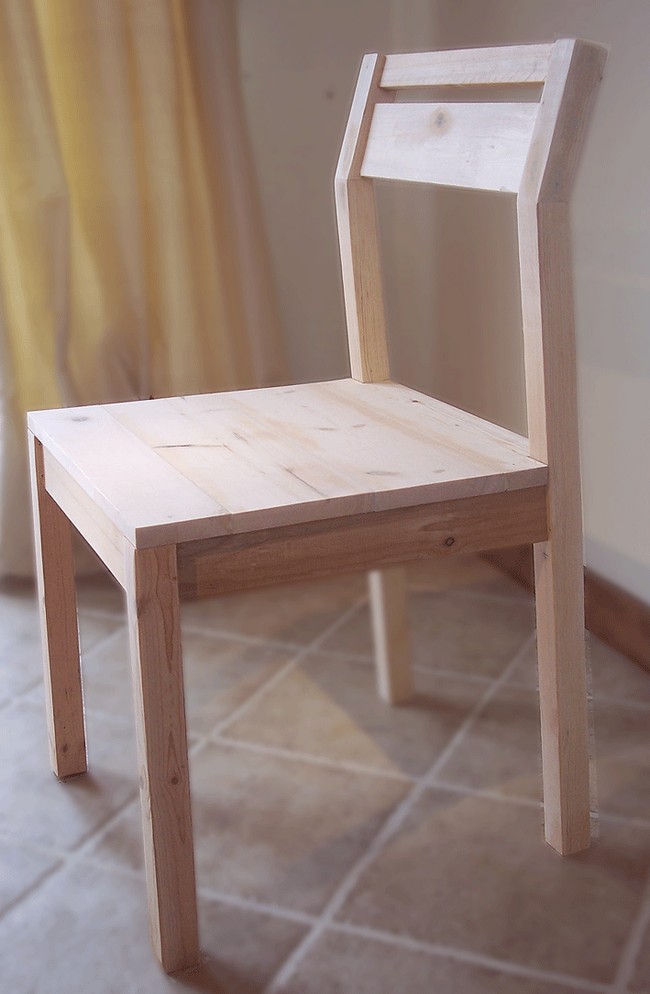 Everyone loves a good lounge chair. It is excellent for reading, relaxing, and even working in a pinch. The Modern Angle Chair has just enough of an edge to keep things exciting but only a little design for the casual user. Designed to provide total comfort and support, the Modern Angle Chair features a sleek design that works equally well in professional and home office settings. With its gently angled shape, the chair conforms to your body for long-lasting sitting comfort. The modern design makes it the perfect accessory for any decor, and the various color options allow you to choose the exact look you desire.
Easy DIY 2×4 Chair Plans Outdoor Dining Chair
Are you looking for a simple, easy DIY 2×4 Chair Plans Outdoor Dining Chair? Then this is the perfect project for you. This plan is simple and has a great result in your hands. A simple and easy-to-build outdoor chair that is designed for versatility. It can be used as a dining chair, garden chair, deck chair or just placed around the patio. Budget-friendly, this chair is an excellent addition to your garden or any place. Check this step-by-step tutorial on how to build one on your own.
Ladder Back Dining Chair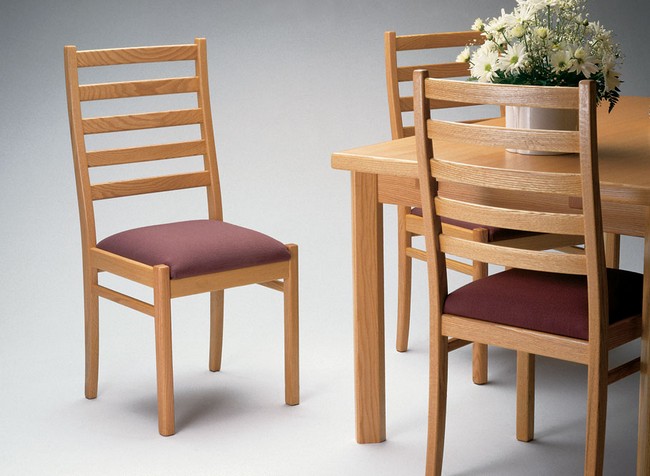 Refrain from sacrificing function in the name of style with this ladder-back dining chair. The ladder back design is an extension of the traditional spindle back chair, which carpenters and furniture makers used to mimic open-air ladders. A smaller, contemporary version like this is perfect for your dining room or kitchen table. Made of sturdy material, each chair features a ladder-back design and welt accents for traditional appeal. This is also an elegant addition to any dining room, and this ladder-back chair features a timeless design with quick and easy assembly. The beautiful mahogany finish is sure to compliment any room decor.
Classic Chairs Made Simple
A chair is a very personal object. Combining the elements of simplicity and sophistication, these Classic Chairs made Simple create a classic for your home. The sleek design allows for easy use as multiple chairs at a time or as a singularly unique piece. There are so many options to choose from—but once you find the perfect one, you'll wonder how you ever lived without it! It is used for many hours daily, so it must be functional and comfortable. A simple design in either classic or modern style combines exceptional comfort with lasting value—making it the perfect chair for any home or office.
DIY Wingback Dining Chair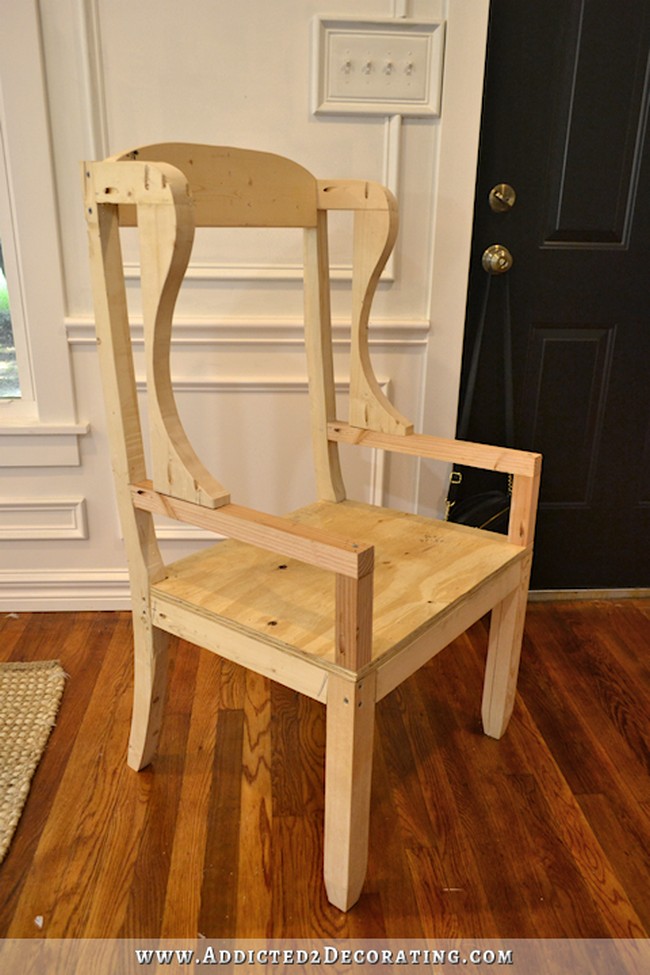 Elegantly updating your dining room with this unique wingback chair is simple using this step-by-step tutorial for this easy chair project. It is sure to provide you with an attractive seating area that is an inviting spot for family & friends. Create the perfect wingback dining chair that will be the talk of your guests' conversations. This Dining Chair is also an excellent project for an intermediate builder. This chair is perfect for extra seating, with the bonus of a touch of style. Build it, and you'll have a beautiful set of chairs that will last generations.
DIY Pallet Dining Chair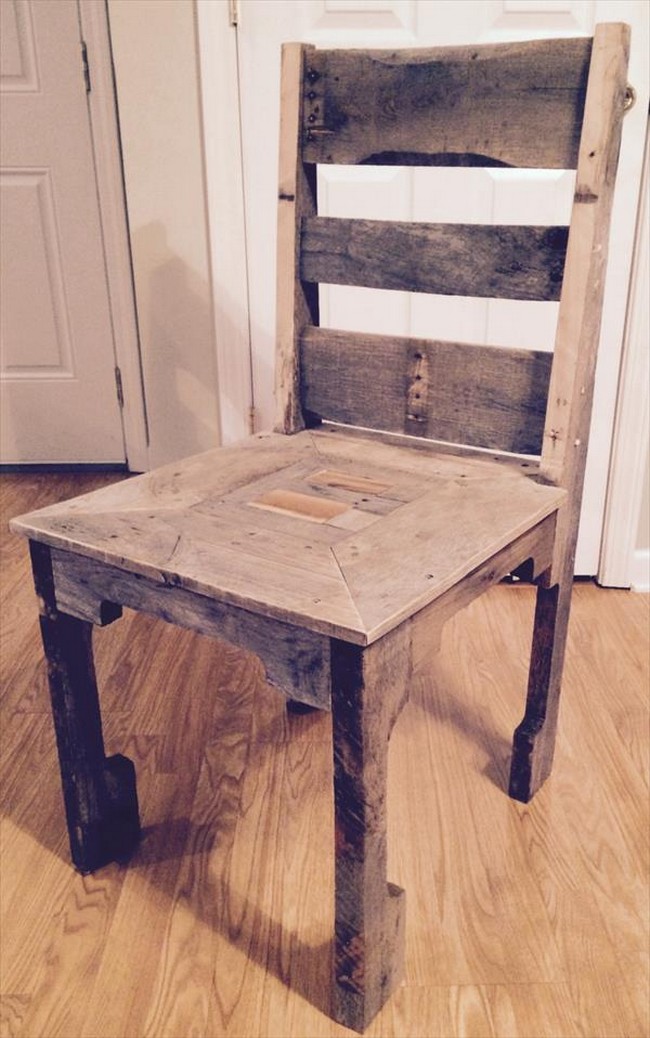 Create a rustic, livable space with DIY Pallet Furniture. This dining chair'schair's frame is made of sturdy pallets that provide a comfortable sit and a stylish look. This Pallet Dining Chair is quickly built and is fantastic to look at. In this project, you will learn how to build your own Pallet Dining Chair with a step-by-step tutorial that is easy to follow at home. The project itself can be completed with essential DIY tools that you most likely already have lying around the house. It is perfect for any room, from kitchens to living rooms and bedrooms.
Dining Room Chair
Bring style and comfort to your dining room with this dining chair. A dining room chair is an item that can make or break your dining room experience. This chair has a modern, sleek design and is made of sturdy material that will last for years. Careful consideration for comfort and style makes this chair where family members can come together to enjoy each other's company. This dining room chair is simple but has a distinguished look. Use it in the dining room, living room and more! Just follow this step-by-step tutorial to make this on your own.
DIY Furniture Plans To Build A Shabby Chic Cottage Dining Chair
These Shabby Chic Cottage Dining Chair Plans give your home a fresh look. Constructed from sturdy material, this DIY furniture project isn'tisn't your typical chair, but it is a statement piece that brings a trace of rustic cottage charm to your dining room or kitchen. This chair can be painted and styled however you like. Use it as an accent piece, or let it serve as the primary seating in your dining room. Here is a step-by-step tutorial, so even if you're not experienced in carpentry, you should be able to follow along by yourself.
Rustic Dining Chairs
Could you define your space with these rustic dining chairs? With great features and incredible attention to detail, these chairs are sturdy and durable and will make timeless additions to any kitchen or dining room. The rustic style of these chairs is great for bringing a little extra country charm to any kitchen or dining area. This dining chair allows you to enjoy the comfort of resins without worrying about cleaning or maintaining your chairs. Not only are these perfect seating solutions, but these chairs also help to add a warm atmosphere to your dining room.
How To Build The Easiest Dining Room Chair Ever
If you love woodworking and building things from scratch, or if you're wondering how to build the easiest Dining Room Chair Ever, this step-by-step tutorial is for you. Building a dining room chair with essential tools and materials is effortless. This will be a great project to dive into if you've never built anything. Anyone can build this chair and turn it into a custom piece of art that you will want to maintain for years to come. Follow this step-by-step tutorial to make this on your own.
Free Plans To Build A Dining Chair
The dining chair is one of the most used furniture in your home, so be sure to make it count. This step-by-step tutorial will walk you through building a dining chair from scratch and giving it a beautiful finish. This simple and easy project takes less than a day to complete if you have all the required materials. These plans show you how to make this chair from scratch and provide you with all the information needed to take full advantage of all the materials used in construction.