We have the solution if you're looking for the perfect chairs to accompany your patio or garden area. Build a new set of patio chairs, or create a new chair to replace an old one. You'll find a wide variety of styles, shapes and sizes - from traditional to ultra-modern - in this collection of 12 DIY patio chair plans from some of the best woodworking authors. Each design includes full-measurement drawings for constructing the most crucial components and instructions for the entire project. These DIY patio chair projects are great for getting the most bang for your buck—and all of these plans come with step-by-step instructions and color photos of every stage of completion.
DIY Patio Chair Plans Free

Create your outdoor furniture with these DIY patio chair plans. Whether you build a wicker patio chair or a simple Adirondack-inspired chair, these plans offer many options for every skill level. Whether you're looking to build an outdoor dining set or porch swing, we have 12 DIY patio chair plans. These plans make for the perfect outdoor seating for your home or garden. They are easy to build, and most can be completed on the weekend. Build a patio chair that fits your space, whether it's in a small apartment balcony or backyard. Use these plans to make your chairs with helpful tips and photos.
Benefits Of DIY Patio Chair Plans
You might think, "Why would I want to make my patio chair?" Patio chairs are simple and easy to build. They are also great for spending time outdoors with your family and friends. Here are some benefits of building your patio chair:
-You will save money by building it yourself.
-You can customize the chair to fit your needs.
-There is no limit on how many you can build at once and store for later use.
-Building something yourself can be very rewarding!
DIY Modern Outdoor Chair
If you're looking for an easy and modern patio chair that you can build yourself, this DIY Modern Outdoor Chair will be perfect! You can use it inside or outside the house. This modern outdoor chair is simple and creates a comfortable seat with a clean, minimal look. The legs are made from 2x4s, and the upholstery fabric is attached to the frame with staples. This DIY project requires only basic carpentry skills and can be completed in just a few hours.
2×4 DIY Patio Table And Chair Set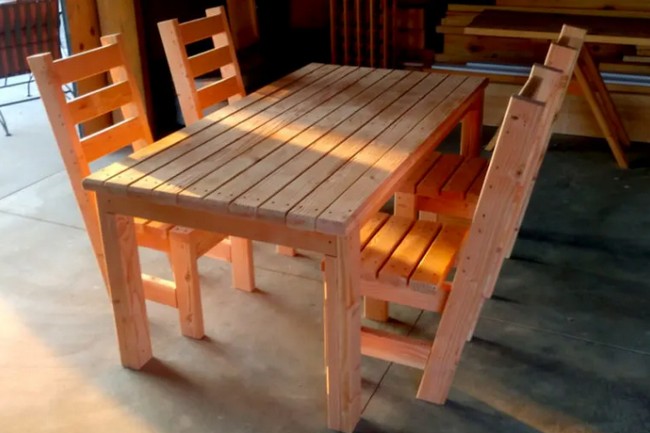 Looking for an easy-to-build patio table and chair set? Here you go! Although this project takes little time, it does require basic woodworking skills. If you can cut, measure, and screw a few boards together, then you're good to go! Create this DIY patio table and chair set in just a few hours, and enjoy relaxing on your porch or patio all summer. This simple project is a great way to update those old bright red plastic chairs that came with your set.
Outdoor Arm Chair
Do it yourself! This outdoor armchair is simple, modern and elegant. The design is perfect for every patio. It has a sturdy, tubular steel frame that will last for years. The polyester fabric comes with a matching padded cushion and a back pillow that gives extra comfort. This DIY outdoor armchair is lightweight and easy to move around. It is made using only two 2x4s, some screws and a few other pieces of wood. All you need to do is cut the boards according to the dimensions provided in the instructions, then follow directions for drilling the holes and attaching the pieces.
The Perfect Outdoor Chair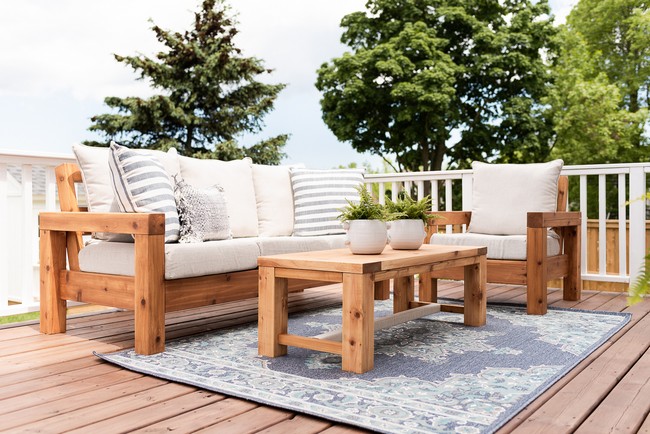 When the weather gets warm, there's nothing better than relaxing outside in your patio chair. This DIY tutorial will teach you how to build a perfect outdoor chair that is comfortable, unique and stylish. You can customize it with fabric, paint and other design elements to make it your creation. Outdoor furniture is the perfect way to create a more comfortable backyard experience. With this easy DIY patio chair plan, you can create a perfect seating set for your backyard.
Modern Outdoor Chair from 2x4s and 2x6s
This simple DIY patio chair is an easy way to upgrade your backyard seating from a simple design to a sturdy construction. Made from 2x4s and 2x6s, the chair is built with mortise and tenon joinery for strength and durability. Simple woodworking joints like the mortise and tenon are helpful for more than just furniture building; these instructions show you how to build a chair that will last for years, so you can continue adding new pieces as time passes.
DIY Patio Chair
Add a touch of elegance to your patio with this easy DIY Patio Chair. Made from simple materials, anyone with the desire and the ability can accomplish this project. With this project, you'll be able to curl up with a good book or chat over cocktails with friends without worrying about splinters or broken slats. It is easy to build, solid and stylish. And it's perfect for relaxing with your loved ones after work or enjoying a cold drink while sitting in your backyard.
Patio Chair
Enjoy outdoor dining with a comfortable patio chair. Made of teak wood, this durable tabletop is the perfect addition to your patio space. A great addition to any patio, this DIY Patio Chair is easy to make and relatively inexpensive. The only tools required are a drill and a screwdriver. No power tools are required! You will better understand the furniture's constructions and parts by making these yourselves. You can make this chair with different materials and customize them according to your liking!
Outdoor Lounge Chair Build Plan
Build this DIY Patio Chair with their free plan, designed to be a low-cost and easy weekend project. This DIY chair can be completed with suitable materials and tools in only a day or two! The combination of affordable materials and simple design makes this a great beginner carpentry project. This outdoor DIY lounge chair is suitable for an easy outdoor bench with storage capabilities by adding drawers under the seat.
DIY Modern Outdoor Chair Free Plan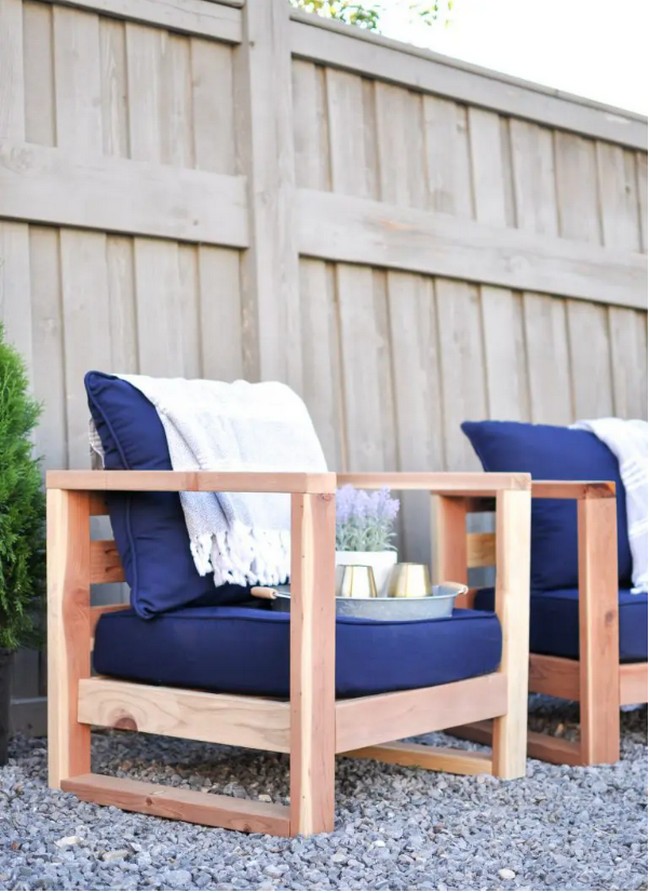 Learn how to build this fantastic modern outdoor chair with many beautiful designs. This free DIY patio chair plan will teach you everything you need to know about building this modern outdoor chair. You can learn how to cut, sand and route the wood for all the necessary parts and build this fantastic chair. Build a nice modern outdoor chair with this plan. They are easy to make, and you can use any wood. You also have a choice of paint color, so you can make it look like anything you want. Have a great time building it!
DIY Outdoor Chair
Enjoy your outdoor space in style with this DIY patio chair to build yourself. This beautiful planter makes a lovely presentation in your garden or patio. The design is simple and stylish, which makes it perfect for any home décor. When you're ready to relax outdoors, make it as comfortable as possible. This simple DIY project is great for spending time on your patio or deck and is a relatively easy build that requires only essential tools.
DIY Patio Chair with Plan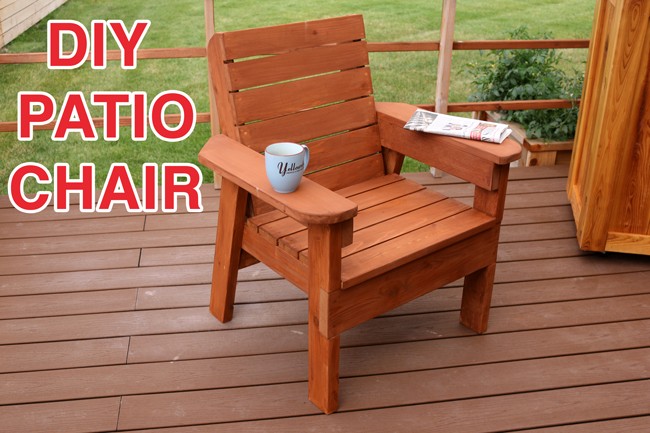 This DIY Patio Chair makes a dramatic statement in any house room. Its large proportions, beautiful lines and subtle details will impress visitors and delight everyone sitting there. The DIY Patio Chair is the perfect addition to your patio or balcony. Made with durable, long-lasting materials and grown for upholstered, comfortable seating. The arms are spacious enough to rest your elbows on, and the footrest provides additional comfort. Not only does this chair look great indoors, but it can also be used inside!
Simple Modern Outdoor Chair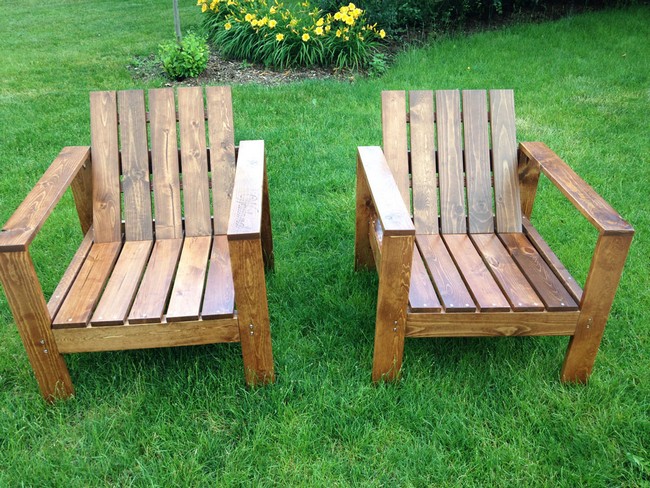 This easy-to-build outdoor chair is the perfect project for beginners or DIYers wanting to update their deck or patio, and it is just as stylish as it is functional. Make your outdoor space comfortable and inviting with our DIY Patio Chair. Easily assembled without tools in the shape of a chair, this stunning piece brings a modern look to any outdoor setting. This DIY Simple Modern Outdoor Chair is the perfect weekend project for the summer sunshine. With a few simple tools and patience, you can make your patio chair that will look great in any yard.