They say home is where the heart is, and if that's the case, then I think we can all agree it needs a little more sparkle in it. It's time to dust off your glue gun because getting crafty with them can bring a lot of joy into your life. I am happy to present you with 20 amazingly outstanding DIY crystal chandelier ideas that you can make from the comfort of your home. Crystal chandeliers are the best for a modern home, but it will cost you a fortune to buy one.
This is a perfect idea if you want to save money and make something beautiful in your home. You can also take help from any professional decorator so that they can make this design exclusively for your house. All you need to do is get some beautiful crystals and then get creative. Whether you are looking for a new way of decorating your living room or bedroom, these ideas will help you. Making these DIY chandeliers is not that hard, the only thing you need are some beautiful crystals, and then, BAM! You have yourself a stunning décor! These DIY crystal chandeliers are easy to make and are a great way to add some style and glamour to your home.
You Can See: 15 DIY Solar Light Projects
DIY Crystal Chandeliers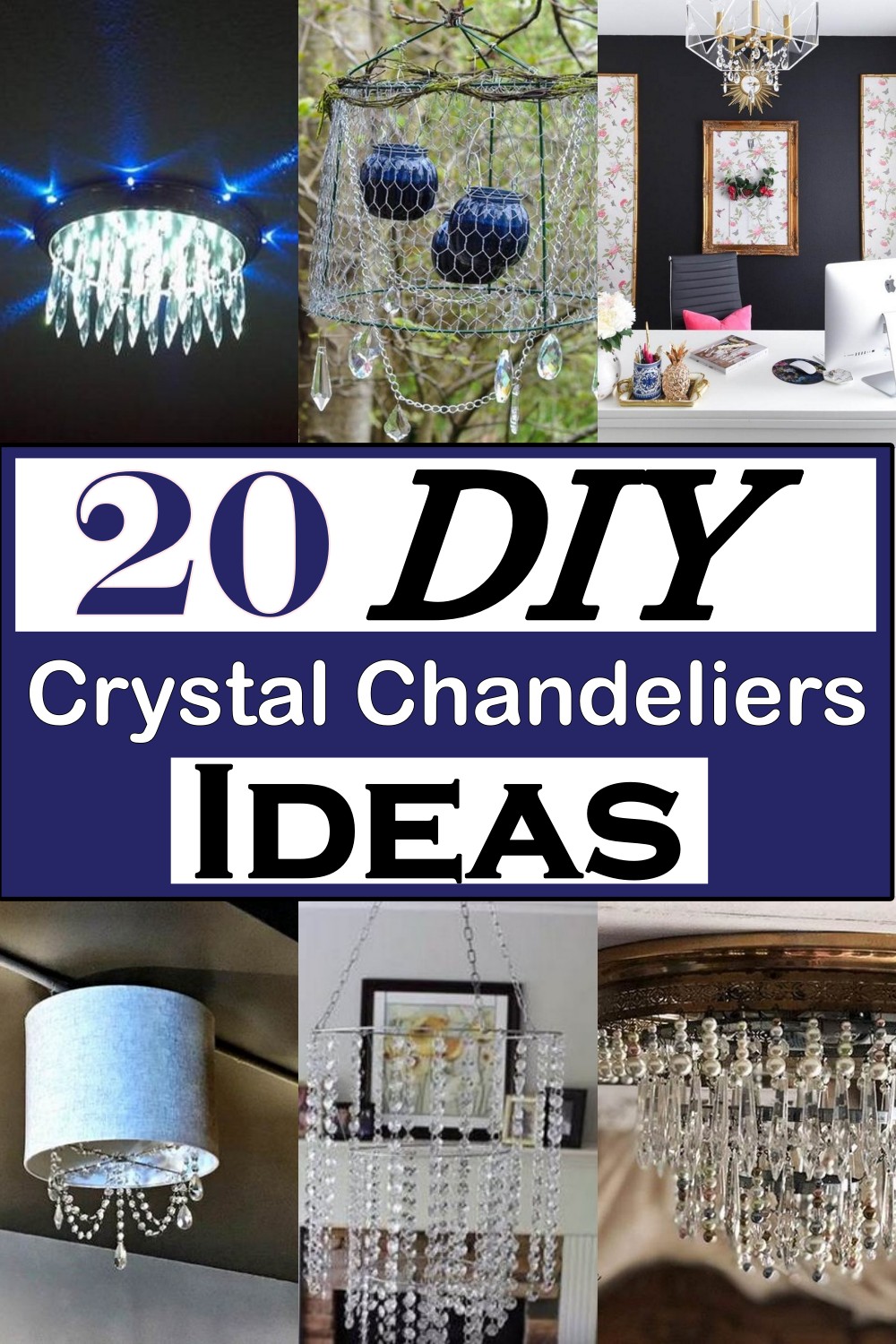 Add some bling to your home with a DIY crystal chandelier. They not only look fantastic, but they can also be as individual as you are. It is made from various materials and styles; these crystal chandeliers come in all shapes, sizes and shades, meaning there is one for every room. A crystal chandelier will bring light and elegance to any room, and this DIY project will look amazing in your dwelling. You can make one for yourself with these easy steps and these stunning results.
How To Make A Crystal Chandelier
If you love a good DIY project and want to create a beautiful chandelier, this one is for you. It's simple yet elegant and wonderfully easy to create. If you want to recreate this beauty in your home, get yourself some paint, hooks, a rack and some crystals. There is no brighter statement in the home than a crystal chandelier. This DIY project will add elegance and a classic style to any room in your home. It's simple yet beautiful and wonderfully easy to create. The hardest part of creating this chandelier might be finding the perfect place to hang it!
LED Chandelier Light
This DIY LED chandelier requires no special skills and gives you amazing results. It's easy to do, and you can customize it with your favourite colours. This DIY project is perfect for any room in the house. Create a unique crystal chandelier that looks amazing and gives the perfect mood for any space. Just remove the electrical parts of a lamp base, carve out your design, attach LED lights and crystal beads then add it to the ceiling!
DIY Crystal Chandelier Tutorial
Make your own chandelier with a few crystals, chains, and a wreath frame. You can make this easy candle chandelier for as low as $20, and it will be perfect for any room in your home. The first and last loops of the wreath frame are removed so that you can attach the strings and then the crystals to the frame. This crystal chandelier is a great piece, not just because of its beautiful design and style but also because you can make it at home. This DIY crystal chandelier is one of my favourites. It's easy to make, just follow the guide and get the required materials. So let's get started on this tutorial.
DIY Crystal Ball Chandelier
Give your space a great vibe with the DIY crystal ball chandelier. This round and rolling look will add elegant form and function to any room, making it a stunning addition to your decor. This DIY crystal ball chandelier is perfect if you want to create a more modern and trendy vibe. First, you will need to pick out your fixture. You can use a lamp socket with a light bulb already in it or make your own. Then thread the lamp cord through the top of the socket and split the end with a wire stripper. Add some crystals followed by the bulb, then hang above your table to create light and magic!
DIY Chandelier With Crystal Beads
Here is a creative DIY project that can be done in the comfort of your home. This crystal bead chandelier will cost you less than what you would have had to pay for a store-bought one. Get your friends on board and have them help you pull this off. It requires some really good skills but you are in luck we have explained everything in detail and got step-by-step instructions. This DIY chandelier is simple and easy to create. You will need a chain that is easy to find, a Thin and flexible jewelry wire, and a hot pot stand. The best thing about this beautiful and stunning crystal beaded chandelier is that it uses only crystals.
DIY Crystal Chandelier
This DIY crystal chandelier is a great way to add a little touch of glamour to your decor. All you need is a lampshade, some decorative crystals, and your imagination. You can use any kind of lampshade, as long as it has a hook and chain attached. Start by spray painting your chandelier according to the desired color or pattern you have chosen, then add your favorite crystals to make it shine. The bigger the crystal is, the better! You can even make smaller clusters inside your larger ones. This DIY crystal chandelier is perfect for those that love to tinker with DIY projects and decorating. This DIY project will give you a beautiful sparkly chandelier that you can hang in your home, office, or dining room! The best part about this DIY project is that it's cheap and easy to make!
DIY Chandelier Makeover With Crystals And Beads
Chandeliers are some of the most beautiful and elegant highlights you can add to your home. But, with time, they stop being as pretty as they used to be. Who says that you can't play with your chandelier? If you want a more daring look for your home decor, try this DIY chandelier makeover. Grab a shabby white chandelier and layer beads on it to create beautiful designs! A simple DIY project will have it looking modern and chic again. This project uses beads and crystals that can be found at your local craft store. This step-by-step guide will help you create an eye-catching piece of art that would make even the most fashionable friend jealous.
DIY Crystal Chandelier
Are you ready to take your light fixture from ordinary to outrageous? This DIY crystal chandelier looks so amazing, we can't wait for you to make it at home. This crystal chandelier is the perfect way to upgrade your home. It was made from a hanging wire planter basket and spray paint that you won't believe! And it looks great in any room of the house. This hanging planter basket was originally a dull, white shade. However, with the addition of silver spray paint and crystal garland, it has become an elegant chandelier that can light up any room in your home. Your favorite light fixture is getting a makeover. This crystal chandelier will be the conversation piece you never knew you needed. First, you'll need to spray paint it, then hang your new chandelier on your ceiling. You'll also need some crystal garland and picture hangers.
9. How To Add Crystals To A Chandelier
Sometimes it's not easy to see how things are done, and adding crystals to a chandelier is no exception. You may feel that a chandelier should automatically come with crystals on it, but sometimes, you may be wrong. To add magic to your existing lighting fixture, simply follow these steps to get started on adding crystal embellishments. Give your chandelier that extra sparkle and shine by adding crystal drops.
The good news is: It's easy to do! Attaching crystal drops to a chandelier is a simple process. All you need is a pair of needle-nosed pliers, some toothpicks, and crystals. Here's how it works: A chandelier is a traditional style that's been used in spaces for centuries. A chandelier is basically like a lamp with chains that allow you to hang it anywhere. The design includes glass, crystals, and other materials to add the wow factor to any room.
10. RGB Bluetooth Chandelier
What kind of chandelier will you be getting for your home? Are you looking for something that is high-tech and futuristic? Then this DIY Bluetooth RGB chandelier will definitely be the best one. It is easy to make with simple woodworking skills and basic knowledge of electricity. This project involves a wooden box that can be used to hide all wiring inside it. You can put on crystals either at the top or on both sides as well if you like. This DIY Bluetooth chandelier is great for your home or office. You can customize the brightness, color, and light speed of the chandelier. Simply connect it to your phone via Bluetooth and control it from anywhere in the room. It is perfect for any room.
11. DIY Dollar Tree Glam Chandelier
You can make your own glam chandelier for your home with dollar tree products. This DIY is easy to make, you should use your imagination to decorate it. Crafting a chandelier from your local hardware store? Sounds like a good idea and it is one, but with a little creativity. Gather all the materials needed for this DIY project and decorate the room in your home with dollar tree products. Bend the rings and attach them to strips using paper clips, then attach these strips to each other using metallic ribbon on the base of every ring. Finally, attach each tier together by fixing all strands together through many steps until you get the perfect look and feel.
12. DIY Gold Chandelier On A Budget
Need to add some gold to your life? Add this gorgeous chandelier to your kitchen for extra elegance and sparkle. This project is easy and affordable, but it has the look of a DIY professional. You can create beautiful things out of unexpected items like DIY Gold Chandelier. The use of gold shade brings an exotic beauty to your house and gives an embellishment to the whole room. The step by step tutorials are easy to follow and make all the difference in this project. This DIY Gold Chandelier will look beautiful in the bathroom. This is a budget friendly project. You can create a chandelier with lots of beads and you will get the satisfaction of having created something very useful!
13. DIY Cheap Crystal Chandelier
Don't worry if you don't have crystal chandeliers in your house. You can make one yourself. All it takes is the right materials and a good DIY spirit. Here are some easy steps on how to make a cheap crystal chandelier: 1. Purchase a frame that is circular in shape and has an open space in the middle.
It should be slightly bigger than the light bulb you will be using so that it can hold the crystal strands. 2. Find materials for your DIY craft project like transparent beads or stones that are about three to four times larger than your light bulbs so they provide adequate lighting effect when hung from them.(Remember, most crystals do not glow by themselves.) 3. Attach these crystals to the frame with wire or string, making sure that each hangs evenly from its base point throughout the entire length of each strand 4. After securing all the crystals, add ring so it looks more decorative 5
14. DIY Crystal Chandelier
Are you trying to make crystal chandeliers look more impressive and amazing? Then, you need to try these DIY crystal chandelier projects. They are easy and do not take much time to complete. From repair a broken or cracked chandelier, painting it or changing the light bulbs; sometimes a simple change can make all the difference. This crystal chandelier is likely to turn heads. This DIY project can turn a bare light fixture into a fully-decorated one in no time. Transform those old light fixtures and make them feel new again by simply adding crystals to the candles. Once you finish putting all the pieces together, you will instantly change your surroundings for the better. There is something about lighting that can change an entire room instantly, so it is important to have beautiful lights hanging above your head as well as on
side tables
, cabinets and desks.
16. DIY Linear Crystal Chandelier
Looking for a fun and exciting new project idea? This DIY Linear Crystal Chandelier is super easy to make, with minimal effort. Just follow these step by step instructions to create your own gorgeous chandelier that will add drama and elegance to any room in your house. In fact, this DIY crystal chandelier uses ordinary clear Christmas lights and clear cut crystals that are affixed to create a fun, elegant, and expensive-looking fixture. It even has an easy fix for not being able to install it directly above an outlet. Choose the color crystals based on your décor or the season. Hang it up and admire the beauty of creation!
17. Rustic Outdoor Crystal Chandelier
Creating a DIY crystal chandelier for outdoor needs is fun and easy, and really shows off your decorating skills. This can be done using a medium size tomato cage that has beautiful shapes and comes in vibrant colors. You will need chicken wire, tin snips, pliers, wire cutters & craft glue! After you have wrapped the tomato-shaped cage with chicken wire, use some pliers to secure it in place. Next, you can add on any crystals you like or think would look great next to each other. Once those are added in place we can move onto the garland part of this project which will add more layers and depth to our piece."
18. DIY Drum Chandelier With Crystals
Do you love DIY projects? If yes, then this drum chandelier idea is just for you. Grab your tools, some plastic drums and some crystals and get started with your project. How would you like your space graced with a drum chandelier? If so, then this project is right for you. It is budget-friendly and can be accomplished in a few hours. All that you need to do is to purchase the drums, get really crafted crystals and bead them onto the chandelier. You can use a jewelry wire to secure the crystals to a frame. When you are done with this, you would love to mount the shade onto your light fixture.
LED Crystal Firework Chandelier
The battery-operated, firework-shaped chandelier is a fun, and easy do-it-yourself project for lighting anywhere. The light is dimmable, adjustable to any angle and has a strong detachable base to be positioned where you need it. Upcycle a solar light strand into a beautiful statement piece, or add to our other tutorials and make your own unique DIY crystal chandelier. This firework-inspired chandelier is never a dull sight. Use it to decorate your home, or hang it from your porch for a DIY nightlight. This Chandelier is perfect for any space that needs some extra bling!
20. DIY Faux Crystal Hanging Chandelier
Create an elegant, yet unique chandelier for your home. With only a few items and some simple steps, you can have the perfect crystal chandelier hanging overhead in no time! There are several different ways to create your own custom-made chandelier. The most popular choice is to use a light bar as your base and add additional lighting. This can be a great idea if you want lots of light as well as alluring aesthetics! Another option that is quickly rising in popularity is to take an existing chandelier, remove all but one or two large crystals, and spray paint the remaining crystals with spray paint ideally suited for this type of material.
How To Hang Crystals On A Chandelier
When you are looking to hang crystals on a chandelier, there is a great way to do that. You can use staples to pin them on using a stapler pin. The method is really easy and all you need to do is insert one side of the stapler pin through a crystal and the other side down through the frame, making it easier for you to push your chandelier through it. To hang crystals on a chandelier you need to make sure the holes are very tight, so that it will create a perfect surface to put your crystals through. The easiest way to do this is by using a stapler pin which you can purchase at any hardware store. Insert one of the legs through the crystal and push the other side down through which will hold it in place.