Are you looking for inspiring DIY solar light projects? With these fun, easy, and cheap projects, there is no need to take up the limited room in your home with new lighting when there are many low-cost ways to bring plenty of gorgeous light into your home with Solar Lights. There are 15 DIY Solar Light Projects to start off for free. All these DIY Solar light projects are cheap and provide you with all the information and plan you need to build your DIY solar light, allowing you to beautify your home and garden at night. You can beautify your home and garden with beautiful lights from DIY Solar Lights to add that special mood and touch to areas in need of love.
The first thing to do is to build a solar light yourself, and the list below is some of your favorite projects that you can easily do it. There are many different types of solar lights that you can use for your outdoor decor. You can use lanterns, garden lights, torches, or even chandeliers. The beautiful thing about using solar lights as outdoor decor is that they are very easy to maintain and inexpensive. You don't have to worry about paying your electricity bill every month or replacing any bulbs. You can do many different things with solar lights, but one of the most popular is using them as a lamp post in your front yard or backyard. This will make a beautiful lighting effect in your home, and it will also help save energy.
Here are 15 great solar light projects that can help you build your own solar lanterns or improve upon the one you are using.
See More: 12 DIY Solar Fan Ideas
How To Get Start For These Solar Lights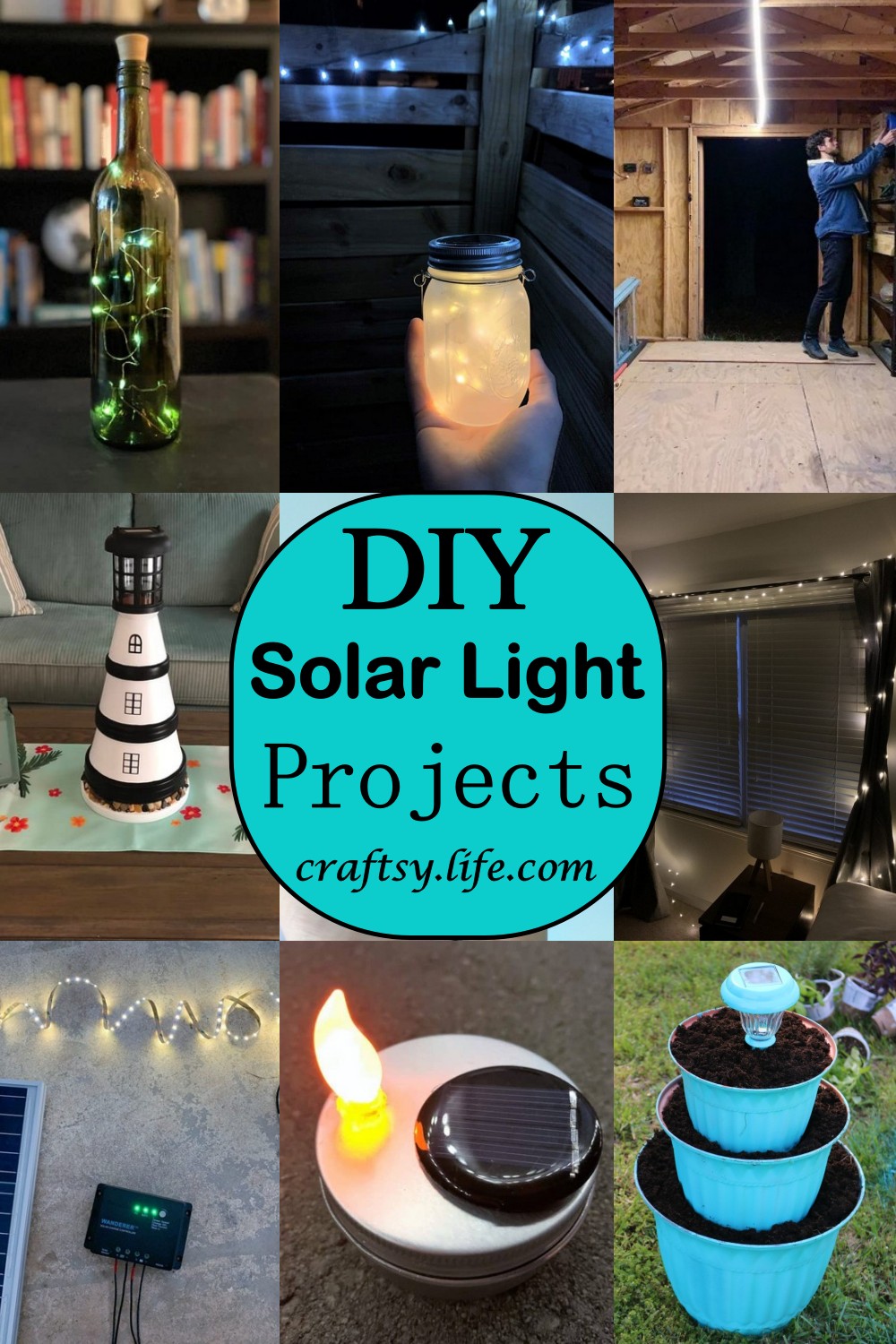 Now that you have your supplies, it's time to get started!
You will need a solar light set, which includes a solar panel and light. If you have one from an old solar light, you can use that; if not, buy a new set. This solar light set will be the base for all of your projects.
Next, get together the remaining materials for the project you want to make—such as water, wire cutters, glue, paint, and more—and set up your workspace.
Once all of your materials are assembled, and your workspace is cleared so you can move freely around it, make sure there is plenty of sunlight available. Finally, get ready to get to work!
It's time to start making your first solar light project!
Why You Need Solar DIY Lights
In today's world, we need to keep our homes safe and secure. We want to protect them from break-ins and other types of crime. One of the things you should do is get solar lights. They can be placed strategically around your home to deter would-be criminals. Read on to learn more about why you need solar DIY lights.
Solar lights are great for security. They light up at night, making it easier to see what's going on in your yard and driveway so that you can drive safely. It also helps prevent intruders from entering your property because they'll be visible from afar.
They help with energy efficiency. Solar lights are powered by the sun's rays, so they don't need batteries or electricity to work.
They're easy to install and maintain. You don't have to worry about digging holes in your yard or running wires through walls because all you have to do is attach them onto any wall surface—even concrete!
Solar lights can help reduce crime rates by making it harder for burglars/criminals who may target homes without outside lighting at night time since they won't be able to see into them easily either due to the lack of shadows being cast onto them.
DIY Solar Flameless Candle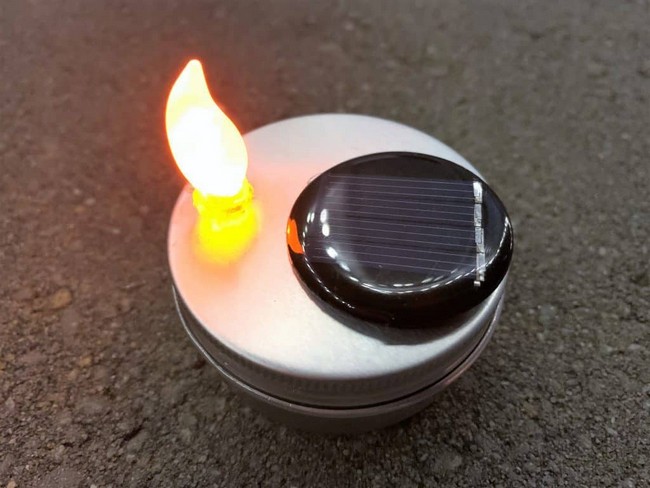 Need a little more light while you're cooking outdoors? This kit is perfect for the makers in your family who like to build and tinker. Kids love it too! Soldering required. Add a warm, beautiful light to any space! Use this DIY solar flameless candle circuit to make your own solar candle for any occasion. Great for parties and centerpieces, this DIY circuit is also a fun way to get into beginner electronics - just add our recommended parts and follow the steps below. Salvaged from an old printer, the plastic diffusers filter out most light wavelengths besides visible light, which makes them perfectly suited to this application.
DIY Solar Powered LED Lights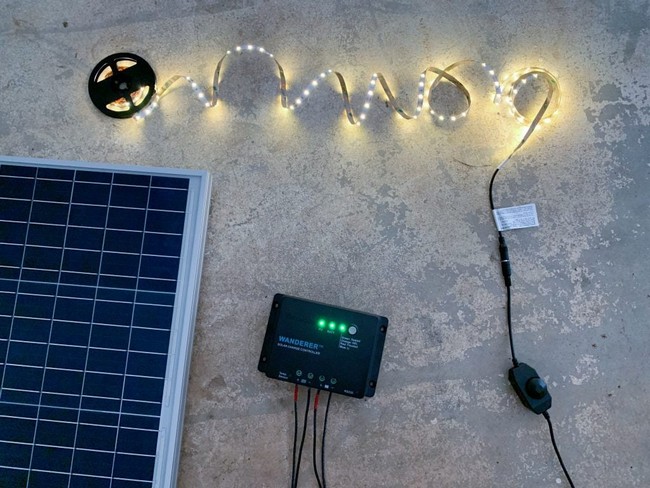 DIY solar-powered LED lights are easy to make and look great as décor or nightlights. You can simply hang or place them on a shelf. Like most solar-powered products, these awesome DIY solar-powered LED lights work by harnessing the sun's power. During the day, the panel converts the sun's energy into power that charges the battery. At night, when the panel is not in direct sunlight, it draws power from the battery and powers up your light! Once you assemble the lights together, you can use them for decoration at a barbeque or in your yard during summertime. You can also use the LED lights as nightlights in a child's bedroom or for an atmosphere during parties. Let's get started!
Glass Jar Solar Lamp
Light up your life with this Glass Jar Solar Lamp. Glass Jar Solar Lamp lets you build a high-quality craft project in no time, and you'll be proud to have made this beautiful piece yourself. There's no need for complicated wiring since the lamp will soak up the sun during the day, leaving you with an inviting glow when it gets dark. You can make these lamps when there is a power cut in your area. The Glass Jar Solar Lamp provides interior decor and illumination options in various settings. It's like having your light in your pocket, with no need for expensive batteries or complicated wiring. Now, you can make it yourself.
Jack-O-Lantern Lights
Light up your indoor or outdoor pumpkin with a reusable solar light that does not need to be plugged in! The solar panel on the top is inserted into a small hole drilled through the bottom of the pumpkin. No batteries or electric wire is needed. Bring charm to your Halloween indoor and outdoor decorations with these Jack-O-Lantern Lights. They are powered by a solar panel that soaks up the sun all day, harvesting the light necessary to cast their glow when it gets dark outside. A motion sensor automatically turns the lights on when someone approaches, adding to the spook factor. They are an ideal Halloween decorating solution with no wires necessary and a six-hour timer.
DIY Solar Bottle Bulb
The DIY Solar Bottle Bulb is a simple and easy-to-use product. You need two bottles, a plastic bag, a PVC pipe rod, and a candle with a suction cup. The Liter of Light project is an innovative, participatory project that increases awareness about the light poverty crisis and galvanizes local efforts to bring light to communities in need. Now you can make your own solar bottle lamp with this DIY kit! Once you plug it into the hole in your roof, the sunlight that comes through will illuminate your house!
Solar Mushroom Lighting
If you want something to dress up your little corner space, this new solar mushroom garden light from Dollar Tree could be just what you need. You can make this solar garden light that looks like a mushroom. It is so stinking cool, and the kids will love it! These spring solar garden lights are the perfect accent for small patios and gardens. You'll love this adorable solar mushroom gardening light, made with items you can find at your local Dollar Tree. This versatile light can also be used as a decorative piece inside your home.
DIY 12V Solar Shed Lights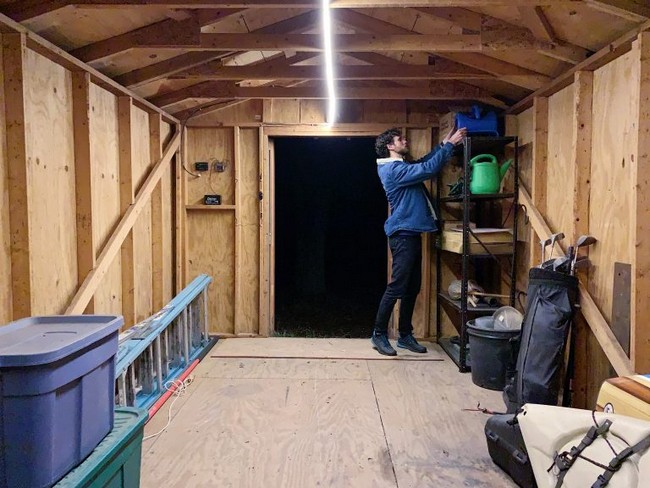 Making your own DIY solar shed lights is one of the best things you can do for your home. They are a great way to illuminate your garden and show off your creativity, while also providing a safe place to work after dark. Learn how to make a simple 12 Volt LED light with this DIY project that requires just two materials: a power source (such as batteries) and some electrical wire or cable. These materials and parts are inexpensive, and the benefits are tremendous since you don't have to run any wire through the ground.
DIY Solar String Lights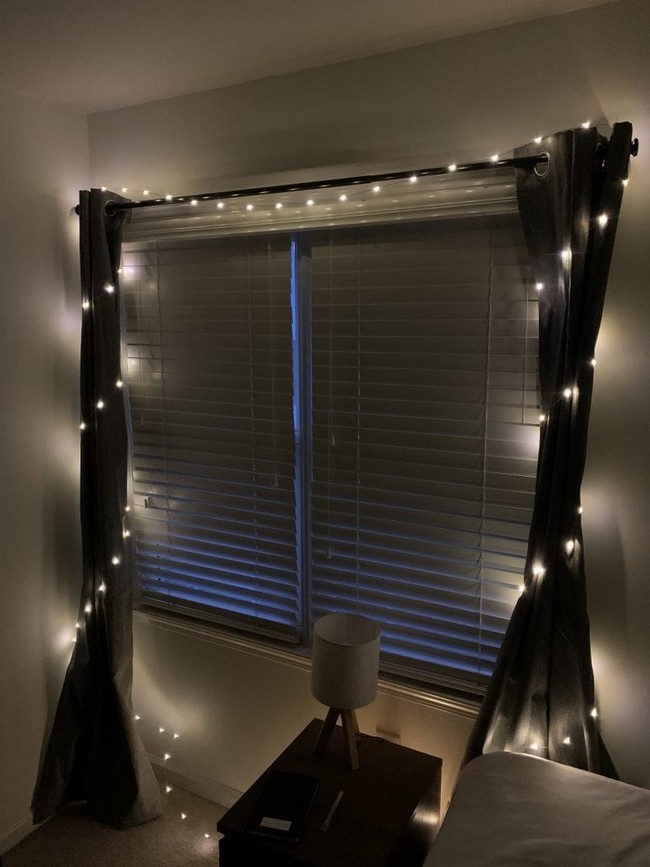 You can use outdoor solar lights to make your home a little brighter and safer. You can dress up your front porch for Halloween or use them to light up the backyard at night, just to name a few things. But you can also use solar string lights inside as well, from turning them into indoor fairy lights to mounting them on a wall or even putting them inside of glass jars or wine glasses to create your own DIY solar lanterns. These Solar Powered String Lights are already part of your outdoor decor and you can bet they'll be included in your Christmas decorations, too.
15-Min DIY Mason Jar Solar Lights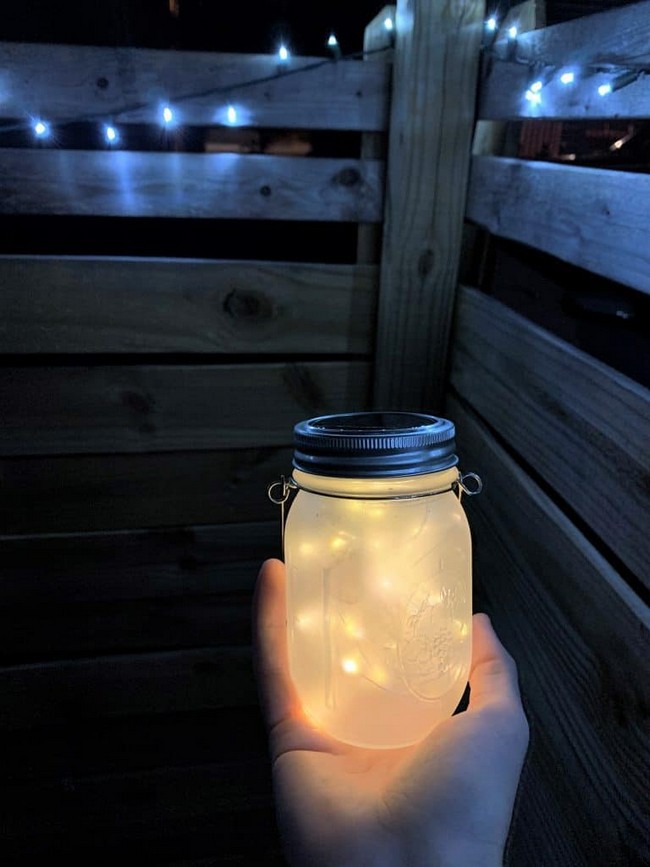 At under 15 minutes, this instructional DIY craft project is perfect for anyone to try. Distinct and charming--and with a long glow time--these solar-powered lights are perfectly made for your Mason jars or any other glass containers. These solar mason jar lights will surely light up your midnight path--especially if there happens to be a full moon. This project is one of the easiest DIY crafts you can do. It's so simple to make and works well. You'll easily impress your loved ones with this custom solar-powered mason jar light.
10-Min DIY Solar Wine Bottle Lights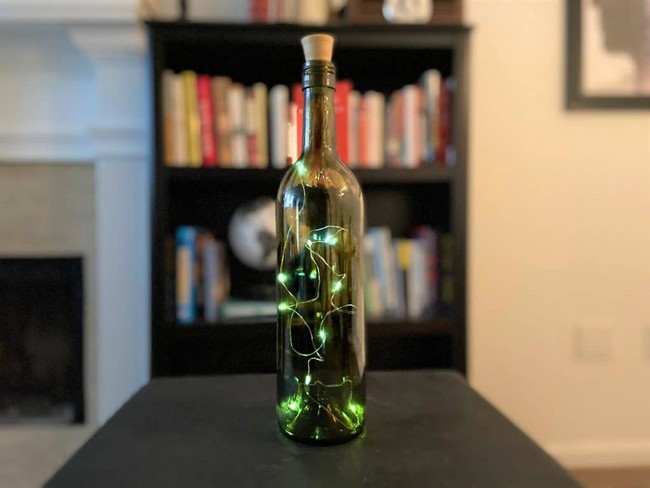 If you love solar lights but hate paying a lot for them, you'll enjoy this DIY project! 'DIY Solar Wine Bottle Lights' is a fun, easy project that uses recycled materials and results in beautiful lights. They can be displayed indoors or outdoors, will glow all day and night long, and are perfect for parties or decorating your home. It's super simple—just fill wine bottles with water and place them in direct sunlight. They'll do everything an expensive solar light will do and will look gorgeous on your deck, patio, or porch. You'll only need a few supplies like string lights and a few other things to make these unique wine bottle lights.
DIY Solar Light Chandelier
"Brighten your porch or patio with this simple but pretty light chandelier. It's easy to put together and requires no electric power supply — solar panels mounted on the top of the frame will do all the work for you. Create your own solar light chandelier. This project only takes a few minutes to complete, but the end result is exceptional. Using our Solar Power LEDs and Glue Sticks, you can make your own unique terrariums, patio lights, chandeliers, and more. Come on in and we will show you how easy it is. Be careful though, making this solar-powered chandelier may unleash the creative side of your personality!
DIY Clay Pot Lighthouse With Solar Light
Learn how to make a DIY clay pot lighthouse to add a unique design element with coastal flair to your home. This lighthouse is made from mason jars, which will glow at night when you turn on the solar light. Making gorgeous coastal decorations for your home is as easy as this quick project; use any white ceramic or terracotta pot and mason jars to make a DIY clay pot lighthouse. Bring a solar light and watch your mason jar Lighthouse glow in the dark all night long!"Make your own lighthouse from scratch and decorate it to add a unique touch.
DIY Flower Pot Solar Light Planter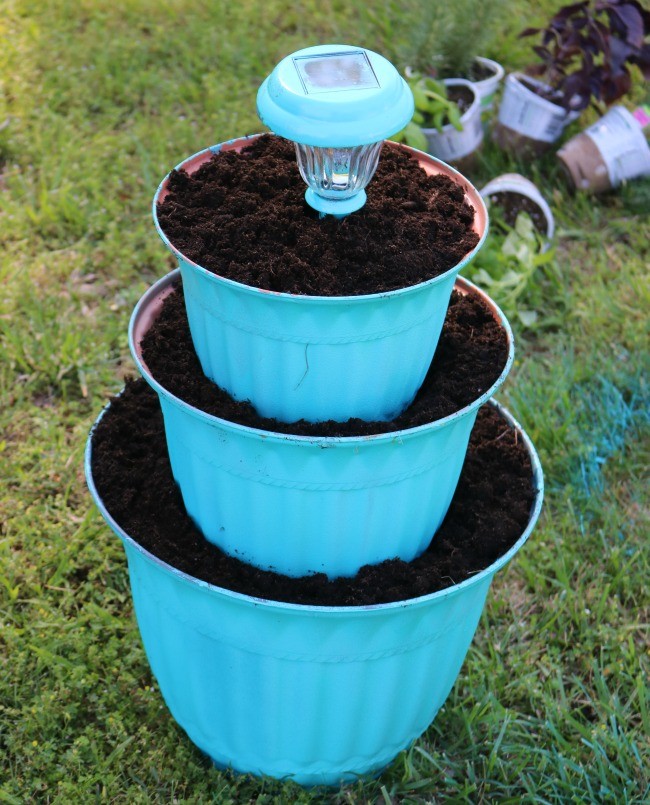 Here's how to get your yard looking super cute for those hot summer days. These DIY flower pot solar light planters are perfect for your flowers, and they'll look amazing once the sun sets and they light up! Customize these clay pots with your choice of paints and add battery-operated string lights that fit perfectly inside. When you're done, you'll have a beautiful color-changing solar light to place on your porch, in the garden, or give to a friend! This DIY flower pot solar light planter not only adds a touch of whimsy to your porch or deck but also serves as a source of gentle illumination.
DIY Waterdrop Solar Lights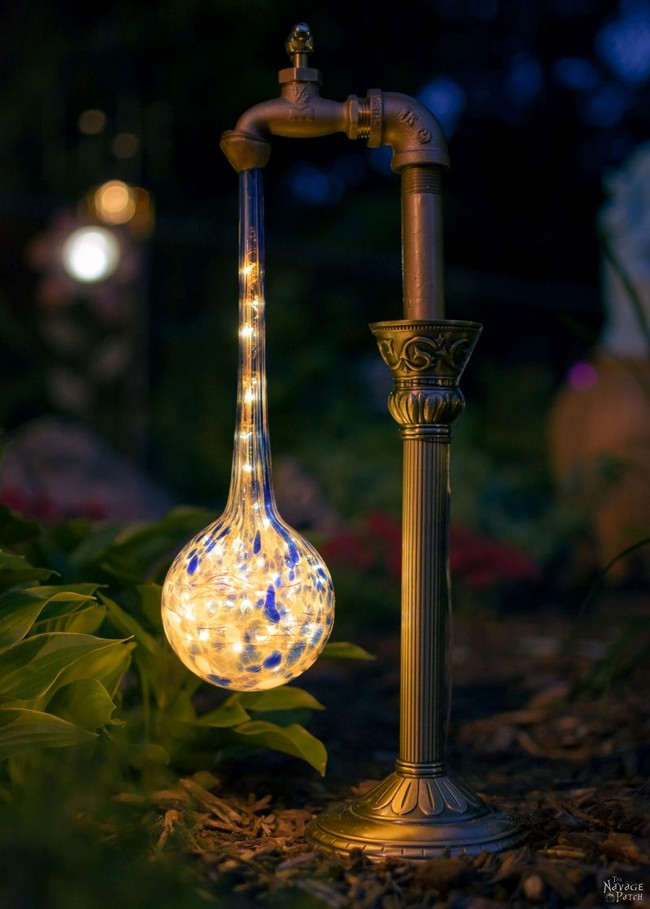 Welcome your guests with the warm glow of these DIY waterdrop solar lights. They look like tiny raindrops hanging from your trees or around your deck, like they could be real dewdrops, and you've never seen anything quite as beautiful. The DIY waterdrop solar lights are a stunning addition to your outdoor living space. They look like tiny raindrops hanging from your trees or around your deck railing. Get creative and add them to your yard, garden, or near your front door!
How To Convert Metal Sconces Into Solar Lights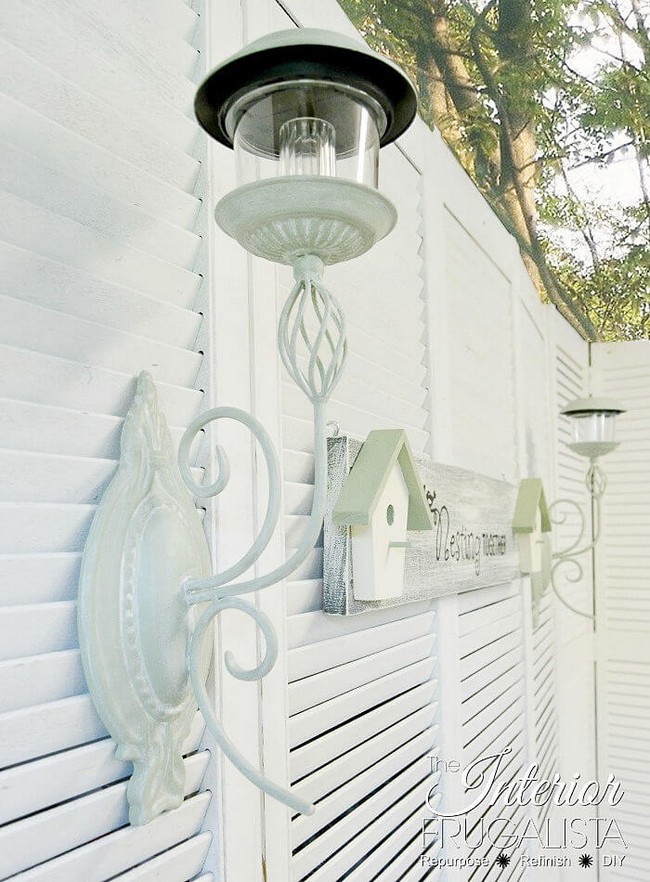 Metal sconces can use to create beautiful and inexpensive lighting for your outdoor living space. When they are painted and lined with solar lights, they will make a big impact on your home's look. They are easy to convert and much more affordable than many other options. They're easy to convert and a great alternative to mass-produced lighting options. All you need are solar lights, vintage metal sconces, spray paint, and tape! They are an inexpensive alternative to solar lanterns in many styles and designs.