Do you love DIY projects? Then you'll love these DIY desk organizer ideas. With just a few inexpensive supplies, you can make your own desk organizer to house your pens and pencils, organize your mail, or store your phone cords and chargers. Desk organizers can easily keep your office space organized and clutter-free. You can use them from holding paperclips to organizing your pens and pencils. They're also a great way to add some personality to your workspace—whether an office or home office! We've got lots of fun ideas for making DIY desk organizers that are simple, easy and fun to make for your office space. Below are some unique DIY Desk Organizer Ideas for Your Home desk or Office.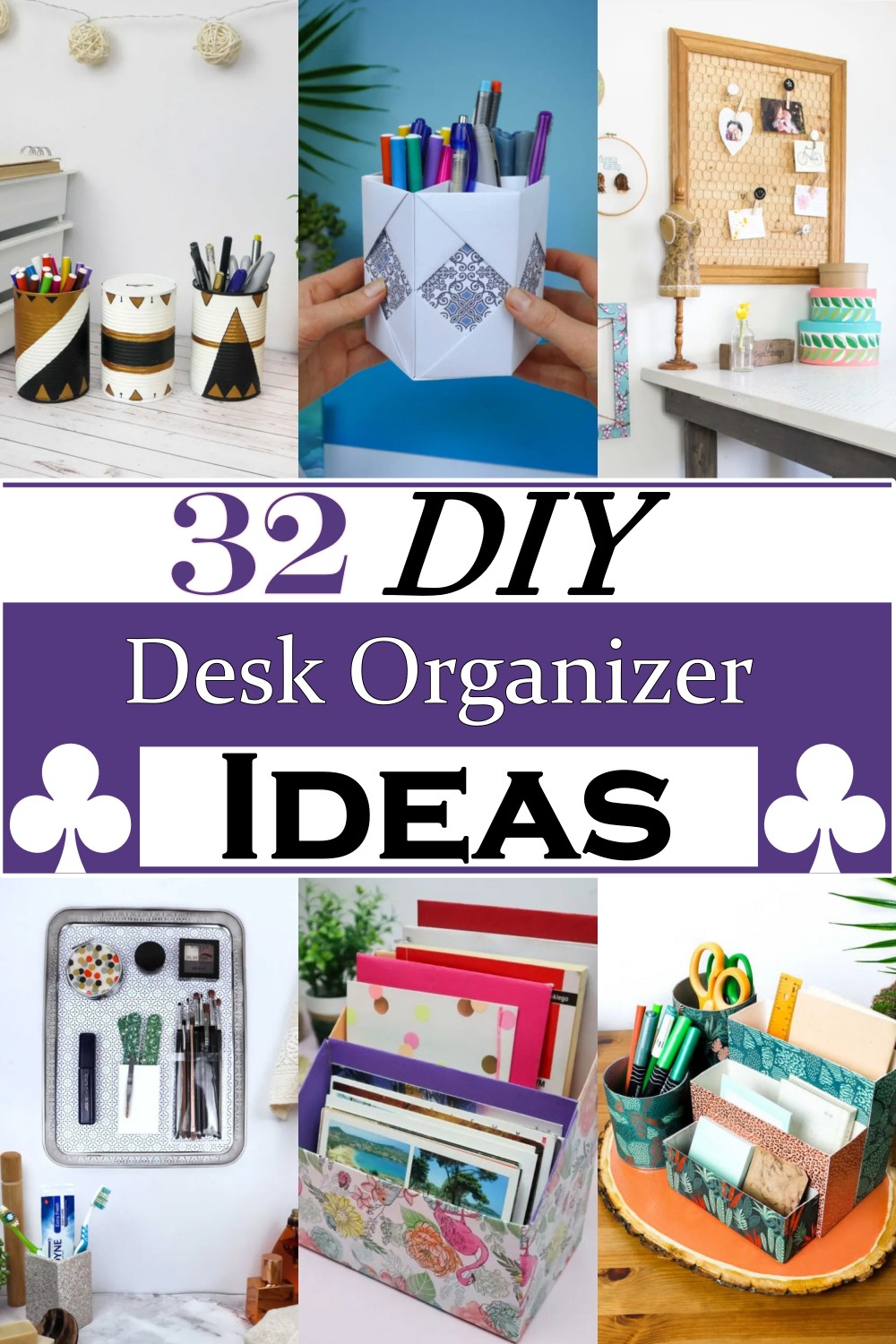 Organizing your office space can get extremely pricey, but with these DIY desk organizer ideas, you can add more storage to your space without spending much money. This will make it easier to find small items you want to keep in your home or office. The best part is that you can quickly and easily make these yourself. You won't have to pay someone else to do it for you! These DIY desk organizer ideas are great because they are customizable. You can use the pieces already available in your home and personalize them to fit your needs.
Don't worry about being disorganized anymore! These 32 DIY desk organizer ideas will help make your life easier, more productive and happier.
You Can See: 32 Cleaver DIY Storage Ideas For Your Home
Leather Cord Organizers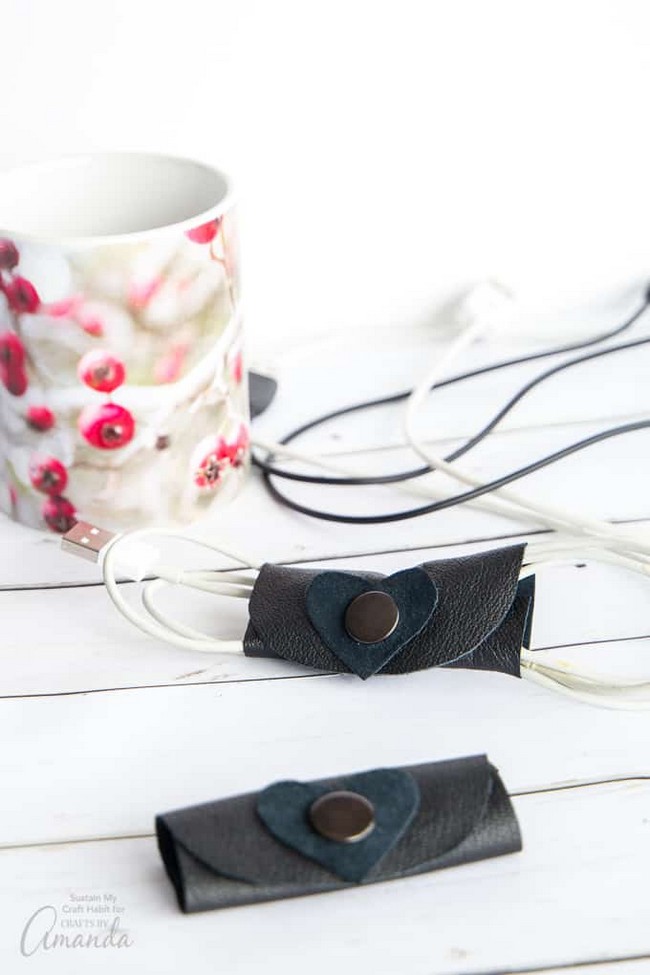 A little DIY project, and you will have a safe place for your cords and wires to live so they don't get tangled up all over. Make a quick and easy organizer keep everything clean, organized, and off the floor. This tutorial will give you many options for personalizing them to fit your taste, using lots of different materials — but it will be better to start with leather cord organizers because they're super-affordable and look gorgeous. This simple DIY can use in the kitchen, craft room, electronics area, or anywhere you need cord organization!
Adjustable Desk Organizer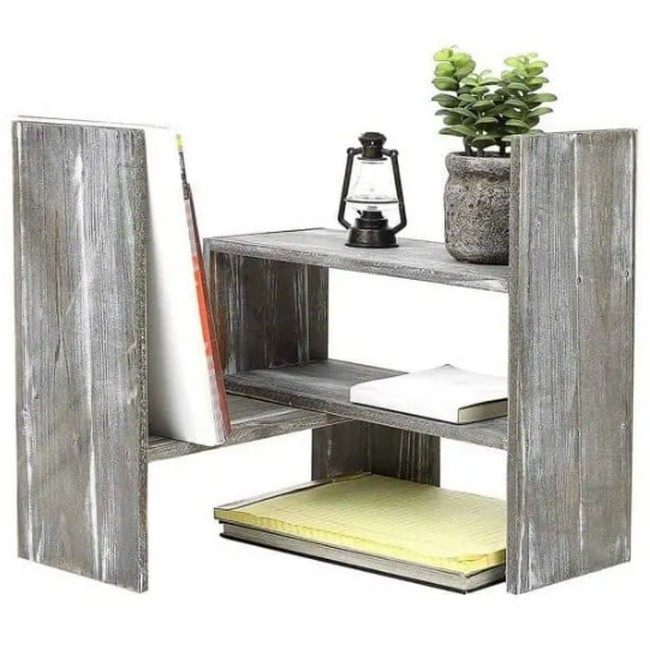 Suppose you get tired of only having stationary desk accessories and want an organizer that can customize your needs. In that case, this DIY adjustable desk organizer is just right for you! It's made using a block system, so it's really easy to create the structure you need. And since it's made from scrap wood, you could use those leftovers to make this organizer. Grab your tools and go forth with DIY! This one is easy enough for beginners, so if you think that might be you, then get ready!
Memo Board
Adding a memo board to your home office makes it much easier to manage your tasks and stay organized. Acting as a catch-all for your notes, reminders, and to-do lists, it's the perfect place to store all those little reminders that can easily get lost in stacks of papers and bills. You will love how this easy project transforms a blank wall into something functional that adds an instant touch of personality to any room. This DIY memo board is a straightforward project you can create easily and inexpensively. The basic frame is made of wood and a sturdy paper-covered board, while the mesh covering the frame helps keep your notes in place.
Wood Desk Organizer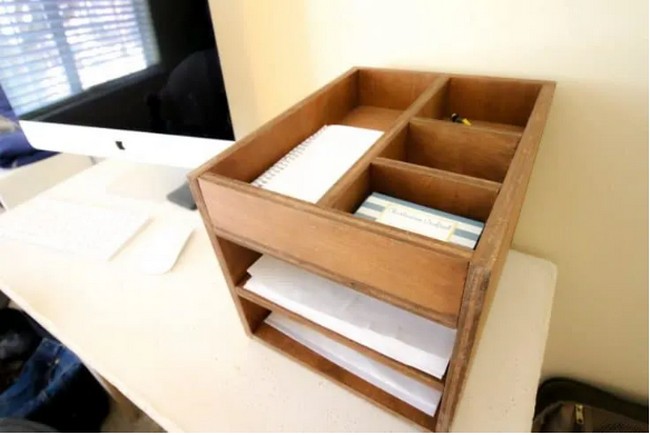 Are your desk drawers overflowing with little scraps of paper and sticky notes? This DIY organizer is simple to make, and it'll keep your office tidy in no time. The shelves at the bottom are perfect for placing files and dossiers, while the top shelf can hold paper clips and notepads, and other writing supplies. Best of all, you get to pick the size based on what works best for your space! Follow these easy step-by-step instructions and create your own wooden desktop organizer, which will help tidy up even the messiest desk.
Canvas Bulletin Board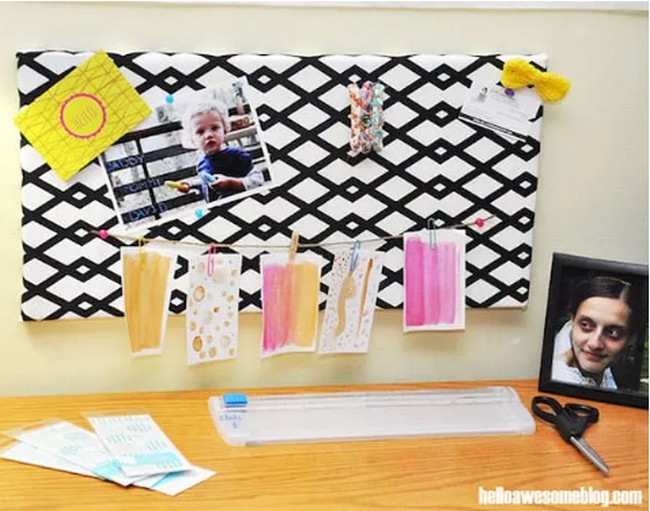 Source: diycandy.com
Make your canvas bulletin board. It's easier than you think, so grab a staple gun and start practicing. Your very own accessible bulletin board is easier to make than you think! You'll only need a few supplies and the right tools, but the result can be worth it. There are many uses for your canvas bulletin board, like photos and leftover fabric to hang around your home. It's a good way to keep those items in one place, especially if you have a lot on hand from other projects.
Gold Marbled Pencil Cup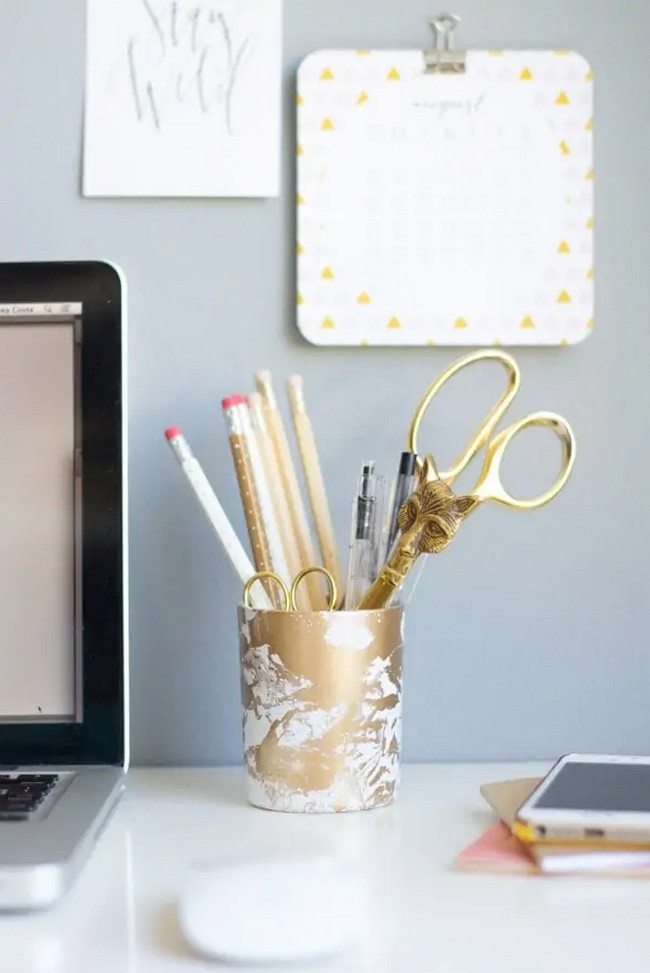 This gorgeous pencil cup is just a plain metal cup that's been spray-painted. Grab some paper towels, lay them out, and you'll be dipping the cup into paint-sprayed water to achieve that marbled effect. You'll also need popsicle sticks or toothpicks to stir the paint around in the cup to spread it across even more. This Gold Marbled Pencil Cup is perfect for your desk, whether you're creating a home office or allowing your child their very own space.
Pencil Holder
Source: craftsyhacks.com
Does your craft room have a lot of paper? If so, you will love this tutorial on how to make a pencil holder out of that paper. It's the perfect way to recycle all the paper you've collected. The design process is pretty simple and easy to follow, so you'll make this pencil organizer in no time! To make it even more unique, write your name or keep a quote you love onto the paper before binding it together. This pencil holder is the perfect solution for storing pencils and drawing tools.
DIY Desk Organizer made of Upcycled Food Packaging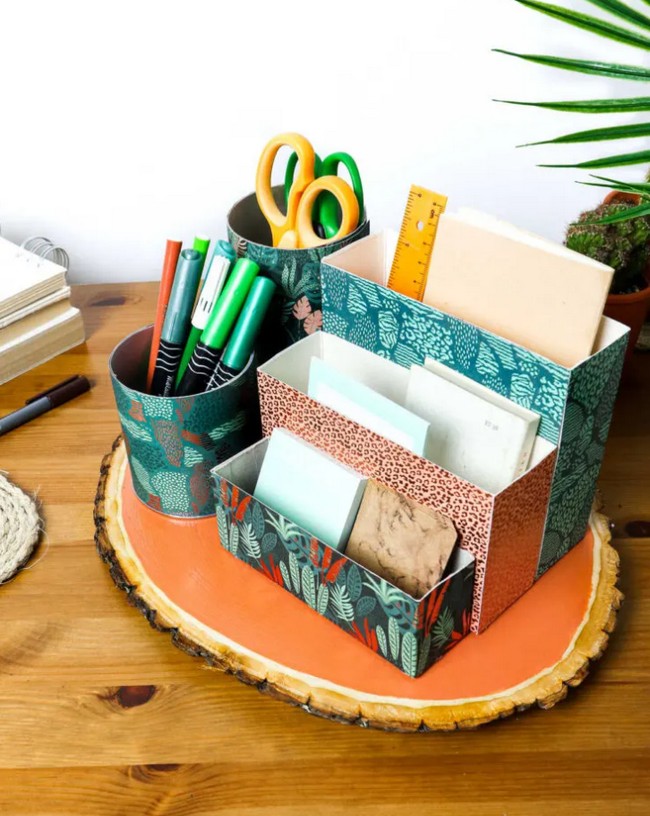 Source: craftsyhacks.com
If you're a fan of organizing your workspace and are looking for ways to keep everything clean, this DIY desk organizer is the perfect solution. Made from recycled food packaging, it will help you keep folders and papers in their designated slots while keeping pens, pencils, and craft supplies within reach. It's an easy project that anyone can accomplish – with only a few supplies and a basic skill set, everything else is left up to your imagination.
Hanging Organizer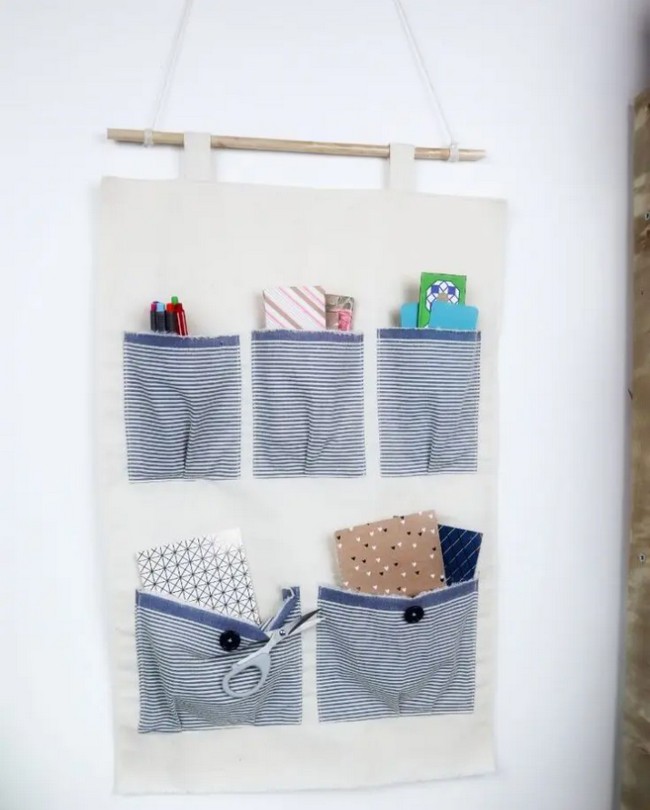 Source: craftsyhacks.com
Do you have cabinets or drawers in your home that are so packed you're afraid to open them? An over-the-door hanging organizer is perfect for maximizing space, especially in smaller spaces. You can use pockets to hold different supplies categories, like buttons, sewing essentials, and other household items. It can be customized to take up less space or to hold bigger items, and its pockets are great for organizing hair ties, bobby pins, and other everyday necessities. This guide shows you how to make one with ease!
Gift Wrapping Organizer Station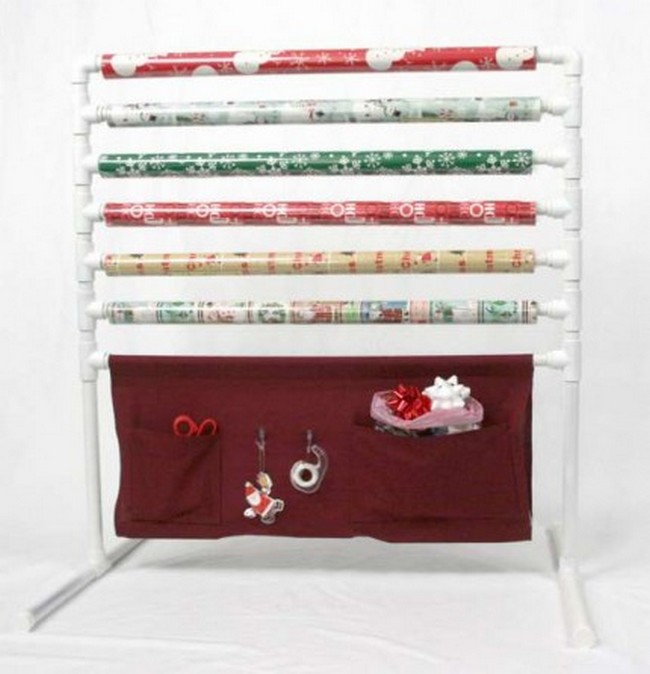 This gift wrapping organizer stand is perfect for making your gift wrapping projects easier. This easy-to-assemble project will serve as a stackable container for all your extra rolls of wrapping paper and allow them to be stored flat for easy use. This decoration is also useful for displaying some seasonal décor throughout the year! The stand is completely customizable, letting you choose which colors and types of paper and ribbon you'd like displayed.
Geometric Desk Organizer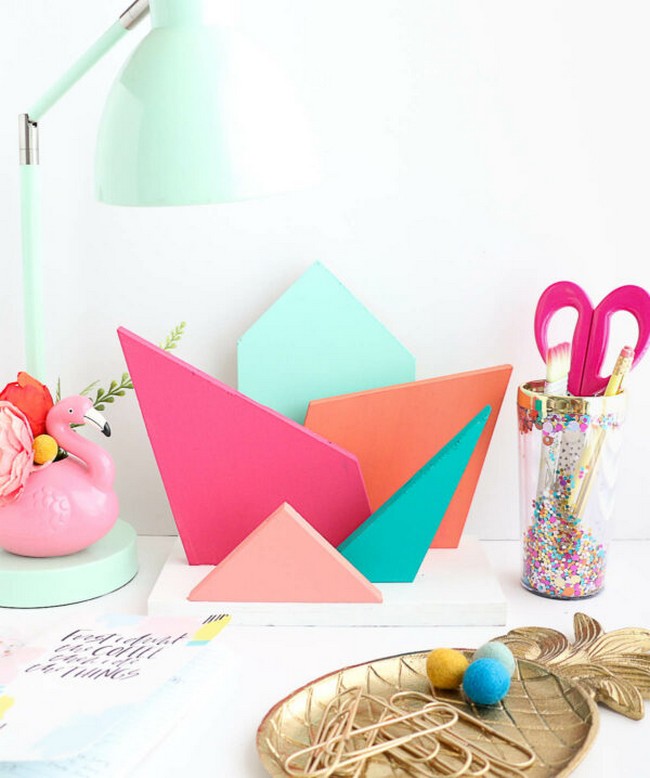 Your desk can be cluttered, but with this easy DIY desk organizer, you won't have to worry about that anymore. Using just a box and a few simple dollar store items, you can create the perfect organizer that works for your needs! As the colorful geometric shape surely draws attention, this desk organizer is a great way to add some flare to your workspace. A great way to separate your papers and keep them put away, this desk organizer can be used as a folder and file holder, magazine stand, and more.
Father's Day Gift Desk Organizer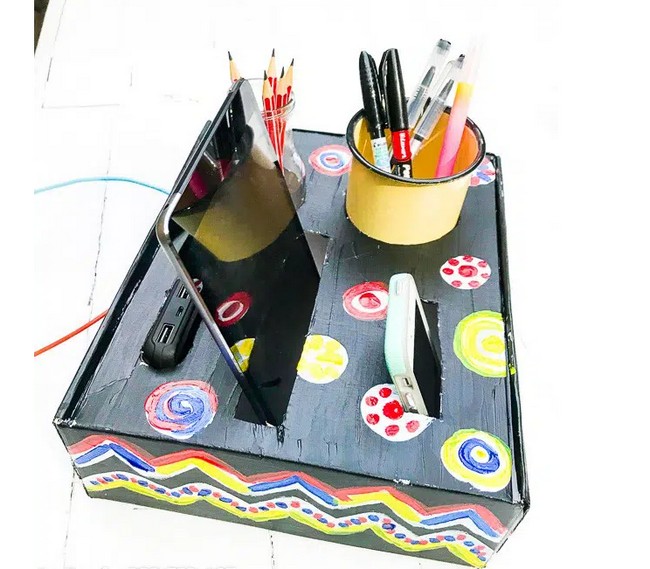 Father's Day is close to the corner, and you're probably wondering what to get your dad. If you're looking for a practical gift with a hint of nostalgia, this Father's Day gift desk organizer can be an excellent idea. Cutting a shape out of a shipping box can be challenging for anyone, but don't worry. Just bring your craft knife and scissors, and you will get it done in no time or effort. Then paint the box using any color of your liking to give it a more professional look! It will help your dad keep all his items in one organized place, such as pens, paperclips, and more.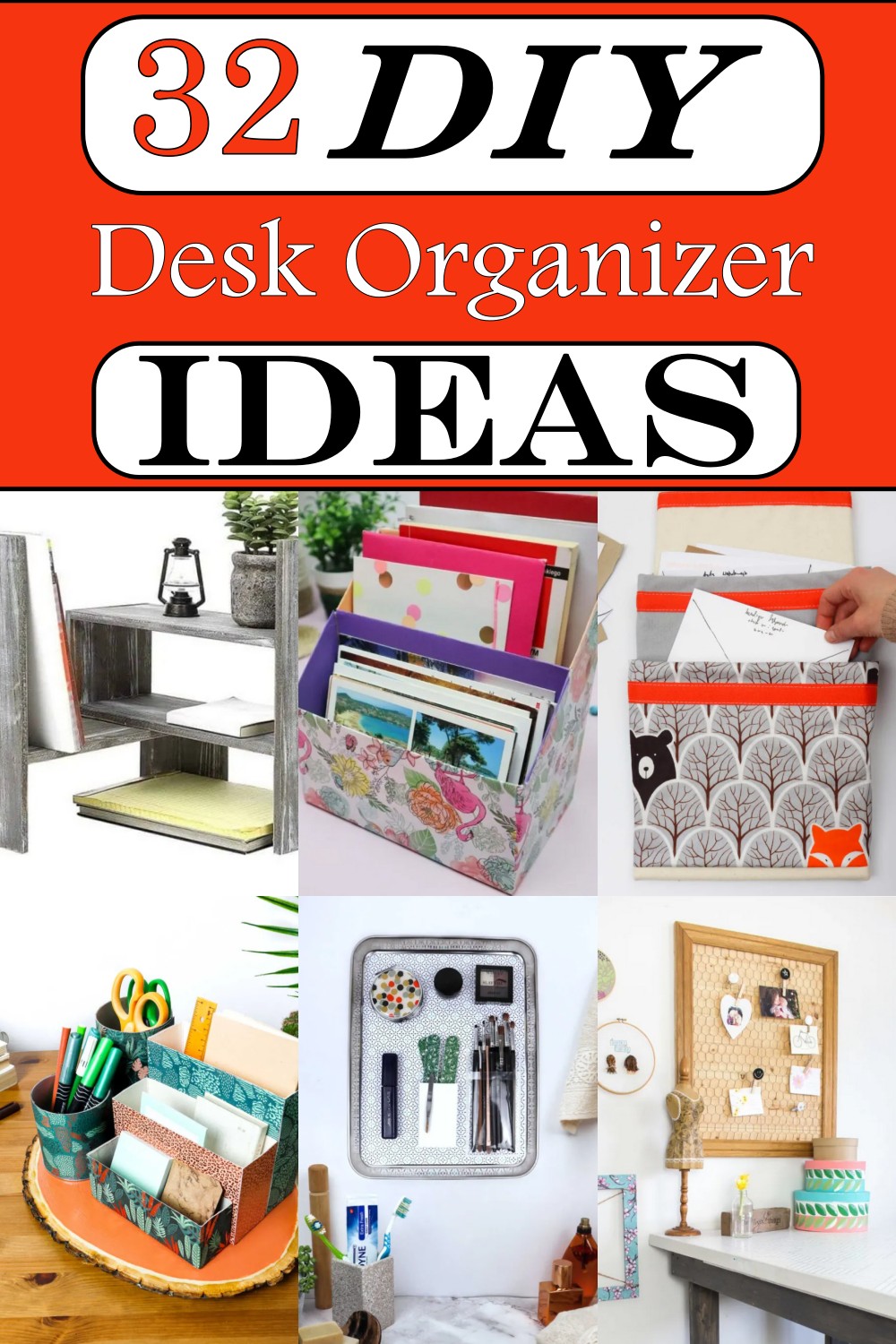 Wood Floating Corner Desk
If you're searching for a way to turn your home office from plain and boring to warm and inviting, the Wood Floating Corner Desk is just the trick. It has plenty of storage space below the table for a printer, keyboard, or bookshelf. The clean lines of this desk create a minimalist look that's perfect for modern spaces. This will keep your items from cramping your desktop and allow you to use more desktop space.
Hanging Pockets from Old Jeans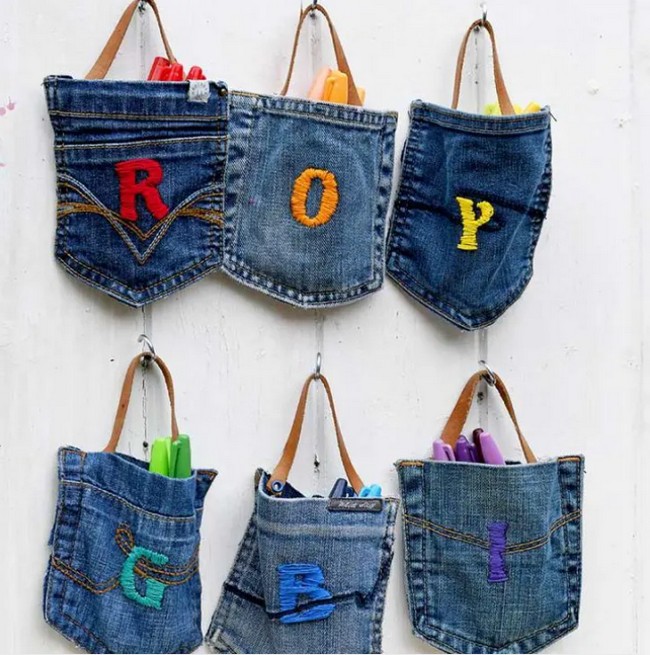 Creating storage solutions out of old jeans is a great way to upcycle. It saves you some money and can be more environmentally friendly since denim takes longer to break down in the landfill. While these hanging pockets are not your typical denim, they are just as useful. They can hang anywhere you need some storage space but don't want an ugly basket like a desk or bedside table. The hanging pockets will also remind you how to use some other fine clothing items hanging around in the back of your closet!
DIY Desk Organizer with a Box Top holder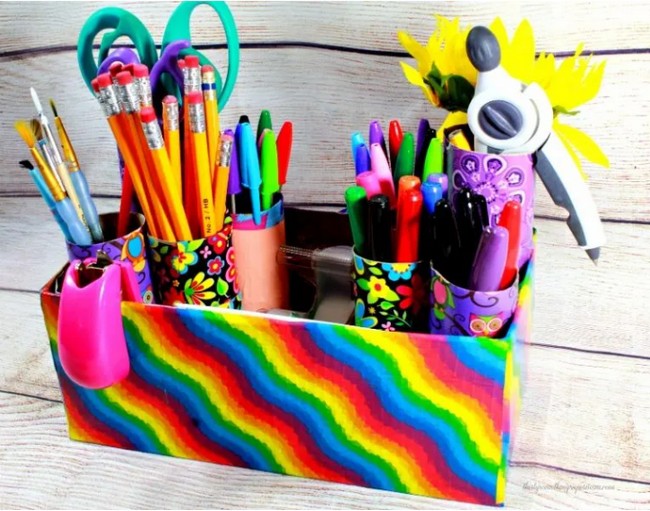 Are you ready to get organized? You don't need fancy tools or materials to whip up this easy project, including a box top holder and desk organizer. Just cut, glue, and stick—it's that simple. If you want to jazz it up, you can use your favorite patterned tape or decoupage paper on the squares of the desk organizer parts, as well as the center square of the box top holder. This desk organizer is easy to make and helps you get organized. It's bursting with color and fun; it makes great use of your scraps!
Magnetic Chalkboard Calendar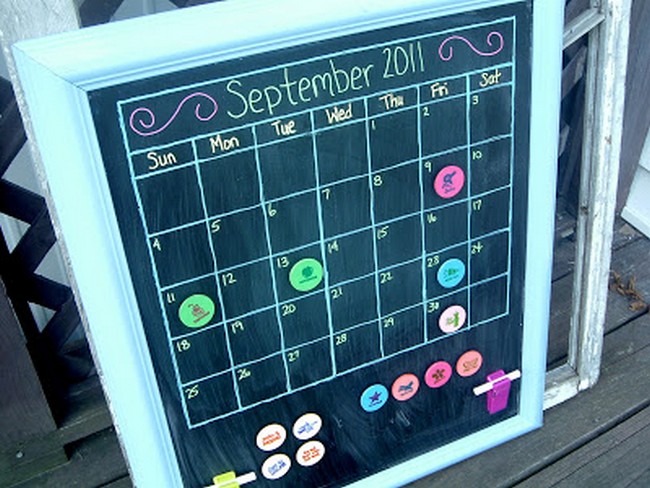 Desks are busy spaces, so it's important to keep them as uncluttered as possible. This magnetic chalkboard calendar is a great way to organize your schedule and plan future tasks. It's magnetic, so you can easily wipe away any scheduling changes or notes. This magnetic chalkboard calendar is the ultimate DIY project for those who love to plan and organize. It's a simple, affordable solution to keep track of your daily schedule while adding a pop of color and edge to your desk space.
Tealight Holder with Embroidery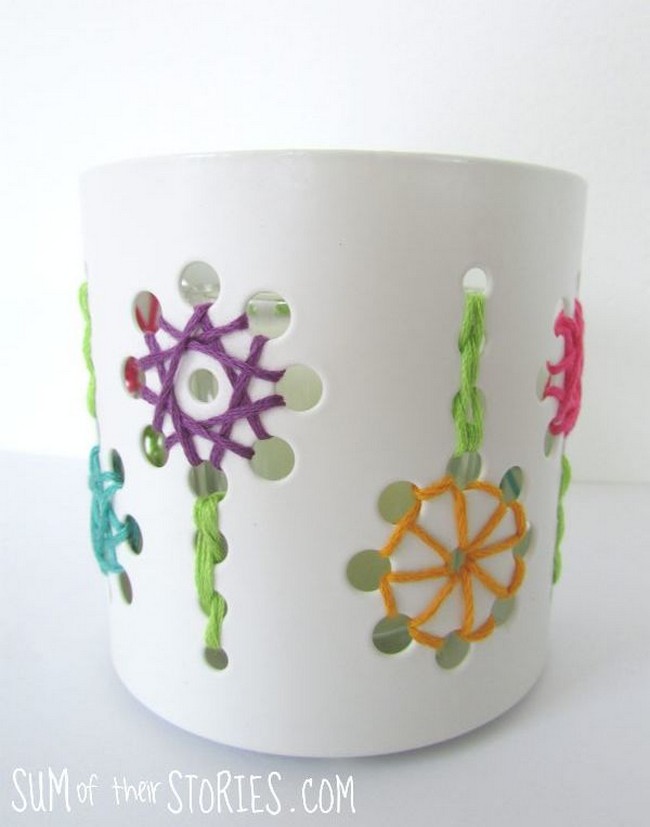 This DIY tealight holder with embroidery makes the perfect addition to your home decor. Creating this simple project for just a few bucks in materials will make it easy. Grab some embroidery floss, a large sewing/darning needle, and a glue stick or two. You'll need some beads, embroidery floss, a needle, a tealight holder, and glue to turn that plain old tealight holder into something colorful and unique! You're going to love this project. It's easy, quick, and inexpensive, plus you can customize the colors and pattern to fit your color scheme.
Desk Organizer Made Of Cereal Boxes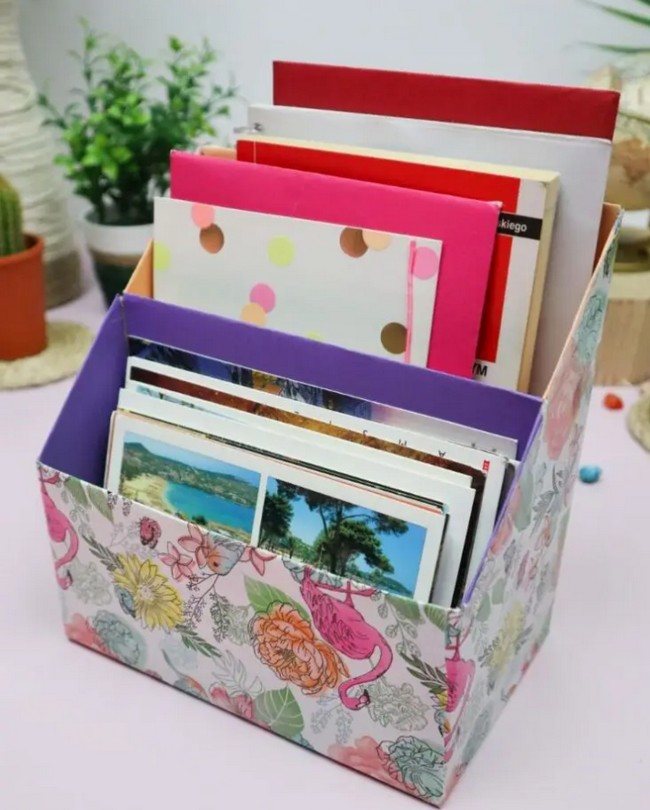 Source: craftsyhacks.com
Do you have an abundance of cereal boxes lying around? This DIY desk organizer made from cereal boxes is a great way to repurpose them. All you need are cardboard (clean, dry, and sturdy), glue, scissors and tape. What's so cool about this tutorial is that it has two pockets, so you can easily organize different things in this awesome creation. Cereal box crafts are the perfect activity if you have some extra time and want to get creative. Boxes are one of the most affordable and easiest things to recycle, but you won't believe how many different things can be made of them! This two-pocket desk organizer is just one example.
Fabric Pinboard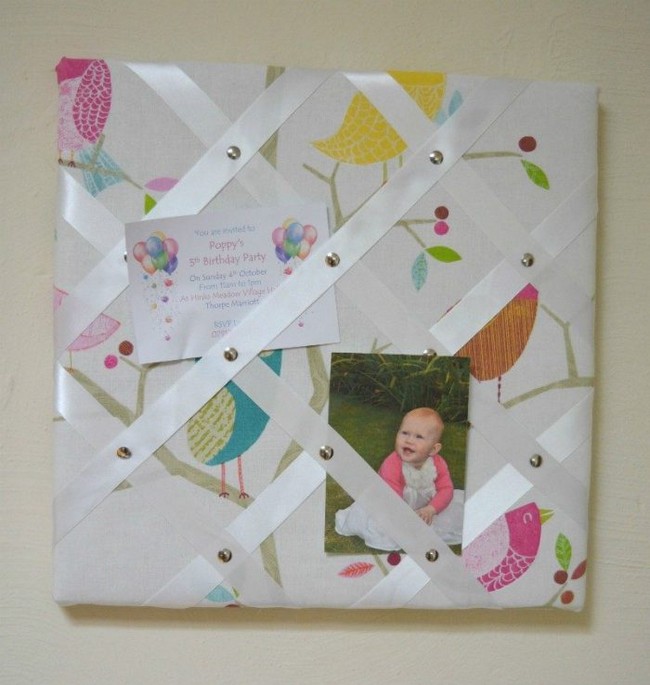 For those who like to stick things up and store them away, here is a way to use everything you have so that it doesn't get lost. This simple pinboard idea is also great as a gift to someone who loves collecting items and trinkets. This fabric pinboard can use in your home and office alike. The DIY cork board is easy to make and can be customized according to the room's theme. For example, a floral patterned fabric should do the trick if you are decorating your bedroom.
Pokemon Stationary Holder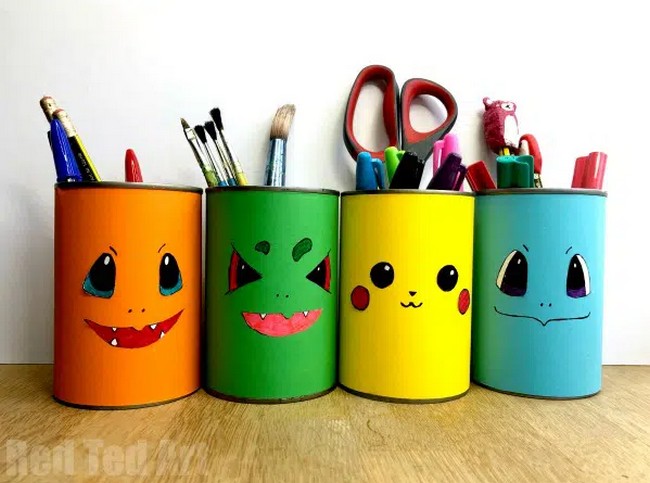 Source: redtedart.com
If you grew up with Pokemon, today's a great time to show off your love for the series. And what better way to do that than make your own DIY Pokemon Stationary Holder? It's not just about dressing up your work desk; it also serves as a constant reminder of how much of an impact this game has made on your life. All you need is a pair of scissors and some glue. Start by printing out your favorite Pokemon and cutting it out. Once you're done, glue them onto the holders.
 PVC Pen Organizer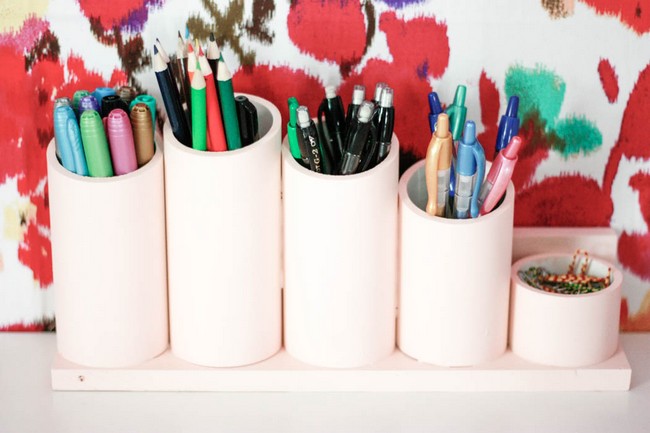 Source: amber-oliver.com
The best way to manage your pens, pencils, and highlighters is to keep them all together in one place. Fortunately, there are plenty of pen holder options for this purpose, like this simple PVC pipe organizer. A simple PVC tube organizer is probably the easiest way to keep a clutter-free desk. All you need is some scrap wood, glue, and a few of your favorite craft supplies. And that's all it takes to create this pen organizer!
Magnetic Organizer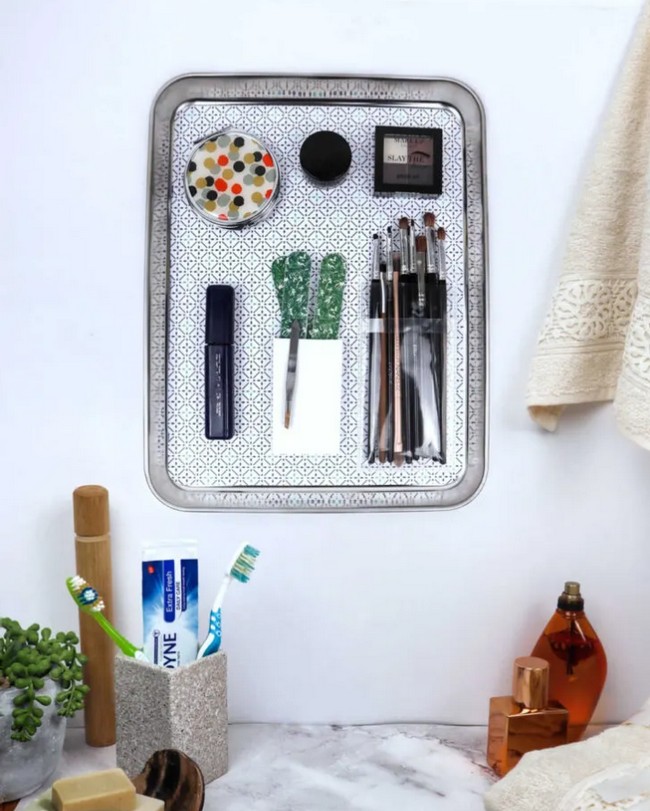 Source: craftsyhacks.com
Have a lot of tiny clips, paper clips, and other accessories that you feel like you need to organize? This magnetic organizer will help you get the job done easily and cleanly. You can clip anything metallic onto this magnetic tray and hang it on the wall, or use this tray next to your dresser for all your makeup. The possibilities are endless! Don't waste your time searching for that one nail or the scissors. With this magnetic organizer, you can find anything within seconds.
DIY Mail Organizer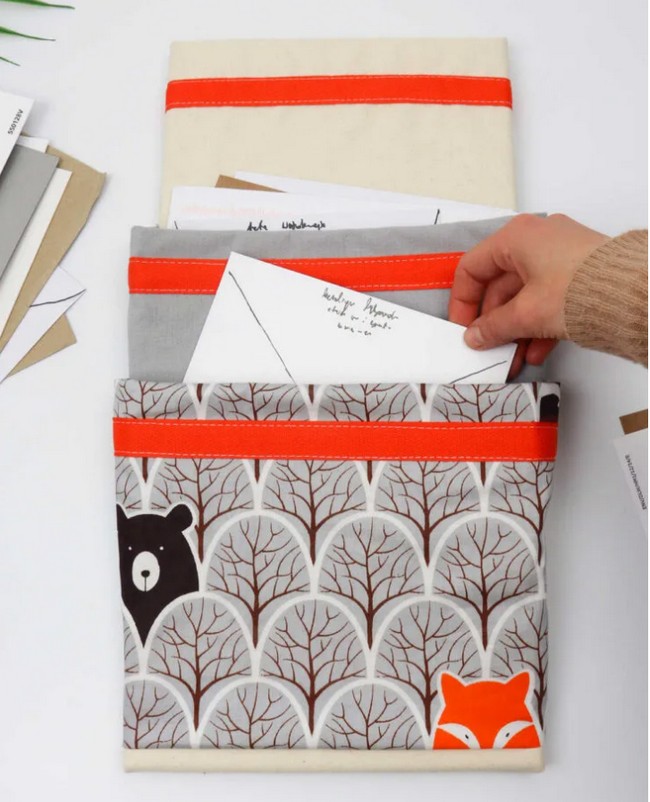 Source: craftsyhacks.com
Do you have a challenge with keeping your home organized? It's not easy, I know. But one thing you can do is designate a spot for all your bills, junk mail, catalogs, and other papers to go once they arrive. This DIY Mail Organizer will make it easy to determine which mail needs to go where! With such a clever design, the mail organizer can be hung from the wall and divided into different categories, so you know exactly where everything is. The pattern is simple to make, so you can spend more time reading the letters in your inbox than trying not to forget any payments too.
Upcycled Tin Cans
Source: craftsyhacks.com
Tired of throwing away your empty cans? Turn them into something useful and pretty instead. You can turn three tin cans into desk organizers with a few coats of paint and some glitter. This project is quick and easy. You'll be able to make it at home or bring the cans to a local craft store and have someone else do it for you if you don't feel like painting yourself. This tutorial will guide you on how to turn empty tin cans into desk organizers in no time!
Pencil Holder Made With Pencils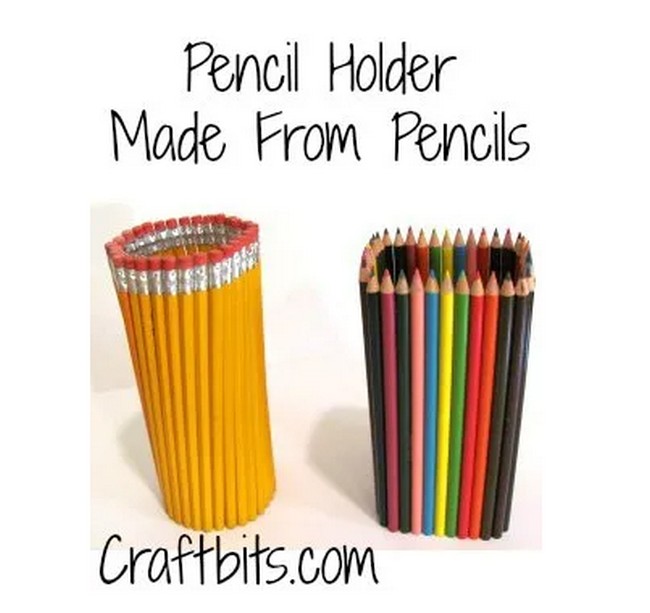 Source: craftbits.com
In a world where everything is digital, it is hard to get excited about desk accessories. However, this may be the next best thing for your desktop if you love doing crafts and recycling. You can easily buy recycled water bottles from supermarkets or even repurpose them at home. All you need for this project is unsharpened pencils, which you can buy in any store, scissors, tacky glue, and some rubber bands. It will add a dash of color to your desk or a corner table and make it more functional by helping you hold all the little store items that are always rolling around the countertop
Pegboard Wall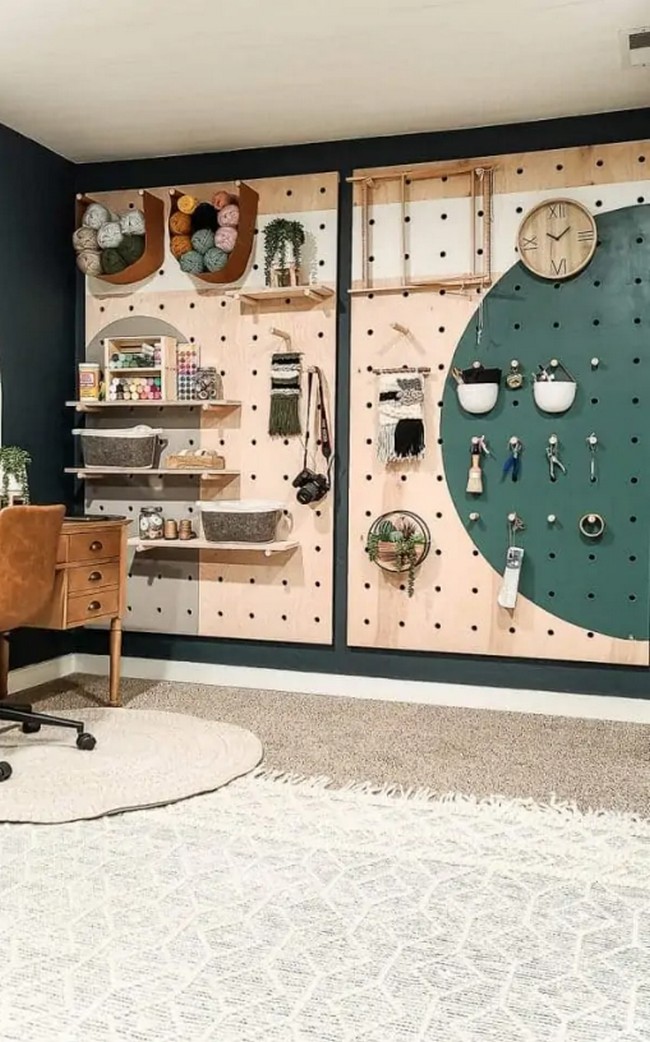 Source: makingmanzanita.com
You can use your DIY pegboard wall to organize items that otherwise would lie around in drawers, on your desk or on the floor. It is also ideal for displaying various items such as photos, notes, calendars, and mementos. Antique brass hooks can use to hang items of all kinds so that you can make use of all available wall space—even the back of your door. Use the additional shelf to expand your storage options even further. You will be able to see everything clearly without getting distracted by clutter.
Pineapple Bookends
Who doesn't love to see a room filled with books? And if you're the kind of person who loves the look of books on shelves and wants to show off your literary collection, bookends are essential. These gold pineapple bookends will make you smile every time you pass by them. You don't have to buy Bookends from the store when you can make them yourself at home. You can use these Pineapple Bookends not only as bookends but also as a decorative piece for your desk or bookshelf. It's easy to complete with just a few supplies and materials.
Acrylic Phone Stand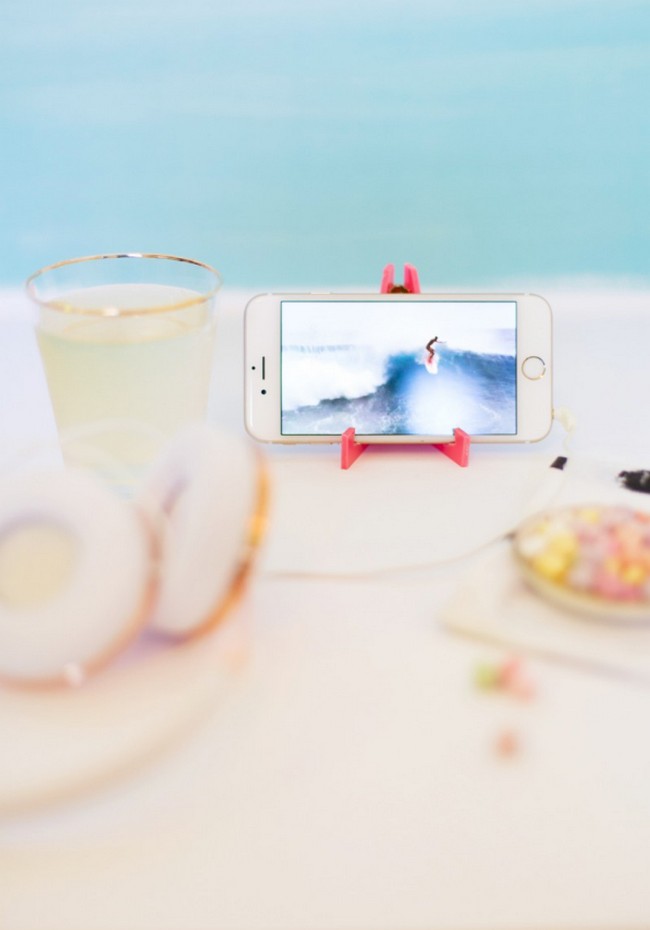 Do you know how often you've spent time near your phone to hold it upright while watching a movie or doing something important like work? And yes, that is so annoying! So it is a stand for your phone that can keep it upright. This little stand can be easily made with acrylic blocks, a drill press, and silicone gasket material. This phone stand is a simple but effective way of ensuring that your phones are within arm's reach.
Acrylic Calendar
Bored with your dated wallpaper? Do you need a change of view for your office or home? If so, it is the solution. You'll love making this DIY acrylic calendar simple to create but impressive in its appearance. This easy project can make all the difference in your workspace and home life. This project is perfect for any room, from the office to the kitchen or bathroom. You'll need a Plexiglass sheet, Cricut machine, Vinyl, Transfer tape, and a downloadable calendar template.
Lazy Susan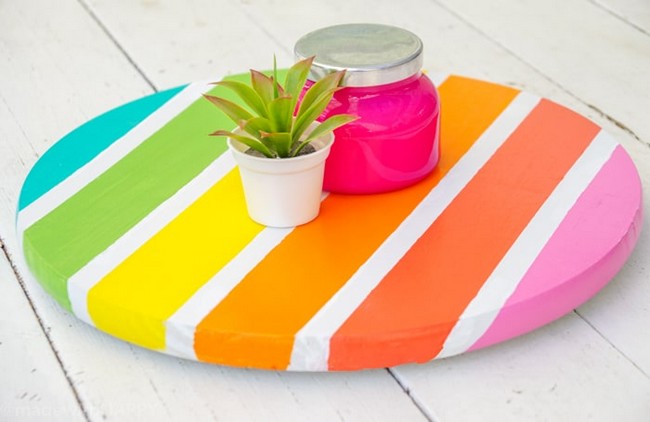 If you want to get organized, this Lazy Susan is just what you need. It's a little more than an average lazy susan, but it will make you feel like a superhero when it helps your entire office stay tidy every day. You don't have to be creative or artsy to create this beautiful Lazy Susan. All you need is basic DIY skills and a good eye for design. With a little imagination, you can create a lazy decorative Susan that will bring style and organization to your office or kitchen.
Acrylic Tray
What better way to get some fun to your kitchen counter than with an acrylic tray? This DIY craft made from an inexpensive sheet of acrylic plastic and salvaged hardware set you up for success. After tracing the size and location of your drawer, pulls it onto the sheet and cut them out with scissors. Drill holes along the sides using a drill bit that matches the diameter of your hardware and inserts your hardware. You can use spray paint or any other paint or finish to add a more custom look.
Photo Holder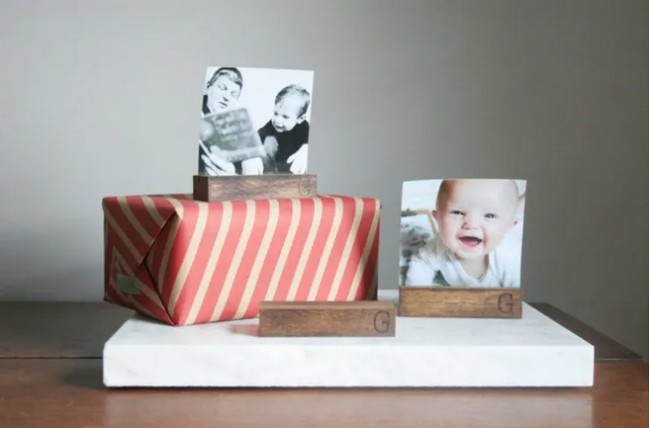 Picture frames are a wonderful way to display your favorite photos, but sometimes you need to rotate through several images simultaneously. That's where this clever photo holder comes in handy! Its clever design will let you arrange your prints however you like, making it easy to make space for new shots when old ones are ready to swap out. This handy photo holder will make all your photographs the star of your desk. Ideal for storing snapshots on your desk, the simple design and personalization possibilities mean you can make it perfect for your space and style.