14 Clever & Fun Crochet Towel Holder Patterns
Crochet towel holders are a great way to add a pop of color and pattern to your bathroom decor, and they provide an extra hand when keeping your towels off the floor. And who doesn't want that? Towel holders are also a great project for beginner crocheters because they're so simple—you can whip one up in a weekend if you're dedicated. They're also useful and make a nice gift for anyone who uses the kitchen: your mom, roommate, or even yourself! Here are some of our favorite crochet towel holder patterns to get you started.
Crochet Towel Holder Patterns for a Classy Bathroom

Crochet towel holders are a quick and easy decorative fix that will add beauty and practicality. You can hang them over any cabinet door or add extra storage by hanging one over the towel rack in your bathroom. These patterns will give you plenty of inspiration for creating the holder of your dreams, and they're all designed by talented designers who are sure to give you a never-a-dull moment! Crocheting your towel holder allows you to customize the colors and pattern to match your bathroom decor and saves you money. Here are some crochet towel holder patterns for you to choose from.
Crochet towel holders are fun, decorative, and functional! Choose one of these 14 great crochet towel holder patterns to add style to your bathroom.
See More: 15 Free Crochet Towel Patterns
Crochet Towel Holders
Many crochet towel holder patterns are available online but can be difficult to find. Many websites sell crochet towels but don't always offer patterns for the clothes themselves. It's best to start with a free pattern before spending money on supplies. Here are some of the benefits of crochet towel holder patterns:
Variety of Colors and Styles: Crochet towel holders come in many different colors and styles, so you can find one that suits your tastes and needs. Many options are available if you're looking for something simple and elegant. You'll also have plenty of choices if you prefer something more colorful or whimsical.
Cost Effective: Crochet towels are much less expensive than traditional towels because they do not require as much material or labor. This means that if you want a lot of towels or if you want them in different colors, then it makes sense to choose crochet instead of traditional clothes. Plus, since they're easy to make yourself at home.
Crochet Rainbow Towel Holder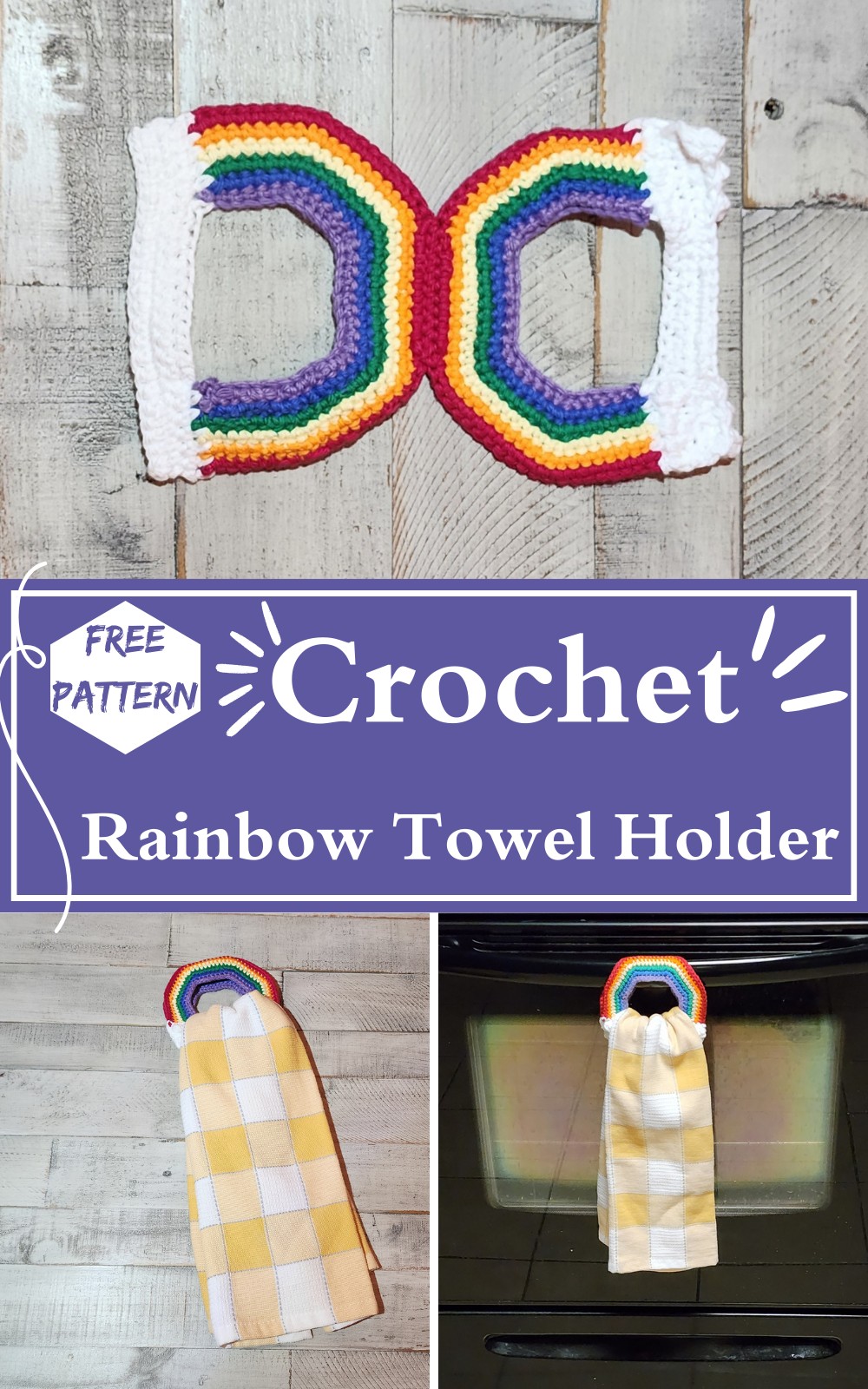 Welcome the beauty and symbol of hope, the rainbow, into your kitchen with a handmade creation. This kitchen essential serves a practical purpose and spreads the colors of the rainbow in your space. Made in a single piece, all you need to do is hang it on your pipe, which lasts for years. Measuring approximately 5" wide by 4.5" tall, the adorable towel holder allows you to hang towels of any size without stretching and deforming shape.
Crochet Ring Towel Hanger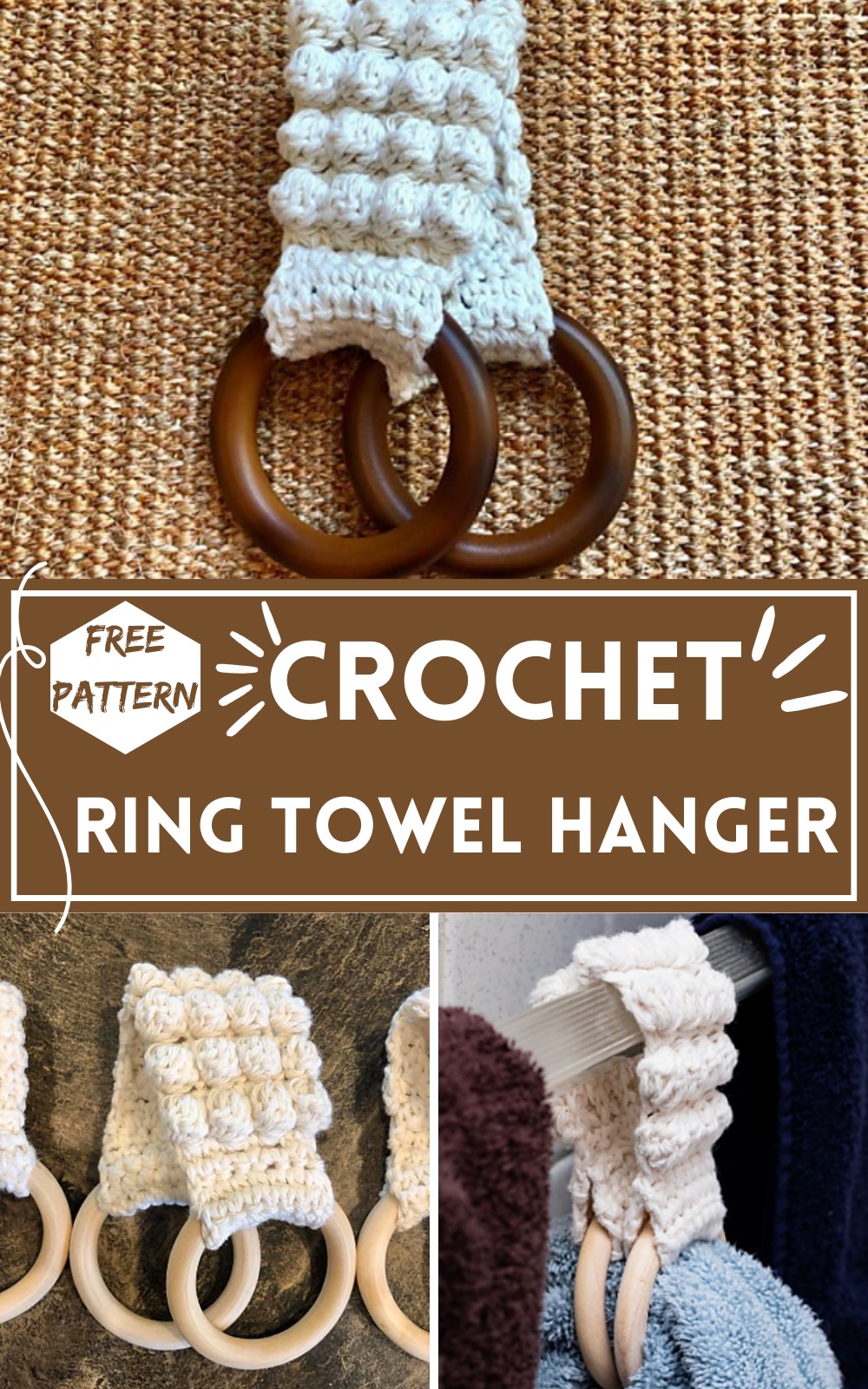 Say goodbye to misplaced kitchen towels using this crochet towel topper! Showing a beautiful design made by the bobble stitch is not just functional but stylish. Seasonally changing colors infuse fun, festive vibes into your kitchen. The quick-to-make hangers make perfect housewarming, Christmas, or birthday gifts. A trendy addition to craft shows, elevate the aesthetic of your kitchen while increasing efficiency with these handy, chic hangers.
Crochet Happy Flower Towel Holder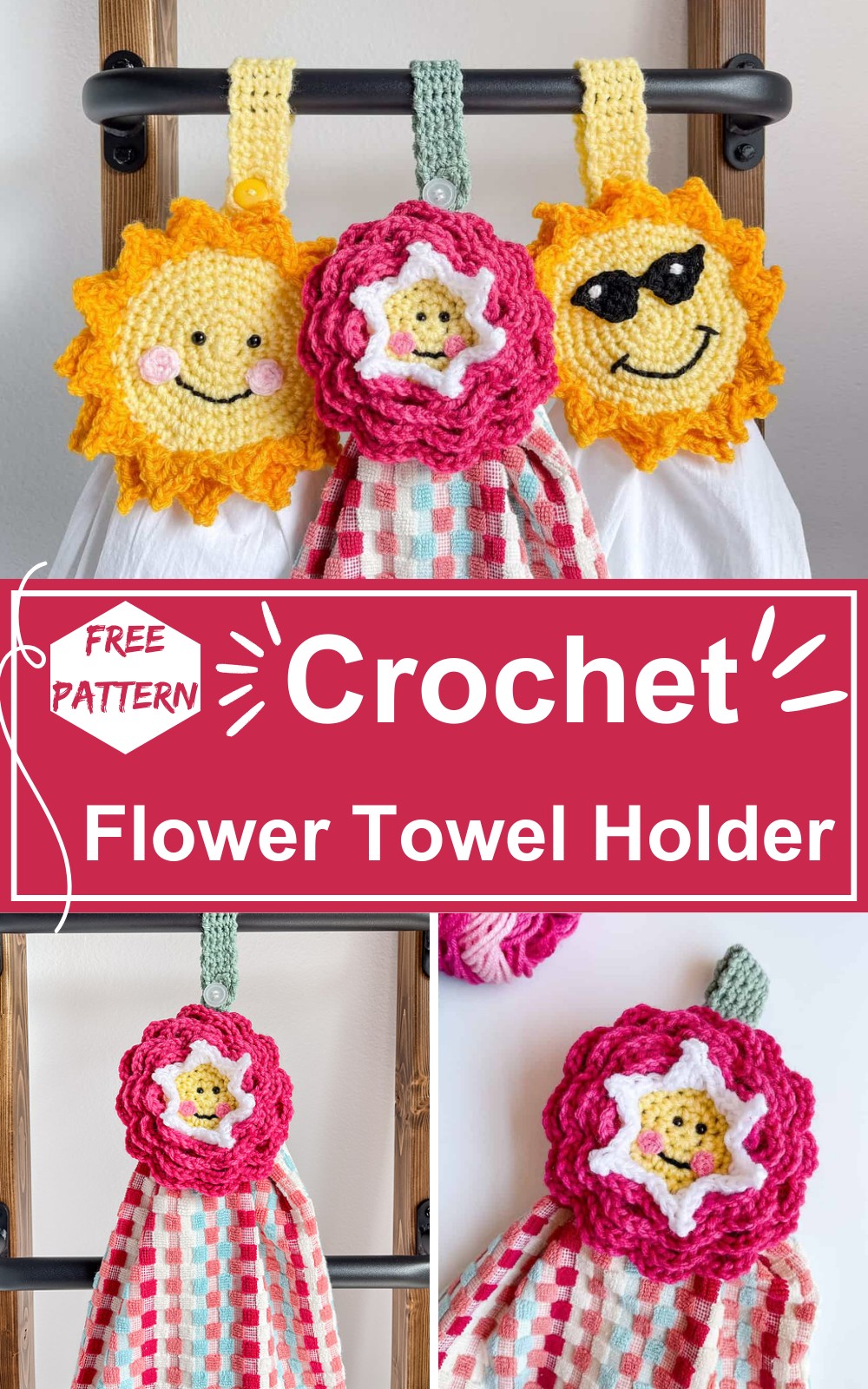 Raid your scrap basket, choose unique color combinations, and bring cheer to your kitchen with this crochet towel topper. The towel topper displays a beautiful pink flower with a cute star in its center. The flower's yellow core features a charming smiley face. This charming flower, customizable in various colors, can perfectly complement your kitchen decor. The holders, made of two crochet circle panels, can be a fun gift, matching kitchen towels, or bridal shower dish towels.
Crochet Modern Ring Towel Holder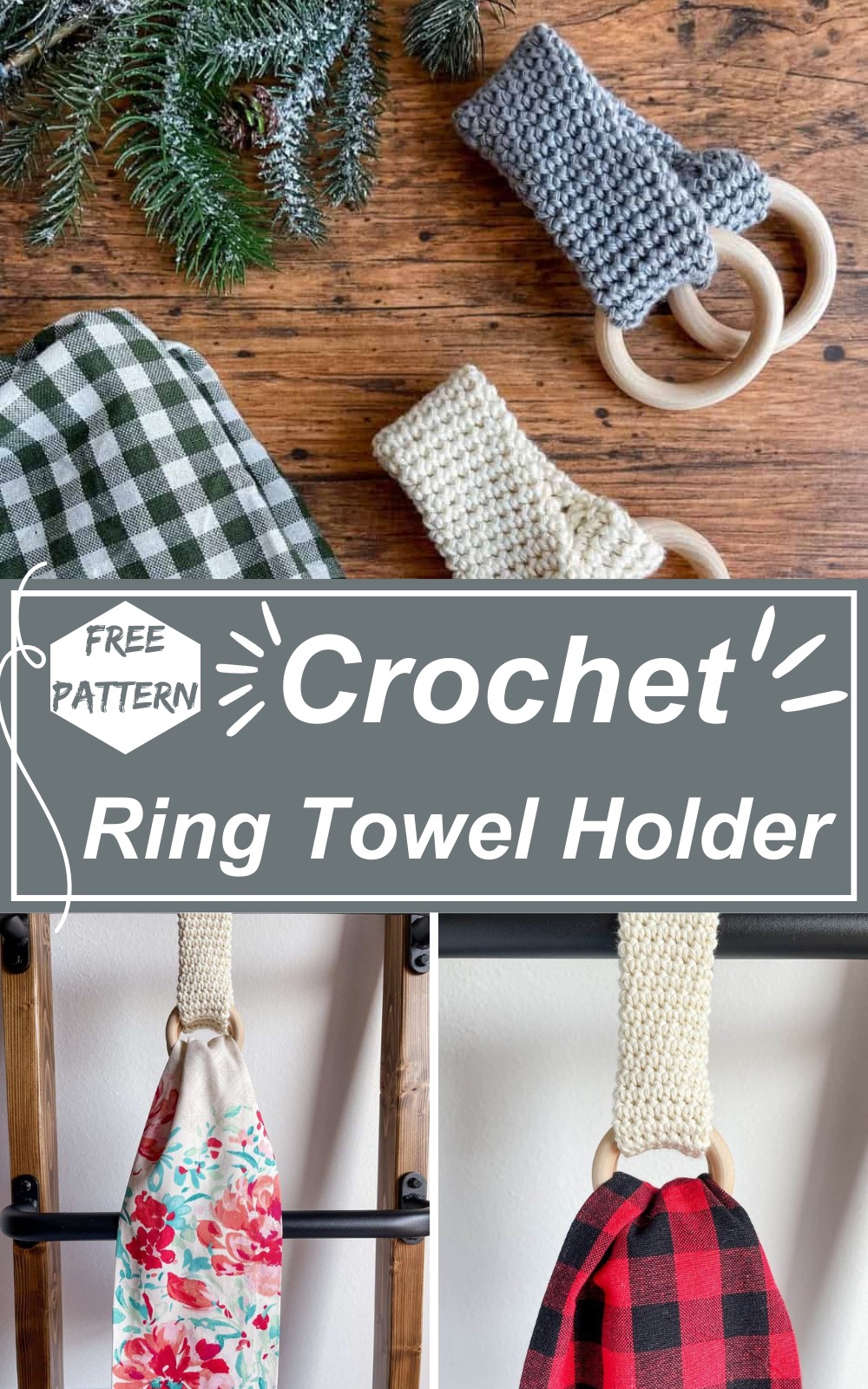 Simplicity is the best! Experience the charm of a modern, farmhouse chic vibe with a quick-to-make crochet towel topper. Prepared with just a bit of scrap yarn and a couple of wooden rings, this topper adds a functional yet stylish touch to your kitchen or bathroom. The remedy for fabric pilling is to keep the towel separate from the ring. Also, as the rings hold the towel, this item functions more as a towel holder than merely a topper.
Towel Holder: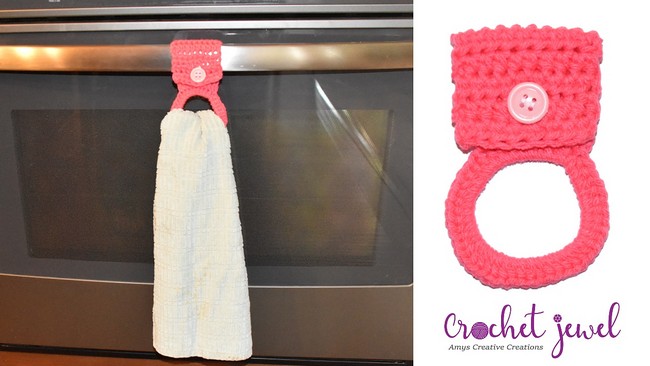 Crochet a beautiful, lacy towel holder for your bathroom with this easy-to-follow pattern. The yarn used to create this decorative piece can be any worsted weight. Using just one ball of yarn, you can make a fashionable and functional accessory for your home! This towel holder is a fun project for both beginner and experienced crocheters. It will add a pop of color and texture to your bathroom while remaining functional. The pattern has detailed instructions on how to make the crochet hook and how to crochet the loop.
Materials
H hook and medium worsted yarn.
Abbreviations
ch=chain
hdc=half double crochet
sl st=slip stitch
Crochet Kitchen Towel Holder: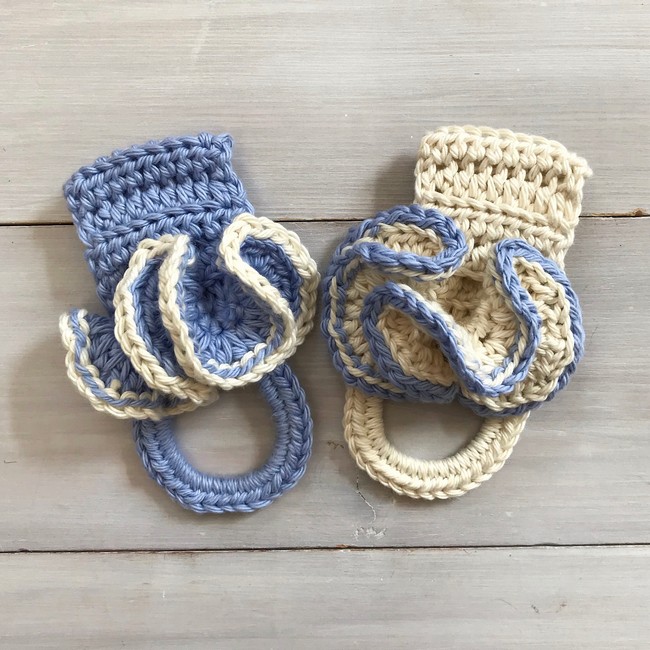 This Kitchen Towel Holder makes a great addition to your kitchen and is ready for action as soon as you're through the project! This pattern is written in a very detailed manner and includes helpful pictures. This quick and easy crochet pattern does a great project for beginners or experienced crocheters. It is a great pattern for those who like to make things with their hands and those who love to gift homey items. This towel holder works quickly, so you can enjoy the fruits of your labor in no time!
Materials
Yarn: #4 Worsted Weight – I Love This Cotton in any 2 colors – Main Color (A) & Contrasting Color (B)
Hook: US Size (G/6) 4.0 mm crochet hook
Other Tools: Hair Elastic, Yarn Needle, Scissors
Abbreviations
ch – chain
st(s) – stitch(es)
blo – back loop only
sl st – slip stitch
sc – single crochet
hdc – half double crochet
Arewa Towel Hanger: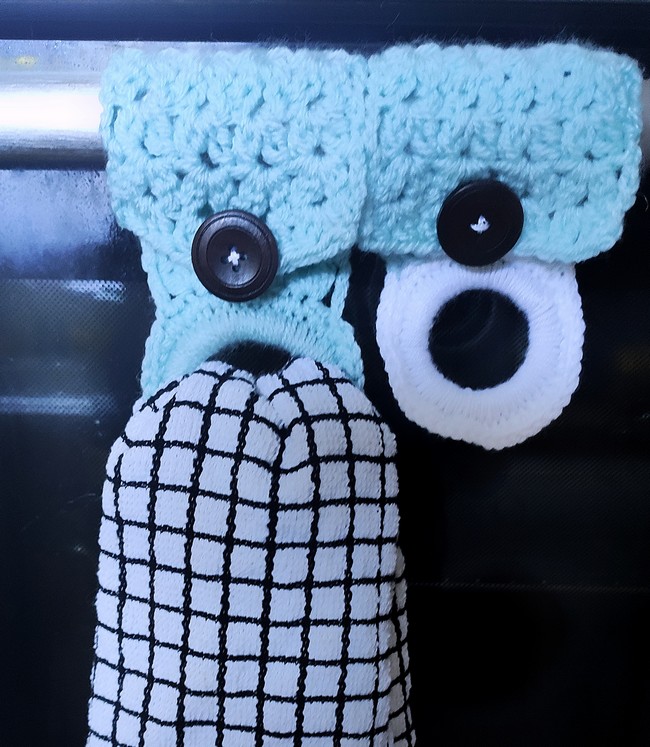 This is a crochet towel holder pattern called Arewa Towel Hanger. It's a great way to organize your bathroom, kitchen counter, and anywhere you want to hang your towels. This is a quick and easy pattern for a simple crochet towel holder. It is suitable for beginners and crocheters. It is a fun and simple pattern that looks great when finished. The pattern contains photos and step-by-step instructions. This pattern may be used commercially or non-commercially as long as credit is given to Arewa.
Materials
PAINTBOX Simply DK, #3 light weight (100% Acrylic 302 yards/276 m per 3.5 oz/100g skein)
Ball in White = MC
Ball in Sky Blue = CC
Size H/ (5 mm) Crochet Hook
Yarn needle
Elastic Hair tie (3" in diameter)
Button – 1 X 2.5cm
Abbreviations
Chain(s) – ch(s)
Single Crochet – sc
Double crochet 2 stitches together – dc2tog
Repeat – rep
Mc – Main Color
CC – Contrasting Color
Hanging Kitchen Towel: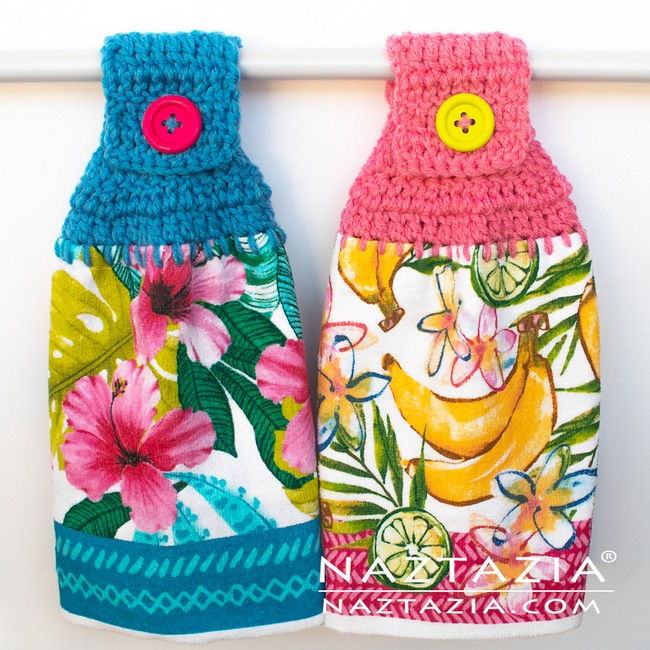 The perfect detail to complete your kitchen, this crochet towel holder will add personality and character to your space while providing a safe place to dry your towels. The project requires only basic stitches. The towel holder is a great addition to any home where kitchen towels are needed! Hanging up your towels is a great way to reduce clutter in your kitchen and help keep things organized. But this crochet Hanging Kitchen Towel will look great in your kitchen and is so easy to make that even a beginner with yarn and hooks can follow along!
Materials
About 60 yards of worsted weight yarn.
You'll need some worsted-weight yarn. And we'll be holding 2 strands together at the same time throughout the pattern. I prefer Red Heart Super Saver, which is a 100% acrylic yarn. It is durable and easy to wash.
Crochet hook.
I'm using a size H crochet hook, which is a 5 mm hook size.
Yarn needle.
Most kitchen towels aren't the thick fluffy type. They are usually made of a thinner woven material. This is good news for those of us who want to add crochet to them. A metal yarn needle should be able to easily pierce the fabric to create the blanket stitch along the top edge.
Button.
I'm using a 1.5-inch button. I like colorful ones to match the towels, but a nice neutral wooden one also looks very sharp.
Kitchen towel.
I usually get my kitchen towels at my local discount stores. They are 15″ wide by 25″ in length. The material is just right. It's not too thick, but not too thin.
Dish Towel Holder: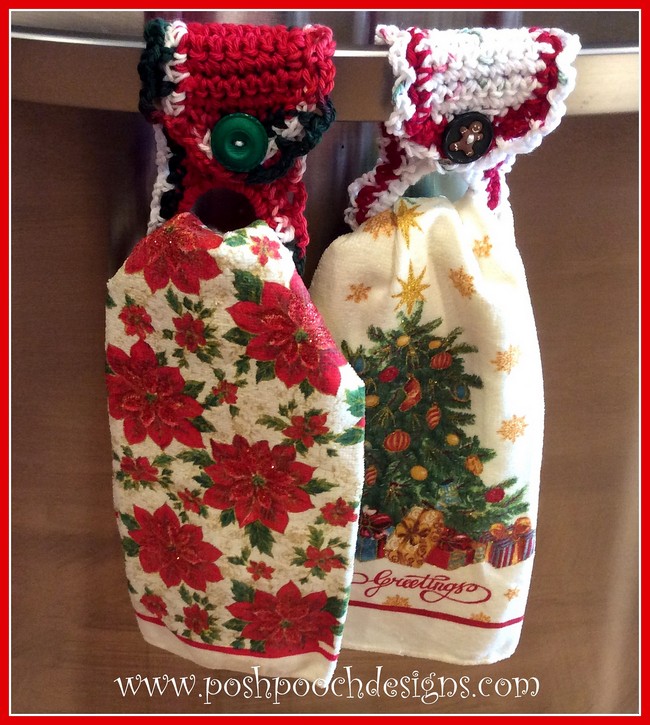 Crochet your way to a spotless kitchen with the crochet dish towel holder pattern. This easy-to-make kitchen crochet project is an excellent choice for the beginning or experienced crocheter. Whether you love to crochet and want to add this handy home decor piece to your collection, or you're looking for a quick and easy project to make as a gift, this pattern is perfect! The simple design incorporates basic crochet stitches, while the pattern includes detailed instructions and color photos that will help you create this gorgeous towel holder.
Materials
Crochet Hook – H/ 5.00MM
Yarn- Cotton yarn of Choice, your choice of colors
Main Color – MC, Trim Color – TC
1 inch button
Yarn Needle
Abbreviations
Chain (ch)
Slip Stitch (slst)
Single Crochet (sc)
Skip (sk)
Space (sp)
Scare-Less Crow Towel Holder: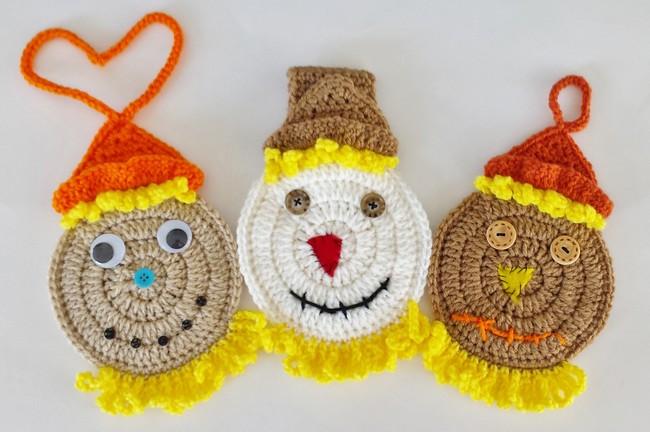 You will love this crochet Towel Holder Pattern. This Scare-Less Crow Towel Holder is so adorable you will have to make one for everyone in your family! Great to use with any kitchen towel, this crochet dish towel holder is sure to bring a smile to everyone's face when they look into the kitchen. It's a fun crochet pattern that requires only one ball of medium worsted-weight yarn, a size F hook, and a couple of hours. Happy Crocheting!
Materials
Size: , Hook: H/5.0mm, Yarn: Worsted Weight in 3 colors: MC= .8oz, Hat color (B)=.4oz, Yellow (straw color) (C)=.1oz. Optional: Buttons, facial features.
Abbreviations
Beg=BeginningCh=Chain   Slst=Slip stitchSc=Single crochet
Sp(s)=Space(s)Sk=Skip   W/=WithDc=Double crochet
St(s)=Stitches   Lps=Loops   Fp=Front post          Rs=Right Side
Ws=Wrong side          Dec=Decrease
Fall Pumpkin Towel Holder: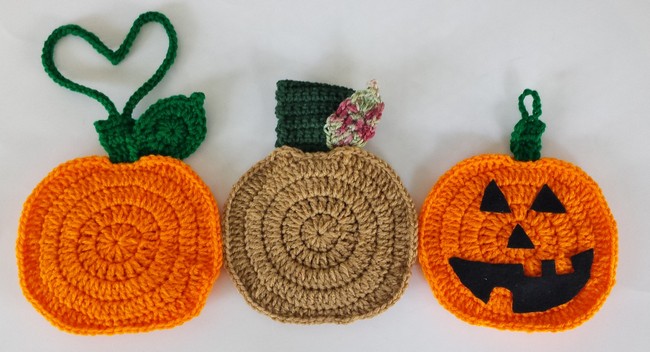 This towel holder is a fall-themed crochet pattern that looks like a pumpkin. It will be at home in the kitchen or any room that could use a little fall flair! All you need is one skein of yarn and some basic crochet stitches to create this adorable fall pumpkin towel holder. Perfect for adding a pop of color to your kitchen or bathroom, the pumpkin even has the cutest pumpkin face. The directions are easy to follow for challenging stitches like smocking and filet crochet. A perfect gift for men who want something different.
Materials
Size: 6 1/2", Hook: H, Yarn: Red Heart WW,  Orange: 1.0oz & Green: small amt.
Optional: Button, facial features if making a face for your pumpkin
Abbreviations
Beg=BeginningCh=Chain   Slst=Slip stitchSc=Single crochet
Sp(s)=Space(s)Sk=Skip   W/=WithDc=Double crochet
St(s)=Stitches   Lp(s)=Loop(s)   FO=Fasten off         Dec=Decrease
Brr Snowman Towel Holder:
The Brr Snowman Towel Holder is a cute way to display your towel when hanging up by the pool or beach. Made with chunky yarn and bulky/super bulky weight yarn, this pattern stitches up quickly and uses a special stitch that will make it easy for you to do! This towel holder pattern is easy and fun to make. It would be a great gift for someone who you know loves snowmen. Instant hand towel holder that they can take wherever they go.
Materials
Size: 5"W X 8-½"L , Hook: G/4.5mm, Yarn: Red Heart WW: A: White (1.2oz), B: your choice (.5oz)  Materials: Black felt, puffy for nose, buttons/snaps
Abbreviations
Beg=BeginningCh=ChainSlst=Slip StitchSc=Single Crochet
Sp=SpacesSk=SkipW/=WithDc=Double Crochet
St(s)=Stitch(es)Lps=Loops
Towel Holder: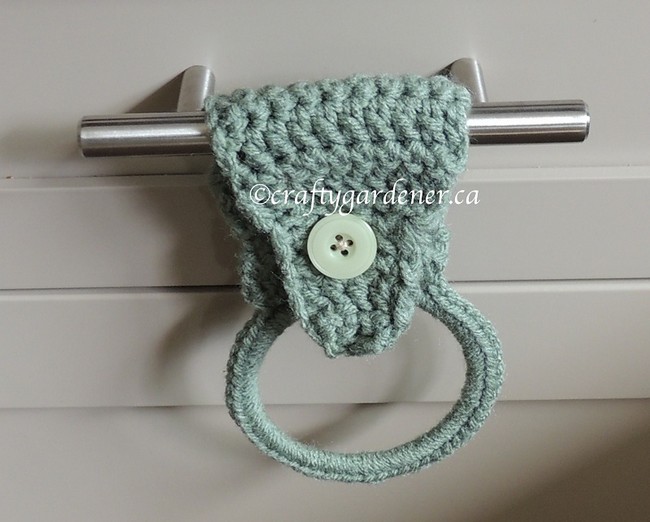 Are you always looking for a place to hang your towel?! This crochet towel holder pattern will help you save space, add storage and make the room look pretty! This crochet towel holder pattern is perfect for any bathroom, kitchen, or laundry room. This towel holder is easy to make and works quickly. You will need fewer than one skein of worsted-weight yarn for a few hours. This project is perfect for beginners or experienced crocheters looking to try something new.
Materials
-7.5 cm or 3 inch ring (packets of 6 from craft stores),
-a 4.5 mm crochet hook,
-a small amount of yarn, preferably cotton yarn or worsted weight yarn
-button,
-tapestry needle
Daisy Towel Holder:
With this lovely crochet towel holder pattern and a little yarn, you'll be able to spruce up your kitchen and bathroom in no time! This is perfect if you're tired of ugly paper towel holders and want something stylish. Keep your towels handy and chic with this crochet towel holder. The pattern is for making a daisy-inspired towel holder in cotton. This Daisy Towel Holder pattern is great for beginner crocheters who love pretty designs and handwork projects but are looking to expand their skills.
Materials
Yarn: You will need some medium density (size 4) cotton yarn in two colors: one for the main body and one for the little daisy-like flower. This is a great project to use up small balls of cotton yarn. A golf ball size will make up the main body; even less is needed for the flower.
Hook: G hook (4mm)
Button: A button about an inch across (2.5 cm) works perfectly for the center of the flower. Slightly smaller or larger will do just fine, too.