11 Crochet Ripple Blanket Patterns For Beginners
Ripple blankets are a classic crochet pattern for many reasons, not the least because they are very easy to make and work up quickly. These blankets can be made with any yarn and in any size, but you'll need to choose the appropriate hook size for your chosen yarn. This post will help you find the perfect one for your project if you want easy crochet ripple blanket patterns. The patterns are easy to follow, and the blankets are fun and unique! They're also a great introduction to color changes and textured Crochet, so if you're looking for a new challenge or want to learn new skills, these ripple patterns are just what you need.
Free Crochet Ripple Blanket Pattern

Crochet ripple blankets are so simple that they can be started in just a few hours and are perfect for last-minute holiday gifts. Since they're mostly made up of single crochet stitches and chains, this is an easy blanket to start right before the holiday rush! These Crochet ripple patterns look complicated, but they're much easier than you might think. These Crochet ripple blanket patterns can be made in almost any size, and the pattern is easily customizable. Any crochet beginner can make this blanket; even experienced crocheters will find something new and interesting here.
Benefits of Crochet Ripple Blankets
They are easy to learn.

You can use any yarn or pattern you want to make something unique and special for anyone in your life who loves crochet ripple blanket patterns.

They are cheap, so they won't break the bank or cost too much money if you want to make more than one at a time or buy more than one type of yarn or pattern for them (like if they want one made out of wool).

You can make them as big or small as you want, depending on how much money and time you have available to make them and where they will be used (like at home or outside).
Crochet Cosy Ripples Blanket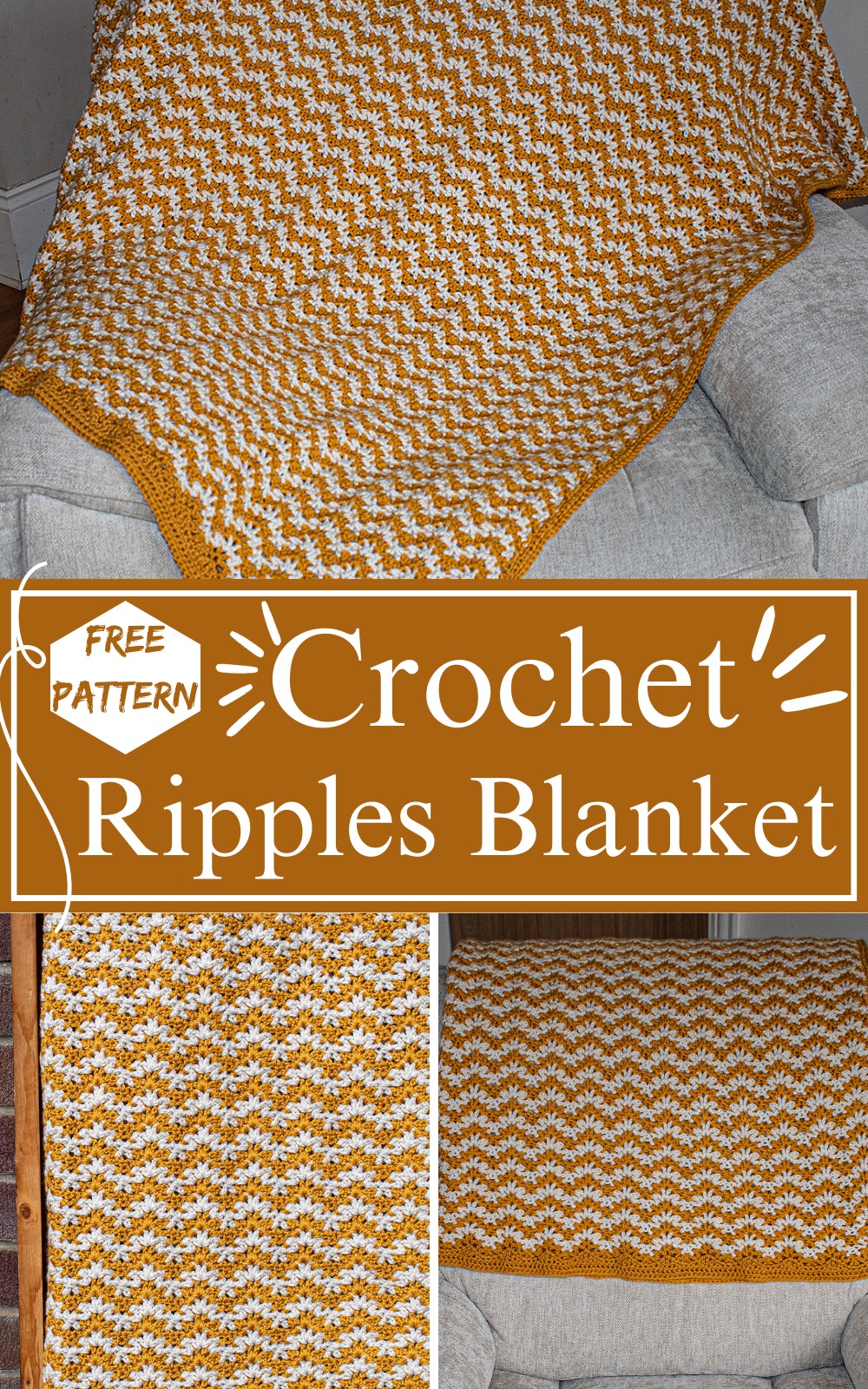 Want an heirloom-style crochet blanket that beautifully blends tradition with modernity? Look no further than the Cosy Ripples pattern, offering eight sizes varying from preemie to king. The blanket shows a V-stitch ripple design in white and mustard color but looks with a solid color or occasional color bursts. Besides its outstanding visual appeal, the blanket also provides the perfect amount of warmth and coziness. Plus, it's built to last for years!
Crochet Rocky Ripples Blanket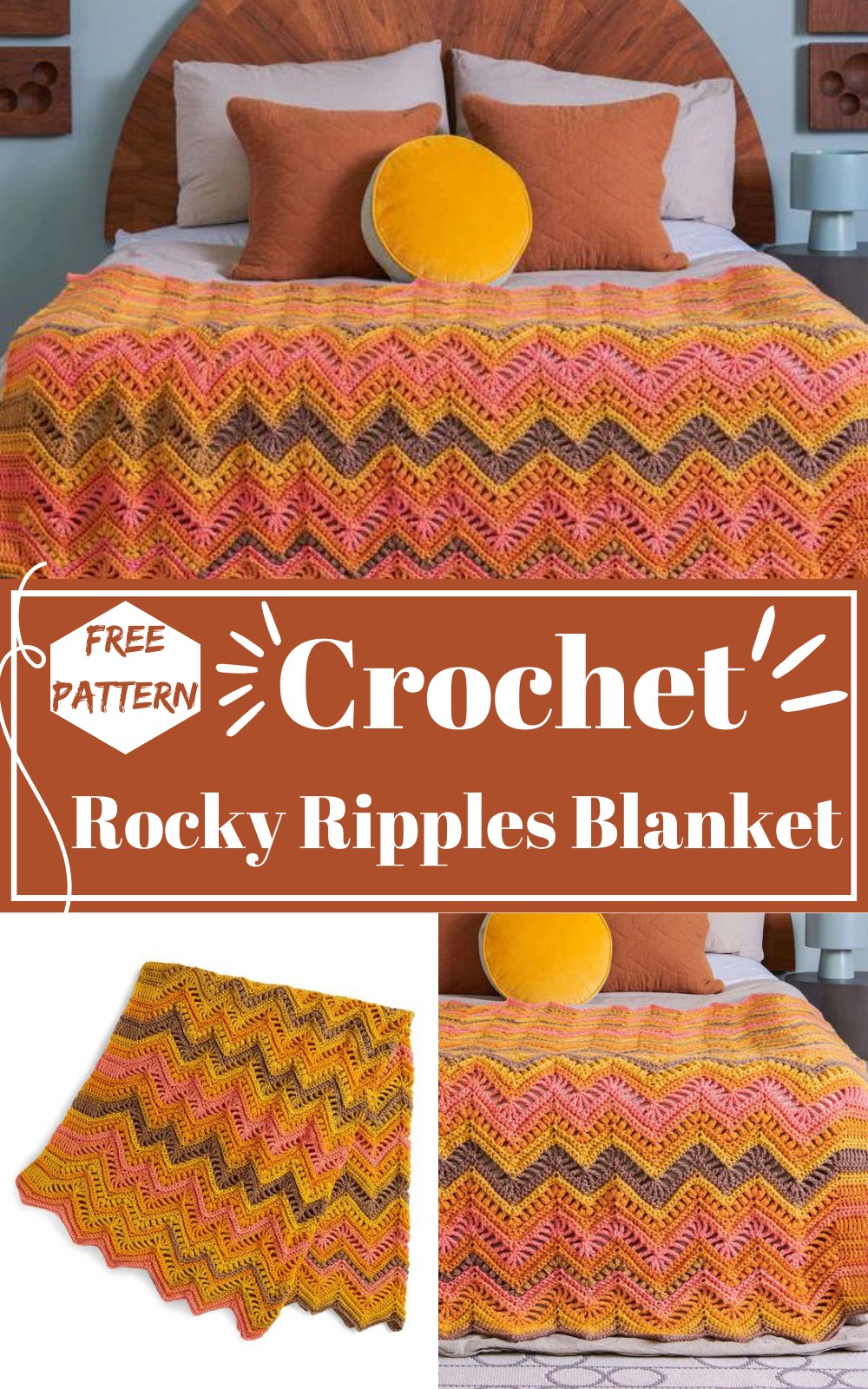 Elevate your decor with the vibrant, self-striping colors of this crochet blanket made from Caron Jumbo Ombre. Stitched in the self-striping colors of Caron Jumbo Ombre, this layer features a fascinating texture along with a mixed wave pattern. The graphic boasts peaks and valleys that combine ridged single crochet rows, open work sections, and cluster rows. You'll also do puff stitches, treble crochet, and double crochet to keep you engaged from start to finish!
Crochet Ripple Baby Blanket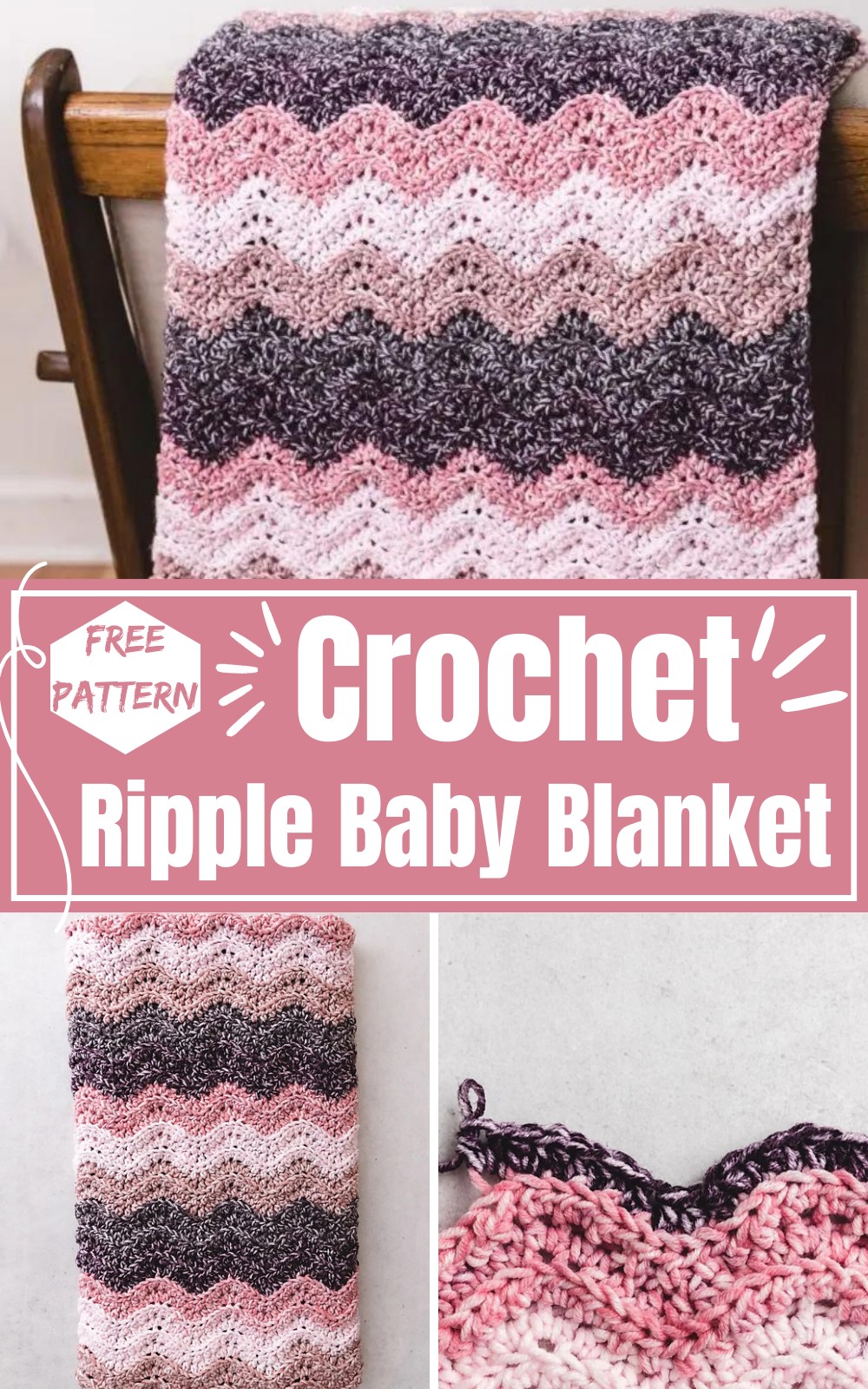 Crochet a warm, cozy, fast baby blanket with a vibrant ripple pattern. Using multi-colored shades of yarn and ridged wavy patterns enables a swift output, making it an ideal last-minute baby shower gift. With careful instruction on supplies, stitches, techniques, and step-by-step images, this comprehensive guide ensures your baby blanket creation is simple, engaging, and fun.
Crochet Modern Ripple Blanket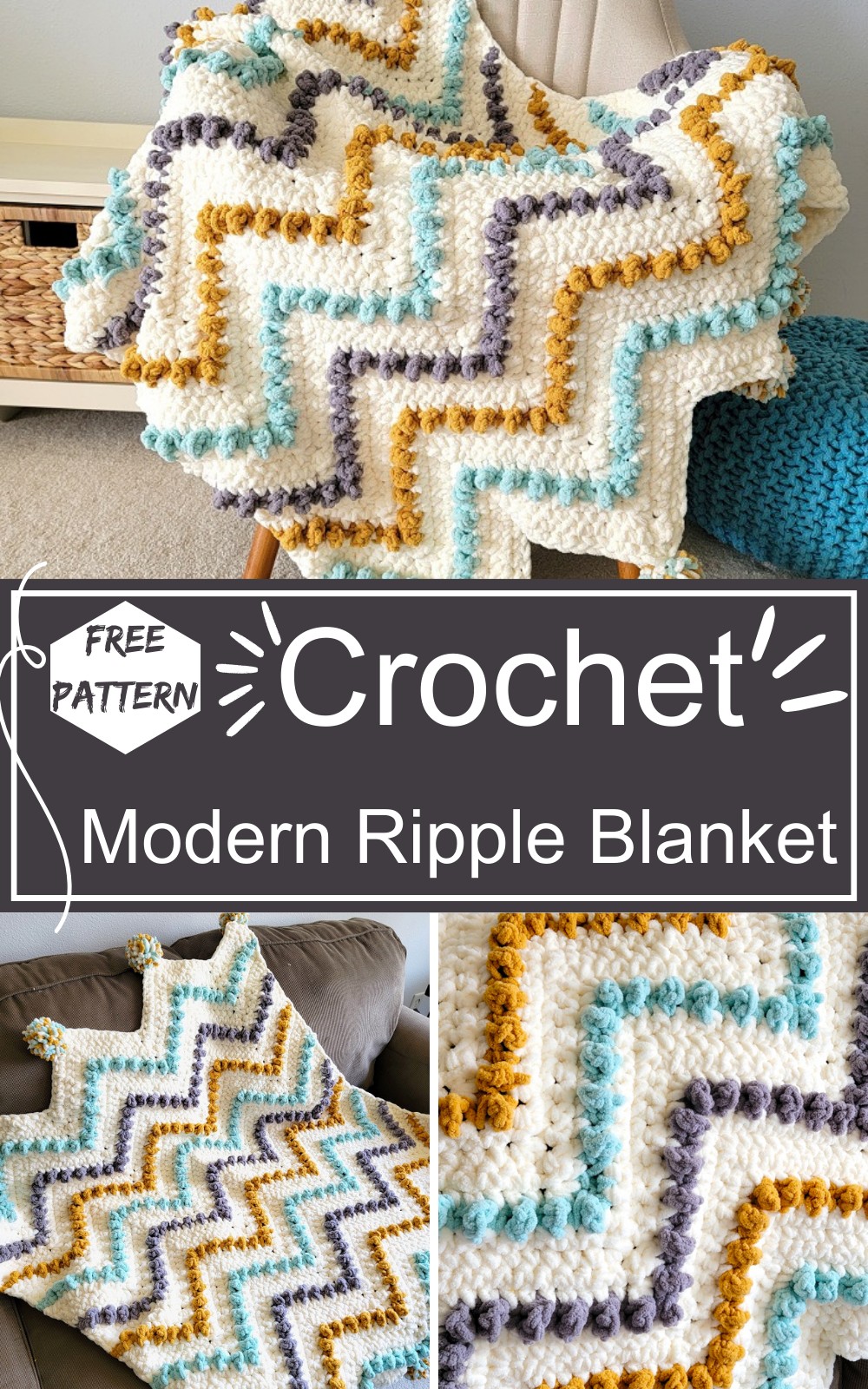 Imagine enhancing your sofa or bed with a crochet ripple afghan that's hard to miss. Its potential for diverse color combinations guarantees a fresh appearance each time. It uses Bernat Blanket yarn to create a wavy, vibrant texture, adding charm to your afghan. Pom-poms boost its distinctiveness, while simple faux bobbles provide an eye-catching textured touch.
Crochet Dotted Ripple Blanket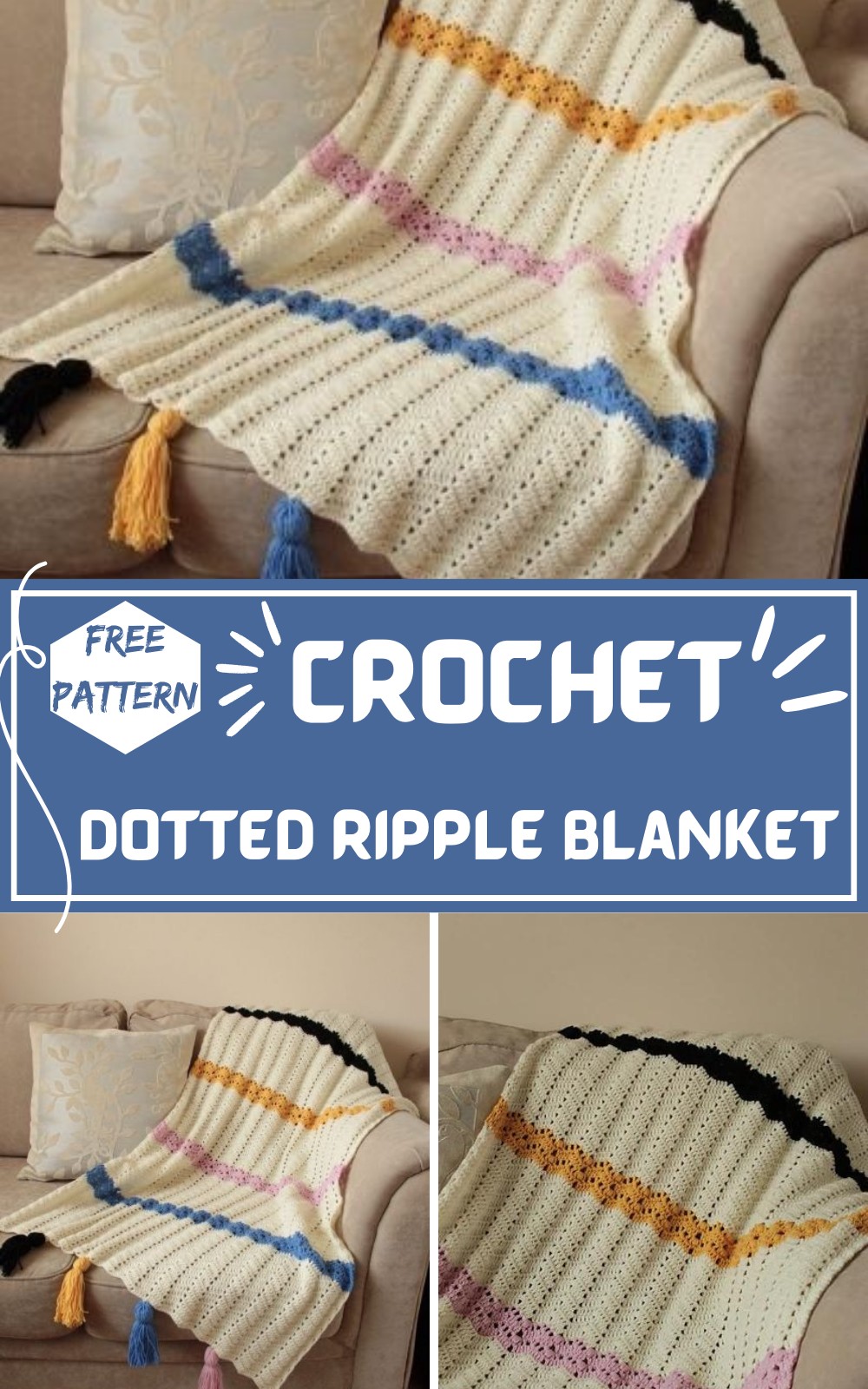 This chevron puff stitch crochet blanket is fun and easy to make, transforming neatly into a cozy masterpiece. The blanket features a simple double crochet chevron pattern and textured puff stitch color stripes, adding color and charm to any room. Long tassels make this blanket even more charming. Chevron width in the crochet blanket pattern depends on the stitch count: more for a more comprehensive look, less for a narrower one. For custom-sized blankets, use a stitch pattern of multiples of 12 plus 3 chains.
Chunky Rainbow Ripple Baby Blanket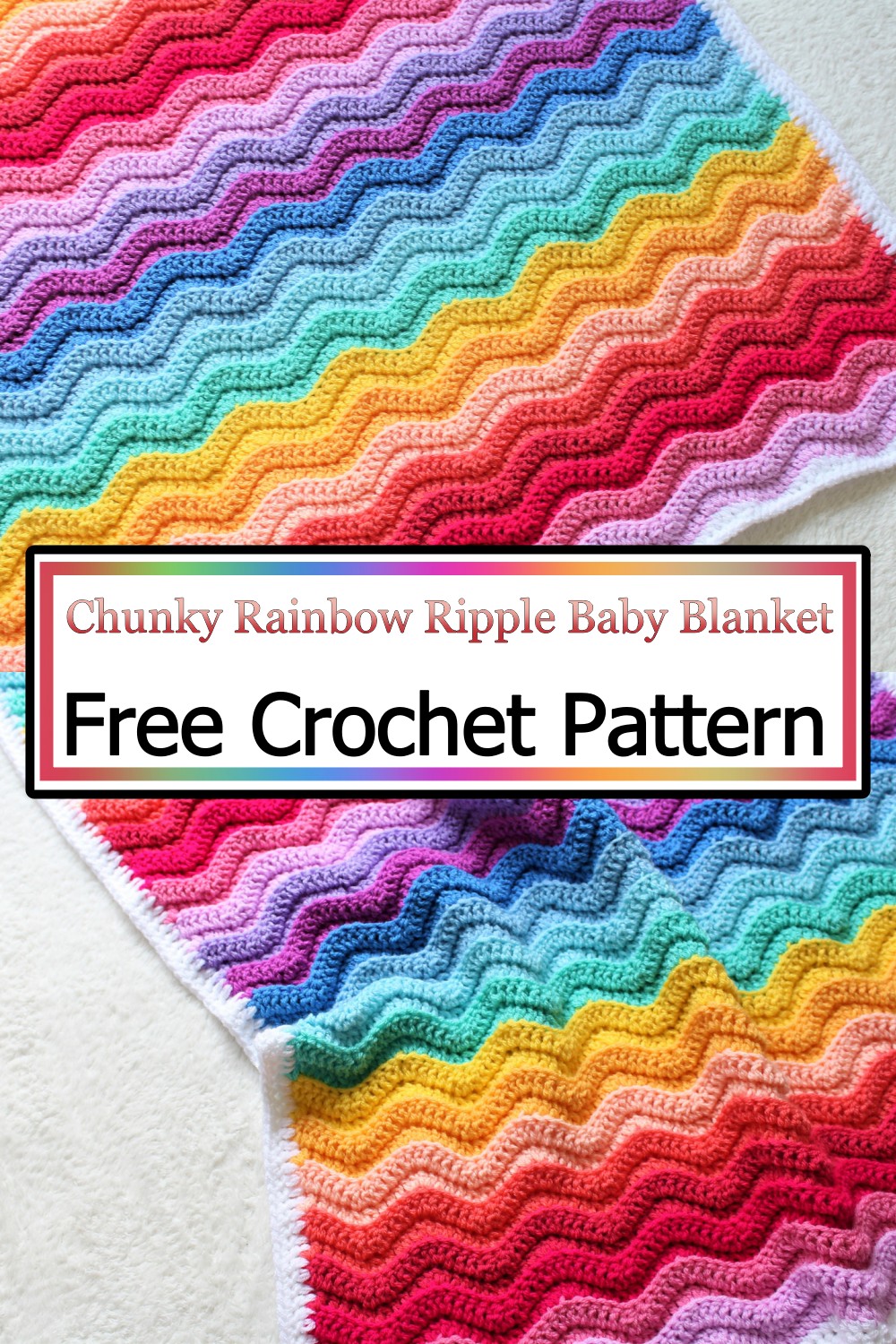 This big, chunky crochet rainbow ripple blanket is made for snuggling! It's the perfect size for swaddling your baby or playing on the floor. The pattern includes instructions for adjusting the size of your blanket to make it smaller or larger as needed. This easy-to-make ripple stitch blanket is a new favorite addition to any room. Crochet a ripple baby blanket for a friend for a special gift! With its multiple color options, this is also an easy way to use scrap yarns, making it an even more economical option than just one color.
Double Sweet Ripple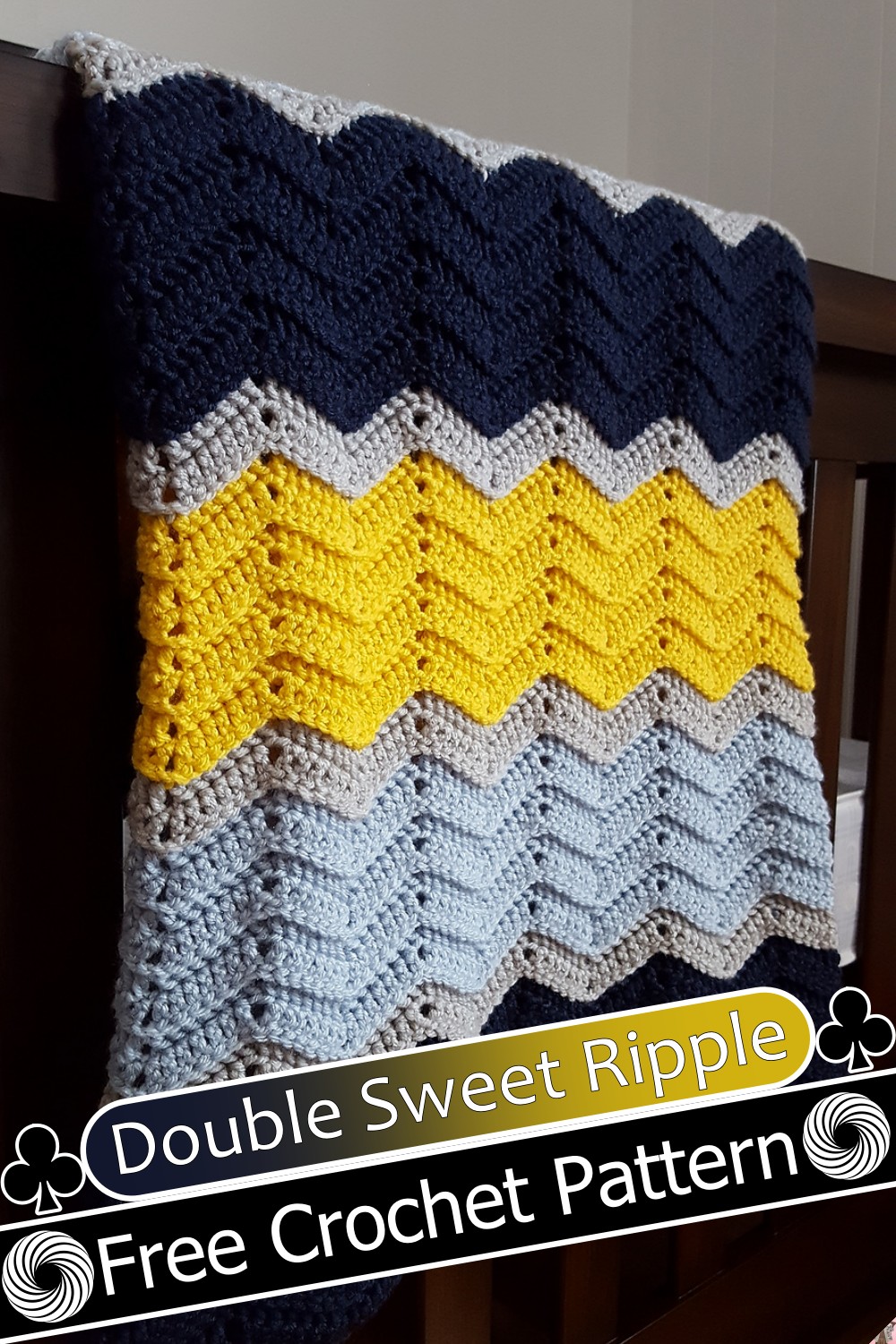 If you love making ripples, this pattern is perfect for you! This is a fun ripple pattern with a simple, easy-to-follow stitch. This project works quickly and makes the perfect gift for any occasion. This double ripple blanket is designed to create a lot of warmth and comfort. The pattern calls for chunky yarn and a large hook so that you can do this project in no time. This double ripple blanket pattern will soon become your new favorite! It is perfect for any baby, toddler, or big kid. The simple post stitches make this Ripple stitch blanket special and easy to crochet. It's also the perfect size to pull over a sleeping baby.
Ripple in Time Throw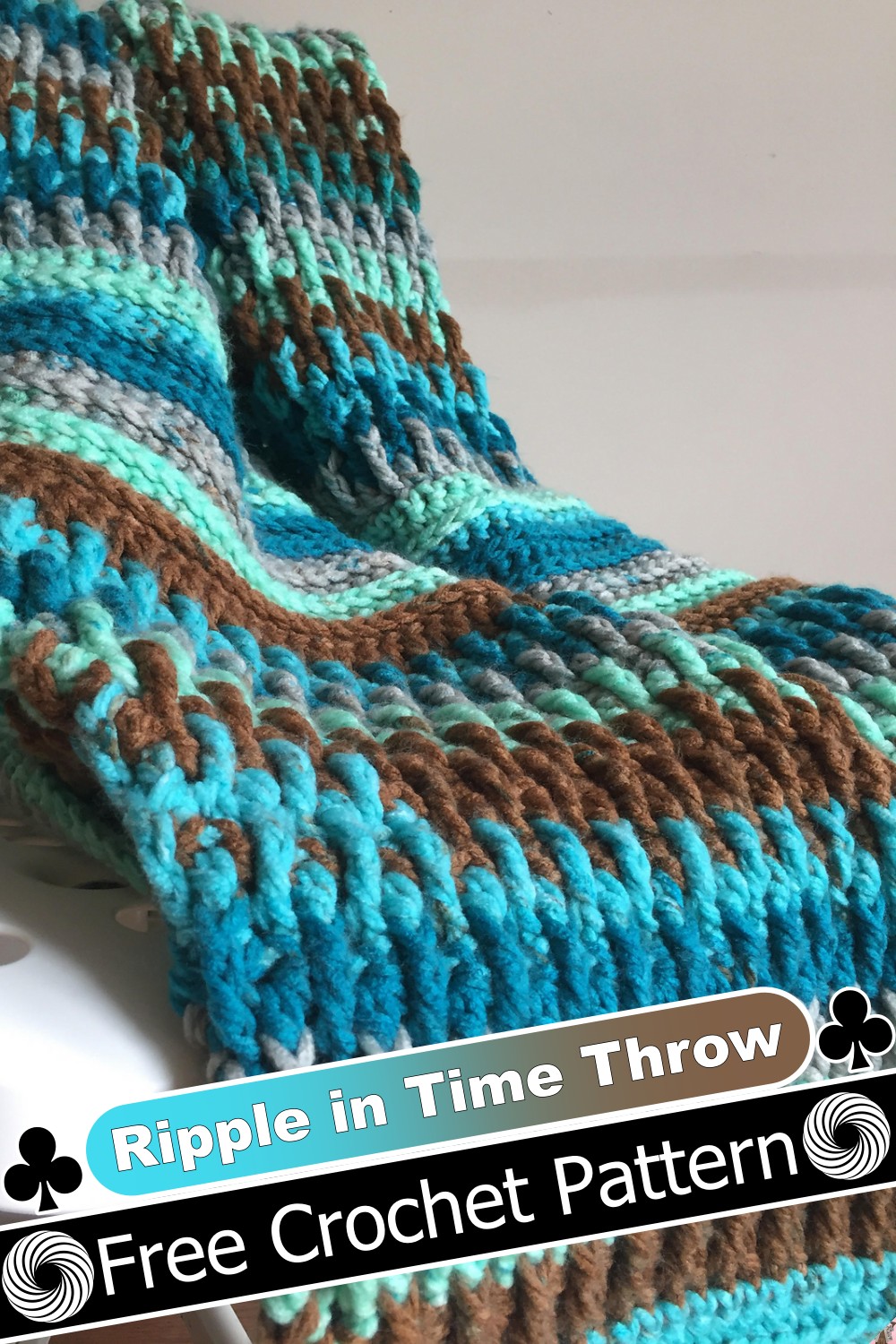 A quick and easy ripple pattern blanket is perfect for keeping cozy at home or on the go. This throw is great for any occasion, whether for a baby shower gift or for yourself! Create this crochet ripple blanket pattern in no time! This easy-to-follow ripple blanket pattern results in a beautiful, squishy blanket. Perfectly reversible, this blanket is perfect for both boys and girls. This free crochet pattern has clear instructions with photos and supplies list included.
Radiating Ripple Throw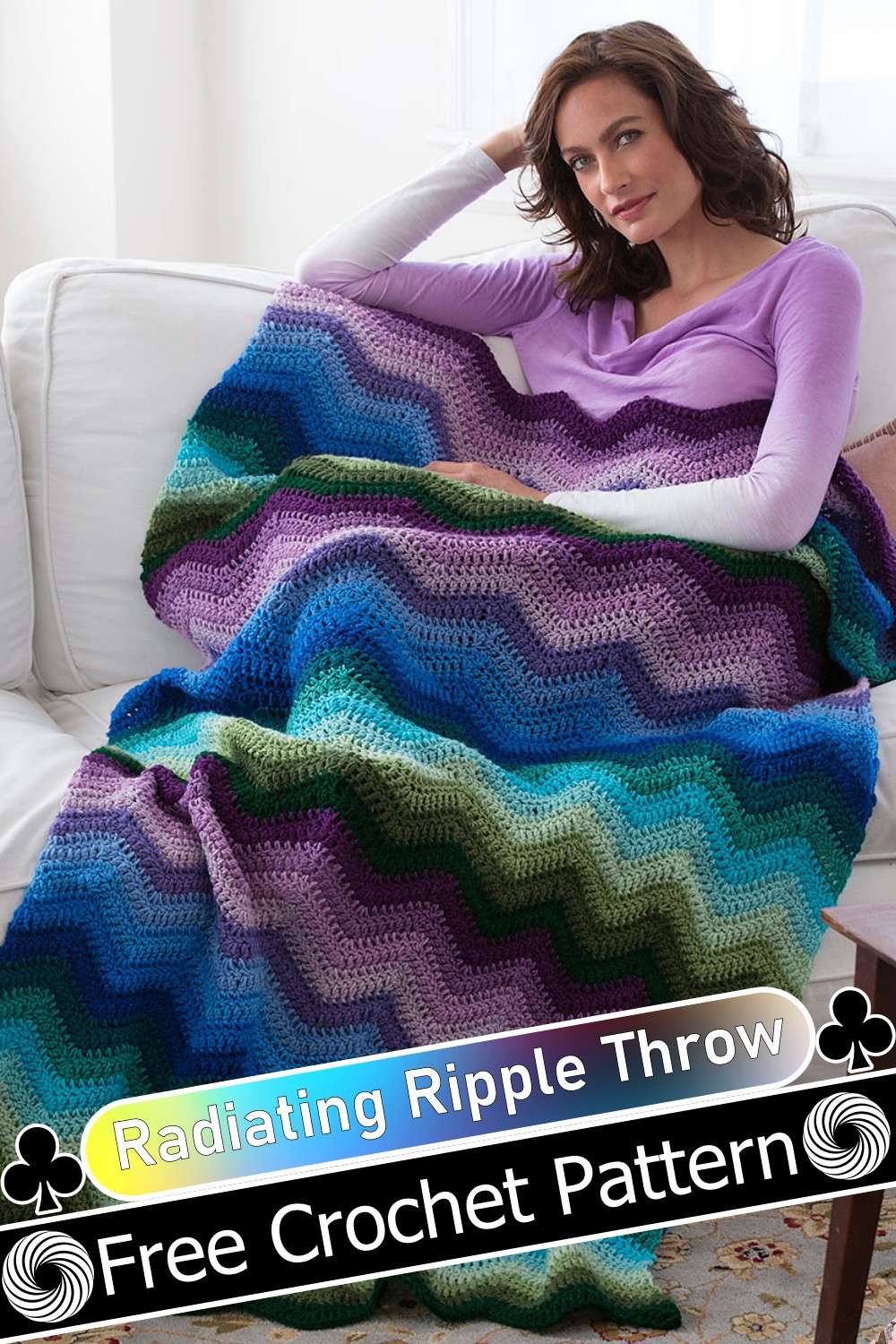 This Radiating Ripple Throw is an easy beginner-level crochet pattern that turns the ripple stitch into a beautiful blanket. This pattern is great for scrap yarn or showing off your favorite exciting colors! Use it in any size blanket you like, on any bed or chair as a throw or blanket layer. This blanket is luscious and snuggly, just in time for cold weather! It's perfect for curling up with a good book or as a lap afghan on a comfy couch.
Cluster V-Stitch Blanket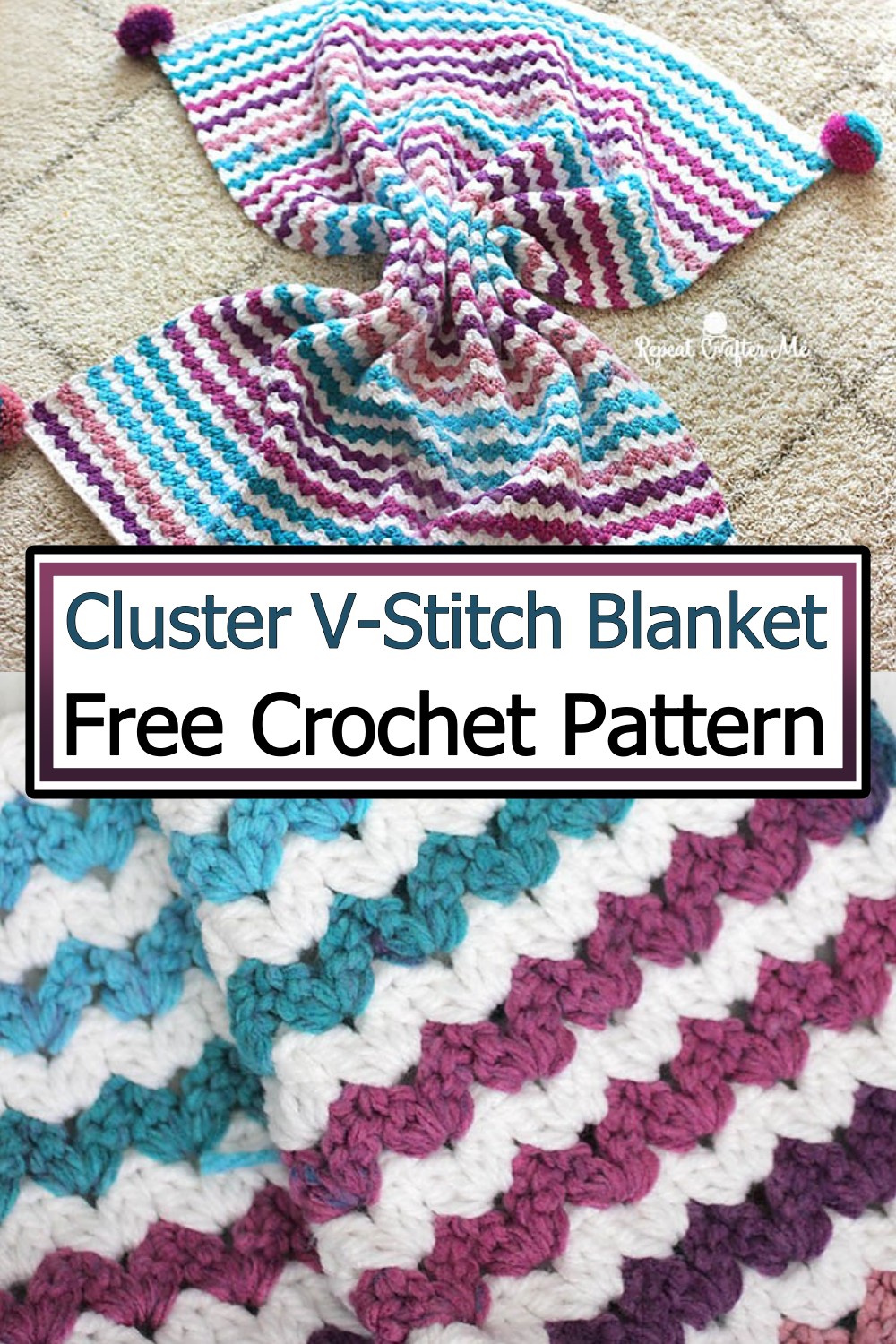 This Cluster V-Stitch Blanket is a beautiful ripple blanket created with the popular cluster V – stitch pattern. It has different size clusters to create a soft, squishy, and warm rustic feel. Make this Cluster Blanket that is perfect for the whole family! This blanket pattern will look great in any room in your home with its modern, understated design. This is the perfect crochet ripple blanket pattern for beginners. Use your favorite color, stack any size hook, and make this beautiful ripple stitch blanket in any size you like!
Blue Waves Blanket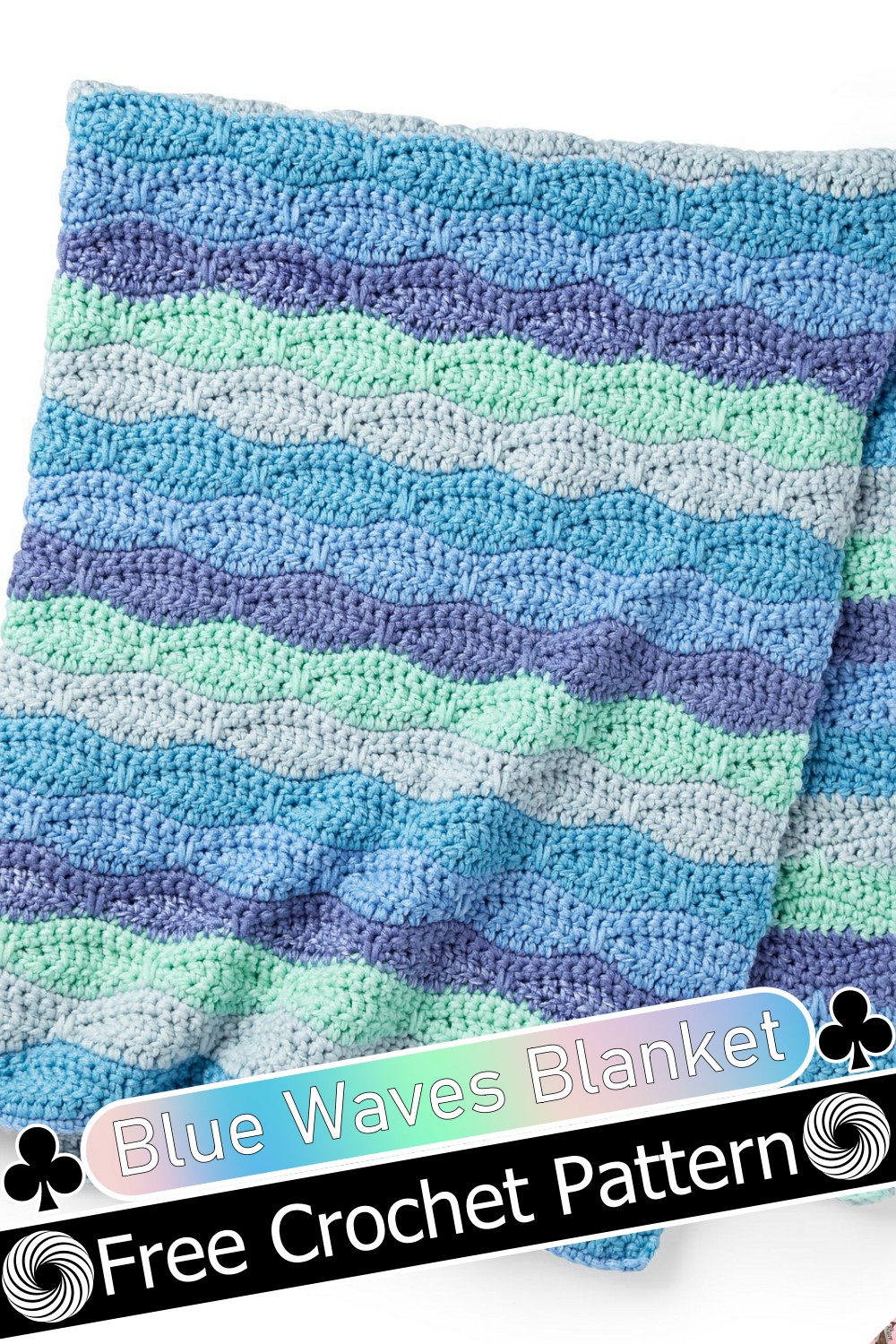 A contemporary ripple blanket for babies and grownups alike in an easy-to-crochet ripple pattern. This adorably soft & squishy blanket is perfect for cuddling up with a good book or taking to the beach and makes an excellent baby shower gift. This Blue Waves Blanket is an easy-to-crochet pattern that is stunning and looks like ocean waves. It creates a unique afghan that will be the focal point of any room. Crochet this beautiful blanket with any yarn you like. Try using two different color combinations depending on your decor; who wouldn't love to receive one as a gift?