You have a few options when you're looking to keep your soap bars from getting soggy. You can buy a commercial soap saver made of plastic or silicone, but why would you want to spend money on something when you could make it yourself? If you're a crocheter with some yarn, you can whip up these adorable little soap savers in all colors and patterns. These cute crochet soap saver patterns keep your handmade soaps, shampoos, and hand soaps looking great. Plus, they provide insulation that keeps them from drying out as quickly. The best part of these patterns is that they're fun to make and provide an excellent gift idea! Beginners can make some patterns, but most require intermediate or advanced crochet skills.
Crochet Soap Saver Pattern Free

Soaps are a great way to keep your hands clean and smelling good, but they can be expensive. If you're trying to save monthly money, it might be worth looking into alternatives that are just as hygienic but less expensive. One of the easiest ways to keep your soap dry (and therefore longer lasting) is to use a soap saver. Crochet soap-saver patterns are easy to make and offer an adorable, homemade touch that your friends and family will love. They aren't just for keeping your soap dry, either—you can use these patterns to make other products like washcloths, shawls, and towels! Each pattern comes with detailed instructions and pictures showing how the product is made. Enjoy!
See More: 20 Free Crochet Apron Patterns That Will Protect Your Clothes
Crochet Soap Saver
Crochet soap savers are a great way to extend the life of your soap. The crochet pattern provides a layer of protection for your soap that can help keep it from drying out too quickly.
Here are some benefits of crochet soap-saver patterns:
It's easy to make! These patterns are simple and only require basic crochet skills, so you don't have to be an expert crocheter to make one.
They're cute! They come in all shapes and sizes and can be made using any yarn color or combination of colors you want. You could even use different stitches to give your soap saver a unique look.
They're customizable! Add buttons or beads for extra decoration, or choose a different stitch pattern for a different look.
You can make them for gifts! Crochet soap savers are perfect for birthdays, Christmas, Mother's Day, Father's Day, and other occasions where you need something quick that still looks special.
Crochet Mesh Pouch Soap Saver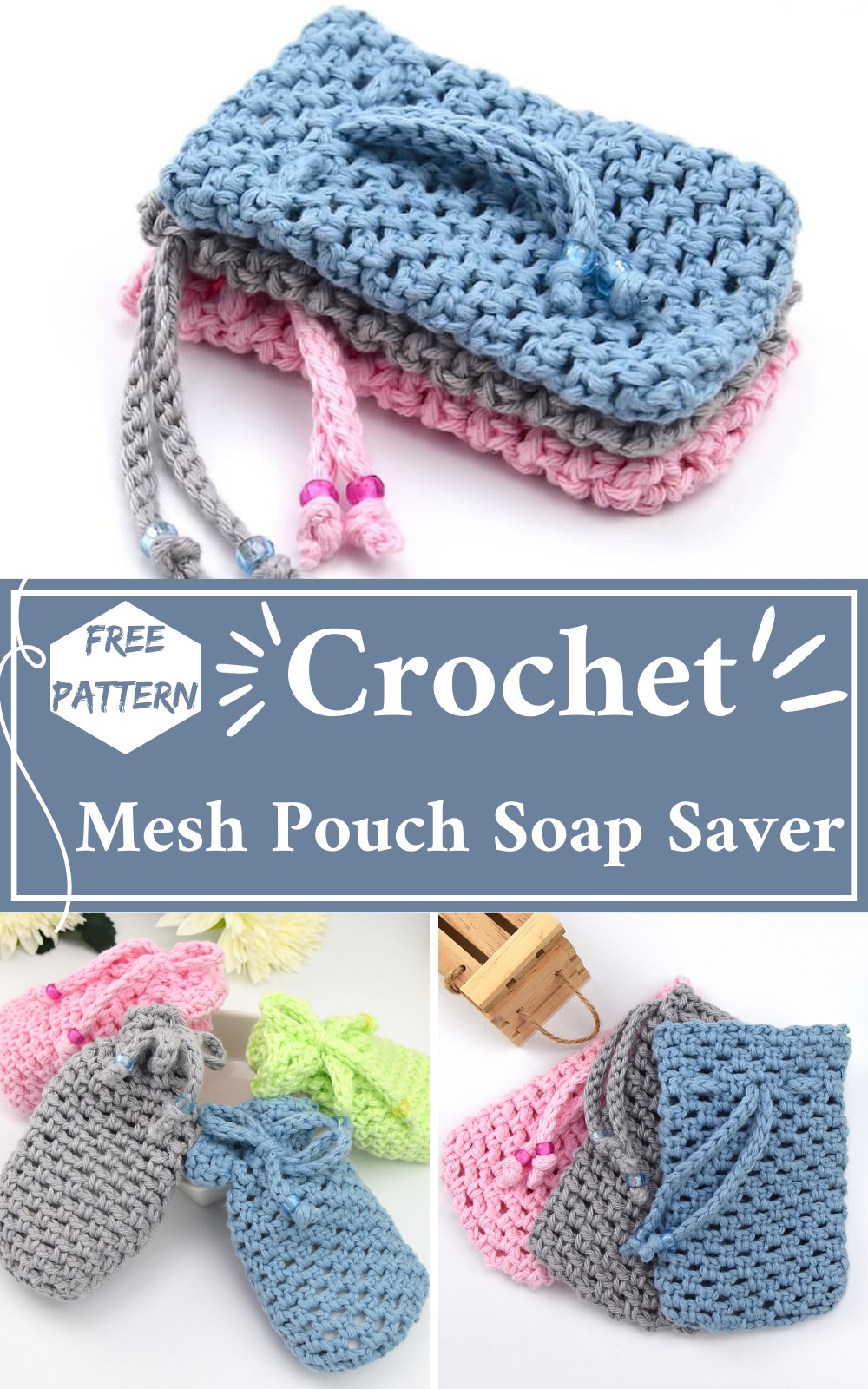 This quick and luxurious crochet-saver pattern is ideal for holding soap and creating a nice lather. It is a gentle exfoliator for your body or face and a delightful addition to your bathroom or kitchen. Boasting vibrant colors and beaded straps for closure, these holders can securely store even the tiniest soap slivers without fail. Select your favorite color, follow this simple pattern, and create the ideal bath gift for yourself or a loved one!
Crochet Soap Saver Holder
Ideal as a housewarming present or spa kit gift, this soap-saver bag is as practical as attractive. The attractive blend of mesh design and thick bottom introduces a delightful texture and intriguing touch. Coupled with the gentleness of cotton yarn, this design brings in a luxury feeling. The best part is the pattern is perfect for beginners, with a video tutorial provided
Crochet Mesh Soap Saver Bag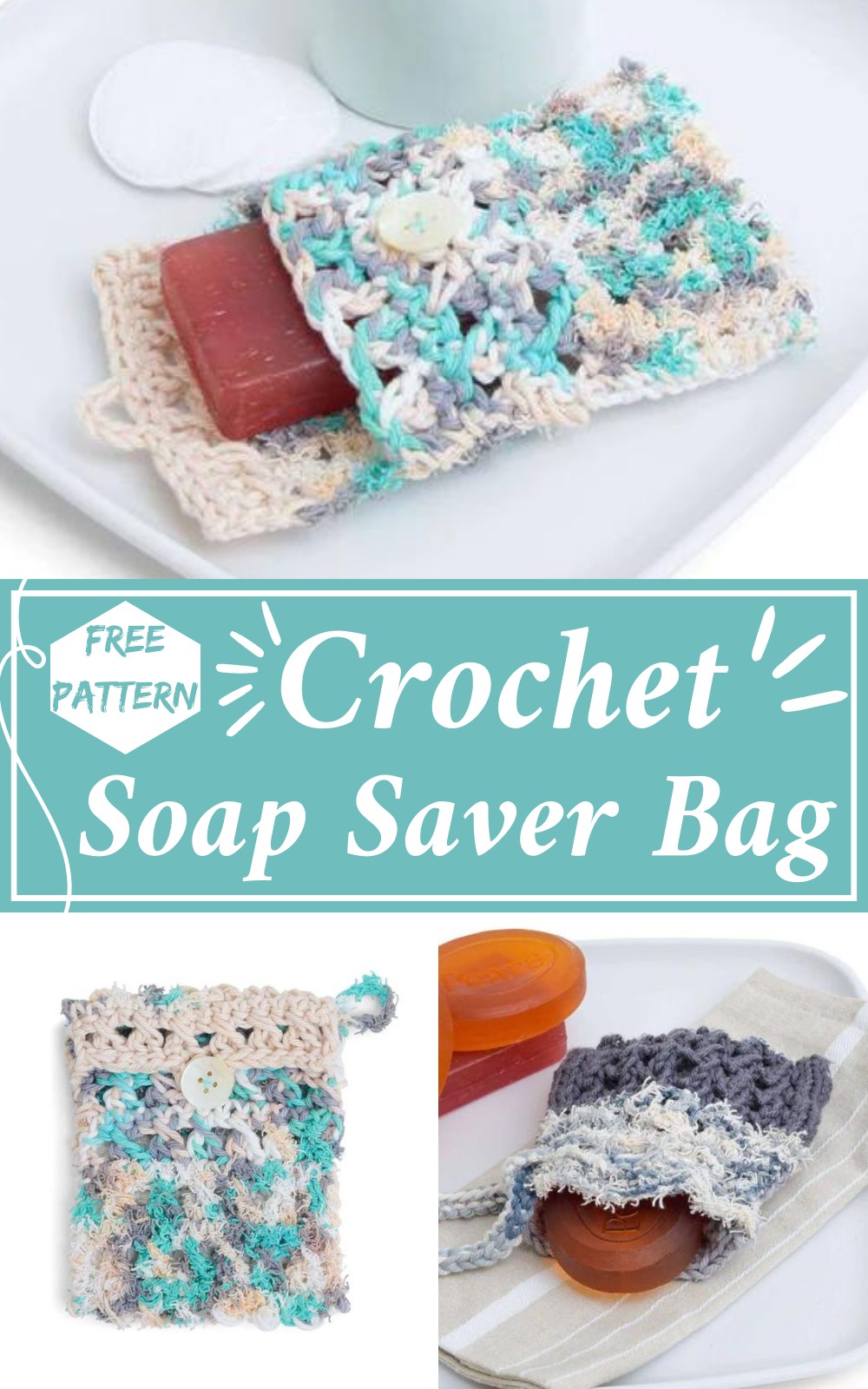 Make a crochet mesh soap-saver bag, perfect for storing a bar of soap and any leftover pieces. This pattern forms a foldable rectangular envelope pouch that provides an easy grip and uses scrubby yarn to clean properly. Close the flap with a button, and use the integral loop to hang it dry post-use. Moreover, Quick to create, this soap-saver bag, paired with a soap bar, makes an adorable hostess gift.
Crochet Alpine Bath Soap Saver
This Crochet Soap Saver features a ribbed texture, made from ultra-soft organic cotton, excellent for gentle exfoliation, cleansing, and massaging your skin. Alternatively, you can utilize it to gather all the tiny remnants of your soap bars. Once it's filled up, it's akin to having a brand-new soap bar. Plus, Being 100% cotton, it's conveniently machine washable and dryable.
Crochet Thistle Stitch Soap Saver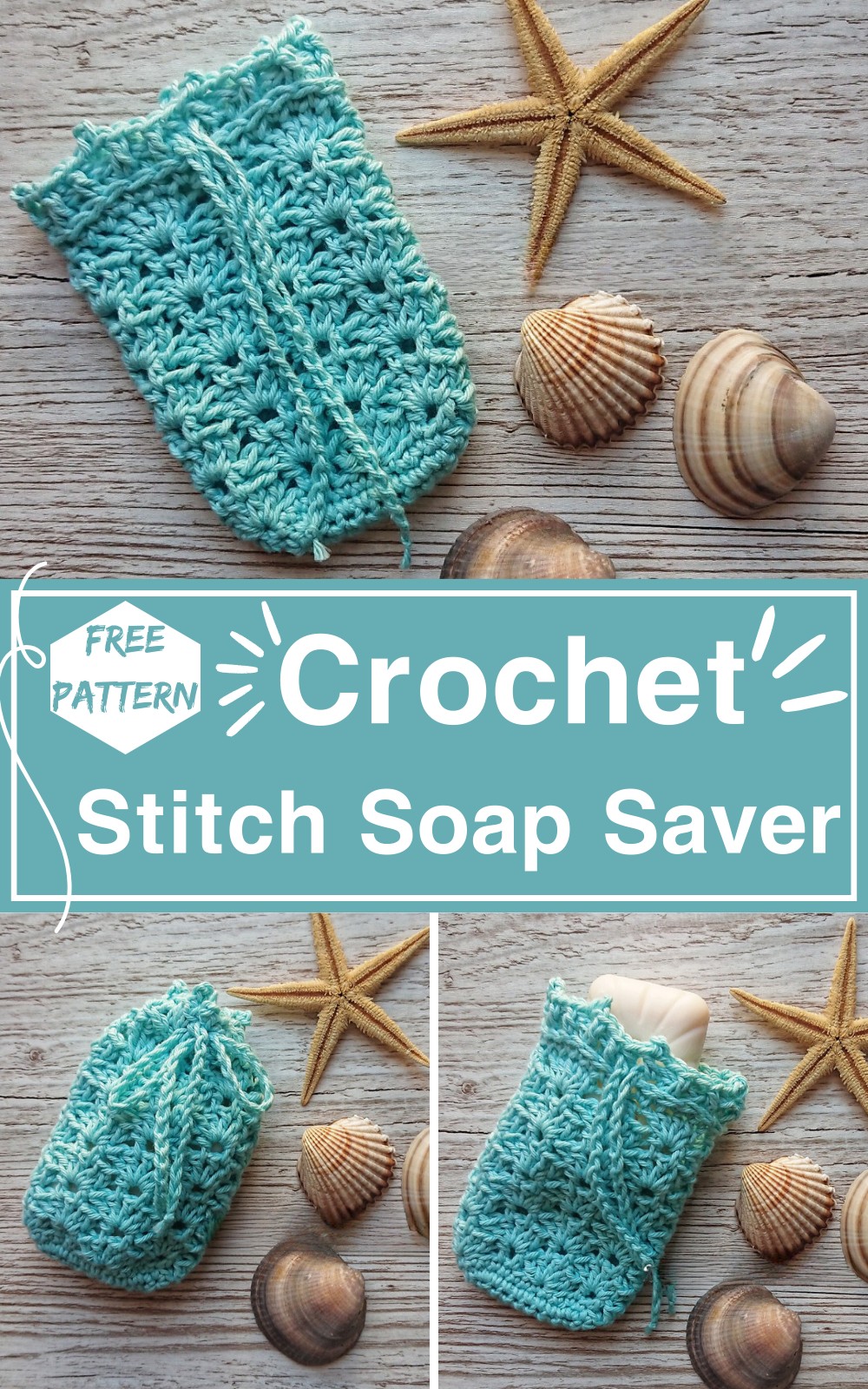 Say goodbye to wasted soap bits down the drain and hello to eco-conscious cleansing. This crochet thistle stitch makes a beautiful, gentle texture on your skin and a delightful addition to your bathroom ensemble. This pattern, solely designed in one size, perfectly fits a standard soap bar, but you can adjust the size according to your need!
Crochet Radiant Soap Saver: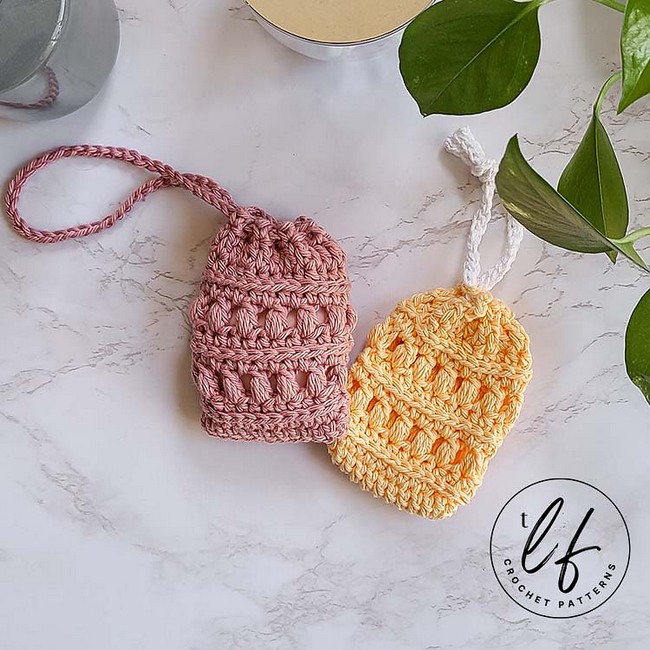 This cute, washable radiant soap saver keeps your soap dry and ready to use. Adjust the size and add as many layers of crochet as you need to fit snugly around your favorite bar soap. The generous size allows you to store more than one bar of soap. So, Create a beautiful soap saver in luxurious yarn. This easy-to-make project makes a lovely gift idea as well. Make one for yourself and/or others!
Materials
Medium (4) weight cotton yarn. You will need only one color.
You will need approximately
0.7 oz / 20g / 40 yards.
I used I Love This Cotton in Rosy. You can use any cotton yarn you prefer. I Love This Cotton is 100% cotton and is very soft for cotton yarn, so I use it for most bath items.
4 mm (G-6) hook
Tapestry needle
Scissors
Stitch Markers
Abbreviations
Ch – Chain
Sl st – Slip stitch
Sc – Single crochet
Hdc – Half double crochet
Dc – Double crochet
St(s) – Stitch(es)
Hdc3lo – Hdc in 3rd loop only*
Puff St – Puff stitch*
FDC – Foundation DC*
20-Minute Soap Saver:
This crochet soap-saver pattern is perfect for the home, bath, or kitchen. Simple stitches will take you no more than 20 minutes to complete! The Soap Saver can be used with hand soap, body wash, and shampoo. Make one for all your bathroom necessities, so you don't have to squish excess soap from each bottle. You will get instructions on starting with only chain stitches and some tips on how to end your project quickly. Just go through the guide below!
Materials
Lily Sugar'n Cream Yarn: (100% cotton, 120 yds / 109 m, 2.5 oz / 71 g)
Or a similar worsted weight cotton yarn
I/5.5mm crochet hook (or size to obtain gauge)
Yarn needle
Abbreviations
Chain – ch
Repeat – Rep
Round – Rnd
Single crochet – sc
Slip Stitch – sl st
Stitch(es) – st(s)
Space(s) – sp(s)
Spa Soap Saver :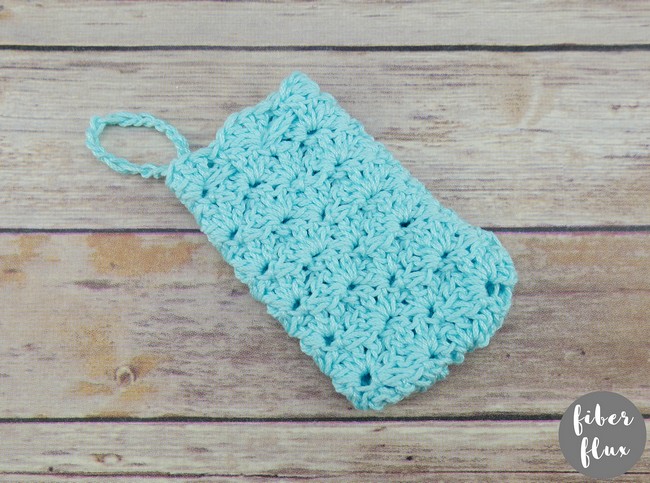 This is an easy beginner-level Crochet soap saver. It's the perfect way to recycle your unused soap bars or those little slivers of soap you ended up with after cutting them in half! You can use any yarn that you want! This craft pattern is great for those who want to learn crochet or enjoy making something for themselves. You can use any yarn for this project; using enough yarn to hold the shape is important.
Materials
H (5.0 mm) crochet hook

Cotton dishcloth yarn of your choice, I used 24/7 Cotton yarn from Lion Brand Yarn in "Aqua"

Tapestry needle
Scissors
Tape measure
Crochet Soap Saver Crochet Bag: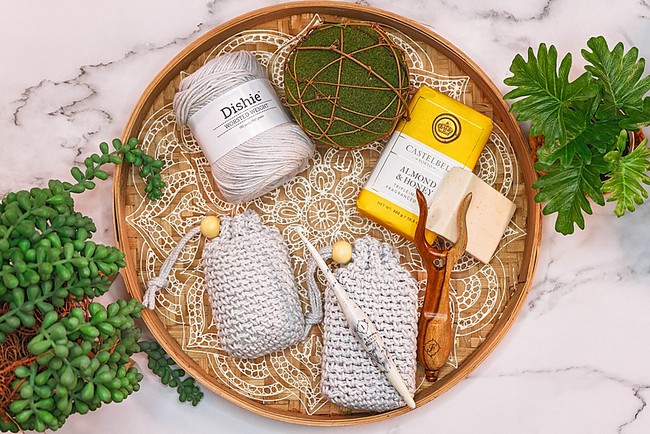 The soap-saver crochet bag is a perfect gift for any man or woman. It's also the perfect gift for housewarming and bridal shower time! The finished product features a stylish yet functional compartment to keep your soap dry and clean. The soap-saver crochet bag is made from durable cotton yarn that can be taken in the shower and bath with you in style. The simple design makes it easy to stitch up in no time, and great for beginners! This pattern is easy to follow, quick, and has beautiful results.
Materials
5.5mm (I hook), or hook to obtain gauge
Lucet Fork for i-cord
Optional Beads (20mm)
Removable stitch marker
Yarn needle to weave in ends
Scissors
Abbreviations
ch -chain
sc – single crochet
st(s) -stitch(es)
Sl sp – slip stitch
2 Sided Soap Saver: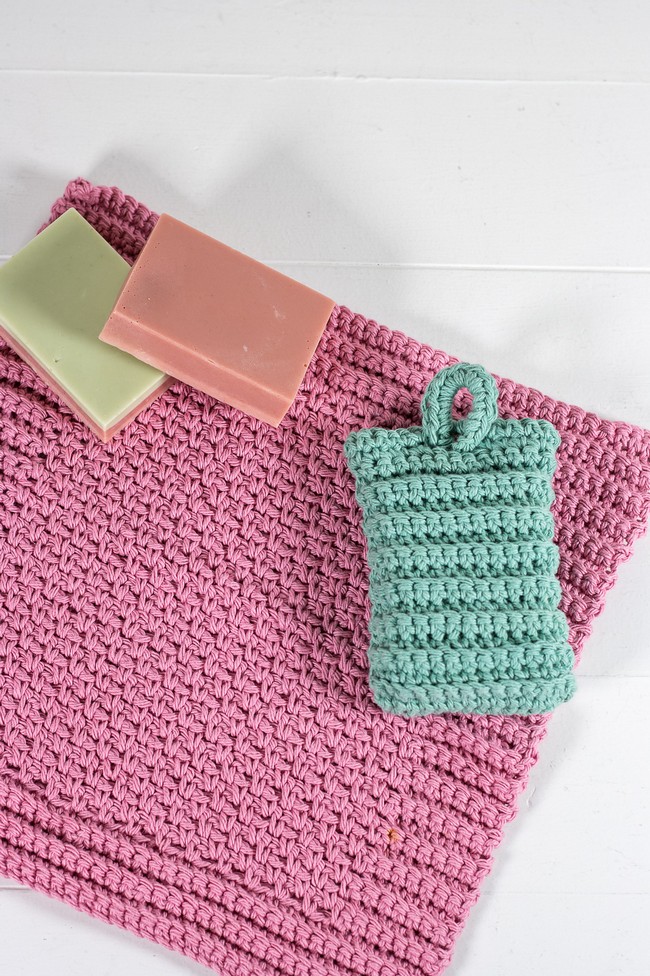 This soap saver will help prolong the life of your bar of soap. The two-sided design lets you pinpoint dry areas that may encourage mold growth by letting them dry out while simultaneously protecting more liquid areas from drying out. This pattern has been designed with a large center section to accommodate any size/shape of soap; it will work for both rectangle and circular soaps. This beginner-friendly crochet saver is easy to make and perfect for storing your favorite homemade soaps! It comes with a free pattern and photo tutorials.
Materials
0.7 oz or 35 yds of Sugar and Cream Cotton Yarn (Size 4 Yarn) For Soap Saver
AND
2.4 oz or 120 yds of Sugar and Cream Cotton Yarn (Size 4 Yarn) For Washcloth
Size H 5mm Crochet Hook
Yarn Needle
Scissors
Abbreviations
CH – Chain
SC – Single Crochet
BLOSC – Back Loop Only Single Crochet
SLST – Slip Stitch
ST(s) – Stitch(es)
Soap Saver:
Keep your expensive bar soap from getting waterlogged with this Soap Saver! This simple pattern makes a handy bath accessory and can be customized with fun, colorful yarns. Crochet this soap saver to keep the soap you love longer. This little Piggy is a great gift for those who love to crochet or knit. It makes a great present for Christmas, a Birthday, or to say thank you! So, Use this adorable little soap saver to help keep your soap nice and dry. Grab this crochet pattern for your next crochet project!
Materials
About 40 g/65 yards of worsted weight cotton yarn
Yarns used in samples: Knit Picks Dishie (Green) and Wool and the Gang Cotton (Mauve)
Size H/8/5mm crochet hook
Candy Corn Soap Saver: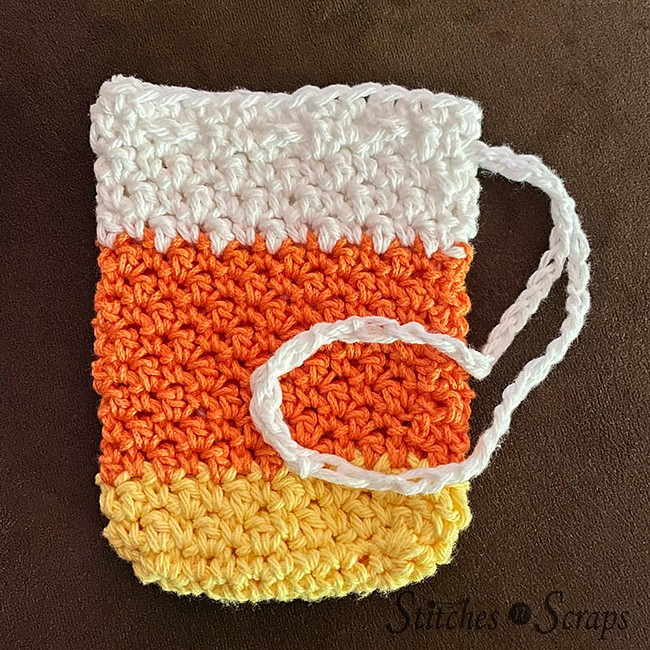 The Soap Saver is a crocheted soap saver that is soft, easy to use, and practical to preserve soap. It also saves you money and helps soaps last longer by keeping them dry between uses. Suitable for all types of soap, including solid soap bars and liquid body wash, pop your soap in the center hole and slide it over your shower head or faucet. The free pattern will help you crochet your own candy corn soap saver. It's great for protecting your hands from being sticky, covered in soap, and super fun to use!
Materials
Yarn: Worsted weight, cotton yarn – 25 yds each of yellow, orange, and white.
Hook: Size H / 5 mm crochet hook or size needed to match gauge.
Notions:
Yarn Needle
Stitch Marker (optional)
Abbreviations
ch = chain
sc = single crochet
dc = double crochet
st(s) = stitch(es)
rnd = round
Slouchy Soap Saver Bag: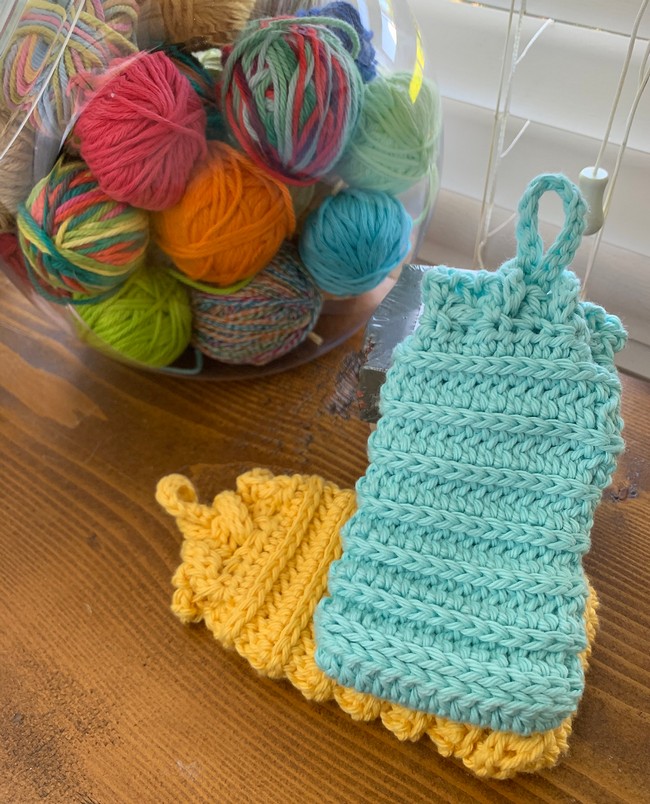 This soap saver is designed to minimize the mess of soaps and gels. The simple rectangle shape allows easy filling and cleaning, plus it's also great for use with bar soaps, liquid soap, and even shampoo bars. As a bonus, it also stands upright by itself in the shower. This is a Lovely, quick, and easy soap saver that can be made up using any of your favorite colors. It is great for gifts and adds a touch of class to the bathroom.
Materials
1 oz #4 worsted weight cotton (Used Hobby Lobby "I Love This Cotton")
#7/4.5mm hook
Large Eye needle for sewing ends.
Mesh Soap Saver: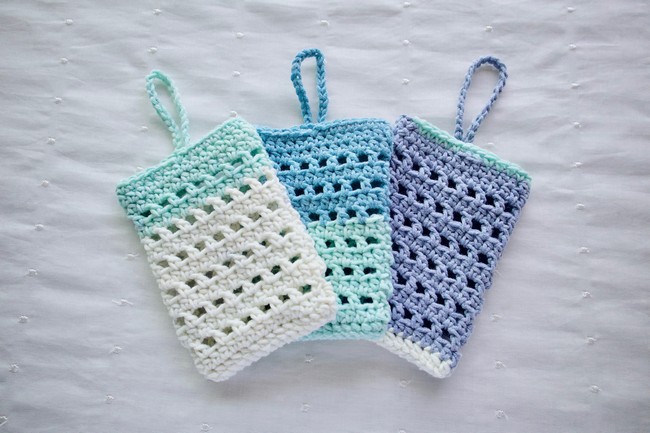 This is a crochet soap saver that can be made in various colors. It will help keep the soap from drying out and is perfect for people with hard water, where the bar soap turns into a mound of surfactant foam when rinsed away. So, Make this crocheted soap saver eliminate wasted soap and dry out your bars of soap. This mesh netting will help your soap last longer and minimize the germs in the shower or bath.
Materials
1 Skein Caron Cotton Cakes Yarn (approx. 50 yards per soap sack)
Category 4 / 530 yds
Size 7 4.5mm crochet hook
Scissors
Tapestry Needle
Abbreviations
ch – chain
st(s) – stitch(es)
fhdc – foundation half double crochet
sl st – slip stitch
sk – skip
sc – single crochet
hdc – half double crochet
dc – double crochet
fts – foundation turning stitch
Crochet Soap Saver:
Soap savers are great for keeping your soaps from getting soggy and protecting the soap from becoming deformed or damaged. The crocheting skills needed are pretty basic and can be learned with patience and practice. These soap saver patterns are perfect if you want to make a great gift. They'll be sure to please even those who think they don't need another thing in their house! Using this pattern and instructions, you can crochet your beautiful soap saver to protect your soap from getting damaged or dropping on the floor.
Materials
-Size 4 yarn, 36 yards (I used less than one skein of Lion Brand Re-Up, in Ecru and Ash)
–US I/9, 5.5 mm Crochet Hook
–Yarn Needle
–Scissor
Abbreviations
(ch) chain
(sl st) slip stitch
(sc) single crochet
(dc) double crochet
You can also see: Crochet Hanging Basket Patterns For Free
Thistle Stitch Soap Saver: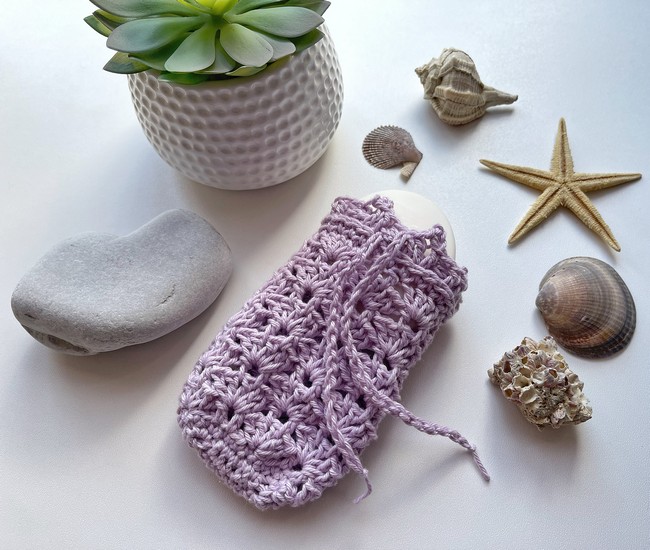 The Soap Saver is designed to hold your favorite bar of soap while adding a bit of decoration to your bathroom. This design can be adapted to any size or shape of soap and will eliminate the need for a foam or cork mat underneath. The Soap Saver is crocheted from 100% cotton yarn, so it won't scratch surfaces. This soap saver is small and handy to take with you when you travel. It's also useful in preventing soap from crumbling or prematurely dissolving under water pressure.
Materials
4 mm (G) size Hook
approx. 15 grams (37.5meters/ 41 yards) of 100% cotton DK yarn
Yarn needle for weaving in ends
Scissors
Stitch markers
Abbreviations
SK= skip
SP= space
CH = chain
ST/STS= stitch/ stitches
SLST = slip stitch
SC = single crochet
HDC = half double crochet
DC = double crochet
DC3LO= double crochet 3rd loop only
Picot ST= picot stitch
Crochet Soap saver sock:
Make your soap-saver sock that helps to save money and the environment. The soap saver fits around your soap bar and retains water, leaving less soap for one bath. Make several soap savers or similar projects to keep in separate bathrooms and change them as decor styles change. This crochet pattern includes simple charts and instructions to complete this soap-saver sock. It keeps you from having to buy new bars of soap constantly. Make it easy with this crochet pattern guide.
Materials
3.5 mm (E4 crochet hook)
Scraps of worsted weight acrylic yarn: Zeeman Royal yarn (about 40m main color and 10m contrasting color)
Tapestry needle to weave in the ends
Scissors
Abbreviations
st = stitch
sc = single crochet
ch = chain
inc = increase = make 2 st in the same stitch
dec = decrease = make 1 st from the next 2 st
miss 1 = skip 1 stitch
Mesh Soap Saver:
Are you looking for a quick and easy project to make? This soap saver will do just that. With this crochet soap saver, you can create unique and colorful soap savers to fit your home decor. These are much better than those boring, plastic ones and a lot more fun. Make several in different colors and place them in different rooms so everyone can choose the color they want, match their hand towels, etc. You can use this anywhere in the bathroom, with a sink, running water, and over the shower. It's the perfect size for one soap bar at a time, and it looks pretty hanging from a hook or towel bar.
Materials
H Hook
Lily's Sugar N'Cream Yarn
Scissors
Abbreviations
Ch= Chain
Sc= Single Crochet
St= Stitch
Beg= Beginning
Sp= Space
Sl St= Slip Stitch
Leaf Soap Saver:
If you love a clean bathroom, this Leaf Soap Saver is the perfect accessory for your soap. It protects your soap from getting too wet and allows you to pick it up with one hand easily. Also great for protecting bars of soap in the shower or bathtub. This soap saver is the perfect way to use up those little scraps of yarn lying around. Make a lovely addition to your bathroom and the perfect gift for any friend who crochets.
Materials
3.5mm (US E) Crochet hook
100 meters DK cotton yarn
2 beads of your choice I have used natural coconut beads
Yarn needle
Scissors
10-Minute Scrubber:
If you're looking for a quick and convenient scrubber, this crochet soap saver will save you time cleaning up after your bath or shower. It can be made in about ten minutes using only one yard of yarn and in any color you choose. The soap saver will stick to your wall with the suction cups provided! This soap saver will not only keep your soap nice and fresh in the shower, but it also makes an awesome scrubber! It is made with super soft worsted-weight yarn, so it is gentle on your skin and will last through lots of washings.
Materials
A small amount of worsted-weight yarn
Stitch markers
US K/10 - 6.5 mm crochet hook.
Abbreviations
Ch = chain
Sl st = slip stitch
Sc = single crochet
Hdc = half double crochet
Sk = skip
St = stitch