You've probably seen a lot of crocheted dishcloths and blankets, but have you ever seen a crocheted apron? Crochet aprons are unique, stylish, and useful. They can be dressed up or down for any occasion. Make one in your favorite colors to match your kitchen decor. You can easily adapt these patterns to add pockets or to make them longer or shorter. These crochet patterns are perfect for beginners as well as advanced crocheters because they're quick and easy to make. The free patterns in this list look amazing, and we hope that you find something that inspires you to break out the hooks and craft up something fun for yourself.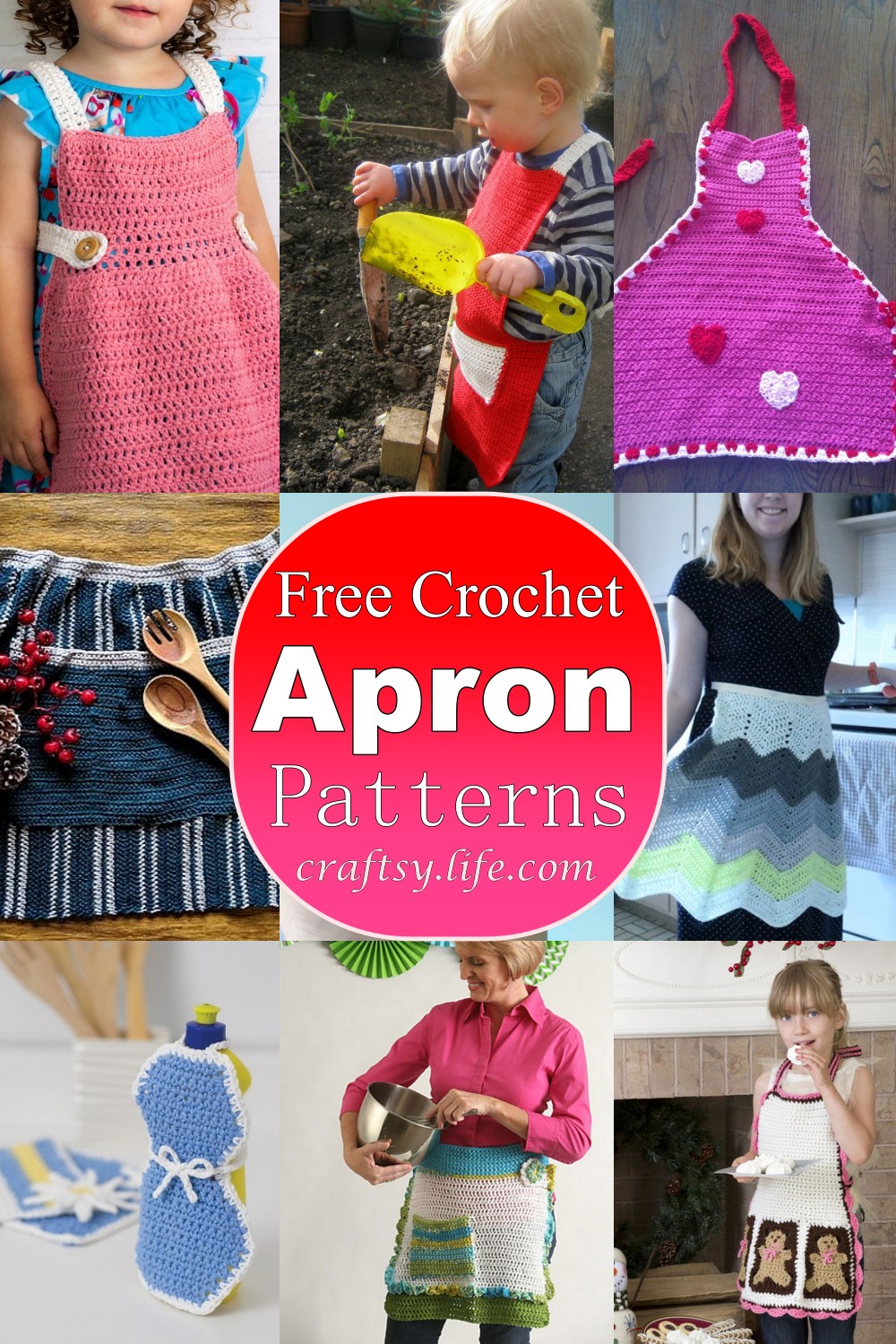 Whether you are a beginner or an expert in crochet, you must try these Aprons. They are easy to make and come in different styles and patterns, so you can crochet them for all the family members. From toddlers to elders, even for pets, you can create all styles of aprons. You can also add pockets or embellishments to your apron to give it a unique look. You can also use them as a gift for housewarming parties or birthdays. So let's take a look at some of the most beautiful and pretty looking Free Crochet Apron Patterns that will protect your clothes and make you look trendy.
Benefits of a crochet apron pattern:
Choose an item that compliments your interest and personality
No more stains on your clothes while cooking!
Elderly women like crocheting so they can make gifts for grandchildren or anyone
Make money from home selling crochet apron patterns
Want to save time? Crochet aprons allow you to multitask while cooking, cleaning, or hosting a party.
Whether you're a beginner or experienced with crochet patterns, it's always a fun experience
Start crocheting with an apron pattern today and enjoy some good food at the same time
Save money over buying aprons in bulk
Make to customize with any fabric pattern
Breeze through any project
Tips To Crochet Apron Patterns:
Crocheting an apron can be a great project for anyone. This is a fun way to use up some of your leftover yarn, or you can design a totally new look for this useful item. Even if you don't know how to crochet, you can learn how to make an apron with these simple tips and techniques.
Making an apron using the basic crochet techniques is very easy. All you need to do is follow the directions and then add your own personal touches to it. If you want to create a unique look, there are many different patterns that you can choose from. You will find lots of different patterns available online, as well as in books and magazines that are dedicated to crocheting.
Aprons come in many different styles. There are aprons that are worn around the waist and there are also ones that are worn over the shoulders. When looking at the different styles available, think about how often you will be wearing this item, as well as where you will be wearing it most often.
If you want to wear your apron over your shoulders, then the best way to go is with the basic pattern. Choose one that has two straps on each side and one strap at the back.
Heart C2C Child Apron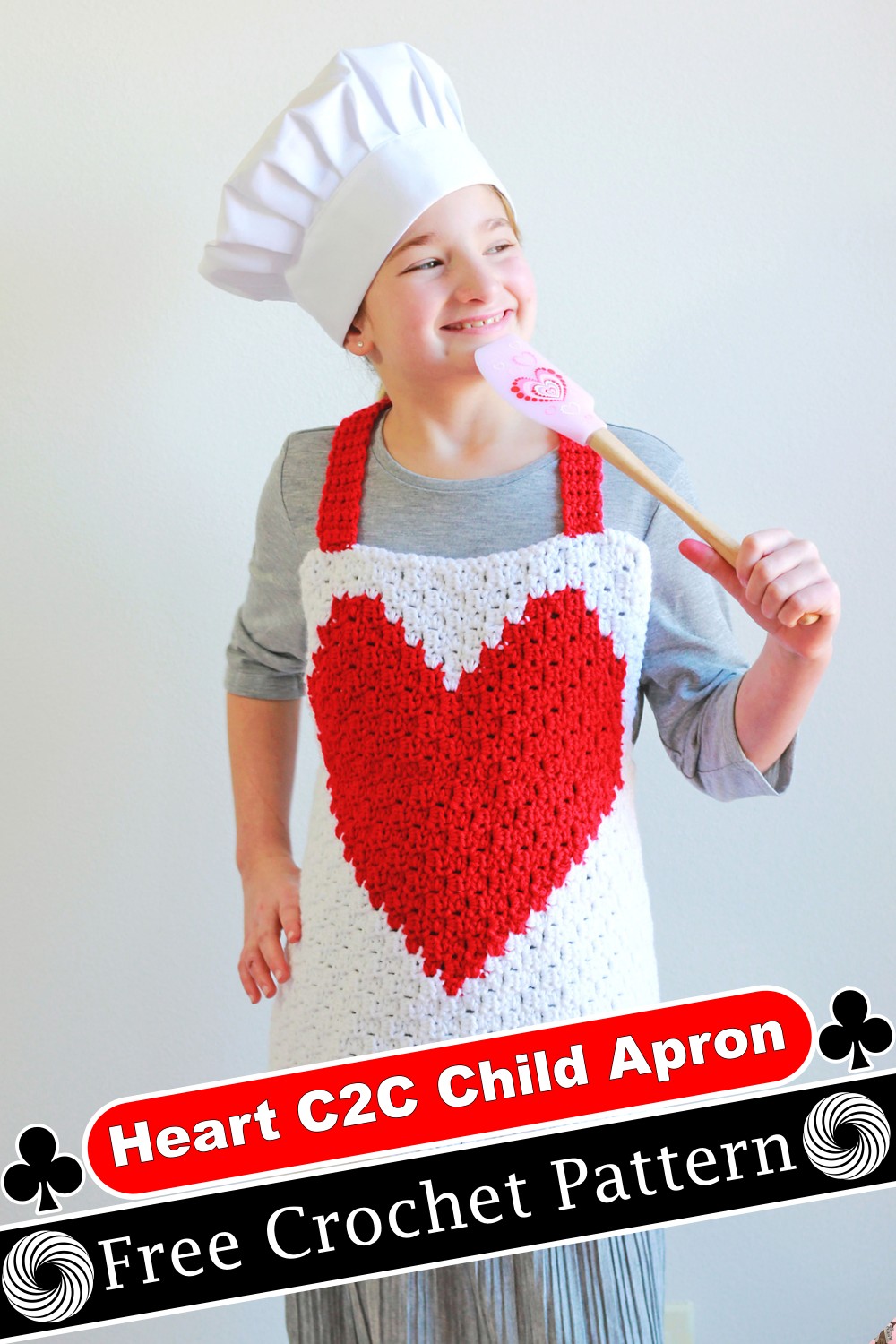 Keep your helper clean with this cute corner-to-corner crochet apron. Whether helping Mom or Dad in the kitchen or baking on their own, make cooking fun for kids! The easy crochet construction works up quickly to keep dirt from ruining clothes and is easily washed when dirty. Either make it as a gift for someone special or, if you are feeling generous, for yourself! Also Perfect for the little aspiring chef in your life, this crochet apron works up quickly and it's easy enough for someone new to crochet corner-to-corner.
Allegro Apron Top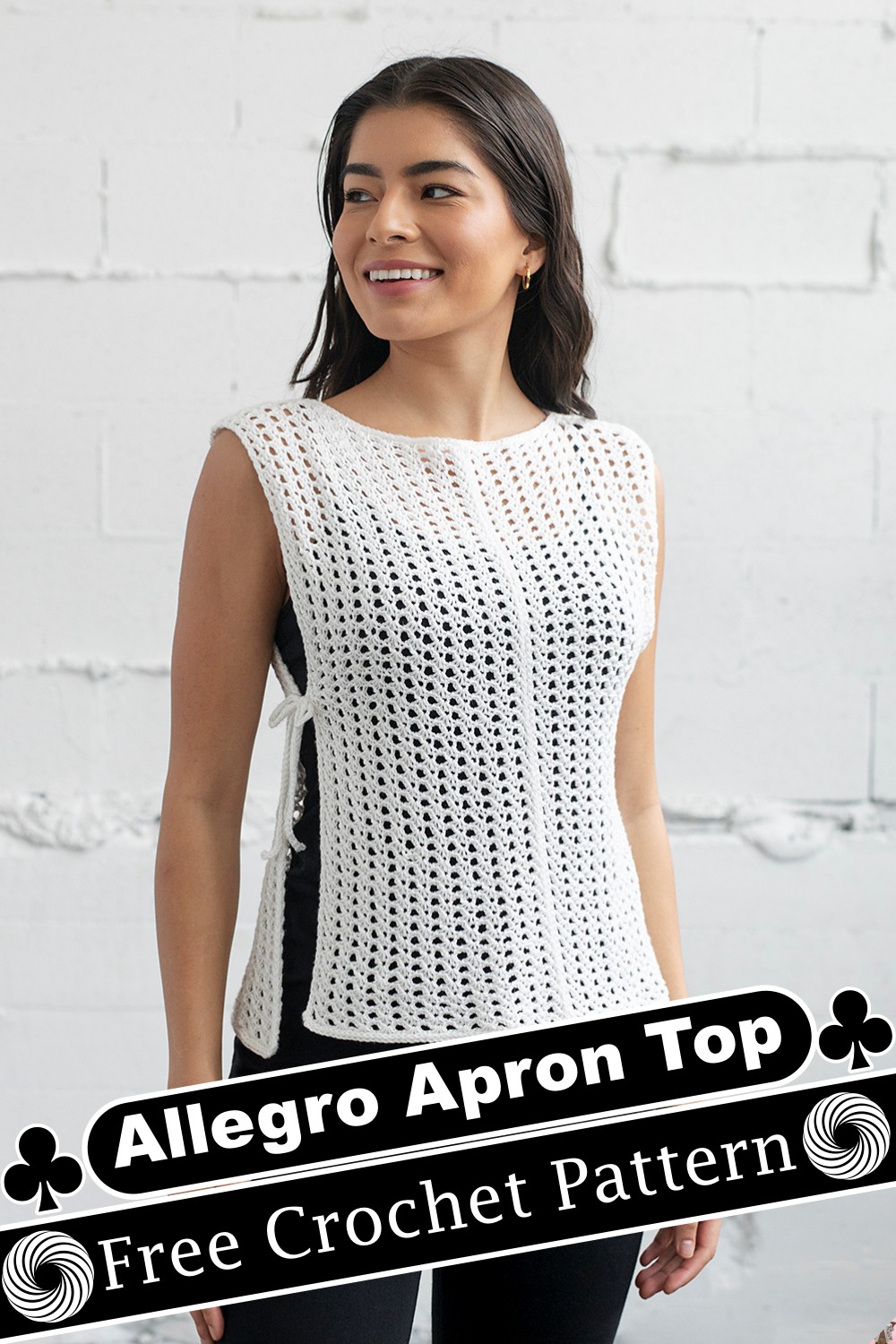 A fashion-forward look that is perfect for music concerts and outdoor festivals, where you need to protect your skin from the sun. Wear this flirty little apron-style top with skinny jeans or leggings for an understated-yet-sexy look. The crochet pattern is a Tunisian lace stitch, featuring both knit and purl stitches for texture and dimension. Wear it over a cami with the ties in the back for more coverage, or show off your shoulders by tying them in front.
Mrs. Nesbitt Inspired Apron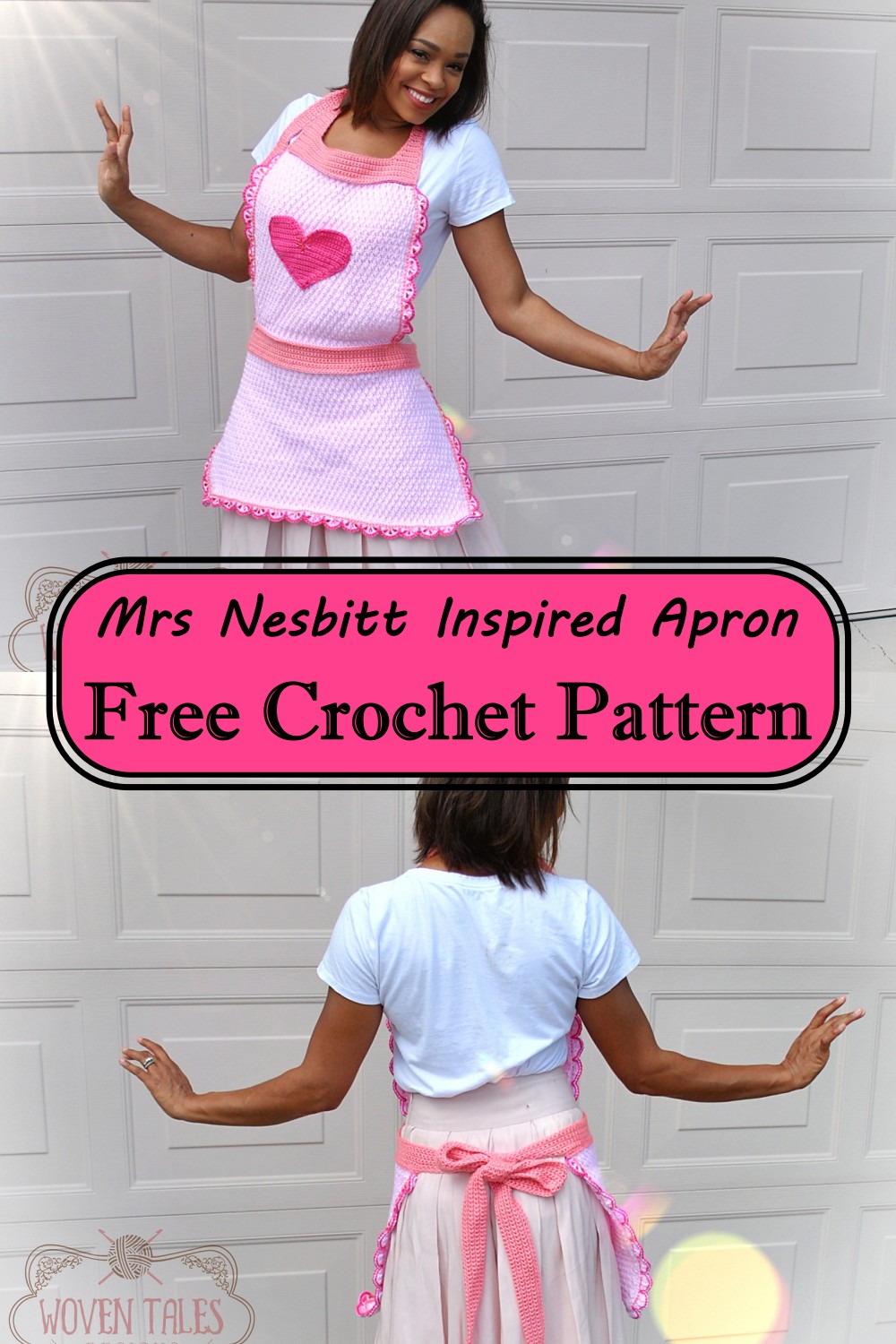 Create a "home sweet home" environment in your kitchen with the Mrs. Nesbitt Inspired Kitchen Apron! It's a great way to maintain your domestic status, work your baking magic while creating happy memories with family and friends, and keep yourself clean while doing so! The wonderful thing about this pattern is that it's perfect for year-round wearing. It has multiple uses; like covering up a few stains on an old stained shirt, or covering up any post-pregnancy weight gain since it is adjustable where it ties in the back, or can also be used as just another accessory for fashion purposes.
Grilling Apron
This apron is cute and fun! It is also very helpful to not forget or lose some of your favorite grilling essentials as they will all be in your pockets. This Grilling Apron is equipped with a sturdy strap, four medium-sized pockets, and one large pocket to aid in all your grilling needs. The medium pockets are great for your meat thermometer, cheese singles, to hold your beverage while you flip the burgers or baste your meat, a cell phone, or whatever else you fancy.
Granny Square Apron
If you love color and wearing aprons, this free granny square apron crochet pattern is for you! With one on, you can forget about being careful while in the kitchen. This apron will protect your clothing from getting dirty, has a fun granny square pattern and pockets so that you can have quick access to whatever it is that you need. This pattern makes a great gift for the baker in your life. Even though it is crocheted, don't be fooled into thinking this is a project for beginners. It requires some skill to make the many granny squares and join them all together to form the apron.
Vintage-Inspired Apron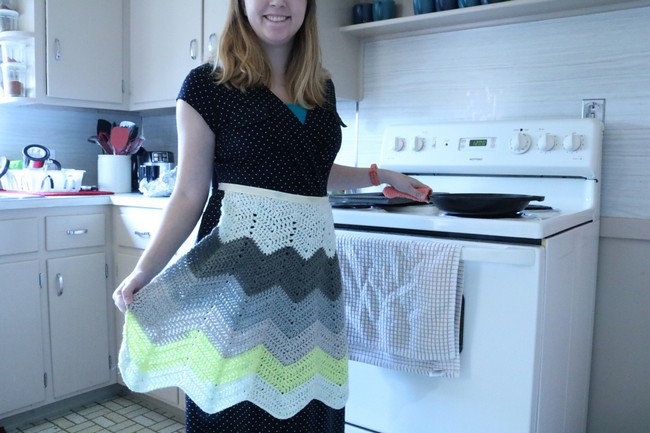 Look like a beautiful housewife with this vintage-inspired apron. This Vianne vintage-inspired apron is worked in increasing chevrons to give it a flared, a-line appearance. The waistband can be sewn on or glued on using a liquid stitch. The whimsical stitches of the chevron pattern are easy and breezy, making this a great project for any skill level. Each row is worked in increasing chevrons, which give it its fullness and flare. It has adjustable ties for both the neck and waist.
Hearts Apron
This one-size-fits-most apron is the perfect kitchen accessory to add some style and flair while you cook, bake, and grill. A place for the heart, this sweetly stitched apron will surely be a favorite. A colorful, romantic, and functional apron for your unique kitchen fashionista. You will be wearing the art of a popular home decor artist, who draws her inspiration from the world around her. As an aprons owner, you are wearing a bit of her creativity and playfulness as you bring out your own artistry in cooking and baking.
Party Prep Apron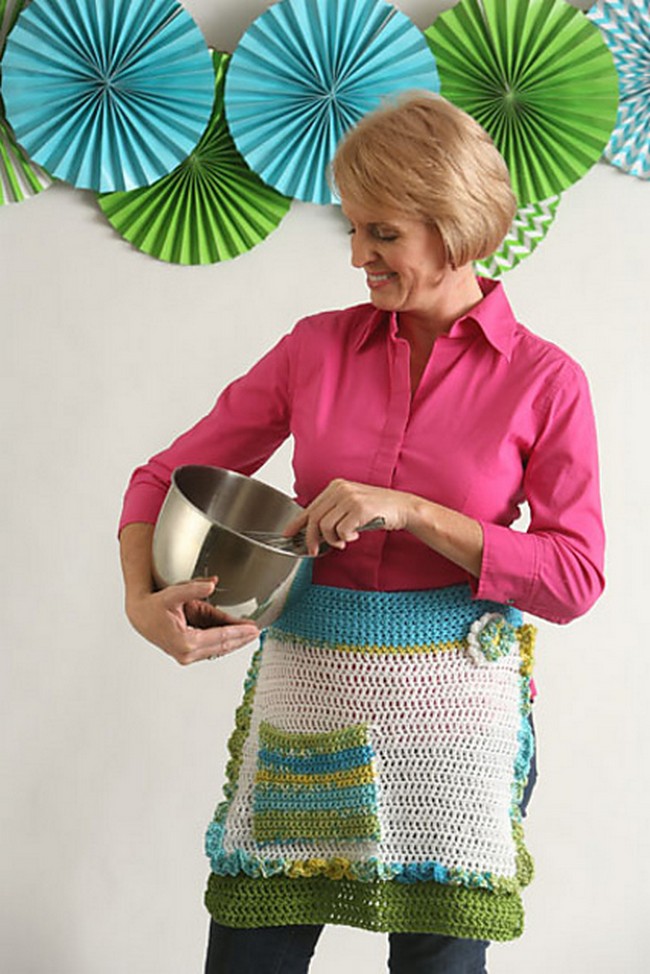 Party it up in our Crochet Party Prep Apron. It's all about the ruffles on this one! Add the vintage buttons to put a little extra sass into your sweet summer party prep life. You're going to love this apron for all your summer parties. Get your summer party off to a great start with this ruffly apron! It's supremely cute and works up quickly, so you can make one for each of your friends. Keep your clothes safe while you're cooking or entertaining with this whimsical apron.
Farmhouse Kitchen Apron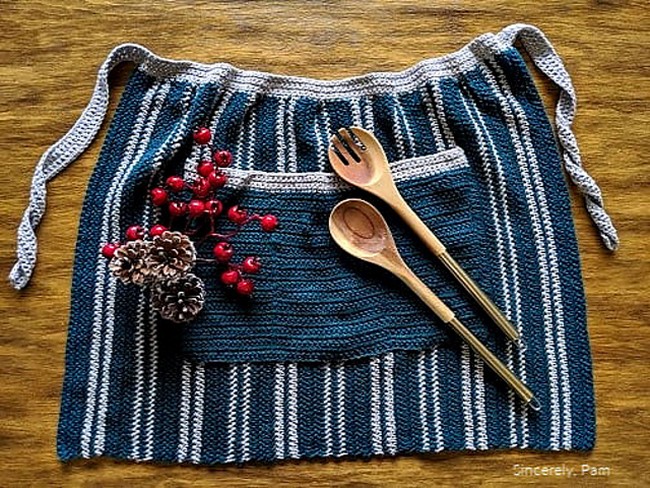 You will feel ready to cook or bake with this pretty apron! The Crochet Farmhouse Kitchen Apron is an easy pattern that works up fast. The Farmhouse Kitchen Apron is an easy pattern to make and will look wonderful in your kitchen or anyone else's! The apron uses basic crochet stitches, with two-toned double crochets to create the ribbed effect. In less than a day, you can have a cute, new addition to your kitchen that is sure to make you feel at home, whether you are baking up a storm for Christmas or making dinner for your family.
Beginner Vintage Apron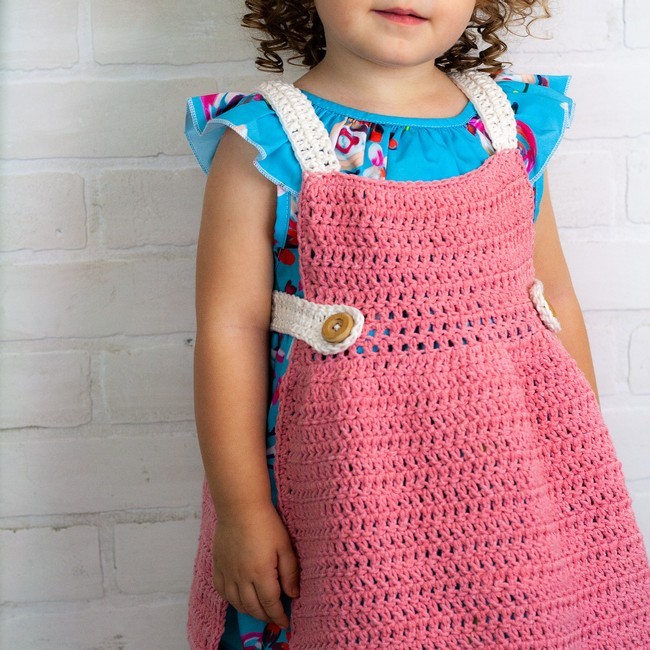 This Crochet Beginner Vintage Apron for your little one is so cute. You will love the easy steps and happy family in your house. This beginner vintage apron crochet pattern is great for beginners since it only uses basic stitches of single and double crochet. There are no complicated shaping or joining of pieces here! Work up this free vintage crochet apron pattern in your favorite colors, and enjoy the compliments that come your way as you wear it to cook, clean or even just to look pretty around the house. Make this sweet apron in any color you like, very quickly and easily, so try it today for the young little ladies that you love.
Soapy Apron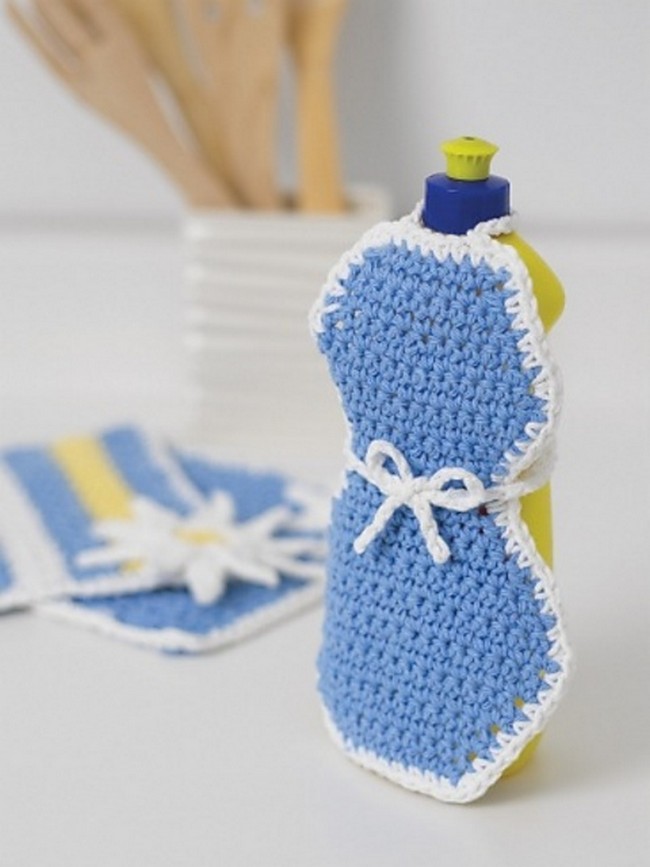 The Soapy Apron is a super cute solution for those messy kitchen or bathroom soap spills. Hand crocheted from an easy-to-clean 100% cotton thread, the Soapy Apron pairs perfectly with any of our handmade soap bars. To use, simply insert your favorite handmade bar of soap into the pocket and you're ready to go! This adorable soap pocket is perfect for keeping your tub, sink and shower sudsy without leaving behind any slippery messes. Or, gift it to your favorite lady to add an extra special touch to her next spa day. This versatile apron will last you years and expand as your children grow.
Cotton Apron For Children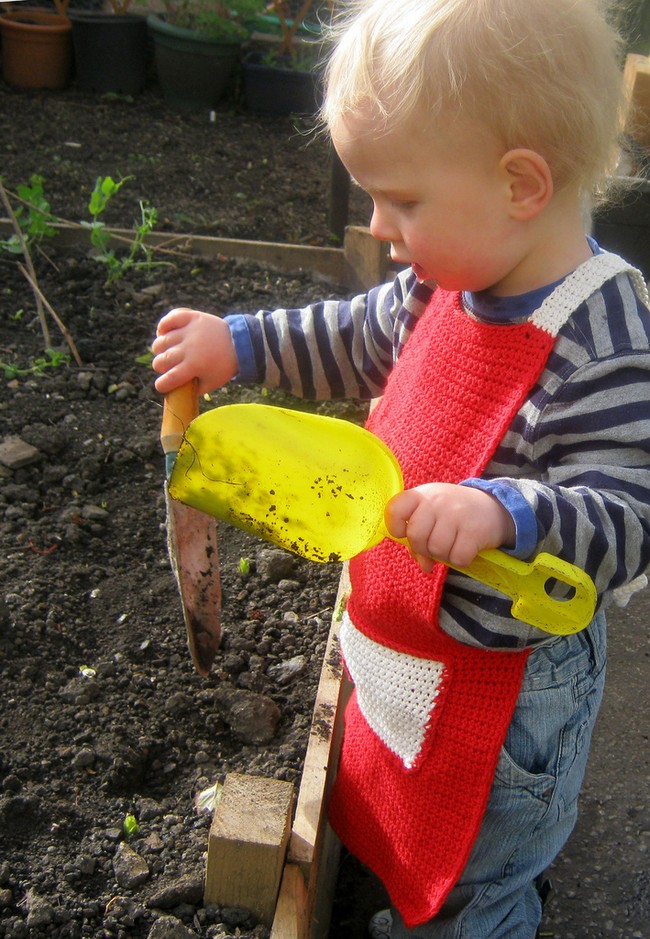 This is a hard-wearing little apron, ideal for busy toddlers. This cute apron would make a great gift for a little helper and is suitable for the beginner or the more experienced knitter. Little ones love helping out with baking and gardening and it's great to let them get involved. This apron will protect their clothes as they help out in the kitchen and garden This pattern is for a delightful and practical cotton apron for little ones. Ideal for protecting their clothes whilst baking, gardening, or painting!
An Egg Cellent Apron Pattern: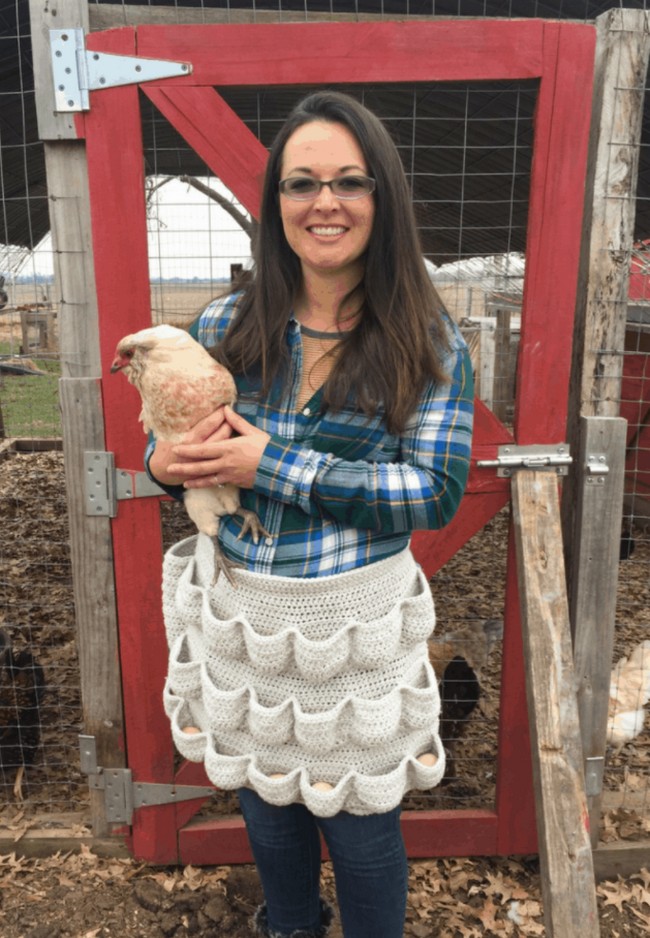 If you own chickens or ducks, then this apron is egg-actly what you need to keep your clothes safe from splashes. This Eggcellent Apron Pattern is really a unique and useful idea for you. If you want to carry eggs, it protects the eggs from breakage. Color selection is not a necessary thing. You can make the color of your choice, whatever you like most. The apron is simple to crochet but gives a wonderful look. You have to need cotton yarn for making this apron, and the color selection depends upon you.
You can also see: Crochet Chicken Patterns 
Gingerbread Man Apron Pattern: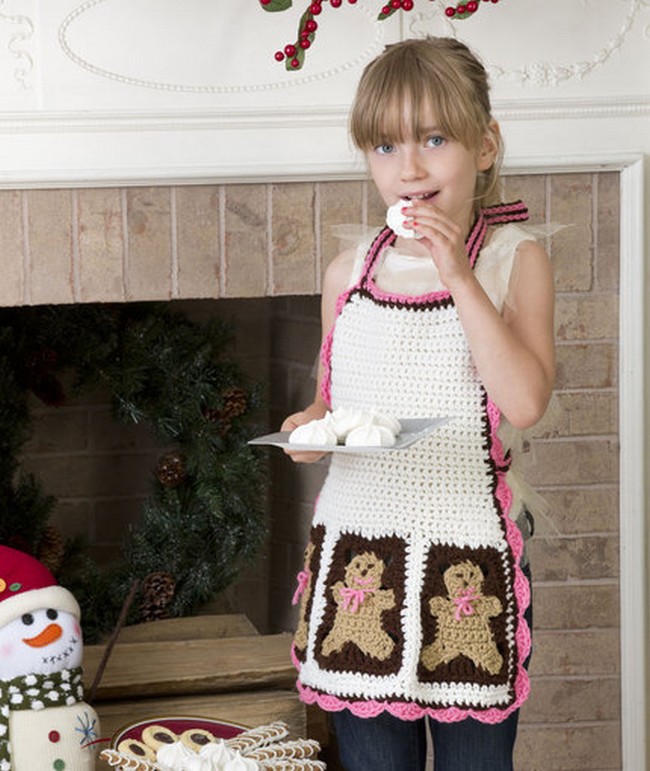 Make your daughter excited about being in the kitchen with you with this crochet Gingerbread Man Apron for Girls. It's perfect for girls who are learning how to bake and want to feel like they're cooking alongside you! Crochet it in her favorite colors, and she'll be the hit of the family holiday. This gingerbread man apron pattern is quick and easy to make. Perfect for the beginner who wants to give a handmade gift this holiday season. This will be not only a perfect gift but also an occasion for sharing love.
Snowflake Hostess Apron Crochet Pattern:
Crochet a pretty hostess apron and add a touch of Christmas to your kitchen. An easy, yet festive pattern that can be finished quickly. This is a beautiful snowflake hostess apron crochet pattern, which will keep you safe in the kitchen. It is an easy and quick project to crochet. Great for beginners who want to learn the basics of crocheting and also a good challenge for an advanced crocheter. The red and white colors used on this project are just gorgeous and it makes a great addition to anyone's winter wardrobe. After creating this gorgeous apron, you will be in a happier mood and more confident to do more crochet works!
Baker's Apron With Jumbo Cupcake Applique:
So stylish and so practical, you can use this at parties, barbecues, and more! The easy-to-crochet baker's apron with a jumbo cupcake applique is guaranteed to become your favorite kitchen companion. The color has used sky blue and white, but you can change the color if you want. You can use the dark color just because of working in the kitchen. It keeps you warm and cozy in winter. This free crochet pattern is perfect for bakers of all levels and can be made for children or adults.
Easy Meatloaf And A Crochet Apron Pattern:
This easy meatloaf and a crochet apron pattern are easy to make, and you can crochet this in a very short time. It has a quick design that is convenient for you, and it is comfortable to wear. The color has used sea green, but you can change the color if you want. Added a little stripe for handling it. It is customizable; if you can change adjust it according to your choice. You can use it in both seasons, in winter and summer. A pattern for holiday free crochet apron to wear over your sweater or coat. This pattern is easy and fun for any experience level.
poshpoochdesignsdogclothes.blogspot.com
Lemon Drop Apron Crochet Pattern: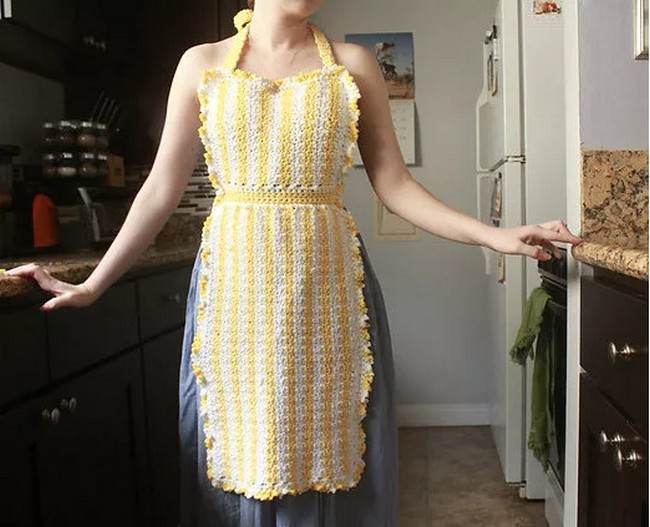 If you are looking for a cute apron, but also easy to make, this Lemon Drop Apron Crochet Pattern will be perfect for you. This lemon apron pattern is not only easy to try for beginners, but it takes much less time. It's very hot in the kitchen when you cook anything from food. This crochet apron gives you protection from this heat as well as calmness. Wear this lemon drop apron to give your kitchen a sunny look. It is easy to make, with spring accents on the side. This crochet pattern is made of clusters and chains. Don't forget that aprons are also great gifts. Everyone loves them and you will have fun making them.
Checkered Two Piece Apron Free Crochet Pattern: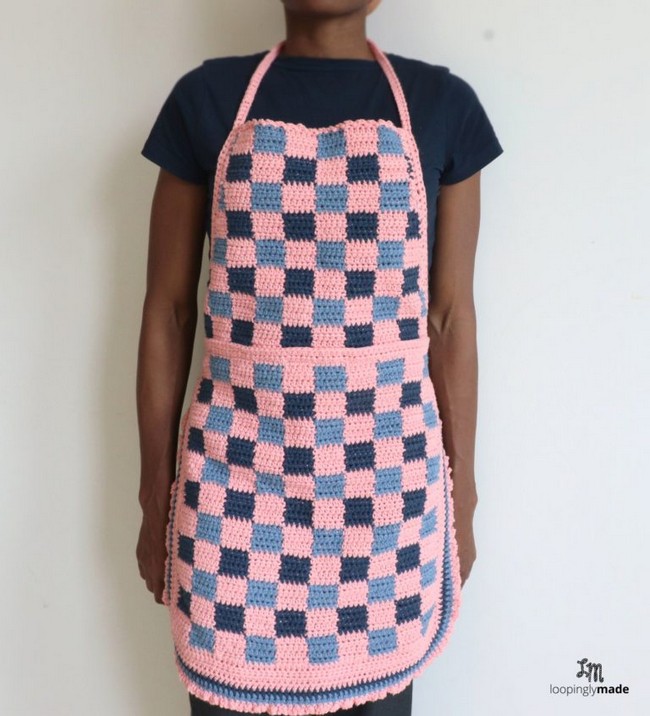 With a color block system and simple pattern repeat, this checkered two-piece apron is easy to crochet. The pattern for the waistband and the pocket on the bib are similar, so there is less sewing to do at the end. You can change the color scheme if you want to, or use up your left-over yarn from other projects. Crocheted in easy to care, cotton yarn, this stylish project is also easy to crochet. If you're new to crocheting, you'll find this project to be a good one for practicing your skills. You can give this as a gift or you can use it for your own use. So don't waste your time, just start crocheting now.
Penelope Apron Crochet Pattern: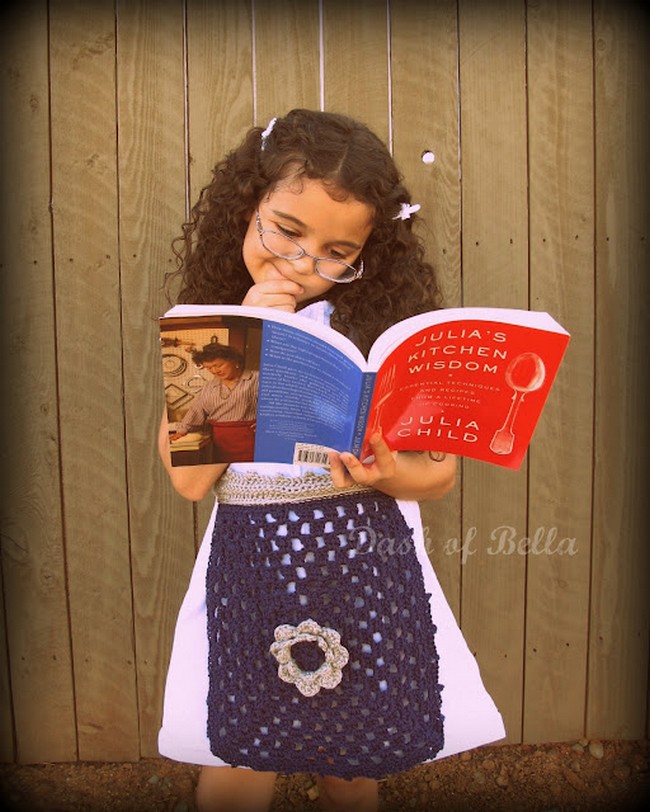 Create your very own handmade apron with this easy-to-follow pattern. The instructions include directions on how to crochet an apron for your small child, how to make a toddler apron, how to hand-crochet an adult apron from scratch, and more! With the Penelope Apron, you will be armed and ready to cook with confidence. This is a good project if you are a beginner as it uses basic stitches and simple shaping. The result is a lovely, crocheted apron that will add a little extra charm to your kitchen. You can easily modify this pattern to work in just about any size.