15 Free Crochet Chicken Patterns For Kids To Have Fun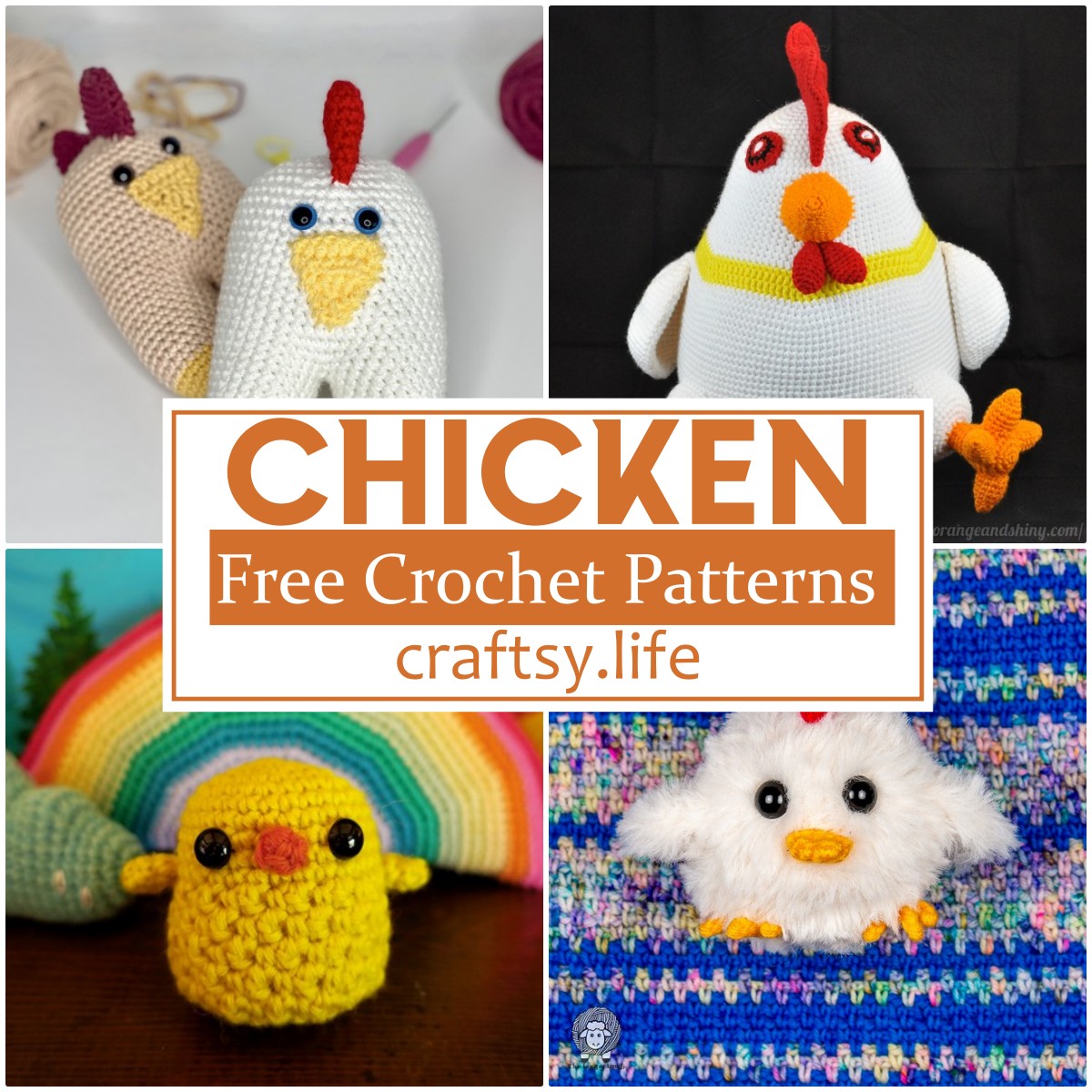 Crochet chicken patterns are not just for beginners! With a bit of practice, you can make these adorable crocheted chickens. These projects are great for kids or adults and can be used as decorations or toys. The Free Crochet Chicken Patterns below will show you how to make different styles and sizes of chickens, so you can pick the one that works best for your needs. Crochet chickens are fun and a great way to use leftover yarn. You can make them for yourself or as gifts for friends, family members, or neighbors. The patterns below are all free patterns that can be found online.
Chicken Crochet Patterns Free

Crochet chicken patterns are great because they are cute and cuddly and make great toys for children of all ages. These crochet chickens are made using wool, cotton, acrylic yarn, and more. These chicken patterns may require using basic stitches such as chains, single crochets, double crochets, and more. These amazing crochet chicken patterns are downright adorable and make perfect gifts! Crochet chickens are a fun way to add humor to your home! These crochet chicken patterns are sure to raise more than just your spirits; they will be the talk of the town! Crafted with various materials in mind, these little birds will surely brighten your day.
Tips For Crochet Chicken Patterns
Crochet chicken patterns are a great way to add color and character to your kitchen. They can be made as simple or complex as you like and are a fun way to bring some extra personality into your home. Whether looking for a new way to decorate your kitchen or make it more fun for the kids, crochet chickens have you covered!
Here are some tips for crochet chicken patterns:
Use bright colors and bold patterns.
Pick a shape that will fit well in the setting you want to place it.
Use materials that match your home's décor and style.
Keep it simple! Some crochet chickens take time, but they can be simple if they need to be. If you're all looking for something cute, choose an easy pattern and stick with it!
Remember accessories! Crochet chickens can be dressed up with hats, scarves, or even scarves! Let them show off their personalities by giving them a personality through accessories like these!
Ensure the stuffing is secure enough so your chicken won't fall apart when touched!
Medium Chicken:
Crochet Medium Chicken. It's fun and easy to make! This knitting pattern will make a great accent pillow or framed decoration in your living room. Add a whimsy to your next chicken-themed event with our Crochet Medium Chicken. This handcrafted chicken is perfect for picnics, garden parties, or a unique addition to your home decor. This crochet medium chicken is ready to go home in your backyard! Handmade by skilled artisans, this adorable bird is ready to bring joy to your family.
Materials
3.75mm crochet hook
Worsted weight yarns in the following colors:
White
Red
Yellow
Orange
Black
Stuffing
Yarn Needle
Abbreviations
Ch – chain
Sl st – slip stitch
Sc – single crochet
Hdc – half double crochet
Dc – double crochet
Increase – 2 single/half/double crochet in the next stitch
Decrease – invisible decrease
Chicken Amigurumi: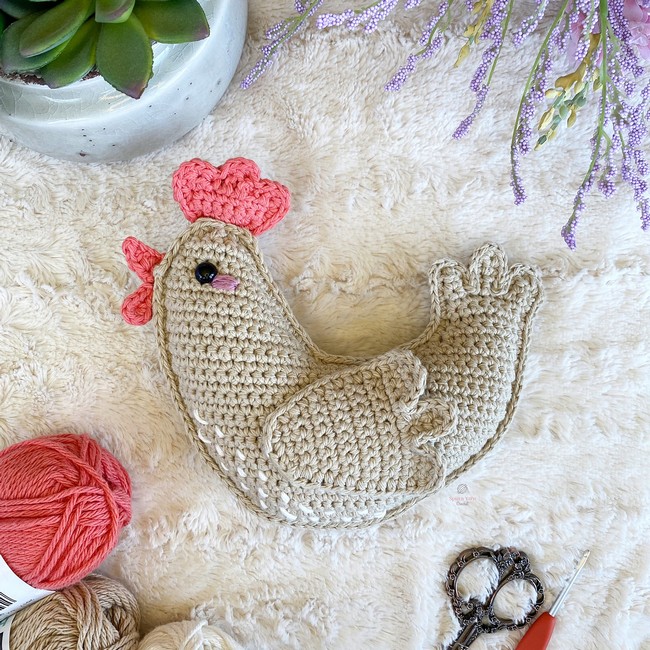 If you love chicken and want a cute, cuddly companion, this is the pattern for you. This crochet chicken amigurumi is sure to please even the fussiest of eaters. It is an adorable pattern for your little one. A fun little crochet project that makes the perfect gift or treats for those who love chickens and farm animals. You can make a whole henhouse of them or one beautiful pheasant! This crochet chicken pattern is perfect if you are looking for the perfect gift for your little one.
Materials
3.25mm hook for main (I use THESE hooks!);
Bernat Handicrafter Cotton yarn (or any worsted weight 4 yarn of choice) in the following colors:
Jute (less than 100g);
Tangerine (less than 50g);
Off White (small amounts)
Small amount of any pink yarn for cheek;
10mm Safety eye;
Stuffing;
Tapestry needle.
Abbreviations
Ch – Chain
Slst – Slip stitch
Sc – Single Crochet
FSc – Foundation single crochet
Inc – Increase. Work a regular sc increase
Dec – Decrease. Work a regular sc decrease
Sc3tog – Single crochet three sts together
BLO – Back Loops Only
Sk – Skip a stitch
Hdc – Half double crochet
Hdc2tog – Half double crochet two together – work a hdc decrease.
Dc – Double crochet
Tr – Treble crochet
large chicken doorstop/ wine bladder: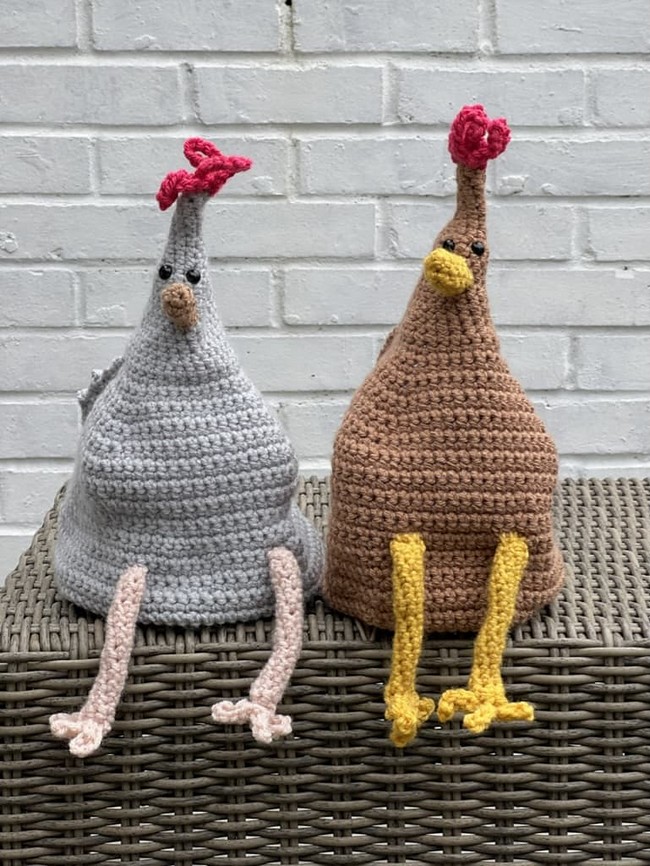 The chicken is happy to be the wine bottle holder for your next outdoor barbecue, or keep her in your home as a decorative piece. Convenient, stylish, and practical – this doorstop makes the perfect gift for any chicken lover. The perfect size to hold your favorite bottle of wine or a small bag of snacks. This chicken doorstop is functional and fun. It stands nicely in place, so you can use something other than old socks to keep your doors from slamming. It also works great as a decorative centerpiece that gives your home that extra touch of whimsy.
Materials
Yarn A Paintbox Simply Chunky 100% acrylic, 136m/ 149 yards per 100g ball in Soft Fudge 309
Yarn B Cygnet Chunky, 100% Acrylic 156m per 100g ball; in Gold (686)
Yarn C Stylecraft Chunky 100% premium Acrylic 144m/ 157 yards per 100g ball in Pomegranate  (1083)
5 mm hook
Scissors
Needle
2 safety eyes – 6mm
Stuffing
Abbreviations
ch – Chain
Pul – Pull through
sc – single crochet
sc2tog – single crochet 2 together
ss – Slip Stitch
st – Stitch
YO – Yarn Over
Stitches
Single crochet
SC2tog
Adorable Spring Chick: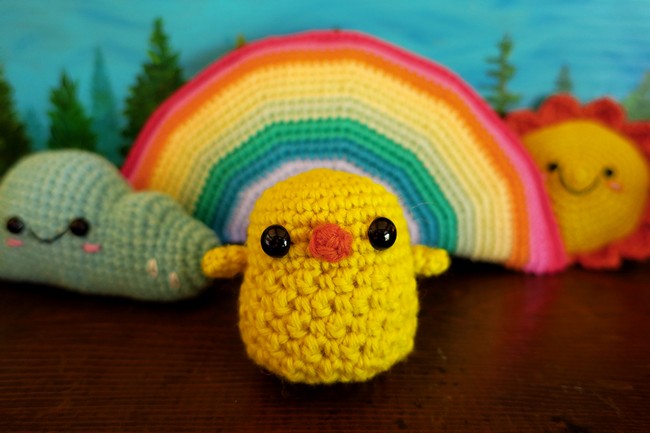 Hatch your baby chick! This adorable crochet pattern takes you through step-by-step instructions on how to make a sweet little chick burrow. This is a great project for beginners learning how to crochet, and it would be perfect for anyone who wants to try something new! Crochet this adorable little spring chick! You only need to know the basics of single and double crochet, so you can make it any size you want and change the yarn weight. This is a great project for beginners looking to expand their skills!
Materials
Yarn: Scheepjes Stone Washed. (affiliate link) 50 g and 130 m. 78% Cotton, 22% Acrylic. Sport Weight Yarn [2]. Machine wash and dry.
Colors: 1 skein Beryl (833), 1 skein Coral (816)
Crochet Hook: 2.25 mm and 3.25 mm (D) Clover Amour  (affiliate link)
Finished Project: Spring Chick: Beryl 18 g and 46.8 m; small amount of Coral.
Poly-Fil, Scissors, Tapestry Needle (yarn needle), Stitch Marker, 2 x 8 mm black safety eyes
Abbreviations
ch – chain
dc – double crochet
DMR – double magic ring
m – meters
oz – ounces
R – row
Rnd – round
rem – remaining
sc – single crochet
sc2tog – single crochet two stitches together
sk – skip
sl st – slip stitch
st/sts – stitch/stitches
* to **– Repeat the instructions between the asterisks the number of times indicated. This repeat will contain multiple instructions.
[] – at the end of the row – the total number of stitches
() – important notes AND sets of stitches to be worked within one stitch or space
chicken and her little chicks: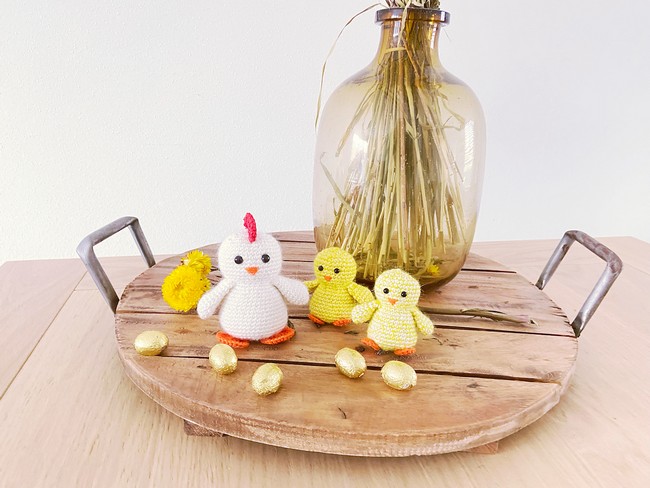 Crochet chicken and her little chicks. This chicken set is a great gift for people who love crochet and chickens. These beauties will make lovely decor for a kitchen or room and be great for play! This listing is for a set of adorable crochet chicken and her little chicks plushies. Crochet them in any color combination you like. You can use buttons or beads to make the eyes, thread or yarn to make beaks and feet, and fillings to stuff them with. These little birds are perfect for Easter decorations!
Materials
Scheepjes Catona white (nr 105, 50 grams)
Scheepjes Catona yellow (nr 522, 25 grams)
Scheepjes Catona orange (nr 189, 25 grams)
leftover red cotton
Scheepjes Mohair Rhytm, white and yellow (nr 690, 688)
2 pairs of safety eyes 5 mm
1 pair of safety eyes 8 mm
fibre fill
crochet hook size 2.5 mm
Abbreviations
mr = magic ring
ch = chain
st = stitch
sc = single crochet
sl st = slip stitch
inc = increase (2 stitches in 1 stitch)
dec = decrease (2 stitches together)
Doxie Chicken: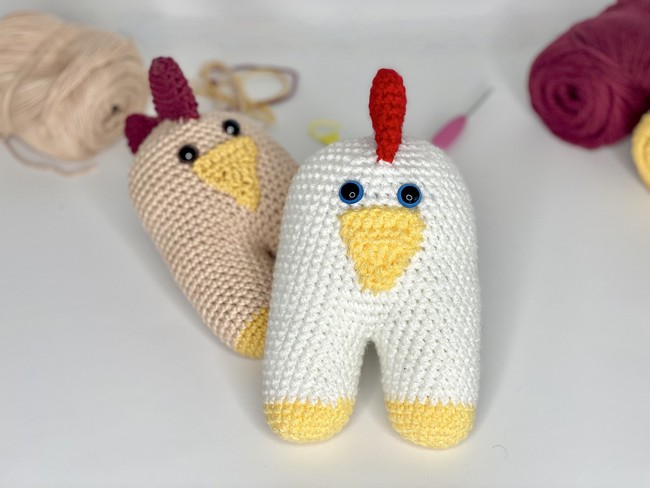 Crochet Doxie Chicken is a fun crochet kit that teaches you how to make a unique and adorable Dachshund doggie costume, complete with beak and wattle. The simple pattern calls for basic stitches: slip stitch, single crochet, half-double crochet, double crochet, joining pieces together, and making a ruffle. You don't need any previous crocheting experience! These adorable crochet chickens are the perfect addition to your chicken coop. They might be there to guard your eggs, but they feel like pets!
Materials
– F (3.75) Crochet Hook
– Scissors
– 3 colors of worsted weight yarn. One for the main body color, one for your feet/beak, and one for the comb (chicken mohawk). I will use Dishe cotton yarn in the color Creme Brulee for my feet and beak, Linen for my body, and Pomegranate for my comb.
– 15mm Safety Eyes
– Tapestry Needle
– 3 Sewing Pins
– Polyfil
Abbreviations
CH- Chain
SC- Single Crochet
INC- Increase (in this case- 2 SC in the same stitch)
DEC- Decrease, in this case, invisible decrease (explained below)
HDC- Half Double Crochet
SLST- Slip Stitch
* To be repeated
Sir Clucksalot:
Play it cool and crochet your own Sir Clucksalot! Kids will love the bright colors and irresistible design. A classic toddler toy that makes a great gift, this one can't be beaten. Crochet Sir Clucksalot is a fun and adorable crochet amigurumi chicken. Like every other chicken, he loves to lay around and sit on your egg. He's easy to make, so this will be a great project for beginners in crocheting who are looking for their first amigurumi pattern! It is a happy monster who loves to hug and play hide-n-seek!
Materials
5.5 mm Furls Crochet Hook
3.5mm Furls Crochet Hook
2 – 12mm Black Safety Eyes
Polyester Stuffing
Tapestry Needle
Scissors
Stitch Marker
Abbreviations
CH = Chain
FO = Finish Off
MC = Magic Circle
SC = Single Crochet
SCDEC = Single Crochet Decrease
SCINC = Single Crochet Increase
SL ST = Slip Stitch
ST = Stitch
Eggwinda the Chick:
Eggwinda the Chick is known for being adventurous and curious. She loves colorful yarn, snuggling with her friends, and having adventures in the cozy nest she built. She's so cute and cuddly that no one will believe how simple it is to crochet her. You can use this pattern to make a new friend as sweet as Eggwinda! Add a little cuteness to your home with this crochet chicken by Eggwinda. This chicken is simple and quick to make, making it a great stash buster for all those little bits of yarn you collect.
Materials
-Crochet hook 3.5 mm
-Worsted weight yarn
Colors: yellow, orange, and pink.
Only small amounts needed. The main color is yellow, and 15 g of yarn needed.
-Tapestry needle
-8 mm safety eyes
-Stitch marker
-Stuffing materials
Abbreviations
Ch–chain
R–round
St–stitch
Sc–single crochet
Sc dec–single crochet decrease
Sc inc–single crochet increase,
two single crochet in one
stitch
Mr –Magic ring
Sl st. – Sl st
Hdc – Half double crochet
Amigurumi Chicken: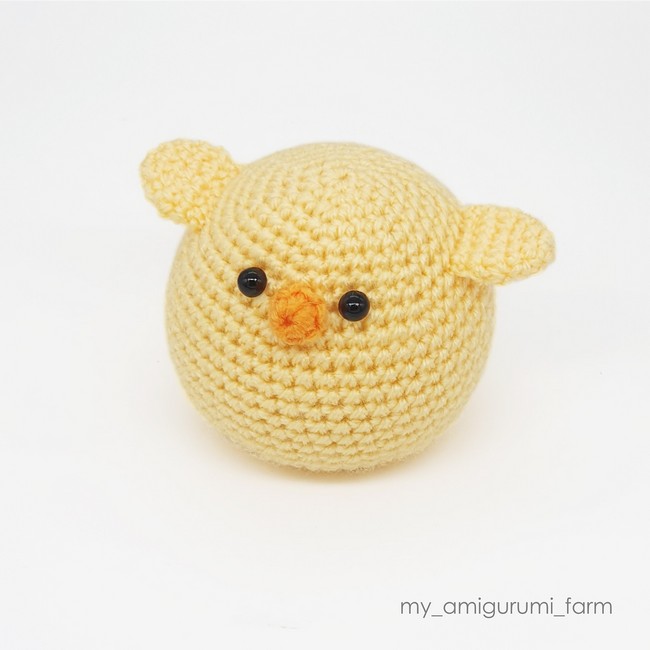 This chicken pattern is easy to follow and is suitable for beginners. You can make this crochet amigurumi chicken in any color you want. Get ready to do some chicken dances with this sweet and cuddly crochet amigurumi chicken! This pattern is ideal for beginners, as the stitches are very basic, and you will enjoy knitting this softy that doesn't take long to complete. Make these amigurumi chickens in bulk for your next craft fair – they will sell out quickly!!
Materials
crochet hook size 3.00 mm
scissors
craft pins
needle
Abbreviations
Magic ring (crochet specified number of single crochet stitches into the adjustable loop)
Sc (single crochet)
2sc increase (crochet 2 single crochet stitches into the same stitch)
2tog decrease (crochet 2 stitches together)
Sl st (slip stitch)
F/O (finish off)
Work in a continuous spiral, do not turn or join unless stated otherwise
Sewing parts together
Little Rooster:
Crochet Little Rooster is a beautiful creation that all fans of fascinating things will appreciate. This charming little vase can decorate any home's surface and make it cozier. This little crochet rooster uses basic stitches, is fun to make, and will bring an instant smile to the face of the lucky recipient! Little Rooster will arrive to you with a nice look. Excellent design and quality craftsmanship. The materials are good and soft, made from 100% organic cotton yarn. They're ready for fun and cuddling!!!
Materials
DK/light worsted weight cotton yarn in green, blue, yellow, red, and orange (I used Paintbox Yarns Cotton DK in Racing Green (428), Royal Blue (441), Buttercup Yellow (423), Rose Red (414) and Blood Orange (420))
2.5mm/size B or C crochet hook
4mm (0.16″) safety eyes or black embroidery floss/yarn
Fiberfill
16cm / 6.5″ long piece of pipe cleaner or craft wire
Yarn needle
2 stitch markers
Scissors
Abbreviations
R = row
Rd = rd
St(s) = stitch(es)
Ch = chain
Sl st = slip stitch
Sc = single crochet
Hdc = half double crochet
Dc = double crochet
Inc = single crochet 2 in same st
Dec = invisible decrease: Insert hook in front loops of next 2 sts, yarn over, pull through both front loops, yarn over, pull through 2 remaining loops
Sk = skip
Tog = together
[…] = series of stitches to be repeated
(…) = stitch count once round is completed
Easter chicken with bunny ears:
This pattern is for you if you're looking for a crocheted Easter chick with a bit more flair than your average fluffy, white, two-dimensional egg-hunt participant. It's broken down into three parts: the Chick, the bunny ears, and the bow tie. The Chick itself is worked in a loop around its ears and tail, while the bow tie is a simple rectangle worked in rows. This crochet chicken pattern is the perfect addition to your Easter basket! The body is smaller than a normal chicken, making it easier to stuff and quicker to make. It took me about an hour and a half to complete. The bunny ears are optional, but they add some fun character to the little guy.
Materials
YarnArt Jeans: yellow (# 35), white (# 01) colors. A little orange yarn.
Eyes, any at your discretion.
A little pink yarn for embroidery blush
Fiberfill or stuffing.
Hook 1.75 mm.
Yarn needle.
Abbreviations
MR —  magic ring
sc — single crochet
inc — increase, crochet 2 sc in one stitch
dec — invisible decrease, crochet 2 sc in front loops together
ch — chain stitch
(…)*n  — repeat instruction in brackets n times
R – row/round
st — stitch
Chicken Potholder:
This Chicken Pot Holder is the perfect accessory for those who love to cook. The holder is made of cotton, making it easy to hold onto hot dishes and pans. It also features a cute chicken design, adding a bit of cuteness to your kitchen or table. You can use this potholder as a hot pad, trivet, and more. It is a great gift for chicken lovers or anyone who likes doing crafts. Made with cotton yarn, this chicken potholder is lightweight and sturdy. It's an easy pattern to follow with the stitch count included. The perfect gift for the cook in your life!
Materials
H-8 / 5 mm crochet hook
Tapestry needle
Stitch markers
Scissors
Abbreviations
ch = chain
sl st = slip stitch
sc = single crochet
hdc = half double crochet
dc = double crochet
tr = treble crochet
st = stitch
beg = beginning
*to ; = repeat * to the instructions.
[ ] work instructions within brackets as many times as directed.
Rooster Pot Holder: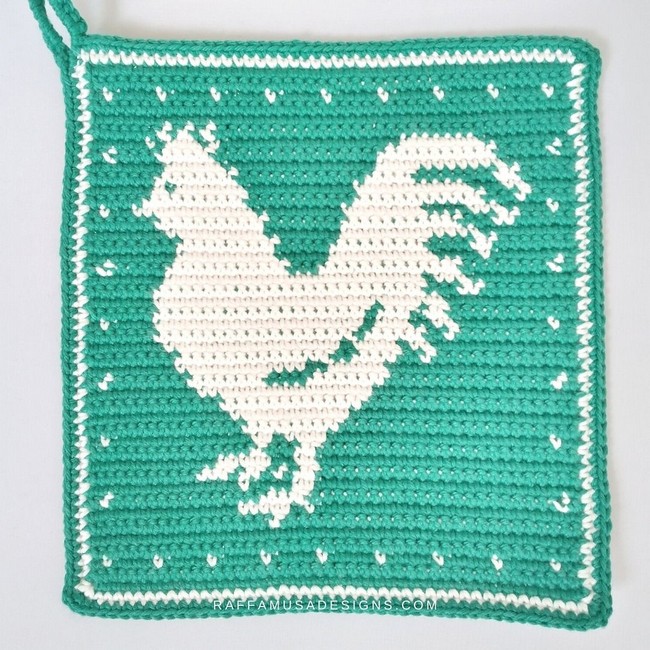 Celebrate spring with this lovely rooster pot holder. Crochet pot holders make excellent gifts for anyone on your gift-giving list, whether you're helping a friend celebrate her new home or looking for something special to give a woman on Mother's Day. This crochet rooster pot holder pattern uses the slip stitch technique to create texture and three-dimensional form and is worked in double crochet stitch. It's the perfect kitchen accessory, whether hot or cold outside! This adorable crochet rooster pot holder is made of beautiful cotton yarn and will brighten your day! Place this adorable handmade art in the kitchen or on top of your desk as a cute little decor item.
Materials
3.0-mm (D-3 USA, 11 UK) Crochet Hook
Paintbox Yarns Cotton DK in two contrasting colors. I will refer to them as color A (A) and color B (B).
Tapestry Needle
Abbreviations
Ch – Chain
RS – Right Side
Sc – Single Crochet
Sk – Skip
Sl St – Slip Stitch
St – Stitch
WS – Wrong Side
Yo – Yarn Over
Grandma's Chicken Potholder: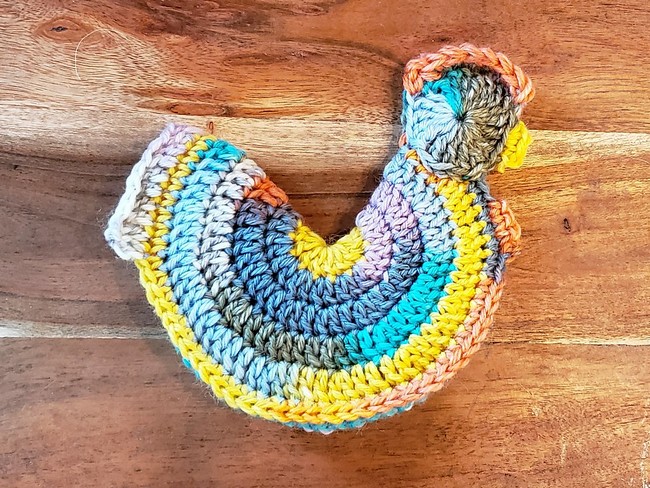 A fun and colorful potholder that will brighten up any kitchen. Great for gifts for the foodies in your life! When it's time to use your vintage potholder, remember Grandma. Keep a skein of bulky yarn in the kitchen for easy, cozy dishrags and hot pads. Worked in single crochet, this traditional design gets its name from the vintage look of its single rows of eyelets. A fun and easy project that can be made in a few hours. It makes a great gift when accompanied by a bottle of wine or some baked treats.
Materials
Stella Jacq, colorway 082 (or any superwash aran wool) – Used almost all of 100 m skein (50 g)

G hook (4.5 mm)

Tapestry needle
Clucky the Kitchen Chicken: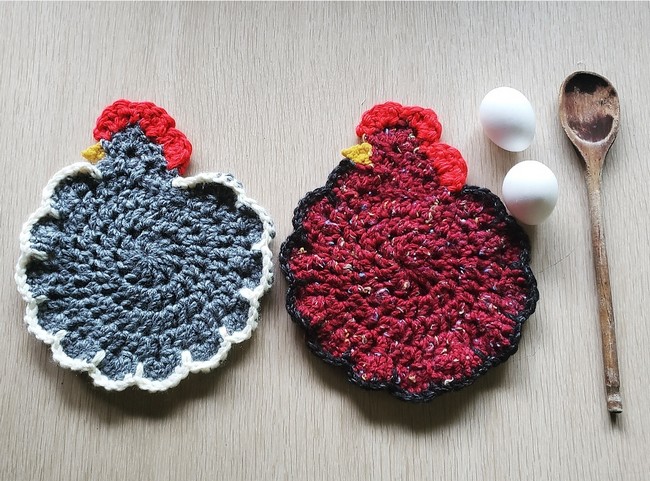 Crochet Clucky, the Kitchen Chicken, is a fun and functional kitchen decor that will spice up your home or workspace. Clucky also makes a great gift for your favorite chef! This fun kitchen decor is easy to crochet and requires no shaping, so it's suitable for beginners. All pieces can be crocheted using only a handful of yarn colors. This crocheted kitchen chicken is an adorable, one-of-a-kind addition to any kitchen. The pattern makes it easy to customize to your color schemes and personality!
Materials
a size 5 yarn of your choice (I recommend Premier Serenity Bulky) OR double stranded worsted weight yarn for the body and feather accent available here – Premier Yarns Deborah Norville Serenity Chunky (3 Ounce; 109 Yards)
a size 6 yarn (I recommend Lion Brand Hometown USA or anyequivalent) for the comb available here –  Lion Brand Yarn Hometown USA Yarn
a size 4 yarn (I recommend Mainstays Basic Yarn) for the beak
3 crochet hooks – a size  9mm (US size M)(for the chicken body), a size 5mm(US size H)(for the feather accents), and a size 3mm (US size D)(for the beak) —- (you can get an awesome set with multiple sizes here: 72 Pcs Crochet Hooks Set, Crochet Hooks Kit Plus Large-Eye Blunt Needles Ergonomic Yarn Knitting Needles Marking Clips Tools Set with Crochet Accessories
yarn needles and scissors for weaving in ends
Abbreviations
Ch – chain
Dc – double crochet
Sl st – slip stitch
Shell Stitch – 1 sc in first stitch, skip 1 stitch, 5 Dc in next stitch,
then 1 sc in next stitch