Polar bears are charming and cuddly, not to mention much-loved symbols of our planet's warming climate. This makes them popular subjects for amigurumi—the Japanese art of crocheting small stuffed animals and creatures. (Crochet is easier, so many amigurumi patterns are designed with it in mind.) If you're looking to bring a little arctic wonder into your home or make a gift for a friend or loved one who loves polar bears, here are 15 Free Crochet Polar Bear Patterns that will have you ready to go on the next family trip to the zoo! You can use them to decorate a nursery, make ornaments, or even crochet your own teddy bear.
Amigurumi Crochet Polar Bear Patterns

Crocheting a polar bear is a great way to use yarn scraps and make something adorable that can be forever treasured. With fast winter approaching, it's time to start thinking about how to cozy your home with festive decor. One of the most fun and easy ways to do that is by making adorable crochet polar bears. They're not just for Christmas—though they're perfect for setting out during the holidays—but also add a bright pop of color and an extra dash of warmth to any space year-round. The following patterns range from easy to intermediate difficulty, but all are very rewarding projects that can be completed in a weekend or less. Happy crafting!
Tips For Crocheting Polar Bear Patterns
The polar Bear is one of the most iconic symbols of the Arctic. They are native to the North Pole and are a popular subject for crochet patterns. Here are some tips for crocheting polar bear patterns.
Use high-quality yarn if you want your Bear to be soft and cuddly.
If you want to add eyes, use black thread or yarn instead of buttons or pearls because these items can come loose over time and become a choking hazard for small children.
If you have trouble with yarn tangling while working on your project, consider using needles made from bamboo or plastic instead of metal; this will help reduce snags and knots in your work.
Use a larger hook than recommended if your pattern does not specify a change in size; this will make it easier for you to see what you are doing as you crochet so that you can avoid making any mistakes along the way.
Orion the Polar Bear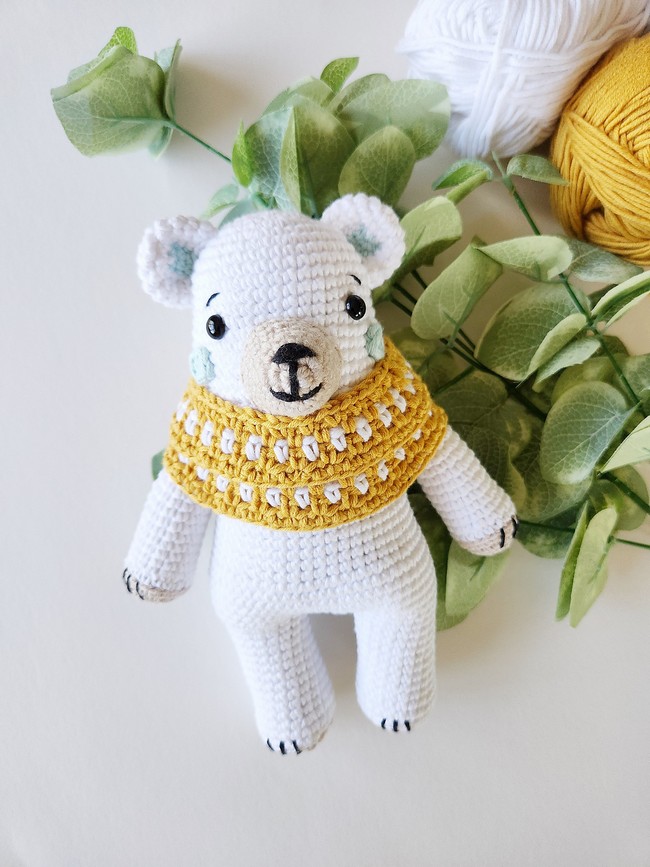 Crochet your very own Orion the Polar Bear with this easy-to-follow pattern. This is a perfect activity for kids or even a special gift for the animal lover on your list! This is a very special crochet pattern. It can be used as an ornament for your home, a decoration for Christmas and all winter holidays. It is made in 100% acrylic yarn, so it's safe for pets. The pattern is easy and beginner-friendly, with capital letters and punctuation marks.
Materials
Crochet hook: C/2.75mm
DK or light worsted (3) weight yarn in five colors: I used Bernat Softee Cotton in Clear White and Golden, and Bernat Softee Baby Cotton in Aqua Mist, Dusk Sky, and Feather Gray.
Black embroidery floss to embroider the mouth, eyebrow, and claw details
Tapestry needle to weave in ends and embroider
Polyfill stuffing
8mm safety eyes
Stitch markers to mark the beginning/end of each round if desired
Abbreviations
inc(s) Increase(s) – 2 single crochets in 1 stitch
BLO Back loop only
ch Chain
MC Magic circle
dec(s) Invisible decrease(s)
sc(s) Single crochet stitch
fsc(s) Foundation single crochet stitch
Amigurumi Polar Bear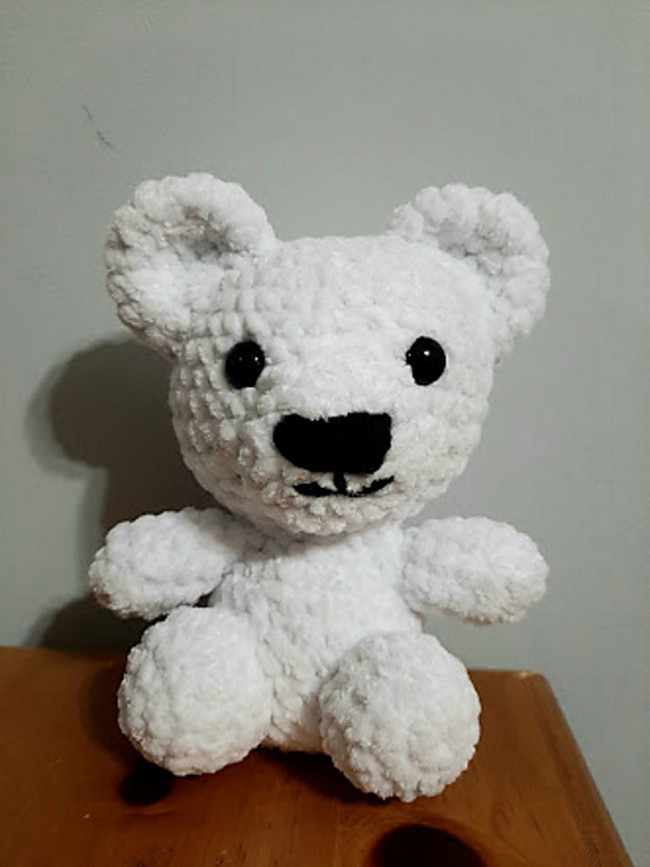 This crochet amigurumi polar bear pattern is a super easy project to work up for a baby shower gift, birthday present, or Christmas present. Make your favorite furry friend out of pink yarn and create a winter wonderland in your home with the Crochet Amigurumi Polar Bear! This sweet Bear can sit on a shelf, pillow, or open space to bring even more happiness to any room. Make it for yourself, a family member, or as a gift for someone special. Amigurumi is the perfect gift for kids, in-laws, and anyone who loves cute crafty things. And with this crochet pattern, it's super easy to make.
Materials
Less than 90 yards of white yarn of your choice (I used "Baby Bee Adore-A-Ball" in the color "Angel")
Recommended hook size for your yarn (I used a 7mm hook)
Yarn needle
Safety eyes of your choice (I used 14 mm)
Polyester Fiberfill
Stitch Marker (optional)
Abbreviations
Sc: Single Crochet
Inc: Increase
Dec: decrease
St: stitch
BLO: Back loops only
FO: Fasten off
Polar Bear Pal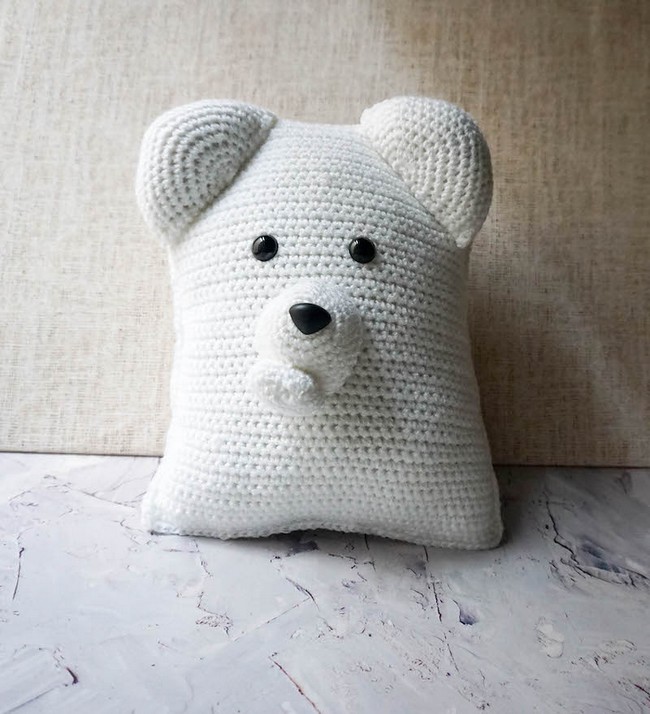 This crochet polar bear pal is a great gift for any child. It is easy to learn and works quickly, making it perfect for those quick last-minute presents. This crochet polar bear pal is a fun and exciting craft project. It makes an awesome gift idea for any occasion. Get one for yourself, or make it as a gift. With the finest quality materials, this crochet polar bear pal will bring you lots of joy and happiness!
Materials
Lion Brand Basic Stitch Premium yarn (100% acrylic, 3.5 oz/100 g/219 yd/220 m) – 2 skeins in 100 Snow, or approximately 325 yd (297 m) in any medium weight yarn.
Nelsonwood Black Cat US Size F-5/3.75 mm crochet hook, or any size needed to obtain correct gauge.
Fairfield Poly-Fil Premium Polyester Fiber Fill – 32 ounce bag.
Clover Quick Locking Stitch Marker Set, or locking stitch markers.
15 mm black triangle craft nose – 1.
15 mm black safety eyes – 1 pair.
Clover Chibi yarn needle.
Polar Bear Coaster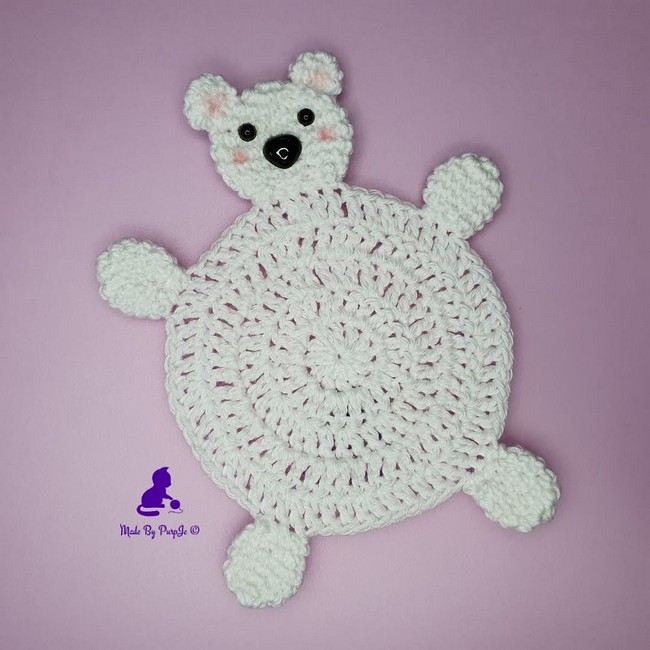 These adorable crochet polar bear coasters are perfect for any home. These fun and functional handcrafted coasters protect your surfaces from hot glasses, paint brushes, and spills. This crochet polar bear coaster is the perfect addition to any home. It's a great gift for anyone who loves polar bears or adores cute things! Make a lasting impression with this Polar Bear Coaster. This unique coaster is made of acrylic yarn and easily cleaned with soap or a sponge. It's super cute, simple, and fun to make!
Materials
Size 3.5 mm hook
Yarn needle
Scissors
Glue
Abbreviations
| | |
| --- | --- |
| CH | Chain |
| DC | Double Crochet |
| DEC | Decrease |
| INC | Increase |
| MR | Magic Ring |
| SC | Single Crochet |
| SS | Slip Stitch |
Mini Christmas Polar Bear Decoration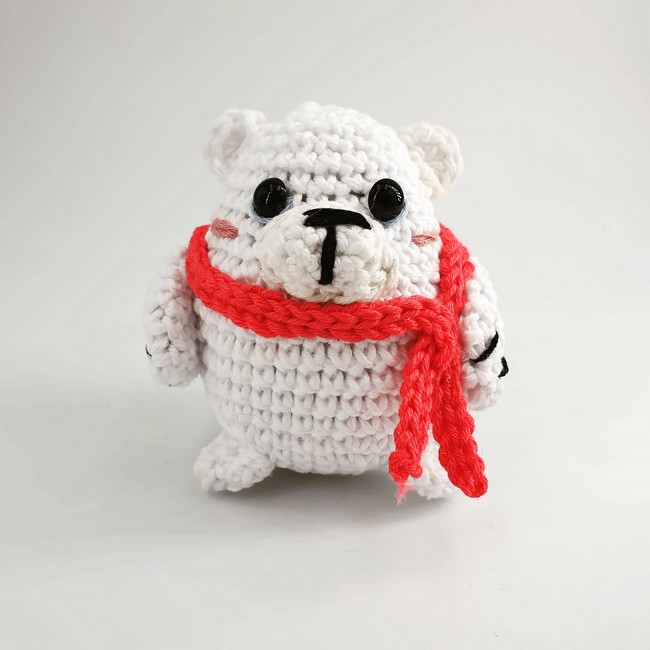 Little crochet polar bears all dressed up for Christmas, perfect as a gift tag and Christmas card topper or just adorable hanging from a tree, wherever you can think of to put them. This mini crochet polar bear is the perfect gift for someone special. Though small, this Bear is sure to be a big hit with kids and adults alike, who can't help but smile at its expressions of joy. The little guy is handcrafted, stuffed with polyfill, and lined with fleece, so it's extra soft to hold. You will love these cute, crocheted, and colorful polar bears. They are perfect Christmas decorations for hanging on the tree and a great gift idea for anyone who loves bears or decorating for Christmas!
Materials
Sports Weight Yarn (one contrast color and white)
 2.5mm crochet hook
Stitch markers and pins
Yarn needle
Stuffing
Safety eyes (7mm x 2)
Abbreviations
Sc = Single crochet
Slip st = Slip stitch
Invdec = invisible decrease
Sc2tog = single crochet decrease
** = a repeating stitch pattern
Polar Bear Crochet Tree Ornament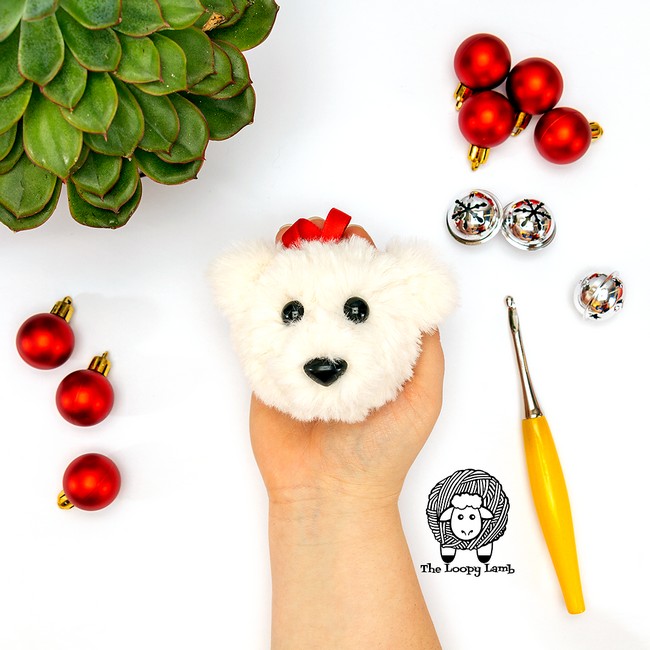 Crochet Polar Bear crochet tree ornament is a unique piece of art anyone will love to display. Perfect addition to any Christmas decor, this lovely polar bear crochet ornament makes a great gift with lasting memories Beautiful polar bear crochet tree ornament. This lovely little decoration can be made in any color and gauge of yarn. It is the perfect addition to your tree, mantle, or table. A beautiful, handmade crochet ornament that will last for years to come!
Materials
5.5 mm Furls Crochet Hook
16 yards/15 m (22 g/0.78 oz) of We Crochet Fable Fur in Eisbar
2 – 12mm Black Safety Eyes
18mm Safety Nose
Polyester Stuffing
12" piece of ⅜" (9mm) ribbon in the preferred color or piece of yarn.
Tapestry Needle
Scissors
Stitch Marker
Abbreviations
CH = Chain
FO = Finish Off
MC = Magic Circle
SC = Single Crochet
SCDEC = Single Crochet Decrease
SCINC = Single Crochet Increase
SL ST = Slip Stitch
ST = Stitch
Peppermint The Polar Bear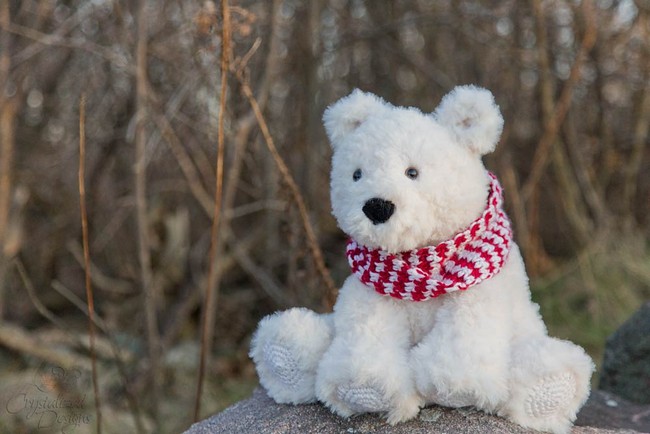 Peppermint will keep you warm and cozy all winter long. Crocheted from 100% wool by Jade's & Purls, Peppermint the Polar Bear stuffed animal makes the perfect gift for kids of all ages! Peppermint the polar bear crochet pattern is a super cute and simple amigurumi (crochet stuffed toy) that makes a great gift for Christmas or winter. This cute little Bear is perfect for snuggling and can be used as a decoration at home or in the nursery. This adorable crochet polar bear is the perfect gift for anyone who loves plush toys. Stuffed with polyester, this polar Bear's cute face will make you smile.
Materials
Yarn: 160 yards (3 skeins) in Fable Fur, colorway Eisbar; 85 yards Mighty Stitch Worsted in White, 60 yards in Red, and a small amount of in Black
Hook: Furls Odyssey F 3.75mm and M 8.00mm *get 15% off using code: crystalized15
Poly-Fil or Fiberfill
2 -12mm Black Plastic Safety Eyes (Brown Iris)
Scissors
Stitch Marker
Yarn Needle
Measuring Tape
Optional: Felt or Safety Nose
Abbreviations
Ch: Chain
Sc: Single Crochet
Sc2tog: Single Crochet 2 Together
Hdc: Half Double Crochet
Hdc2tog: Half Double Crochet 2 Together
Hdc3tog: Half Double Crochet 3 Together
Dc: Double Crochet
Slst: Slip Stitch
St(s): Stitch(es)
*: Repeat according to instructions
Polar Bear Gift Card Holder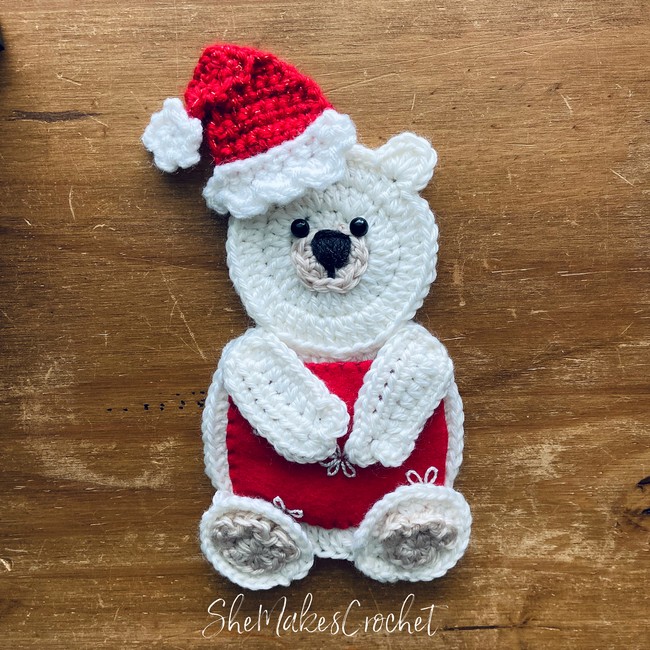 This crochet polar bear gift card holder is perfect for anyone who loves crocheting and bears! Plain white on the inside, this polar bear card holder has a small slot where you can insert your gift card. It is the perfect way to warm those family and friends this holiday season. This adorable crochet polar bear can be a cute decoration or a gift card holder for your loved ones! This crochet gift card holder is the cutest way to wrap up a gift card and make it special. This template pattern is for an adorable polar bear that stands about 5 inches tall and needs a bit of embroidery for a finished look!
Materials
White (Mighty Stitch) – Bear and Santa hat
Oyster (Mighty Stitch) – bear accents
Icicle Heather (Wool of the Andes) – original hat
Dark Charcoal (Impeccable) – nose and mouth
Red Sparkle (Caron Simply Soft Party) – Santa hat
3.75 mm crochet hook
Scissors
Needle for sewing down yarn tails
6mm safety eyes
Optional pom-pom for original hat
Sheet of felt, matching embroidery thread and needle
Ribbon, twine, yarn to create a loop for hanging, if desired
Abbreviations
CH          chain
SC           single crochet
HDC       half double crochet
SS           slip stitch
DEC        decrease
Amigurumi Polar Bear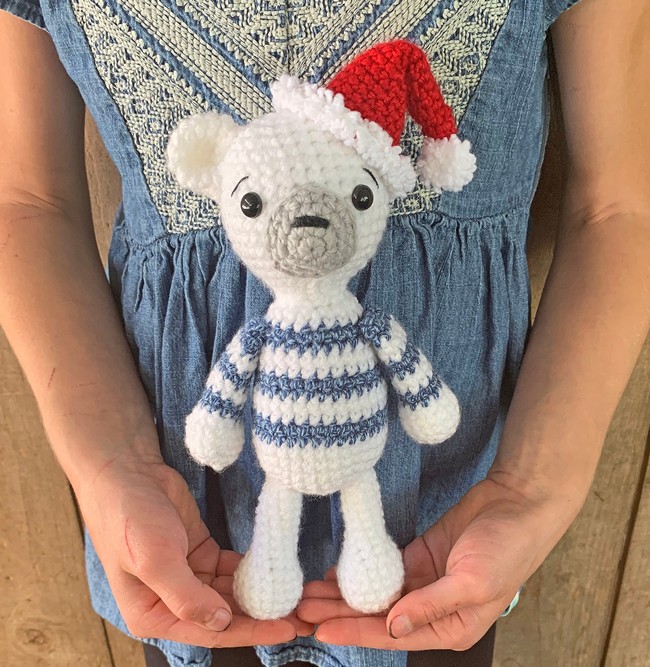 The crochet Amigurumi Polar Bear is super cute and very easy to make! This little polar Bear is perfect as a friend, toy, and decoration for you. The perfect gift for your little ones and special someone, and also a great way to destress. Fuzzies and fluffies are always cute, but this one is extra special! Crochet this adorable little guy with a hat, scarf, and mittens who likes to nap in a basket on his back! This cute little Polar Bear is quick and easy to crochet, making it perfect for beginner-level crocheters. These adorable polar bears make great gifts and decorations for your home, an ideal gift for children or loved ones!
Materials
Size 4 worsted weight yarn (50g of white; small amount of red, grey; white fuzzy yarn for the hat/pom, pictured is Lion Brand Boucle)
Two accent colors for the sweater, referred below as Accent A and B
3.5 mm crochet hook (these are the hooks I use and love!)
9mm safety eyes
Black crochet/embroidery thread for eyelashes/eyebrows/nose
Scissors
Tapestry needle (bent tips work great for amigurumi!)
Stuffing
Stitch markers
Abbreviations
MC- Magic circle
SC- Single crochet
SC INC- Single crochet increase
HDC – Half double crochet
INV DEC- Invisible decrease
St(s)- Stitch(es)
Kids Polar Bear Hat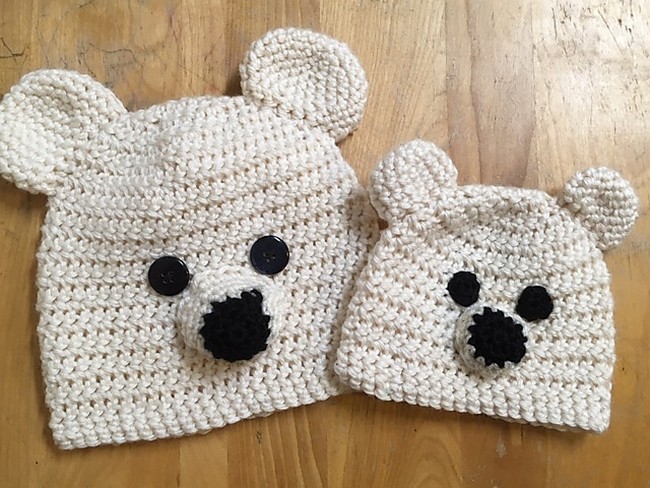 This crochet kids' polar bear hat is a delightful accessory for the fashion-conscious child. This crochet hat is perfect for your cute little one. The pattern is simple and fun, with a perfect fit for any size kid. This adorable crochet hat will keep your favorite little one's head warm and safe from the cold. Soft and warm, this crochet hat is the perfect topper for your little one's winter wardrobe. The simple pattern features beginner-friendly stitches and works quickly; it even includes instructions for making optional ears. This a fun project for beginning crocheters! It's soft and warm, ensuring your little one stays comfortable.
Materials
1 ball (or less) of medium weight (worsted) yarn in white
scraps of medium-weight yarn in black
2 black buttons, if you are using buttons for the eyes
5.5 mm crochet hook
Polar Bear Washcloth
This adorable crochet washcloth is the perfect way to spruce up your bathroom or kitchen. It also makes a thoughtful gift for anyone who loves bears and cute things! With a touch of whimsy, this Polar Bear Washcloth is a great accessory for your bathroom. This super cute, easy-to-make washcloth pattern is great for beginner to advanced crocheters. Add this washcloth to your bathroom for decoration and a cute way to dry off after your showers. The small size makes it perfect for keeping the little ones clean too!
Materials
WeCrochet CotLin Yarn (123yds/50g) (less than 1 skein each, DK) in the colors
3.25mm hook
scissors
tapestry needle
polyfill
Abbreviations
sc = single crochet
candy cane border
ch = chain
sl st = slip stitch
Polar Bear Stuffed Animal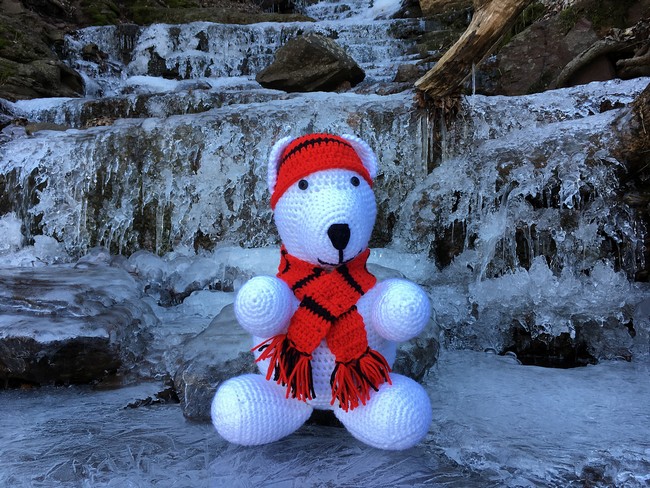 Crochet a polar bear to keep you company. The perfect project for beginners, this tiny teddy bear makes the ideal gift or ornament. This crochet polar bear stuffed animal is a great gift for your loved ones! It's ready to be cherished by children and adults alike. This crochet polar bear stuffed animal is sure to delight your child. With its colorful fur, this cutie will be a great companion for all your little ones. It crochets up super fast, so it makes a wonderful last-minute gift!
Materials
Approximately 1 skein of #4/worsted weight yarn (in white); I also used some red and black for the hat & scarf and facial details.
G-6 / 4-mm hook
FiberFil stuffing
Two small buttons
Scissors
Yarn needle
Regular sewing needle
Thread
Abbreviations
st – stitch
ch – chain
sl st – slip stitch
ch st – chain stitch
sc – single crochet
hdc – half-double crochet (see notes above)
(inc) – increase; perform two stitches in the same space/stitch
(dec) – decrease; see "notes" above
sc2tog – single crochet 2 stitches together; this is a decrease
hdc2tog – half-double crochet 2 stitches together; this is a decrease
Alexei The Polar Bear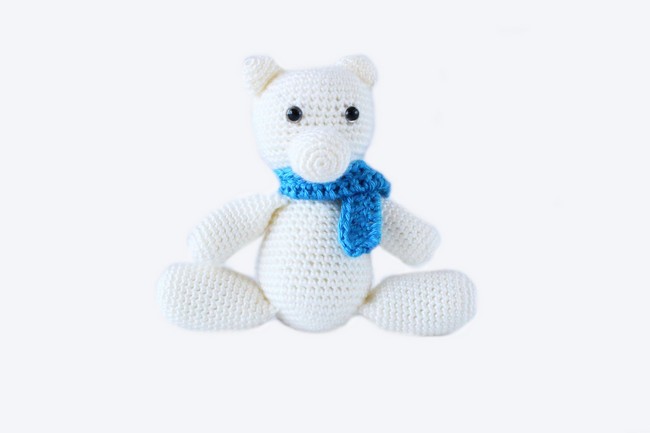 When the weather outside is frightful, and there's no other place to go, you can snuggle up with this adorable plush polar Bear. Alexei will be your best friend for years to come! Alexei is a sweet polar bear filled with joy and enthusiasm for all life offers. He loves to play and snuggle and never gets tired of watching snowflakes fall from the sky daily. His favorite thing to do is scoot around on his little red wagon and explore the bustling streets of St. Petersburg with his friends. This cuddly toy softie will provide hours of fun-filled imaginative play.
Materials
3.25mm crochet hook

#4 worsted weight yarn  – I used Caron Simply Soft in White and Cobalt Blue

polyfill stuffing

10mm safety eyes

tapestry needle
Abbreviations
ch – chain
SC – single crochet
DC – double crochet
sl – slip stitch
BLO – back loop only
Momo The Bear
This crochet, momo the Bear, is so cute and cuddly that you will fall in love every time you look at it. Momo the Bear is a soft and cuddly crochet toy for children and adults alike. It is a great first project for all beginners to crochet, using only single crochet stitches, simple increases and decreases, plus a few simple decorative stitches. Crochet Momo the Bear as a gift for any occasion, as a beautiful keepsake toy, or to add fun to your house!
Materials
– worsted weight yarn
– 4mm crochet hook
– 6mm safety eyes
– embroidery needle
– embroidery thread
– scissors
– yarn needle
– stitch markers
– stuffing
Abbreviations
sc – single crochet
mc – magic circle/ring
inc – increase (single crochet increase = two stitches in one stitch)
dec – invisible decrease (single crochet decrease = two stitches together)
st(s) – stitch(es)
Polar Bear C2C Square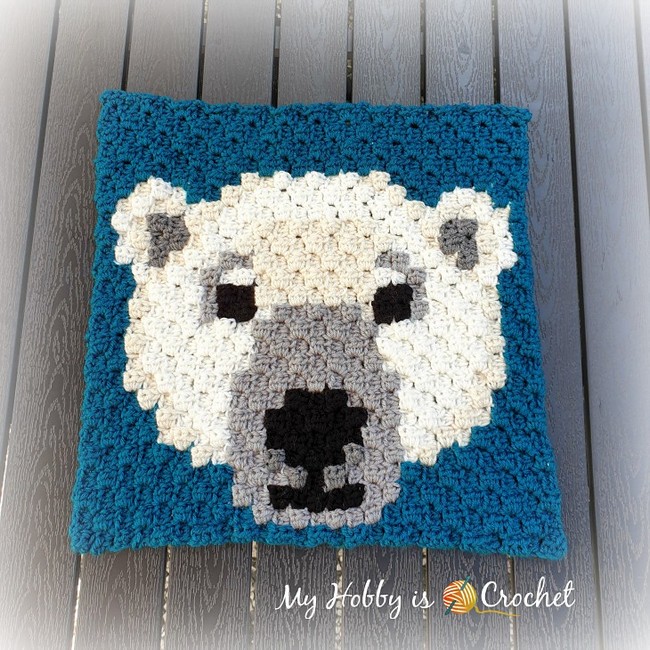 Add a touch of warmth to your home with this adorable polar Bear C2C square. The perfect addition to any room in the house or even to give away as a gift! The Polar Bear C2C Crochet Square features a polar bear and snowflakes in a blue and white color scheme. In the background is a loosely woven pattern that creates a frosted effect. The square can be a blanket or pillow cover and fits perfectly into your home décor. This specific square would make an excellent Christmas gift for your loved one!
Materials
yarn: Red Heart Super Saver (yarn weight: Medium 4) in 6 colors:
Real Teal for the background approx. 146 yds (133.5 m)
Soft White approx.76 yds (69.5 m)
Aran approx. 52 yds (47.5 m)
Dusty Grey: approx. 43.74 yds (40 m)
Grey Heather approx. 7.65 yds (7 m)
Black approx. 16.4 yds (15 m)
5.5 mm crochet hook (I have used Furls Wooden Hook, Cocobolo)
Tapestry needle
Scissors
Abbreviations
- RS: right side
- WS: wrong side