Minions have quickly become a staple of the movie scene. They are cute, cuddly, and well-loved by people of all ages—so it's no surprise that they have found their way into yarn shops and crafting blogs everywhere. These little guys are so popular that even crocheters have gotten in on the act. If you're looking for something to do with your free time this weekend, you should look into crocheting one of these Free Crochet Minion Patterns! Whether you're a fan of Despicable Me, there's no denying how adorable these guys are!
Crochet Minion Patterns

These Crochet Minion Patterns are a great way to bring some fun into your life, no matter how old you are. This collection of free crochet minion patterns is sure to please. Check out these fun and easy designs that would make great additions to your home decor or a special gift for someone you know who loves these little yellow characters. These deceptively simple creatures have proven a hit with kids and adults, so why not get in on some minion action by crocheting your own?
Tips For Crocheting Minion Patterns
Crocheting is a fun hobby that can be used to create some awesome stuff. If you are a Minions fan, you will love the crochet patterns we have for you. The Minions are adorable little creatures that kids and adults love. You can use these patterns to make Minions toys, clothes, and many other things.
Here are some tips that will help you crochet minions:
Coose the right yarn for your project
Use the right hook size for the yarn
Follow the pattern instructions carefully
Crochet Minion Pillow Pattern
Make your little one smile with this crocheted C2C Minion boy pillow. Adorable and perfect for any minion fan! The Crochet C2C Minion is a great place to rest your head after a hard day fighting baddies and causing chaos. This pillow will make any room feel more like home. It is the perfect gift for you or someone you love. This pattern is simple and easy to follow; anyone can crochet! Make a bunch of minions for yourself or a special present!
Materials
Size H crochet hook
1 skein of I Love This Cotton yarn in
12″ x 12″ pillow insert
Yarn needle
Scissors
Evil Purple Minion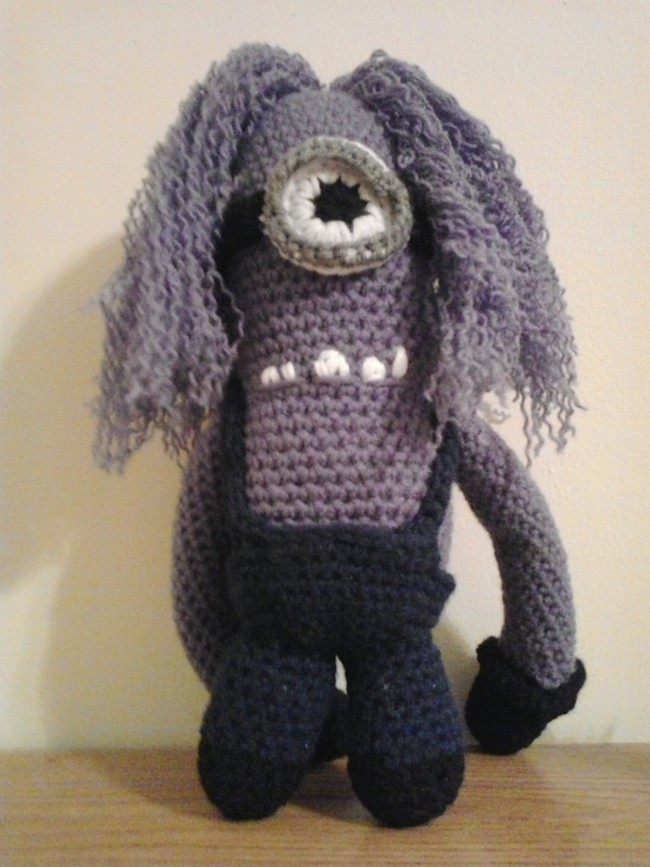 Not your average Minion but an Evil Minion; this one wears glasses and has a purple shirt with a red tie. This is a great gift for your favorite movie lover, video gamer, or crafter who loves to crochet. Let your Minion be ridiculous with the Crochet Evil Purple Minion. This crocheted yellow evil minion is easier than boiling water, so get ready to have fun, relax, and crochet all day long! This Crochet Evil Purple Minion is the perfect gift for all fans of Despicable Me. Their soft texture will make you want to keep this Evil Minion forever, but beware: it may become your new best friend!
Materials
Worsted weight yarn:  Lavender, black, white, gray, and navy blue.
E crochet hook
Polyester fiberfill
Tapestry needle
Minions Inspired Easter Egg Cozy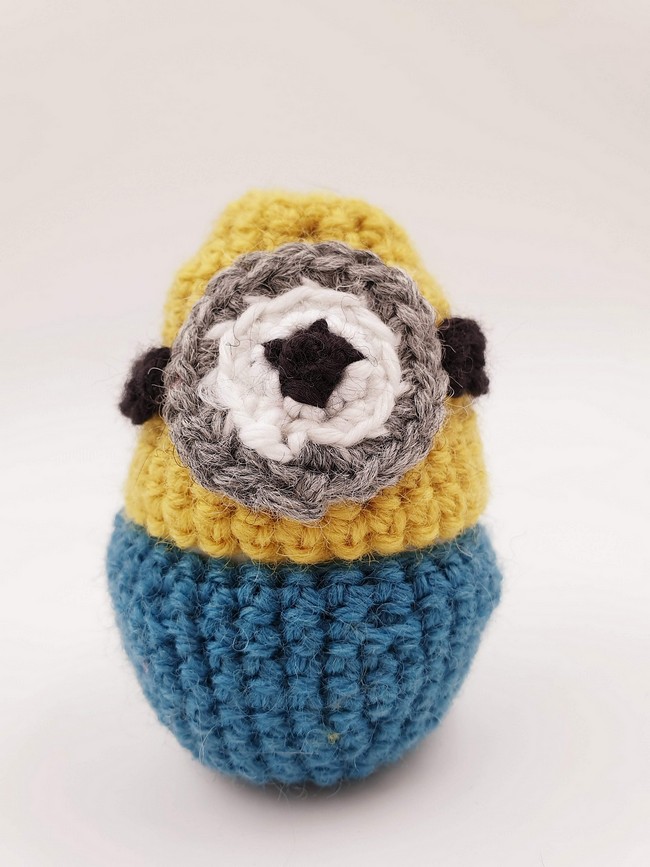 If you are a Minion fan, this is the egg cozy! This cozy crochet Minion-inspired Easter egg will keep your boiled eggs warm and doable, protecting them from cracking. Add a little style to your Easter eggs with this crochet Minions Inspired Easter Egg Cosy. Perfect for keeping your eggs fresh and fun for all the family, this cozy will fit snugly over any sized egg. After all that hard work making the perfect chocolate bunny, you want to make sure you get to enjoy it too!
Materials
DK Yarn (Yellow, white, black, blue, grey)
3.5mm crochet hook
Stitch markers and pins
Yarn needle
Abbreviations
Sc = Single crochet
Slip st = Slip stitch
Sc2tog = single crochet decrease
** = a repeating stitch pattern
Minion-inspired finger puppets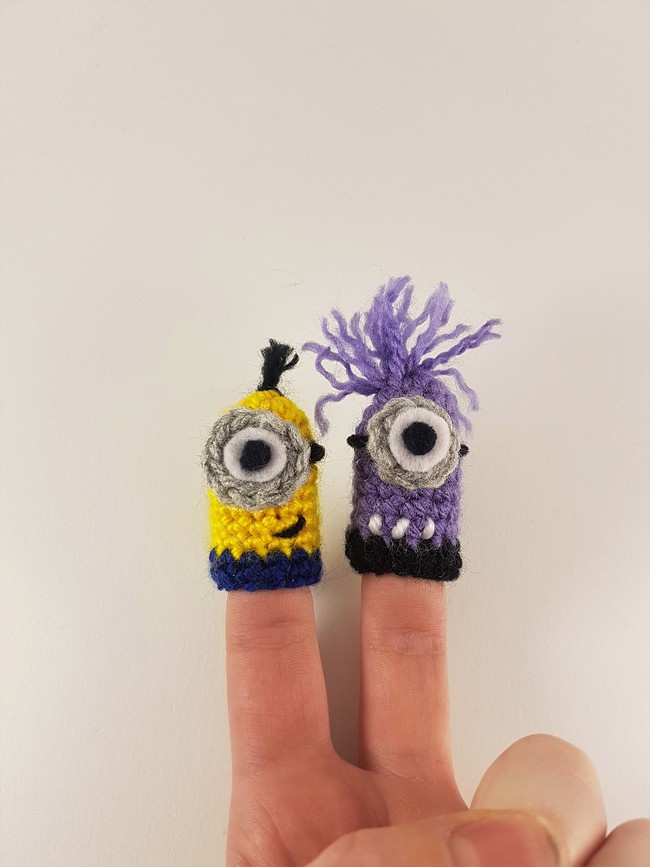 Let your favorite Despicable Me character follow you everywhere they go! This crocheted finger puppet will keep your hands warm while being fun and functional. Create these Minion-inspired finger puppets, or any other design you like, at home. Fabulous finger puppets inspired by the Despicable Me Minion, who's sure to put a smile on your face. These little guys will look great on your fingers and make a perfect gift or stocking stuffer for any minion fan! Crochet them with this easy-to-follow pattern that includes all the steps and instructions. You can even customize the hair color of each finger puppet using a variety of different colored yarns!
Materials
– 8ply yarn
– 4mm hook. I used a 4mm but adjust hook size to either make it smaller or larger depending on finger size.
– Sewing needle
– Scissors
– Felt (You could do this with yarn if you wanted)
Easter egg minion
Who has to die when Easter comes? Don't let the egg minions die by giving them this crochet Easter suit. It is made of fluff material and is super soft, which allows you to cuddle the adorable eggs while they are sleeping. Make sure to include this in your Easter basket! Crochet Easter egg minions are cute and easy to make. You don't need special skills for this project as it is a very simple pattern and a great idea for learning how to crochet! Suitable for beginners, young girls, and kids.
Materials
Sport weight yarn in yellow, blue, black, white and grey
Crochet hook size D/3.25 mm
Fiberfill or yarn scraps for filling
Black beads for eyes
Stitch marker
Thread and needle to sew
Abbreviations
ch - chain
sl st- slip stitch
sc - single crochet (UK - double crochet)
sc2tog - sc decrease
Minion Mini
Crochet Minion Mini is perfect for those who want to practice crochet or decorate the house. This mini Minion can also be a great toy for small children to play with or a gift to your friends, family, and loved ones. This pattern's difficulty level is easy to execute. This adorable Crochet Minion is an intermediate professional-level project. It's made from small rounds of single crochet stitches, and it's easy to make its big smile, two little eyes, and a hat for him. Then you can apply it on a Christmas tree or use it as a keychain, bookmark, etc.
Materials
Small amounts of crochet cotton in yellow, blue, black and grey;
Felt in black and white;
Tapestry and sewing needles;
Black sewing thread;
Polyester stuffing; and
A key ring (optional).
You can also see: Crochet Mini Amigurumi Patterns 
Pocket Pal Minion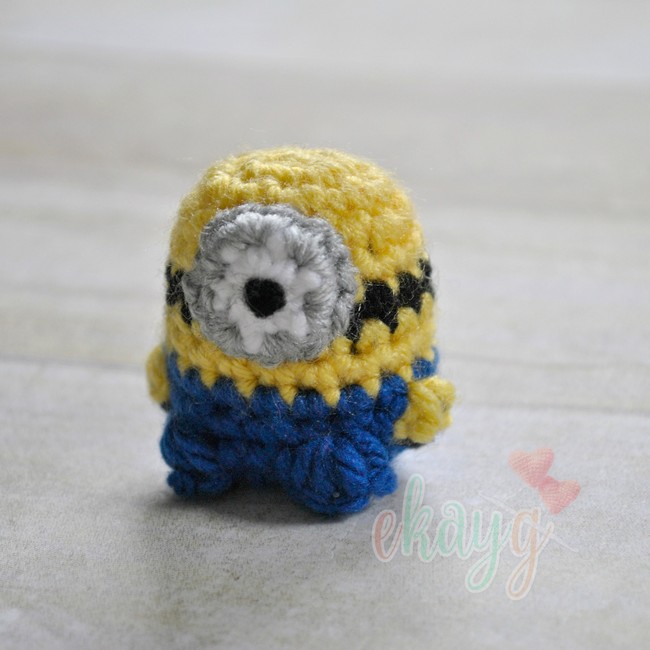 Crochet Pocket Pal Minion for Collectors of All Ages! This is the perfect gift for any crocheting enthusiast. Cute and fun, this unique guy will surely capture your attention while you're busy with your next project. He makes a great accessory to your purse, backpack, or jacket pocket. The Crochet Pocket Pal Minion is a wonderful gift for a child or to keep for yourself. It is small enough to fit in your purse or backpack or make a fun keychain. He is easy to make and would make an excellent stocking stuffer!
Materials
Worsted weight yarn in yellow, blue, and small amounts of black, white, and gray.
Used here: Red Heart with Love, Daffodil and Caron One Pound, Royalty
Polyester Fiberfill or yarn scraps for stuffing
Crochet hook size F – 3.75mm
Yarn needle for weaving in ends
*Optional – Plastic lobster clasp
Abbreviations
rnd, rnds – round, rounds
st, sts – stitch, stitches
sc – single crochet
inc – increase, working 2 sts into same st
dc bobble – double crochet bobble; In this pattern, dc bobble is done in yellow and black. It should be done so that all remaining loops on the hook are black (for the hand).
See pictures below more more details.
You can also see: Crochet Bobble Blanket Pattern 
Another Minions Coffee Cup Cozy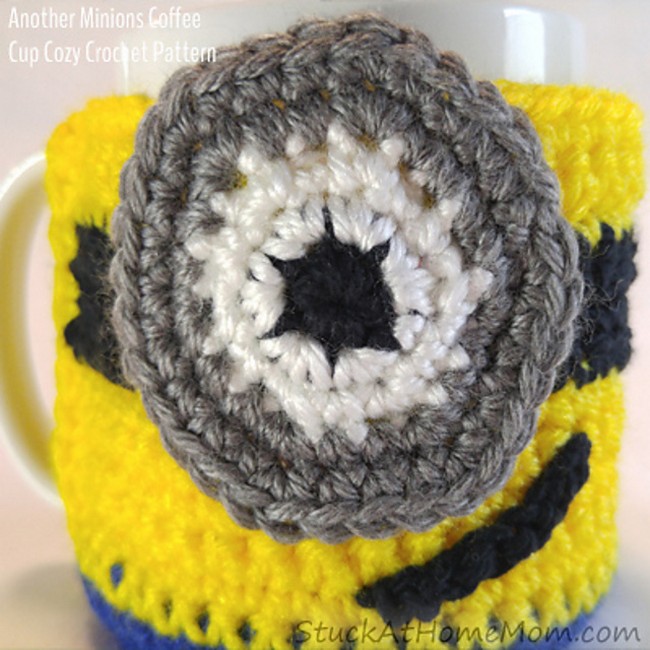 If you can crochet, make this adorable Cup cozy in just a few hours. It is perfect for those who love Minions and coffee! This project is suitable for a beginner crocheter. This Minions Minion coffee cup cozy is a quick and easy crochet project that any skill level can master. It's a great way to use up your stash of cotton yarn too! Crochet another coffee mug cozy for your favorite minion fan! The bottom of the cozy is a fun design that ensures you don't have to worry about dropping it on the floor.
Materials
Hook: G6/4.00
Yarn: Red Heart – Blue, Yellow, Black, White, Gray
Accessories: Button
Other: Needle
Abbreviations
ch = chain
sc = single crochet
w/ = with
slst = slip stitch
ss = same space
sp = space
Minion Granny Square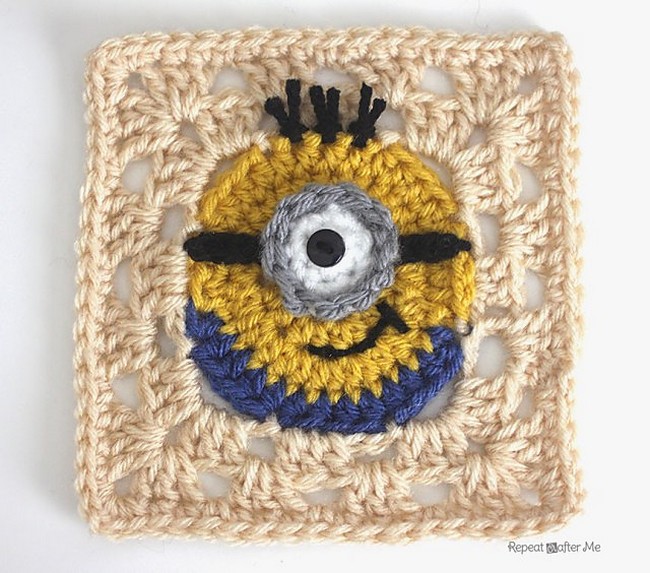 The crochet minion granny square is the perfect gift for your daughters, friends, girlfriend, or other loved ones who are crazy about minions! This crochet minion blanket will keep you warm in the cold winter. Also, it makes a great throw pillow when used as a cushion. Any beginner can make this Minion crocheted granny square using simple double crochet stitches and fast! Perfect for beginners or anyone looking for an easy project to make in one night, this can be made with any worsted-weight yarn!
Materials
– Worsted Weight Yarn in yellow, blue, white, gray, and background color (I used cream)
– Size H crochet hook
– Small black button
– Tapestry needle
Abbreviations
Magic Ring Tutorial
SC = Single Crochet
HDC = Half Double Crochet
DC = Double Crochet
Minion Easter Egg Holder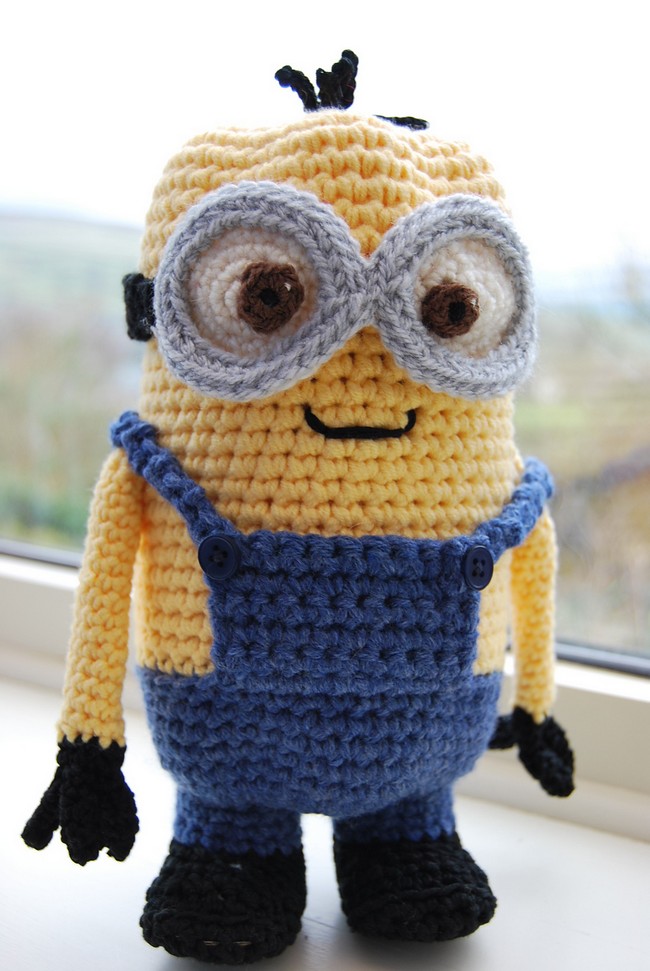 If you love minions, this crochet minion Easter egg holder is the perfect way to hide your Easter eggs! This crochet minion Easter egg holder is a perfect way to store your Easter eggs or other springtime decorations! Slip your eggs into the body of this Minion, then wind the arms and legs together around the middle. It features a very happy Minion on top. It can be used to store candy or popcorn or act as an egg holder for your Easter Eggs!
Materials
4 and 5mm hooks
DK yarn in Yellow, Blue, Black, Silver Grey, Cream and Brown
2 small blue buttons
Small amount of toy stuffing for legs
Small piece of cardboard for feet
2 empty 2 litre water bottles (or pop/soda bottles) ready to be "upcycled"
Abbreviations
ch – chain
ss – slip stitch
dc – double crochet (US single crochet)
htr – half treble (US half double treble)
tr – treble (US double crochet)
st – stitch
tog – together