Crochet Jacket Patterns are the perfect way to ensure you always have something to wear on chilly days. They can be paired with your favorite jeans for a casual look or dressed up for an evening out. You can wear them as a top over some leggings or joggers for a cozy look. It's cheap and fast, you can make all sorts of things with it, and it's easy to learn. Want to give crochet a try? These 11 patterns for crochet jackets are a great place to start.
Crochet Jacket Patterns

A crochet jacket is your best bet when you want to dress up a well-loved outfit. It looks great over a button-up or sweater and can be paired with your favorite jeans, leggings, and even skirts. Making one is easy, too; all you need is an idea and the time to do it! In this list, we've rounded up some of our favorite crochet jacket patterns for men and women in varying styles. Good luck with your project! Please browse our selection of crochet jacket patterns and learn how to crochet various jackets. These are perfect for you if you want to learn to crochet or are already an experienced crocheter.
Benefits Of Crochet Jacket Patterns:
Creating a crochet jacket pattern is a great way to express your creativity creatively and uniquely. You need not be an expert in crochet or knitting to create these jackets. The best thing about this jacket pattern is that you can create it according to your choice and taste.
These jackets are very comfortable, keeping you warm in winter and cool during summer.
The material in creating these jackets is very lightweight and easy to carry around wherever you go.
The jacket style gives the person wearing it an elegant look.
You can wear these jackets with any clothes or dress, making them more versatile than other types of jackets available today.
Crochet Smart Baby Jacket
Elevate your little one's wardrobe with this charming crochet baby jacket. Using self-striping Red Heart, the pattern shows a beautiful color transition and creates a Kimono-styled jacket by constructing two hexagons and sewing them together. The lines of holes create an eye-catching design while ensuring the design remains airy and breathable.
Crochet Jacket Patterns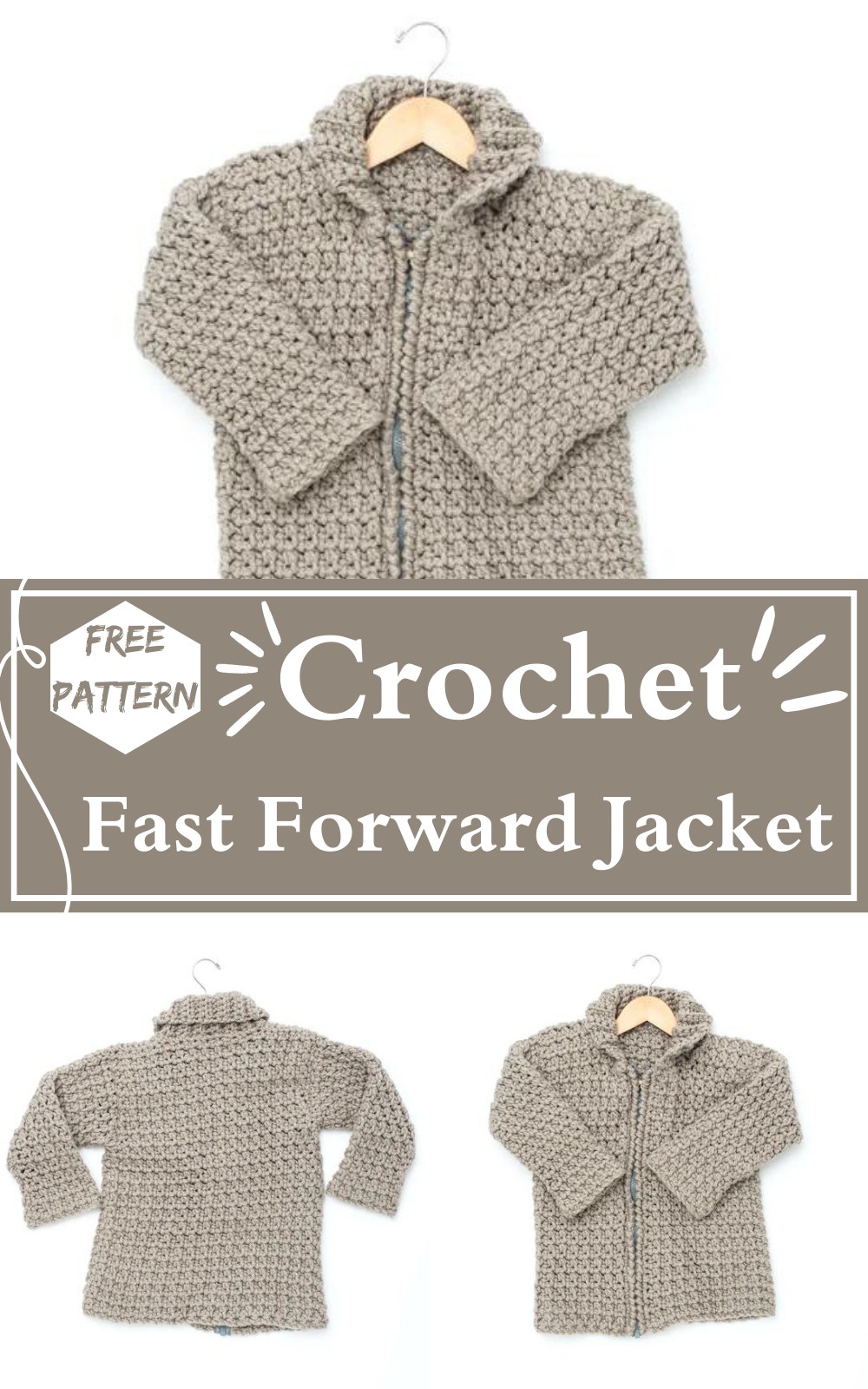 Your little one will be off to school in style and warmth with this zip-up coat. It features a thick texture of long sleeves, a gorgeous collar, and a convenient zipper. With excellent stitch definition, Bernat Softee Chunky works up quickly for a great jacket that keeps them super warm. Let your child select the color that makes them smile for an even happier ending.
Crochet Beautiful Lacy Bolero Jacket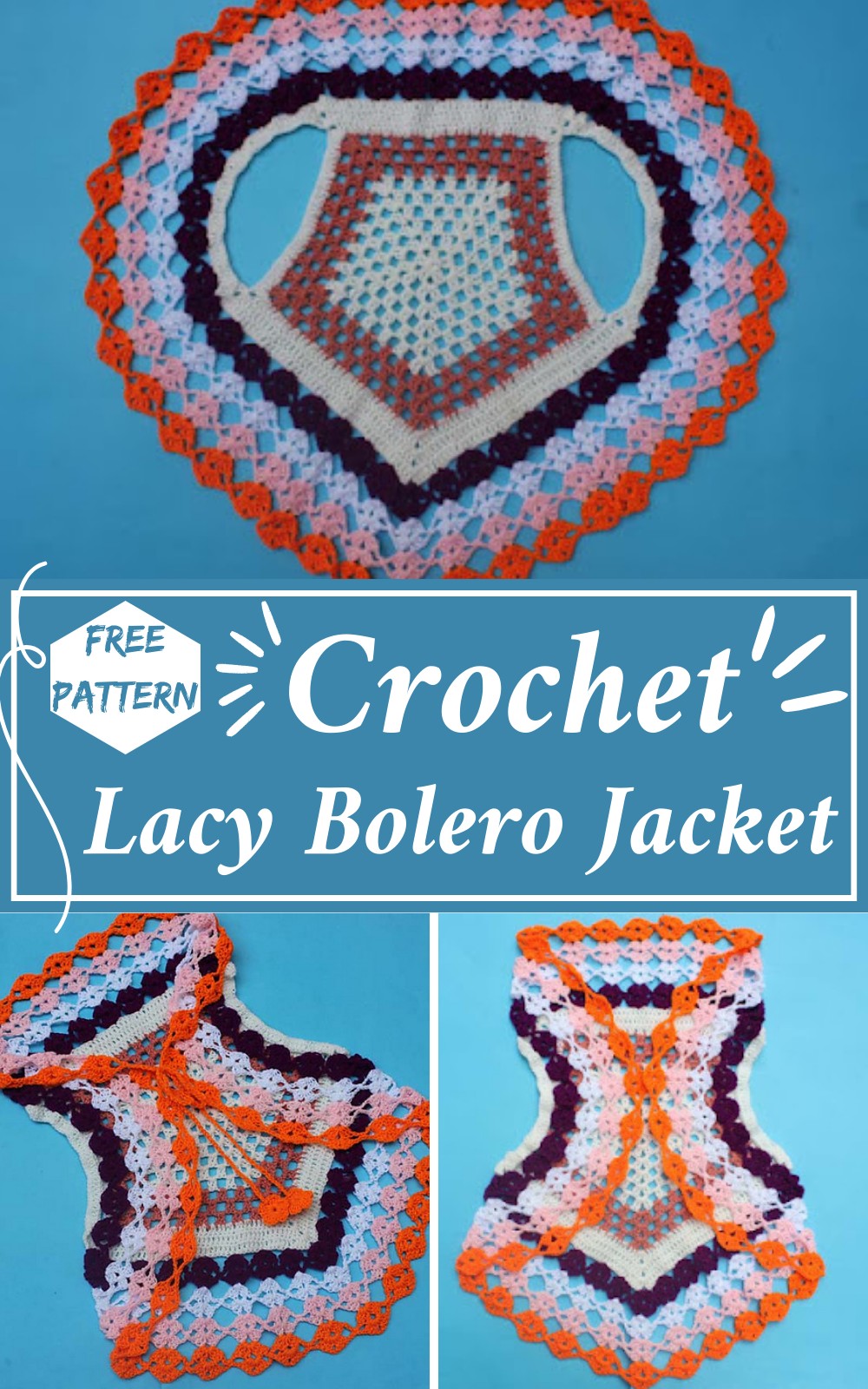 This crochet jacket is perfect for preparing for spring parties and get-togethers. Bursting with colors and rich with lacy textures, it brings a trendy twist to traditional crochet work. The design incorporates two floral-ended stripes, enhancing charm and serving as tie points for the garment. Furthermore, This sleeveless jacket is designed for little girls aged 12-18 months, but you can customize it easily!
Crochet Ladies Cardigan Jacket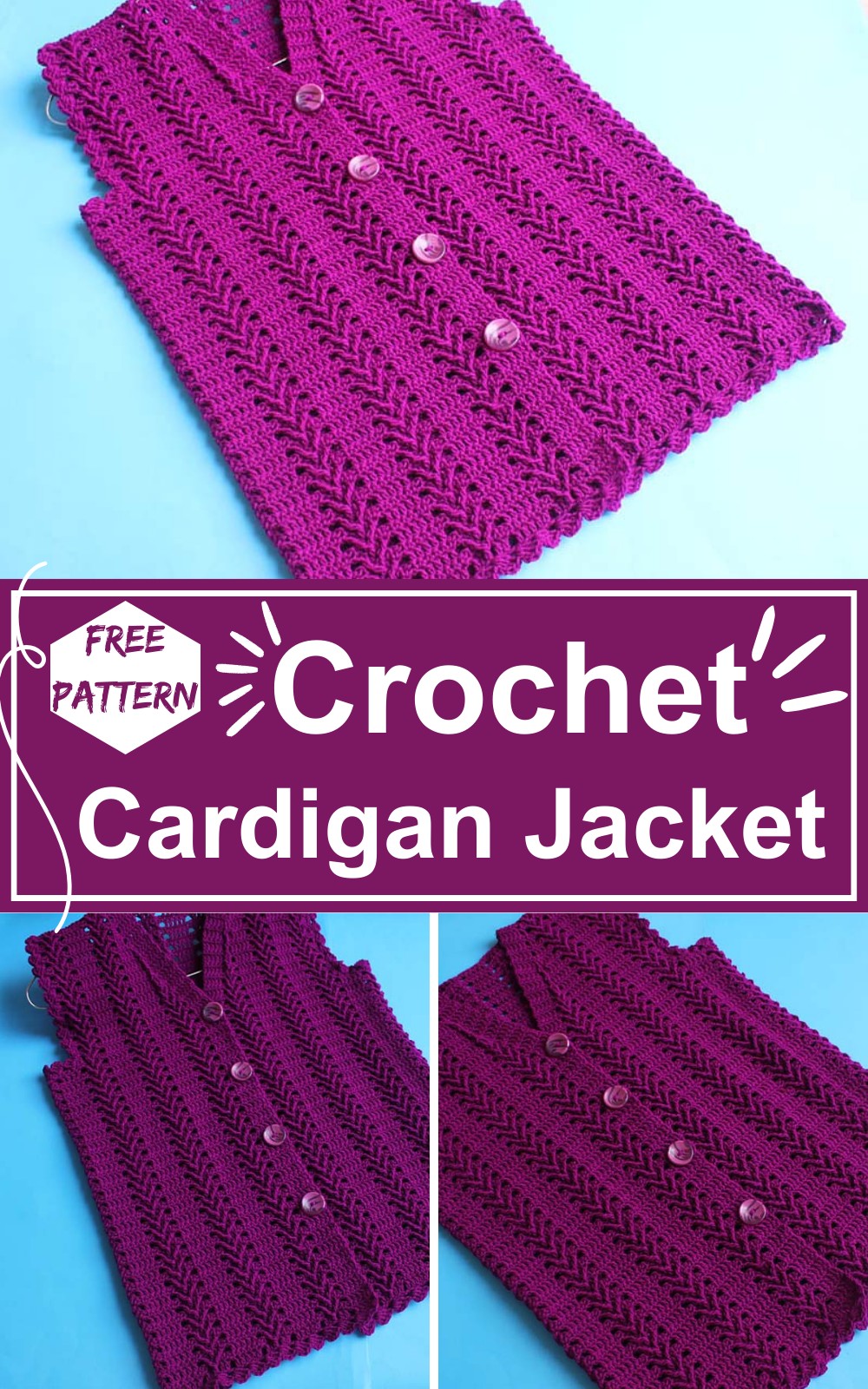 Add another layer of style to your assemble with this crochet Cardigan Jacket. The stunning buttoned jacket features back and front panels crocheted together, ensuring seamless sides. Ideal as a standalone piece or layered over an outfit, this pattern is also adaptable for baby clothes, women's sweaters, girl's shawls, and jackets. Moreover, by watching video tutorials, you can easily adjust the size!
Cabled Crochet Jacket
This crochet jacket is full of textures and visual beauty. The jacket shows a beautiful twisted cable design throughout the entire jacket, while the ribbed features on the collar, cuffs, and hem add more beauty to its appeal. The jacket is ideal to wear over any ensemble; it not only boosts its overall visual charm but also offers notable warmth and comfort.
Jacket For Spring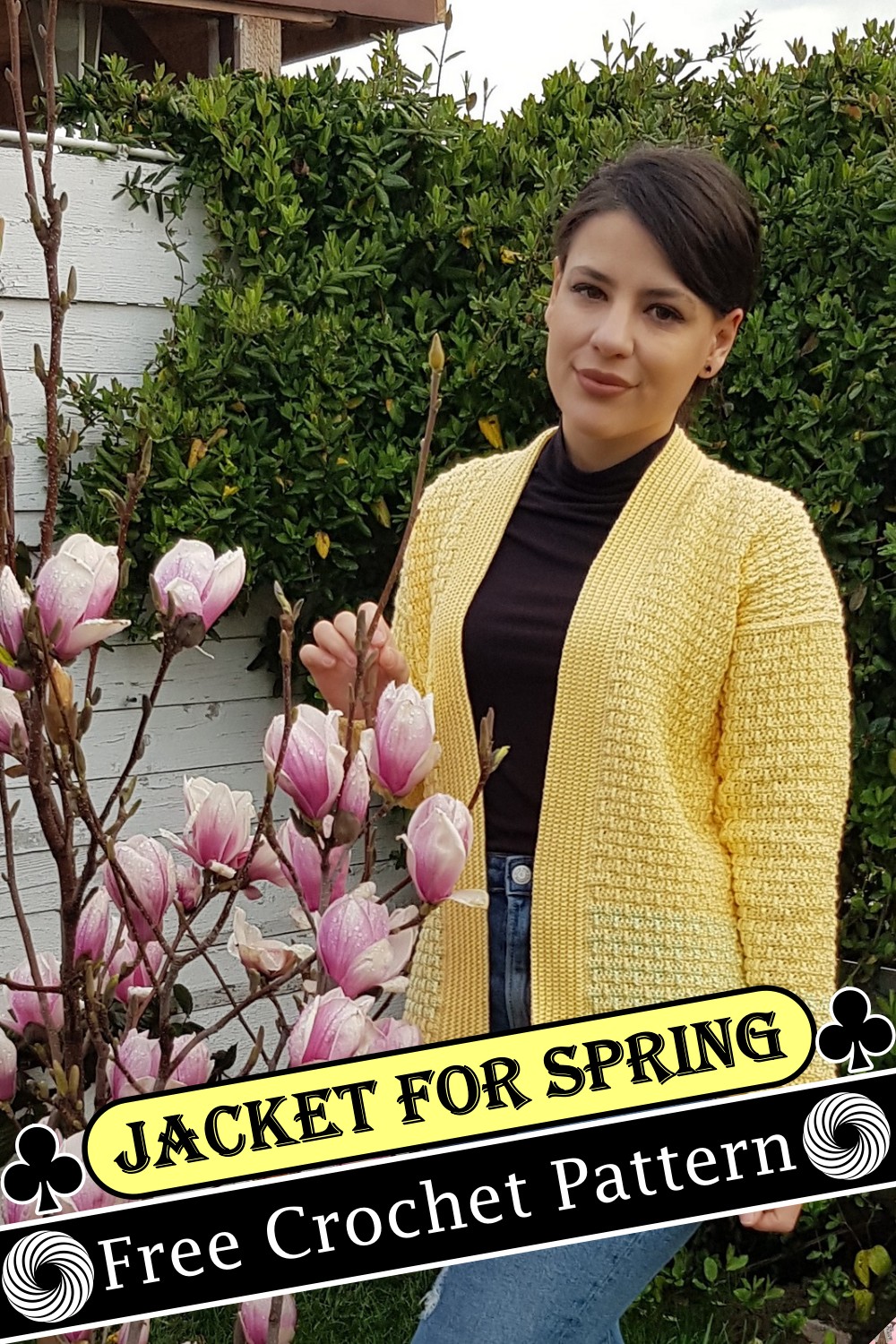 Creamy crochet, a cropped silhouette, and a drawstring waistline make this lightweight shell perfect for adding to your spring wardrobe in cool-weather climates. Stunning Crochet Jacket For Spring is soft and warm, yet it's also light enough to wear in the spring. It's made from cotton yarn and has a loose-fitting shape with pretty lacy details and crochet cuffs. This crochet jacket is a great way to keep warm and cozy during those chilly spring nights. It's not only reversible but has a long-sleeved option for extra warmth!
Gea Jacket
Fun and versatile, this sweater jacket is sure to be the perfect addition to your wardrobe. Knit from soft, versatile yarn and finished with a classic silhouette, this piece is easy to style and work into any outfit. The perfect addition for layering in every season, it floats over dresses and jeans. Keep warm and look stylish with this crochet gea jacket. This versatile piece is great for throwing on over a long sleeve shirt or a dress! The jacket is made from a soft and light knit fabric, perfect for a casual night out or a classy dinner. The jacket has a cropped length and is made with delicate crochet detailing on the front, sleeves, and bottom hemline.
You can also see: Crochet Poncho Pattern To make great wearable for your wardrobe
Sigulda Tunisian Jacket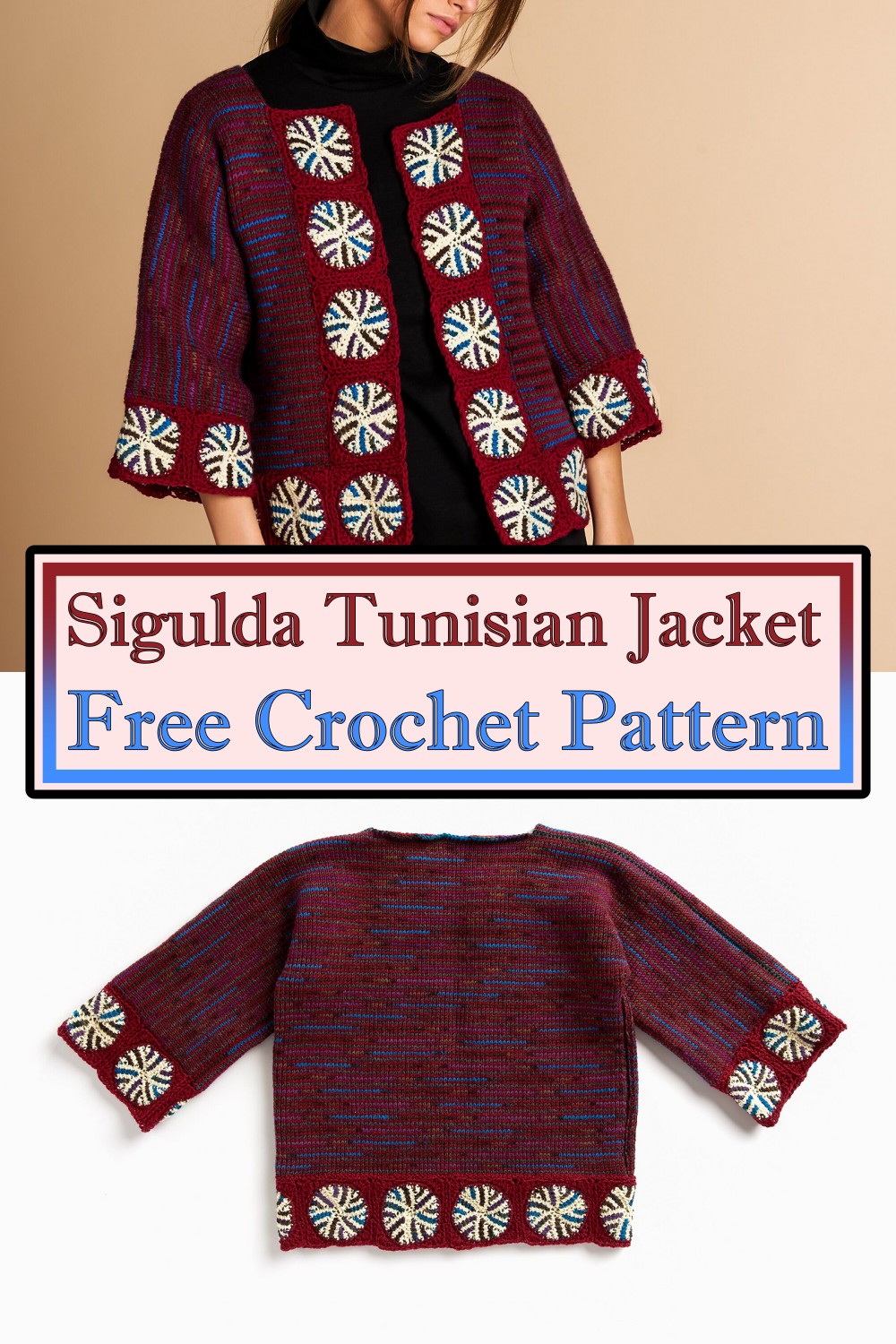 Crochet Sigulda Tunisian Jacket is beautifully best to last and make you feel like a queen. The unique combination of traditional crochet and Tunisian stitches creates this stunning jacket that is sure to turn heads all over the world. Crochet Sigulda Tunisian Jacket is a lightweight, warm jacket for chilly days. It crochets with soft cotton, perfect for wearing jeans, leggings, or a crochet skirt. The stylish crochet pattern makes the jacket unique, giving it a bit of edge and a different look.
Teddy Bear Jacket Pattern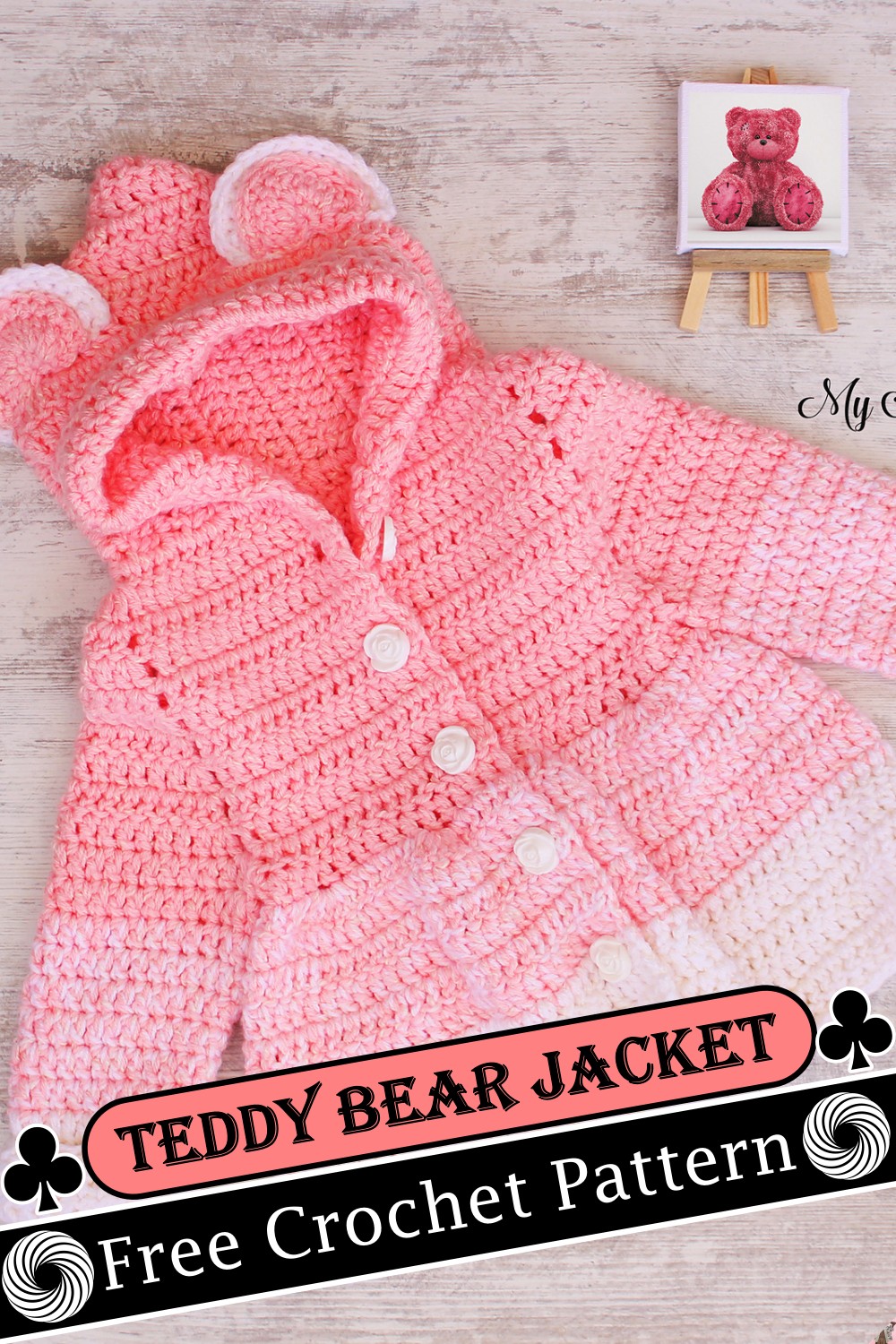 The Crochet Teddy Bear Jacket is the perfect blend of sweetness and fun. A stylish hood and a sweet crochet trim add unexpected touches to this adorable coat, which is great for playtime and everyday wear. This adorable Little Knit Teddy Bear Jacket is the perfect piece to pair with any outfit! Made with a soft cotton and acrylic blend, this cozy jacket features hand-embroidered details and a cute teddy bear applique on the front. Available in 5 different colors, we're sure you'll find one that suits your style perfectly.
Crochet Granny Heart Square Cardigan Jacket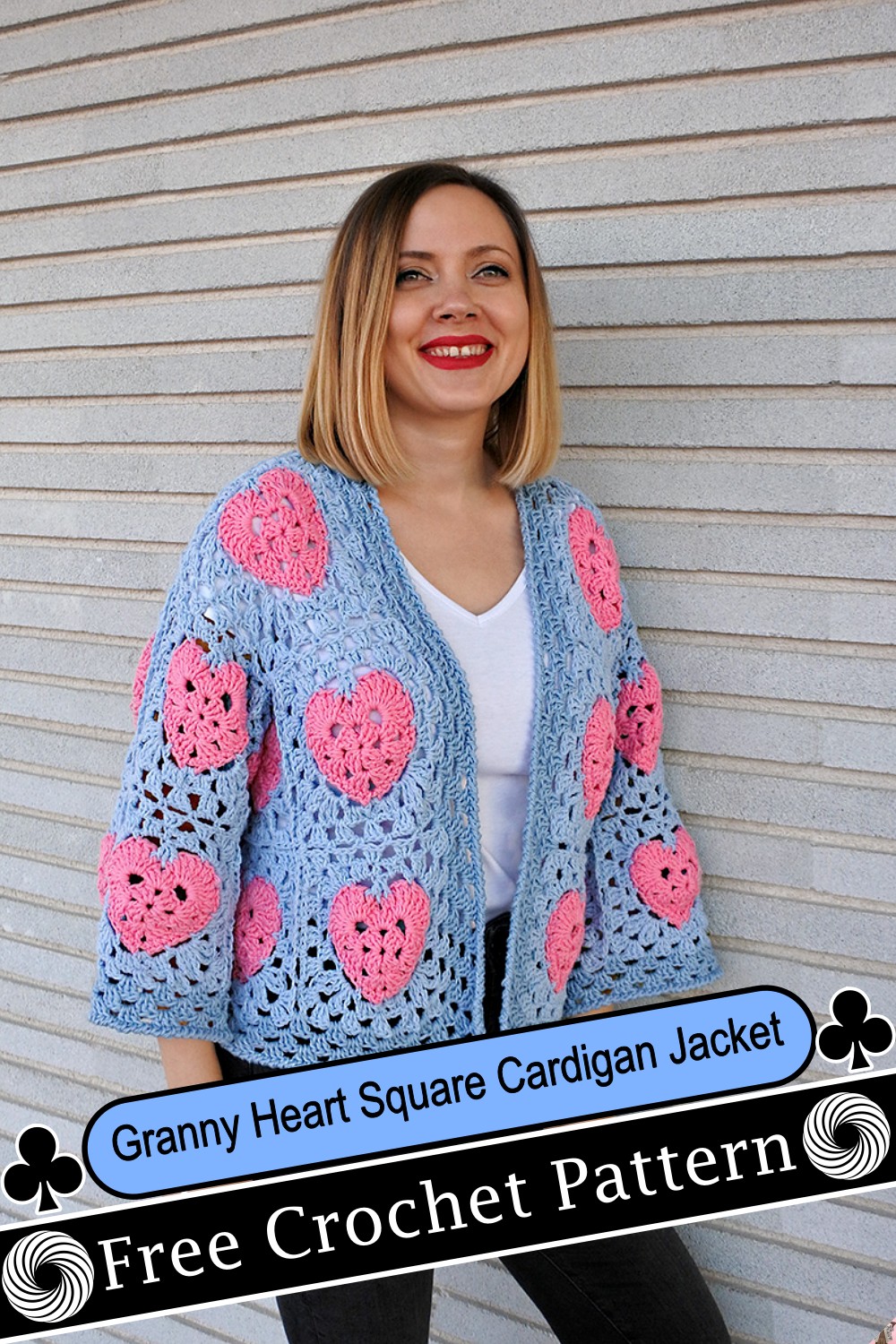 This Crochet Granny Heart Square Cardigan Jacket is a great choice if you want to look stylish and still feel comfortable at the same time. You can wear this jacket as an outer layer or your inner jacket when it's cold outside. This jacket has four pockets that can be used for carrying your smartphone, wallet, keys, and other useful things. The design of this jacket looks fantastic! This crochet granny square cardigan jacket is a stylish and comfy attire you can easily wear. This jacket has attractive colors and style to give you a great look.
Jean Jacket Applique
Add a trendy twist to your wardrobe with the Crochet Jean Jacket Applique. Featuring a cropped length, round collar, and button front, this outerwear is perfect for adding an extra layer to your casual outfits. These Crochet Jean Jacket Appliques are the perfect addition to any jacket, vest, or purse.